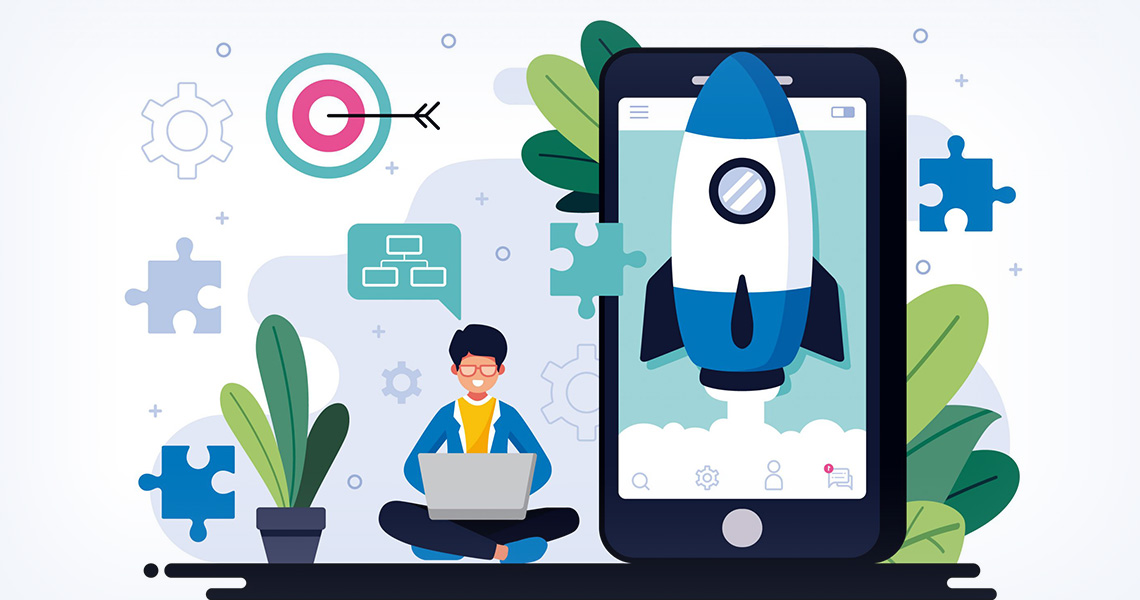 5 Types of Graphics to Drive Traffic to Your Content

Published on Mar 17, 2020 | Updated on Dec 9, 2022
So, any plans for Content Marketing 2023? No no no, I am not up to some uber-serious discussion. You do your content marketing in peace. What I do is, supply beautiful documents for your convenience. There is a gamut of different visual documents that you require daily. Just check them out, do you like them?
Feeling nervous? You don't need to. Trust me, you are the one who is going to create all those documents. But your hands will remain held by us throughout. We won't let you falter, it's a promise. So, let's start it right now. Take a look at the documents fit for content best practices.
Keep content marketing simple and easy with Infographic:
Why do you use infographics? Because an infographic has 30 times more chances to be read than a text-based article. That is why you use it. You enjoy more engagement and stronger connections, and as a result, more traffic to your blog. So, you ensured huge visits despite all threats from Coronavirus.
You can accommodate an explanatory infographic in your post. Or your post can also be only an infographic. You choose whatever suits you. You can decide it according to the subject of your post or maybe the likings of the target readers. 90% of the information that the brain manages to process is visual.
Suppose you are in the SAAS industry. In such a condition, the biggest challenge is to explain how your software makes work easier for your clients. Just get a beautiful infographic and explain it will be only a matter of seconds. Likewise, infographics can be of great help, no matter which industry you are in. You want to make beautiful yet crisp information in a jiffy? DocHipo can help you in the process.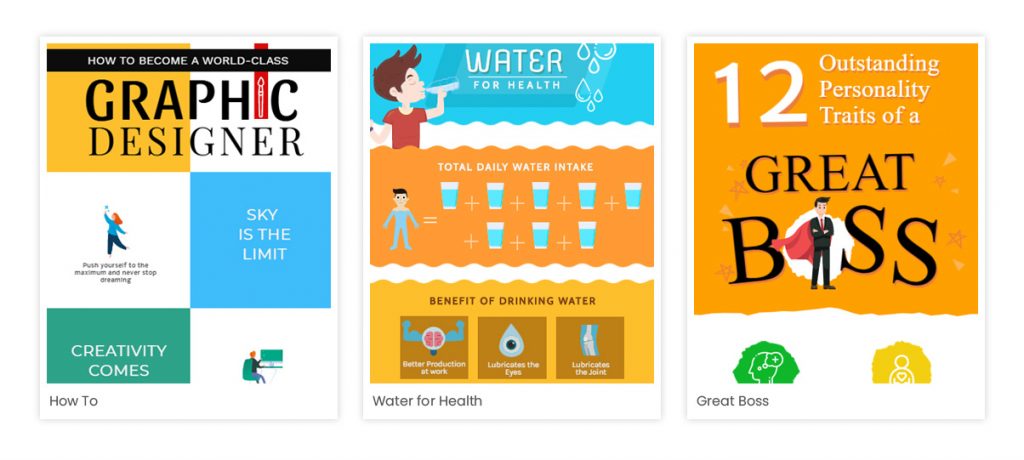 Pack your Social Media Banners with enough punch for effective content marketing:
Social media banners offer you a sizable space to play the game of engagement. Just use it mindfully so that the first impression is bang-on for any visitor to your social media account. Leaving the banner space blank is out of the question. You care for your brand image, right?
In that case, you should invest some serious amount of time and ideas in making your social media page win the game of engagement. Then you will need to add the business logo at a strategic location. That's it.
Your social media banner is ready to connect with your prospects in no time. What are you thinking? I understand, designing social banners for Facebook page, Linkedin profile, Twitter profile are tricky. Never mind, you can use DocHipo for several templates to work with.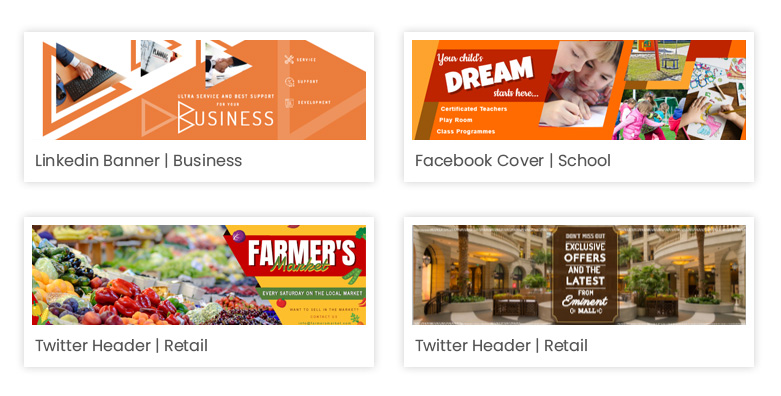 Your social media posts can make or break your content marketing campaign:
You must be investing a huge amount of time in creating your social posts or ads. According to a statistic, the budget for social media advertising has almost doubled worldwide between 2013 and 2014. The amount has gone up from $16 billion to $31 billion within this period. It is only increasing since then. So, you have every reason to bank on social media posts, right?
There must be some reason for your business to fall back on social media marketing. If yours is a small or home-based business, social media platforms should be your go-to place for generating traffic to your site, blog. In fact, that is the place where you can respond to the comments of your prospects and build a firm connect. This bond can survive the brunt of time.
Social media is not only about circulating information. 54% browsers search products on social media before making the purchase. So, social media platforms are nice places for marketers to explore all their workable marketing plans. Then, why should you shy away from this media? Get set and create your social media content for all platforms. Remember that the message and images of the posts must be perfectly curated according to the situation and purpose of the post.
DocHipo has a whole stock of beautiful templates for social media graphics that you can work with.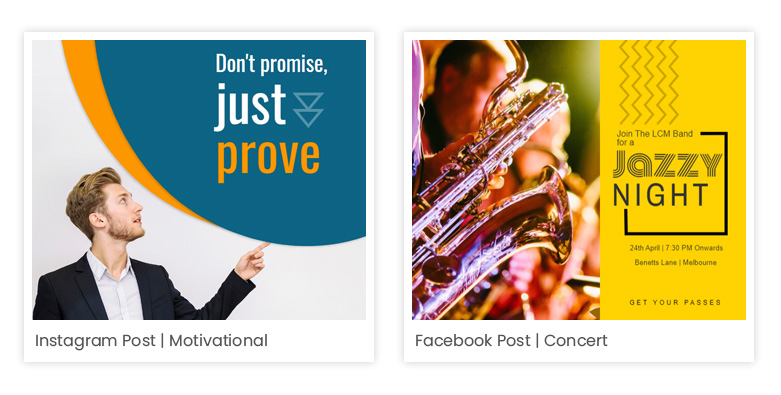 If your blog graphic makes me click, your content marketing is set…
You must be a super-talented writer. Your posts must have the potential to provide your readers with meaty information. However, beautiful blog graphics are important to attract more and more readers, make them click through, and read the entire blog. As a blogger, you empower with knowledge, right? A casual visitor must click-through and get a chance to read you. You should share your blog on the Facebook page.
You can create your blog graphic from scratch. You can use an image in that graphic from your own business. On the other hand, illustrations are trending heavily these days. You can use them in your feature image. Don't worry, your time-investment in creating a blog graphic is not flushing down the drain. On WordPress alone blog posts enjoy 20 billion views.
If creating them right from scratch seems to be a challenge, you can simply rely on DocHipo templates. You would enjoy designing on them.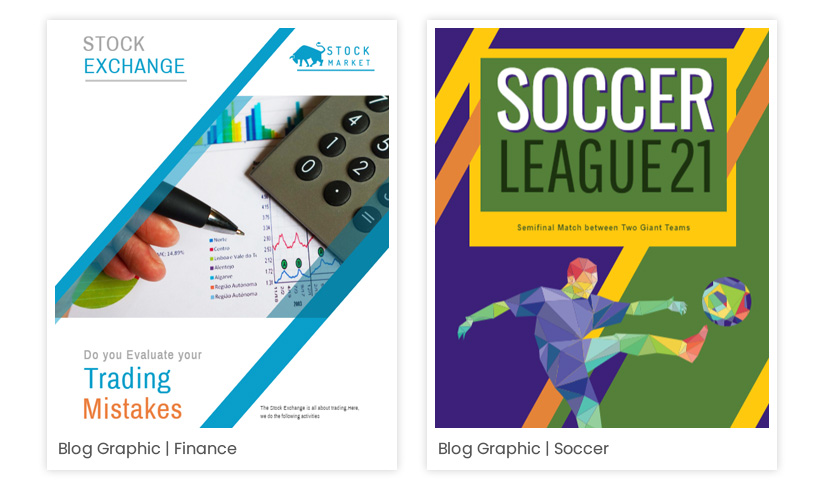 Great YouTube Thumbnails invite the hit (on Like, Share, Subscribe button) and help in content marketing:
We were talking about graphics for blogs and social media posts so far. But there is a need to focus on videos too. 8 out of 10 people aged between 18 and 49 prefer watching YouTube videos in a month. You must invest a sizable amount of your content-time on making videos. You must be smart enough to create beautiful YouTube thumbnails that attract users to make the click. Just create your thumbnails mindfully. Only then the click will happen.
You might be owning a tourism business. Users watch a total of 1 billion hours of videos on YouTube. Can you really ignore the number? In fact, that figure is more than the combined data for viewing Facebook videos and Netflix together. So, this is the right time for you to take YouTube videos seriously. You never know, the number of subscribers might go up along with the amount of like and share.
Do you find creating thumbnails tricky? No worries, you can just create them on DocHipo.

Wrapping up your content marketing campaign:
So, you have worked hard to make your content marketing campaign a success, right? Now, you can expect real engagement and relax at your home in peace. So, this is the time to contemplate on the wholesome process of marketing and check results.
So, all your needs for graphics related to content marketing and content distribution on social media are sorted. Still, I would like to remind you once again. Please sign up to DocHipo and create beautiful social media graphics and simply make a blast with your campaign.