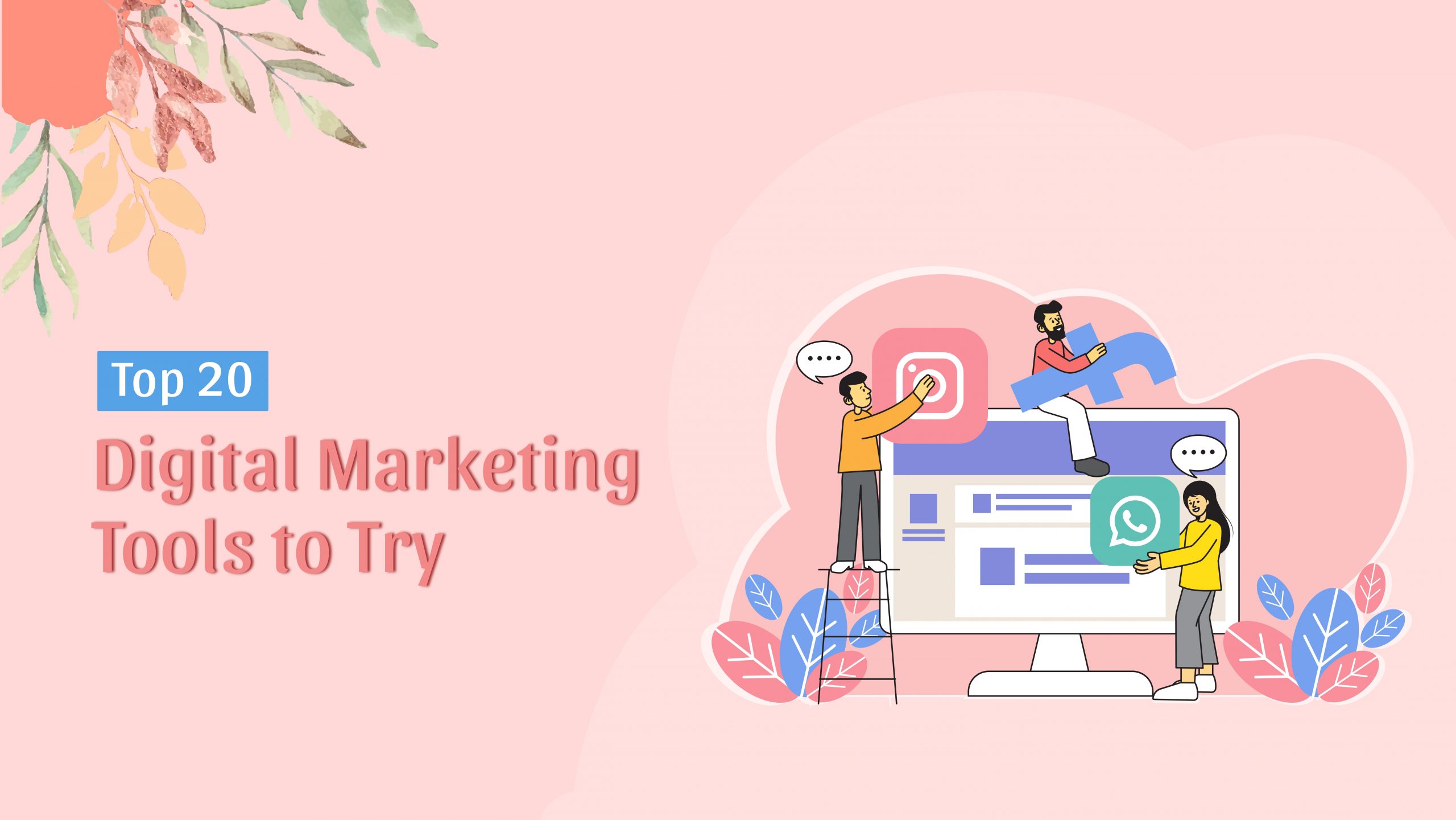 Top 20+ Digital Marketing Tools to Try in 2024

Last Updated Dec 5, 2023
Whether you are a business owner, content creator, or digital marketer, you must have felt that digital marketing is challenging but rewarding. Even if you are a freelancer or solopreneur, scaling your business will feel exhausting if you keep doing everything manually. You need to eliminate repetitive tasks to focus on the areas that keep your business growing.
Many digital marketing tools are available in the market today, making it quite challenging to choose the right one. In this blog post, we'll discuss the top twenty Digital Marketing tools for small businesses, freelancers, startups, etc., that will help you streamline your entire digital marketing lifecycle. Experiment with the following tools to simplify business processes and boost your ROI.
Graphic Design Tool
Graphic design is an integral part of marketing. Whether you create offline or online marketing collaterals for your business, a thoughtful and stunning graphic design adds life to it.
DocHipo is a cloud-based graphic design tool for business owners and content creators. You can design various document types such as flyers, posters, logos, book covers, web banners, social media posts, and advertisements.
DocHipo helps you get started with beautifully designed templates across various industries and occasions. You can explore the Templates page even before signing up.
Let's take posters, for example, to show you the variety of templates available.
The design widgets include but are not limited to illustrations, stickers, animations, icons, pictures, and shapes. You can incorporate these into whatever you design to customize them as needed.
DocHipo's intuitive interface and ease of creation will make your design hassle-free and let you be consistent with your beautifully designed content. Also in the category of graphic design software DocHipo is also one of the best alternative to Canva.
Video Content Creation
Video editing software is like a supportive friend, turning raw footage into engaging, relatable stories that resonate with viewers. It helps tailor content to fit various platforms, ensuring each message feels right at home. Beyond the creativity, it's a practical tool, optimizing videos for search engines and offering insights into audience preferences.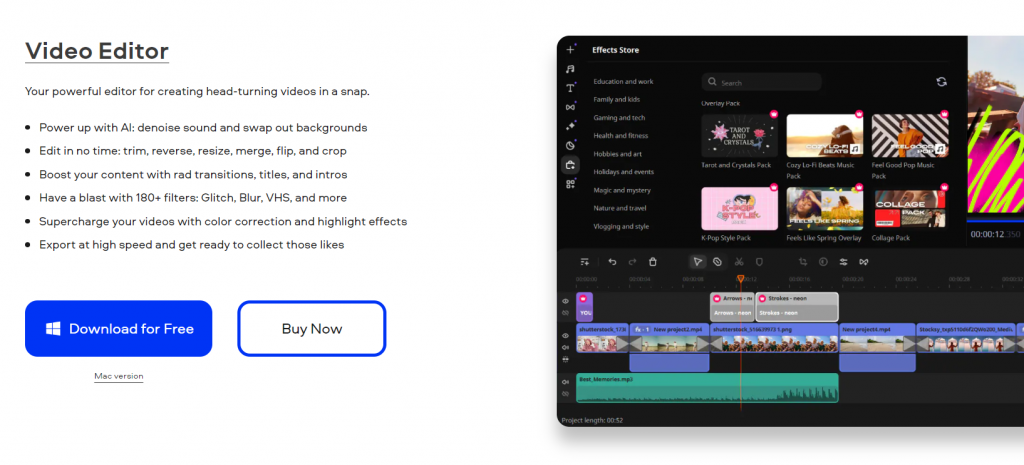 In the digital marketing toolkit, movie editors have become indispensable. Movavi Video Editor emerges as a key player among free video editing software, offering an intuitive platform for creating compelling marketing videos.
Its user-friendly interface, extensive tools, and vast media library make it ideal for crafting videos that resonate with your audience and enhance your digital marketing campaigns. Movavi Video Editor provides an array of filters, transitions, music, titles, and other elements to ensure fluid storytelling. It also includes tools for color correction, cropping, stabilization, and even AI-powered motion tracking, background removal, and noise reduction.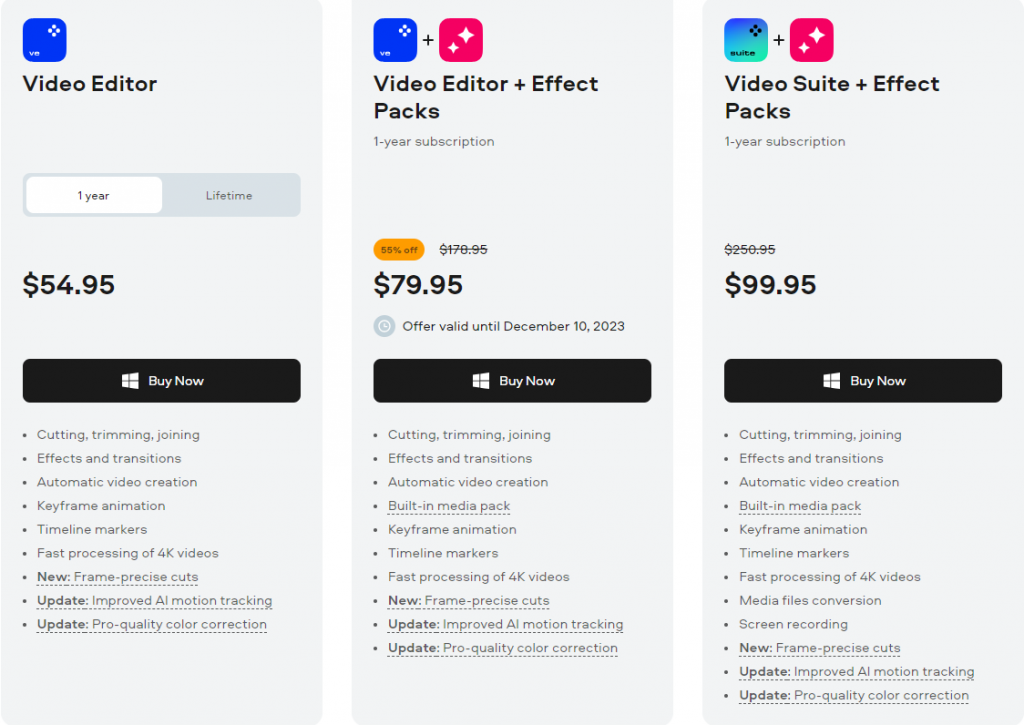 Search Engine Optimization
You create great quality content for your business website. What's the point if it doesn't reach its target readers? That's why you should invest in Digital Marketing tools specialized in SEO that bring your website in front of your target audience in the SERP.
Yoast helps your website rank higher on the search engine results page by optimizing your website's content and keywords for both search engines and visitors. You can use Yoast whether you work in Gutenberg or the Classic Editor in WordPress. Yoast evaluates your page readability and other metrics and provides feedback through pointers to help you boost your SEO. It's easy to start with the Yoast plugins and learn about SEO. You'll get access to the crucial SaaS SEO tools in the Yoast SEO plugin's free version. Its premium version provides powerful internal linking tools and tons of valuable features.
Ahrefs is a fully-featured SEO tool for marketers, small business owners, SEO consultants, agencies, etc. With Ahrefs, you can conduct keyword research for ten search engines such as Google, YouTube, Amazon, Bing, Yahoo, etc. It lets you do backlink analysis, competitor analysis, link building, site audits, rank tracking, etc. You can analyze both external and internal broken links. Leveraging all these features, you can identify your website's weak areas, check your SEO health and ultimately create the best content that attracts massive traffic to your website.
Semrush is an all-in-one digital marketing tool that helps marketers analyze and optimize their websites to improve their business's online visibility. You can make the most out of Semrush's tools and reports if your service includes Keyword Research, SEO, Competitive Research, Content Marketing, PPC, Campaign Management, Marketing Insights,.. etc. It offers you detailed competitor analysis to track your competitor's keyword strategy. So if you are new to SEO and searching for a tool to handle all SEO activities, Semrush can be your best bet. Its straightforward user dashboard lets you conduct everything from keyword research to backlink analysis to competitor research faster.
Advertising
It's a no-brainer that you need to invest in Digital Marketing tools for advertising your products or services to spread the word and create the buzz.
Google Ads is Google's pay-per-click (PPC) advertising platform that offers something for every business, regardless of size, budget, target audience, advertising goals, etc. With this tool, you can easily display your ads online when your target audience searches for products or services your business offers. You can refine your business' searches as it lets you drive qualified traffic and perfect-fit customers. So, you get a strong ROI with increasing leads and customers.
Another best thing about Google Ads is that it gives you complete control over how you invest your money. You need to choose specific target keywords or keyphrases to bid on, depending on the amount of money you want to invest. You'll pay only when someone clicks your ad to call your business, visit your site, and so on. Also, you can start, pause, stop or adjust your bids whenever necessary. You can see your campaign's results in Google Ads in an easy-to-understand format.
Website Analytics
You need a website analytics tool to evaluate your website's real-time statistics and user interaction with your website.
Google Analytics is a powerful website analytics tool that helps you improve your website performance through valuable insights. You can analyze your product, content, marketing, etc., concerning user engagement.
Email Marketing
Email Marketing is still one of the most effective marketing strategies for any business, with an impressive ROI of $36 for every $1 spent.
MailChimp offers an excellent user interface, a robust email editor, in-built automation templates, detailed email performance reports, etc. You can also split your audience and send them emails customized to them.
Minelead is an advanced marketing tool that enables users to enhance their earnings through leads mining utilizing various products like email finder and domain search that helps to get clients' professional email addresses, email verification to check the validity and authenticity of emails that might increase your deliverability score, company generator that aids users find possible leads and websites based on keywords and location, and more.

In addition to all of that, Minelead offers powerful extensions and an API to help you scrape contact information from LinkedIn and other websites that is then used to send emails using Minelead's campaigns tool.

Minelead solution is well-designed tool for start-ups, companies, and large enterprises to manage their daily email enrichments and outreaching through sending marketing and sales campaigns to highly qualified leads.

The custom software packages provide both free and premium plans, with monthly costs as low as $29 for the paid ones.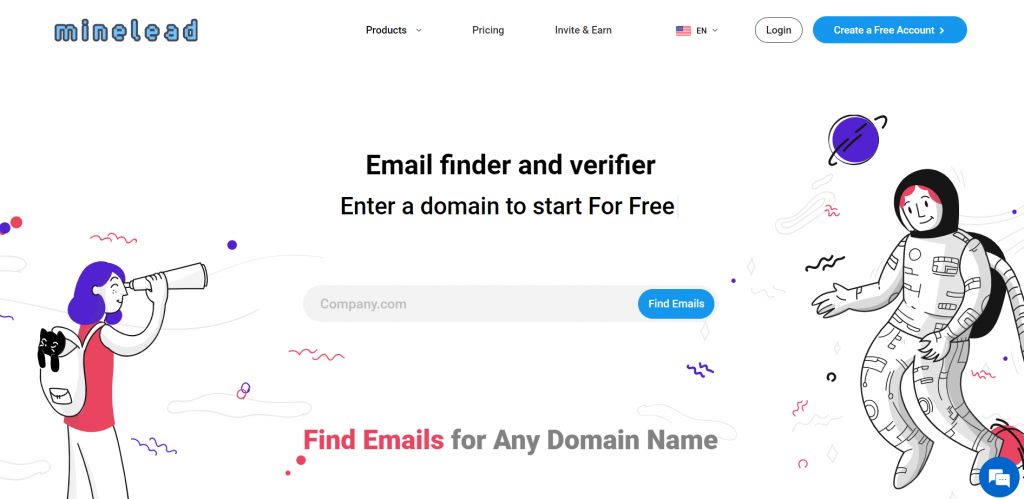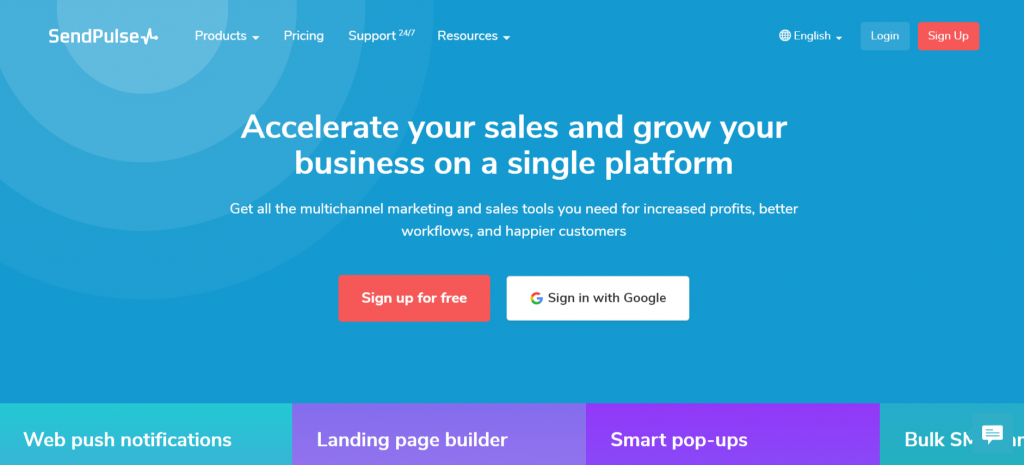 This marketing automation platform allows marketers to send promotional emails and combine them with other channels like SMS or WhatsApp campaigns.
All the email marketing essentials are also available on the platform: email template builder, email verifier as well as tools for lead generation like subscription forms and pop-ups.
SendPulse's CRM will help manage deals and store customer information that can be used to personalize email marketing campaigns.
Marketing and Sales Automation
As a business owner, you need to leverage many digital marketing platforms to reach your target market. It becomes difficult to manage complex processes, especially if you are a solopreneur. Invest in CRM marketing automation tools to automate certain functions.
ActiveCampaign is excellent for small and medium-sized businesses who need an easy-to-use tool to enhance their marketing efforts. You'll get email marketing, small business CRM and digital marketing automation to set up an advanced workflow automation. It offers 800+ automation processes. You can automate emails, sales follow-ups, dynamic email content, social media, behavior tracking, etc. To automate your marketing operations, you can pull information from landing pages, social media platforms, live chat, etc.
ActiveCampaign supports hundreds of integrations. You can make the most of this tool when you connect it to the tools you already use for running your business. You'll also get free migration services.
HubSpot's intuitive and targeted visual workflows help you create powerful automated campaigns to reach your target customers across email, web, ads, chat, etc. You can nurture your leads with automated email drip campaigns to move them down the funnel.
The SaveMyLeads service allows you to create an integration between Facebook and various email marketing services without the involvement of programmers. This is a no-code solution with a simple interface, which allows you to set up the transfer of new leads from Facebook to various systems in just a few minutes. SaveMyLeads users are offered a wide range of ready-made customization templates for different systems.
SaveMyLeads is extremely easy to use. No special knowledge or special skills are required. Everyone can quickly automate work processes and increase their efficiency.
Social Media Marketing
Staying on top of multiple social media channels shouldn't lead you to burnout. Read about digital marketing tools below to manage your social media like a pro.
Zoho Social is a Social Media Marketing tool for businesses to manage their social channels with a single platform. With Zoho Social, you can predict the best time to post and schedule it accordingly. Its intuitive publishing calendar allows you to organize your posts the way you want. You can either go for the pre-built social media performance reports or create custom ones based on the stats that matter to you.
Buffer is one of the best Digital Marketing tools that lets you plan, create and schedule content for Facebook, Instagram, Twitter, Pinterest, LinkedIn, TikTok, and Google Business Profiles. You can manage and share your valuable content on all these platforms in one place. It supports auto-publishing for all the platforms mentioned above except Instagram stories.
Buffer makes coming up with content easier. It allows you to import your existing content from various platforms like Google Drive, Dropbox, OneDrive, Giphy, Unsplash, etc.
You'll get in-depth insights on Facebook, Instagram, Twitter, and LinkedIn to analyze your social media campaign performances. The high-level metrics on your Buffer analytics dashboard include your total number of audiences, impressions, engagement, etc. All in all, Buffer will help your social media team work effectively and efficiently.
With Hootsuite, you can easily plan out, manage, schedule, publish and create social media posts and ad campaigns from a single dashboard. Thus save your time logging into each social network separately. Its cool feature, "Streams," helps you keep updated with relevant conversations on multiple networks and lets you monitor them from a single dashboard. You can manage incoming messages from different social platforms and engage with customers.
Hootsuite's analytics feature provides detailed social media performance reporting from a single dashboard. You can amplify the impact of your social media marketing efforts by analyzing real-time insights and working on improving them.
Messaging Platform
Effective communication among team members is one of the crucial aspects of a business. You may not conduct meetings every time you have something urgent to communicate. Opt for messaging platforms instead.
Slack is a digital HQ that lets your remote team work together efficiently and productively. You can do a flexible real-time collaboration to discuss the ins and outs of your projects. Also, you can work with organized spaces called channels, share files, search messages, etc.
Scheduling
It wastes a lot of time sending back-and-forth emails or messages to clients or team members to join for a meeting. Invest in online digital marketing tools for scheduling meetings efficiently.
Send your unique scheduling link to your clients and make them book appointments with you based on your availability. You can schedule both one-on-one and group meetings. Calendly integrates with applications like Google Calendar, Slack, Outlook, MailChimp, Salesforce, Zapier, etc., which saves you time, preventing switching between tabs.
Project Management
Investing in a project management tool will help you stay organized, and each team member will be on the same page.
Asana is one of the best digital marketing tools for project management focused on collaboration. It offers strong collaboration through team communication, group communication, sharing Google Docs, PDFs, JPGs files, etc. It outperforms other similar software because of its simplicity and ease of use. This fully featured tool helps you get started and onboard your team within just a few minutes.
Compared to other project management tools, Asana comes with the best feature-rich free plan. It supports unlimited projects, teams, messaging, file storage, activity logs, etc. You can also integrate it with time tracking tools without paying extra money.
Asana lets you create customizable project dashboards prioritizing the most crucial information you want to take a quick glance at. You can view your project in multiple ways, such as lists, timelines, calendars, etc.
With Asana, you or your team won't lose track of work. If you need a simple tool that doesn't compromise functionality, go for it without a doubt.
Live Chat
You must add live chat to your online digital marketing tools checklist. It'll help your leads reach out to you and raise their concerns, if any, quickly.
Intercom is one of the best digital marketing platforms that lets you chat with your customers when it's convenient for them and your team. You can set up and launch it in just a few minutes. Intercom always saves the chat history. So, the customers can return to the chats whenever they need to.
Chatra provides a simple and cost-effective way to connect with website visitors or customers through live chat support. You can answer their questions, clarify concerns, solve problems or help them make purchases. Add this live chat software to your website and let your potential customers contact you in real-time or send a message when you are offline. You can manage those messages from a multichannel dashboard and monitor your website visitors and their browsing history in real-time. It'll help you greet them with a personalized message.
Form Systems
You must opt for Digital Marketing tools for effective marketing research to know your target customers and their in-depth needs.
TypeForm is one of the best digital marketing tools that help you easily create simple and professional-looking surveys, forms, and questionnaires.
It's effortless and fun to create highly customized forms with TypeForm, as you don't need to write even a single line of code. This web-based platform stands apart from similar platforms because of its Logic jumps feature. Logic jumps enable you to take your respondent down one of two alternative paths for further questions based on how he answers a question.
Landing Page Builder
Landing page builder forms fantastic tools for digital marketing, helping you design and publish pages that drive more revenue from your business without spending days.
Leadpages is one of the best digital marketing tools for lead generation for entrepreneurs and marketers. Create enticing websites and landing pages from scratch that compel your visitors to take action. You can collect quality leads with conversion-optimized copy and offer your target audience digital freebies with instant file delivery. Create high-converting sales pages and an in-built checkout system with Leadpages and sell your products and services. You can track your performance in real-time and run as many split tests as you need to magnify your results.
A/B Testing
You should do A/B Testing to consciously learn what impacts user behavior and boost the conversion rate.
Optimizely s one of the Digital Marketing tools for building and running A/B tests on websites. This website optimization tool lets you test changes to your webpage against its current design to determine which is more impactful in increasing the number of leads, clicks, engagement, conversions, registrations, etc. You can run two versions of your web page simultaneously, analyze which meets your business objectives successfully, and continue with that.
Final Words on Digital Marketing Tools
Experiment with the Digital Marketing tools discussed above, and stick to the ones that perfectly align with your business goals. Take some time to create that effective system that makes your business run smoothly and efficiently. Once your business's repetitive yet crucial aspects are taken care of, you can enjoy the innovative process of creating campaigns, social media posts, etc. With the right tools, win customers and grow your business like never before.
FAQ
Is digital marketing tools worth it in 2024?
To scale your business, you must minimize repetitive tasks and simplify your systems and processes. You must invest in digital marketing tools to streamline your entire work process and save yourself from exhaustion. Tools for various aspects of your business, such as lead generation, scheduling meetings, team messaging, project management, graphic designing, payments, etc., are worth it.
How do I choose the right digital marketing tool for my business?
Once you're clear about your business objectives, notice which aspect of your business process takes most of your time and that you'd like to simplify, reduce the time by automating it or speed it up by leveraging tools. It may be team messaging, project management, graphic design, social media marketing, etc. Try the basic or free plans of digital marketing tools to serve specific needs and figure out which ones help you achieve your goals.