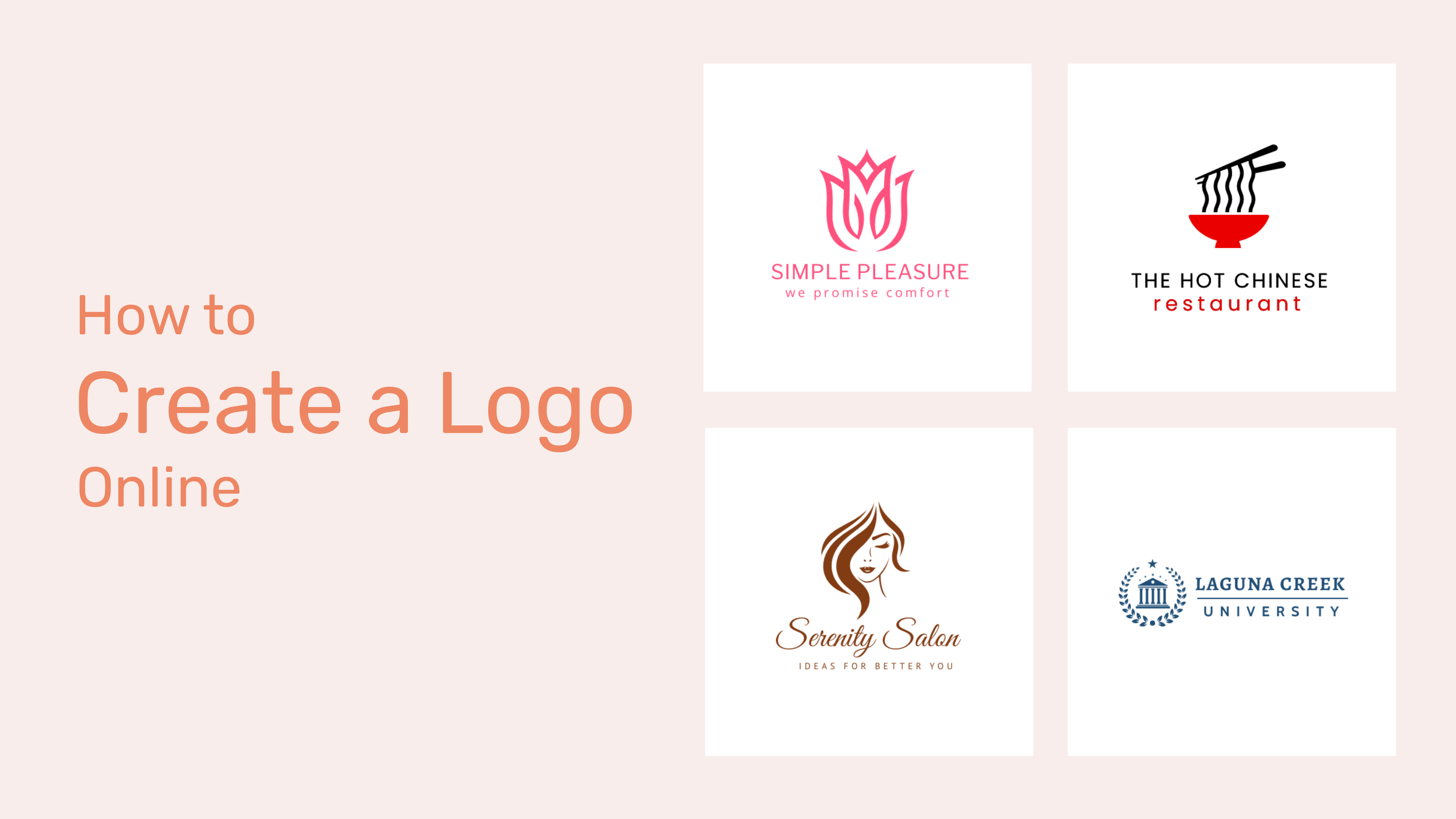 How to Create a Logo Online

Last Updated May 13, 2023
Are you getting started with logo design?
You might already know that your brand logo design could make or break your business image if you are starting your business. So designing a professional logo that appropriately represents your business is a real deal.
If you wonder how to make your logo yourself, let me introduce you to DocHipo's free logo maker.
This guide is an easy step-by-step procedure for designing a stunning logo for your business. We'll also cover why a free logo maker can be an excellent tool for your brand identity project.
Why Should You Use a Logo Maker?
A logo maker is a web-based application or tool with pre-designed templates, stock images, videos, fonts, and so much more to let you create logos within minutes. Many businesses hire professional logo designers to make their logos, but there are certain benefits a logo maker can provide you that the former can't. Let's discuss them below.
Easy and Quick to Work with
You understand your brand the best. So the time needed to convey your key message to a professional designer is saved if you design the logo yourself. You can add your personal touch to the logo according to your wish. Also, you don't have to go through several phone calls and emails with the designer.
Even with basic design knowledge, you can develop great logo designs. You don't need to spend days learning to use the software because of its intuitive and user-friendly nature. You can easily implement your design ideas and get to use the logo right away once you're done customizing.
For guidance, you can learn how to design a fashion brand logo with DocHipo's logo maker and design best practices.
Affordable
If you hire a highly experienced graphic designer, you need to invest a good amount of money there. You can either use the free version of DocHipo's online logo maker or upgrade to its pro version. So you can design a unique and impactful logo for your business in an inexpensive way.
Experiment to Your Heart's Content
With a logo maker online, you can keep experimenting, reworking, and starting fresh as many times as you want without any extra cost.
Flexibility
DocHipo's free logo maker gives you complete freedom and authority over your logo design. You can use images, illustrations, and icons from DocHipo's huge stock library or upload your own. Multiple editing options are available to customize your logo the way you want.
Uniqueness
No matter how attractive you find a logo template, please don't use it right away; otherwise, it will lack originality and uniqueness. Before starting to design your logo, work on evaluating your brand and leverage a logo maker to incorporate your branding into your logo design- the nature of your brand, your unique selling point, values, etc. Invest your time, great design ideas, and understanding of your own brand to craft your unique and memorable logo using DocHipo's online logo maker.
How To Create A Logo Online with DocHipo's Free Logo Maker?
Don't worry if you haven't used DocHipo or any logo maker before.
I'm going to walk you through a step-by-step process on how you can design your logo in DocHipo. Simply sign up to DocHipo using your email address and password to start creating your logo immediately. No credit card is required.
STEP 1: Choose a Logo Template
Once you log in with your email address and password, you will be taken to the home page that looks like this:
Go to the search bar, type 'Logo,' and click on the result.
The professionally designed high-quality logo templates are categorized into various industries such as food, education, travel, fashion, kids, and real estate.
You can select your industry or niche and explore the corresponding logo templates. You also have the option to create your logo from scratch.
Hover your mouse pointer over the logo template you like, which aligns with your brand's nature to preview.
Once you decide on the template, you want to work with, again hover over it to select and proceed further.
Now add a name and a short description to the document and click on 'Next.'
Now your logo design file or canvas will open up.
STEP 2: Customize the Logo Template You Have Chosen
Customization is the process where you'll implement all your ideas using DocHipo's design elements and create a logo that speaks for your brand. Let's see how we can leverage the graphic elements to make a logo that stands out.
You may zoom in or out of the canvas according to your convenience.
How to Add or Edit Texts with The Logo Maker?
Double-click on the text you wish to change and replace it with ones related to your brand.
You'll get multiple options to edit your text from the panel above the canvas, such as changing the font type, size, color, alignment, letter spacing, and so much more.
Check out Typography in Logos and how you can use it to embellish your brand identity.
On the left sidebar, you'll see the 'Text' widget for adding further words to the logo template you're customizing.
You can choose to add text in three formats- Heading, Subheading, and Body Text.
The YouTube video below will give you a better understanding of adding, editing, or deleting text in DocHipo.
How to Add Graphic Elements Using the Logo Maker?
Use such elements in your logo so that your target audience and potential customers can identify what your business or brand is all about. The graphics could be illustrations, stickers, icons, shapes, etc.
You'll get access to a vast collection of vector graphics in DocHipo's library itself. You'll see the 'Icons' widget under the 'Graphics and Media' tab on the left sidebar. Let's work with the icons for now.
Because I'm designing a logo for a coffee brand, I will look for elements related to the same. So let's choose the theme 'Food and Drinks.'
Search for the relevant icons related to your niche and keep scrolling and experimenting until you find the appropriate one that best represents your brand.
Resize and position it as needed using the drag-and-drop feature.
I highly recommend you watch this video for guidance on using icons in DocHipo.
How to Change Background Color with the Logo Maker?
Select the background and then click on the little square as shown below to change it.
On the left sidebar, you can see image backgrounds and colors to put the hex code of the color you want as the background.
Click on the small icon beside the hex code to see all the theme colors.
Click on the color palette icon to experiment with the custom colors for the background of your logo design.
Explore the custom colors till you find the one that goes best with the rest of your brand logo design.
After finalizing the background color, see how beautiful it looks.
Watch the video guide below to create a stunning background in DocHipo.
If you need to change the text colors, you can use the editing panel.
Customize Using Other Design Widgets
You'll get the 'Lines' widget under the 'Graphics and Media' tab.
To duplicate any design element, right-click on it and select 'Clone.'
Delete the elements you don't need or don't fit in your customized logo design.
STEP 3: Download your Logo Design
Once completely satisfied with your logo design and it perfectly represents your brand the way you want, you may download your logo file. Click on the three horizontal dots on the top right side to find the options shown in the image below.
All the downloadable formats for any design in DocHipo includes JPG, PNG, PNG Transparent, PDF, MP4, and GIF.
Choose your file type and quality as needed, and click the 'Download' button.
Before Customization
After Customization
Wrapping Up
Now you know that designing a meaningful and effective logo with a logo maker online isn't that difficult; you need to keep the best practices in mind. Evaluate your brand, research what kind of logo works for your industry, and observe great designs. Turn your excellent design ideas into reality online with DocHipo's free logo maker.
So sign up to DocHipo for free, explore the beautiful logo templates and start working with the one that aligns with your brand's key message. Leverage all its design elements and create a killer logo to stay at the forefront of your branding game.
FAQ
What is the best free logo maker?
You can use DocHipo's free logo maker to access customizable lovely logo templates across industries such as education, fashion, food, kids, real estate, travel, etc. Fully customize them with various design elements from its library using an intuitive drag-and-drop editor. You can download your logo without any watermark.
How do I create my own logo?
Evaluate your brand and buyer personas before getting started with the logo design. Use an online logo maker and choose a pre-designed template that closely matches your brand. Customize it by incorporating your brand elements such as colors, fonts, design style, etc. Add illustrations, icons, shapes, etc., to create your own logo.