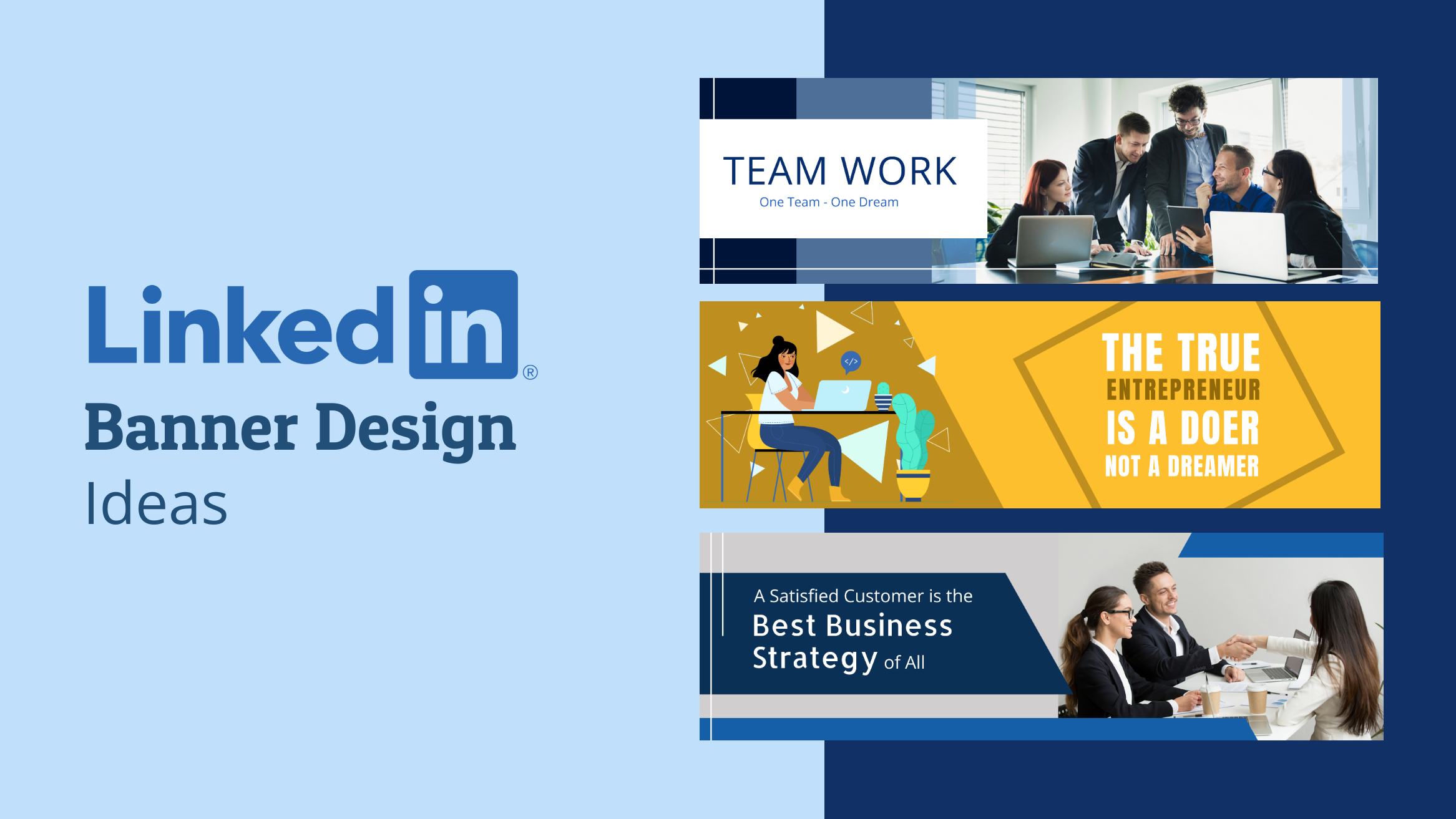 10 LinkedIn Banner Ideas for Your Business [Examples + Templates]

Last Updated Aug 27, 2023
Want proven LinkedIn banner ideas to refresh the look of your LinkedIn page?
Or is it the first time you're designing a LinkedIn banner photo for your brand?
Whatever the case may be, you'll have a lot to take away from this post.
LinkedIn is the world's largest and most active professional networking community, with nearly 800 million members and more than 57 million companies listed. To maintain an active presence on LinkedIn and benefit from it, you must pay attention to every detail and be consistent.
LinkedIn Banner is one of the most overlooked sections of a LinkedIn Page. While writing this, I came across a few brands that haven't used a custom LinkedIn cover image. And that made me think that they ignored the details that could have given them an extra edge over their competitor brands. So you don't want to make this impression on your company profile visitors, right?
So in this post, we'll cover some impactful ideas and examples of brilliantly designed LinkedIn cover photos for you to take inspiration from. Then I'll share a few templates from the DocHipo library and discuss how they can make your job even easier.
Table of Contents
LinkedIn Banner Ideas With Examples
Coming up with LinkedIn banner ideas that perfectly represent your brand, showing its fun and creative side, and being professional at the same time is quite challenging. To make the process systematic and easier, I'll show you impressive and successful LinkedIn Banner examples from top brands to lesser-known innovative ones.
Use Images that Represent Your Brand
Your LinkedIn profile speaks for your brand or business. So it's pretty evident that you need to add an image that reflects your brand. For instance, if a scenery looks mesmerizing on the LinkedIn cover of a company page, but it's irrelevant to your business, why add that?
Look at how the real estate business WeWork India used this gorgeous image to represent its brand.
Similarly, Airbnb represents comfort and convenience through its LinkedIn cover photo.
Spread Brand Awareness through Color Consistency
The color and font you use must match your overall brand style and vibe. Depending on the niche or industry of your business, the color you choose can be extreme or muted. Just make sure you maintain the color consistency of your brand throughout all your social channels.
Take the LinkedIn Banner example of Blinkit, which beautifully used its brand colors, yellow and green, and added cute illustrations and a tagline to convey its key message.
Showcase Your Brand's Mission, Vision, or Values
You can design a LinkedIn Banner that will express the cause you support or the mission and vision that your brand stands for. So you can incorporate such an image to showcase your expertise and highlight your brand's vision and values.
Notice how brilliantly BYJU'S has showcased its mission and vision in its LinkedIn cover photo. Also, they have mentioned the number of years for how long they have been working dedicatedly towards their mission.
Look at the collage Shopify has made and its mission to power millions of entrepreneurs to establish their expertise.
You can also get inspiration from the unique way Tata Consultancy Services has incorporated its mission.
Display Your Products or Services
You can leverage LinkedIn Banner to promote your newly launched products, bestsellers, or simply your product range. It is a simple yet effective way to catch the attention of interested potential customers.
Look at how Samsung Electronics has showcased its products in a sophisticated and distinctive fashion.
You can also design a collage of the products you want in a neat, clean, and eye-catching manner, just like Nykaa has done.

Showcase the End Benefit Your Customer Desires
A customer buys a thing to get a specific benefit or experience. If you can express and communicate what end benefit your product or service offers through a visual, what's better than that?
For instance, if you have a garment business, you may showcase pictures of people rocking the dresses you sell.
I am showing you the beautifully designed LinkedIn Banner of the Apparel and Fashion brand Allen Solly.
Use Your Slogan or Tagline to Make the LinkedIn Banner Memorable
Keeping your business identity in mind, craft a catchy tagline or slogan that your target audience and buyers can remember.
Search Engine Journal has made an appreciable use of contrasting colors to highlight its tagline, and the background image in grayscale is also clearly visible. I love the tagline; it's sweet, straightforward, and clearly states their expertise.
Next, let us look at Buffer; they incorporated such a thoughtfully written tagline in the front and center to highlight the value they offer.
Keep Up the Team Spirit
You can also showcase the brilliant team that works hard to contribute to the growth of your business. It will portray the culture and vibe of your organization.
Flipkart features team spirit along with a fantastic tagline on its company LinkedIn Page.
Google has used an image to depict its team's hard work and dedication.
Along with the relevant illustrations, Amazon gives a welcoming message to its potential employees, encouraging them to join the workforce.

Add Your Professional Achievements or Notable Milestones
Have you received any recognition lately? Why not showcase the accomplishment and tell your loyal customers about it through your LinkedIn Banner?
This will enhance your credibility in the industry you serve and ultimately lead to your business growth.
Look at how Zomato showcases its 'India's Startup of the Year' award.
Try Something Fun and Creative
Flaunt your brand's creative side to your profile visitors and target audience. Also, since LinkedIn is a professional platform, it would be best to balance your creativity and the business style you want to portray.
Look at the text the Financial Services company Paytm has used that almost everyone could relate to.
Keep It Simple and Effective
You don't want to overwhelm your profile visitors with unnecessary information, too many illustrations, or any complex design. Overdoing it may impact your brand negatively. It has to be functional and meaningful.
Observe how CRED has maintained its color consistency, used its logo, and crafted a compelling tagline that conveys what the brand stands for in the best way possible.
Last but not least, look at how our team at DocHipo has thoughtfully designed our LinkedIn Banner that impactfully communicates what the brand is all about.
LinkedIn Banner Templates that You can Customize Right Away
With DocHipo's online LinkedIn Banner Maker, you can easily create your own customized memorable LinkedIn Banners even with basic design skills.
The professionally designed engaging DocHipo templates will be the foundation or base to speed up the design process. Don't worry about the dimensions, as the templates available already come in optimal sizes.
To showcase your brand identity appropriately, leverage the design elements, a massive collection of premium quality professional stock photos, illustrations, stickers, etc., provided by DocHipo.
So sharing the DocHipo templates below, you can start customizing right away.

Get This Template and More

Get This Template and More

Get This Template and More

Get This Template and More

Get This Template and More
After you have designed your LinkedIn Banner, you can read the instructions on adding or changing the Background Photo on Your Profile.
Wrapping Up
Hopefully, you got some great ideas to customize your LinkedIn Banner from our above discussion. Use any of these ideas or come up with your ideas by mixing and matching them and start working on your very own LinkedIn cover photo. Keep updating it once in a while with the recent launches and events to avoid falling behind.
Sign up to DocHipo, choose from the templates and design, and leverage the opportunity to stand out with visual impact through your LinkedIn Banner.