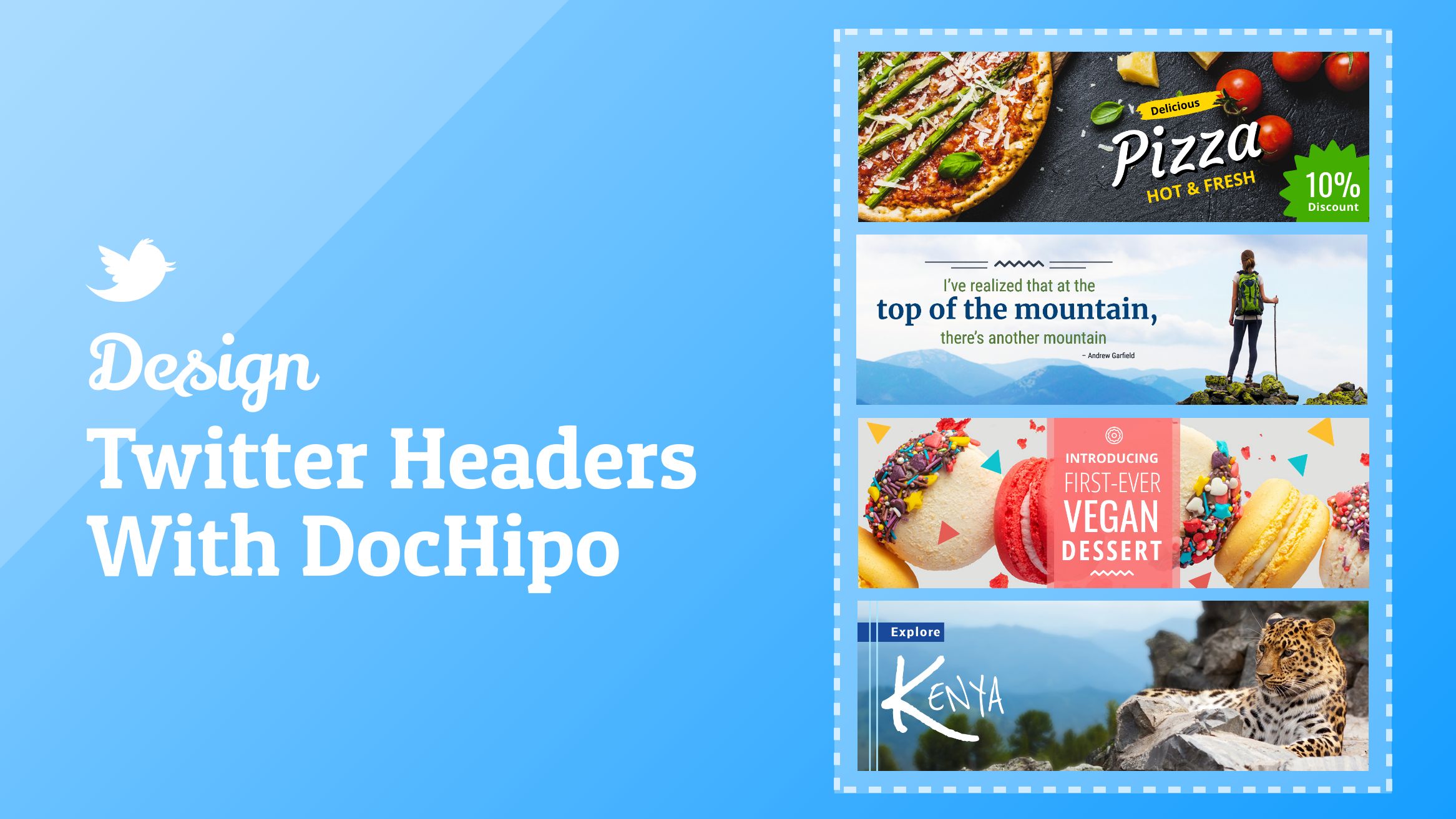 How to Make a Twitter Header Design that Attracts Followers

Last Updated Dec 27, 2022
Are you making the most out of your business Twitter account?
Twitter is a microblogging platform that concisely lets you express your thoughts. But how do you capture and express your brand personality to your profile visitors at a glance?
That's where Twitter Headers come into the picture. This introduces your visitors to your Twitter account and makes them aware of what your profile is all about. It should be visually appealing and effective in increasing your brand awareness.
If you are not leveraging this space, make sure you start doing now.
A plain uninteresting Twitter Header can be off-putting to your profile visitors. And you have less than a second to create a great first impression. So you need to go a step further to make a Twitter Header design that no one else will have.
Now, what makes a great Twitter Header design?
I've put together 5 Twitter Header design best practices to answer this question. Also, the most beautiful part is that I'm going to walk you through a three-step process of how you can make your Twitter Header design in a simple and fun way using DocHipo.
Twitter Header Design Best Practices
To ensure your Twitter Header design is eye-catchy, go through the following parameters I've compiled below.
Get the Twitter Header Size Right
Twitter recommends Header dimensions of 1500X500 pixels. It lets you use JPG, PNG, and non-animated GIF file formats as Twitter Headers.
Leave some space at the borders without adding any content so that it will look its best even if your Twitter Header image gets cropped and oddly stretched.
You can select various professionally designed Twitter Header templates already sized to the recommended dimensions.

Get This Template and More

Get This Template and More
Place the Crucial Elements in the Center
Your Twitter Header will get cropped and stretched depending on your visitors' devices. Keeping your main message in the center prevents it from getting cut when uploaded on Twitter. Use the remaining space to draw your visitors' attention toward whatever you want them to see.
For example, notice the following DocHipo Twitter Header Templates where the key message is in the center.

Get This Template and More

Get This Template and More

Get This Template and More
Make it Relevant to Your Brand
Use elements in your Twitter Header design that align with your brand's nature and vibe. Ensure that the colors or fonts you use also align with your branding.
Meaningful, attractive, and relevant visuals are an effective way to communicate your brand message. Regardless of your product or service, your target audience needs to see your Twitter Header and know about your brand. So use elements or text that instantly conveys your brand's key message.
Leverage your Twitter Headers to establish brand consistency across all your social channels.
For instance, look at the background, image, and fonts that perfectly represent the vintage style of the brand.

Get This Template and More
Likewise, observe the high-quality image and icon representing the burger brand.

Get This Template and More
Use High-resolution Images
Think mindfully about what you want to achieve through your Twitter Header and what kind of image will best represent your brand's values. Since a Twitter Header is the first thing that attracts your visitor's attention, it must be of very high quality. So, always use high-quality images that show your target customers what you offer.
You can use DocHipo's Online Twitter Header Maker, where you can add filters to enhance the image, and design elements like illustrations, icons, various background options, typefaces, etc., to your Twitter Header design.
For example, look at the image quality in the DocHipo Twitter Header Template designed for a catering business.

Get This Template and More
This one is a travel Twitter Header Template.

Get This Template and More
Keep It Uncluttered and Simple
As per the recommended dimensions, you don't have a lot of space to get your marketing or promotional message across. So, it's essential to present a simple and clean Twitter Header that concisely communicates your marketing message. Your minimalistic Twitter Header design should inculcate genuine interest and encourage your Business Twitter profile visitors to take action.
Like many other brands and businesses, if you wish, you can limit your Twitter Headers to only a meaningful and relevant image that perfectly represents your business. Even if you add some text, it should be simple and easy to read and understand.
Your clean and uncluttered design will make your Twitter Header visually more appealing, and the visitor would love to spend more time reading your tweets and might follow your profile.
For example, look at the minimalistic and clean DocHipo Twitter Header Template, conveying their message with just two words.

Get This Template and More
The food Twitter Header Template design below looks so aesthetically pleasing.

Get This Template and More
Similarly, the following DocHipo Twitter Header Template design is clean and soothing.

Get This Template and More
How Do You Make a Twitter Header with DocHipo's Online Twitter Header Maker?
If you haven't used DocHipo before, you need to sign up to DocHipo for free with your email address and password. Then follow the below simple three-step process to make your own Twitter Header design that attracts followers and makes an impact.
STEP 1: Choose a Twitter Header Template
Once you log in to DocHipo, you'll be on the 'All Templates' page. Type' Twitter Header' and click on the result in the search bar.
The Twitter Header templates in DocHipo are available in two themes: food and travel.
Select the blank template and rock the canvas with your ideas whenever you feel like creating your Twitter Header design from scratch.
However, in most cases, you may want to work with brilliantly designed Twitter Header templates to speed up your design process.
So hover over the Twitter Header template you love to preview or select it.
After selecting the Twitter Header template, add a name and brief description to the document you're going to design and click on 'Next.'
STEP 2: Customize the Twitter Header Template
DocHipo equips you with various design widgets and an easy-to-use drag-and-drop editor to give you complete control over your Twitter Header design. Let's explore some widgets and customize the Twitter Header template I've chosen.
Once your canvas opens, adjust its size so you can work comfortably.
Pictures
You'll find the 'Pictures' widget under the 'Graphics and Media' tab on the left sidebar.
This widget is DocHipo's library of high-quality stock images for different themes.
You can search for your desired picture(s) in the search bar or select a theme from the drop-down menu.
As I'm designing a travel Twitter Header, I'll select the 'Travel and Vacation' theme.
To replace an existing image with your chosen one, drag the image and drop it over the existing one.
You can still adjust the picture's position or size using the drag and drop tool if needed.
Have a look at the Twitter Header after replacing the picture.
Here's a YouTube video guide to enhancing your chosen picture with DocHipo filters.
Color Change
Now we'll change the rectangular box's color with the resort name.
Firstly, select the rectangular box and click on the color icon from the editing panel above, and the theme colors will show up.
Click on the color palette icon to experiment with the custom colors.
In addition, you can directly put the hex code of the color you want to use and click on it to see the changes in your Twitter Header design.
This is how it looks after changing the color.
We can further experiment with changing the opacity of the color of the rectangular box. Select the box and click on the opacity icon in the editing panel.
Similarly, you can change the color of any element.
If you want to replace the rectangular box with any other shape, go to the 'Shapes' widget under the 'Graphics and Media' tab.
Text
To edit an existing text, double-click on it and replace it with your own words that convey your brand's key message.
After replacing the text, you can explore the text editing options.
As you can see, you can change the text format, font type, size and color, text alignment, letter spacing, text-shadow and border effects, and so much more.
Click on the three horizontal dots to see more text editing options such as opacity, strikethrough, list, adding links, arranging texts in order, etc.
You can reposition the text or resize any element using the drag-and-drop tool.
Icons
You'll find the 'Icons' widget under the 'Graphics and Media' tab on the left sidebar.
DocHipo has a massive collection of adorable icons in various themes in color and mono categories.
Since I'm creating a travel Twitter Header design, I choose the 'Travel and Transportation' theme.
Choose an icon that best represents your brand and its key message. I'm selecting the one shown below.
After resizing and adjusting the icon's position, it looks like this.
Now we can change its color the way we did before.
The video shared below would greatly help to learn how to use icons in DocHipo.
Other design widgets like illustrations, stickers, lines, shapes, etc., are available in DocHipo that you can use if needed.
You may check out The Ultimate Guide to Using the DocHipo Editor to Design Your Documents for your reference.
STEP 3: Download Your Twitter Header Design
Once you are done with your customization process and completely satisfied with the outcome, you can preview, download, share with your team, save to MailChimp, etc. Click on the three horizontal dots and select your preferred option from the drop-down menu.
The downloadable formats for any document you design with DocHipo are JPG, PNG, PNG Transparent, PDF, MP4, and GIF. So choose your required file type and quality and click the Download button.
If you need help downloading your file, here's a video guide.
Before Customization:

After Customization:
Wrapping Up
Hopefully, this step-by-step customization process made you realize how easy and fun it is to design with DocHipo. So sign up to DocHipo, go through all the Twitter Header Templates, explore the design widgets and make the most out of them. Also, now that you've got some Twitter Header design best practices under your belt keep those in mind while creating your Twitter banner that makes a lasting first impression.
If you have any unanswered questions regarding your Twitter Header design, drop a comment below, and we'll be happy to help you.