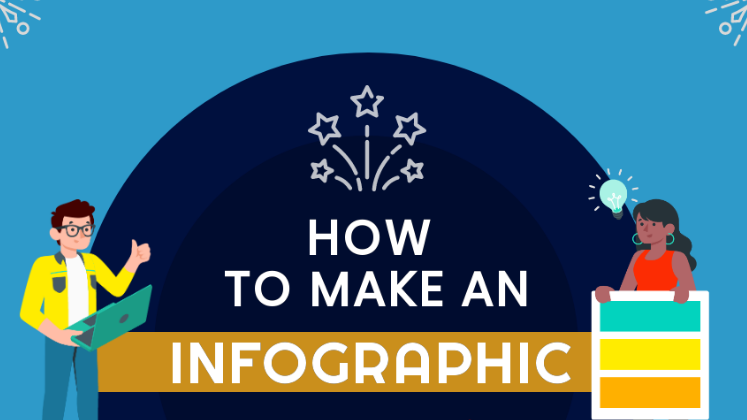 How to Make an Infographic: A Step-by-Step Guide

May 5, 2020
Our brains process visual content 60,000 times faster than text. Hence adding visuals into your webpage or blog can quickly grab the attention of your audience and produces up to 94% more views. That's what an infographic does. It presents information in the form of graphic design so that it can catch the attention and makes it memorable for your target audience.
The use of infographic has skyrocketed in the last ten years. Over 65% of B2B marketers today use infographics as one of their content marketing vehicles.
In this article, I will break it down for you how to make an infographic – step-by-step and why infographic is important as a content marketing lever.
But first…
What Infographic Means
Infographic = Information + Graphic
It's the visual representation of your information or data so that it is engaging and easy to digest. Whether it's a step-by-step process that you are explaining, or providing some valuable tips, infographics can be an excellent tool to communicate effectively with your target audience.
Here's an example of how different visual elements are combined with text to create a stunning infographic:

Why Infographic is Important
Let's look at the top reasons why infographic is important as a content marketing lever
1. Attention-Grabbing
It grabs attention quickly and generates more views for your blog or web page.
2. Easy to Understand
Infographic is easy to digest vis-a-vis a wall of text. This shortens your conversion time – from visitor to lead.
3. More Likely to be Shared
Because of the visual nature of infographic, it's more likely to be shared in social media. This improves your brand visibility.
4. Memorable
Infographic is more memorable than text content. This makes visitors keep coming back to your site, which in turn helps you climb up in search engine ranking.
How to Create an Infographic Step by Step
If you are planning to create a high-impact, engaging infographic – you must prepare before you start designing. Here's an infographic on how you plan:

Step-1: Decide Target Audience
Once you decide who you are creating it for (which industry, age group, gender, geographic location) and where they are likely to view this (Pinterest, Instagram or any other social media), it becomes easy for you to choose the right colour, the tone of your infographic copy and the dimensions.
Step-2: Set Your Goal
What is the goal of your infographic?
The goal could be:
Explaining a process
Presenting interesting facts
Making a comparison between two options
Raising awareness by presenting dos and don'ts
The goal, once identified, helps you decide on the design layout and visual elements to be used.
Step-3: Start with a Topic
Once you decide your target audience and goal, the next step is choosing a topic that your audience has been searching for. The more specific the topic is, your audience will find it more engaging.
Step-4: Collect Relevant Data
Collect data in line with your topic. You can either use your own data or from third-party credible sources. In case you are using third-party sources, ensure you mention the sources in the infographic.
Step-5: Plan the Layout
Create a wireframe on a piece of paper on how you want to design the infographic – where to place which all elements, what copy to use so that you can create a visual layout of the infographic even before you start the actual design.
Step-6: Check Your Data
At step-4, you have collected the data. However, before using them in the infographic, double-check every single data so that there is no error or unreliable third-party sources.
Step-7: Start Your Design
Now you're all set to create a memorable, stunning infographic

How to Make an Infographic: Quick and Easy
Now that you know how to create an infographic step by step, the next big question is – how to make an infographic – quick and easy!
Designing infographic in the "old way" is a painful process.
If you don't want to compromise with the quality of infographics, you need to hire a professional designer. Hiring a designer is expensive. Even if you could identify a budget designer, there is a wait-time. And often you need to do multiple rounds of iterations to perfect the design. So you lose your precious time in this process.
And in case you are attempting to create the infographic on your own, and you're not a designer, it involves a significant learning curve. You need to know the fundamentals of design principles, master graphic design software, find out the right images, icons, illustrations from the web and finally putting them all together in a manner that looks appealing. That's quite a massive ask – right?
Is there a better way? Is there an easy-to-use free infographic maker – where you can get access to hundreds of free infographic templates designed by some of the best designers of the world and used by hundreds of marketers?
Yes – DocHipo lets you do just that and much more

It has everything you need to create stunning documents – not only infographic but also beautiful flyers, posters, presentations, web banners, social posts and much more. It's a drag-and-drop document editor that lets you customize any available template or make a document grounds-up.
Let me now walk you through how DocHipo helps you create a beautiful infographic in 3 simple steps. This will grab the attention of your target audience and save hundreds of your work hours that you can invest elsewhere.
DocHipo: Free Online Infographic Maker
Are you ready? Here're the 3 steps:
Step-1: Choose Your Template
Once you sign up to DocHipo, choose from a wide variety of available infographic templates under different categories. While you have the option to start from scratch, why to put effort when our designers have already done the heavy lifting for you?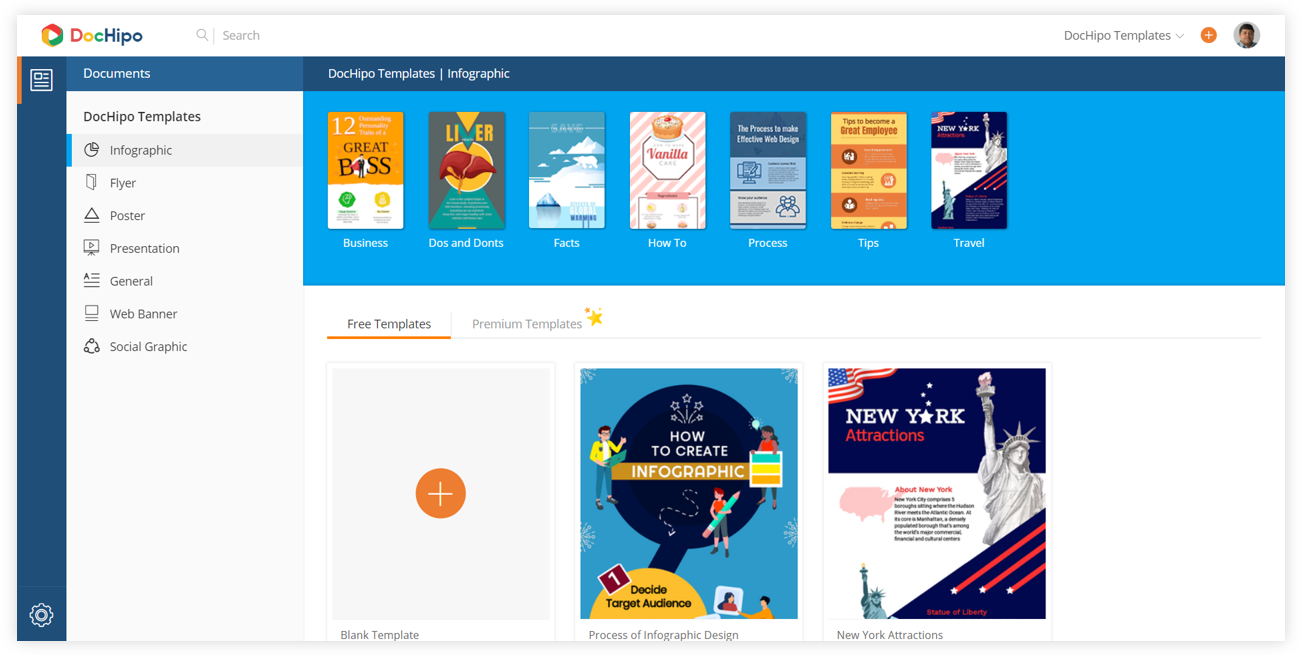 Hover on any template that you like. You get options to preview or select to proceed!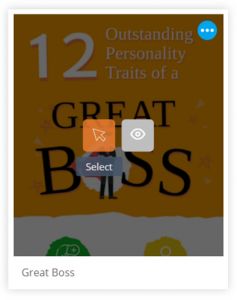 Click on "Select". This will open up a form where
Your name is captured automatically as the Document Owner (i.e. who owns this document. You can change the ownership to someone else in your team)
The template name is auto-populated as the Document Name. You can change it.
You can write any description of this Document (infographic) in the Description area.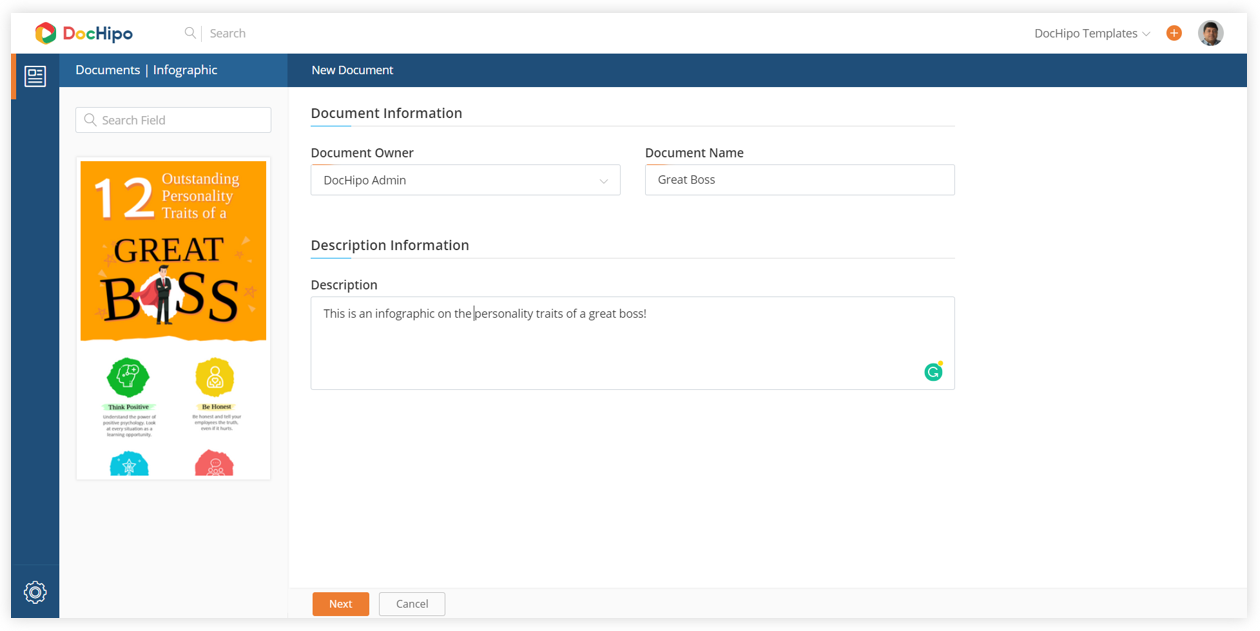 Click "Next".
Step-2: Change Content
Now you land in the editor where you can customize the template.
Change the text, font type, replace the illustrations, add an image – just the way you want using the drag-and-drop editor (Here's a super short video on how you can customize the template).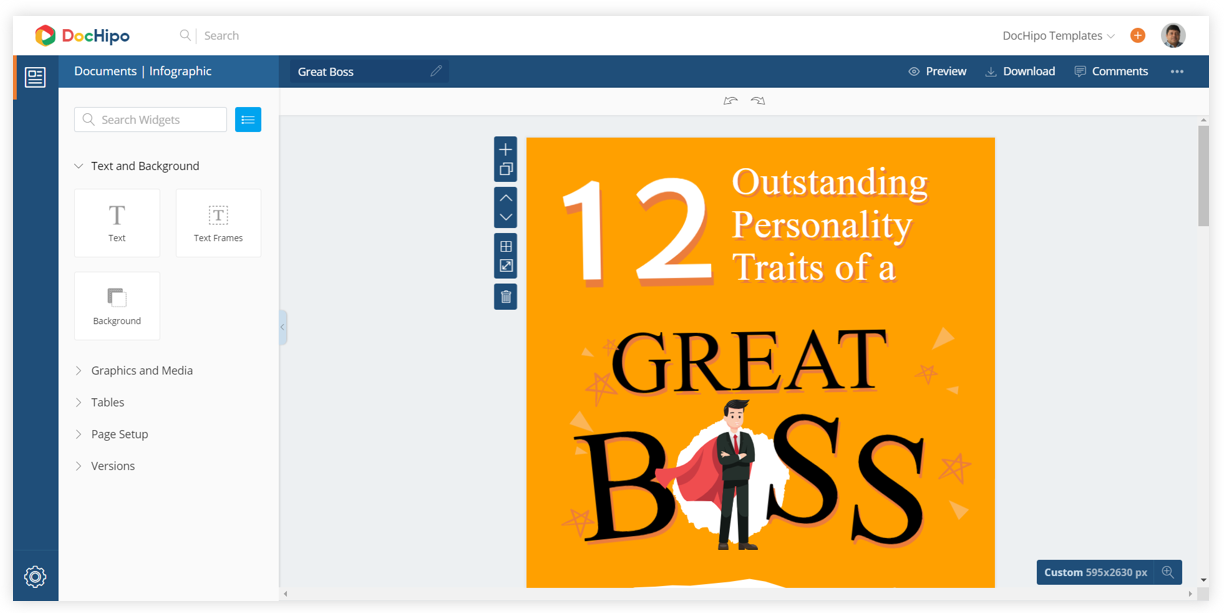 Step-3: Download or Publish
Once you are happy with the infographic, download it as a PNG file and embed on your blog or web page. And you're done!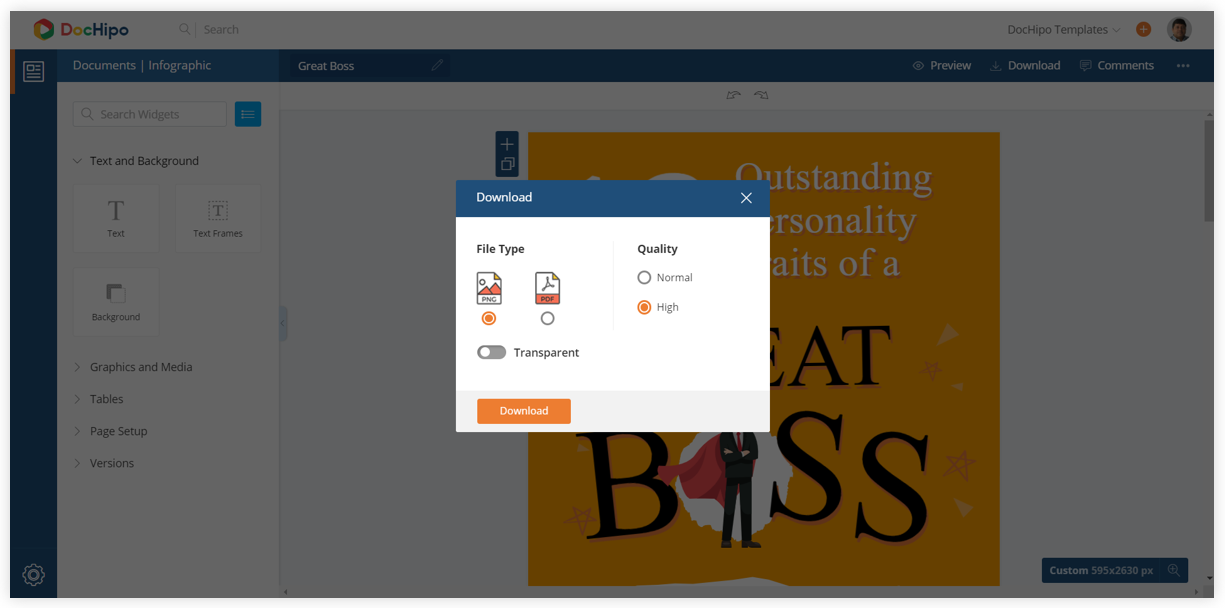 You also have the option to publish the infographic and share with your friends via a URL, to social media or embed on a blog (or webpage) from within the editor itself.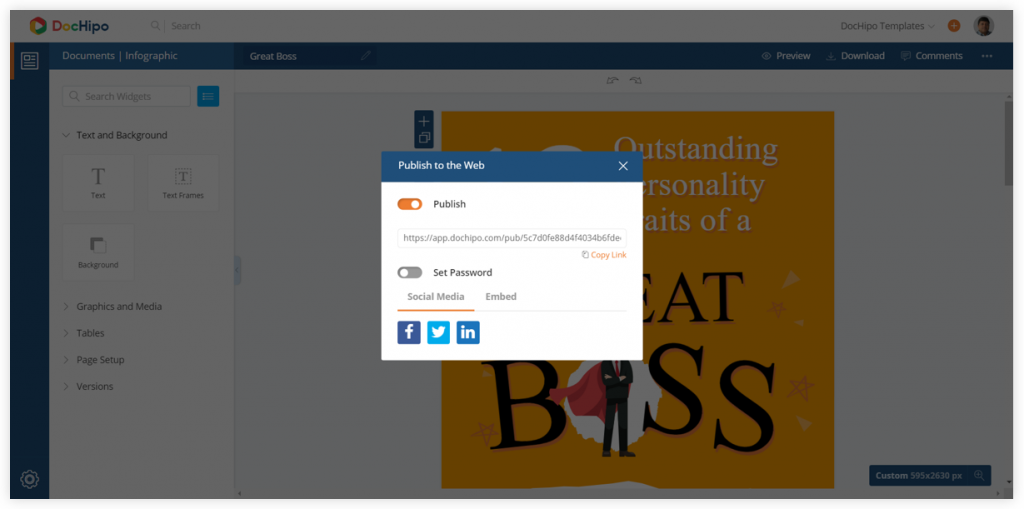 Now your infographic can grab the attention and rake in more clicks using DocHipo free infographic maker!
Free Infographic Template
DocHipo offers a wide variety of pre-designed infographic templates. Based on the goal of your infographic, you can choose the most appropriate one and customize:
Process Infographic
A process infographic template is used when you intend to present the steps involved in accomplishing something. Here's one such template in DocHipo:

Tips Infographic
This category of infographics is useful when you are sharing tips or best practices to your target audience. Here's one such template in DocHipo:

Facts Infographic
This category of infographics is primarily meant for educational purpose. Here's one such template in DocHipo:

Dos and Don'ts Infographic
This category of infographics is useful to spread awareness. Here's one such template in DocHipo:

There are more such gorgeous infographic templates inside DocHipo. Sign up to DocHipo today and start creating captivating infographics!
PS: In case you're looking for an infographic template for a specific use-case, and you can't find it inside DocHipo, please let me know here so that we can create those templates and make them available in our library of templates