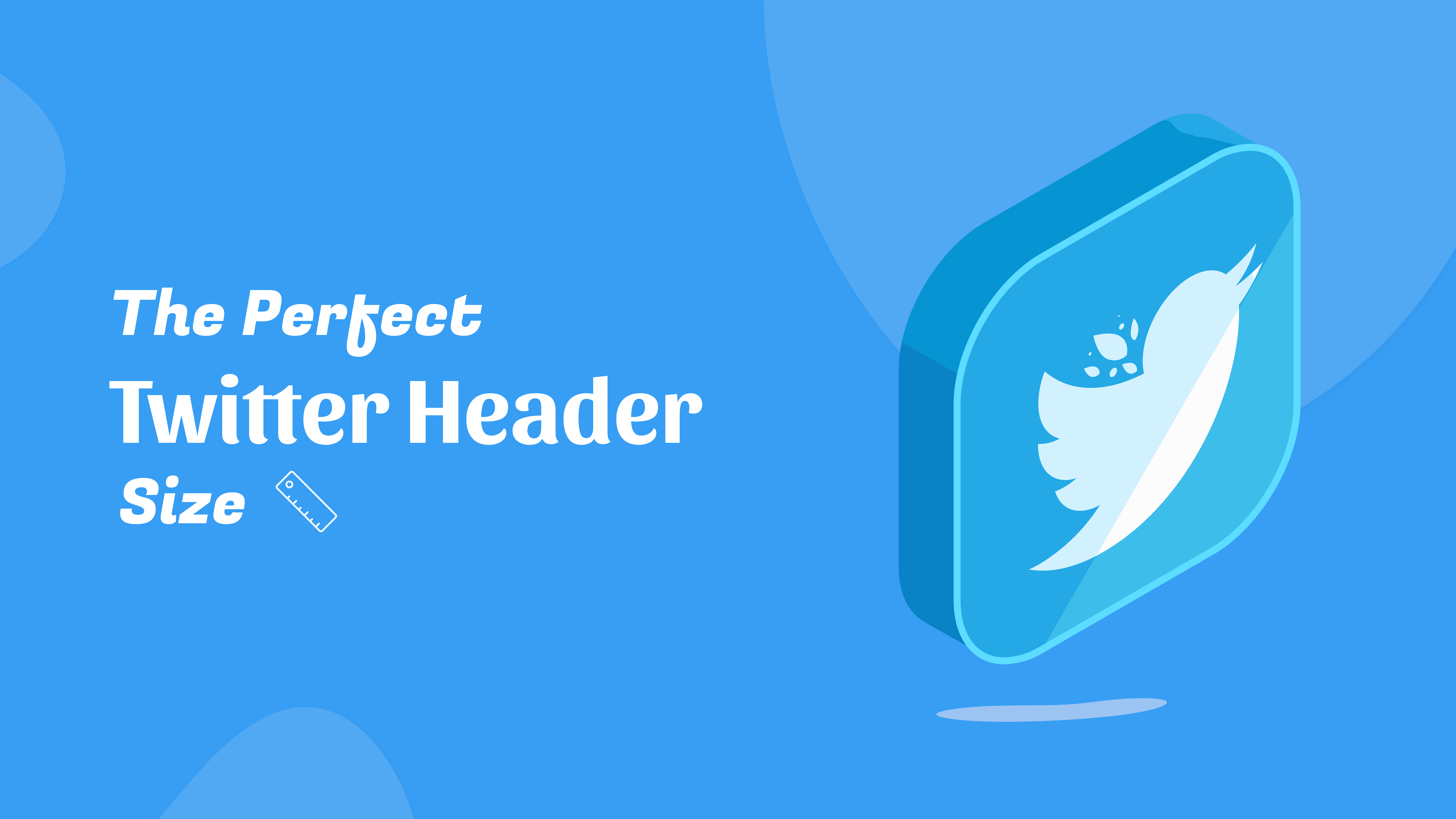 The Perfect Twitter Header Size with Examples and Best Practices

Last Updated May 13, 2023
If your brand's Twitter profile assets, like the profile picture and header image, follow the wrong dimension or aspect ratio, the visitors will perceive your brand as unprofessional. Perfectly sized headers will make them think that you care about your brand and put effort into every minute detail.
Many brands and businesses still overlook the importance of a perfectly sized Twitter header and its quality. It results in the waste of such a remarkable space that could put life into your marketing campaigns.
In this article, we'll discuss the perfect Twitter header size and some guidelines on your usable space to ensure that it shows perfectly. You'll also see five great Twitter header examples and the best practices they follow to get your creative juices flowing.
Why Should You Care about the Perfect Twitter Header Size?
Let me re-instate why you need to use a perfectly sized Twitter banner. Having a clear idea of the Twitter header dimensions and designing accordingly will ensure each crucial element is visible. It'll keep the quality of your header image intact, preventing it from getting cropped strangely. It makes the Twitter banner look great irrespective of devices and screen sizes. Ultimately, it creates a lasting impression on your profile visitors who love to check out more about your brand.
The Perfect Twitter Header Size
The recommended Twitter header size is 1500 pixels wide by 500 pixels tall. The Twitter header dimensions maintain an aspect ratio of 3:1.
Twitter supports JPG, PNG, and non-animated GIF file formats. Both your Twitter profile picture and header image should be under 2 MB.
Twitter Header Size Safe Zone
As your Twitter profile picture displays in front of your header, some part of the former overlaps with the latter. Hence, considering only the Twitter header size isn't enough to make it look professional and eye-catching. Despite following the perfect Twitter header size, it may not look its best.
The Twitter profile picture's position varies depending on the device viewers access and its available screen size. On a computer, your Twitter profile picture covers quite a large area of your Twitter header. Most areas of your header image will be visible if accessed from mobile devices. To account for the profile picture and address this varying screen resolution issue, you should create a Twitter header leaving ample space in the bottom left corner.
You may also experience that around 60px on both the top and bottom of your Twitter header image is cropped. So, leave some space empty at the top and bottom of the cover photo. The overall Twitter header safe zone is about 1500×360 px. Utilize only this space for incorporating your design elements.
For example, the DocHipo Twitter header templates below leave plenty of space to accommodate the profile image on the left.

Get This Template and More

Get This Template and More
Examples of Twitter Headers We Love
Take inspiration from the following examples to make the most of the valuable Twitter header real estate.
Cadbury Dairy Milk's Twitter banner centralizes its product image and famous tagline. The rest is covered with their brand color.
The Twitter header image scales depending upon different device screen sizes and browsers. So, design your Twitter header with your profile picture's position in mind to ensure it doesn't interfere with the header. It's best to keep all your crucial elements in the center to prevent them from getting cropped. It'll also help prevent the banner from obscuring your Twitter profile image.
Isn't the image in Sonata Watches' Twitter header looking stunning? It's dominating most of the space in banner design. It's adding a whole different vibe to the cover photo.
Brainstorm what kind of image will best represent your brand. Always use high-resolution images, as poor-quality images will repel your profile visitors. Also, choose an image that contrasts nicely with the rest of the background. You can use Dochipo's stock photos in your design. Else, if you're advertising your products, pay attention to your product photography so that it mesmerizes your audience.
Check out our video on uploading images in DocHipo.
You may enhance your images using DocHipo's built-in photo-editing features. Alternatively, here's a quick demonstration for you on the same.
The pocket-friendly home interior services company HomeLane sets a simple, sweet, and impactful Twitter header. It showcases a family happy with their home interiors, striking an emotional chord by capturing comfort and happiness. The choice of subtle background color adds to it.
Emotion is a crucial factor that connects a brand to its customers. Think of the experience you're providing with your product or service and present it in the best way possible.
The automation tool Zapier's Twitter header is quite simple and uncluttered. No unnecessary design elements, only communicating its marketing message concisely. I love the clever and catchy tagline describing the service it offers. The message is prominent and in high contrast to its background color. It's one of the best examples of "Less Is More."
You can go for a simple and minimalistic design where it's suitable but do not compromise the quality. Communicate your brand message in a concise yet easily understandable and meaningful way.
The Bakery Foods Company Britannia's Twitter header looks colorful, with all its brand colors promoting brand consistency. It is showing its product ranges to make the profile visitors aware of what it offers at a glance.
The takeaway is incorporating elements in your Twitter Header design that make your brand easily recognizable.
How to Make a Twitter Header without Any Design Experience
DocHipo provides stunning Twitter header templates.
I highly recommend you choose from the Twitter header template as they already come in the perfect size.
Though the templates are a solid base for accelerating your design process, you can also create Twitter banners from scratch. DocHipo's Twitter header maker lets you easily customize your Twitter header design by adding your branding elements, text, and graphics.
Wrapping Up
Getting your Twitter header size right is essential for creating a great first impression on your visitors. Also, keep the safe zone in mind. Keep all your crucial design elements in the center so that nothing gets lost because of absurd scaling and cropping. Also, I hope you got some inspiration from the stunning Twitter header examples shared above. Explore all the templates, sign up to DocHipo, and design visually appealing Twitter banners to wow your Twitter profile visitors.