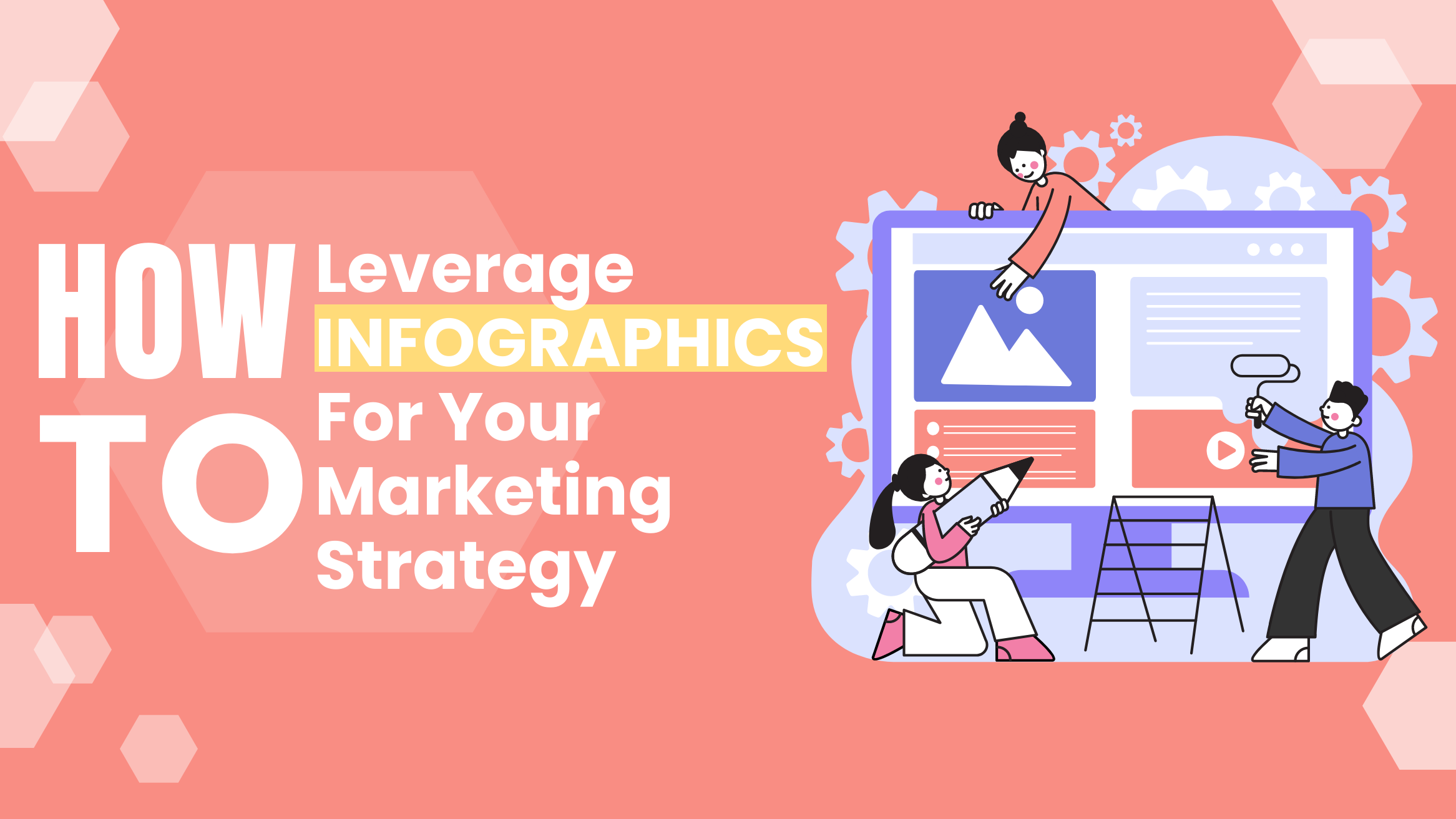 Infographic Marketing: How to Leverage Infographics for Marketing Strategy

Last Updated Jun 19, 2023
Infographic marketing is one of the newest marketing strategies that keep becoming more common in digital and content marketing circles. 67% of B2B marketers use infographics for their content marketing. So if you are going to catch up with the competition, undoubtedly, you should include infographics in your marketing strategy. Because in the ocean of visual content, your content must stand out. Infographic marketing is all about standing out.
As you can probably guess, in this article, we will discuss infographic marketing and how to leverage infographics in your marketing strategy.
What Is Infographic Marketing?
According to the Oxford Lexico, Infographic is a visual representation of information or data. Infographics are used to communicate complex information quickly. They include engaging visuals that help you understand an overview of a topic.
In other words, infographics summarize the bulk of information into bite-sized pieces. When designed pleasantly, infographics can go a long way for your marketing strategies.
If we put this together, infographic marketing is the use of infographics in marketing strategy to engage the audience and create brand awareness in the digital marketing world. Furthermore, Infographic marketing is the part of content marketing that is about creating, publishing, and sharing infographics.
4 Ways to Incorporate Infographics In Your Overall Marketing Strategy
As we have already mentioned, infographic marketing is all about creating, publishing, and sharing infographics. And the primary objective of infographic marketing is to generate leads, create brand awareness, and ultimately grow your business.
However, the most exciting part of infographic marketing is that it has many different angles and possibilities. Hence, we will now examine how you can include infographic marketing in other marketing strategies.
#1 Content Marketing Strategy
Content Marketing is the most common way to use infographics. You can look at your content (Blog post, YouTube video, sales copy, etc.) and fill the gaps with some eye-catching infographics. However, designing marketing infographics is not the same as designing infographics for visualizing the content. It requires proper planning to create infographics for content marketing.
Infographics can create external and internal backlinks. Moreover, they provide excellent value to any type of long content such as blog posts, downloadable PDF files, white paper, ebooks, and others. If you already have a content marketing strategy for your business, don't forget to include infographic marketing in it.
#2 Social Media Marketing Strategy
Social Media Marketing is one of the most effective marketing strategies in today's world. When it comes to engaging a vast audience, there's no better alternative than social media. Hence, social media marketing is the best strategy to use infographics. Marketers use social media infographics to attract and educate their audience in an engaging way.
#3 Email Marketing Strategy
The attention span of human beings is declining with time. Now, the average attention span of human beings is only 8 seconds. So, do you have any idea how you are going to run successful email marketing campaigns? Don't worry, that's why we are here. Infographics marketing in email marketing campaigns can be the most effective strategy of all time. Infographics can get the message across faster and more effectively. Study shows that the human brain may process infographics 60,000 times faster than text.
Leave the design work to DocHipo and use infographics in your email marketing campaigns.
#4 Affiliate Marketing Strategy
Affiliate marketing is another effective marketing strategy that is growing rapidly. However, finding leads is the primary goal for affiliate marketing, like any other marketing strategy. Sometimes, long articles and even social media posts may not be the easiest and effective way to find leads. As an affiliate marketer, you must create easily digestible content.
There are many ways you can leverage infographics for your affiliate marketing strategy. You can use them to communicate what your affiliate program offers to potential affiliates. Further, the affiliates can share those marketing infographics with others to build a network.
Why Use Infographics For Marketing
Marketing Infographic can be used for a wide range of purposes. Here are some proven ways of using infographics for marketing.
1. Educate Your Audience
Many businesses in the market focus on educating their audience to demonstrate the value of their services or products. However, they face challenges while educating their audience through blog posts or web articles.
The challenge? People often don't want to read a detailed explanation about your products or services. This is where marketing infographics come in handy. Statistics revealed that infographics are 30x more likely to read from top to bottom than any text article.
2. Explain Important Concepts Easily
Do you offer any product or service that requires thorough explanation to get the most out of them? Infographics can be the best tool for you. With infographics, you can break down complex information and explain it in a visually appealing way.
For example, Infographic templates like the one below show a step-by-step approach to explain how businesses can make their buyer's decisions simple.
3. Build Links With Guestographics
As a marketer or business owner, you might already know how important website traffic is to generate leads. And you might also know the importance of link building for websites.
Guestographics is one of the trending and effective marketing strategies. It helps marketers build high-quality backlinks consistently. But what is it? Guestographics are infographics that you create for other websites and receive a backlink in return. Marketing Infographic gives you this excellent opportunity to generate massive traffic through different websites.
4. Boost Your Social Media Sharing
Social Media platforms are your most significant opportunities to attract the eyeballs of a vast audience. Once your content goes viral, you will generate revenue from it probably for the rest of your life. The right content will help you go viral and boost social engagement. It will also have a significant impact on the number of shares your content gets online.
Ultimately, this will help you create brand awareness on social media and capture most of the market.
Infographic Marketing Best Practices
Now, you have a clear understanding of how infographic marketing can strengthen your overall marketing strategy. Let's learn more about the best practices for infographic marketing.
1. Choose The Right Topic
The success of your infographic lies in the topic you choose. Ideally, it would be best to select a specific topic that can be pointed out in a single infographic. If you choose a broad topic, you will find yourself struggling to include all the information in a small space.
Hence, you need to get very specific with your topic. Thus, making it a lot easier for you to pick out the bite-sized information to include in your infographic.
At DocHipo, for example, we have created an infographic template on "10 Effective Strategies To Get More Clients". Here we have focused only on those ten specific points. This makes a lot more sense than creating infographics on "everything you need to know for getting more clients." The infographic below focuses on answering a few critical questions in a visually appealing way.

Get This Template and More
2. Follow A Visual Storyline
Your infographic should follow a logical timeline regardless of what story you want to tell your audience. It will help your audience to process the information logically. In simple words, you should focus on creating infographics about step-by-step instructions, numbering your information, chronological order, and so on.
In our "Process Of Creative Design" infographic template, we have used a list-based format to convey our message. Furthermore, the infographic follows a storyline from the start. The infographic has a narrative story from the initial steps to develop a strategy and ending with some tasks.

Get This Template and More
3. Choose The Right Color Combination
When designing marketing infographics, choosing the right color combination is one of the crucial steps. First of all, the colors you choose should complement each other. And secondly, implement your brand colors (if you have any). If you don't have any brand colors, then try choosing some that reflect your brand. Additionally, you can learn more about choosing the right color combination by clicking here.
93% of consumers focus on visual appearance while making a purchase. In the DocHipo application, you will notice that every template is aesthetically appealing. Our designers have chosen the right color combinations for every use case.

Get This Template and More
4. Select The Right Fonts
Fonts are another critical factor that can make or break your infographic design. Since your infographic marketing aims to provide valuable information to your audience, the infographic design should be quickly processed and readable. We would recommend you use elegant and simple fonts instead of fancy ones that are hard to read. This will give your infographics a professional look.
In this infographic template, we have used only two fonts: Merriweather for the headings and subheadings, Open Sans for the body text. Thus, giving it a professional look.

Get This Template and More
5. Brand Your Infographics
Though the primary goal of your infographic marketing is to educate your audience, you should also focus on creating brand awareness. To do that, you need to include your brand colors, fonts, and logo in all the infographics you design. It will help your audience discover your brand. Your infographic might look stunning and attract a large audience, but if it fails to reflect your brand, it will be of no use.
The infographic template below includes icons and logos of the businesses that are mentioned in the text. For example, for the videos and Google AdWords, we have used YouTube and Google Adword logos. You can take inspiration from this template and create an infographic using your brand colors, fonts, and logo.

Get This Template and More
How To Promote Your Marketing Infographic
Now that you have your infographic ready to use, it's time to promote them so that you can engage your audience with your business. Take the following steps to promote your marketing infographics.
1. Complement Existing Marketing Strategy
Successful marketing strategies always start with a laid-out plan. So you need to include your infographic marketing strategy in your overall marketing plan. The marketing infographics you design should support and complement your other marketing strategies. We have mentioned before some different marketing strategies that can include infographic marketing.
2. Make Sure Your Infographics Are Shareable
One of the critical reasons for creating marketing infographics is that they can be shared across the digital world. So, you need to ensure that people can share your Infographic. You can do this by sharing an embed code for the infographic you publish. DocHipo helps you do that as well.
3. Share With Your Network
What do you do when you have something important to share with other people? You tell the people you spend time with. Maybe you share it on social media as well. So, you share everything with your network first; your friends, family, colleagues, customers, and others.
It would be best if you did exactly the same with your infographics. Could you share it with your network first? There are many ways you can do the same. Post your infographics on all the social media platforms, include them in an email marketing campaign, or share it directly. Furthermore, you can publish it through your blog posts.
4. Ask For Share
Once you share your marketing infographics with your network, you can ask them to share them with their network. This will get the ball rolling. Ultimately, you will be surprised to see your infographics in different places across the web.
However, your infographic design is the most important thing among all the aspects of your infographic marketing. You need to design them in a way that people find attractive and valuable. And then you will be able to benefit from them.
You don't need any design skills, expensive tools, or designers to create marketing infographics. All you need is DocHipo (completely free to sign up). Hence, if you look to incorporate infographic marketing into your marketing strategy, DocHipo will help you with all the design work.
Click here to learn how to create infographics, or consider watching this video.
Final Thoughts…
Congratulations! You have made it through the massive guide. Now you know how important a marketing infographic is and how to use them properly for a successful marketing strategy. Once you start designing more and more infographics, you will get more opportunities to communicate with your audience visually.
So, don't miss out on this immense opportunity. Sign-up today and explore the magical world of DocHipo.