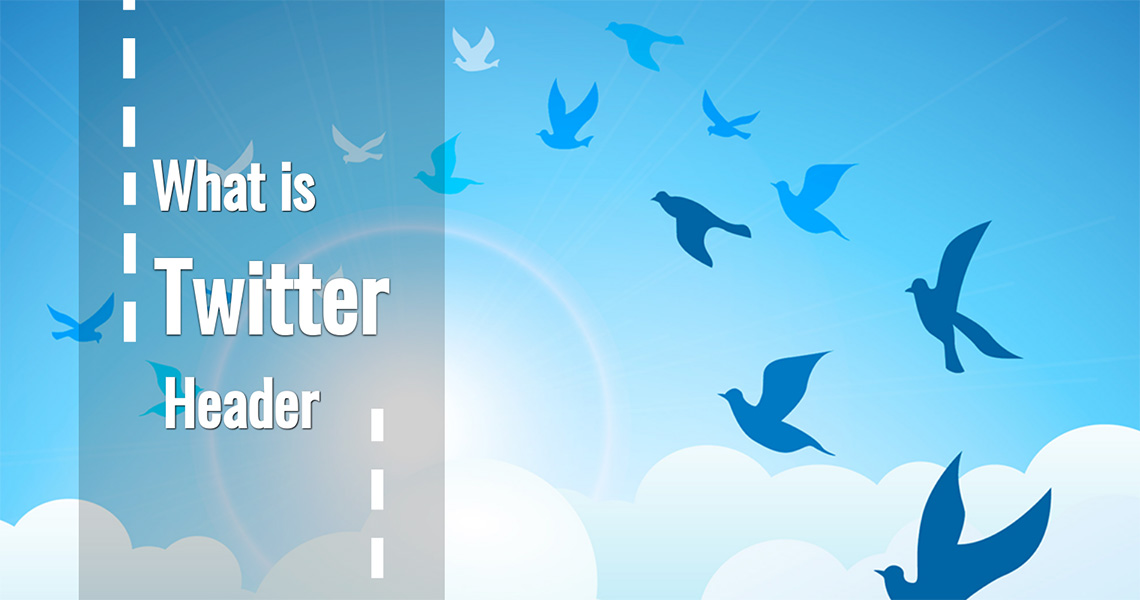 What is Twitter Header All About

Last Updated May 13, 2023
With too many brands using Twitter these days as the key channel for engagement, you have come up with the question at the right time. What is Twitter header like? To say more specifically, how can it add more value to your business?
Social media always offers you a truckload of opportunity to hit a goldmine in your business. There are roughly 500 million Twitter users who access the platform each month without logging into a specific account. That is 1.5 times of the number of monthly active Twitter users. This actually shows you the reach of this social media platform. So, your Twitter header has to engage a large number of users that you can hook as many leads as possible.
There are a thousand smart ways to use the prime real estate of a Twitter cover. You choose the one that suits your purpose best. No matter what your objectives are, certain pro tips can help your Twitter Header attract eyeballs more easily. As a result, your business gains wider recognition. If your business is a new venture, it requires smart hacks to make a mark among many established ones. But, you can definitely make tides turn in your favour.
What is Twitter Header
A Twitter header is the cover image that you can put up on your Twitter profile. Now, what is so special about it? It is a very important piece of visual content for your profile's engagement. People come to your profile (or business profile). Take a first look at your header and decide whether to follow you or not.
With 67% of the B2B businesses using Twitter as a digital marketing platform, Twitter has a hugely important role to play in creating the first impression. Your business can stand out among the rest with
Great graphics (Visual content) + Effective message = Great Twitter Header
How to Create Twitter Header
People often ask, how to make twitter headers that stand out. They often try to strike the note of uniqueness. It is a tricky job, indeed. But, you can surely make your Twitter header lock the scroll button. Take a tour of the ideal ways to do it.
1. Strike the Emotional Chord
Emotion is one surefire element that always connects. What can strike the emotional chord fast? A global problem that deserves attention. Take a look at the Twitter header of Unicef for a better understanding. On the other hand, morale boost also seems interesting. The 'Lyft' Twitter cover does the same. Such emotional campaigns with strong emotional message work twice as effectively as purely rational ones.

Image Source: Hubspot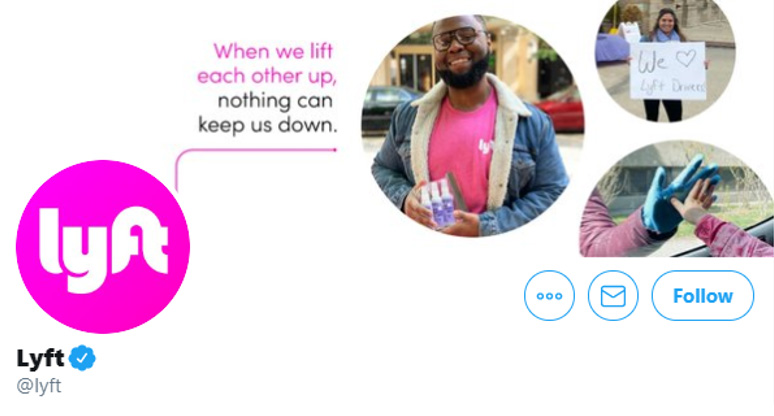 Image Source: Lyft
2. What is Twitter Header without Visual Storytelling
You can hold the attention of your patrons for not more than 8 seconds. So, you must weave an explosive story to do magic real fast. The Basecamp Twitter cover really drives in that direction.

Image Source: Hubspot
3. Use of Colourful Twitter Headers
You choose the right colours for your banner after much careful consideration. It is not only your logo or brand colour that matters. You better follow the industry trend for great colour suggestions. Take a look at the image below. It is a part of a beautiful infographic on Kissmetrics.
This part of the same suggests the use of right colours with the right impact on the human mind. If you are planning to design a Twitter header, this piece can be a serious inspiration. Take a look…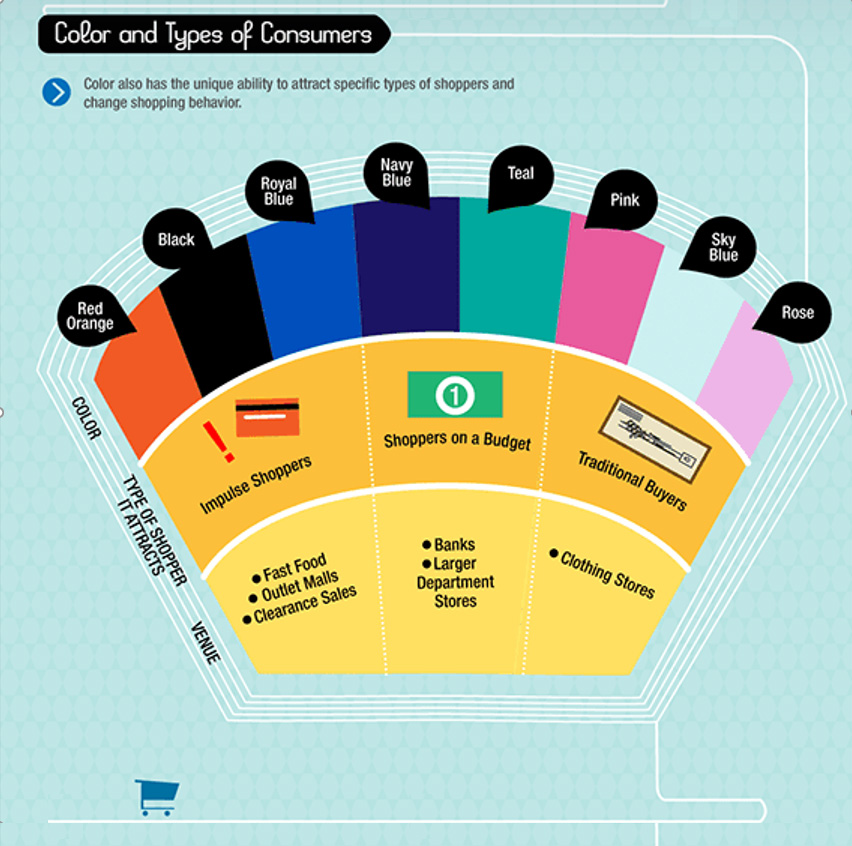 Image Source: Neilpatel.com
Wait, my discussion with you about the right colour for your Twitter cover is not over yet. The images from your business can be great background images. There must be colours that help your business turn more eyeballs. A clear contrast of colour visually guides your visitors to the right message for the business.
If you are looking into using this insight in your own designs, you can sign up to DocHipo and create your own Twitter covers. There is a gallery of ready templates for your help. Or you can design one from scratch.

Get This Template and More

Get This Template and More

Get This Template and More

Get This Template and More
4. Be Trendy on Twitter Headers
While designing a Twitter cover, your finger must be on the pulse of your prospects. It is quite important to know what is trending (like Dalgona coffee may be… just joking).
You can announce some latest lucrative deals. Jump on the bandwagon on special occasions. Google Trends is there to help you to decide the offer that you should announce. You can also resort to trendy graphics.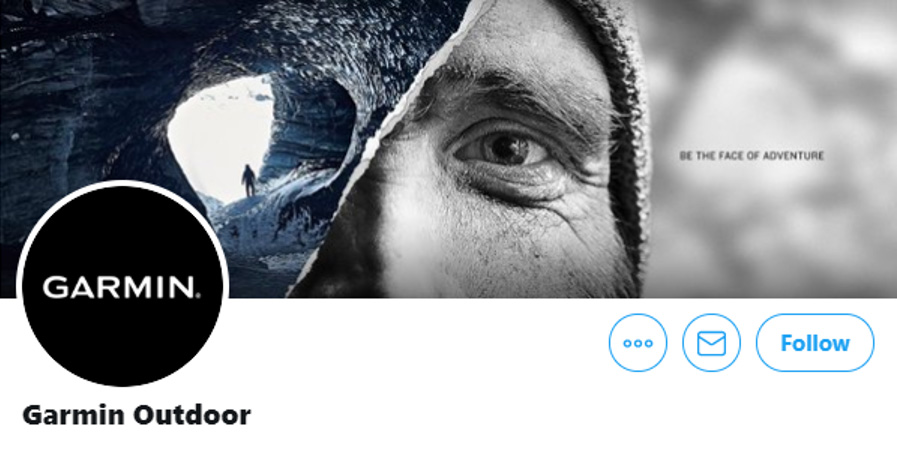 Image Source: Garmin Outdoor
5. Build a Customer-base with The Banner
Your followers on Twitter can see all the new products you release, new branches you open. In short, every offering from your business, every information about it. You can use this opportunity to engage. Neil Patel exploits that opportunity really well on his Twitter cover. Take a look,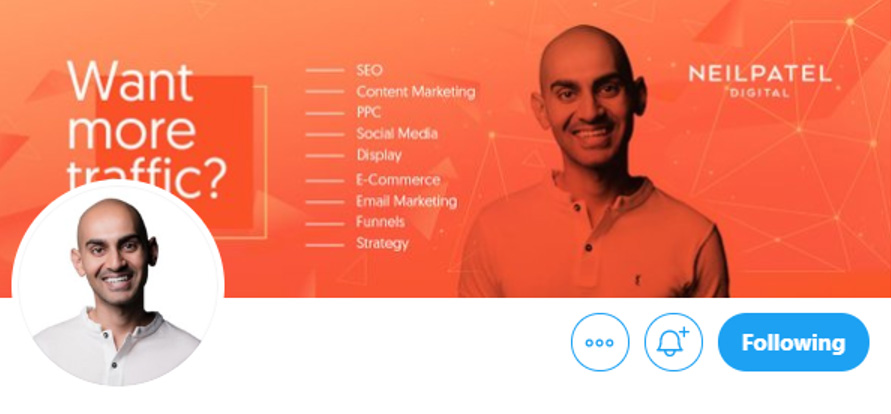 Image Source: Neil Patel
How to Create Twitter Header in 5 Minutes
You already know what to add to your Twitter header, how to make them gorgeous. But, you also deserve a step-by-step guide on how to make Twitter Header? Hmm, time to think hard? Nah…
If you are pressed for time, you can look for ready templates. That is a smart way to clip designing time for unnecessary mistakes. You also save time for mainstream work-process in your business. But the question is, where to make Twitter headers?
You can try DocHipo. After you sign up, you explore an amazingly smooth editor to work with. It is a great place to take your wobbly first steps to design. It has an astounding stock of beautiful images, great icons, text fonts, illustrations. You will simply get spoilt for choice. Just keep these five steps in mind for great quality Twitter covers.
1. Sign up to DocHipo
Select 'Web Banner'. Click on 'Twitter Header' to Filter Options.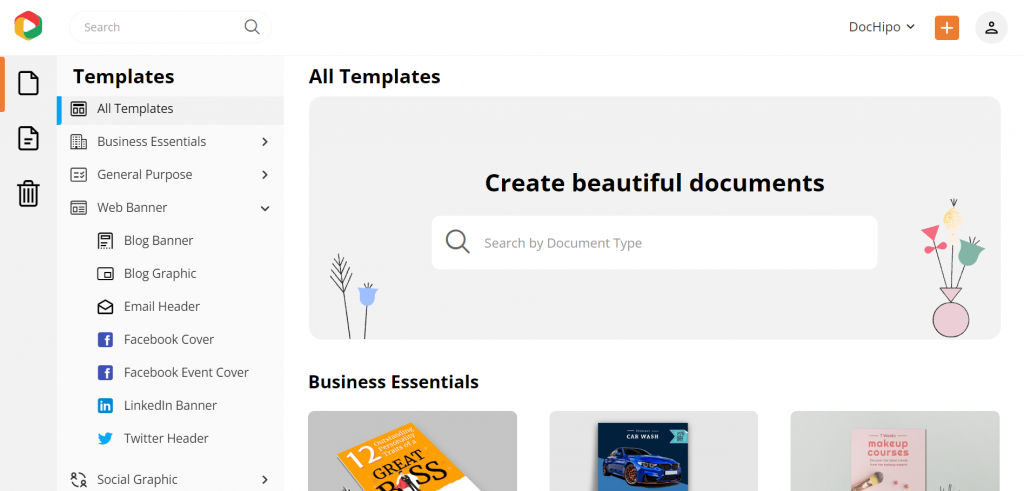 2. Select A Twitter Header Template
Select a Twitter header of your choice. Hover the mouse pointer on the template of your choice to find the 'select' option. Clicking that will open a form where
Your name features as the Document Owner. You can change ownership if you choose)
An auto-populated title appears as Document Name. You can change it.
Add a description to the Document in the Description area.
Click on 'Next'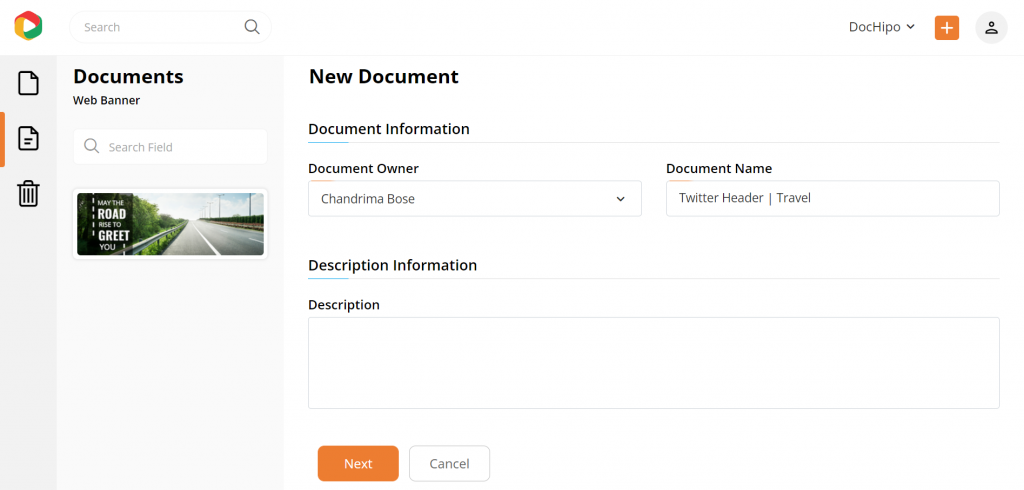 You enter the editor and start customizing the template to suit your business need. Change text-font, images, use filters, icons, and illustrations through a simple drag-and-drop process.
Do you know what is twitter header size?
Never mind, the DocHipo canvas has set the default size for Twitter headers. So, design to your heart's content without worrying about the dimensions.
Once you have customized the document, here is how the template looks like before and after customization.
BEFORE:

AFTER:

"I Can't Change Twitter Header of My Business Page"
This is the most common complaint from Twitter users. But, I believe, I can help you. Go to your Twitter profile. Click on the 'edit profile' button.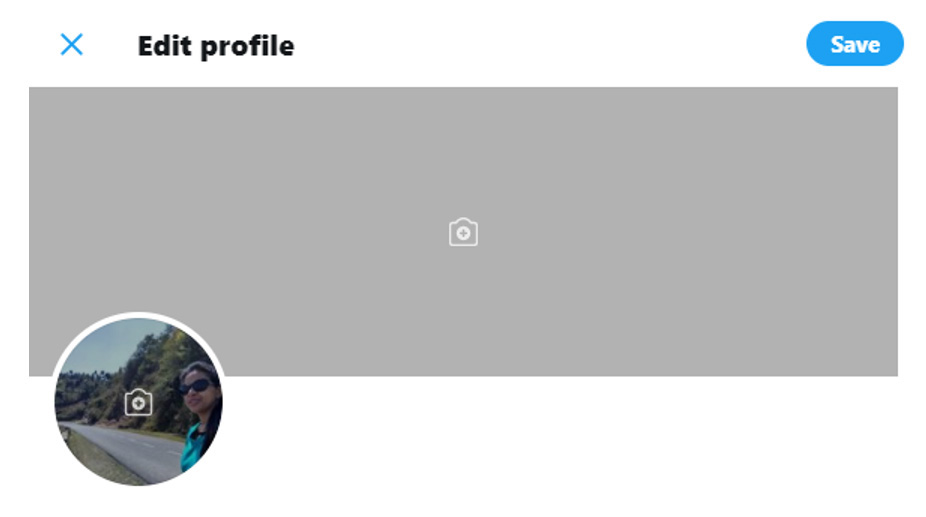 Click on the banner section to upload the Twitter header you created. Hit the save button. Ta dah, you are done.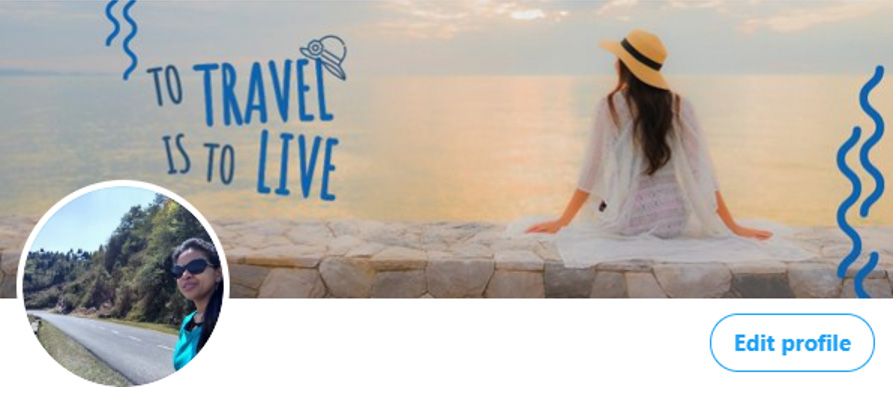 How to Make Twitter Headers with Smart Hacks?
Enough of brainstorming, it is time to try your hand at creating your own Twitter banner that brings in results. Your banner should be unique that it stands out among thousands of your competitors. Strange fact is, it is not quite difficult to stand out with business photographs snapped with your own camera. Just use all those images and other designing elements, a little smartly. Keep a few nitty-gritties in mind.
What is Twitter Header without The Perfect Image? Nothing…
Ideally the Twitter banner image should be a horizontal bar. You can crop a portrait mode picture too. But the landscape mode images are best for great results. Choose a great quality picture for clear visibility or readability (of text on banner).
Make sure, you choose a picture with great white space for a sizable area to accommodate your message. Choose text colour with perfect contrast with its background for clarity. To top it all, the image you choose should be beautiful for a great hook. Take a look at some very beautiful templates of Twitter covers on DocHipo.

Get This Template and More

Get This Template and More

Get This Template and More

Get This Template and More

Get This Template and More

Get This Template and More
I am Sure, Your Twitter Header Looks Fabulous and It Can Engage Too…
By now you know what is Twitter header and how to create it? This is the time for practice to become a pro. Just sign up to DocHipo and start designing on your own. Very soon, you will become a pro.😄
FAQ
What is Twitter header size?
The optimal Twitter header size is 1500 pixels wide x 500 pixels tall, with an aspect ratio of 3:1. If you don't follow the recommended Twitter header dimensions, it will crop your image to fit it. Design your Twitter header leaving the space taken up by your profile picture.
How do I customize my Twitter header?
You can create a visually appealing Twitter header with DocHipo's Online Twitter Header maker. Choose a suitable Twitter header template, and customize it using DocHipo's drag-and-drop editor. Use the design widgets like pictures, illustrations, stickers, etc., that best represent your brand. Add text that communicates your business offerings.
What is a header in Twitter?
A Twitter Header is the cover photo you display on your Twitter profile. An impactful Twitter Header comprises eye-catching graphics and the right messaging. This visual content is an opportunity to convey your business's nature and create the first impression on your Twitter profile visitors.