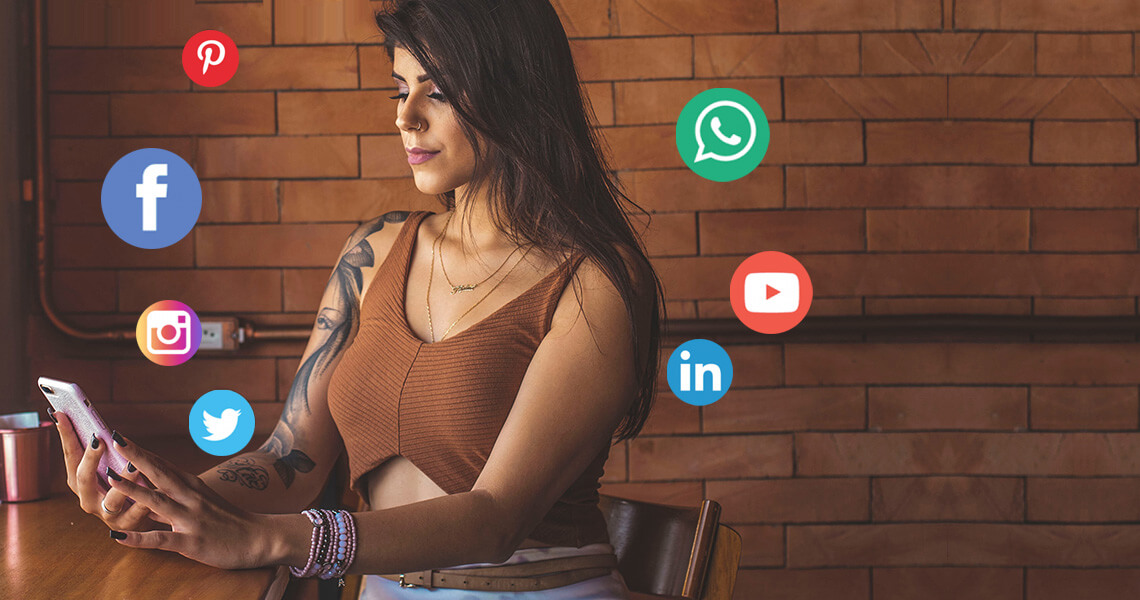 4 Proven Tips for Creating Stunning Social Media Posts

Published on Nov 8, 2019 | Updated on Oct 19, 2022
Did you know that almost 42% of the world's population use social media? Another study has broken this down and shows that 90.4% of millennials, 48.2% of baby boomers and 77.5% of generation X are active social media users. You can connect to all these groups with beautiful social media posts.
No matter what industry you are working in, what products or services you are offering, almost invariably a large chunk of your target audience is active on social media. Therefore, social channels have become (quite understandably) one of the major marketing mediums for any business today. And, the cherry on top, it's super fun! In fact, there's no better way of reaching out to your audience, engage them in conversation, wish them on occasions or sometimes market new products or services to them, than social media posts.
But, when it comes to social posts, does a lazy one-line text suffice? Not really. According to experts, visually appealing social media posts are more likely to get noticed and engaged with. While there's no set formula for text-visual ratio, a 50-50 balance is something you can opt for.
Here are 4 proven tips for creating stunning social media posts!
1. Size Matters for Social Media posts
Well, when it comes to social posts it does! Be it Facebook, Instagram, Pinterest, LinkedIn or any other social platform, all these channels have a definite size for all posts. When you upload a picture or a graphic, in most cases, the platform automatically adjusts the size of the file and publish.
This can be a nightmare if for example, your contact information (which was probably on the down right corner) gets cropped out or that epic punchline ends up with one or two missing words!
Always, optimize your graphic size for the relevant platform to ensure that your posts appear exactly the way you want.
Want a shortcut? DocHipo comes equipped with the right size for all social channels. Simply choose the one you are working with and it's done!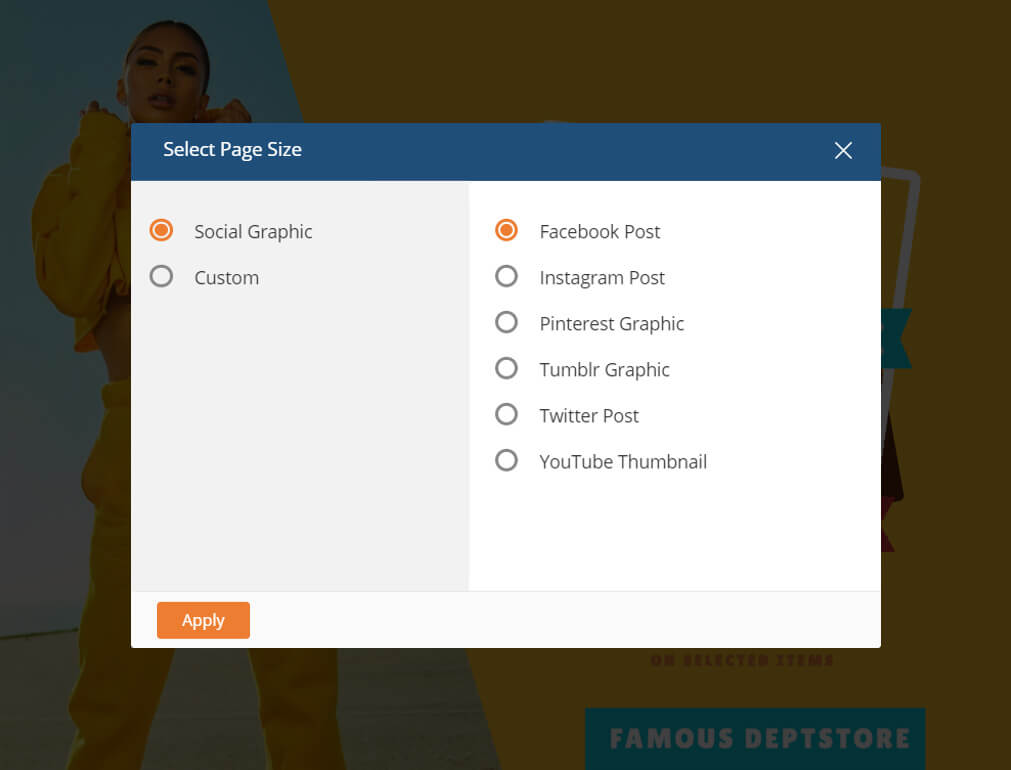 2. Embrace the KISS Principle
KISS is an acronym for "Keep it simple, stupid". When it comes to social media posts, keeping your message as simple as possible is the key. While human beings have an average attention span of fewer than 8 seconds, on social media it is even more flitting. So, the simpler, the more straight forward your messaging is, the better the chance that your audience will grasp it.
Here're some DocHipo templates that would show you how you can use one idea at a time and create a captivating design around it.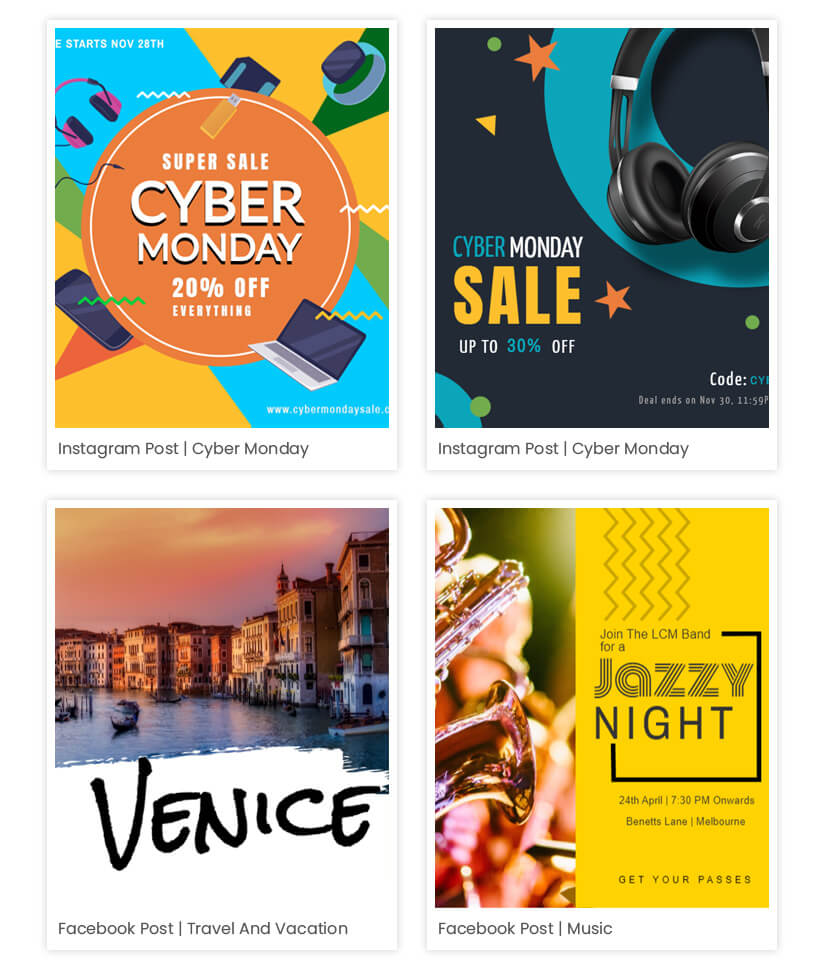 3. Create to a Color Scheme
Colours have a universal appeal. No matter how diverse your target group is, you can create a connection across cultures, communities and geographical boundaries with colours. While you can use occasion-specific colours (for example, red for Christmas, green for Easter etc.), you can use your brand colour too for creating identity and connect.
In the Social media posts' templates below, designed using DocHipo, see how the colour green is used to create an instant connect with nature, and how different hues of red is used to bring out that vibrant energy of a Rock & Roll concert.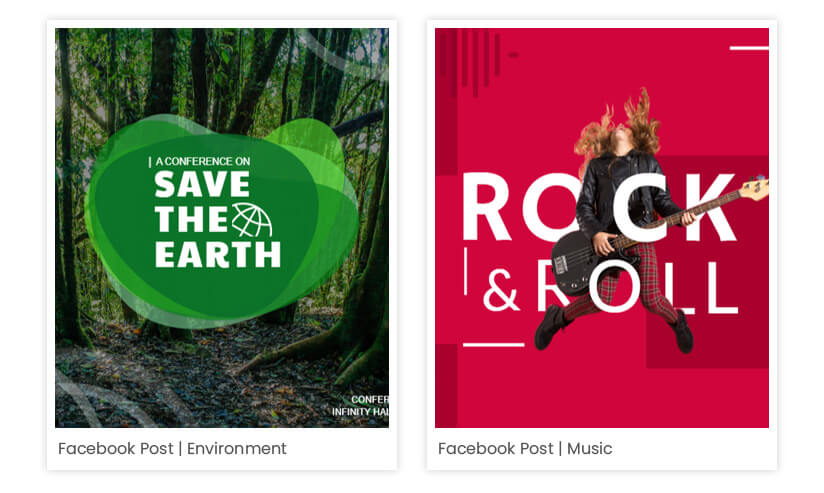 4. Be Creative with Your Social Media Posts
This one is perhaps the most important one! Social media is the playground of creativity. So, don't be afraid to experiment. Play around with versatile designs, vibrant colours and quirky themes. And with DocHipo in place, you don't even need a designer for it. Just shuffle different colours queer designs and different elements to churn up great social media posts.
Check out these awesome (and a little unusual) social media templates from DocHipo!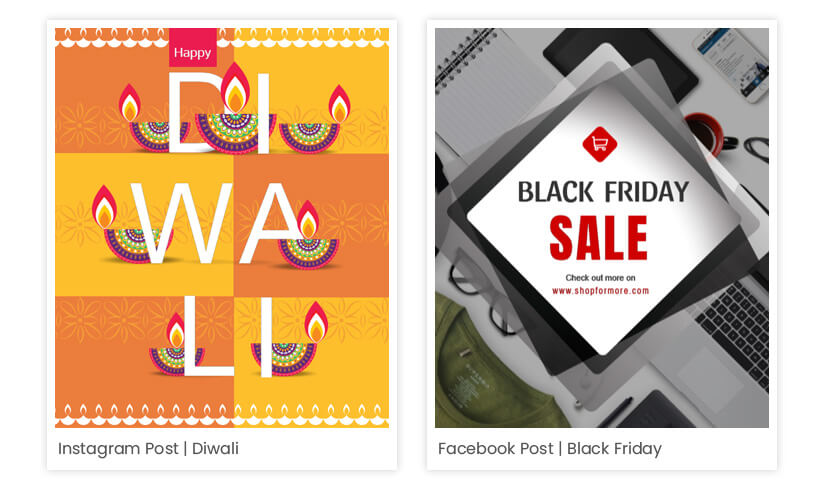 Last words on social media post
Social media marketing is fun. Creating and sharing beautiful posts, engaging with your audience, leading them by example is no doubt rewarding. And with DocHipo in place, you can create stunning social graphics in 10 mins tops. Sign up today to take your social media engagement to the next level! DocHipo is absolutely free to get started.