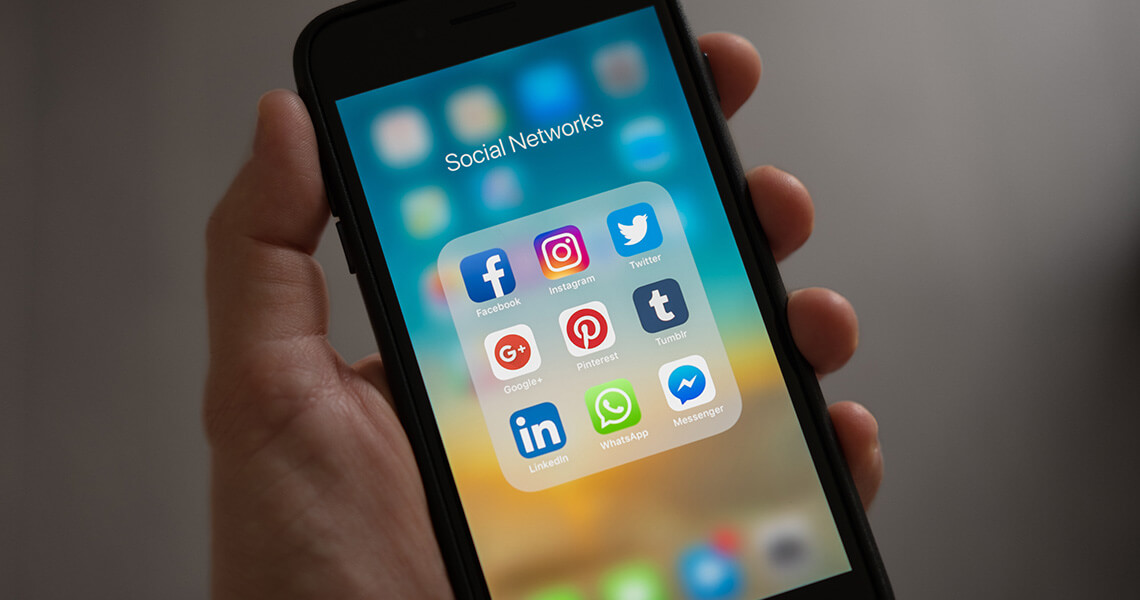 Boost Your Social Media Presence with DocHipo

Published on Nov 22, 2019 | Updated on Oct 22, 2022
Is social media doing enough for your business? Is it doing enough to engage your audience? Can you do more with your social pages? Like many businesses out there, if you have been posting on social media religiously without seeing much result, the problem may be with the type of content you are creating and sharing. Whoah, there is no need to worry. I will be on your side for a robust social media presence of your business.
According to a report, 80% of readers just scan an online document noticing ONLY the visual part of it. So, the question is, are your content visual enough to draw their attention? Because that is the only way to strengthen your social media presence.
There are 3.499 billion social media users (active) across the world today. You cannot win by missing out on 80% of them. It is time to engage with your targets proactively. Effective business cannot happen without an audience. And engaging visual content is the key to that!
Easy on eyes, social posts help your brand and business in many ways. With well put together social posts in place:

The organic search increases
More interactions start happening
Traffic to the website increases
Brand image improves
Visitors on social media talk about your business
Sales increase
So, let's see how you can use beautiful visual content to boost your social media presence!
When Stunning Graphics and Social Media Hold Hands
No matter what industry you belong from in and who your target audience is, chances are they are actively using one or more social media platforms. So, what are the types of content you can create for engaging with your audience socially? Here're some ideas!
Express Complex Ideas with Cool Infographics
Including infographic to a publication can increase traffic to it by at least 12%. Moreover, readers can grasp infographic 30 times faster compared to a text post on the same topic. So, why not leverage them in your social posts?
A word of caution here; DO NOT get carried away! You might want to put everything together and create a long infographic. But, have you ever seen a lengthy Infographic posted on a social media page? It ends up looking like a thumbnail and none can make anything out of it!
How to get around it? A snippet of it is often enough! It is better to capture the part that can hook your audience fast. A stunning design with some intriguing facts will do the trick!
And with DocHipo in place, it is super easy! You can simply choose from the awesome templates (pre-built by expert designers), customize them for your needs and get going! Check out the awesome templates below that you can use on your Facebook page for great social media presence!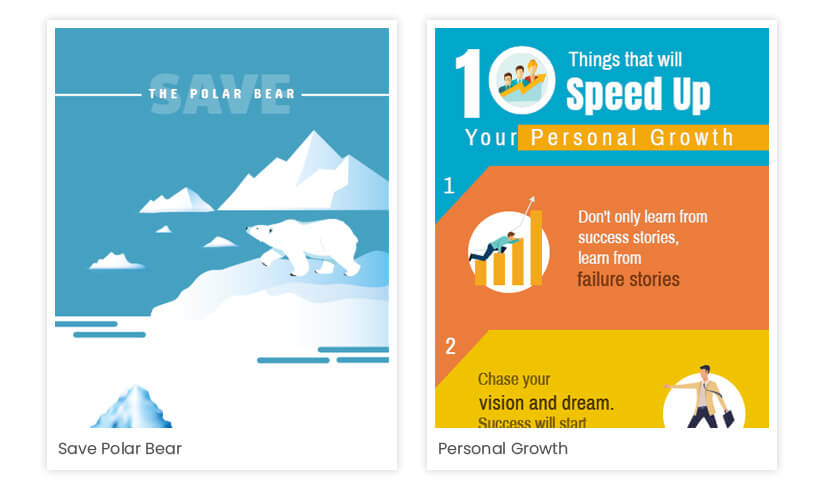 Announce Offers with Gorgeous Graphics
Running a cool offer? Generate more buzz around it with your social media post. Here, writing a post is certainly not enough! Most of your users will possibly scroll past it without paying heed (and missing out on awesome offers!). And that's certainly not something you want!
Create catchy graphics to announce your sales, offers, coupons. Let your audience know how much you love them. While designing a social post that announces sales or offers, there are certain things you need to keep in mind.
Make sure that your offering is properly highlighted and readable. If you can add some of the real product pictures, then it's even better. Play with colours, fonts, styles!
Check out these stunning DocHipo templates that can help you drive sales through the roof!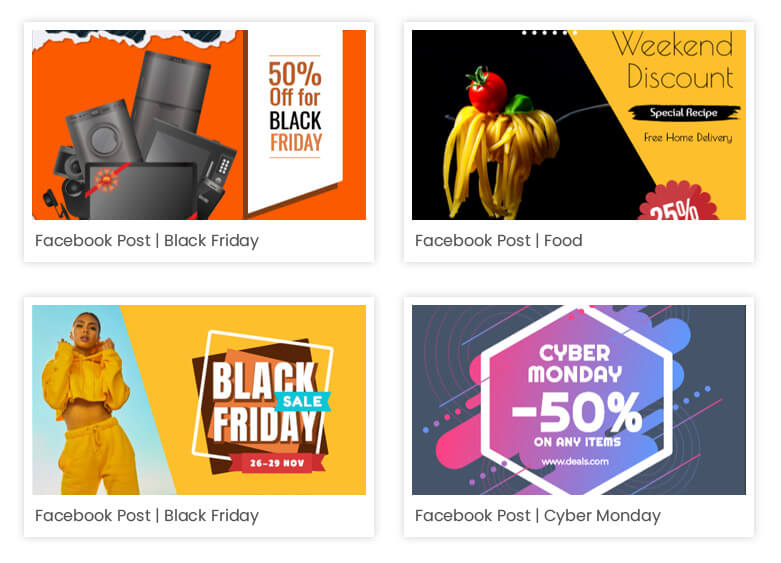 Celebrate with Your Audience and improve social media presence
One of the most beautiful aspects of social media is that you do not have to talk business all the time. The fact that you can connect with your audience socially and emotionally is a huge benefit of the channel. So, don't waste it!
Wish them on special occasions, celebrate special days with heart-warming messages and see how your engagement improves steadily. While these posts may not have any direct relation to your website visit or sales figure, these let you put a human face to your brand and help you in growing your followers.
DocHipo comes with tons of beautiful templates for special occasions. You can use any one of them or create your own! Here are some templates that you may consider using.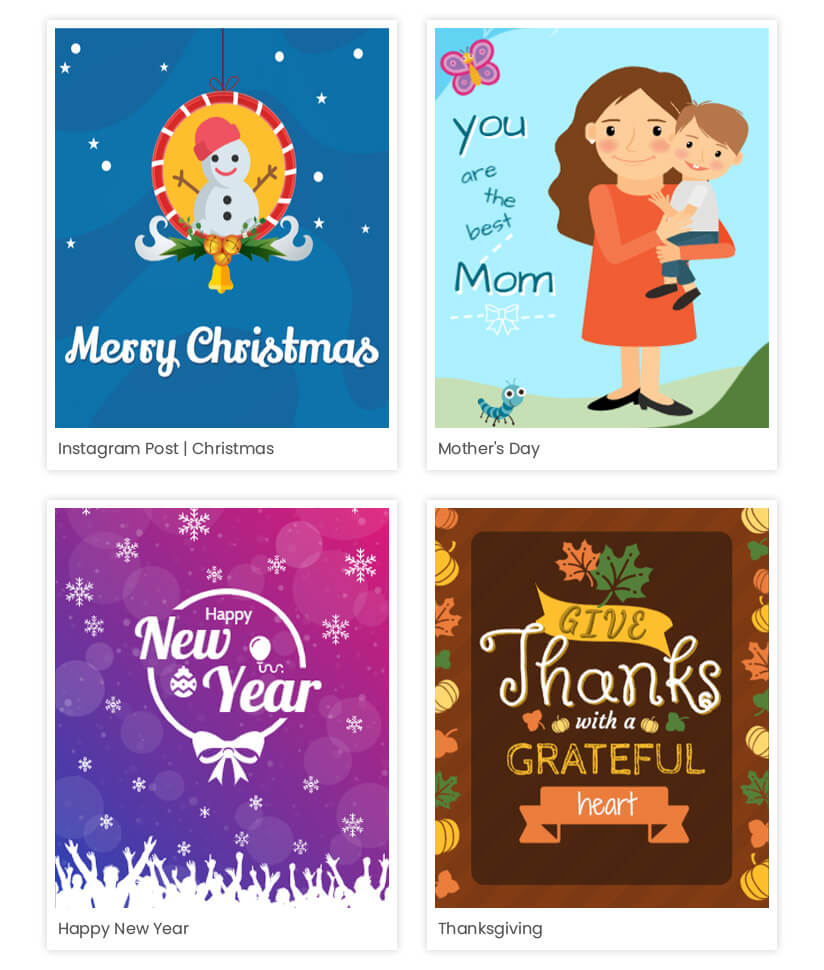 Use Catchy Social Banners to Intrigue Your Audience
Look at the banner image of your social media page. How much does it convey about your business, your values, your mission and your vision? For any social media page, the banner is a prime real estate. Use your space smartly!
Logo, tagline, useful images can further enhance the value of that banner. And with DocHipo, creating the best banner for your social media pages in a 2 mins job. It also enhances social media presence of your business. The application comes with tons of banner templates optimized for different social channels. Choose one that can express your message best, customize it and get started! Here are some examples!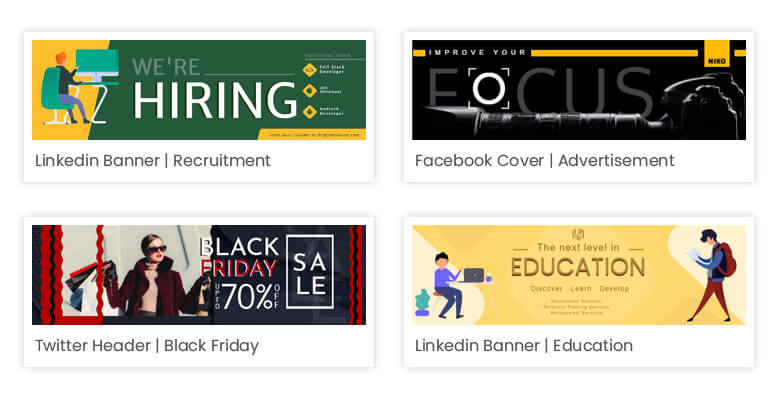 Last Words about social media presence
Social media is not all business! So, don't make it all grumpy.
Throw in some humour, some wit, some love and some humaneness! Use the platform to bond with your audience, rather than constantly marketing. And when it comes to creating this bond using graphical content helps in more ways than you can think. DocHipo provides you with beautiful templates that you can use for creating stunning social content in a jiffy! Sign up for DocHipo today to boost your social media posts and drive engagement. DocHipo is free to get started. Sign-up today to lit up your social pages!