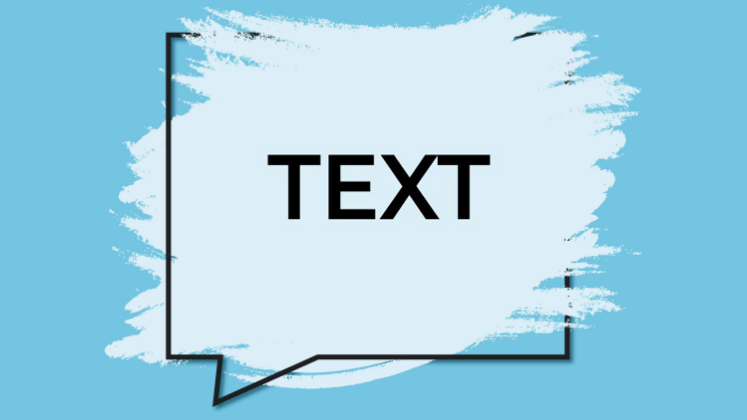 Elegant Text Frames that Can be Used in Multiple Ways

Last Updated Sep 27, 2022
In every creative work, text, and design play a significant role. The text communicates the message, which is bolstered by design. So, for every marketing visual, the message is accompanied by designs synced with the text.
When talking about Text Frames, these are interesting design elements that amalgamate the components of text and design. Text Frames are flexible and are incorporated into any visual graphic.
You can say that trendy Text Frames started featuring themselves from the sense of design, aesthetics, and typography. Also, they make scant information engaging.
So with Text Frames, you can enhance any creative document, making your entire design look stunning, attracting your target audience.
Now, if you are wondering how you can create one for yourself, then you absolutely have nothing to worry about. At DocHipo, you will get gorgeous Text Frames and use it for any creative purpose.
Hence, in this article, we will talk about the multiple ways in which you can use Text Frames. Also, we will guide you through the entire process of choosing a Text Frame to use it on your desired document.
Using Text Frames
To be honest, you can go overboard with Text Frames. That means, Text Frames are incredible on any visuals.
I am sure you will discover many more ways through which Text Frames can lay their impression on your designs.
But for now, let me elaborate on four exciting ways through which you can use these Text Frames.
1. On Advertisements
Advertisement is a broad term as it encompasses many components. The best way to define advertisement is to call it a communication process to promote products/services to the targeted customers.
This communication can take place visually, and even when someone speaks about it. Advertising can also include both the elements of audio-visual.
There are ten types of advertisements. These are display ads, social media ads, newspapers and magazines, outdoor advertising, radio, podcasts, direct mail, video ads, advertising via emails, and events.
So when you are advertising on any platform (except radio and podcast), you need amazing visuals that can instantly attract your target audience. Especially on Social media, which is the most popular advertising platform, you must use graphics that are simple yet can stay long with your audiences.
By using Text Frames, you can instantly create a stunning, minimalistic design, fulfilling the commercial purpose. Whether on flyers or digital screens, simple designs are always way more attractive than complex visuals.
Check this infographic to get a better sense of how you can optimize these Text Frames to your advantage:

2. On Greetings and Invitation Cards
Now, coming to a more non-commercial aspect, you can use these Text Frames on your invitation and greetings cards.
In most of the events that usually involve a huge gathering, you must have a good invitation card. Especially if you invite guests to your office party or for an official celebration, it is an absolute necessity for your invitation card to look astounding. I stress this point for a reason, which involves your company's reputation and branding.
A good design on the invitation card can instantly create a positive impression. Honestly, in some cases, it can also enhance your brand identity.
I know it is a common practice to overlook these minute aspects.
But, tell me honestly, have you been reckless when finalizing a design that you want to add to your invitation cards. I am pretty sure not; because somewhere, we all know that every design that you put out (even for a non-commercial purpose), represents your company.
When talking about personal use, we all want to wish our near and dear ones with lovely looking greeting cards.
Good design also has the power to make anyone happy with their bright colors, patterns, and also with messages.
So if you are planning to sizzle up your greetings and invitation cards, then you can use these Text Frames: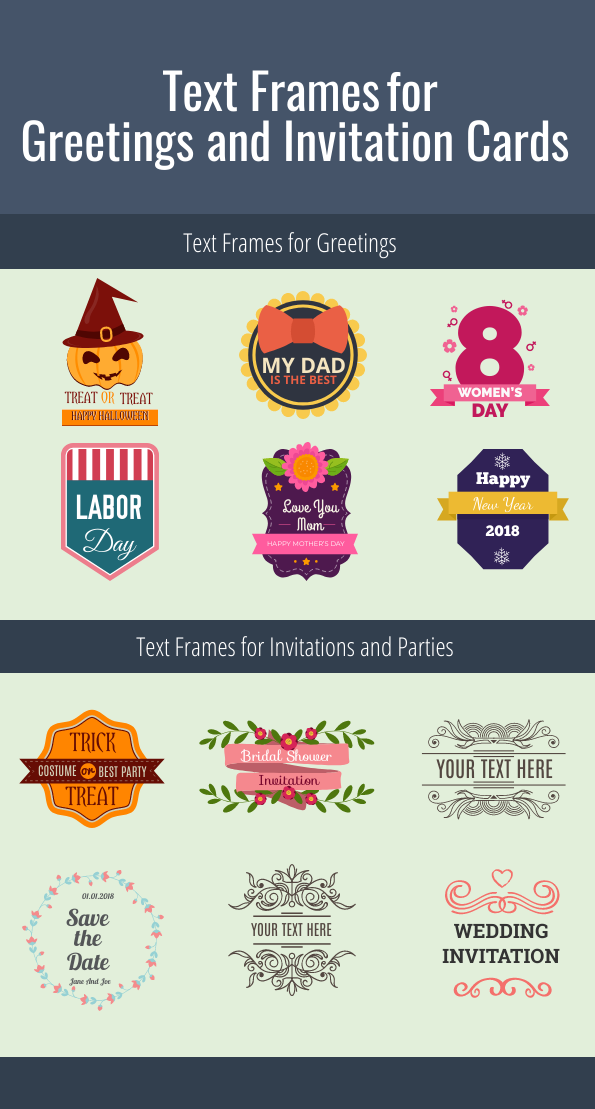 3. On Websites
At DocHipo, you can download these Text Frames in the PNG format. This means you can use it in any size and dimension.
Hence, you can use these simplistic Text Frames on your website and even on your blogs.
Trendy headings and other graphic elements are extremely crucial to add to the website. Especially if you are creating your personal or a professional blogging site, you can use these Text Frames to enhance the website visuals.
With these Text Frames, you can be all creative, defining the purpose of your website and increasing viewer engagement: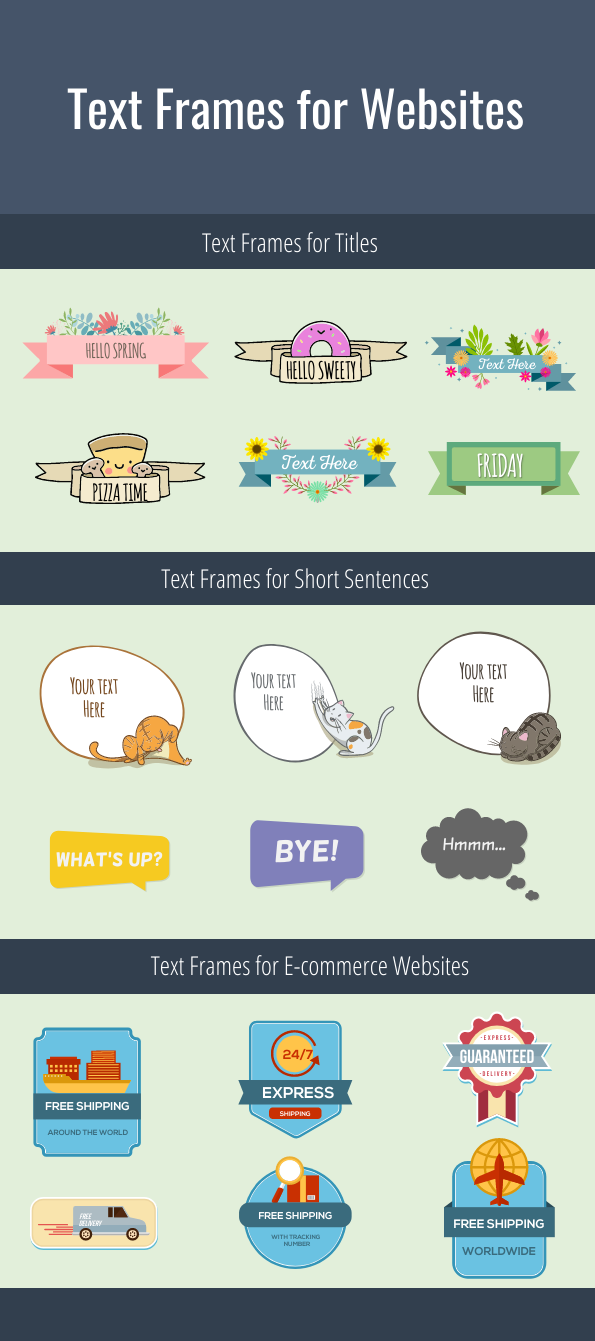 4. On Product Packages
Product packaging is a very interesting aspect because it dresses up the products and makes it more attractive.
Hence, to make your product sell, the packaging is an important element. Also, your package design will keep on enhancing your brand. Statistics suggest that 70% of the consumers instantly form an idea about your brand based on the packaging.
Your package design speaks a lot about you and your company. Brilliant colors and a pleasant sense of placing varied graphic elements can make your product package alluring. In fact, 64% of the casual buyers instantly purchase a product solely on how the packages look, without researching much about the product.
Hence, you have to put extra emphasis on the way you wrap your products. Choose the colors and patterns carefully. Do not forget to put graphic elements that will verify the goodness of the product.
Text Frames can be added as those graphic elements which will further define your product package.
Let me show you how: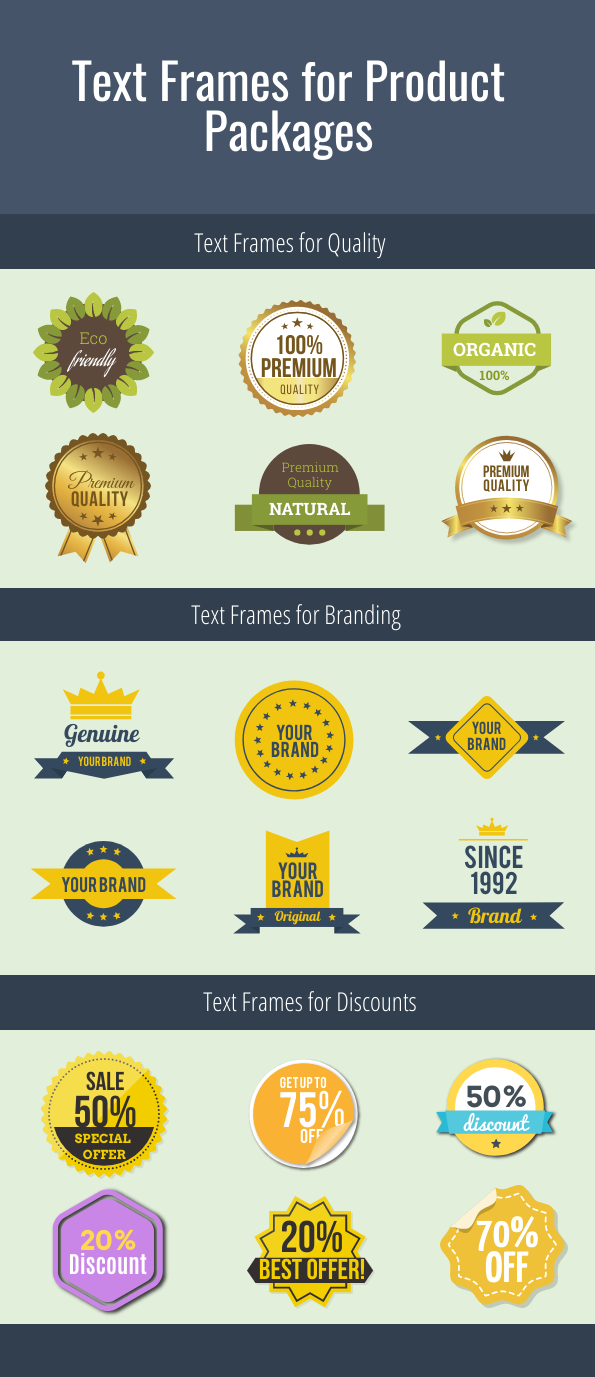 Create Your Advertisement Post in DocHipo
Text Frames are superb graphic elements. You can simply use it in any form and everywhere. It can be combined with different design elements on the Document to magnify the beauty of the visual.
Now, let me further guide you on how you can choose a Text Frame and use it on the document.
I will create an advertisement post that can be published on a social media platform. After all, this is the generation that sits for hours, scrolling through their screens to look for new information.  
To customize and download exceptional templates and graphic elements, you first need to sign up for DocHipo.
Then, the next step is to choose the template of your desired document. Using Text Frames on visual ads are an exciting way to make the visual look more professional and interactive. So, I have chosen the Facebook post template from the document type "Facebook Post". 
To easily choose a document, I have quickly typed the document type, "Facebook Post", and clicked the option from the search panel.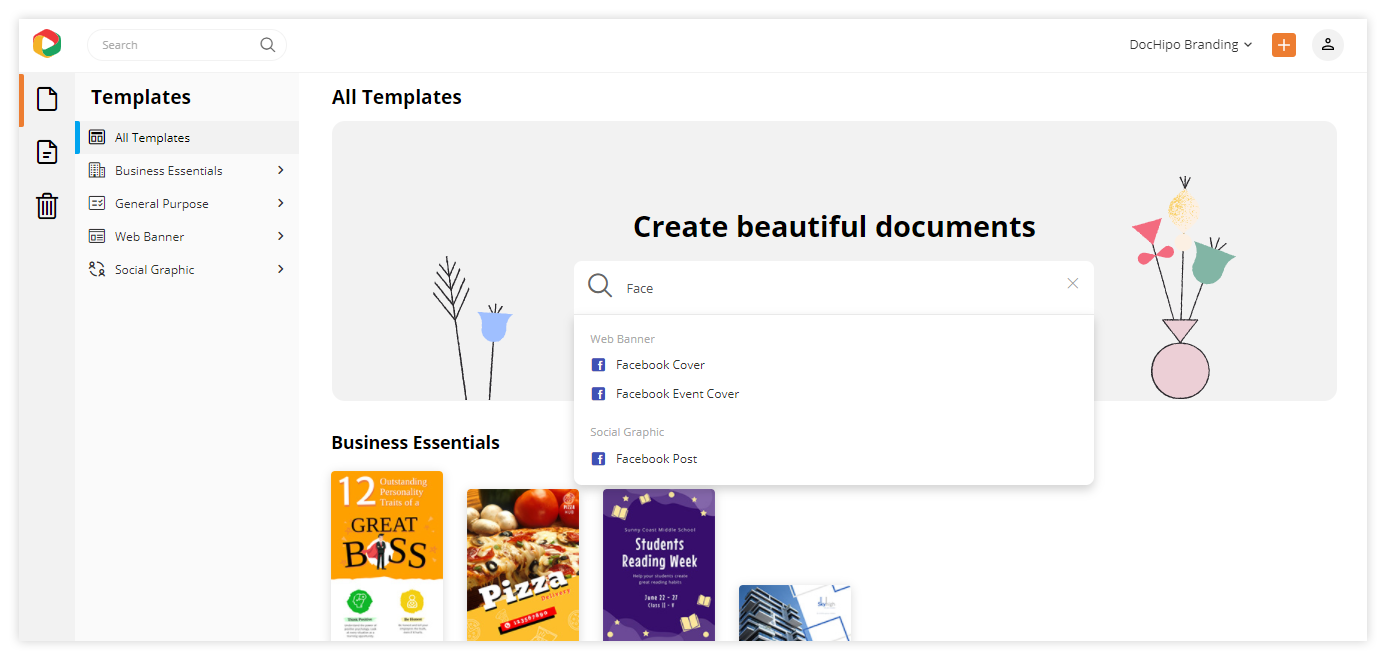 You can also select your document type by clicking the widget, "Social Graphic". As you click this widget, you can see a list of options from which you can choose the "Facebook Post".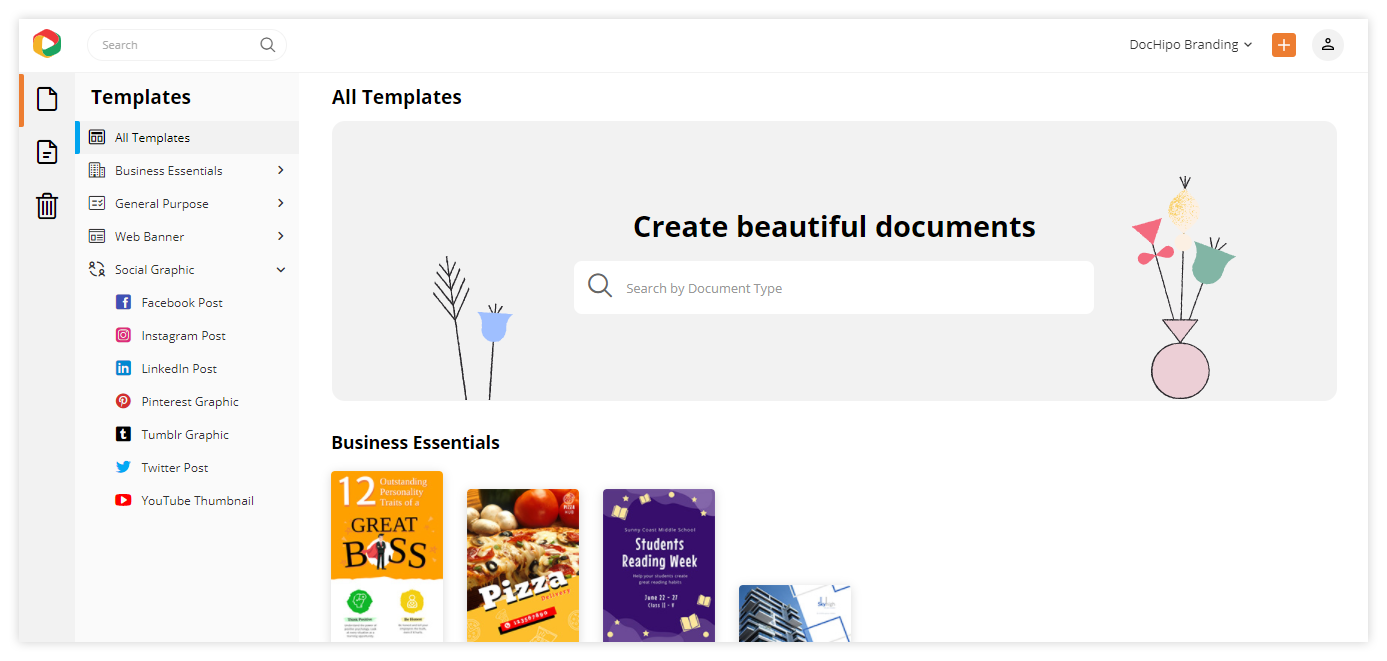 When you select this document type, it will redirect you to the page where you will witness many templates for Facebook posts.
From there, choose a template that seems perfect to communicate your intended message.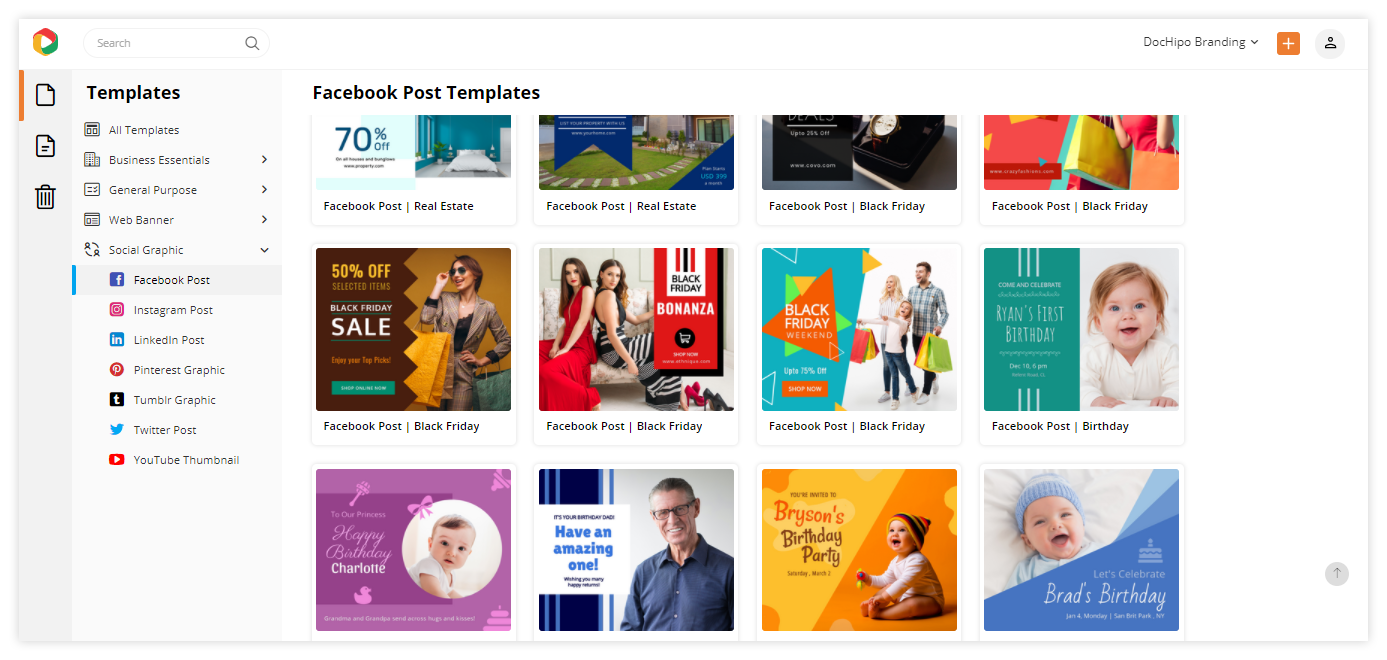 After you select the template, you will be again redirected to the Document information page.
On this page, you will have to fill in essential details. Your name will be auto-populated as the "Document Owner", which you can change and put your team member's name. Then you have to fill in the "Document Name" and provide the "Description" of the document.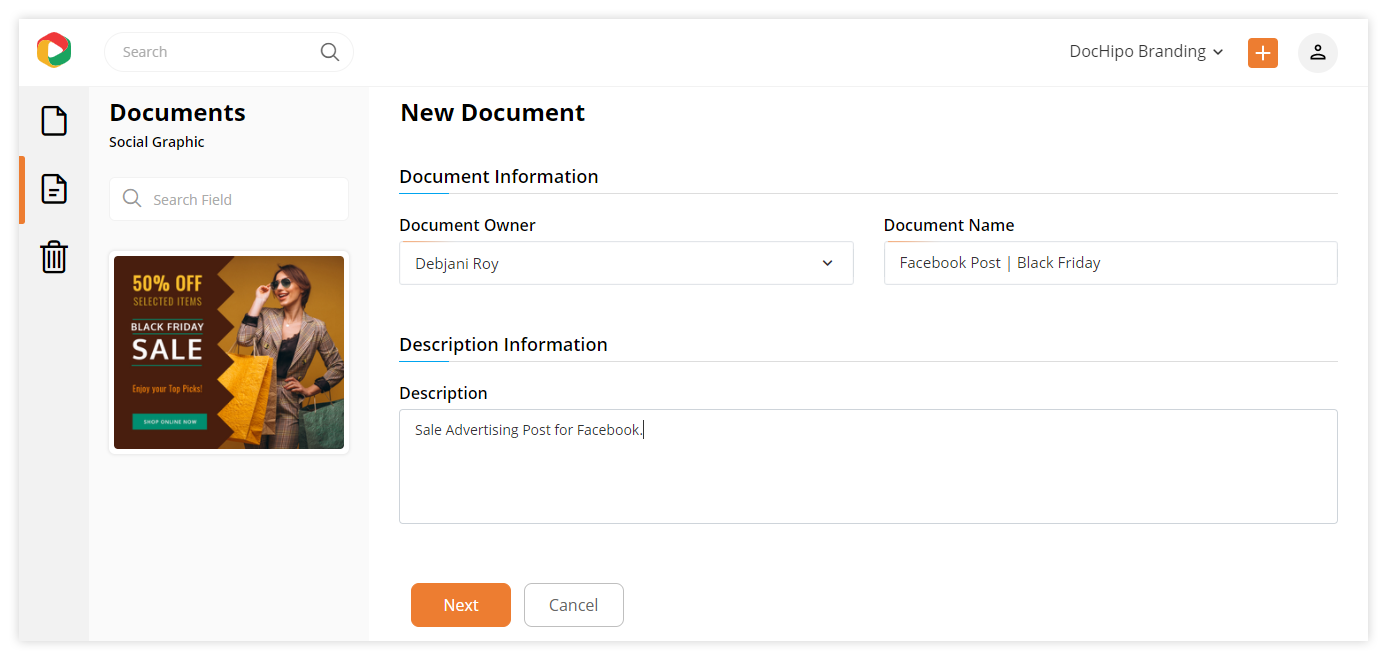 After you click "Next", you will enter the editor where you can blissfully edit and become a pro!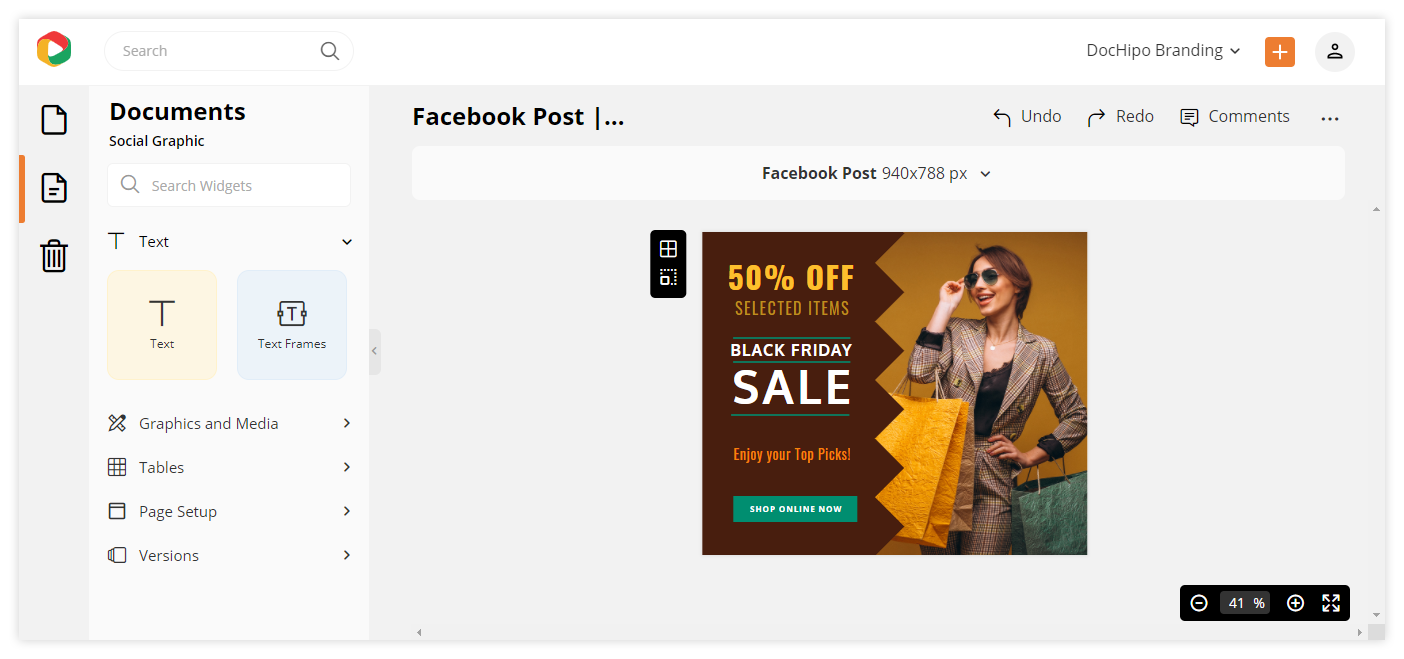 Now, to select a Text Frame, select the widget "Text Frames" in your left-hand-side panel. From there you can select any design of your choice.
After you have selected the design, it is now time to place it in the most strategic location on the visual, which will automatically attract the gaze of your audience.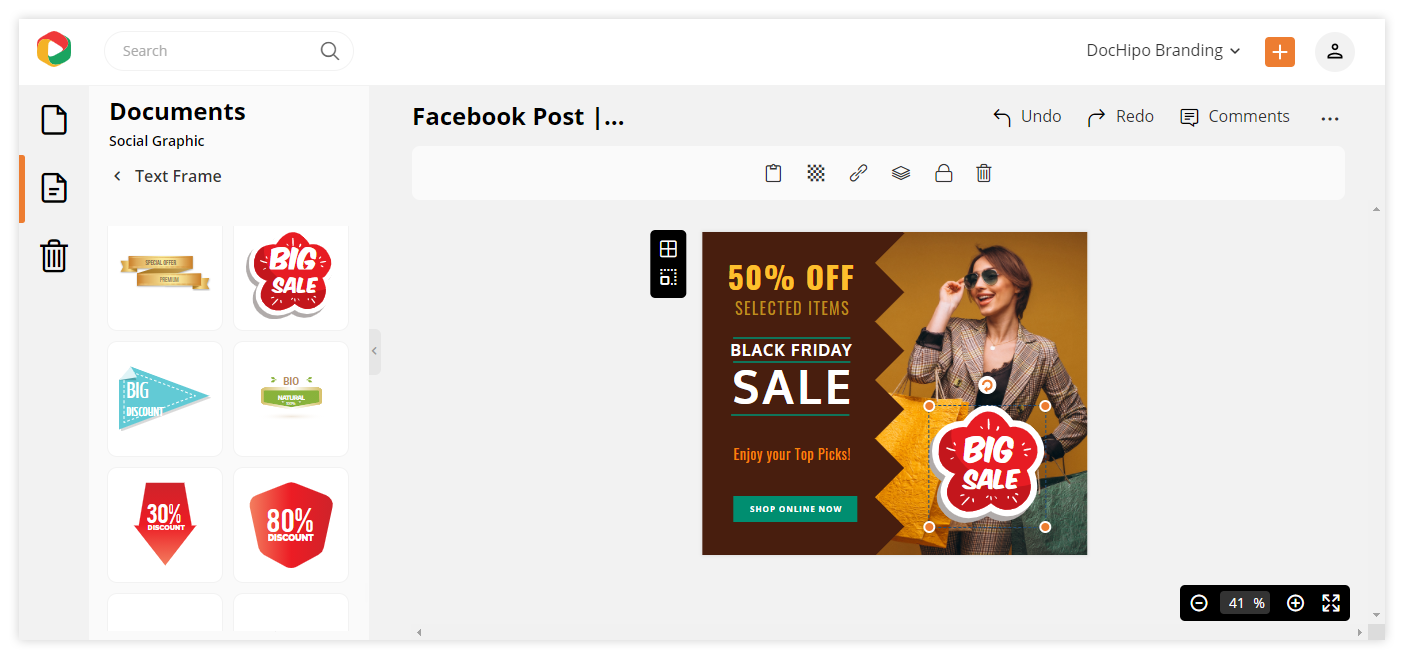 Now, let's download this document in a High-quality PNG file. For that, you have to select the dotted option in the top-right corner.
After you select the "Download" button, you are all set to unleash this Advertisement post and boost your marketing efforts.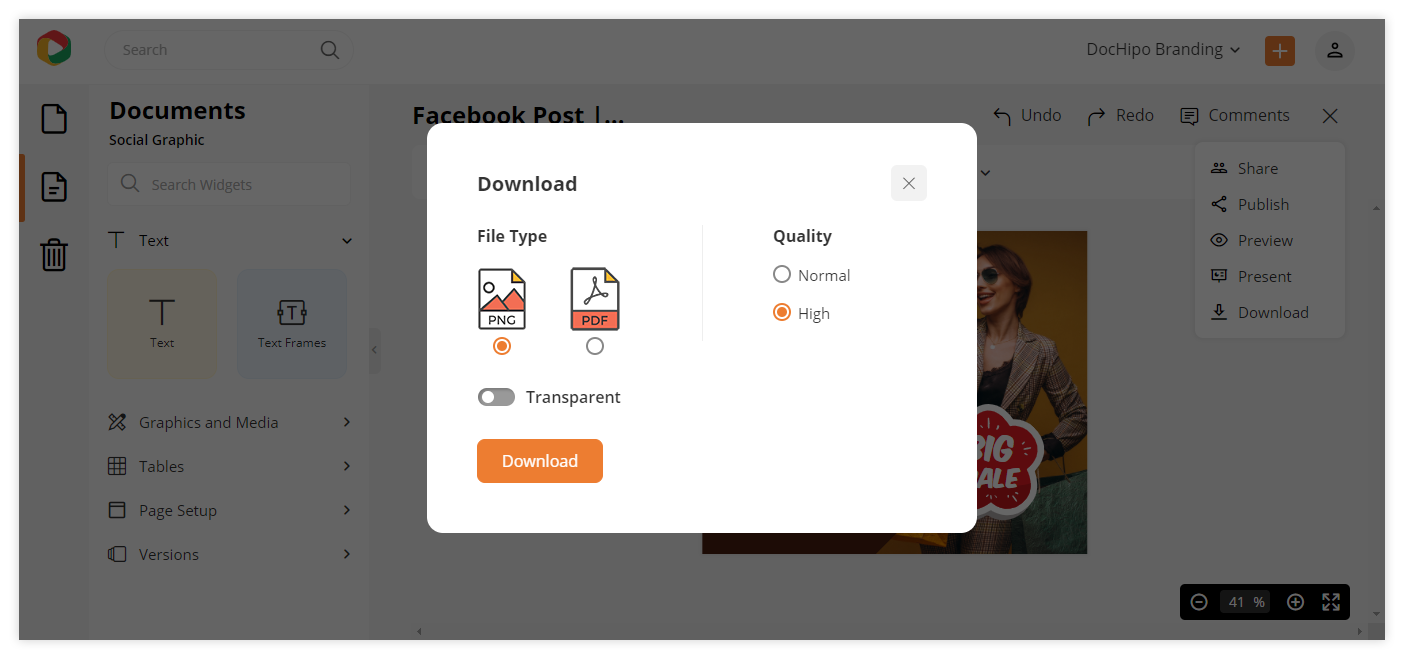 This is how my template looks like: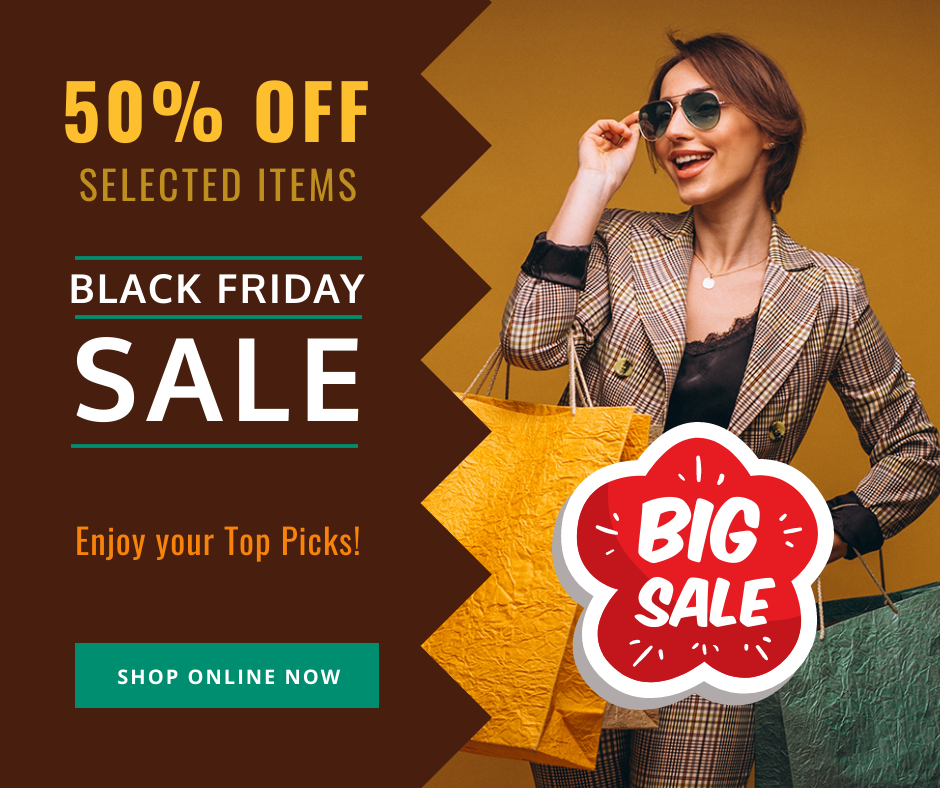 Conclusion
Customizing these Text Frames are super easy because all you have to do is to just change the text without disturbing any design components. You can also put them on any templates that fulfill your creative aspirations.
So, even if you feel that you lack the design aesthetics, then you absolutely do not need to worry.
At Dochipo you can get tons of these awesome Text Frames that can be used for almost any occasion and purpose. Also, you can download any Text Frame for any creative need. So, explore this platform to make the most out of it. Hurry and sign up now!