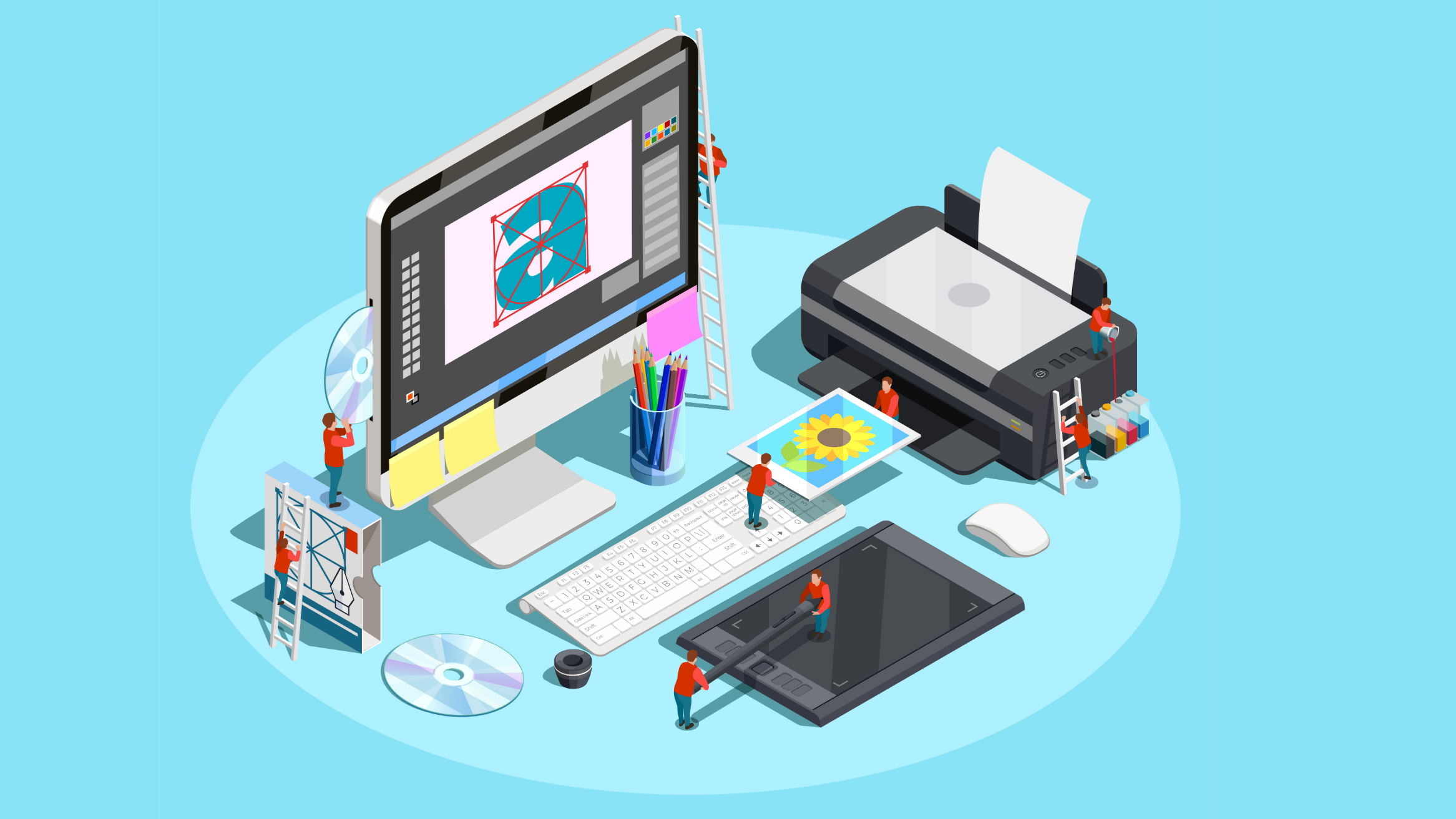 The Ultimate Guide to Using the DocHipo Editor to Design Your Documents

Last Updated Dec 9, 2022
We all love to express…
Whether in the form of words, or visuals, we all like to tell our stories…our experiences, and above all our definition of life.
Now, how do we do that?
We either write a journal or maneuver a color lad paintbrush against the grainy texture of a canvas.
As the world progressed, enhancing all our mental faculties, we witnessed a series of changes that revolutionized the way we perceive the society around us. One of them is definitely how commerce amalgamated with words and visuals, giving rise to Graphic Design.
The global demand for marketing their products visually has increased the market size of the designers, which is constantly growing by 2.5% each year.
So designing is now an integral part of every business. Whether in the form of advertisement, or product design, visuals have an innate ability to strike the consumeristic cord better.
But, designing is not easy.
That's because apart from your creative imagination, you need tools that will help you to carve out your ideas. Buying these tools or software can be expensive. Moreover, you need to have a thorough understanding of the software in order to give your best. This makes the whole process time-consuming.
Hence to make sure that the design process is easy, we're going to explore DocHipo's editor.
DocHipo's Editor
If you have newly discovered a creative side to yourself, or need designs that can help you market your products/services better, then DocHipo will seem like a blessing.
To venture into this platform, you first need to sign up, Following which you will enter DocHipo's vibrant landing page.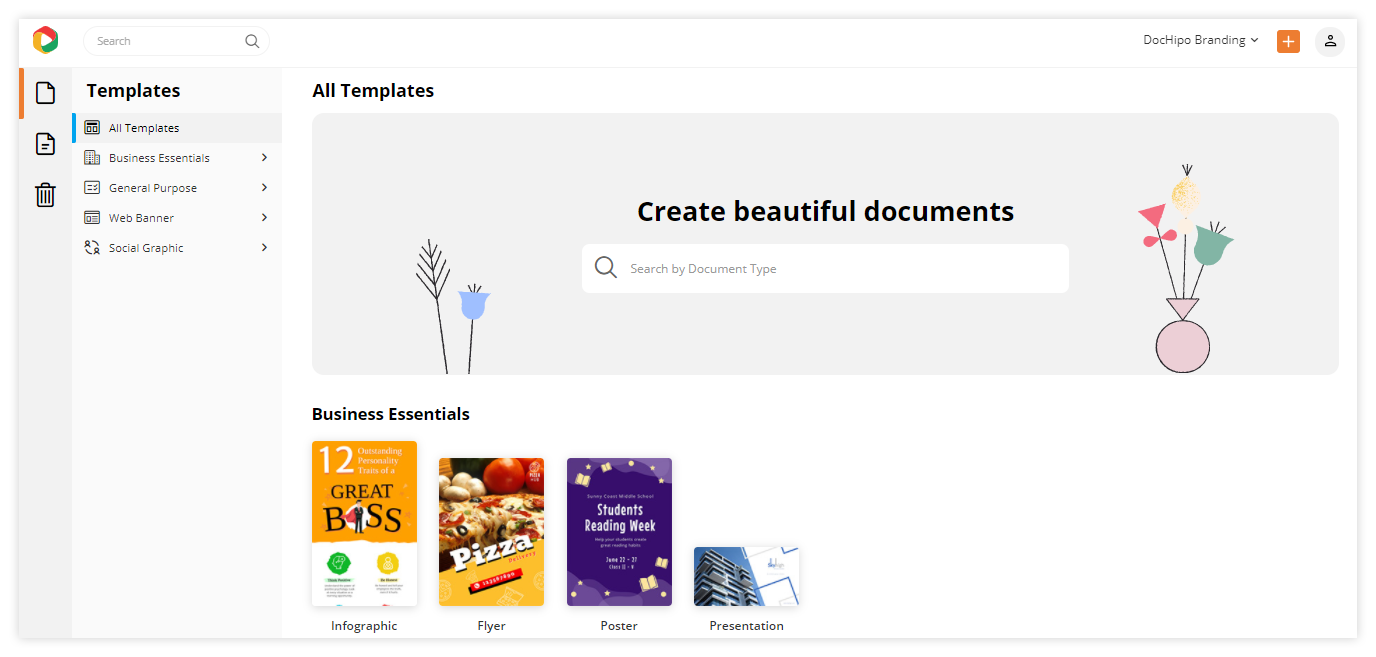 Here you will get tons of document templates and can create a document right from scratch.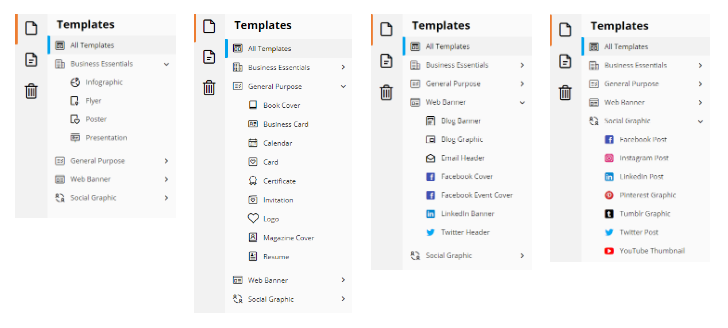 Now to enter DocHipo's editor, you simply have to select a document type. Then once you navigate to the document templates page, you can select a template or create a document right from scratch.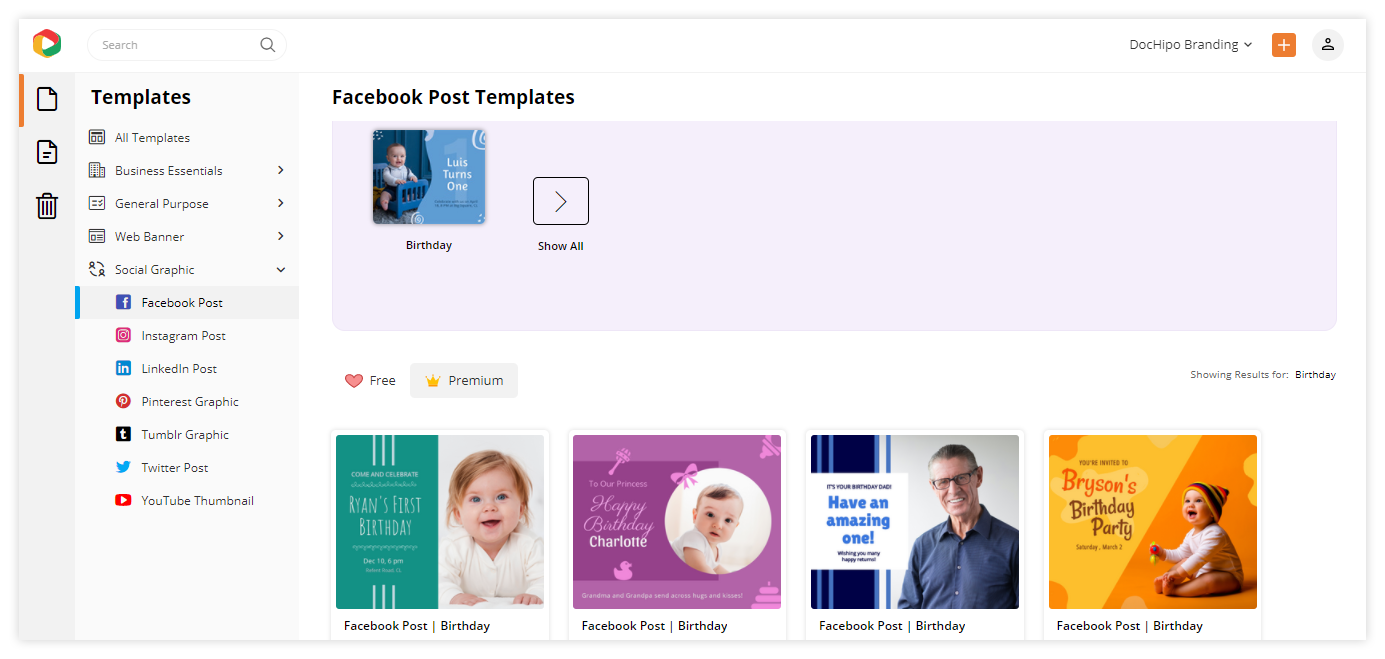 After you select it, you will be asked to provide Document information, which will be auto-populated and can be changed if necessary: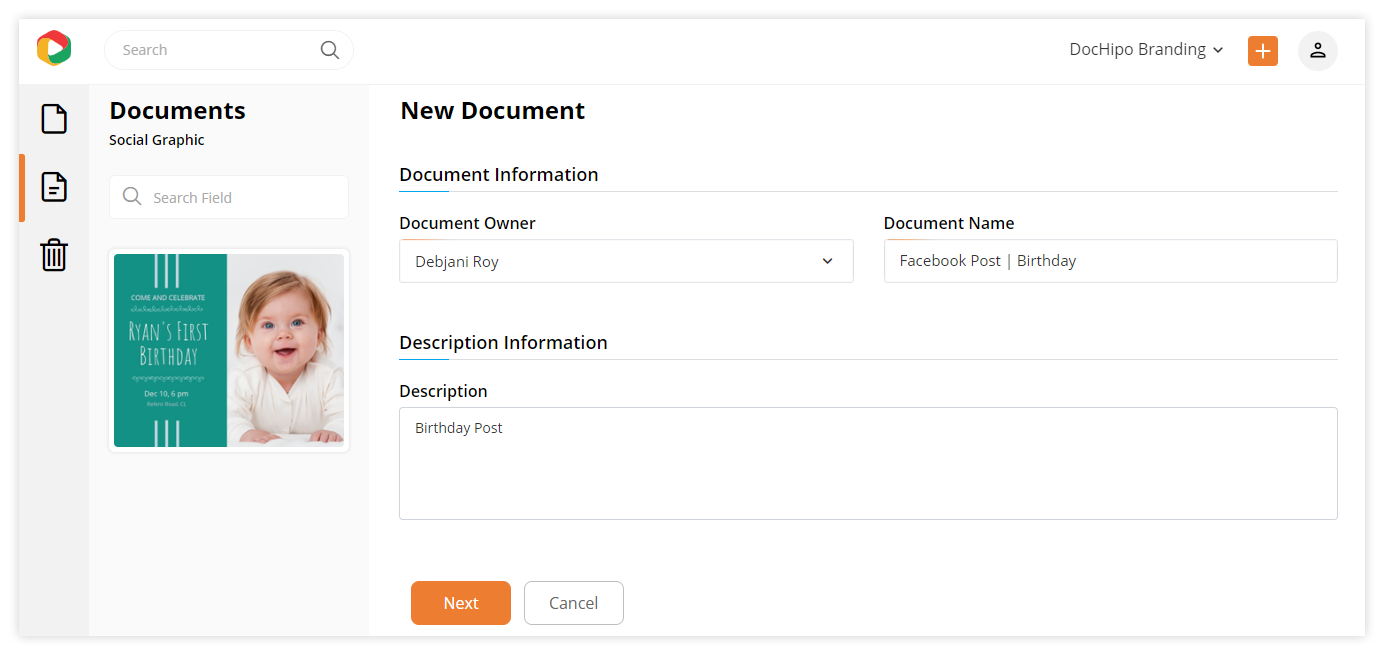 Now, you are going to enter the most exciting part of this platform, the editor.
As you can see, this editor is structured in a way that makes it really easy to use and understand. The widgets on the left-hand side panel are properly defined, which automatically makes you aware of its purpose. You can also see some more editing options on the top panel, which pop's up when you select the document on the editor.
So, let me further elaborate on the exciting design elements that these widgets let you add.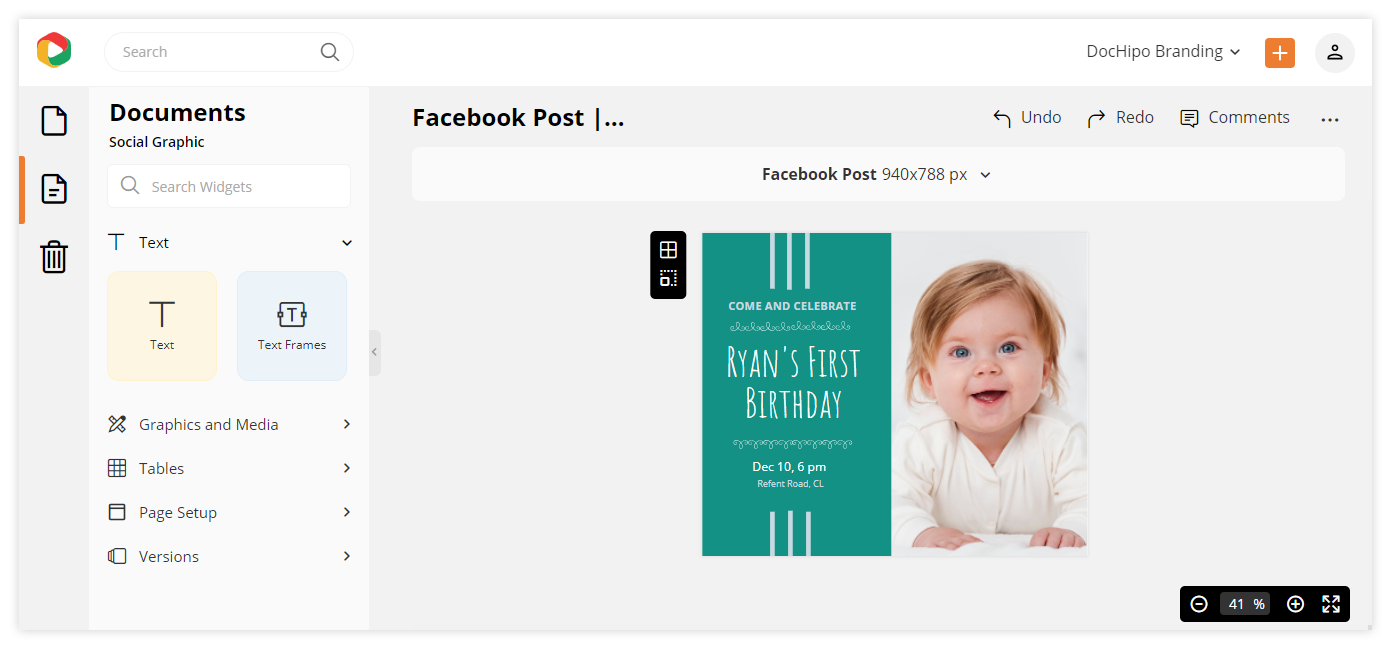 Text
Adding text is a very integral component of designing. After all, the visual that you want to use for marketing or other endeavors has a story to tell and a message to highlight.
The DocHipo editor has a Text Widget, which enables you to add text to the document. You can place the text anywhere, and use any font you like.
To make text layout easier for you, the editor presents the text options in a hierarchy, so that you are better guided: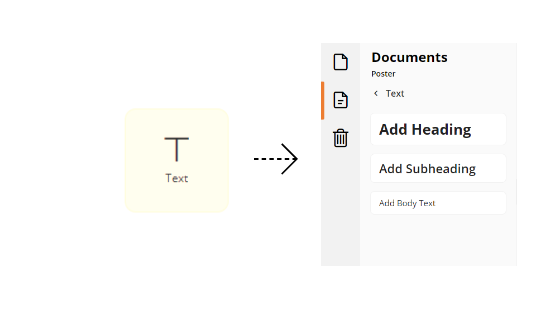 With this text hierarchy, you can now align the heading with the sub-heading and body texts in your document.
To jazz up your document you can select a perfect stylish text from the Text Frames widget. Once you click on that widget, you will be dazzled by the collection of decorative texts that you can use to buttress the theme of your design.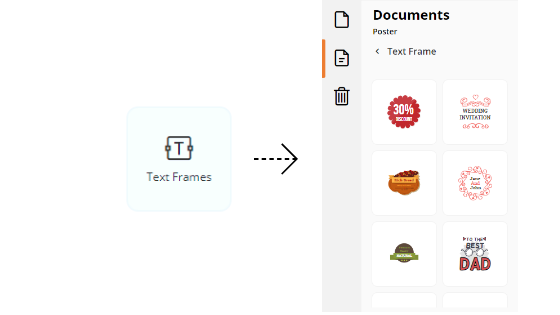 Now let's move to the next section…
Graphics and Media
This category has different types of widgets that will allow you to add significant graphic elements to your document. Here you will get the options to add a background, lines, shapes, icons, animated icons, illustrations, Pictures, Uploaded images, and videos.
To add or change the background of the document you have to select the Background widget. You will see a list of background options from where you can select the appropriate one. Also, you can customize the color via the color palette options.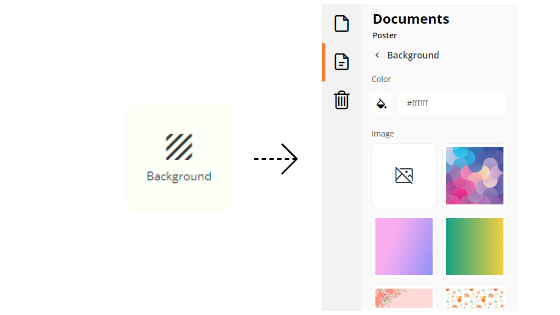 When you want to add lines you can do so with the Lines widget: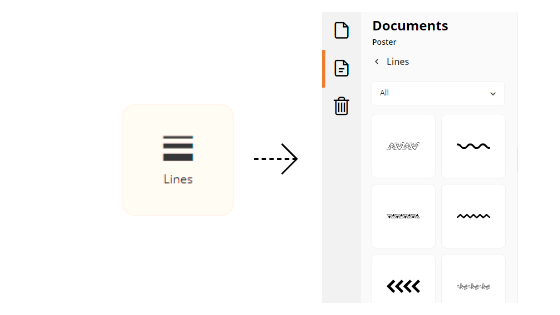 You can add shapes to the document through the Shapes widget. Adding different shapes against the text makes the document look really engaging and makes the text prominent. You can use different shapes for different contexts on the document as well.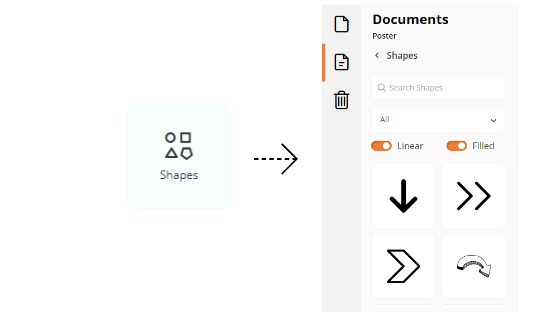 You can also add Icons to the document.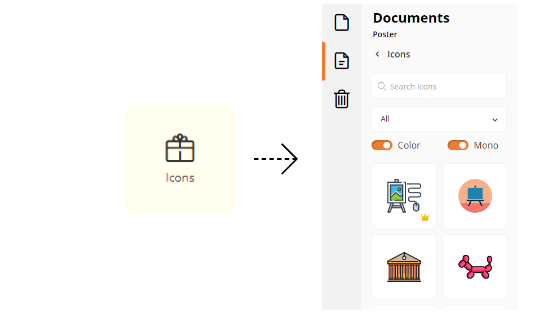 Not just static icons, you can also add Animated Icons as well, which can make your document really interactive.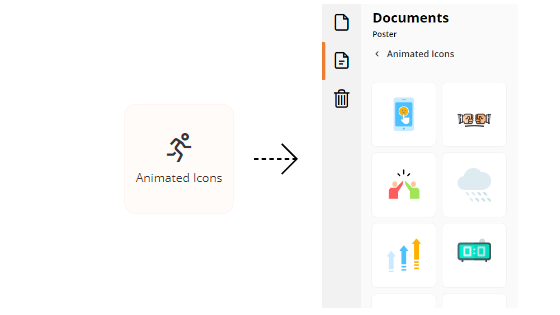 You can also get awesome illustrations that will make your document really attractive through the Illustrations widget. The simplistic, yet charming illustrations are sectioned into Solo, which showcases single illustrated characters, and Scene, which presents scenic illustrations.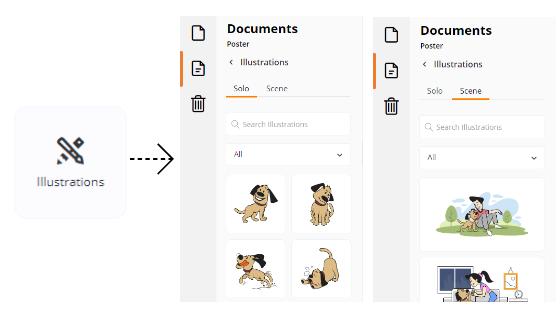 You can add pictures on the document that can enhance your message through the Pictures widget.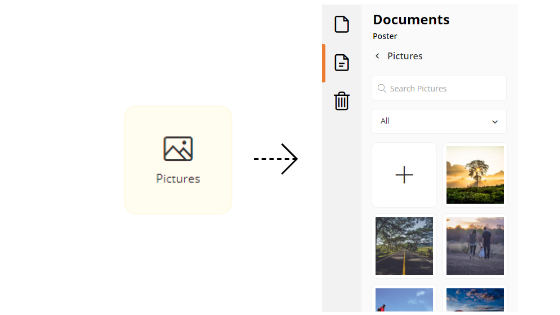 With the Uploads widget, you can upload multiple images that you want to incorporate into the document.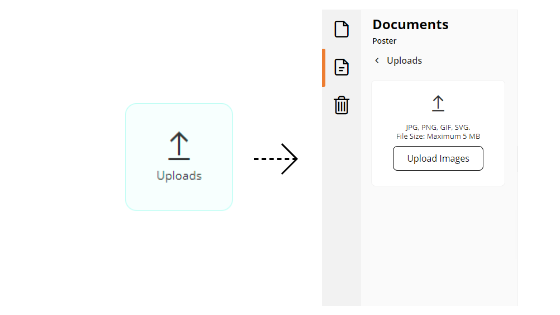 If you want to add videos from YouTube, you can do so through the Videos widget.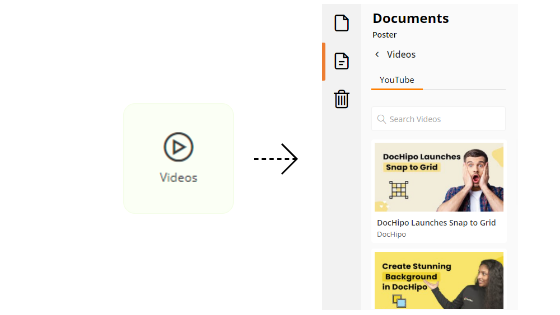 Tables
If you need to add tables to the document, you can click on the Table widget. A box will appear where you can determine the number of Rows and Columns.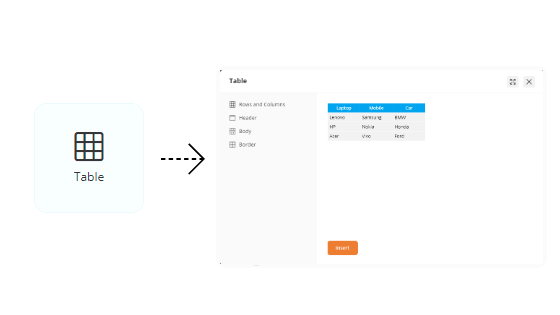 You can also customize the header and the body text with your choice of color, and font.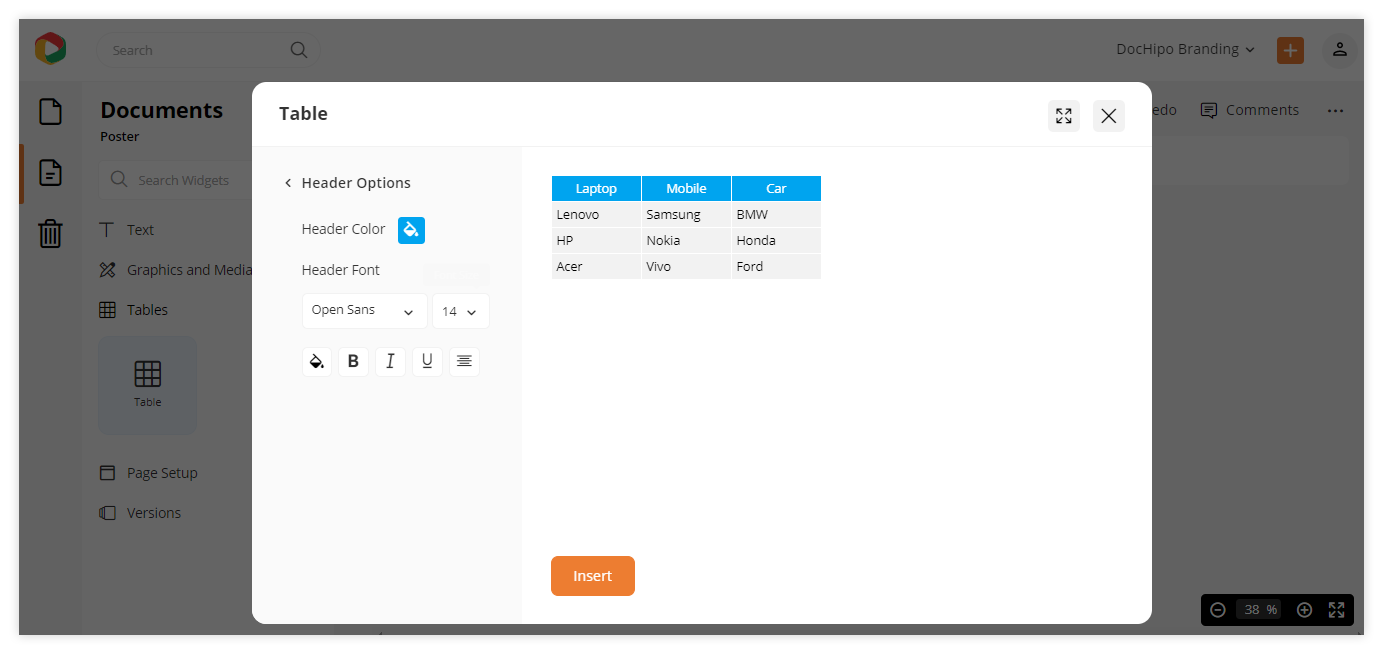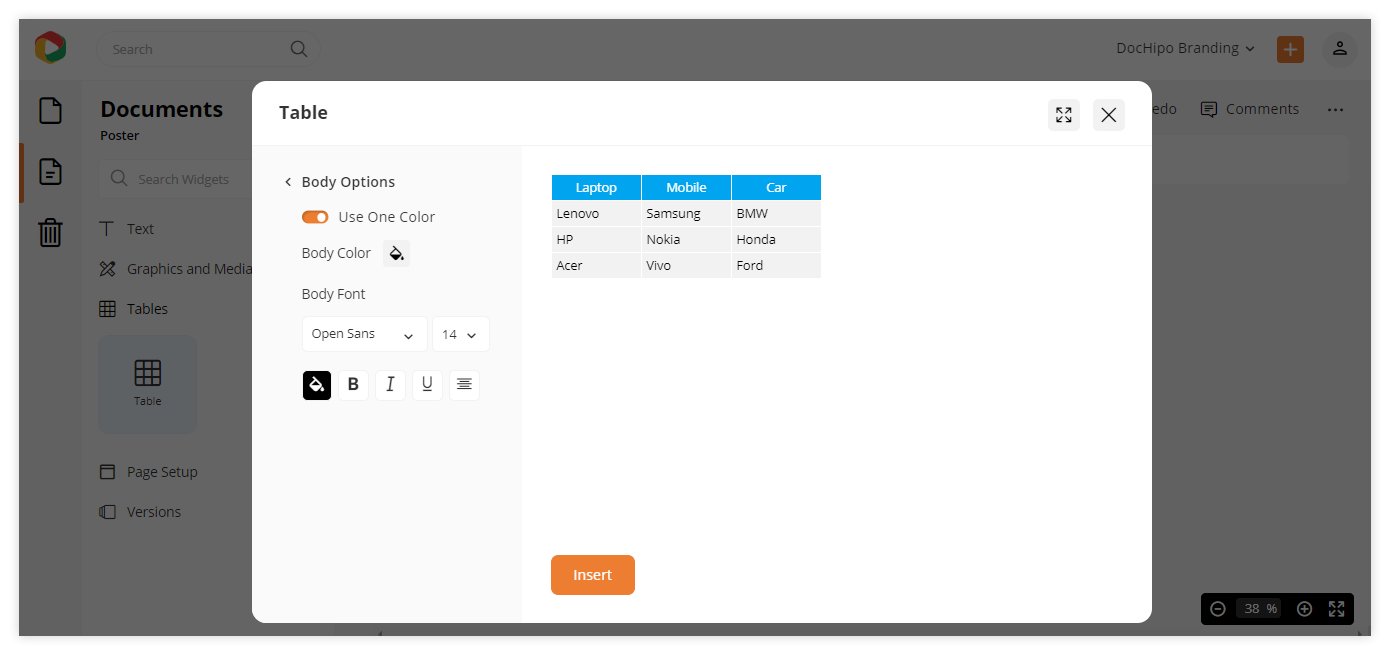 You can even adjust the border Horizontally and Vertically, along with the color and width.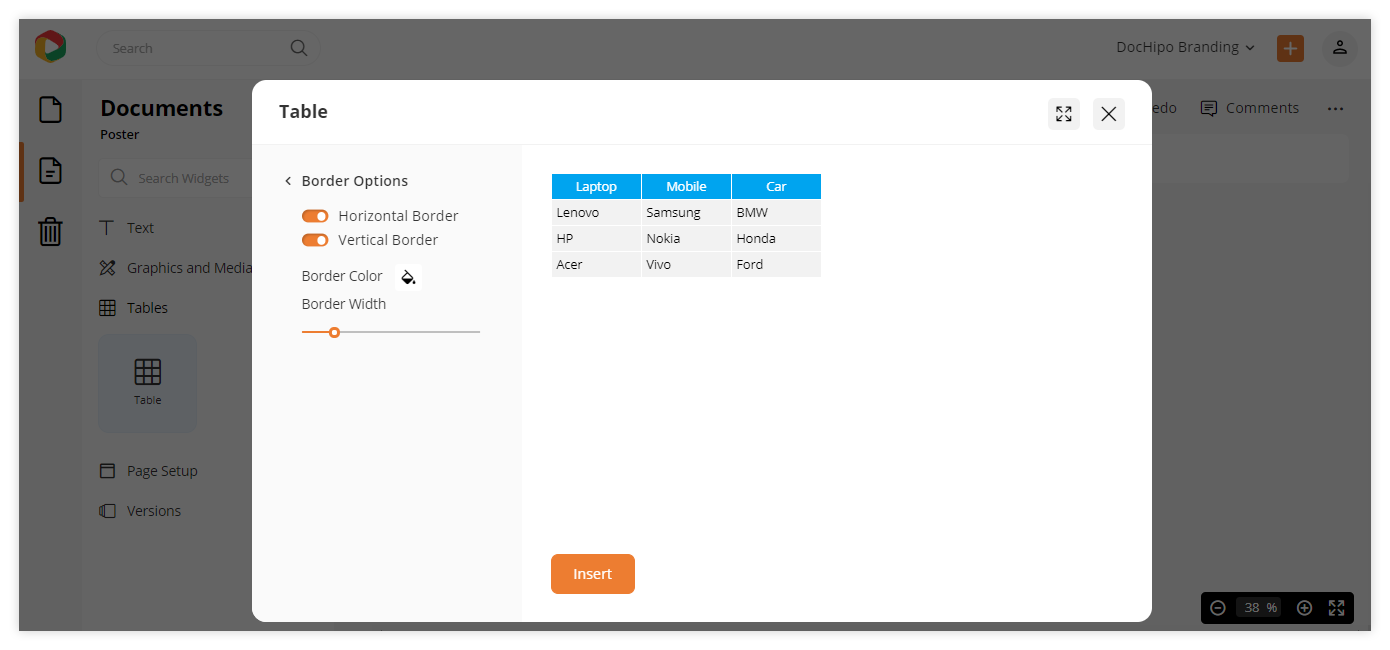 Page Setup
Under the Page Setup category, you can resize the document dimensions and edit the page margins.
With the Page Size widget, you can reset the dimensions of the document.

After you select this widget, a box will pop up where you can choose a document option from the list to redetermine the page dimension.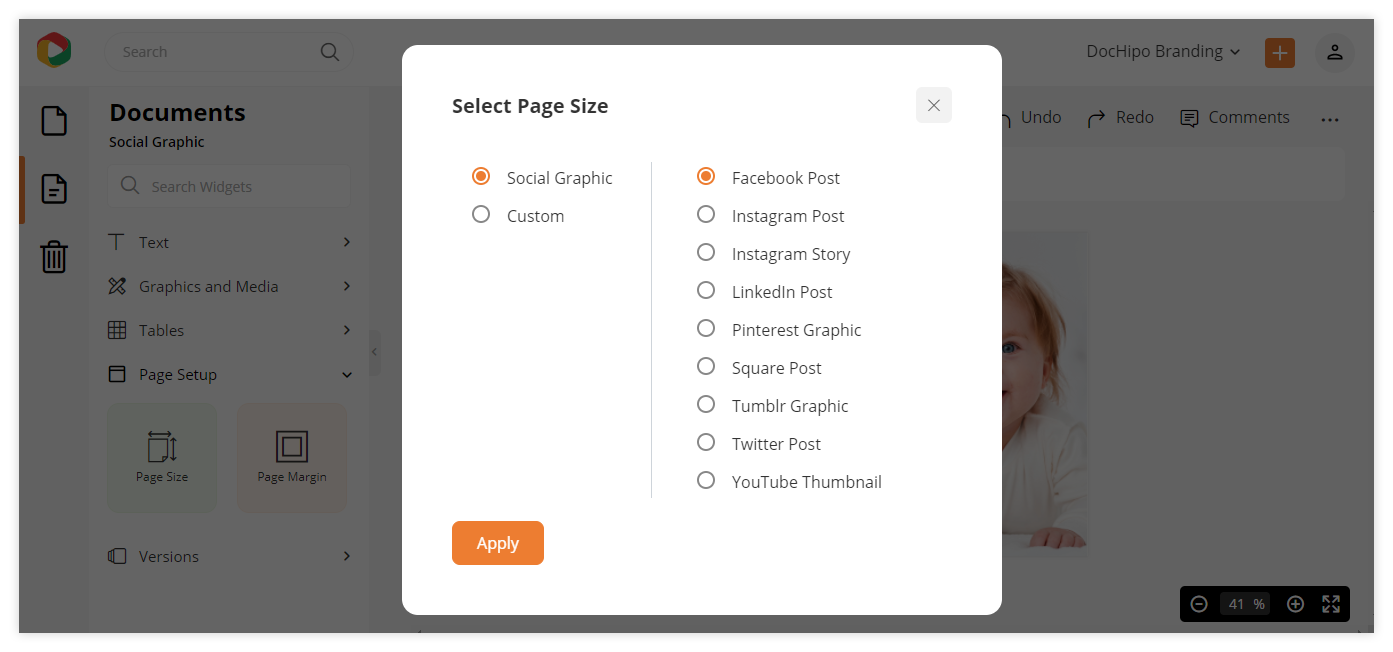 You can also customize the dimensions of your document by choosing your measurements to adjust the width and height.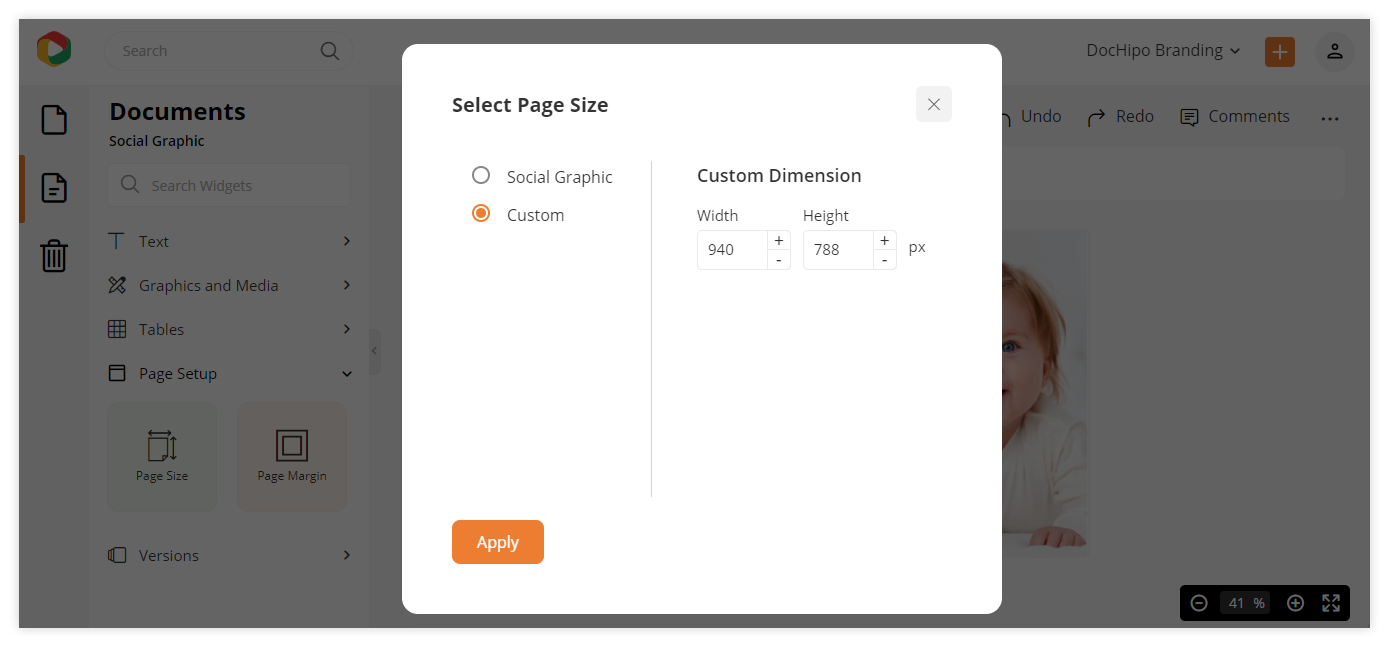 Coming to the Page Margin widget, you can add margins around your document.
Adding margins around the document gives you three benefits. First, it makes your document look neat and well adjusted. Second, it makes sure that your design is well contained within the document and does not get disproportionate when printed out. Finally, it makes your document look aesthetically pleasing.
With this widget, you can adjust the margin size, color, style, and width.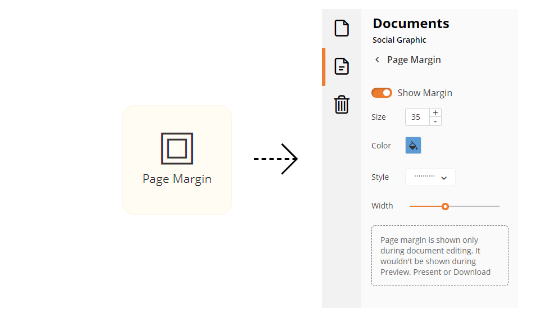 Versions
I am pretty sure you are aware of this experience where you end up over-designing your document and start regretting it.
Well, now you no longer have to regret experimenting with your designs. That's because you can get back to your previous design versions via the Versions Widget in the DocHipo's editor.
When you'll click this widget, you will see a list of versions of your work saved that you can name, restore, preview, and download.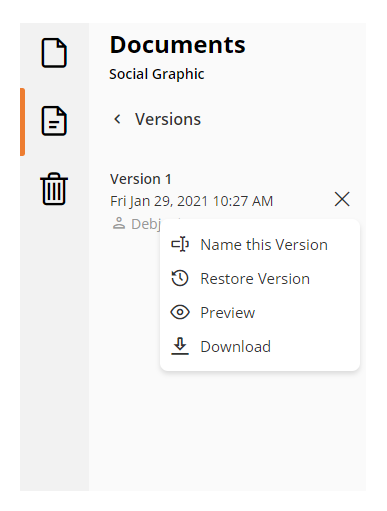 Top Panel
The top panel offers a really effective series of editing options that can help you to customize your graphic elements better. Through these features, you can also move the layer back and forth, based on your design requirement.
Like, to make further customization of the text, you can click the text on the document. You will get to see some options on the top panel.
These options enable you with the facility to change the size, font, color, alignment, letter spacing, and even add shadows and borders around the text.
Not just that…
you can also adjust the opacity, add bullet points, even add links and many other functions, which is great for a document that is based on information. You also get the option to lock the text elements so that you do not mistakenly move them from the intended position.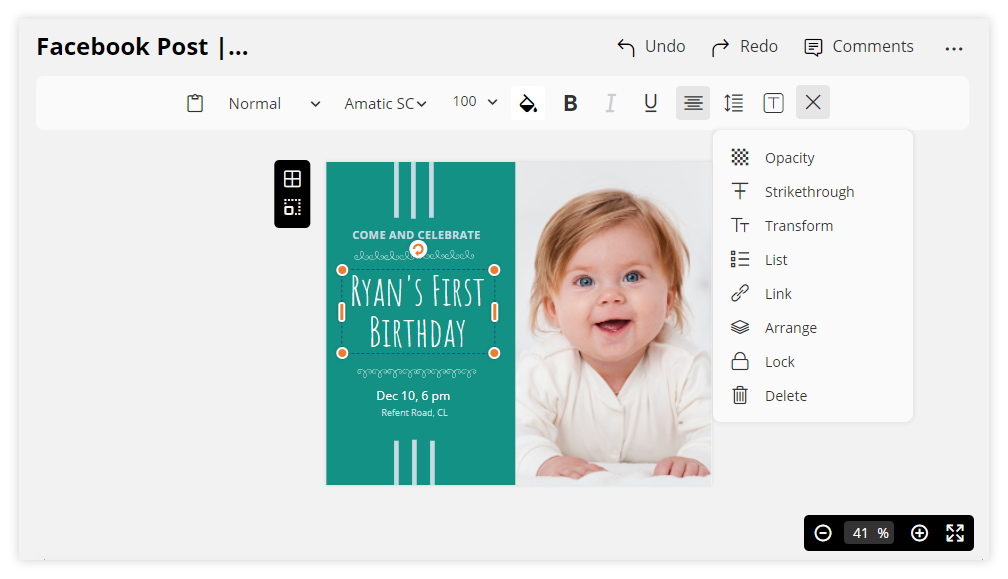 For customizing the lines and the shapes, you can change the color, opacity, and even flip it horizontally or vertically, which makes designing convenient.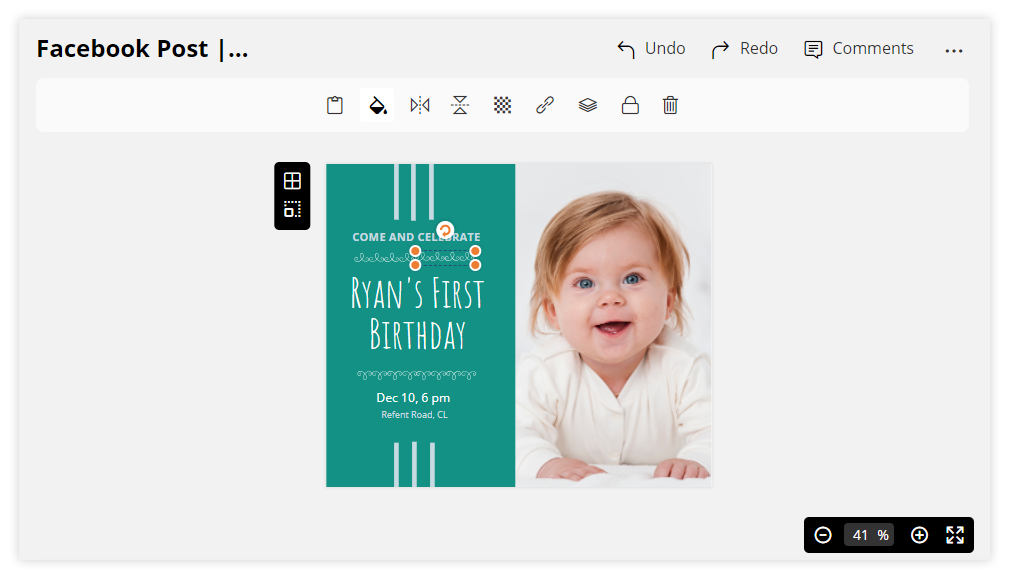 Even for the illustrations, you can actually customize the color combination, along with the other similar functions.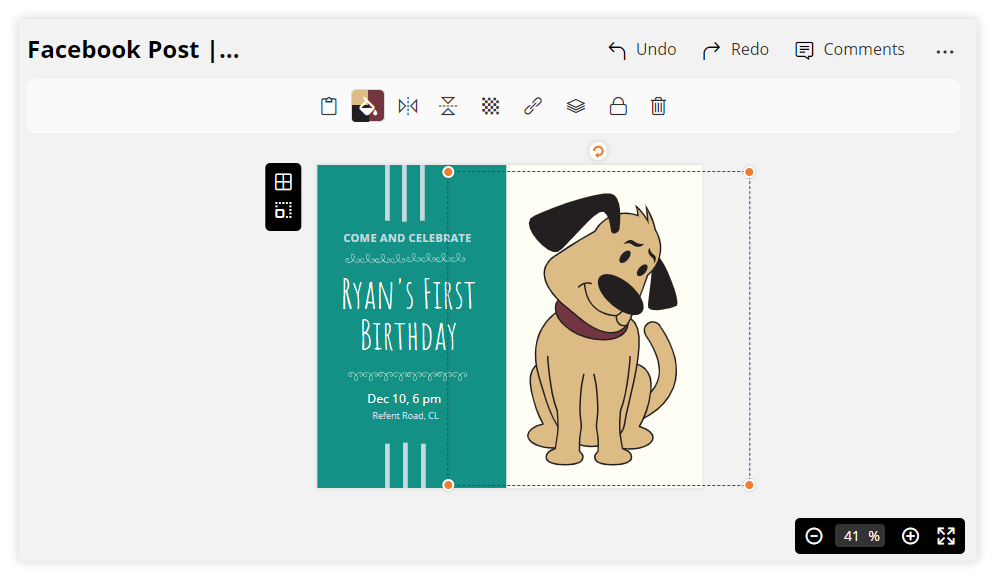 For the pictures, you can remove the background, adjust the filter, crop it, and do all the other functions mentioned above.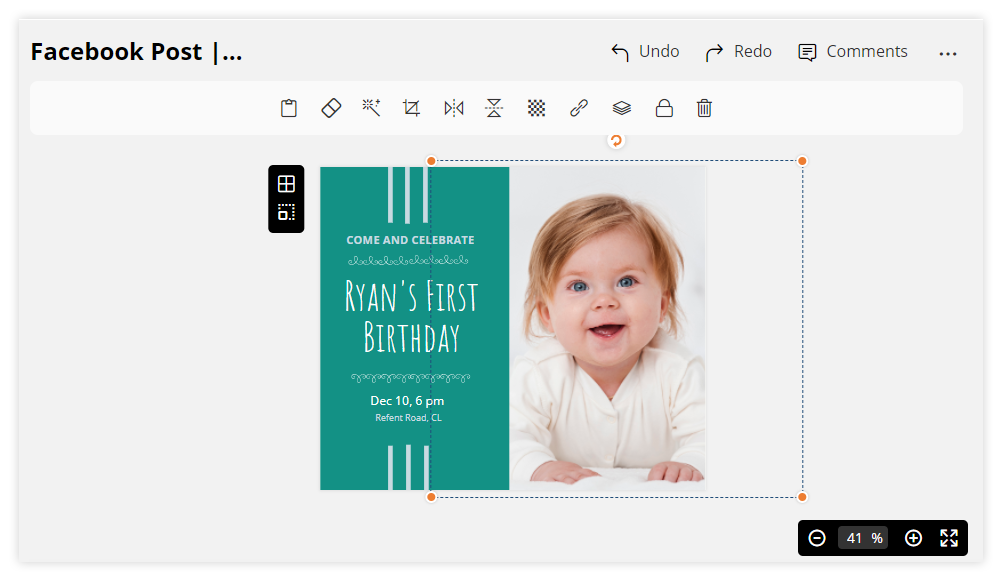 Team Collaboration
This editor also allows you to collaborate on a design with a team.
Super-awesome isn't!
Yes, if you have created a design and want inputs from your team, then you can do so on this editor.
Once you have completed designing the document, you can share the document with your team members through the Share option. You can select this option by clicking the three-dotted button, which will slide down various other options.
A box will appear where you have to provide the name/names of the team member/members with whom you want to collaborate. You can also determine the access level of that member within the document.
To know more about team collaboration, check this video out:
Downloading the Document
After you feel your design is ready to be showcased outside the real world, it is time to download that document.
To download the document, click the three-dotted button on the top-right corner of the editor. As the options slide down, choose the Download option.
A box will flash up, from where you can select your file type (PNG/PDF), and the Quality (Normal/Medium/High). If you wish to print the document, then it is recommended that you print it in High Quality.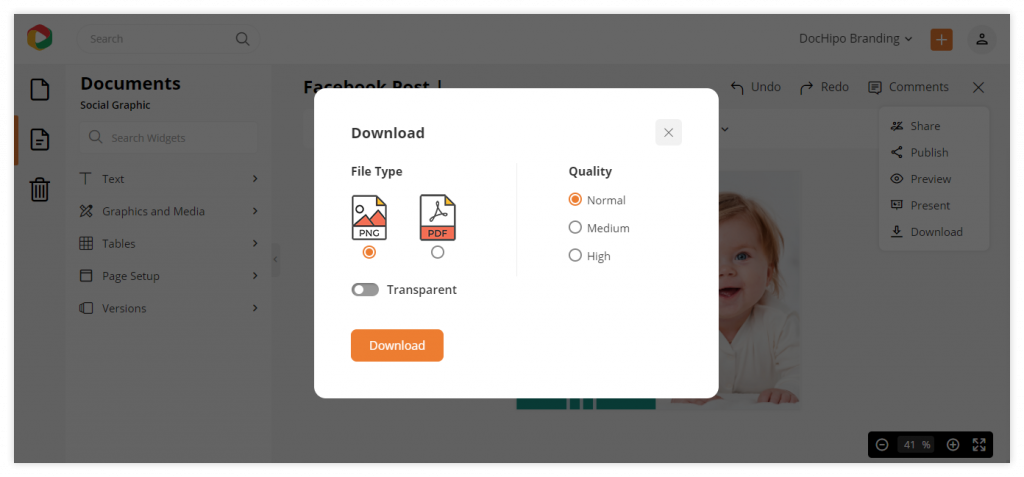 Other Options
The three-dotted button is a really interesting aspect of the editor because it gives you many more options, which makes DocHipo's editor a fun platform.
Apart from Team Collaboration and Download option, this button also gives you options to Publish the document on social media platforms (Facebook, Twitter, LinkedIn). You can also Preview the document to check how it looks when downloaded or published. You can Present the document on this platform as well.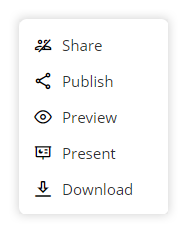 If you want to know more about how to start working on DocHipo's editor then check this video out:
Conclusion
Using DocHipo's editor is convenient, and user-friendly, and gives you features, that enhance flexibility. Hence, you might also witness features and widgets on the editor specifically introduced for a particular document.
Be always ready to be surprised by DocHipo's editor, that is committed to making your design experience pleasant.  
You can design your documents online via this platform, and explore your creative side. In fact, you can design your document all you want, as this platform will never judge you and deems all artwork special. 
If you need a document urgently for your marketing or any promotional reasons, you can also download the document templates from here. DocHipo has a rich repository of charming document templates you can use for any purpose.
Whether for a social media post, or an advertisement visual, DocHipo has got you covered.  So, hurry and Sign up Now!