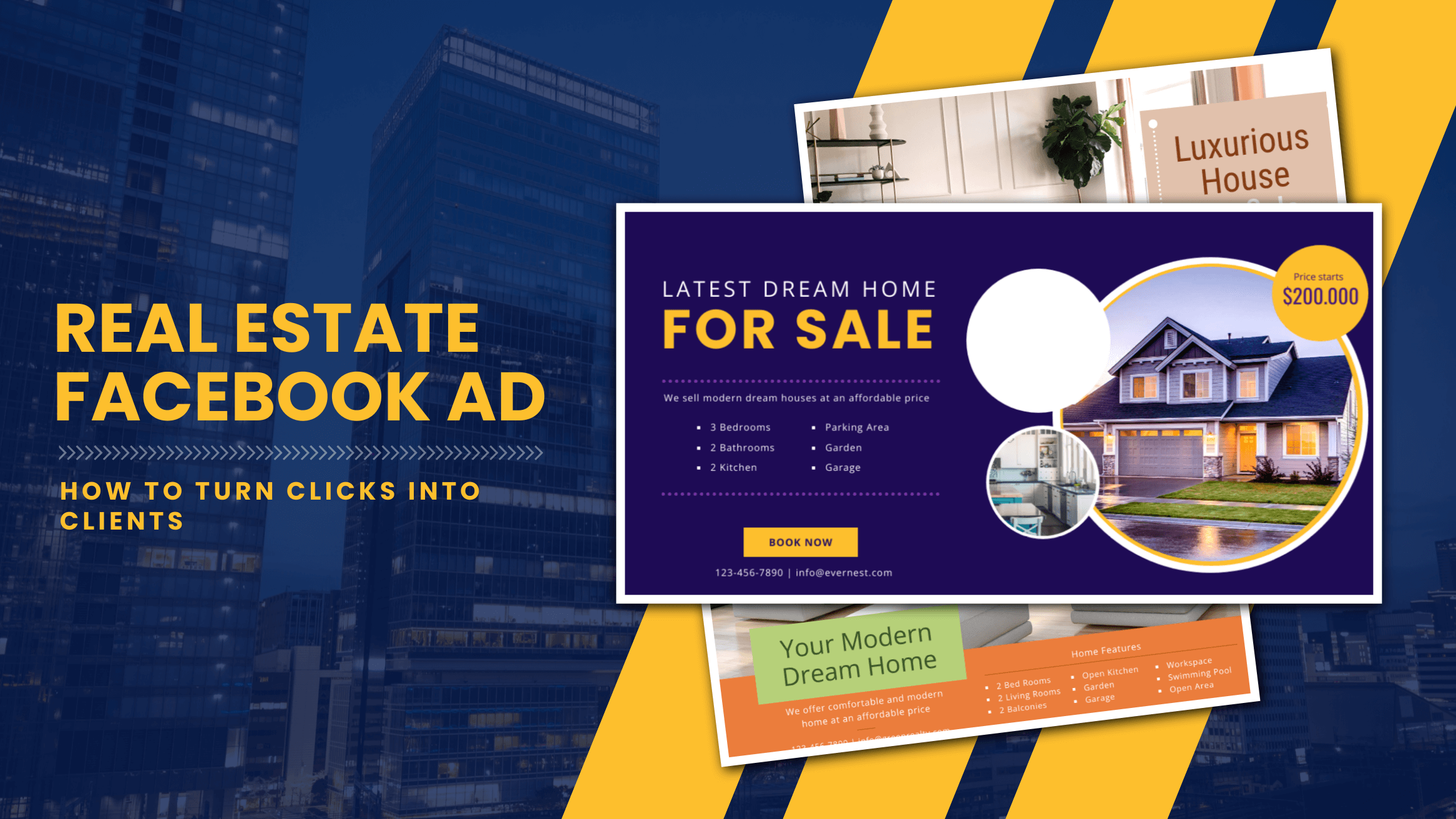 How to Create Real Estate Facebook Ads That Actually Generate Leads?

Last Updated Sep 2, 2023
Are you leveraging the full potential of your real estate Facebook ad? There is no denying that Facebook has a vast customer base with almost three billion monthly active users. But creating real estate ads that bring conversions is a challenging task. Most real estate agents make mistakes where their ads fail to attract their audience. You can sell your real estate on social media, but your audience must find your ads relevant. Your real estate ad will bring leads only with proper targeting and content strategy.
Keep reading to discover the secrets of turning clicks into clients with Facebook ads for real estate.
Do Facebook Ads Work for Real Estate
Still trying to decide about investing in a real estate Facebook ad? Because of Facebook ads, real estate businesses got around 18% of new clients in 2021. Real estate can only survive with networking, and Facebook brings the world to your fingertips in the digital age. The best part about it is you can target your real estate ads in a specific location and to an audience interested in buying a house. That's why 89% of real estate agents use Facebook to promote their business. There are many reasons why Facebook is the right platform for your real estate ads. Facebook helps to:
Create a display for your listings through visual marketing
Create ads with desired goals like brand awareness
Target the right audience for your business
Generate leads along with ad posts
Build contacts and better customer relationships
Measure the performance of your ads
How Do You Target Audience for Real Estate on Facebook
Once you create a Facebook business account for real estate, you are ready to explore the world of Facebook Ads Manager. Here you can run your ads by targeting groups, managing budgets, and choosing relevant goals for your business. Different strategies to target your real estate Facebook ads are based on location, demographics, and behavior. Let's explore each of them:
Location
Facebook allows you to target an audience by selecting the zip codes of the site. Try to choose a broader geographical area as it widens the scope of the sale. Also, research the past selling history of people buying houses in your location from adjoining cities. It's better to add zipcodes of those areas as well.
Demographics
You can also target your audience based on income and home ownership status. You know that different income groups will be interested in different kinds of houses. Explore the Demographic targeting option followed by Financial and Income options. Set the income range for your real estate ad, and you are good to go.
Choose home ownership, and you will get options from first-time buyers, homeowners, and renters. For instance, you can target first-time home buyers for condos in urban areas.
Behavior
Facebook also helps you to reach more people sharing similar interests and behavior. The 'Lookalike' targeting is based on these parameters. As a realtor, you have a customer email list of your previous listings. Upload the list as the source audience and let Facebook do its magic. It will now target an audience based on shared interests in real estate.
You can also target people likely to move with Facebook Ads Manager. Choose Detailed targeting followed by behavior and residential profiles. Select the ready-to-move option for your ad and reap the benefits of ad targeting for your real estate ad.
How to Strategize Real Estate Ads on Facebook
You know all about the importance of Facebook marketing and targeting the right audience to make a deal. Now, you need to know a few necessary things to grab your customers' attention. Adopt these strategies to make the best out of real estate ads on Facebook.
Walk Your Talk
In short, 'maintain transparency' when posting ads on Facebook. People expect what they see. Thus, try to be honest about your offers. In real estate, trust in your business will attract more people through word of mouth. Be clear about essential details like the area of the property, location, price, and number of rooms. Try to post pictures and videos of the property. If not, ensure that your Facebook ads for real estate closely resemble the actual property.
Use Variety in Your Real Estate Facebook Ad
Facebook gives you many options for post formats. You should explore video tours, photos, collages, and carousels to showcase your properties. Bringing variety to your Facebook business page gives a larger picture to your audience. People prefer to watch the same thing over and over again. In the worst-case scenario, it might annoy the viewer, as several ads flood the user's feed.
Use this template to show the property from different angles.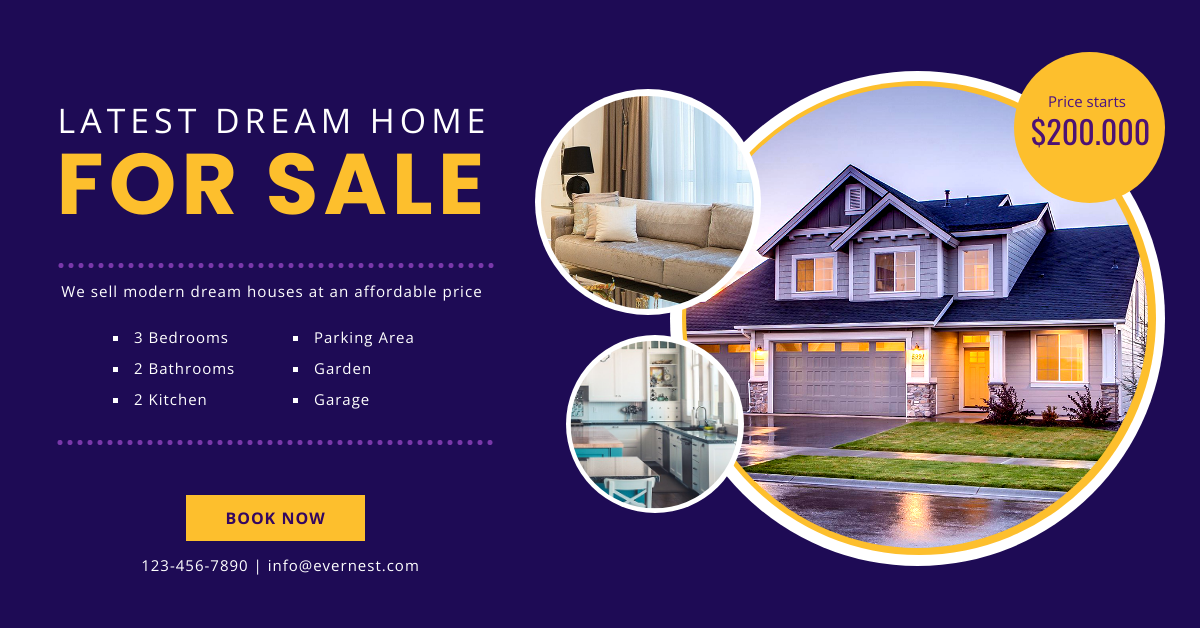 Get This Template and More
Focus on High-Quality Visuals
Hire a professional photographer to do the job, or you can do it yourself. Ensure that the images are high-quality, eye-catching, and taken in daylight. Also, focus on the aesthetics to grab attention towards the lifestyle rather than just the property. Ultimately, your audience should be able to imagine themselves living in the house. Tell more with this template.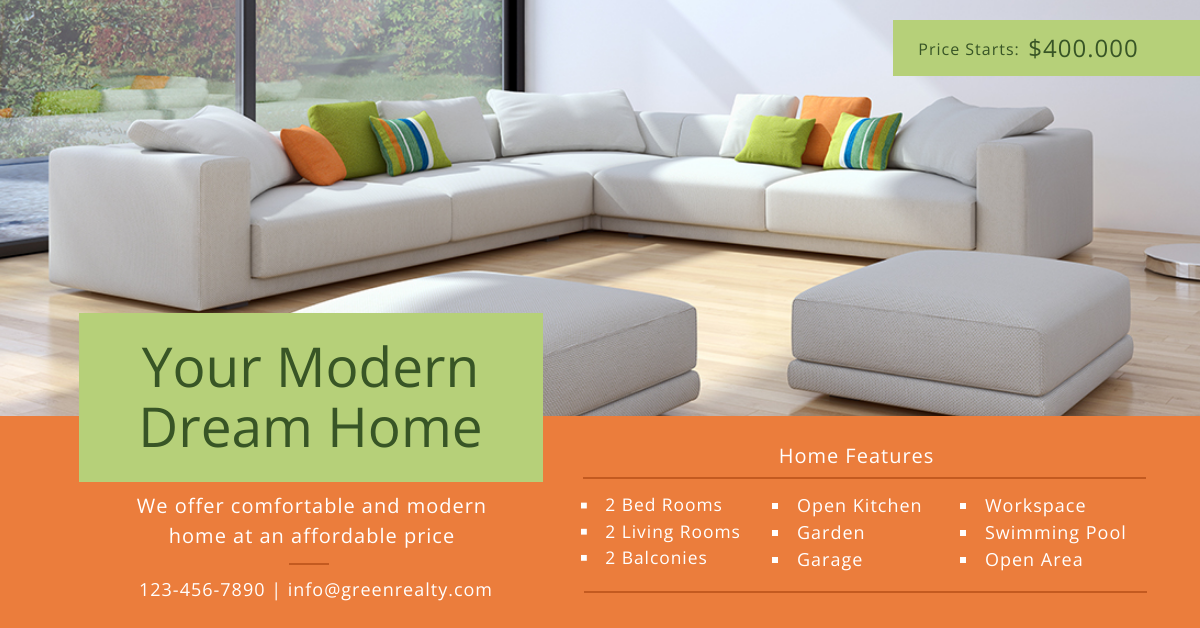 Get This Template and More
Use Catchy Headlines and Description
Grab your viewers' attention with catchy headlines to grab attention. The headline is the first thing your viewer will notice; therefore, mention the most attractive feature of the listing. Also, categorize your real estate Facebook ads into just-sold and upcoming listings to give better ideas to the customers.
Write a description of the experience of living in the house rather than just factual specifications. It will help you to tap into emotional marketing by giving a slice of life to the audience. Get started with this ready-to-use template.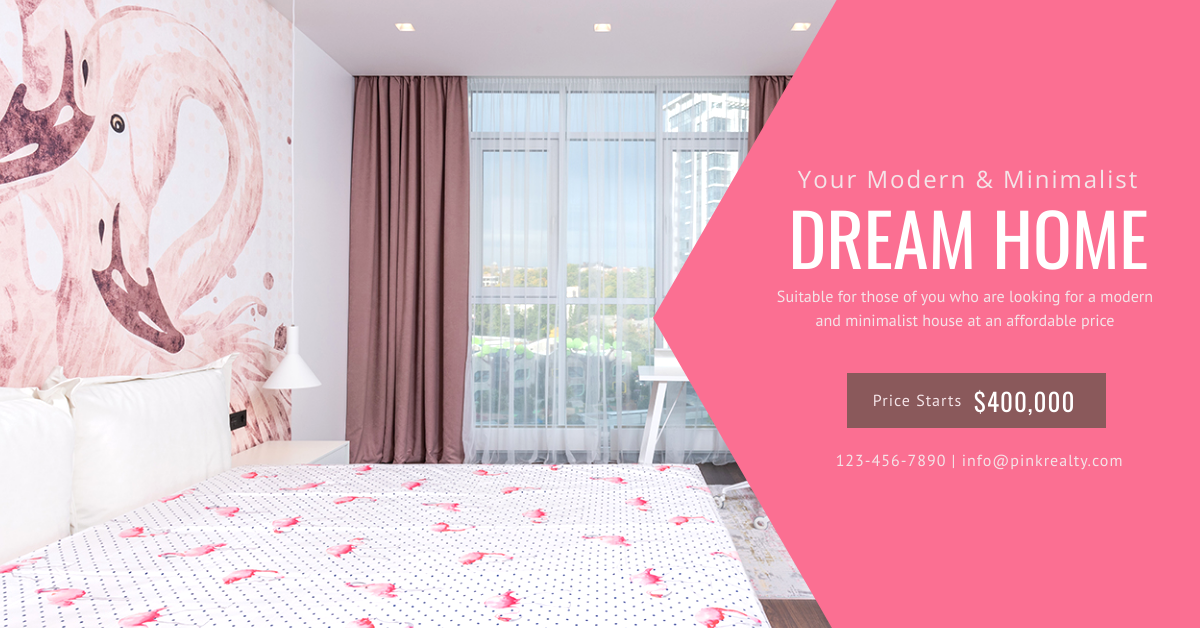 Get This Template and More
Use Customer Testimonials to Highlight Benefits
Real estate is a highly competitive market where people will often ask why they should choose you over others. In the digital era, people trust reviews to a large extent. Let your customers tell people what's unique about your services. If you talk about your business, it may look more like bragging. But your customer testimonial posts work as a review for your business.
Use Call-to-Action (CTA) and Optimize the Landing Pages
Suppose you're interested in a house you found in a real estate Facebook ad. But there are no instructions on how you can close the deal. As a customer, we want convenience at every step of our buying journey.
Call-to-action feature helps in making this journey a lot easier. Facebook ads provide a quality where you can add a CTA to 'learn more' or 'send a message.' You can also direct your potential customers to other pages. Optimize your web pages for a user-friendly experience. Use this template with CTA.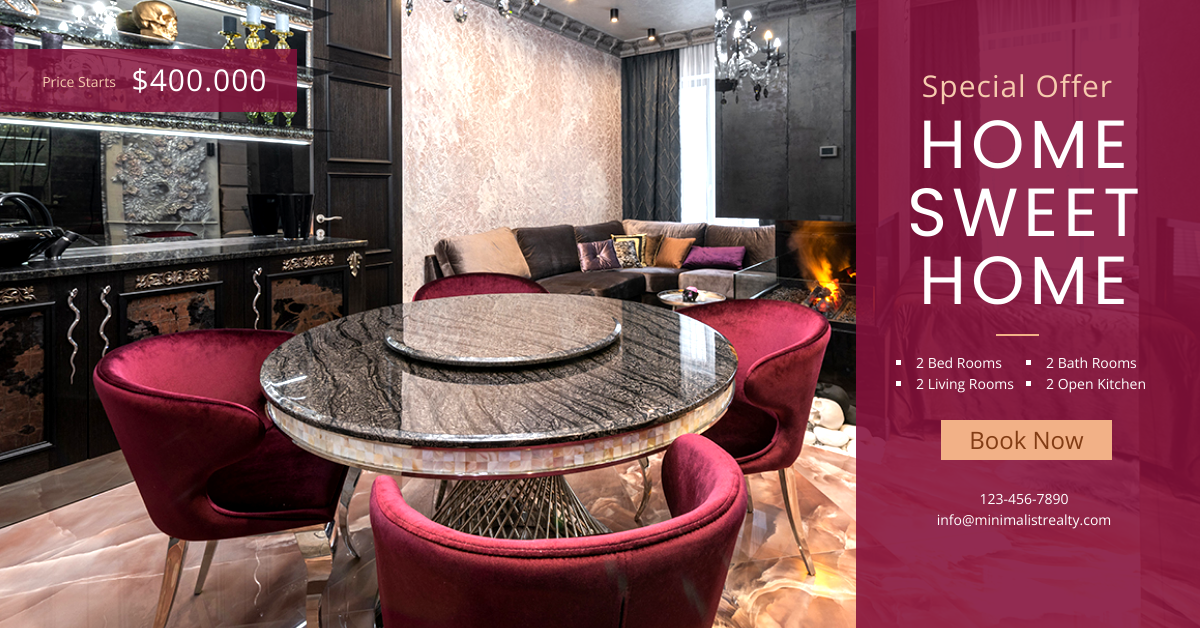 Get This Template and More
Real Estate Facebook Ad Examples
To better understand real estate ads on Facebook, here are a few examples of advertisements by realtors. Each property deserves a unique ad only if you recognize what to highlight. Look at these examples to show what people want to see.
Try Floor Plan Ads for New Construction
Don't have pictures of the house to advertise? Feel free to put the floor plan in your ad. Your customers know what they want, and these ads target such people. Floor plans help inform viewers about the new construction as a glimpse into the upcoming property.
If you have the house, state the facts about the floor plan directly, along with the pictures.
Use this template to flaunt your listings on Facebook.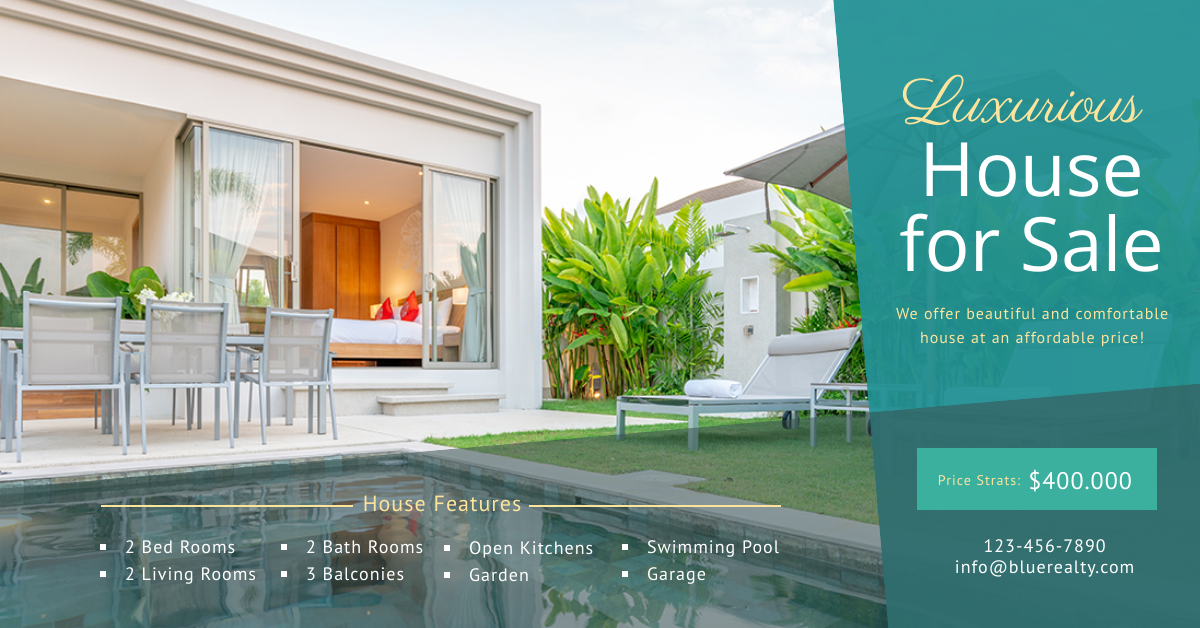 Get This Template and More
Brag with Recently Closed Listings
Your customers are more interested in results, and your recently sold listings speak volumes about your business. Tell them how you seal a deal and why it was convenient for your clients.
You can use the template below to make your story more appealing.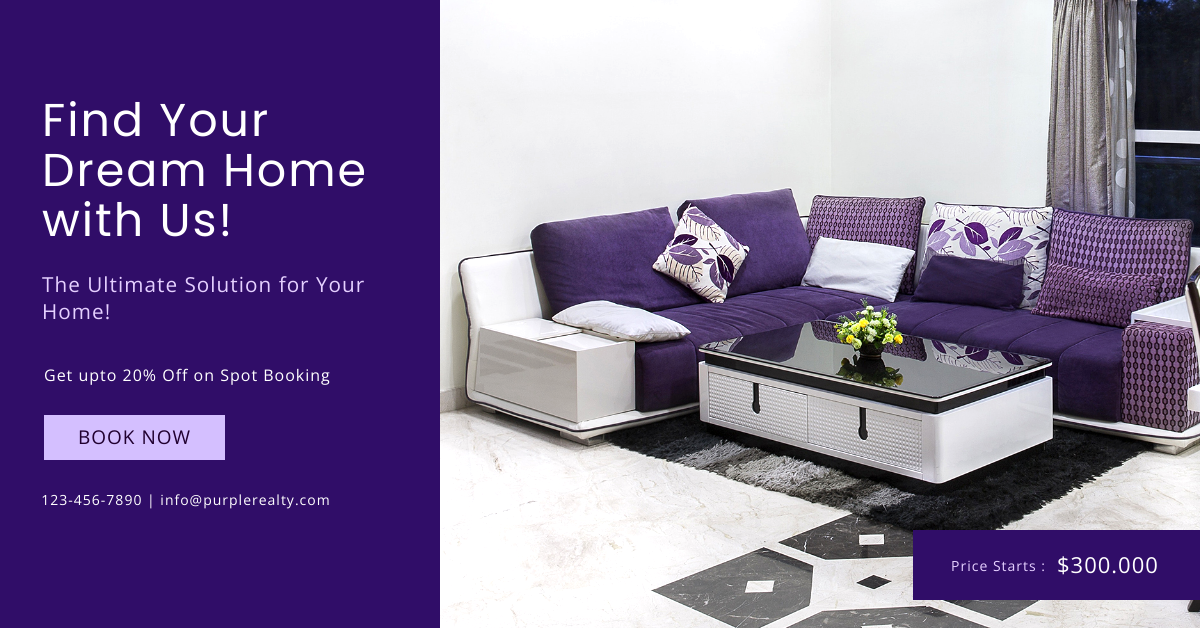 Get This Template and More
Show More with Video Tours
Why limit yourself to pictures when you can show more with videos? Record the video tours of the properties as they give a greater sense of being in the house without visiting it. While scrolling content, videos capture attention right away. You can make reels with video tours, as they have great potential to go viral.
Promote the Location
People love to know about the nearest shop, station, or school. Use this information to highlight if the property's location is in demand. There is a high chance that people would be eager to reach out to you because of the location. Look at this Facebook real estate ad and take inspiration to describe the locality.
Use the template for houses with generic designs and brag about the location.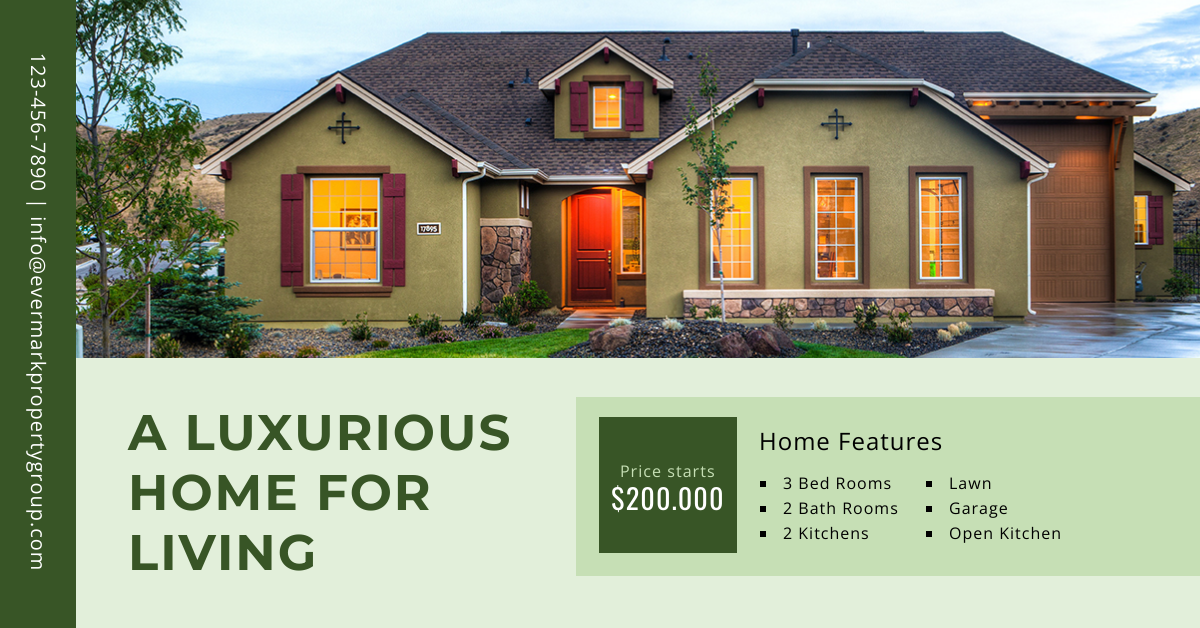 Get This Template and More
Earn Trust with Client Testimonials
No matter how you portray your real estate business through Facebook ads, it's hard to win the trust of new buyers. Buying a house is one of the most significant decisions. That's why your client testimonials are crucial for your ads. It makes your business more reliable and authentic.
Design your real estate ad with client testimonials by customizing this template.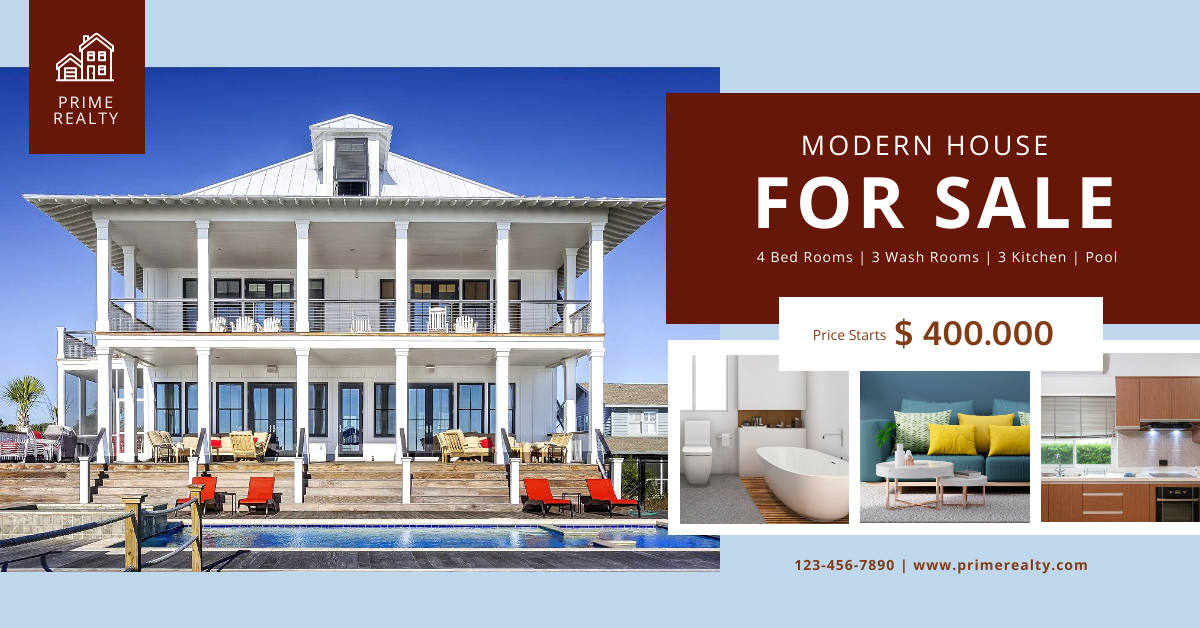 Get This Template and More
Showcase Specific Features and Lifestyle
We can get all the facts straight, but they don't appeal much to the viewers on Facebook. Facebook ads are more about dragging focus to entice your audience. People love to see how livable the property is through your real estate ads. Look at this real estate ad that focuses on small details of the house.
Or, just like this real estate ad, you can highlight any aspect of the house. Small things let people imagine their lifestyle in the home.
Flaunt the luxury of the house in real estate ads with these templates.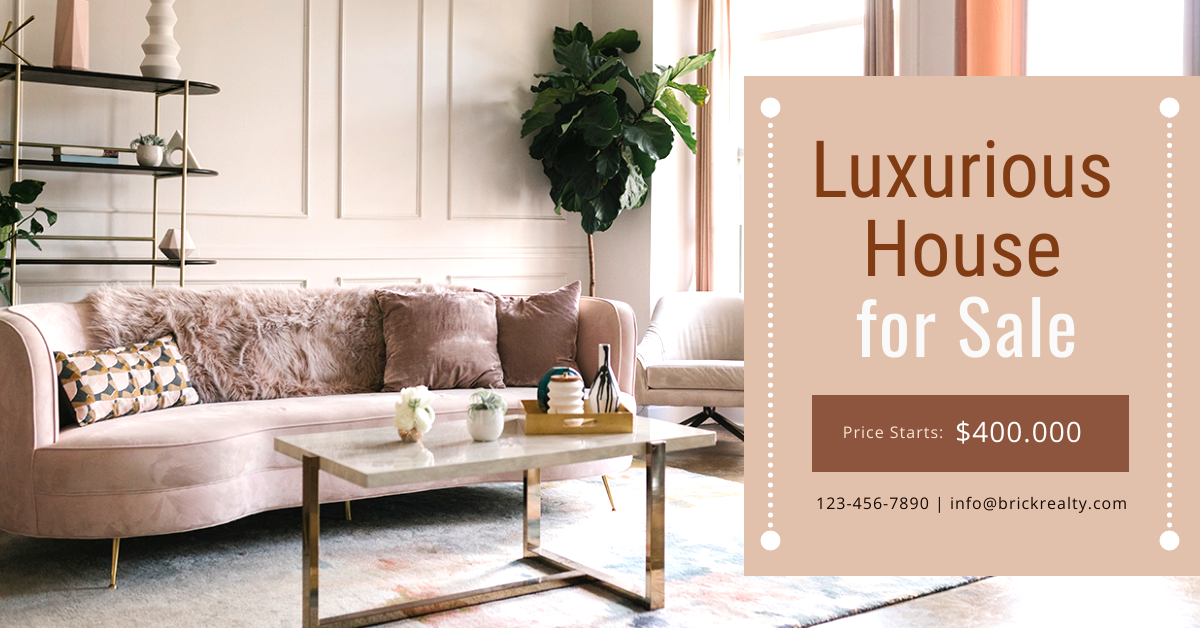 Get This Template and More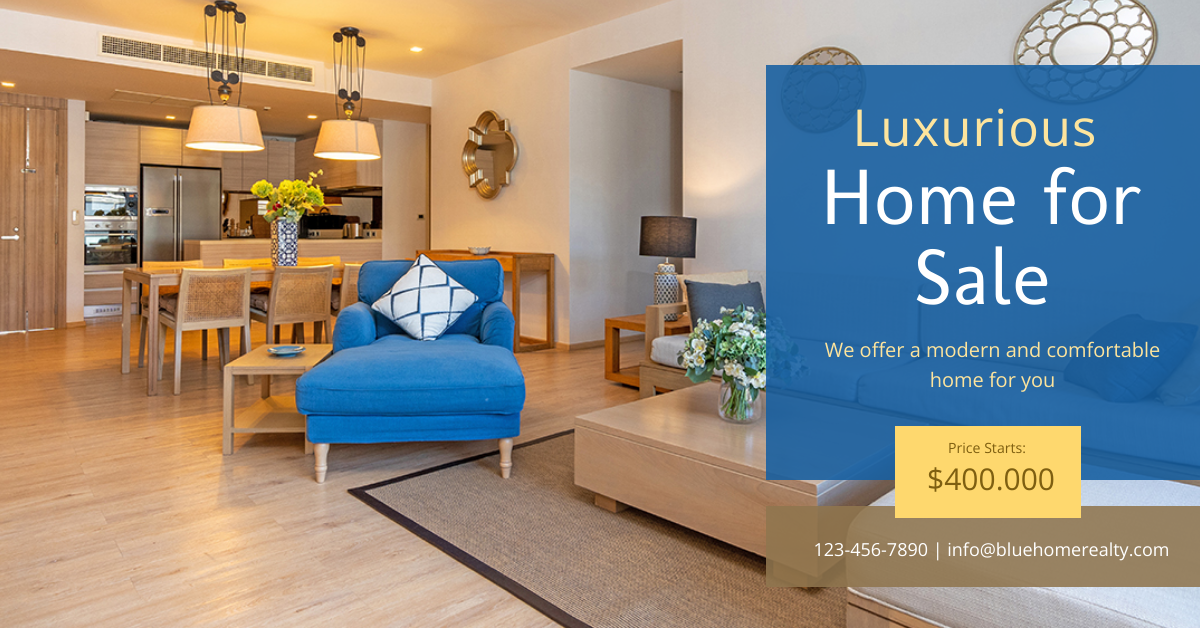 Get This Template and More
Inform about the Latest Listing
To sell your house, promote the upcoming listings as much as possible. Tell your customers about the open house events with date, time, and venue.
Ensure you don't miss out on essential details like the address of the house and your contact details. You can also add a CTA button in the ad so that they can land on your website to know more.
Use this template to announce your next open house event.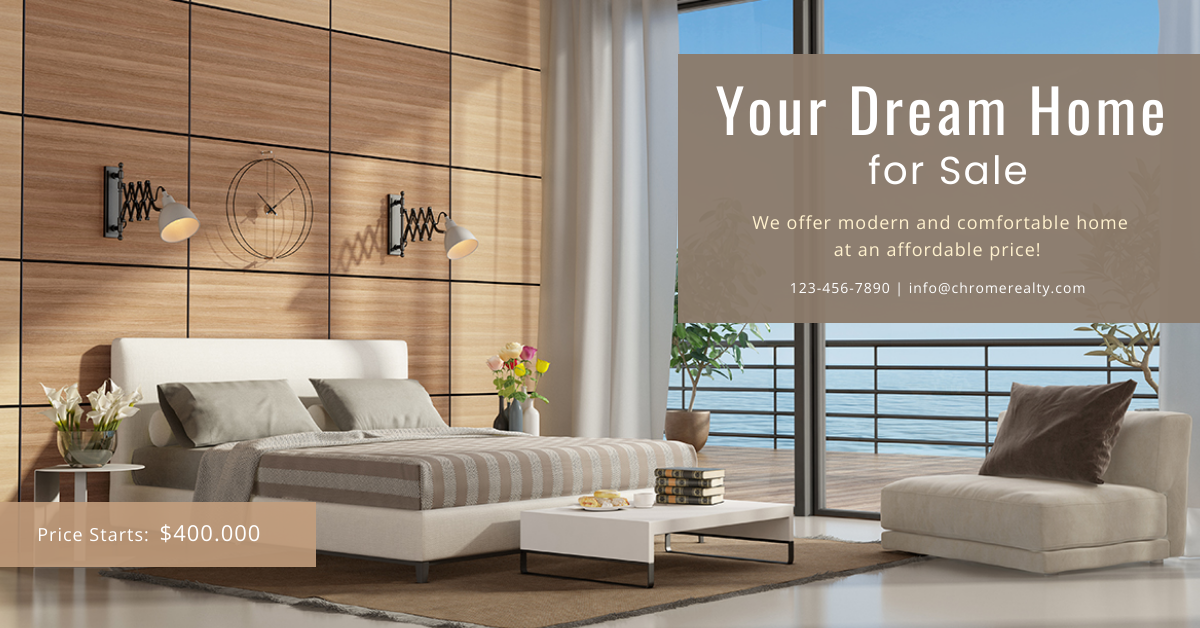 Get This Template and More
How to Create a Facebook Ad for Real Estate
After reviewing all the real estate ad examples, you must be inspired to create your own Facebook ad with customizable real estate Facebook ad templates from DocHipo. First, you need to sign up with DocHipo to get started. Follow these three simple steps to create your real estate ad for Facebook.
Step 1: Choose Your Template
Once you sign up with DocHipo, you will land on the homepage, where you can search for your template. Search by typing Facebook and selecting the Facebook ad from the options available.
You can also select Advertisement group from the menu on the left side of the screen and select Facebook ad document type.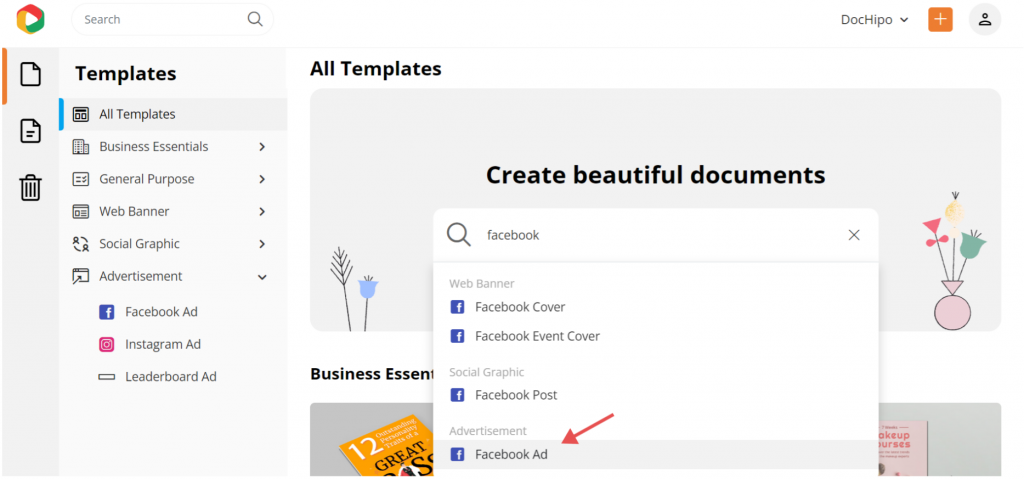 You will land on the Facebook ad templates where you can choose the real estate category.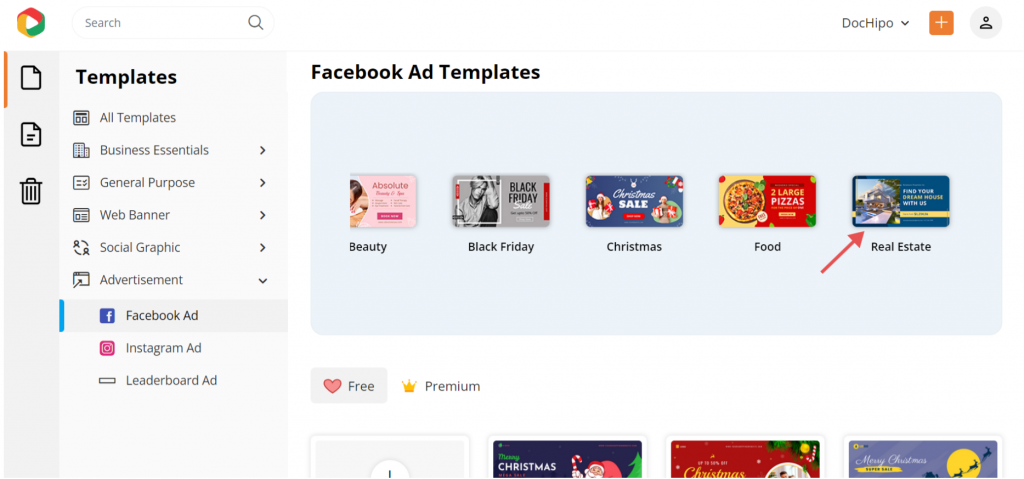 After selecting the real estate category, choose your favorite real estate ad template with a simple click.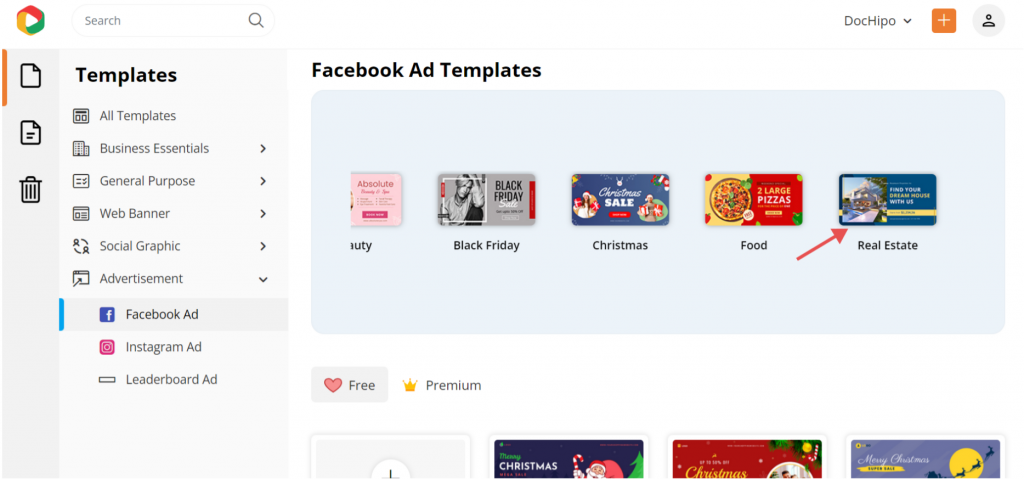 Now, DocHipo will take you to the editor. You can name the document, fill in other details, and select next to continue.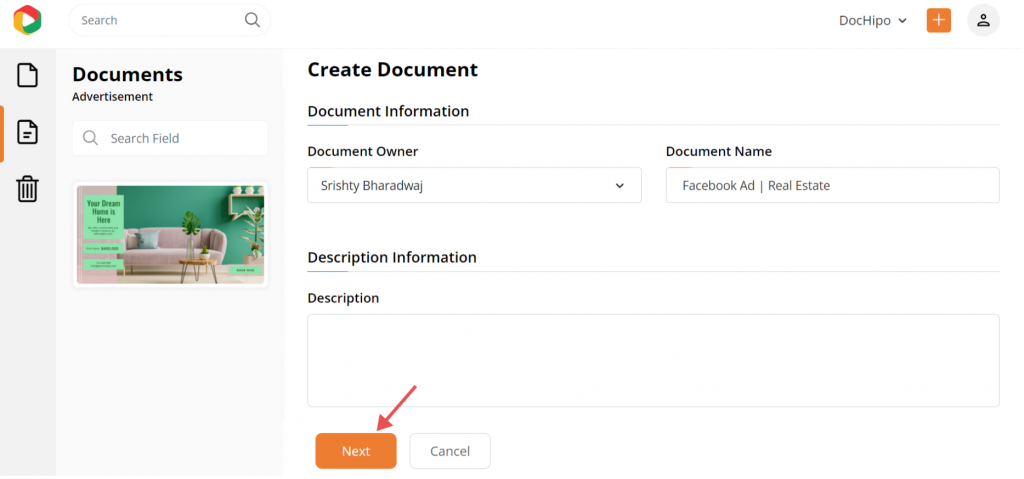 Step 2: Customize Your Template
DocHipo gives you multiple options to customize templates as needed. As shown in the picture below, you will see this page with all the customizing tools.
Customize the Image
Choose the Graphics and Media option.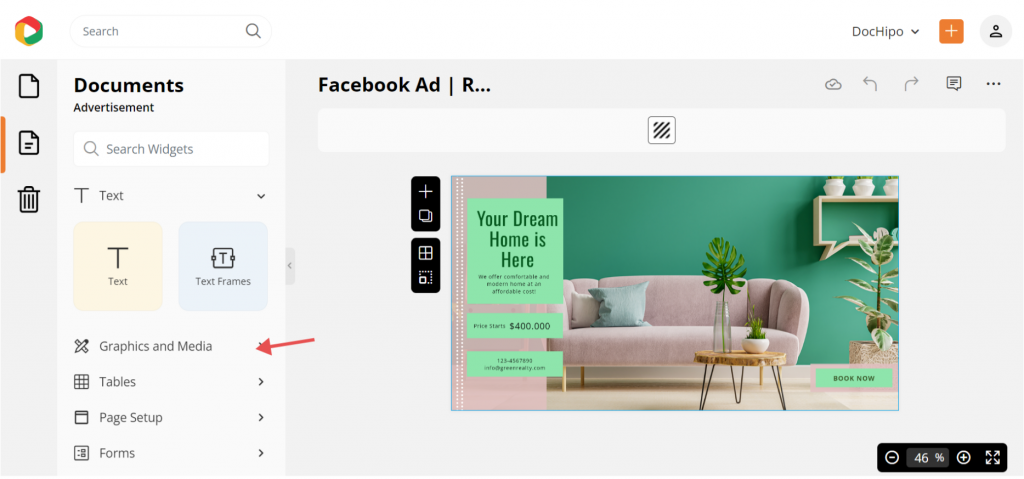 To upload your photo, click on the uploads widget.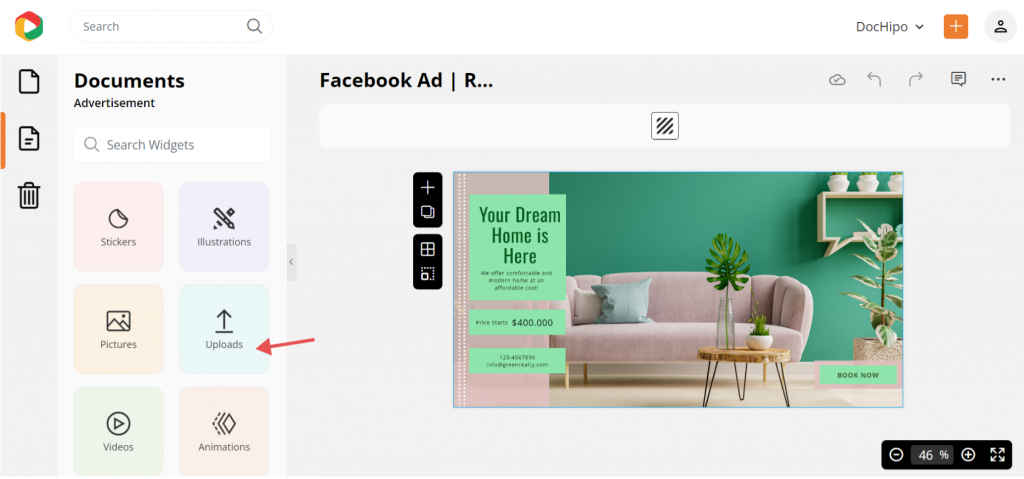 Select Upload and choose a file from your system to insert an image.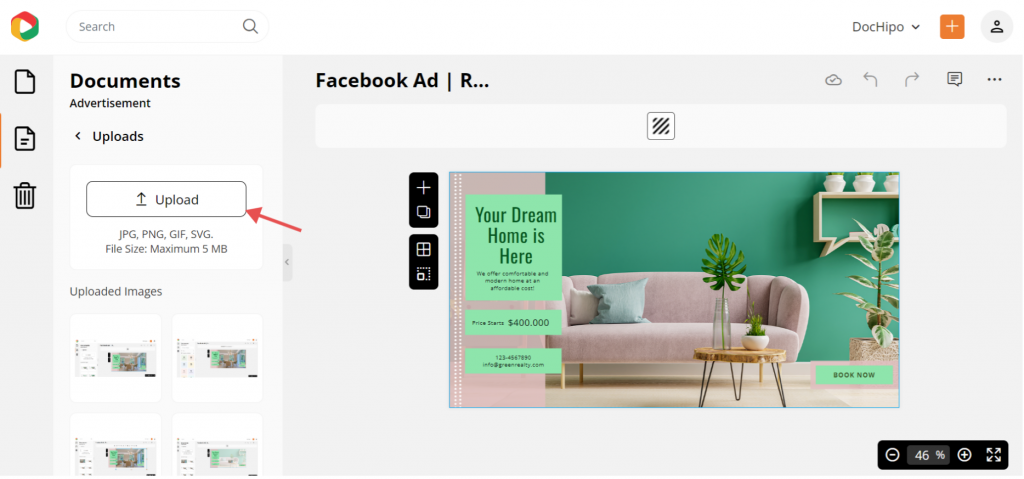 Select the image file and click open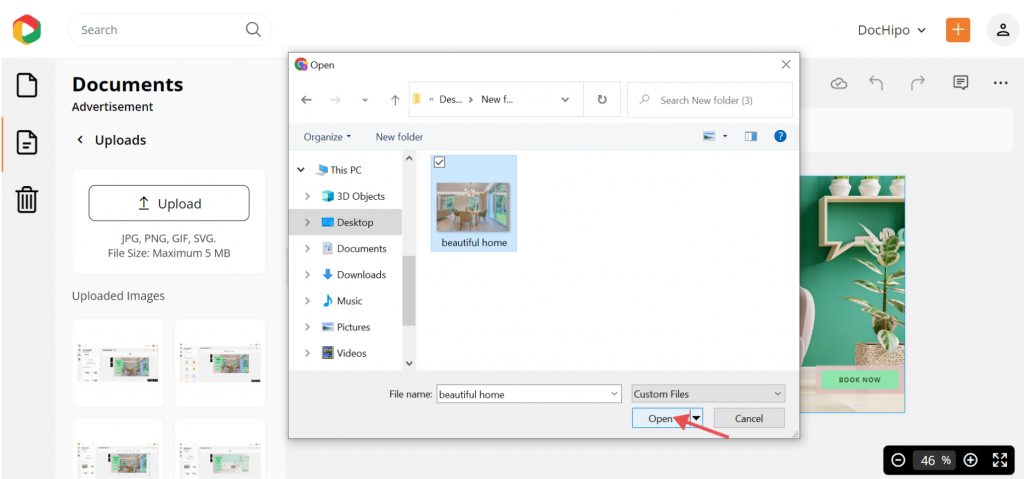 The picture has been uploaded to use in the template.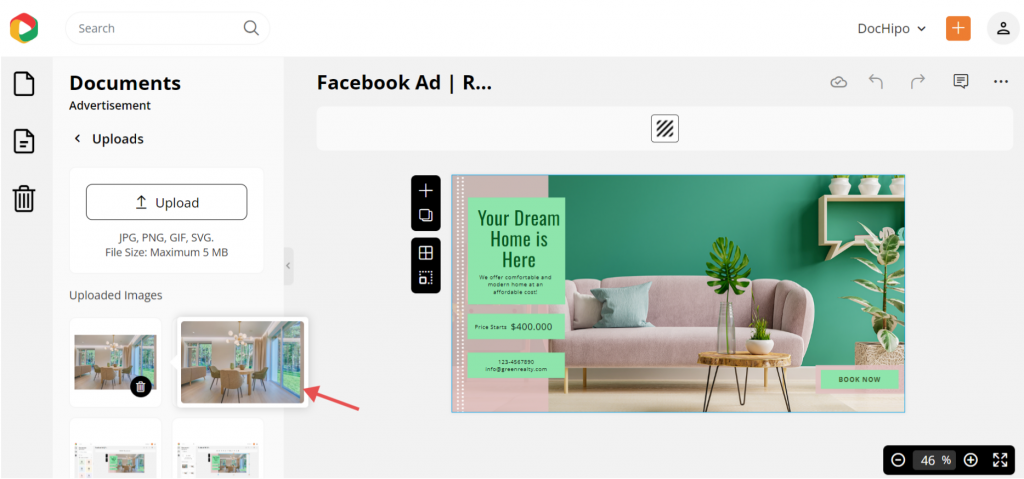 Drag and drop the image at the template image to replace it.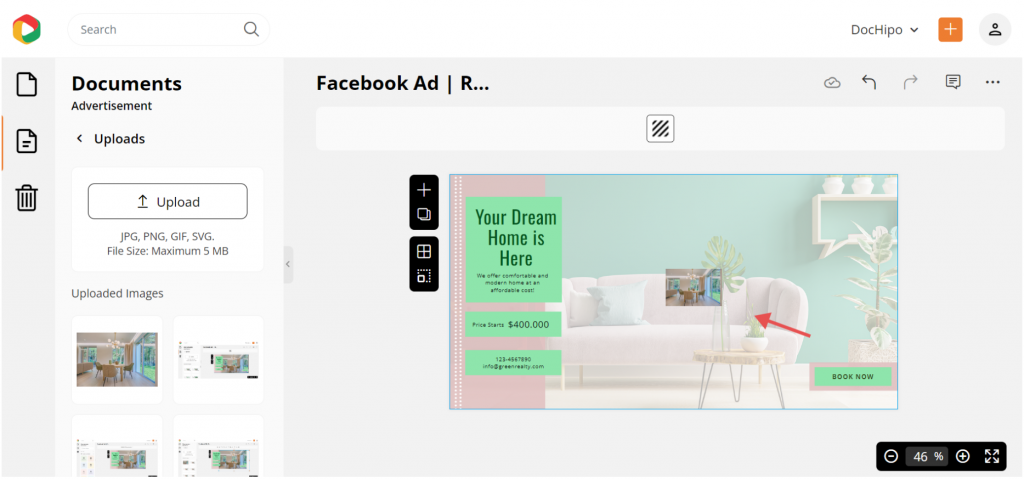 After replacing the picture, adjust it by using the handler.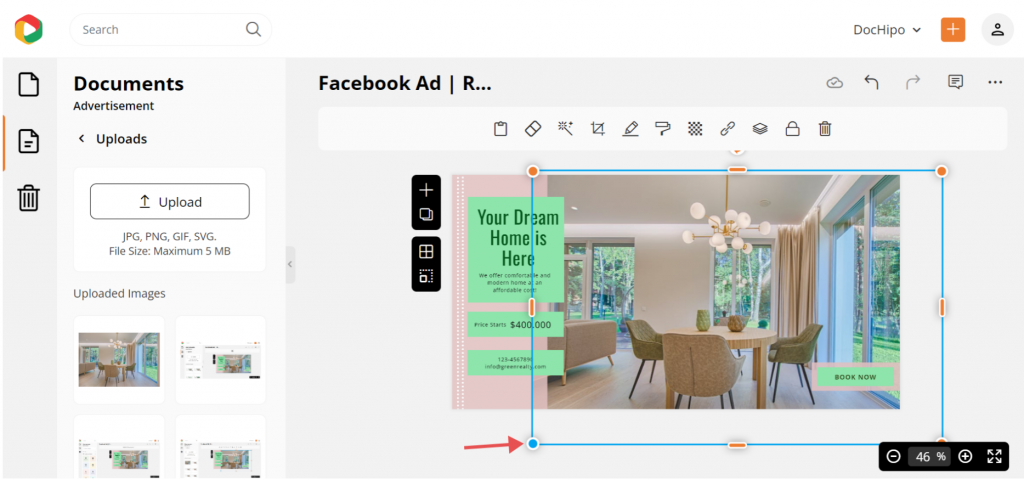 You have successfully changed the image.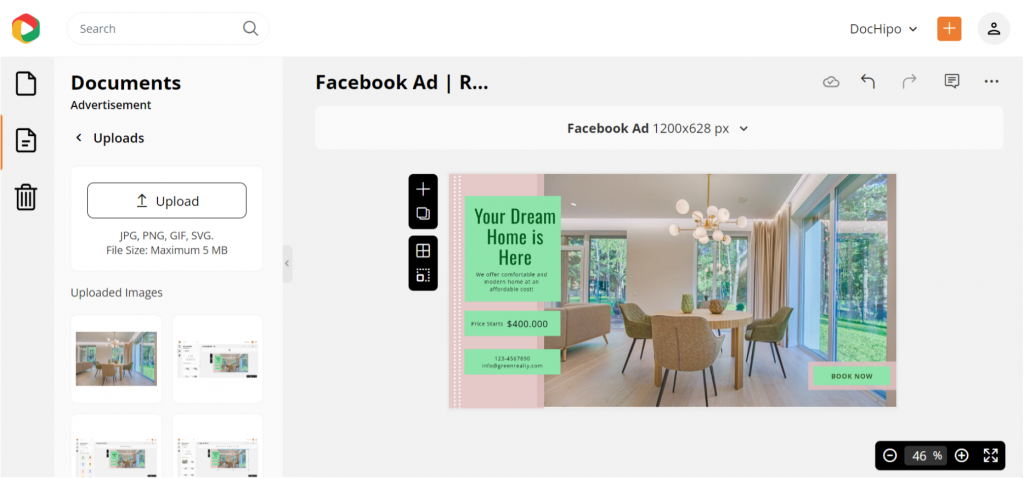 Learn 10+ Simple Ways to Enhance Images with DocHipo.
Enhance your pictures with DocHipo filters.
Customize Other Widgets
After changing the picture, customize the other widgets to complement the picture. Select the widget section you wish to change.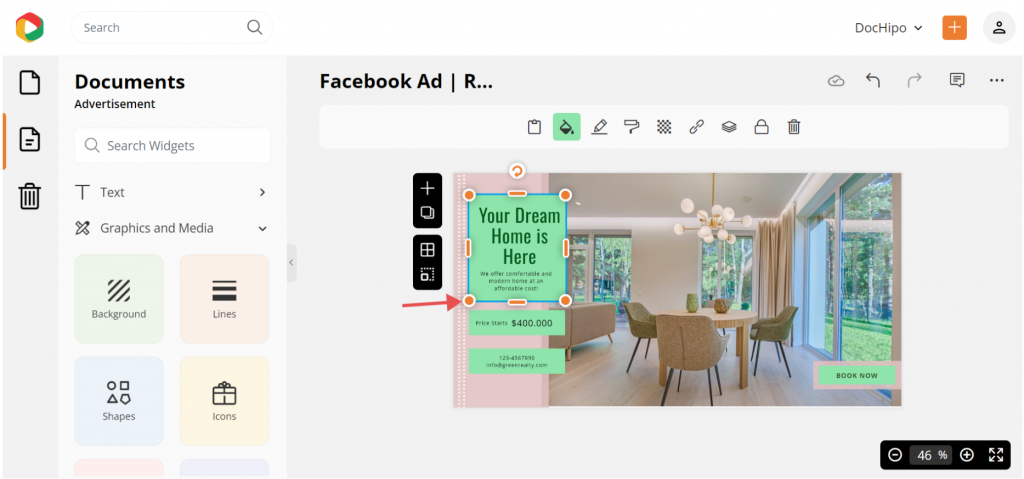 Choose the color icon from the contextual editing bar at the top of the template. The color palette will appear on the screen.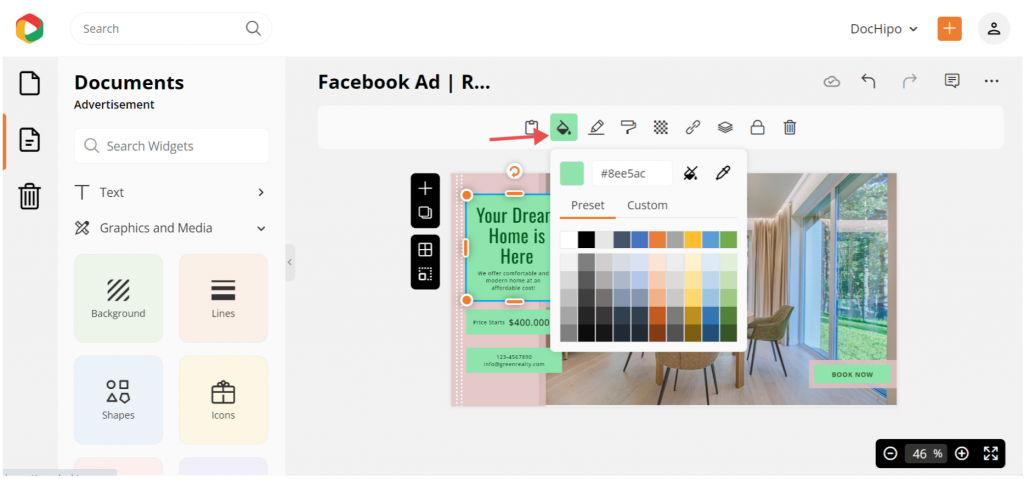 Choose a suitable color from the palette to change the widget color.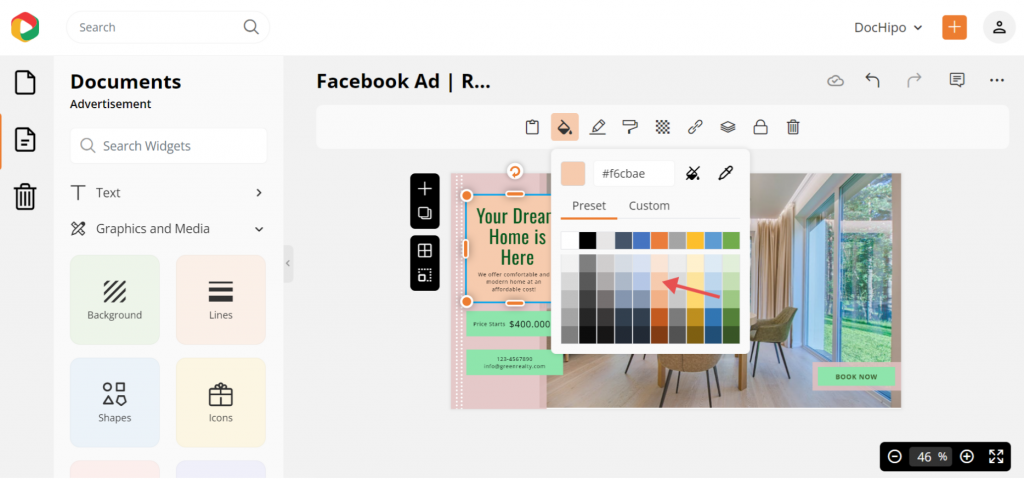 Repeat the changes with other widgets to change color; your template will look like the image below.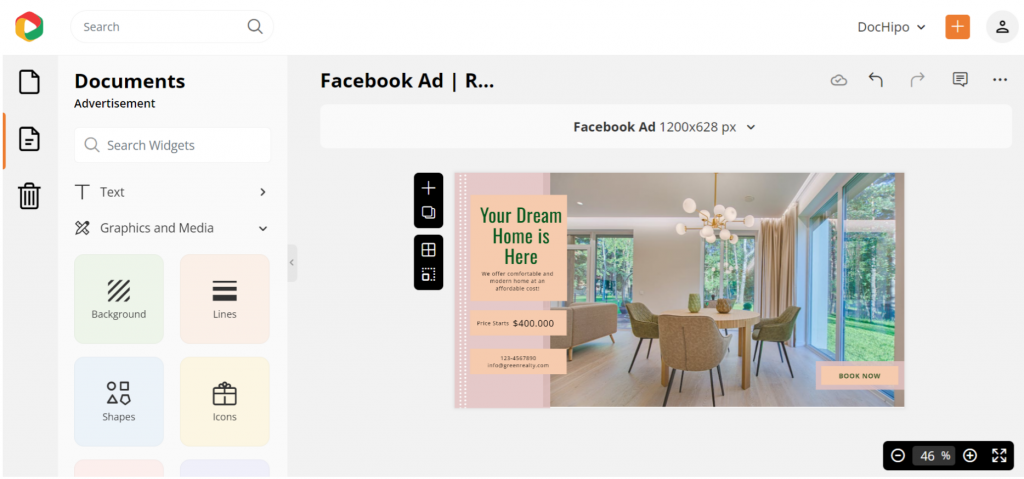 Learn more about aligning widgets with texts and graphics with this video.
Customize the Text
Select the text you want to change in the template and replace it by typing in the chosen section.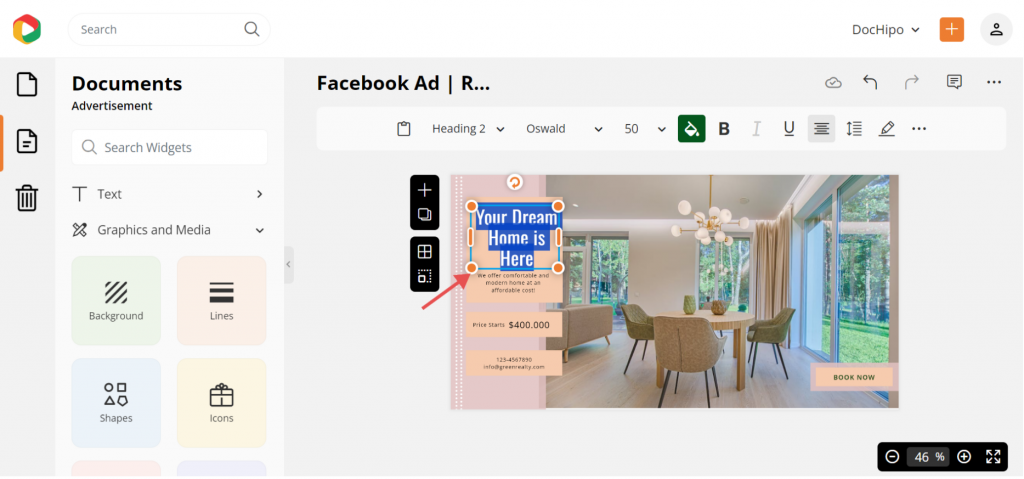 Now, change the text color by selecting the color icon from the bar.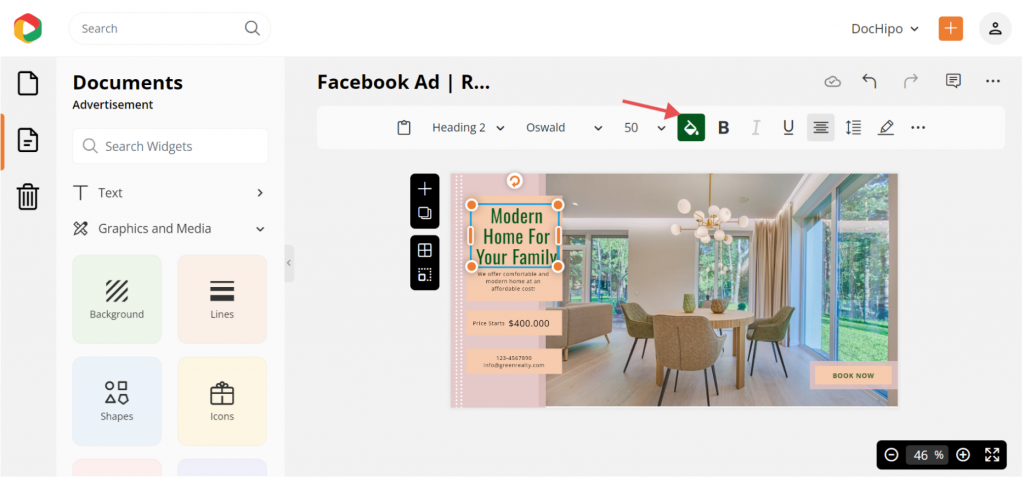 From the color palette, choose the desired color and apply it to the text.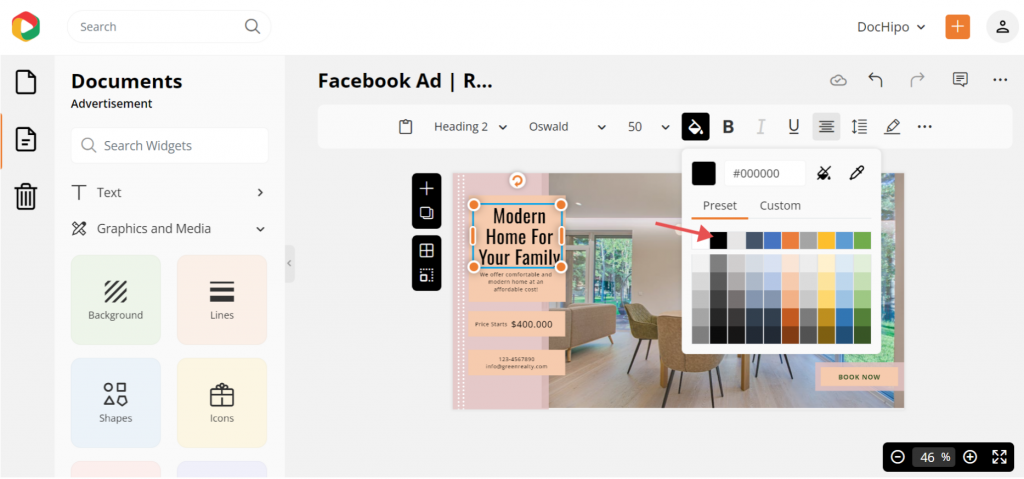 Explore the possibilities of customizing text in this video.
Step 3: Download Your Design
After all the customization, select the three dots in the upper right corner of the editor to download your design.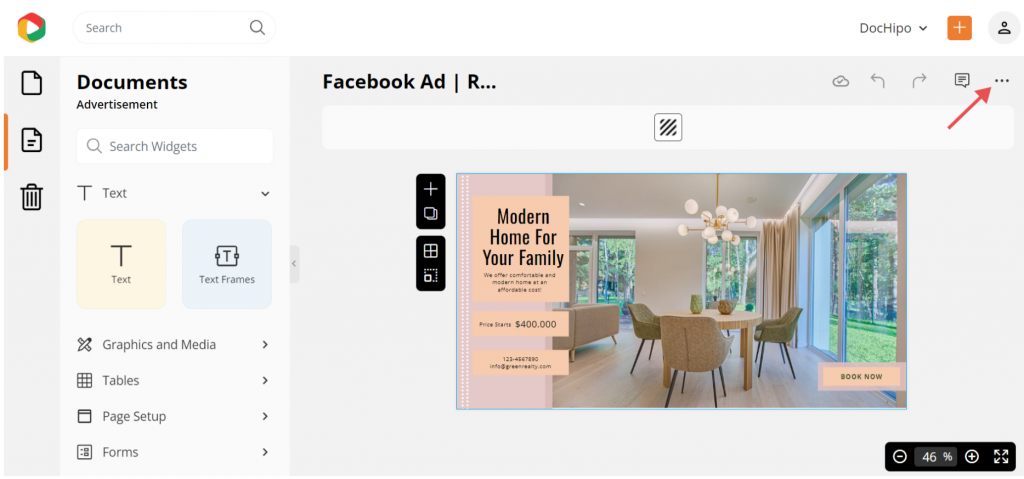 Select the download option from the list of choices available to you.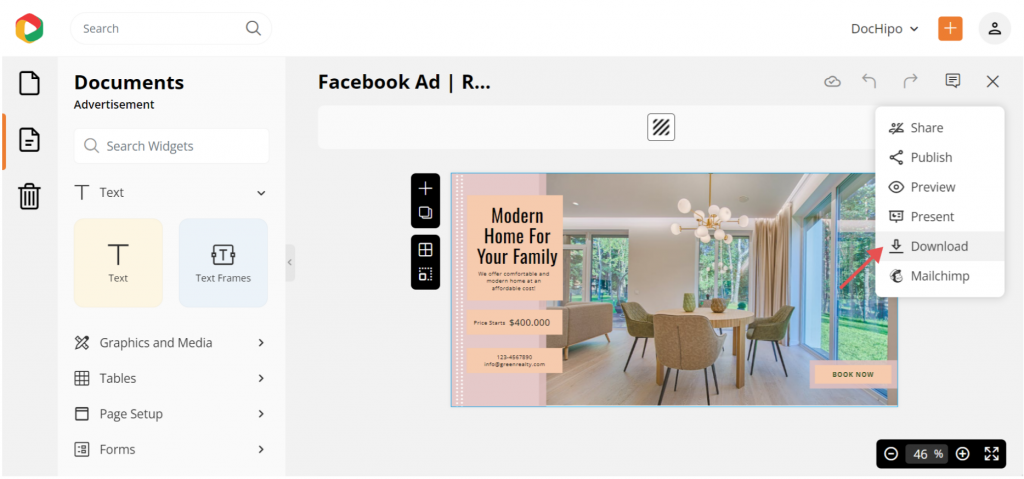 Download the design in PNG file type and normal quality for web use.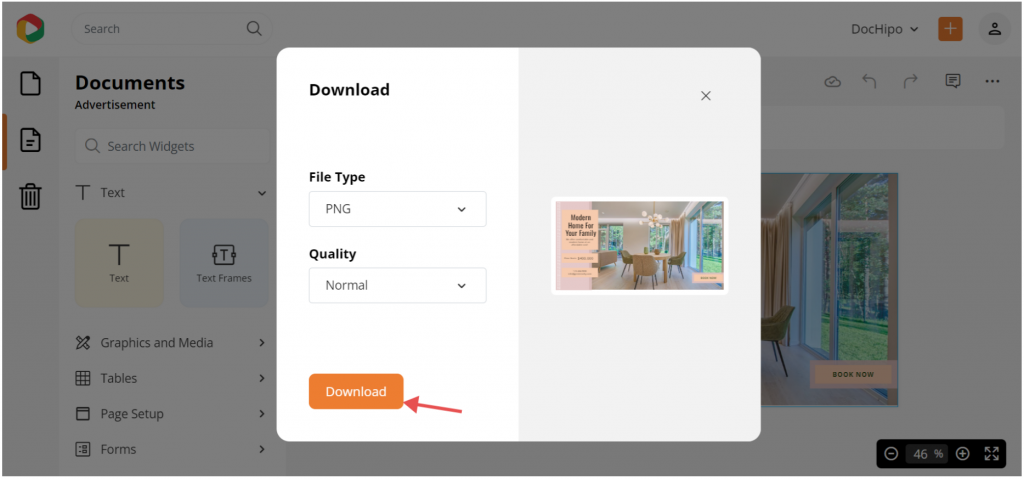 Your real estate Facebook ad is ready to be posted.
Before Customization
After Customization
Check out The Ultimate Guide to Using the DocHipo Editor to Design Your Documents.
Learn to leverage DopcHipo for your real estate business.
Summing it up
Target, your potential customers with appealing real estate ads, accurate information, attractive visuals, and engaging content. Remember, you're in the long haul to market your business. Your customer relations and selling capabilities will bring success in the end. Let the world know what you will offer. Sign up with DocHipo and get started with real estate Facebook ads.