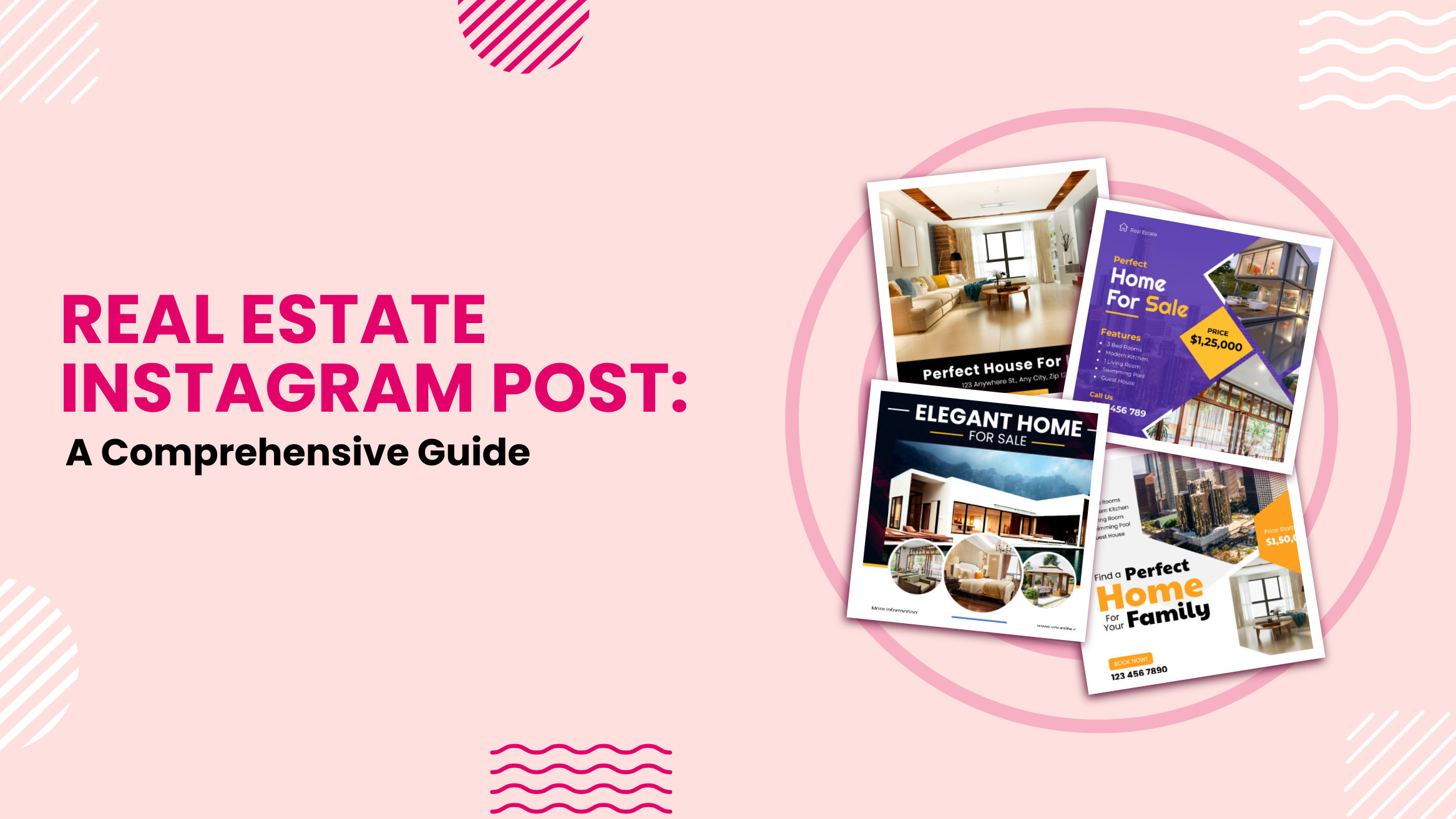 Real Estate Instagram Post: A Comprehensive Guide

Last Updated Aug 23, 2023
It's time to bring real estate on Instagram and unleash its potential in the digital era. Your real estate Instagram post is the window for your customers. It is one of the most used marketing techniques in today's world. Creating an attention-grabbing Instagram post to make sales can be challenging. You can get confused about what and how to post on your Instagram. Don't worry; we will answer everything about real estate Instagram posts in this article.
Is Instagram Good for Real Estate Agents
The real estate business works on interaction, connections, and trust. There is no better way to stay connected than social media platforms. Today, millennials and Gen Z are ruling the customer base in most sectors. That means many of your target audience love to see what you offer online. Stats show that Instagram holds the #1 position for connecting people with brands among all social media platforms.
On top of that, the Instagram algorithm helps the target audience engage with real estate Instagram posts. Your real estate Instagram posts will increase your visibility through visual marketing. People remember what they see every day. So the next time your follower thinks about houses, your profile will come to his mind automatically.
How to Do Real Estate Marketing on Instagram
Social media brings endless opportunities to your fingertips. However, Instagram for real estate business can baffle many of us. Real estate marketing on Instagram requires planning and strategies. Here are a few simple steps to understand how to get started.
Research Target Audience and Competitors
It feels clueless to create something from scratch. The best strategy is to take inspiration from other real estate Instagram accounts. For real estate marketing, your target audience comprises home buyers, real estate investors, property owners, and other real estate professionals.
Research the social media presence of real estate businesses in your area to know your competition. Note some of the features of the most followed accounts, such as the page layout, bio, hashtags, captions, and posts. It will give you a better idea of what helps you gain more followers.
Create Your Real Estate Instagram Account and Optimize Your Bio
Once you have done your share of research, it's time to set up your account. Remember to keep everything clear and concise.
The next step is to write a bio. Your bio is the first thing people will notice when they visit your page. Optimizing your bio means how a user can find you easily on Instagram. Don't forget to mention the niche (realtor/real estate), your location, contact information, website link, and call-to-action button. You can also provide a brief description of yourself or your brand.
Create Content Strategy and Stay Consistent
On Instagram, showcase your business with attention-grabbing visuals. Post high-quality photos of interiors, exteriors, latest listings, upcoming events, etc. You can make an Instagram Post design to promote a house by flaunting beautiful interiors like the one in the template.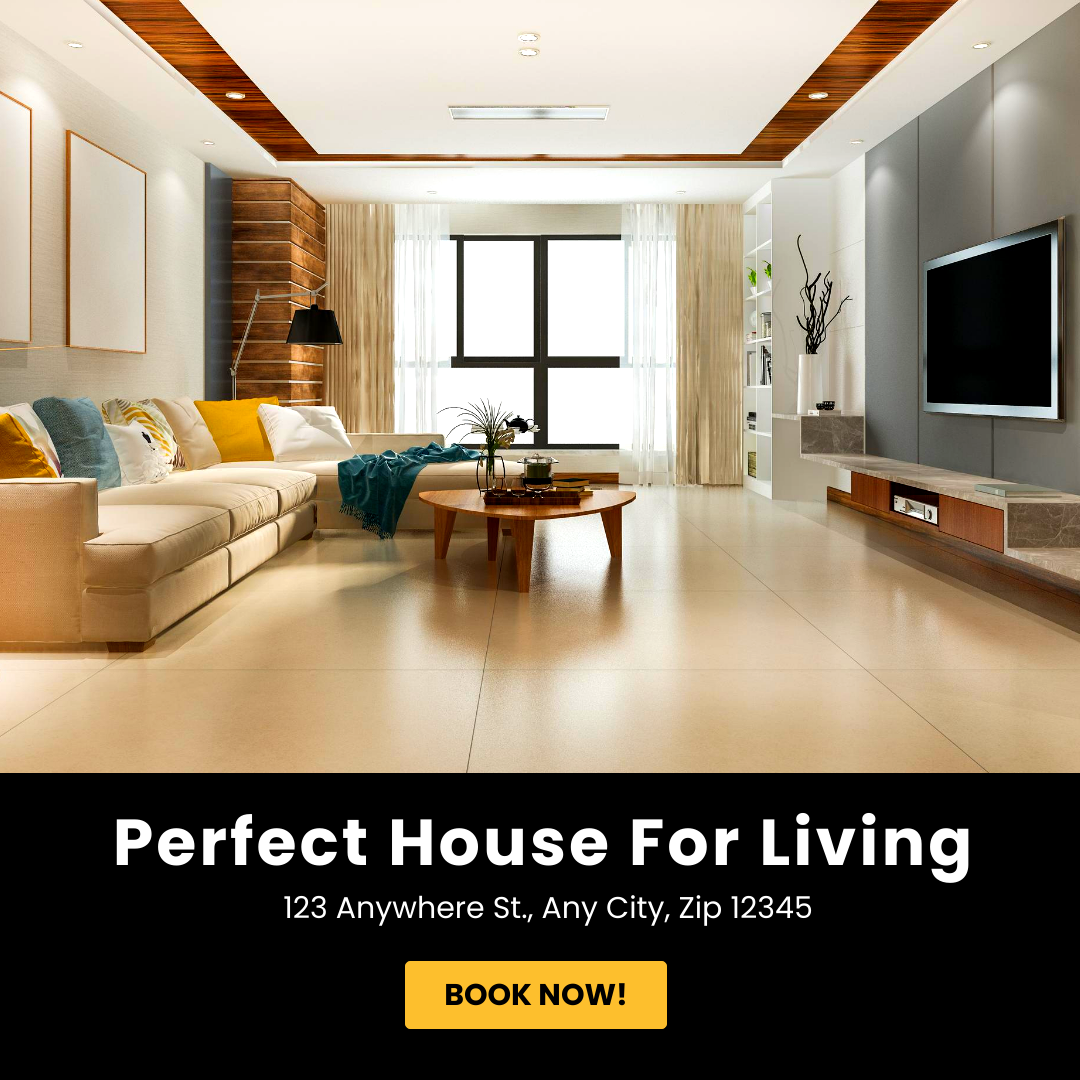 Get This Template and More
Create a content strategy to ensure consistent posting of the content. You can take the help of features like schedule posts and reels on Instagram to avoid the hassle of posting now and then. Maintain consistency with the type of content you post on your page to enhance your brand image.
Use Catchy Captions and Niche Hashtags
You can use catchy captions to grab the attention towards the real estate Instagram post. Mention details like location, special features, price, etc., about the property in the caption of your posts. Also, highlight the ways through which one can buy the property. In the end, making the deal is what matters.
Hashtags are the magicians in the Instagram world. Make sure you use them wisely to attract the correct audience. Use hashtags only related to your post, niche, location, and brand. Use relevant hashtags with incredible search results. Ensure that your captions and hashtags are in sync with one another.
What Should I Put on My Real Estate Instagram
Instagram gives various post options like collages, carousels, reels, and stories. Your real estate social media posts must include multiple post types. Use pictures and videos in the Instagram post and add value to your content. Inform your audience about the real estate world and how they can choose better with you.
Always try to use engaging content. One of the most effective ways is to use a strong CTA (Call-to-action) button. For example, you can design a real estate post with 'BOOK NOW' as CTA to make a sale immediately.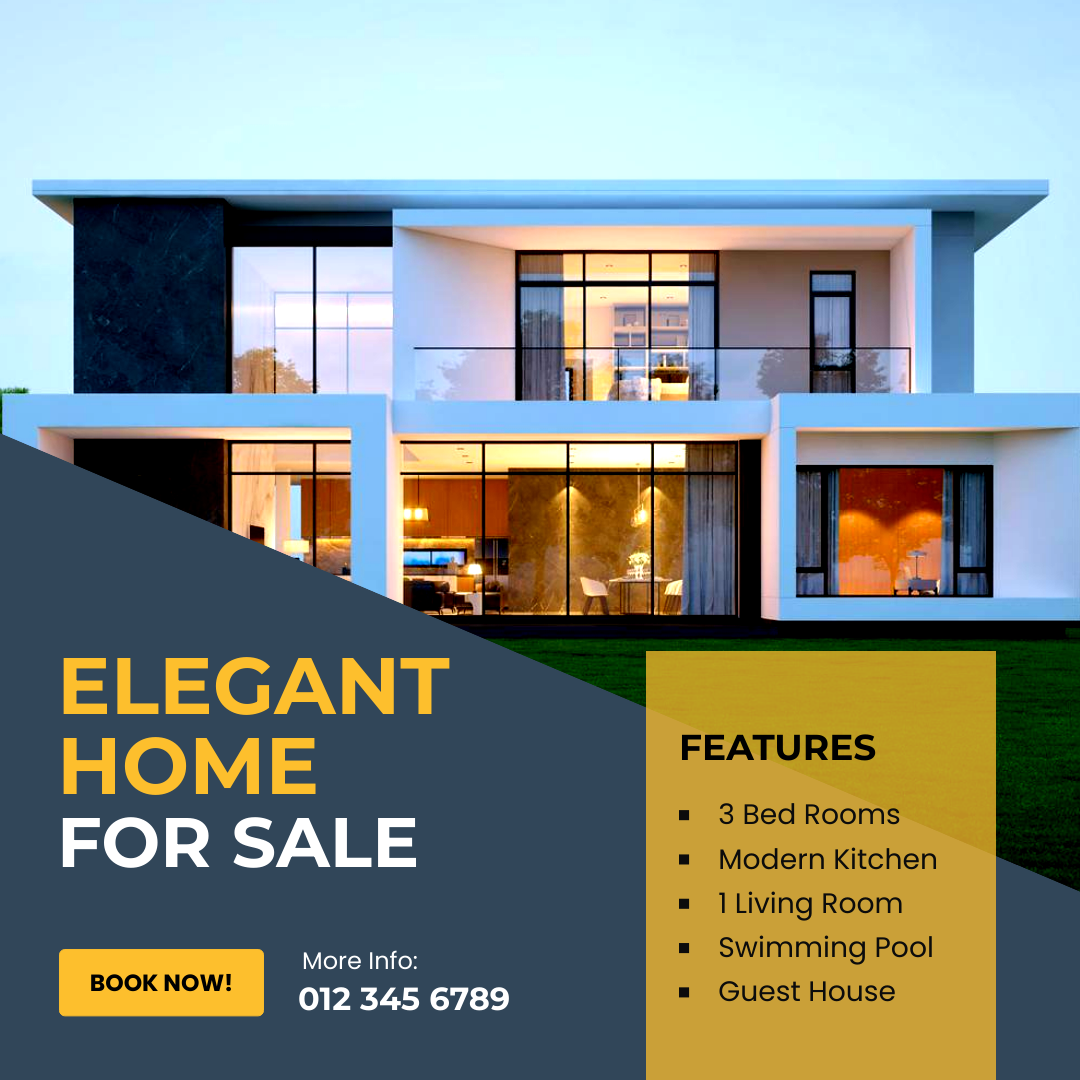 Get This Template and More
You can also put BTS (behind the scene) videos and customer testimonials. People feel more connected when you put content around your business.
Best Practices for Designing a Real Estate Instagram Post
On Instagram, you can only grab attention when something stands out. That's why you need to pay attention to details while posting anything. A captivating post will help you to attract more followers to your page. Here are the best practices to help you design Instagram real estate posts.
Use High-Quality Visuals
Always strive for the quality of pictures regarding real estate posts on social media. You can hire a professional to take high-quality photos of the properties or do it on your own. Your customers will decide to buy a house based on the posts. So, ensure you take pictures with better lighting, set up, and at proper angles.
Use this DocHipo template to stand out for visuals on Instagram.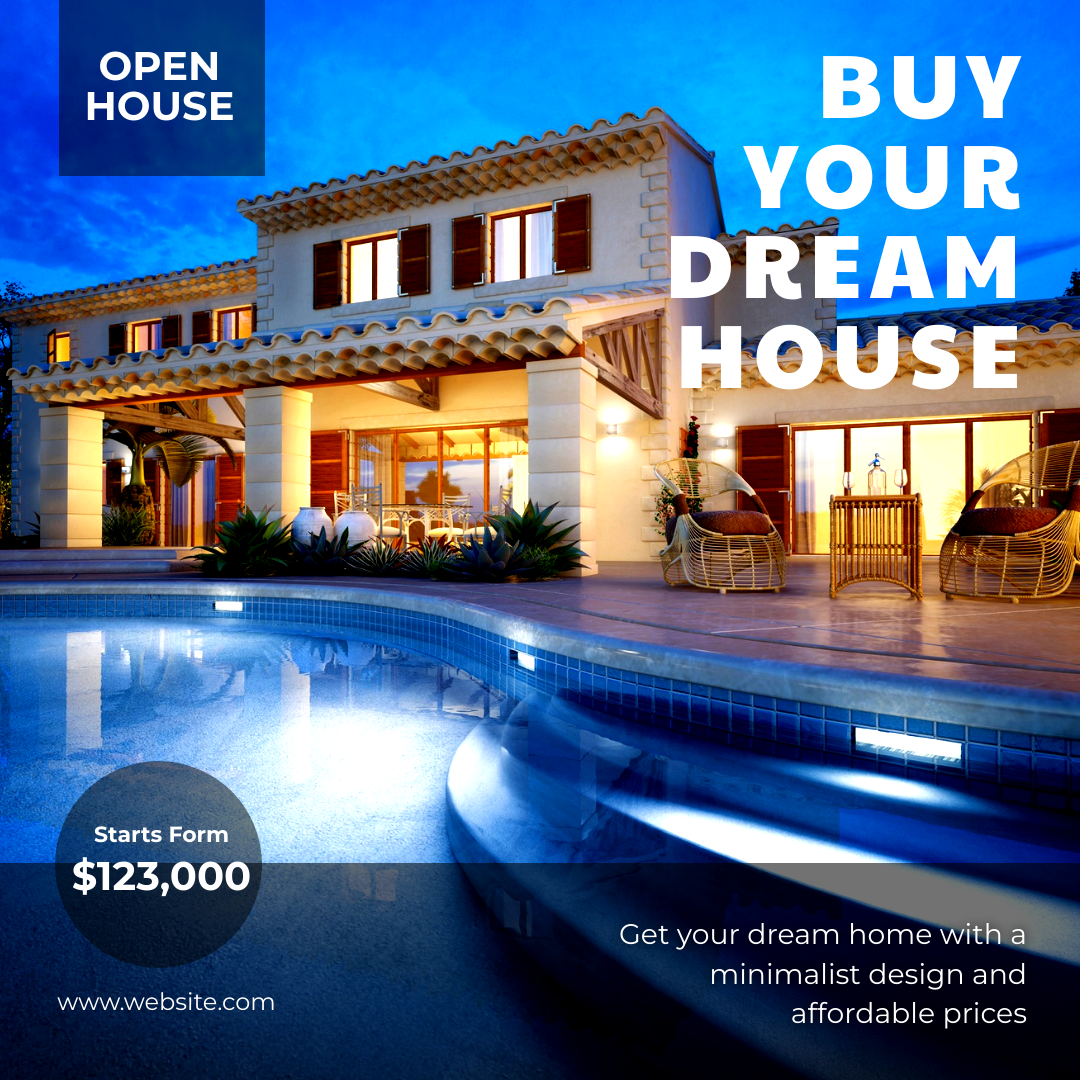 Get This Template and More
Modify Your Posts with Essential Information
It is only possible to post images by informing about essential details about the property. While this can take a lot of time, you can use real estate Instagram post templates on DocHipo.
Suppose you wish to inform people about an open house sale. This template from DocHipo serves you right with all the information. Customize the details, and you are good to go.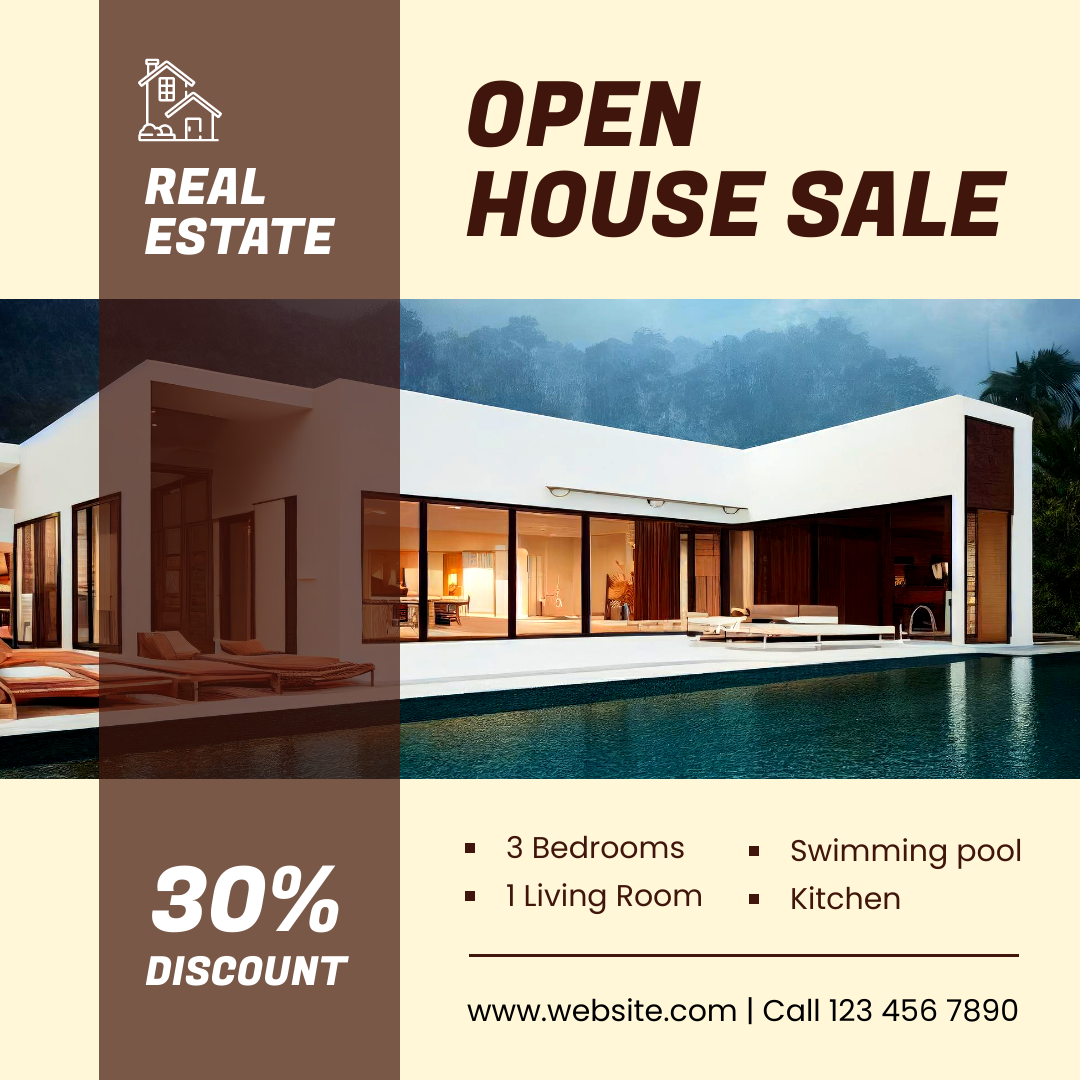 Get This Template and More
With this tutorial, learn to customize templates with images:
Include Variations in Your Content
Keep it consistent but don't make it boring. The Instagram audience can't stand monotony; that's why you must bring everything with a flair of variety. It also makes your page more attractive.
You can use various layouts to show different spaces of the property in your post.
For this purpose, you can use this template from DocHipo.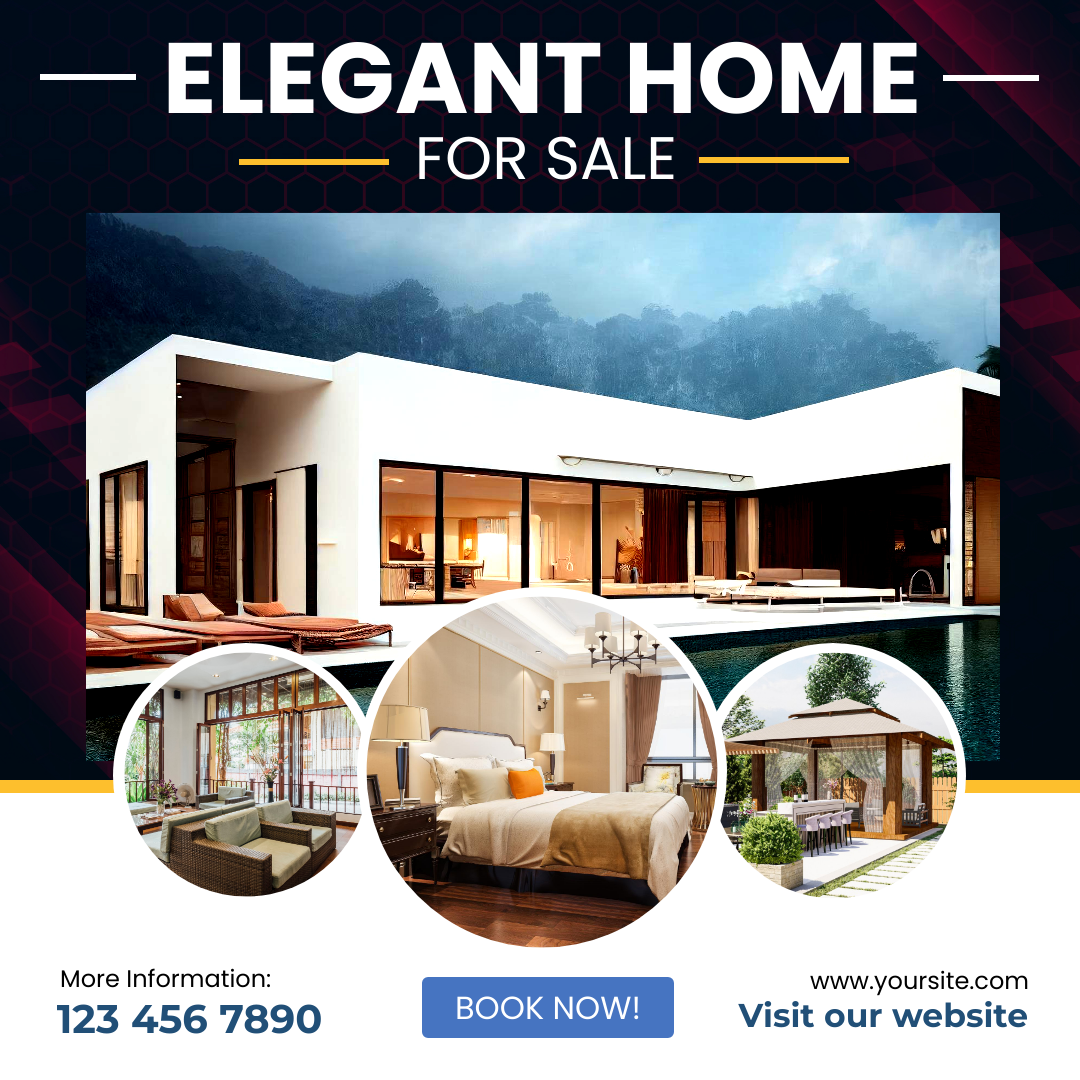 Get This Template and More
You can also focus on a particular aspect of the property, such as a luxury villa highlighted in the given template.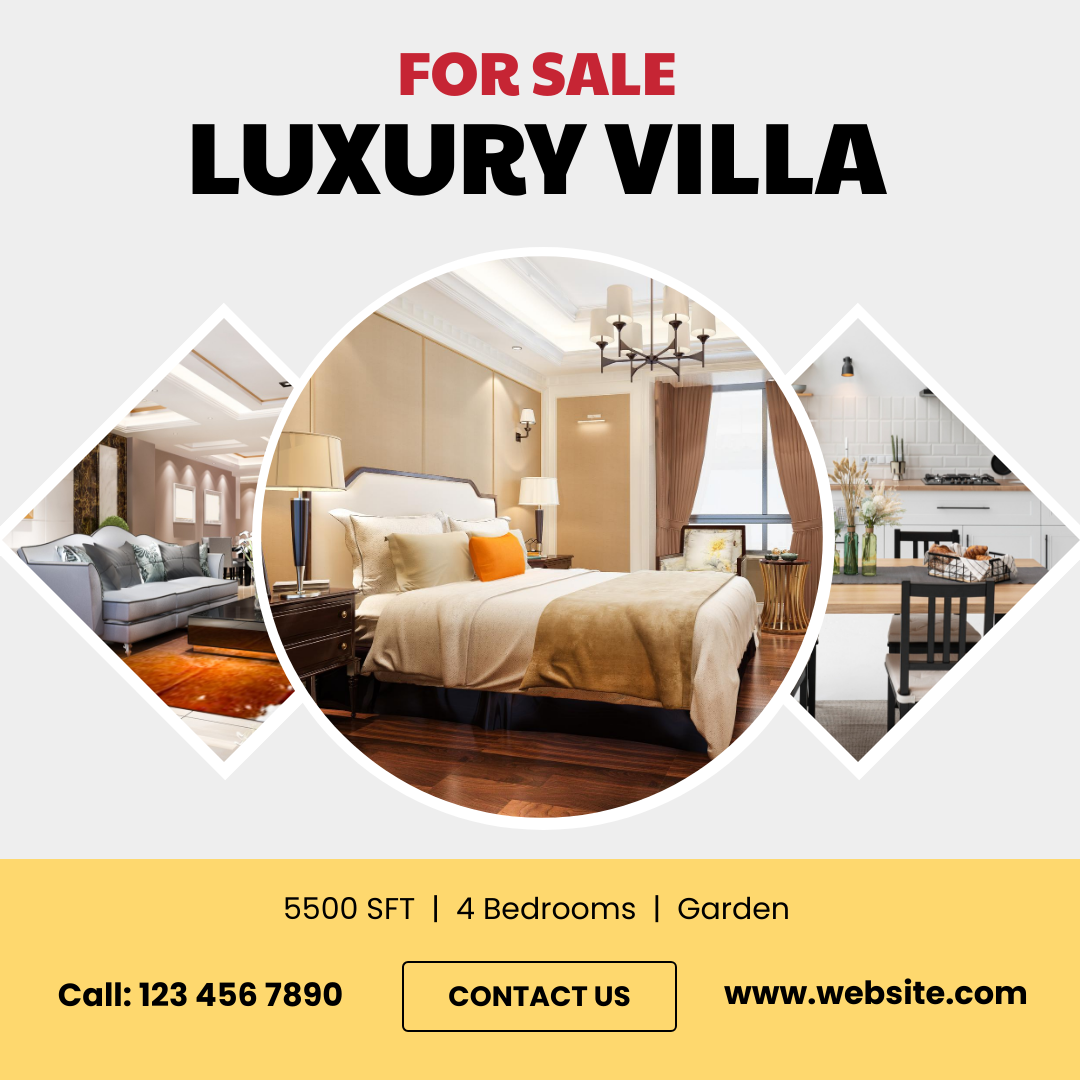 Get This Template and More
Don't limit yourself to pictures, record videos of home tours and share blog posts in your niche. Also, use infographic posts to inform and engage your audience with attractive visuals.
Use Colors and Typography that Complement Your Post
Even though you add multiple types of Instagram posts for real estate, it's best to stick to two to three colors and similar typography in all the posts. These small details build the brand image for your page. In addition, it gives a sense of familiarity with your content on social media.
For example, this template displays beautiful color combinations. You can change the background or font according to your preference.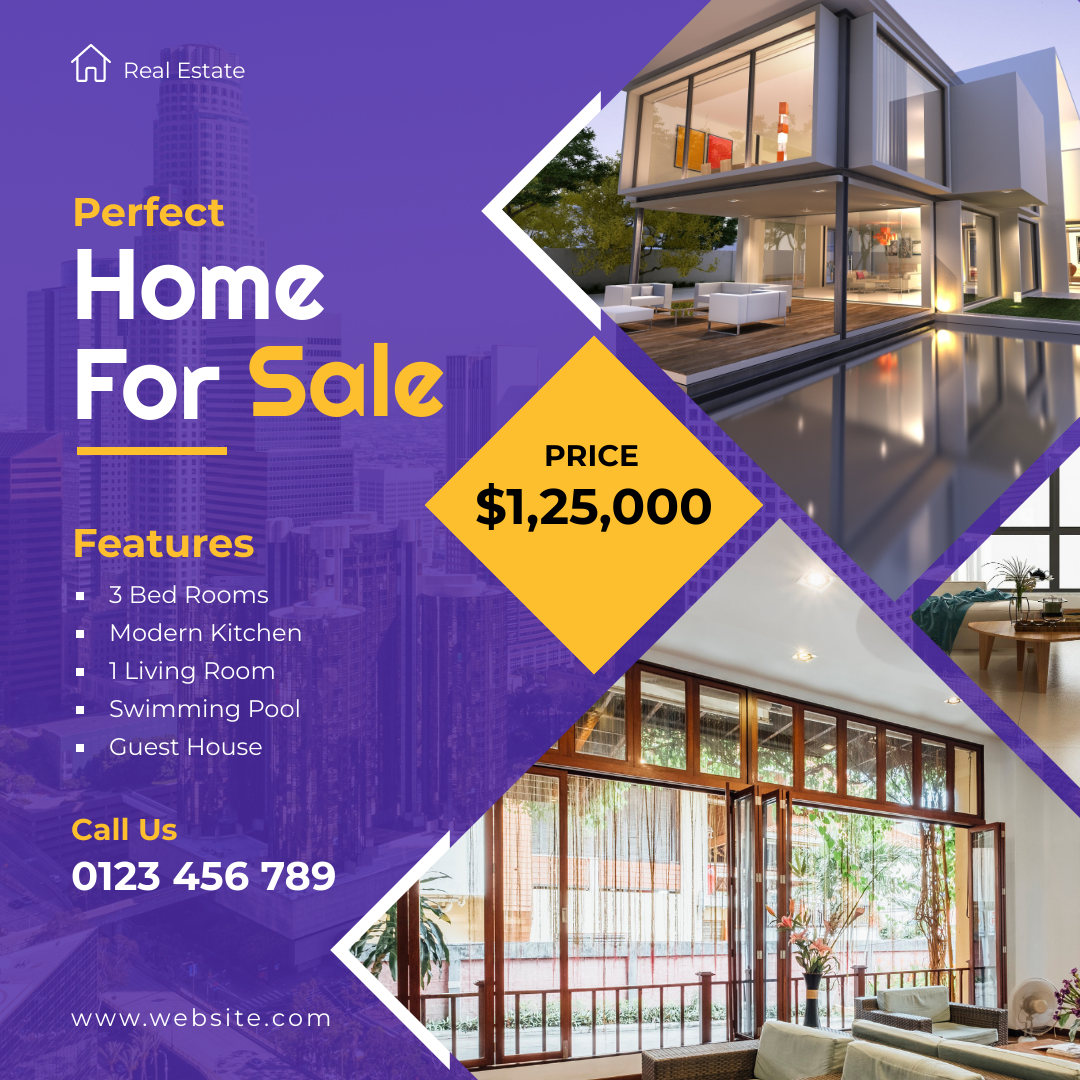 Get This Template and More
How Do You Design a Real Estate Instagram Post
You know the best things to include in your real estate Instagram post. Creating an Instagram post is a cakewalk with DocHipo's Instagram Post Maker. Follow these three simple steps to get unique designs:
Step 1: Choose Real Estate Instagram Post Template
Sign up for DocHipo, and you will land on the homepage of DocHipo with a search bar.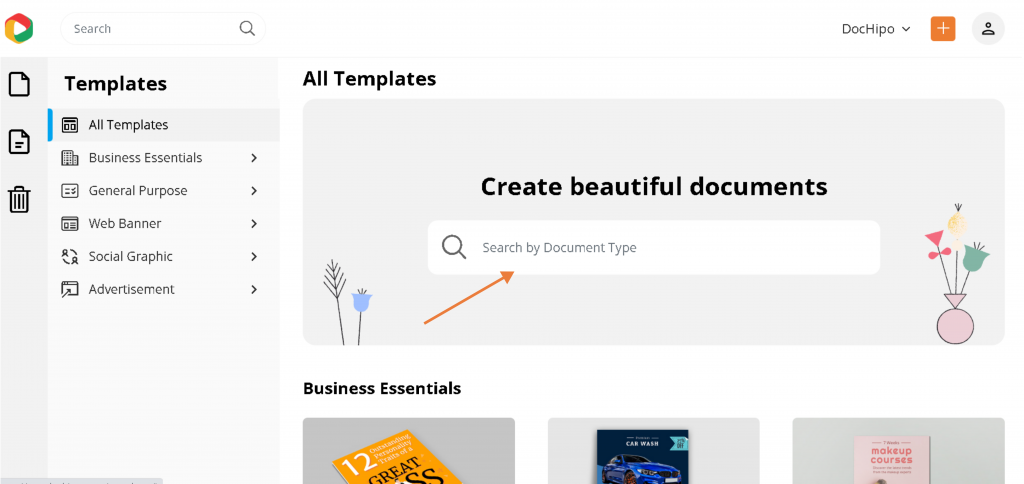 You can type 'Instagram post' in the search bar or choose "Instagram Post" under the Social Graphic group.
You will come across multiple categories for templates. Choose the real estate category to get templates in your niche.
After selecting the category, you will find various real estate Instagram post templates. Choose any of these templates to get started.
Once you select the template of your choice, you can add the document name and a little description. Click 'Next' to customize the template.
Step 2: Customize Your Template
Now you can customize your template with various editing options. With the editing options, you can change text, font, background, pictures, etc.
Customize the Background of the Template
Select Background from the widgets or type Background in the search bar.
You can change the background's color, gradient, and pattern with the options available in the widgets.
To change the color, click on any color, and the background will be changed.
You can also edit other elements of the background. Select the portion you want to change; various options will be available to customize the chosen section at the top of the template.
Click on this highlighted icon to change the color.
Select the color of your choice and see the change yourself.
Follow the same steps to change the background color and see the results.
Learn to customize your template background on DocHipo with the tutorial
Customize the Text of the Template
Select the text section from the template. You can replace the text with your preference.
A series of customizable options are available on the editing panel above. Click on the section shown here to change the font.
Among various font types, select the font you like the most, and the font will be changed.
Check out this video tutorial to learn more about customizing text.
Explore more editing options with The Ultimate Guide to Using the DocHipo Editor to Design Your Documents.
Step 3: Download with a Suitable File Type
Once you complete the customization, click the three dots in the upper right corner.
Your template is ready for preview. Select 'Download.'
Now choose the file type as PNG and normal quality to upload on Instagram.
And voila! Your Instagram post is ready to be uploaded.
Before customization
After customization
Explore new ways to leverage DocHipo for real estate
Endnote
Leave an everlasting impression on Instagram through your real estate posts. It's time to plan your content strategy and connect with potential buyers and fellow industry professionals. Take note of all the mentioned points and Sign up for DocHipo to make your life easier.