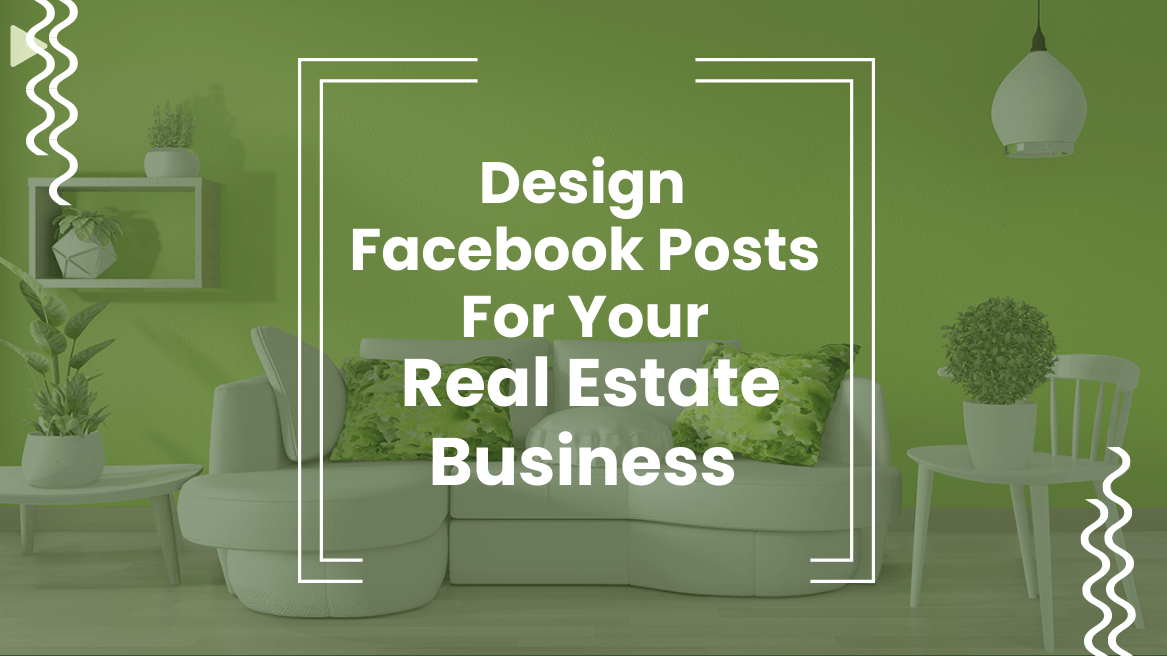 How to Design Real Estate Facebook Posts

Last Updated Aug 6, 2023
The real estate industry used to depend on traditional marketing and cold calling. However, the Real Estate market is now officially online, and a major part of the industry relies on social media. With over 1.785 billion daily users, Facebook is the largest social media platform in the world. If we dig deeper into the data, we can see that more than 80% of realtors use Facebook for their marketing purposes. Hence, Facebook is the most effective platform to reach more people for any business, including real estate. With this in mind, DocHipo comes with a Free Online Facebook Post Maker to help you design Real Estate Facebook Posts.
With DocHipo, it's simple to tweak your Facebook content strategy to achieve great results for your real estate business. In this article, we will show you how to design real estate Facebook posts using DocHipo. But before we dive right into the same, you must understand why you should use real estate Facebook posts as a realtor.
Why Should Realtors Use Real Estate Facebook Posts?
We have already mentioned in this post that Facebook is the largest social media platform. But why specifically, real estate businesses should utilize the power of Facebook posts. Let's explore!
Visual Appearance
Real estate businesses need to be visually appealing to capture leads and convert them into potential buyers. People become enamored with the idea of home buying when they see beautiful homes, happy families, children playing in the yard, and others.
Hence, Facebook marketing is essential for your real estate business to show off the beautiful properties you offer. It is the best option for you to inspire visuals and target clients most likely to buy from you. You can use images of your properties to design irresistible real estate Facebook posts that will help you create a brand identity.
Target Locally
As a realtor, if you are not targeting locally, you are missing out on something big. With the Facebook ads manager, you can target people in the local area and certain cities or suburbs. For example, Post about your property listings and target buyers looking for a house in that specific area. Further, you can retarget the audience that interacted with your Facebook posts.
Connect Emotionally With Your Buyers
People want to work with someone they trust and like. And as a realtor, you must create an emotional connection with your customers to make them feel safe to work with you. Human beings are emotionally wired. Thus the emotions that potential buyers associate with you and your business play a significant role in whether they choose to work with you or not.
Real estate Facebook posts allow you to connect with your buyers emotionally and demonstrate that you are a great person to work with.
Keep Your Existing Audience Engaged
One of the most important reasons to use Facebook posts is that it nurtures and helps you grow fans and followers. Your Facebook posts can work like your second blog – another digital extension of your real estate business.
Most of your audience will become less interested with time if you don't have a consistent engagement with them. You need to remind them about your business and give them new reasons to keep you in consideration. Facebook posts allow you to increase followers and keep your existing followers engaged.
Real Estate Facebook Post Ideas
Now that you have understood why you should use real estate Facebook posts for your marketing strategy, we have gathered some Facebook post ideas for your real estate business.
Educate Your Audience
The most important Facebook post idea for a professional in any industry is creating and sharing posts that educate their audience. Buying or selling a home can be a daunting task for both buyers and sellers. Many things stop them from taking the first step, such as lack of information, how to deal with the process, expected scenarios, and more.
Hence, you can create posts that include information about buying and selling processes, tips and methods, and more. Sharing posts to educate your audience is one of the best ways to connect with them effortlessly. Furthermore, it shows off the credibility, trustworthiness, and professionalism of your business.
Post Stunning Photographs of Properties
A well-taken photo can go a long way for your branding. If the quality is high, beautiful images can relay a sense of inspiration, intimacy, and credibility for businesses in a matter of seconds.
You can click some pictures of your properties to show off the best parts, take some photographs of your buyers with the property they have bought, or even the photos of the projects under construction.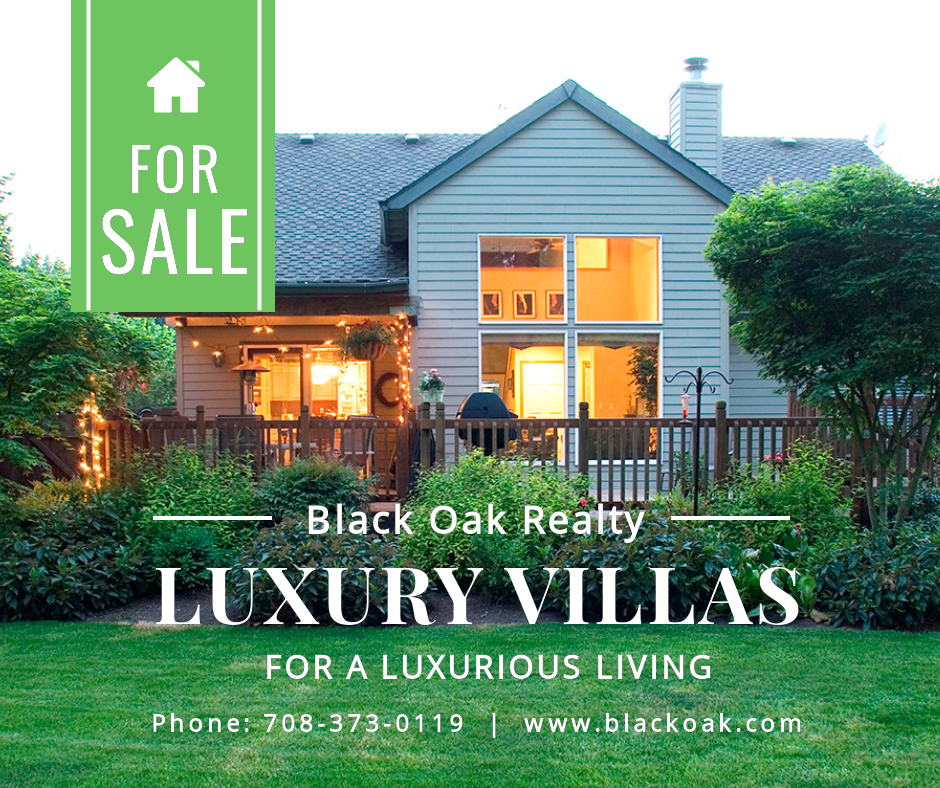 Get This Template and More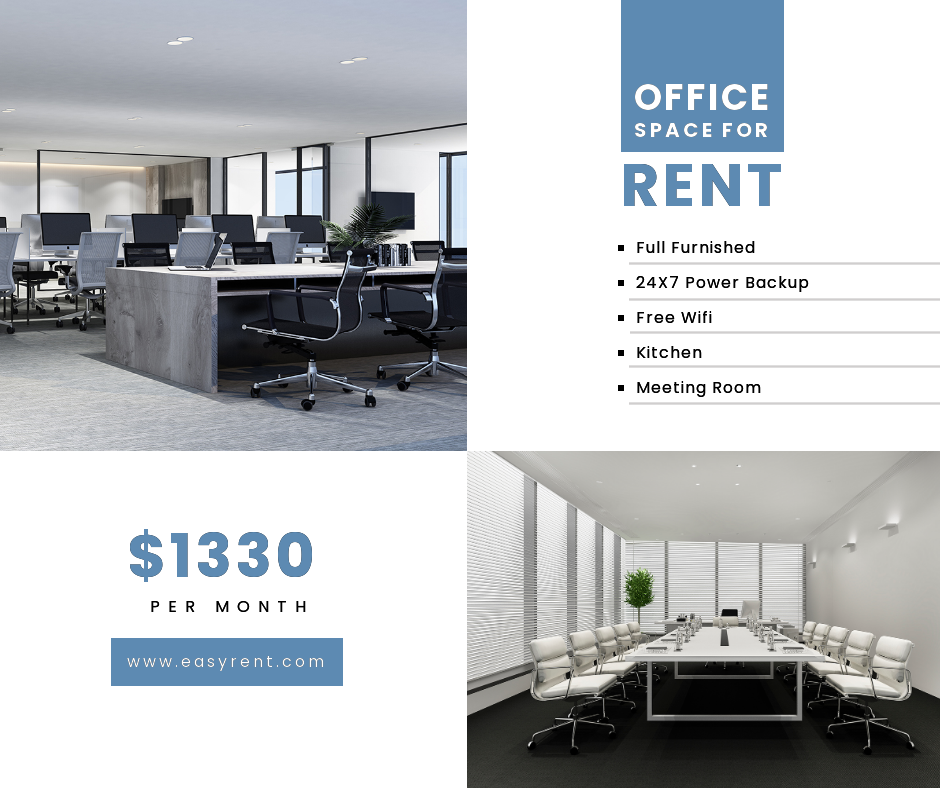 Get This Template and More
Use our free Photo Editor; upload your photographs and enhance them by adding filters, texts, and other design elements.
Share Client Success Stories
The real estate business is nothing without its clients. One of the wonderful things to add to your real estate Facebook posts are images that celebrate your client's success stories. As a realtor, you deal with real estate every day, but these purchases are milestones in their lives for many buyers.
The general public stumbling on your real estate Facebook posts certainly can appreciate the enthusiasm. Furthermore, posting such content helps you demonstrate yourself as a business that makes its clients happy.
Post Your Listings
Another great real estate Facebook posts idea is to post your listings. The best thing about posting real estate listings on Facebook is that you can use a single photo and briefly list the perks/facilities of the property. Furthermore, you can share a bit of apartment history as well as details about the locality.
Every realtor can use this formula to make their real estate Facebook posts unique.
Highlight Other Neighborhood Businesses
One of the best ways to utilize your real estate Facebook posts is by highlighting other neighborhood businesses such as shopping malls, restaurants, grocery stores, and other businesses. It will not only highlight the amenities of your community but will also encourage a bit of reciprocity.
The businesses that you will highlight on your Facebook posts will share your posts. Ultimately help you gain further exposure to a new audience. Moreover, being nice to others always pays off. If you include the neighborhood business on your Facebook posts, they will refer you to their customers.
Click Here to know more about Facebook Post Design.
How To Design Real Estate Facebook Posts Using DocHipo
Now, let's explore how DocHipo can help realtors design stunning real estate Facebook posts using DocHipo.
Step 1: Select A Template
Create an account in DocHipo by clicking "Get Started For Free" if you have not already. Once you land inside the DocHipo application, you will see a wide range of Document Types. Type Facebook Post in the search bar and click on the result.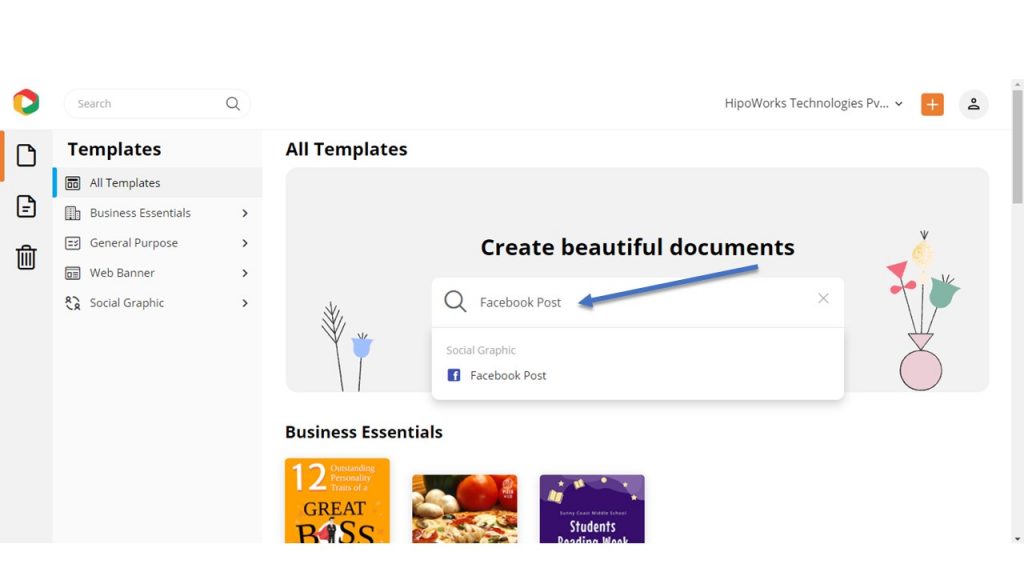 Select "Real Estate" from the wide range of template categories and then select the real estate template of your choice.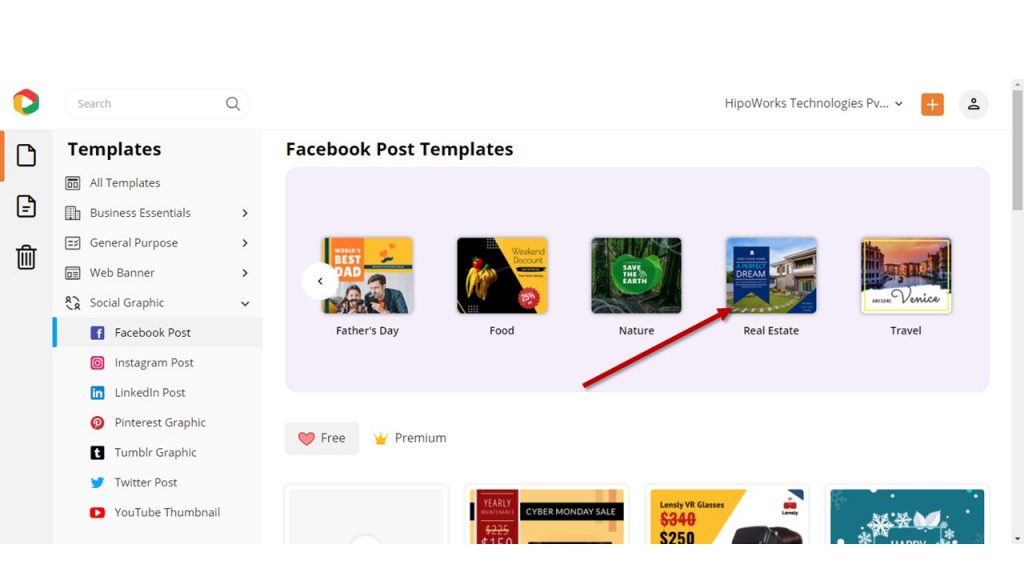 You can also preview the template without opening it. All you have to do is hover your mouse cursor over the template and click "Preview".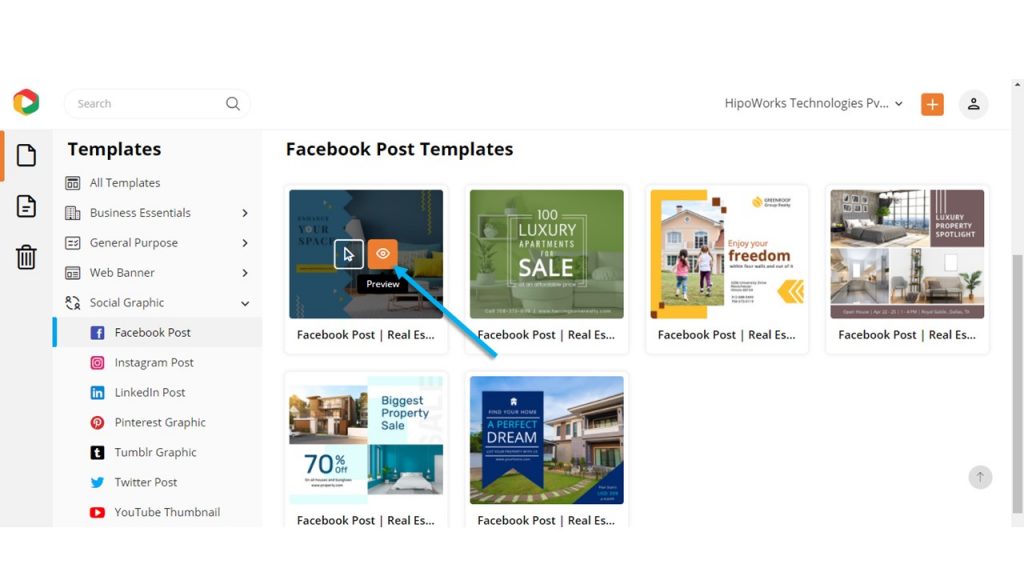 Step 2: Customize The Template
You can customize the template using the different placeholders in the template. Replace the imagery with high-quality images. Click some pictures of your properties or download stock images from websites like Pexels, Pixabay or others. Click here to know how to use stock images in your design. Make sure to either use a stock image that you have the copyright for or use one that does not have any copyrights attached to it.
Add other design elements such as icons, texts, text frames, illustrations, and more. Update the text with the information you want to show your customers. DocHipo comes with some beautifully crafted "Design Widgets" that help you customize your templates easily. Click Here to take a look at it.
Here is a Real Estate Facebook Post Template that we have customized for you.
Before Editing: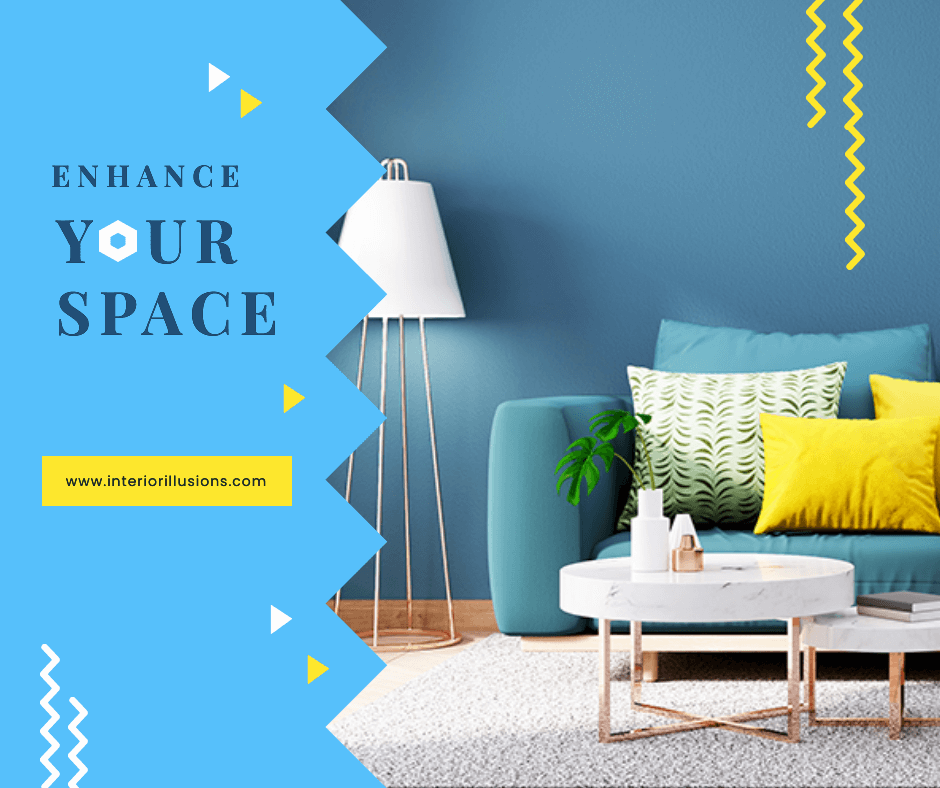 After Editing: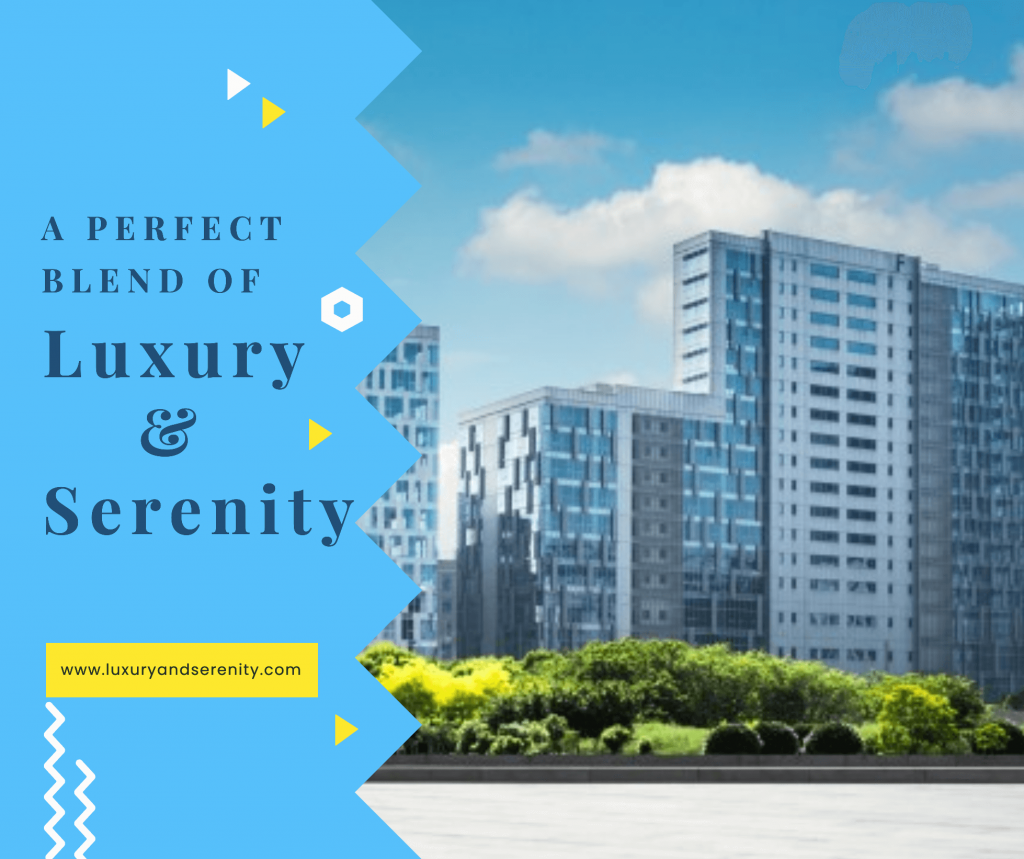 Step 3: Download and Publish the Facebook Post
Once you have finished customizing the template, you can download it to your computer in a few clicks. Click on the three dots from the upper right corner of your screen. Click on the download button from the drop-down menu.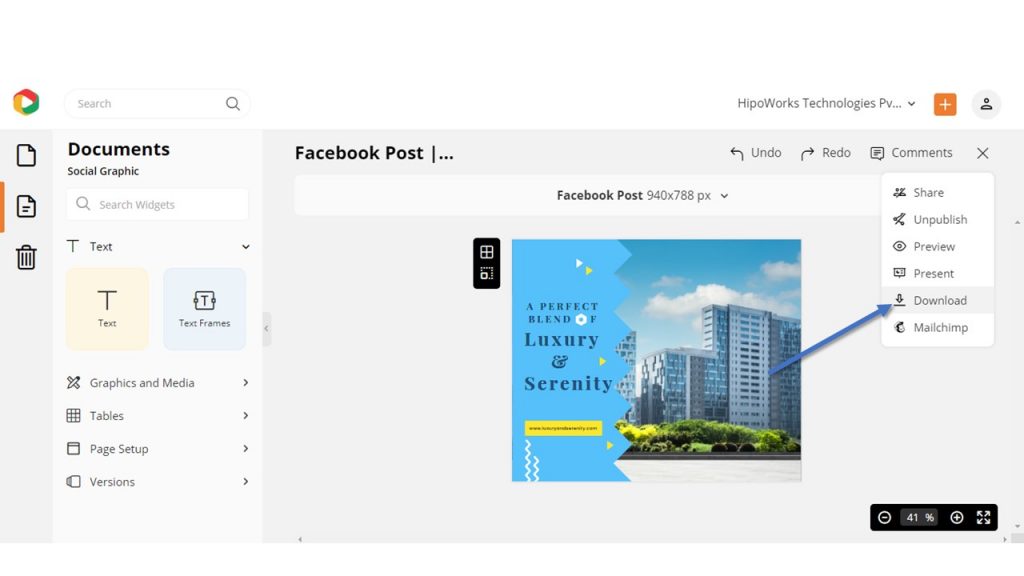 You can download your real estate Facebook posts in two different file formats: Pdf and Png. Select the file type and quality you need, and then click "Download". Your Facebook post will automatically be downloaded to your computer.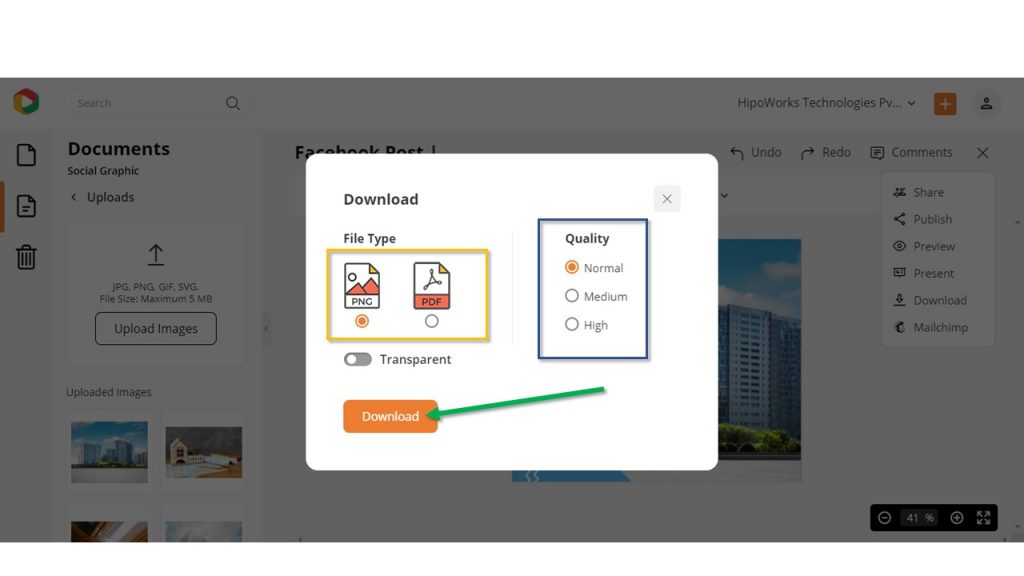 Additionally, you can publish the Facebook post from within the DocHipo application. Click on the publish button from the drop-down menu and then enable the publish option.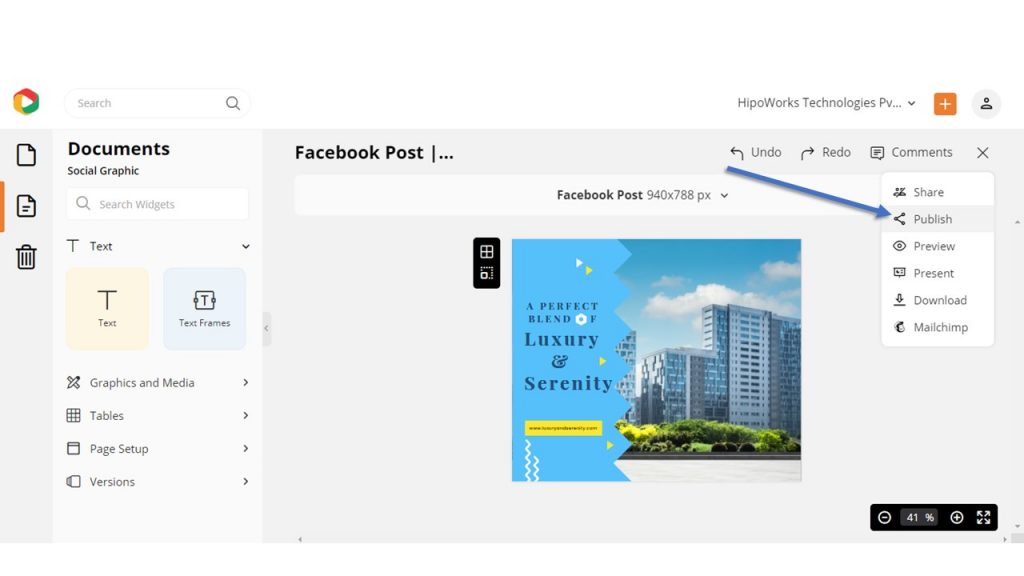 Click on the social media icon on which you want to publish your design. Log on to the selected social media with your credentials to share the same. Alternatively, you can copy the link and paste it anywhere on the web to share the Facebook post.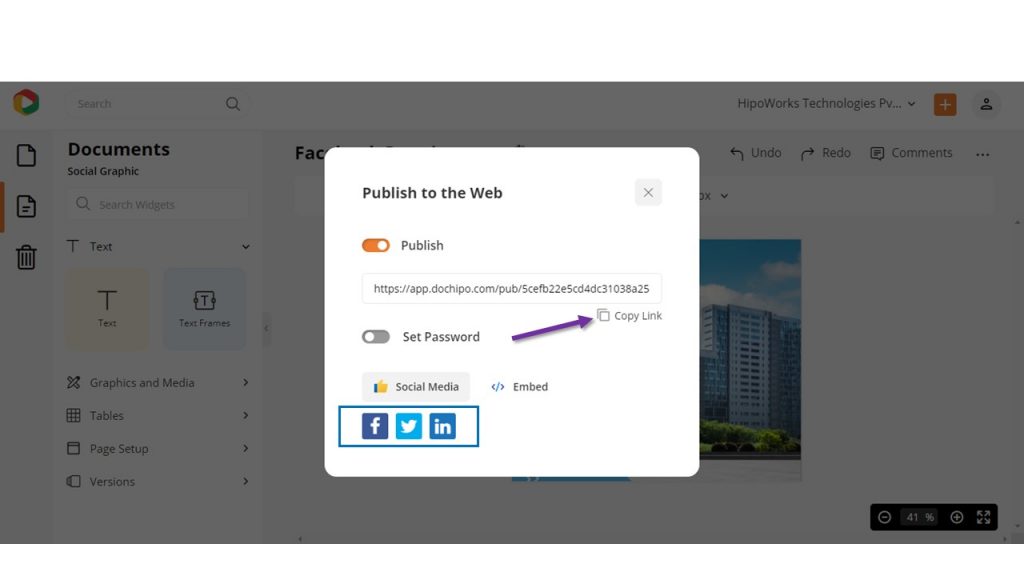 Final Thoughts…
Some of the best Real Estate Facebook Posts are all about creating a sense of community and building trust. To skyrocket your real estate business, you must show the uniqueness of your work to your clients. Design your Facebook posts using DocHipo to utilize a platform like Facebook to its full potential.
So, sign-up to DocHipo and start designing your Real Estate Facebook Posts using this great tool today.
FAQ
How do I create eye-catching real estate Facebook posts?
You can create eye-catching real estate Facebook posts using online graphic design tools like DocHipo. You'll get real estate Facebook post templates in various stunning layouts to innovatively fit your property pictures and crucial information. Choose one you love and edit the text and visuals with DocHipo's intuitive editor to make it more attractive.
Can I use stock images in real estate Facebook posts?
You need to use images representing your real estate property, location, and so on you're aiming to sell. Otherwise, it will mislead your potential buyers, hampering your business's credibility and authenticity. However, you can use copyright-free stock images when sharing real estate Facebook posts to educate potential buyers about the industry, trends, buyer's guides, or other interactive posts. Before using any stock images, it's crucial to read their license and usage rights.
Can I schedule real estate Facebook posts in advance?
Yes, you can schedule real estate Facebook posts in advance. You can schedule in advance using Facebook's built-in scheduler Meta Business Suite or third-party Facebook Scheduler applications such as Buffer, Hootsuite, Sprout Social, etc.