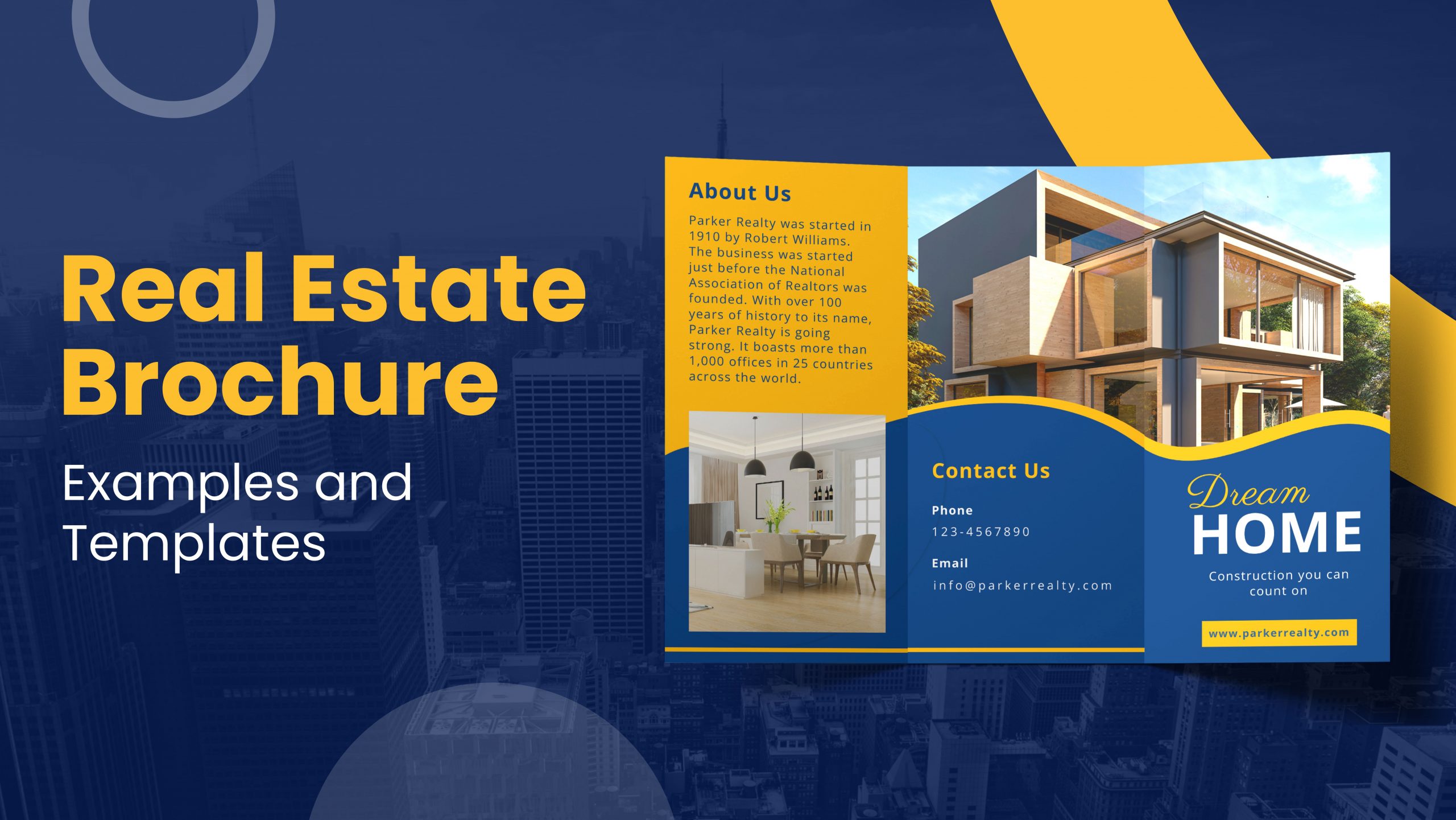 Real Estate Brochure Examples and Templates

Last Updated May 13, 2023
If you're in the real estate business, you must use the necessary tools and tactics to stay ahead of your competition. A brochure is one of the best marketing tools for real estate businesses.
With neat and proficiently-designed brochures, you have a great chance of dominating the real estate market. But designing a real estate brochure from scratch may sound quite intimidating! Even after strategic planning, you must get many things right – the image, copy, color, font, typography, and whatnot!
In this blog post, we'll share ten beautifully-designed real estate marketing brochure examples from our template library for your inspiration. You can customize them immediately, entice your target buyers and leave them in awe!
What is a Real Estate Brochure?
A real estate brochure is a cost-effective marketing tool that real estate businesses can leverage to advertise and promote their services and property listings. These promotional materials help increase brand awareness and, eventually, sales.
Why Do You Need Real Estate Brochures?
As a real estate business, you must leverage brochures for multiple reasons discussed below:
Real Estate Brochure Provides Crucial Information About the Property
The brochure helps your real estate business convey more detailed information than other printed marketing collaterals. It also benefits potential buyers as they can quickly access your property details.
Now, what should be included in a real estate brochure?
You may add your real estate image, total area, location, amenities, price, service details, contact information, etc. Once your target buyers become aware of your property, they could conclude whether or not to visit the property. Hence, real estate brochures ultimately influence sales.
Emphasizes the Best Features of Your Property
Incorporate the top-notch features of your property with high-definition pictures and engaging copy. Present and highlight the USP of your property, such as highly functional and stunning interior design, kitchen layout, nearby locations, and additional amenities.
Builds Trust and Establishes Authority in the Real Estate Market
A real estate brochure with stunning design helps your business stand out from the crowd and builds credibility. A brochure lets potential buyers know you are an authentic business they can rely on.
Intrigues Potential Buyers to Take Action
Interested buyers respond to your compelling call to action through your business contact details in the brochure.
Easy to Distribute
You can distribute the real estate brochures at public places like cafes, restaurants, movie theaters, or other high-traffic areas. This allows your real estate business to pass on precise information to more and more people and draw new customers. People who accept brochures most probably keep them in their pockets or bags and have a look at them whenever it's convenient for them.
10 Real Estate Brochure Examples and Templates
Below are some of the best realtor brochure templates for helping you make a strong impression on your target buyers:
#1 Luxury Real Estate Brochure Template
This luxury house brochure showcases the beautiful interior and the dining space where one would love to return after a tiring day. The color combination goes perfectly with the overall design to reflect a warm feeling.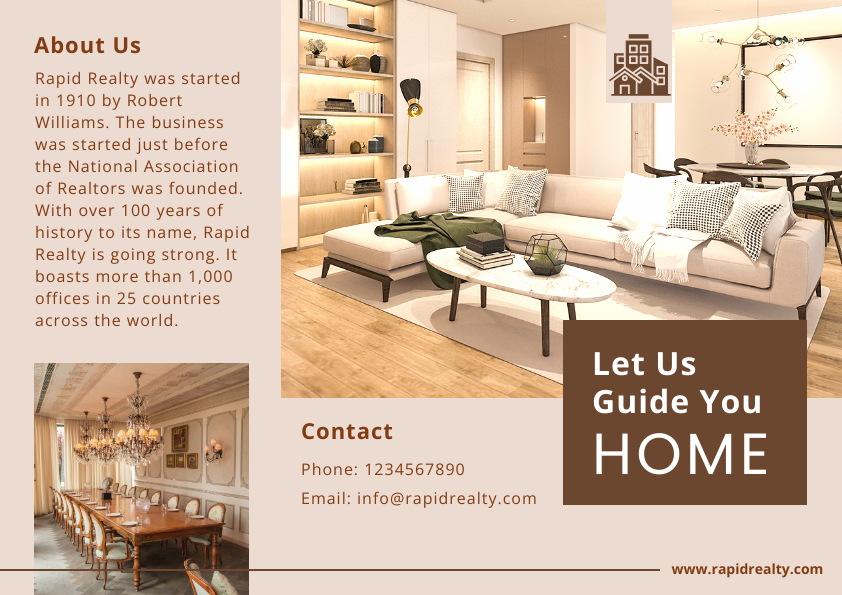 Get This Template and More
#2 Red Modern Real Estate Brochure Template
The way the real estate property pictures are showcased gives a fresh and stylish look. The overall design is a balanced one making ample room for significant descriptions.
Get This Template and More
#3 Diamond Real Estate Brochure Template
The two diamond-shaped frames for presenting glimpses of the real estate property make the brochure design stand out. The text heading placeholders are aligned with them to give a beautiful look.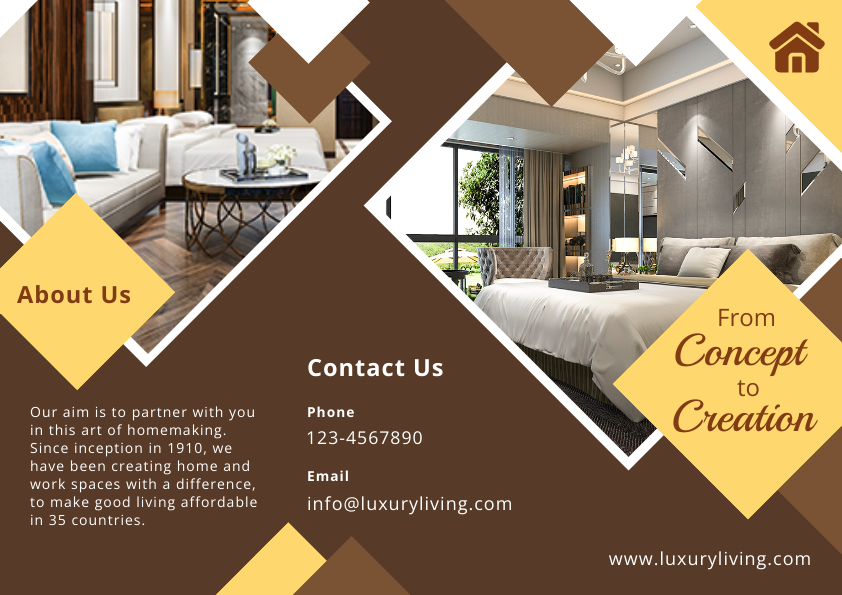 Get This Template and More
#4 Luxury Villas Brochure Template
This template is suitable for showcasing luxury villas. Its minimal yet gorgeous color combination ensures the property image and crucial information pop up.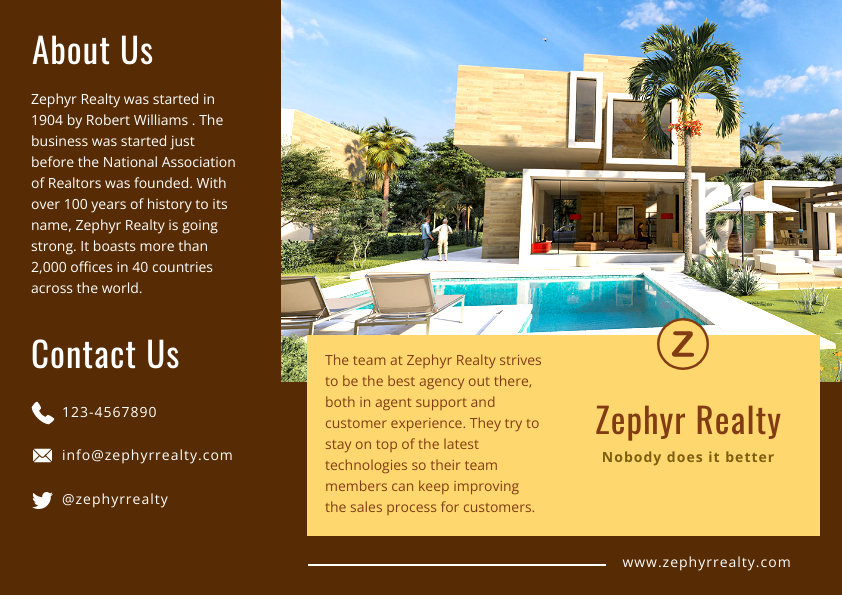 Get This Template and More
#5 Elegant Real Estate Brochure Template
This template is ideal for apartments, home properties, vacation rental houses, etc. The elegant design, simple yet exciting layout, and stylish fonts give a luxurious look and feel.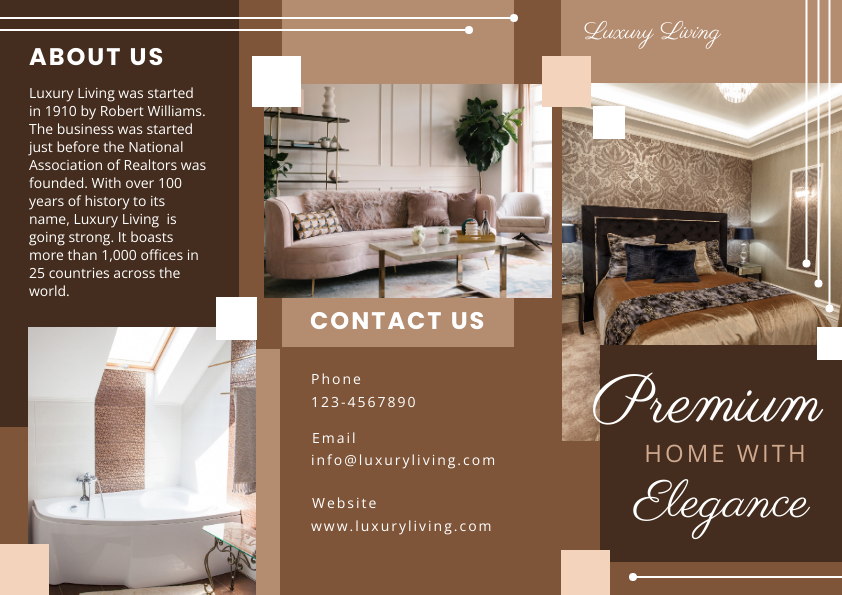 Get This Template and More
#6 Minimalist Real Estate Brochure Template
This blue and orange colored real estate brochure leans on simplicity to draw potential buyers in. The well-structured design helps you customize it with your property images and details effortlessly.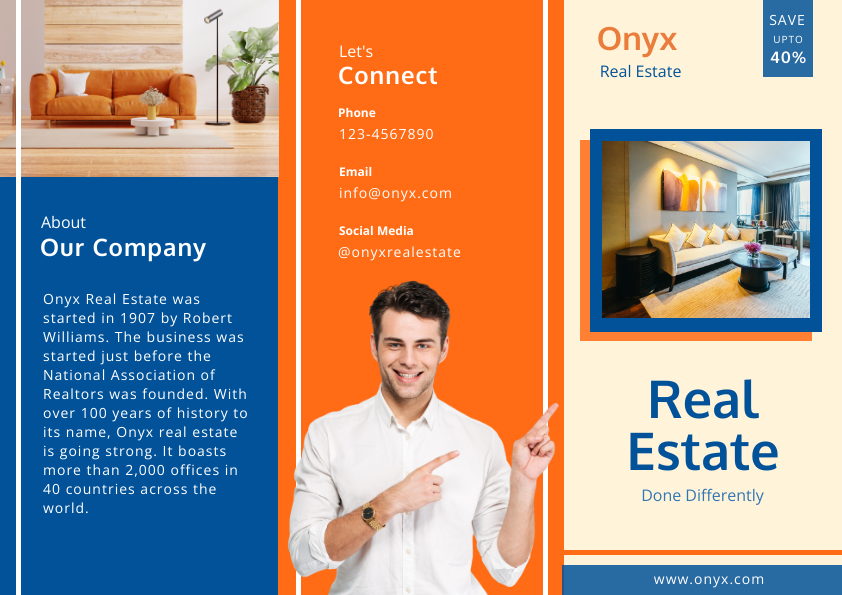 Get This Template and More
#7 Complementary Color-schemed Real Estate Brochure Template
This bright complementary color schemed template showcases a stunning real estate property image. This template dedicates a large area for pictures and combines it with a decent space for adding property details and your service information.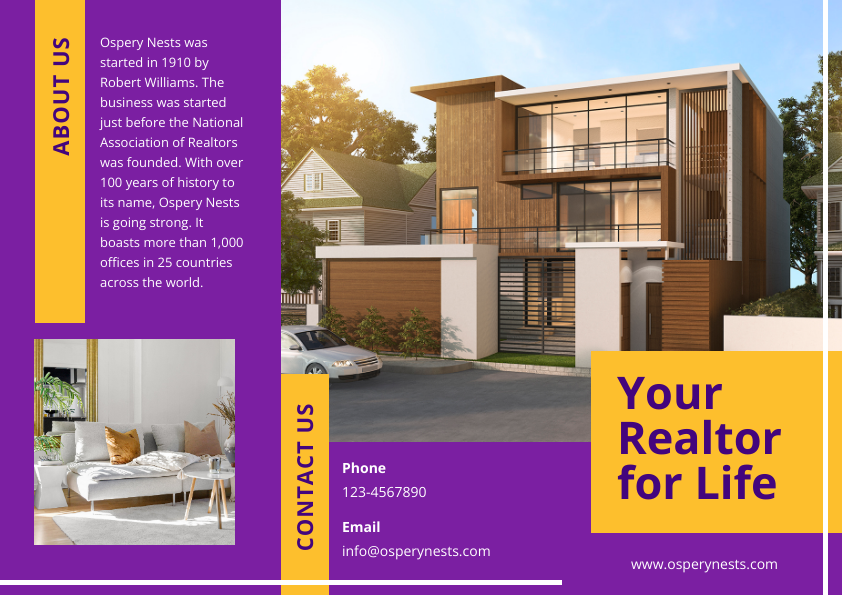 Get This Template and More
#8 Brown Real Estate Brochure Template
This template provides ample space to add pictures of all the rooms. Along with that, the layout looks unique to attract attention instantly.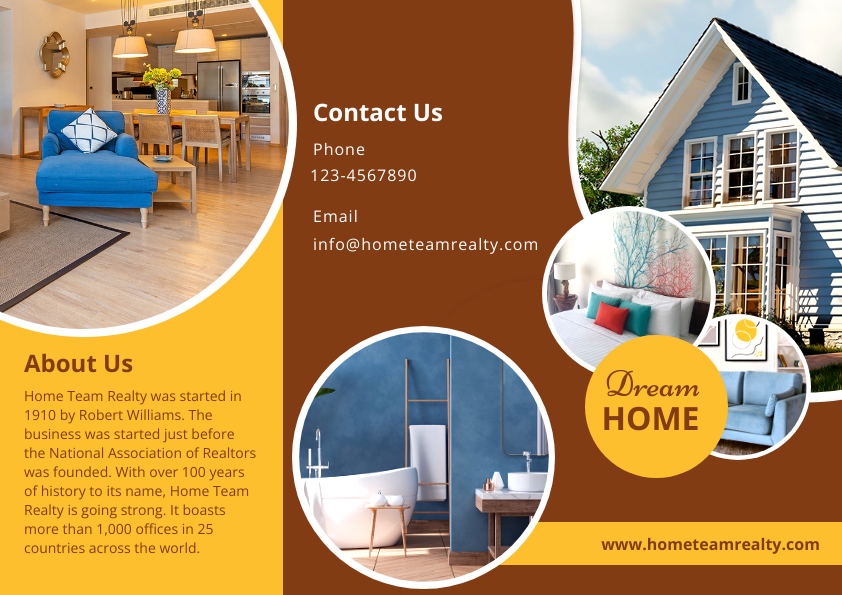 Get This Template and More
#9 Subtle Green Real Estate Brochure Template
This template features an entirely different layout with broad spaces for text so that you can include detailed information. The subtle color combination complements the overall look and feel of the design.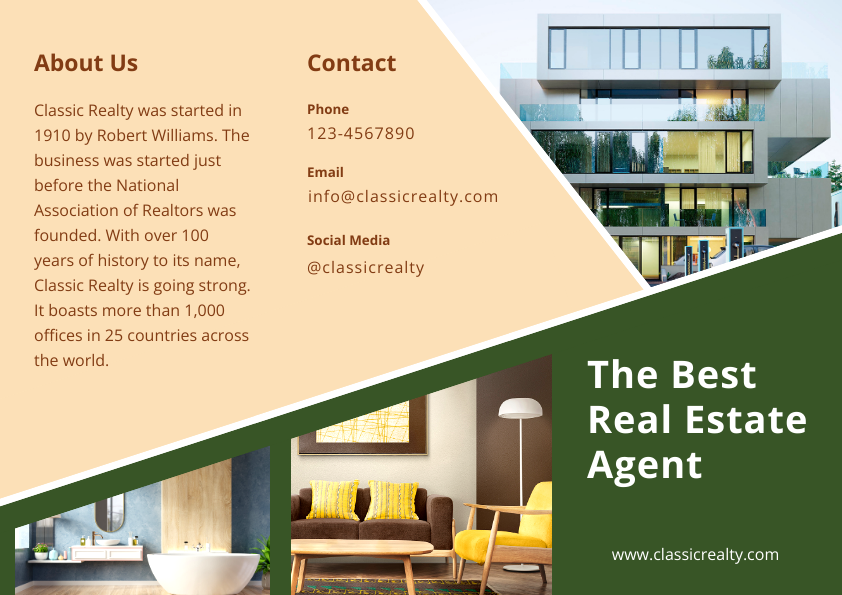 Get This Template and More
#10 Stylish Real Estate Brochure Template
Yet another stylish layout perfect for residential and commercial real estate properties. The attractive image and unique layout will surely make your target buyers go wow!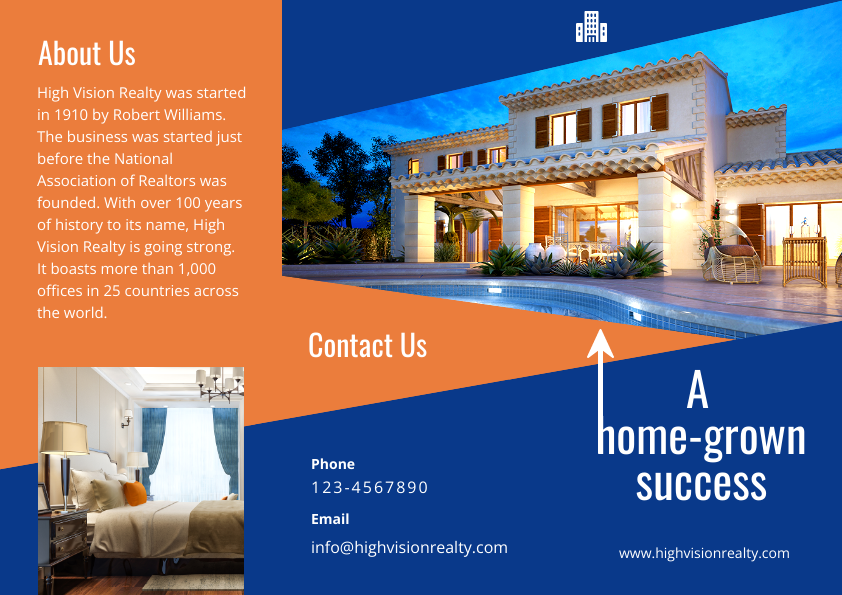 Get This Template and More
How to Customize Real Estate Brochure Templates?
We've already shared the captivating Real Estate Brochure Templates. It's time to show you how to edit those templates with ease.
You can explore all our templates even before signing up for DocHipo.
Sign up to DocHipo with your email address and password to work with the templates. After that, follow the three super easy steps:
STEP 1: Choose a Real Estate Brochure Template
Hover over the template you love to preview or select it for customization.
STEP 2: Customize Your Chosen Real Estate Brochure Template
Next, you can tweak the designs to reflect your business with DocHipo's Real Estate Brochure Maker. You can customize any template with our powerful Design Widgets and the smooth drag-and-drop tool.
Replace the existing real estate property images with that of your business. Here's how to do that in DocHipo.
Check out how to edit existing text and add relevant features and business details to your real estate brochure design.
Change the colors with your brand colors to stay consistent with your branding.
Here's a quick tutorial on changing background colors in DocHipo.
Refer to the following videos if you need to replace other design elements like illustrations, icons, etc.
I also recommend you go through the Guide to Using the DocHipo Editor to Design Your Documents.
STEP 3: Download Your Real Estate Brochure Design
Once you feel your real estate brochure design is drool-worthy for your target buyers, you may download it.
Watch our video below to elevate your real estate business.
Final Words
I hope you loved all the Real Estate Brochure Examples and Templates shared above. You already understand you can design an irresistible final brochure without prior graphic design experience. Sign-up to DocHipo, and work with the template(s) that's most suitable for your real estate business. Also, remember the graphic design best practices to benefit most from your brochures.