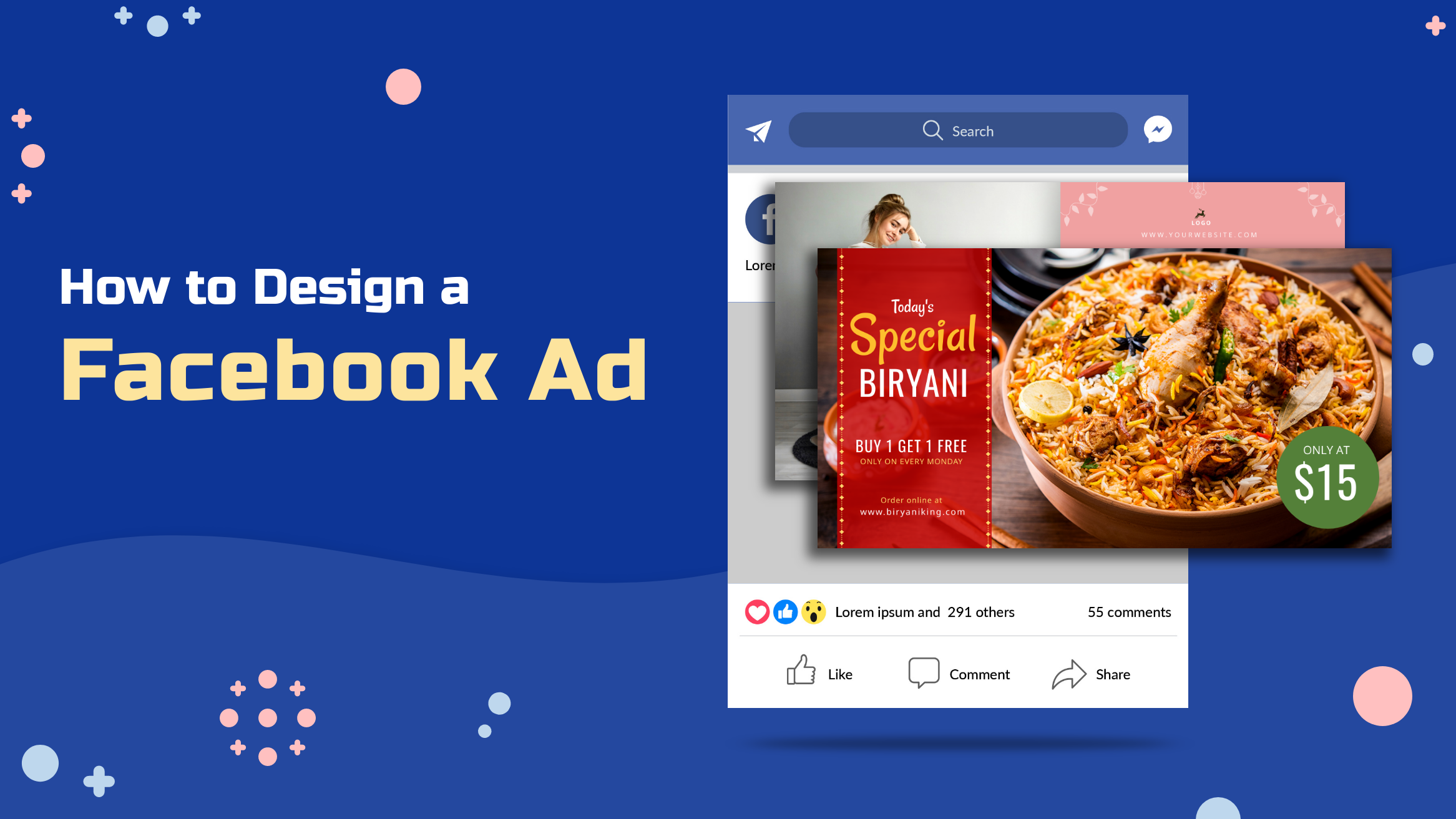 How to Design a Facebook Ad

Last Updated May 13, 2023
Whether you want to reach more people online, increase your followers, retarget, and grow your customer base, Facebook advertising can help you achieve these goals. Along with other factors such as ad placement, target locations, ad copy, etc., design is a non-negotiable part of a successful Facebook marketing campaign. What if you get fail-proof, eye-catching designs and only tweak them to get your desired results?
In this blog post, we'll walk you through a super-simple three-step Facebook ad design process to help you drive massive traffic from active users. We'll discuss four design best practices to help you boost your Facebook ad conversion. You'll also see a lot of Facebook ad templates from our library for your inspiration.
Facebook Ad Design Best Practices
Follow the below practices to create an effective Facebook ad that converts:
Always Use High-Quality Pictures and Other Graphic Elements
The first thing in your Facebook Ad that'll grab your viewer's attention is its imagery. You must stop the viewer's scrolling, make them go through your ad copy, and get them interested in your offer. Always use high-quality captivating images to showcase your products or services.
Depending on your brand offers, you can use visually appealing animations from our DocHipo library to attract attention. Don't add unnecessary design elements to your Facebook Ad design just to make it unique and eye-catching. Keep it relevant, neat, and professional.
For example, look at the elegant Black Friday Facebook Ad Template with an attractive picture and nice background color.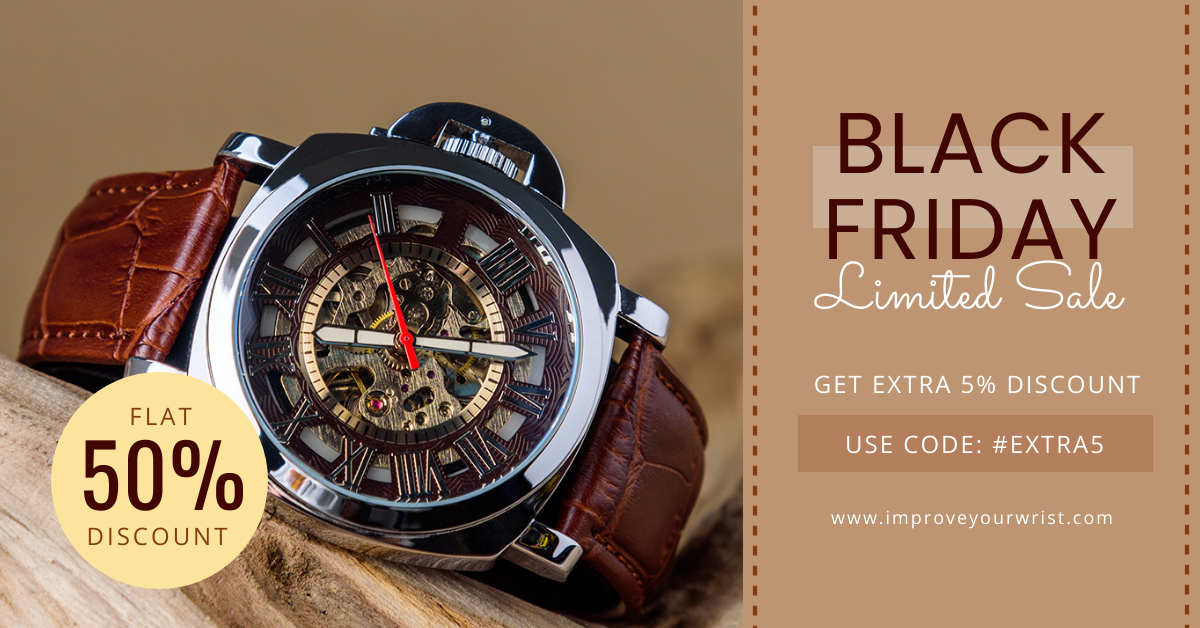 Get This Template and More
Check out our complete range of Black Friday Facebook Ad Templates.
Similarly, check out the Food Facebook Ad Template with the mouthwatering picture of grilled cheese sandwiches and an overall simple design.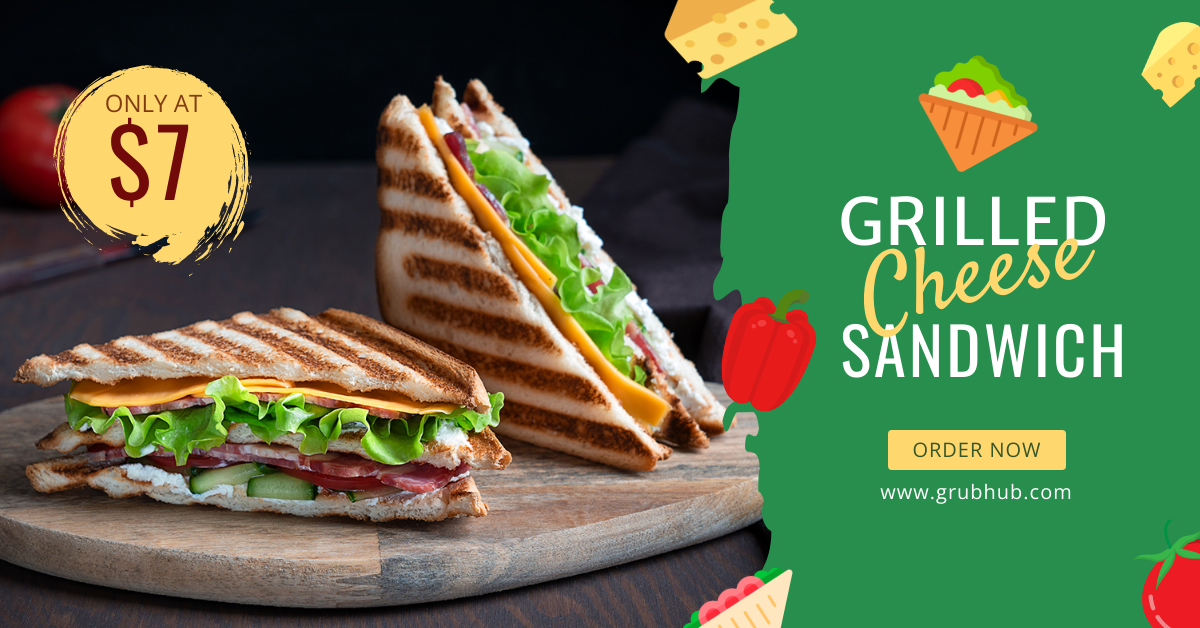 Get This Template and More
Similarly, the beautiful picture in the Beauty fb ads template reflects a calm and relaxing vibe.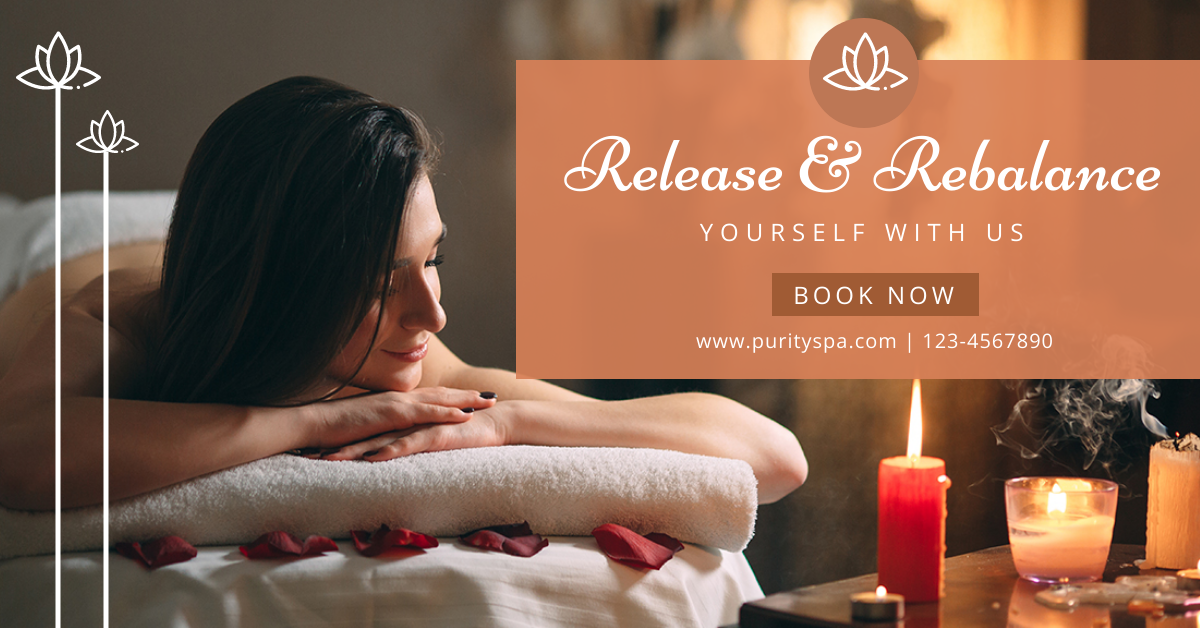 Get This Template and More
Explore our Beauty Facebook Ad Templates range if you want more stunning designs.
Craft Simple Yet Engaging Copy
How you communicate your offer is a crucial aspect of your Facebook advertisement. Don't use complex language, as you don't want to repel your target customers by making it difficult for them to understand. Keep it concise. When your target viewers see your Facebook Ad, they should quickly figure out the following:
What exactly you're offering?
How will it benefit them?
What action should they take to invest in your offers?
For example, look at our Real Estate Facebook Ad Template with a simple and concise copy.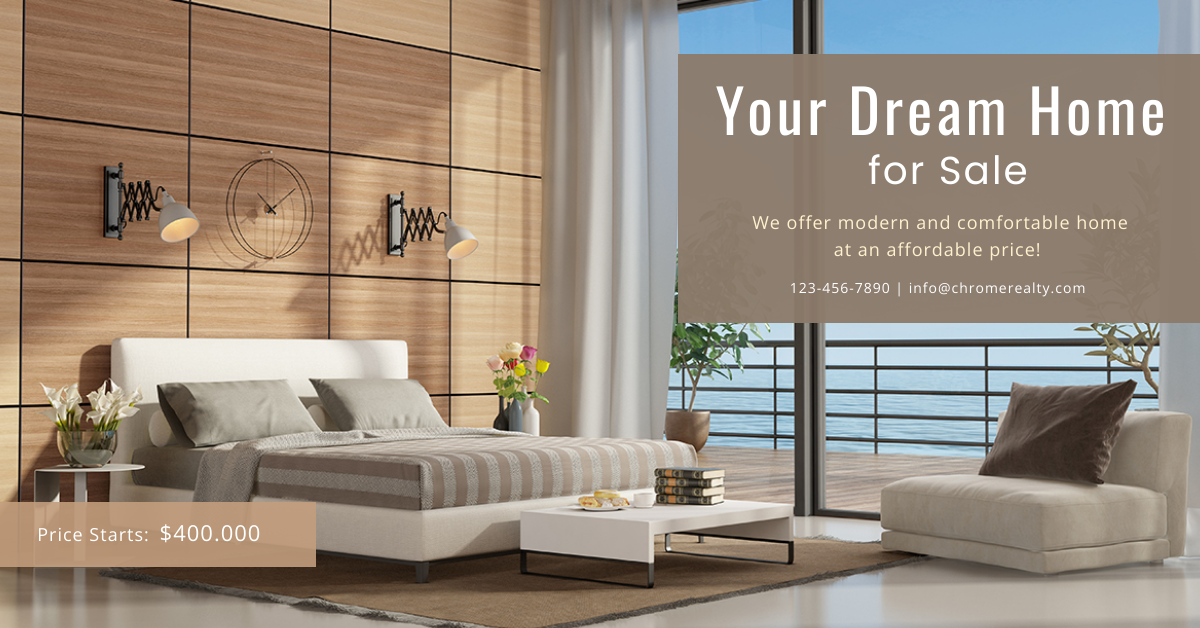 Get This Template and More
Add a Clear and Compelling CTA
Help your viewers turn their interest into investment in your products or services by incorporating a solid call to action. Through your CTA, you can direct viewers to your website homepage, landing page, or product or service on offer. Evoke a sense of urgency to accelerate their purchasing decision. To make your CTA stand apart from the rest of your Facebook Ad design, keep it easy to find and understand, and choose contrasting colors and fonts corresponding to your brand.
For instance, look at the Christmas Facebook Ad Template in prominent yellow, contrasting with the background color.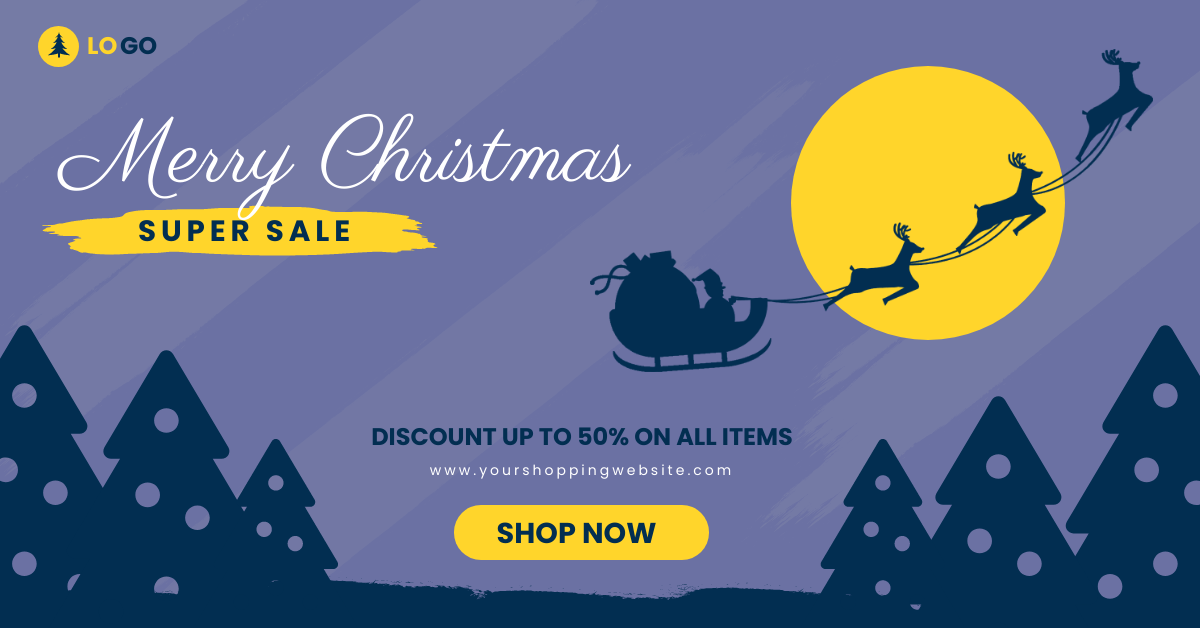 Get This Template and More
Next, we have a Beauty Facebook Ad example with the "BOOK NOW" call to action highlighted beautifully.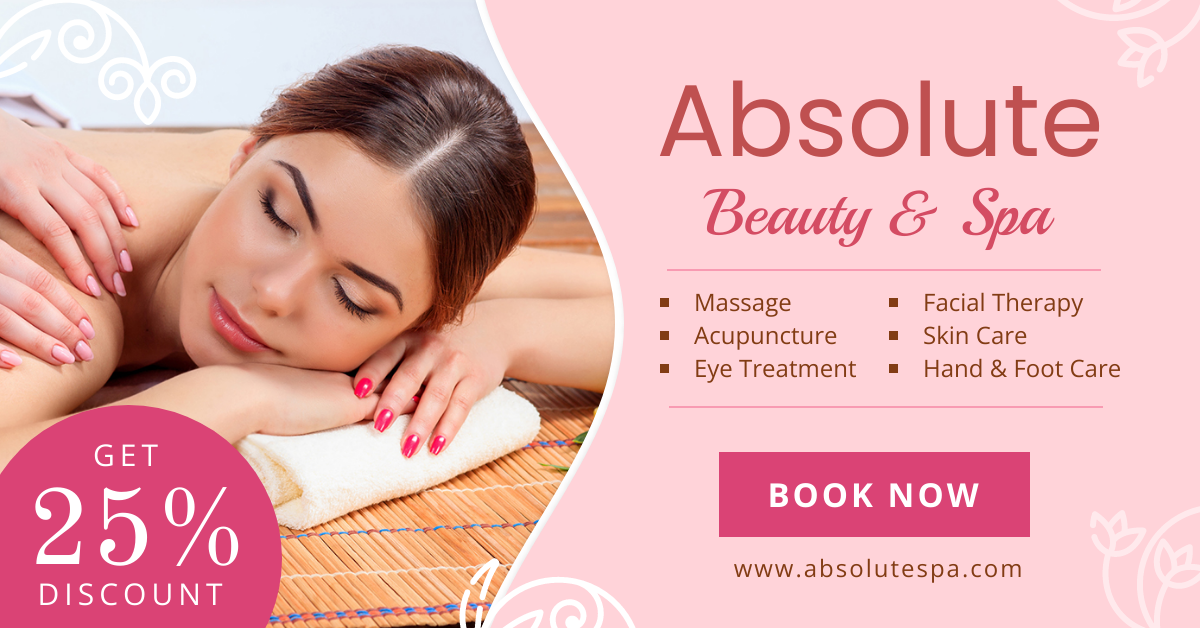 Get This Template and More
Choose the Colors Smartly
Color is a vital design element that lets potential customers associate your brand's products with specific emotions. Consider the market you're selling your product to, what your target buyers could expect etc., and then come to a final color choice. You can also incorporate brand-specific colors or attract viewers' attention using contrasting colors. You must stick to two to three colors in your Facebook Ad design; more than that will feel cluttered.
For example, in the Christmas templates for Facebook ads, we've used the classic combination of red and green to evoke nostalgia.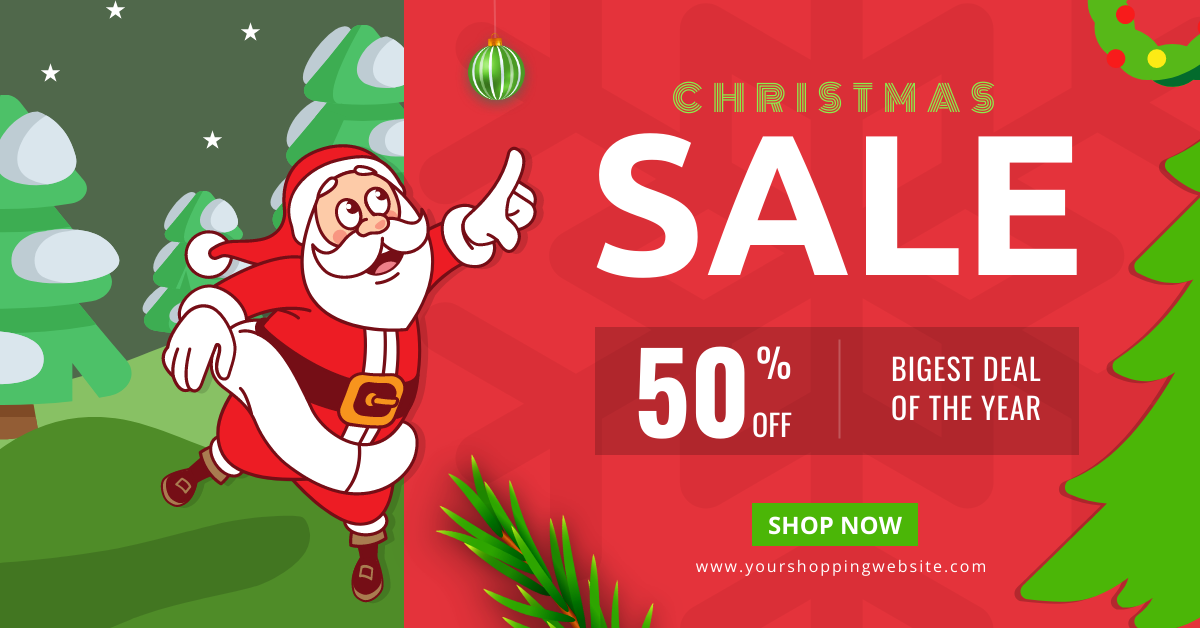 Get This Template and More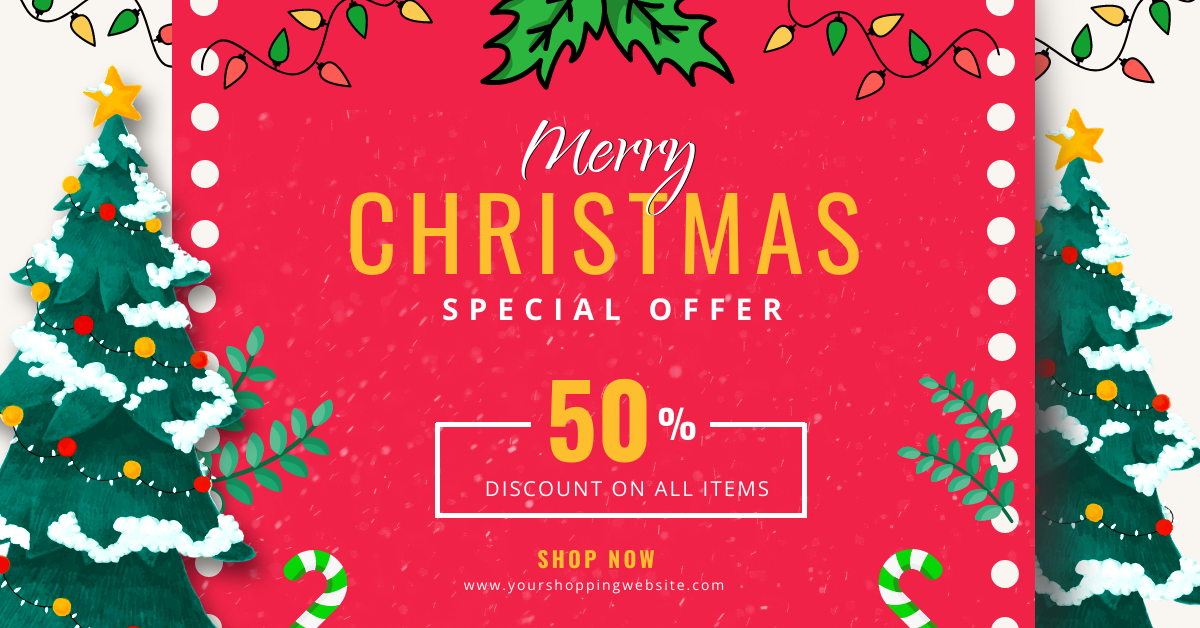 Get This Template and More
Next, check out the soothing color combination in the Beauty Facebook Ad Template below that perfectly matches the service offerings.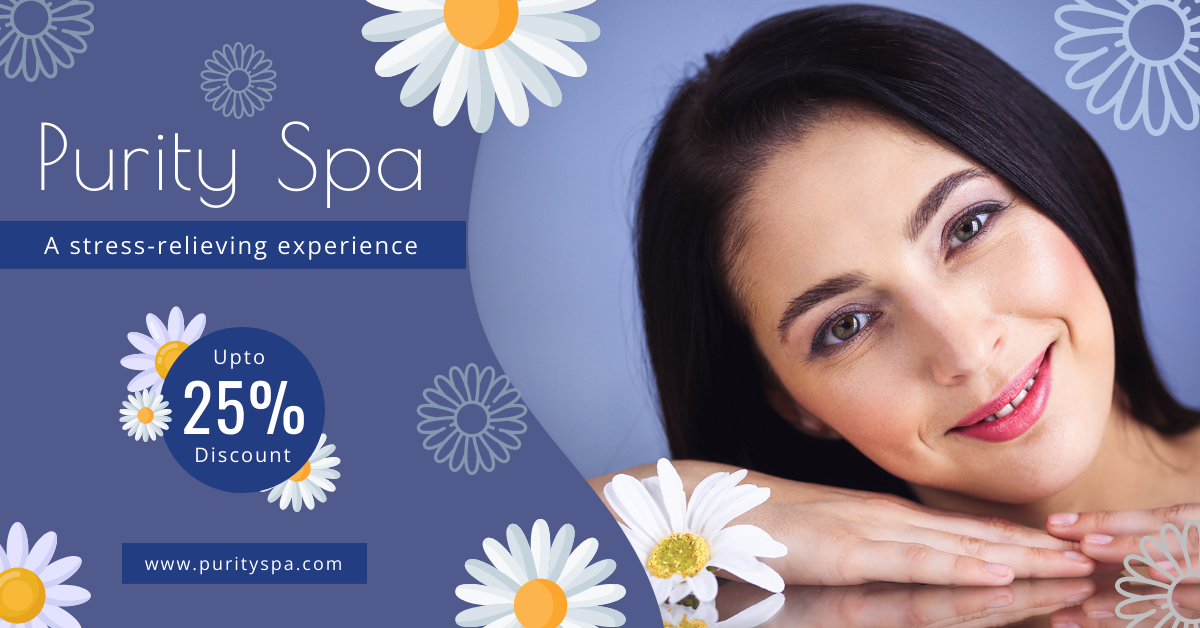 Get This Template and More
Similarly, the background color will increase the appetite in the Food Facebook Ad Template below.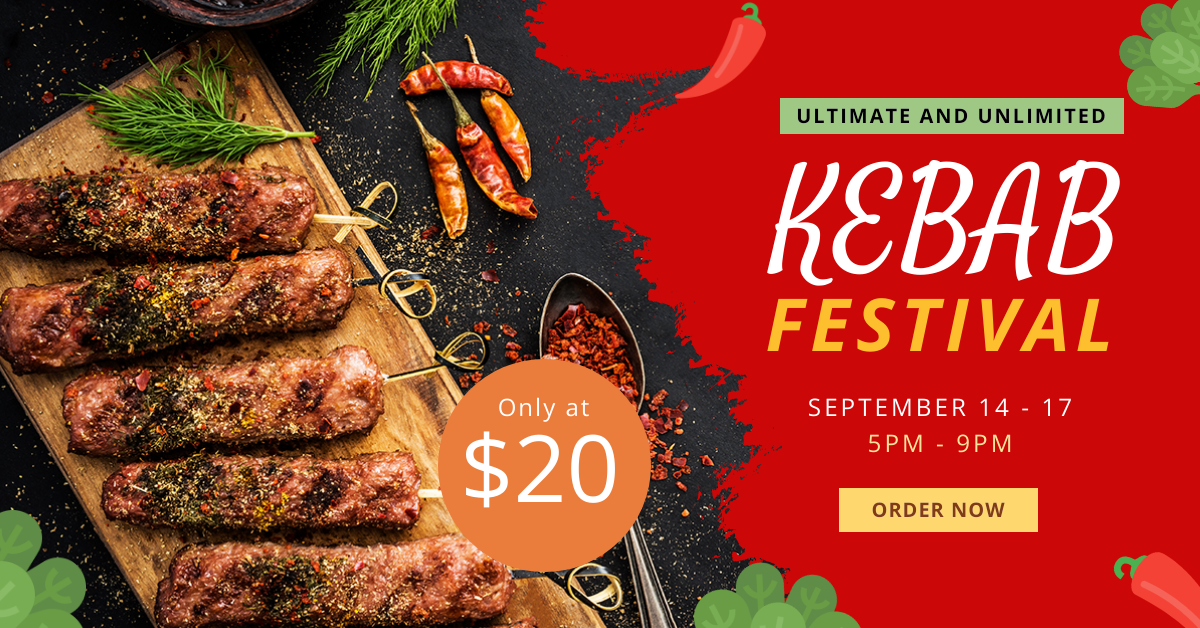 Get This Template and More
Loved it? Explore all the Food Facebook Ad Templates.
How to Create a Facebook Ad with DocHipo
This section will walk you through a three-step, super simple process for designing an irresistible Facebook Ad. If you're a new explorer of DocHipo, sign up with your email address and password. After logging in, you'll land on the 'All Templates' page.
STEP 1: Choose a Facebook Ad Template
You can either click on the 'Advertisement' category on the left sidebar and select 'Facebook Ad' or start typing 'Facebook Ad' and click on the result.
The Facebook Ad Templates are categorized into various industries and occasions, such as beauty, Black Friday, Christmas, food, real estate, etc.
Explore all the templates and hover over the one you love that fits your Facebook Ads objective to preview or select it.
Add a document name and a description.
STEP 2: Customize Your Chosen Facebook Ad Template
Now you'll be on the DocHipo editor. Facebook Ad Maker will help you customize various design aspects of your chosen template. Let me show you how to utilize our exclusive design widgets to customize your design how you want.
Edit the Content
To edit an existing text, select it and replace it with your Facebook Ad copy. You can select the text widget on the left sidebar to add more text to your design. On the above panel, you'll get multiple text editing options, such as changing the text font type, style, color, alignment, etc.
For more text editing options, such as changing the opacity, adding lists or clickable links, etc., click the three horizontal dots on the above editing panel.
You can refer to the following tutorial on adding, editing or deleting text in DocHipo.
Replace the Picture
You can delete the existing image if you don't need it. Then, depending on your context, you can select the 'Pictures' widget under the 'Graphics and Media' section and use high-quality stock images from our library.
To advertise your products, you can upload images in JPG, PNG, GIF, and SVG formats; the maximum file size is 5 MB. Once you upload the picture from your device, drag and drop it on the editor.
As you can see, we need to remove the picture background. Select the picture and click the 'Remove Background' option in the editing panel.
Click on the 'Remove' button.
And you're done; insert the background-free picture in your Facebook Ad design. Reposition and resize it as needed using the drag-and-drop tool.
Here's a video tutorial on removing backgrounds from pictures in a single click.
Now the design looks like this:
Watch our quick tutorial on uploading images in DocHipo.
You can enhance images to make them more attractive and stop the viewer's scroll.
Here's how to enhance pictures with DocHipo filters.
Change the Background Color
You can select the background widget from the 'Graphics and Media' section, categorized into color, gradient, and pattern. Alternatively, you can select the design background and click the 'background' icon in the editing panel.
You can put the color hex code in the space provided or click the color icon to explore the theme colors.
To change the color of the design elements behind certain other elements, send the latter back.
Now, after changing the graphic element colors, send them back to their original position.
Check out How to Create Stunning Background for reference.
If you want to customize further, explore all the other design elements, such as illustrations, animations, icons, shapes, etc.
Watch our video on using illustrations in DocHipo.
Here's how you can spice up your Facebook Ad designs with icons.
STEP 3: Download Your Facebook Ad Design
Once you're content with your Facebook Ad design, preview it and download it by clicking on the three horizontal dots on the above panel.
Choose a high-quality and preferred file type and download your design without any watermark.
Facebook Ad Design Before Customization:
Facebook Ad Design After Customization:
Final Words
You learned how easy designing a Facebook Ad is without prior graphic design experience. Sign up for DocHipo and explore all the Facebook Ad templates. Work with the template that aligns with your Facebook ad objective and customize it with our intuitive drag-and-drop editor. Leverage our appealing design widgets to make your advertisement impactful. Keep in mind the best practices to elevate your Facebook advertising game.