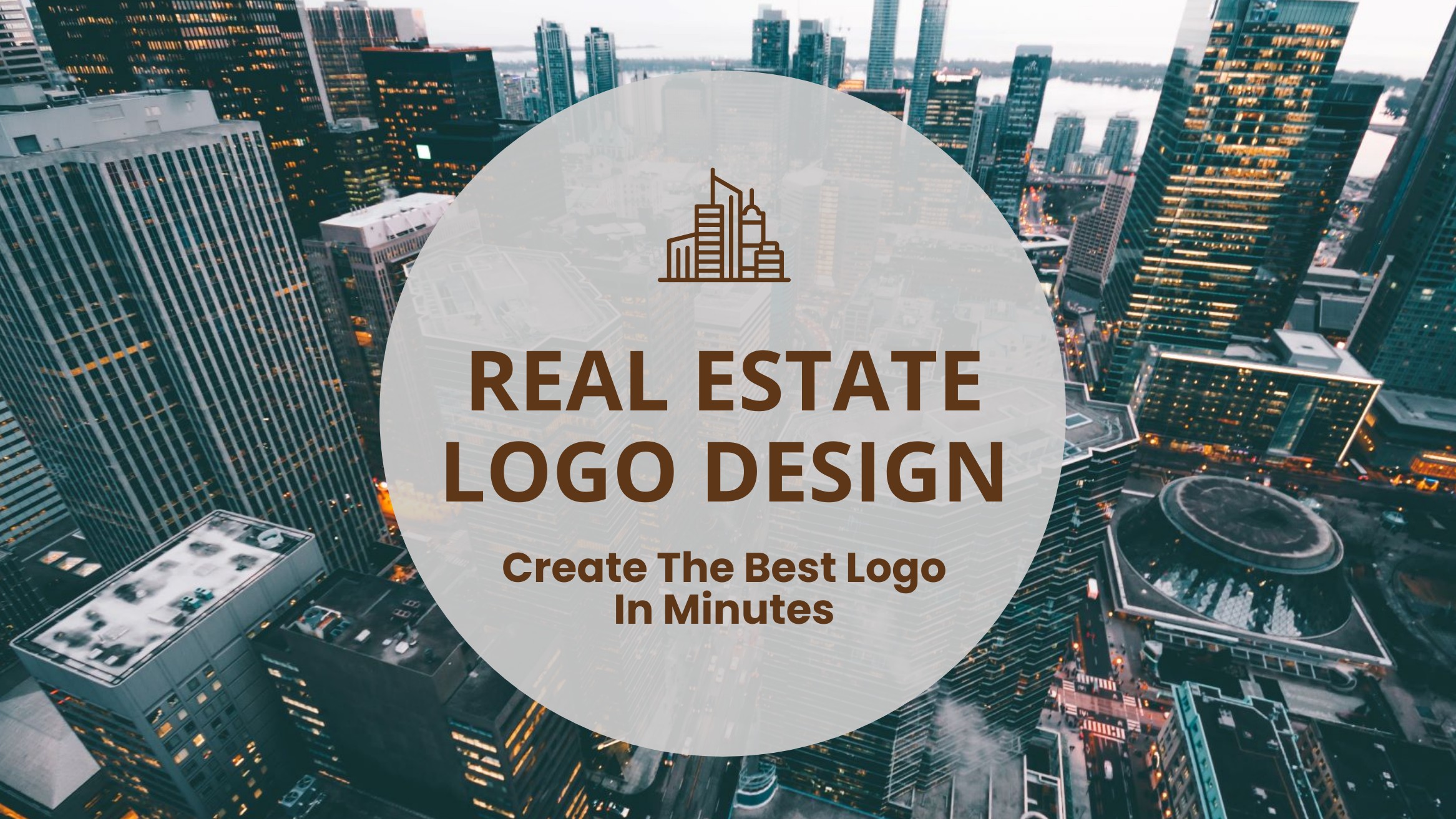 How to Create a Real Estate Logo in Minutes

Last Updated Oct 18, 2022
A recent study by ARELLO shows that there are over 3 million active real estate licenses in the US alone. According to the United States Census Bureau, there are 410,820 registered real estate establishments. So, to stay ahead of the competition, you must build a unique and trustworthy brand identity. Real estate logo design is one of the most effective ways to do this.
Especially if you are new to this business, you must ponder upon having an eye-catching brand representation that justifies your business' essence. A logo is a perfect tool that can do the same for you and help you achieve marketing goals.
Yet, if you don't have any prior knowledge of real estate logo design, you might be stressing yourself out to get the perfect logo. But you don't need to do that anymore when DocHipo's Free Online Logo Maker is there. Whether you are a real estate agent, a developer, or own any other real estate establishment, DocHipo can help you create a logo to stand out.
Choose from a wide range of free real estate logo design templates and customize them using the drag-and-drop editor. So, this article will show you how to design a real estate logo in DocHipo.
Creative Real Estate Logo Design Ideas
The best thing about DocHipo's Free Online Logo Maker is, you don't need any graphic design experience to create a real estate logo you can be proud of. Moreover, to make it easier for you, here are some real estate logo design ideas that will help you design the perfect logo easily.
Select An Icon
Icons take up a significant part of your real estate logo design. It would be better if you design your logo around a specific icon. Sometimes, the fonts become the logo without using any icon. Since real estate icons tend to be generic, the variation is less.
However, whatever your icon is, ensure that it represents your brand identity, can grab the attention of your target audience, can be used across different media platforms such as social media, email headers, flyers, posters, business cards, and others.
Furthermore, make sure that the icon you choose doesn't cover too much space and complements the other elements like fonts, colors, and background of your logo.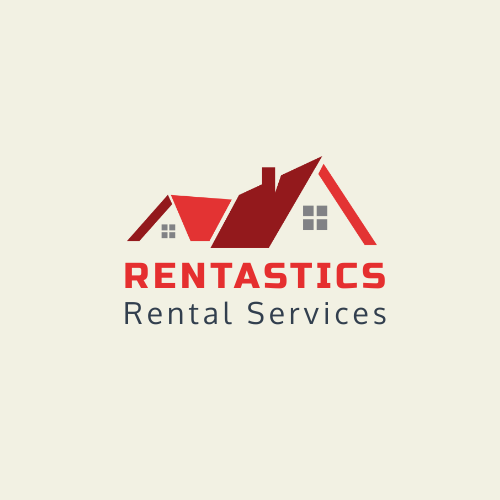 Get This Template and More
Find the Right Colors For Your Logo
Color is the most important and remembered design element of your real estate logo and is also an inexpensive way to impact potential customers. A recent study says, 90% of marketers believe customers remember presentations and documents better when the color choice is correct. And as a real estate business owner, you know the importance of presentations.
Keeping this in mind, the color combination for your real estate logo design should be perfect. Use your brand colors in the logo. If you don't have any brand colors yet, then try choosing complementary colors.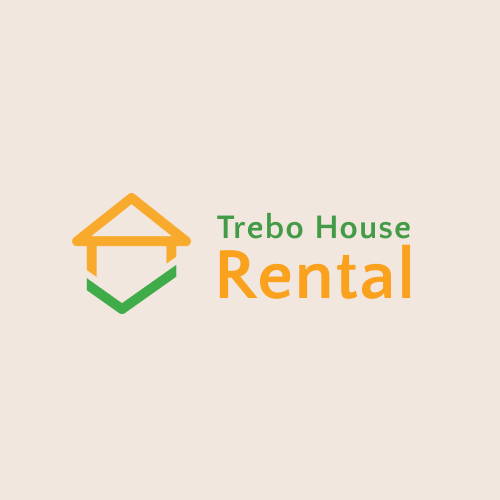 Get This Template and More
Still, if you cannot choose colors for your real estate logo design, this article on the best color combinations can help you.
Choose Your Fonts Carefully
Typography is one of the crucial elements of any real estate logo design, as most of them are text-based. Since the font choice for your logo says a lot about your brand personality, choose a font style that conveys your brand values.
Try to choose bold fonts that will make your logo eye-catching. Every font style has its own impact. For example, Sans-serif fonts can give your logo a professional and strong look. Whatever font style you choose, make sure that there is a balance between readability and legibility.
A recent study shows that fonts can affect people's trust. And the potential growth of a real estate business relies heavily upon its trustworthiness. So, research a bit to find the perfect font for your logo and use them in your real estate logo design.
In DocHipo's Logo Maker, you will find a wide variety of font styles. Play around with them until you find the right one for your brand.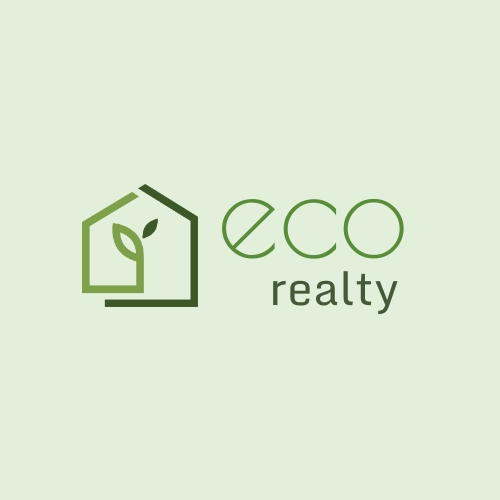 Get This Template and More
Additionally, learn about typography hierarchy to choose fonts for your logo easily.
Keep It Simple
The most crucial factor that can make your logo stand out is simplicity. Study shows that people find it easier to remember simple logos than complex ones. Logos with different colors, shapes, icons, and other design elements are hard to understand quickly.
Even if you want to make your real estate logo multicolored, try not to choose more than three colors. Select only one icon and a font for the Business name. Here is an example for you to understand.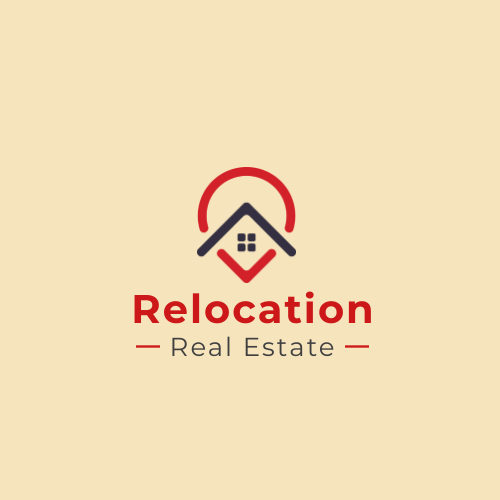 Get This Template and More
How To Design A Real Estate Logo In DocHipo
The process of Realtor Logo Design doesn't have to be daunting. DocHipo's Free Online Logo Maker enables you to design a professional real estate logo with a few clicks without any design skills. Easily customize the real estate logo templates in DocHipo using the awesome Design Widgets. All it takes is just a few clicks and minutes.
Now, I am going to walk you through the process of real estate logo design in DocHipo.
Step 1: Select a Real Estate Logo Design Template
If you haven't already signed up for DocHipo, you can do that using just your email id. Visit the Homepage of DocHipo and click the sign-up button from the upper right corner of the page or type your email address in the box and click sign-up.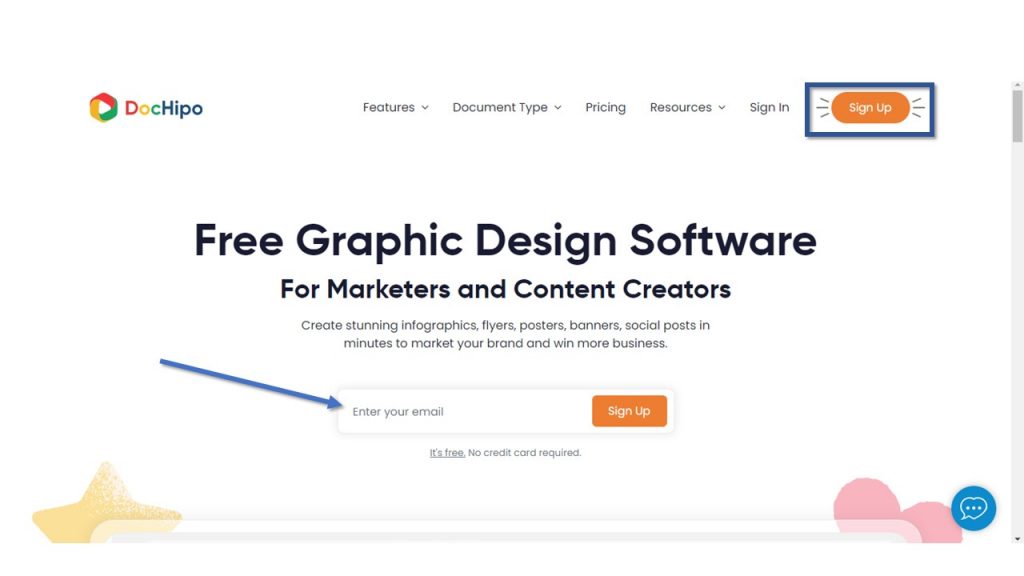 Once you enter the all templates page of DocHipo, type "Logo" in the search box and then click on the result to browse through DocHipo's fantastic collection of logo design templates.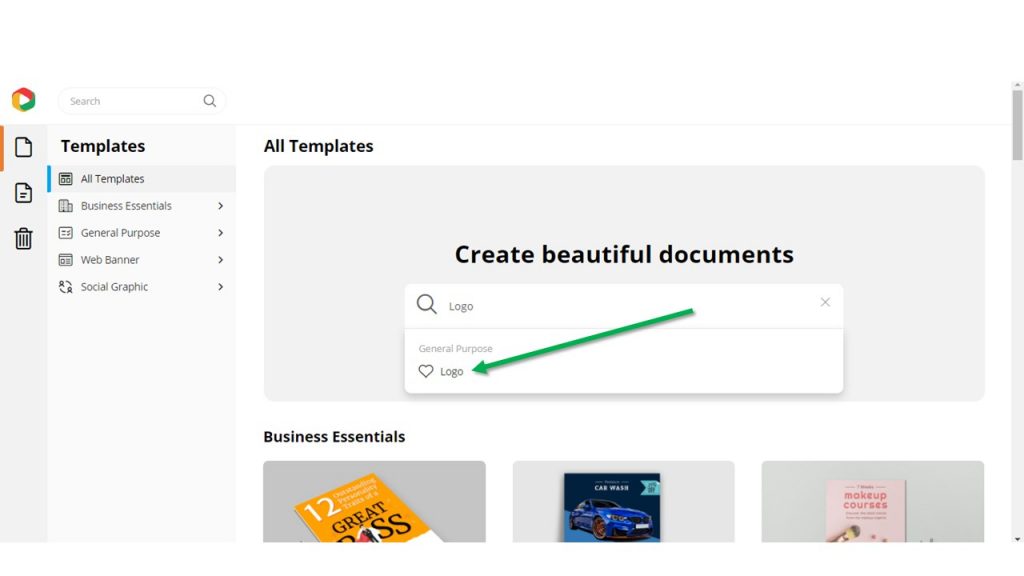 Choose the "Real Estate" category to browse through DocHipo's wide range of free real estate logo design templates.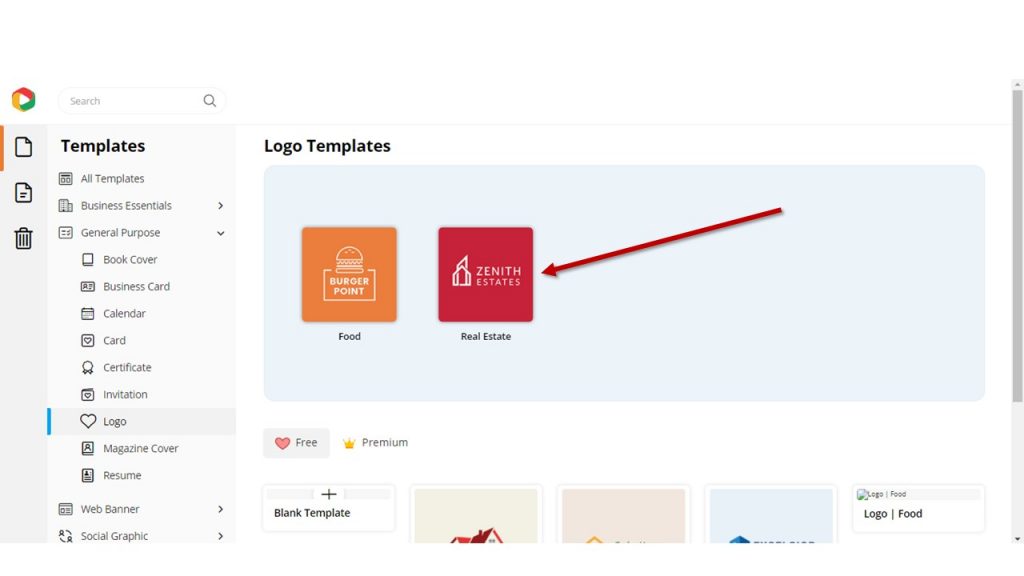 Hover your mouse over the template you like and click either 'select' or "preview."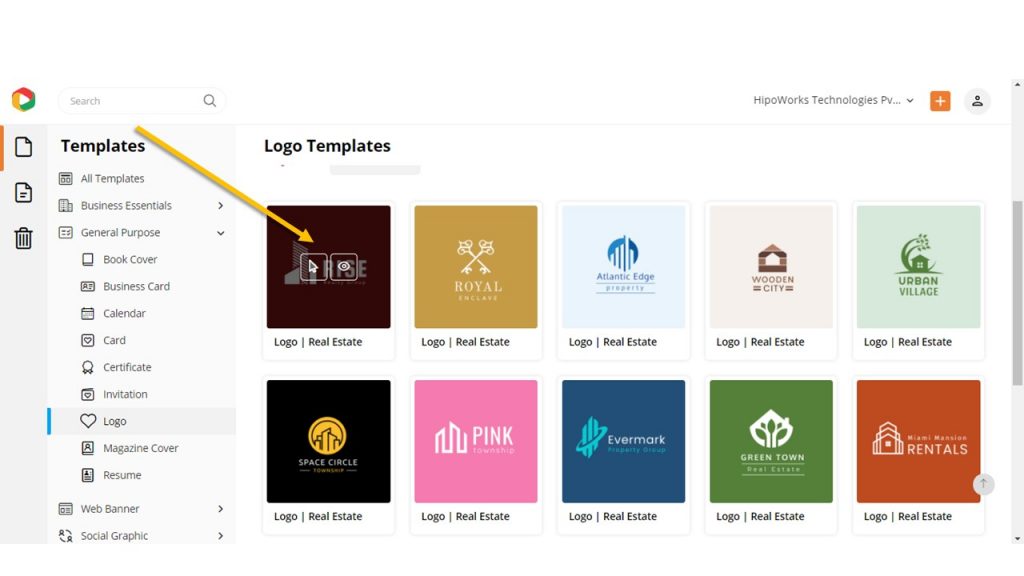 Once you click "select," the document information page will open up where you need to give the document a name and description. And then click "Next" to open the template in the DocHipo Editor.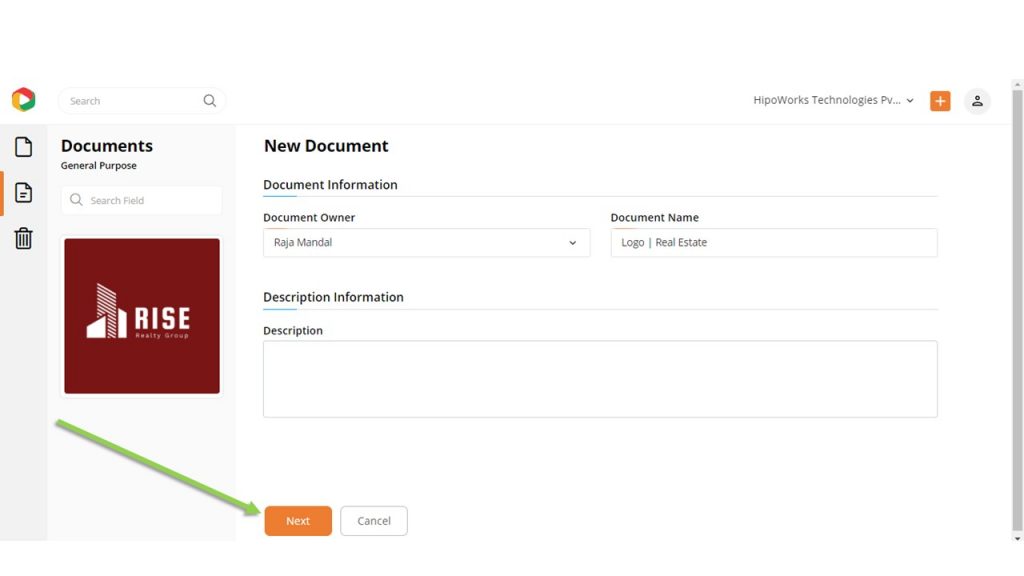 Step 2: Customize the Real Estate Logo Design Template
Make sure that your logo is truly on the brand by tweaking everything about the design. Change the icons, colors, background, font style, and font size as you see fit. Here is how to do that.
Add and Edit Text
Click on the "Text" tab on the left sidebar and then choose Heading, Subheading, or Body text to add to the template.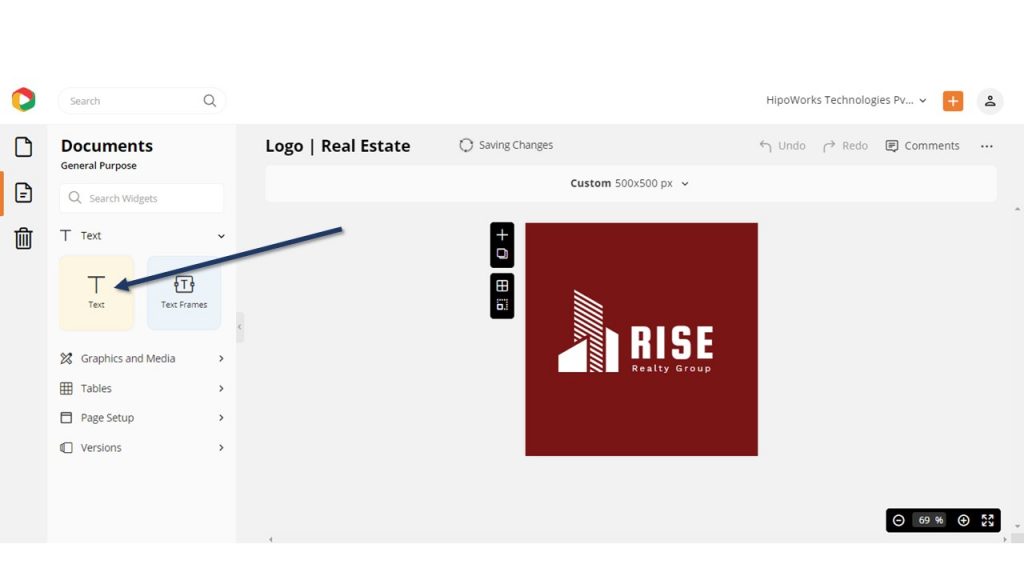 Alternatively, to edit the text that is already in the template, you need to double click on it and type the text you want to include.
Use the edit panel on top of the page to change the font style, size, color, spacing, and more.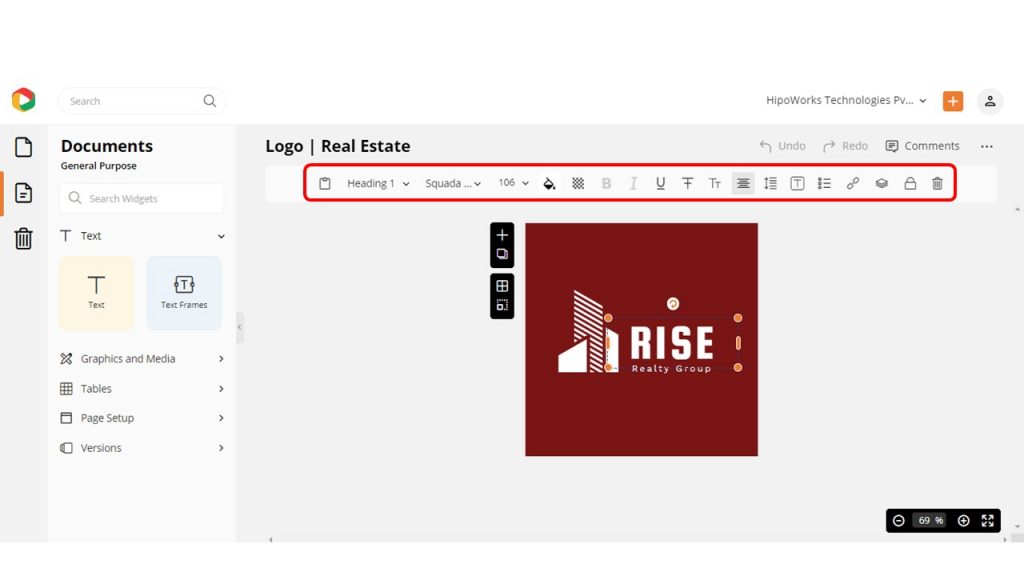 Here is a video to understand how to add, edit, and delete text in DocHipo.
Change the Background
Click the "Background" option under the "Graphics and Media" tab on the left sidebar to customize the background.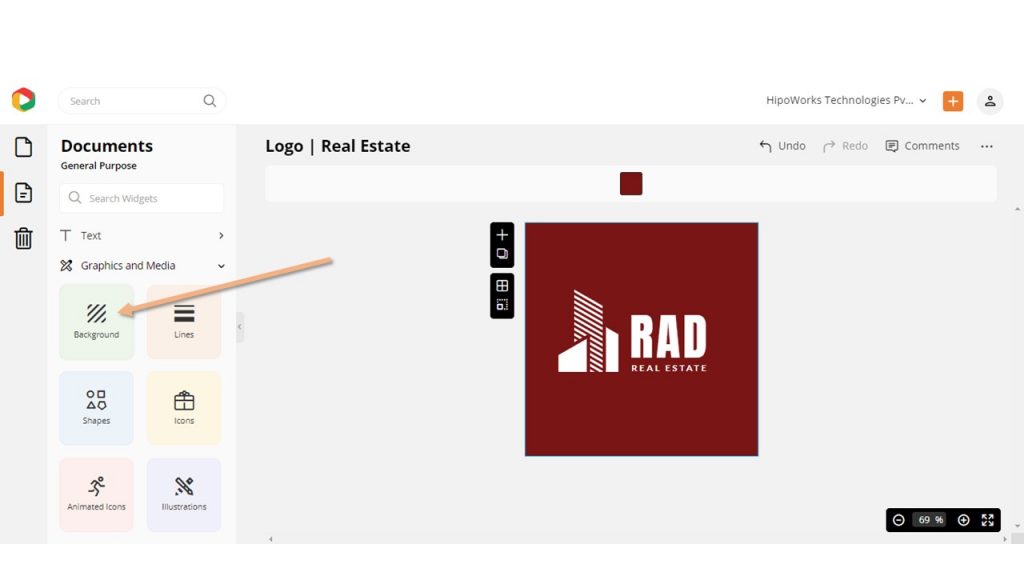 Choose a solid color either from the color presets or customs colors using the color picker tool.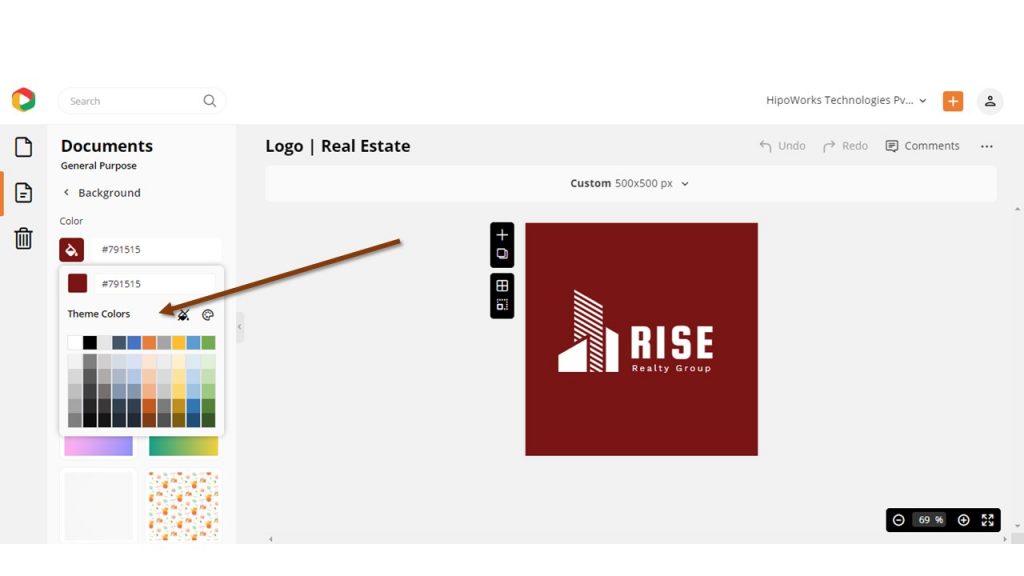 Moreover, you can choose a pattern from the list to fill the background to add texture.
Match the pattern with your background color and adjust the opacity to create a perfect background for your real estate logo.
Watch the video below to learn more about how to create a stunning background in DocHipo.
Change the Icons and Other Design Elements
You can choose many other design elements from lines, shapes, icons, and others on the left sidebar.
To change the preexisting icon in your template, click "Icons" from the left sidebar and then choose "Buildings and Real Estate" from the categories.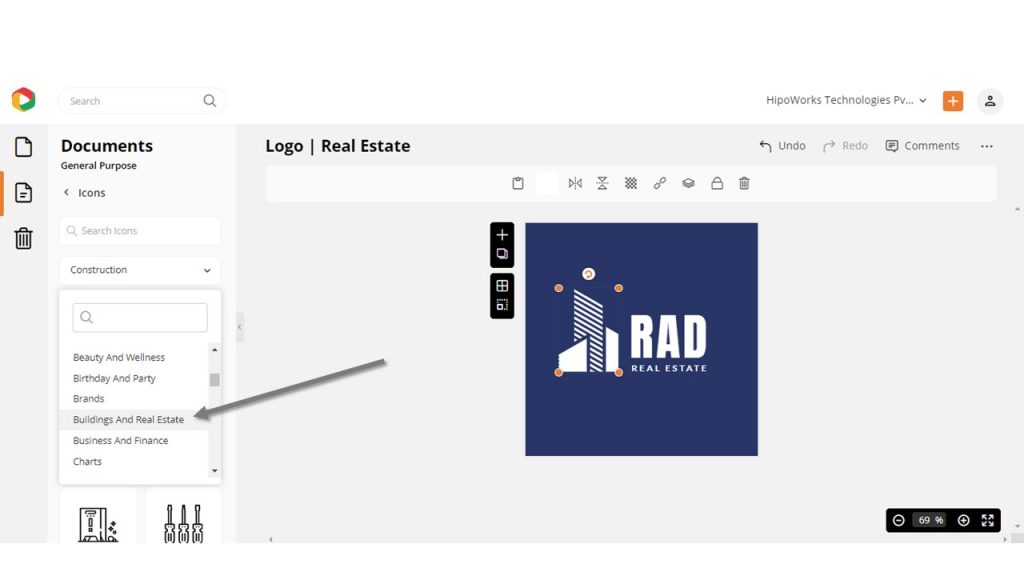 Delete the preexisting icon using the edit panel and then add the icon of your choice.
Before Customizing: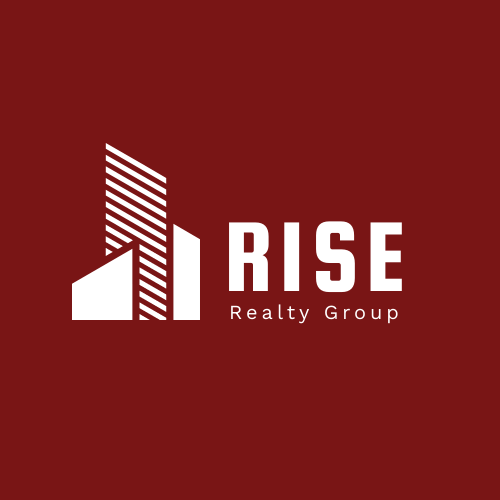 After Customizing: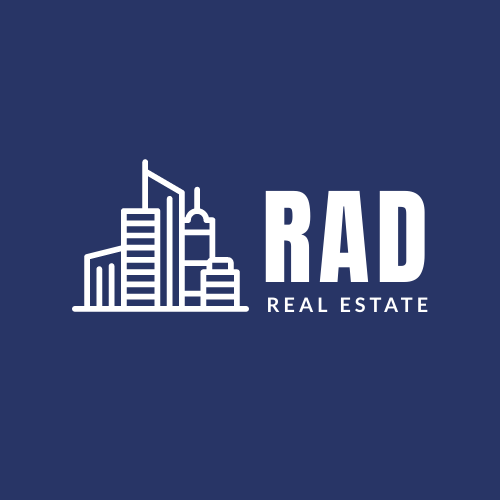 Step 3: Download Your Real Estate Logo Design
To download your real estate logo design, click the three dots on the upper right corner and choose Download from the drop-down menu.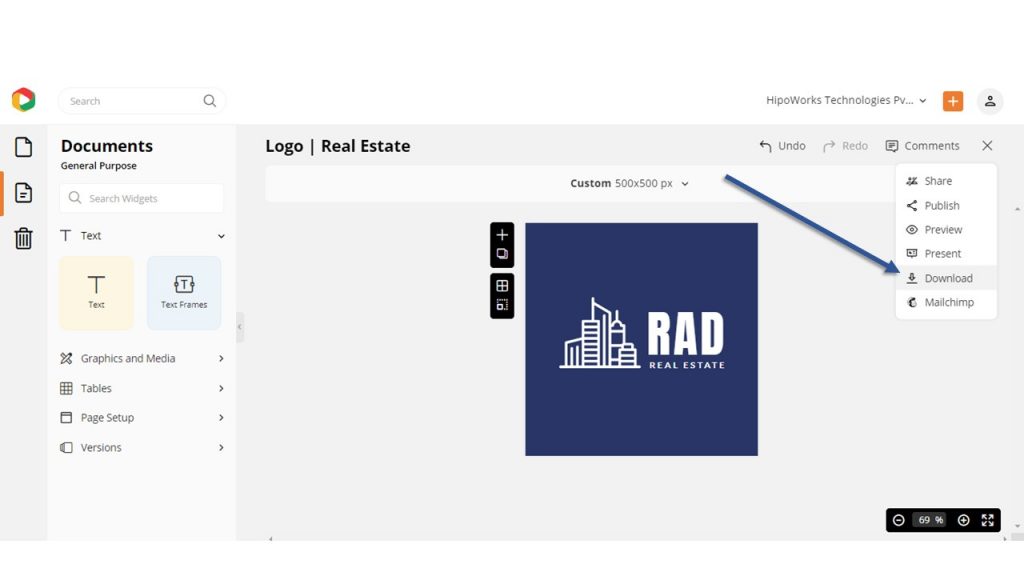 Choose the file type and quality and then click the download button. Wait for a few seconds, and your design will be downloaded to your computer automatically.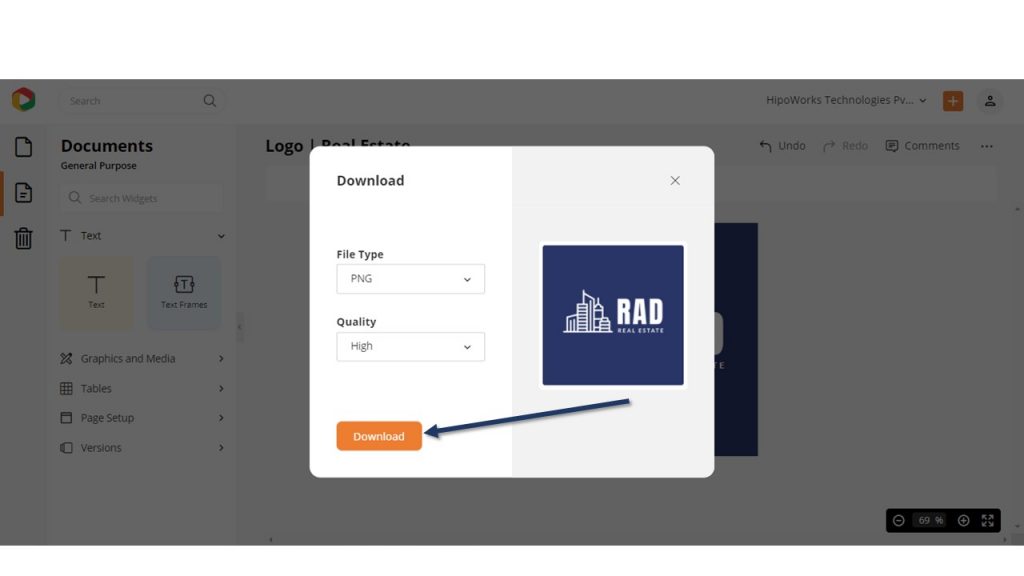 As a real estate business owner, you might already know how significant an online presence is to market your business. So, DocHipo can help you design other documents such as Facebook Post, Instagram Post, YouTube Thumbnails, and printable document types such as Flyer and Poster.
Final Thoughts…
Nothing can be a more impactful approach towards building a brand identity than designing a logo. Whether you are managing residential homes or showing properties, Logo design is the first step that walks the extra mile for you to achieve your marketing goals as a real estate business owner.
Hopefully, this article has helped you get a sense of what goes into a real estate logo design process. With these design tips and tricks in mind, real estate logo design will become just a piece of cake for you.
Are you inspired enough to design your real estate logo? Sign-up to DocHipo and get started today!