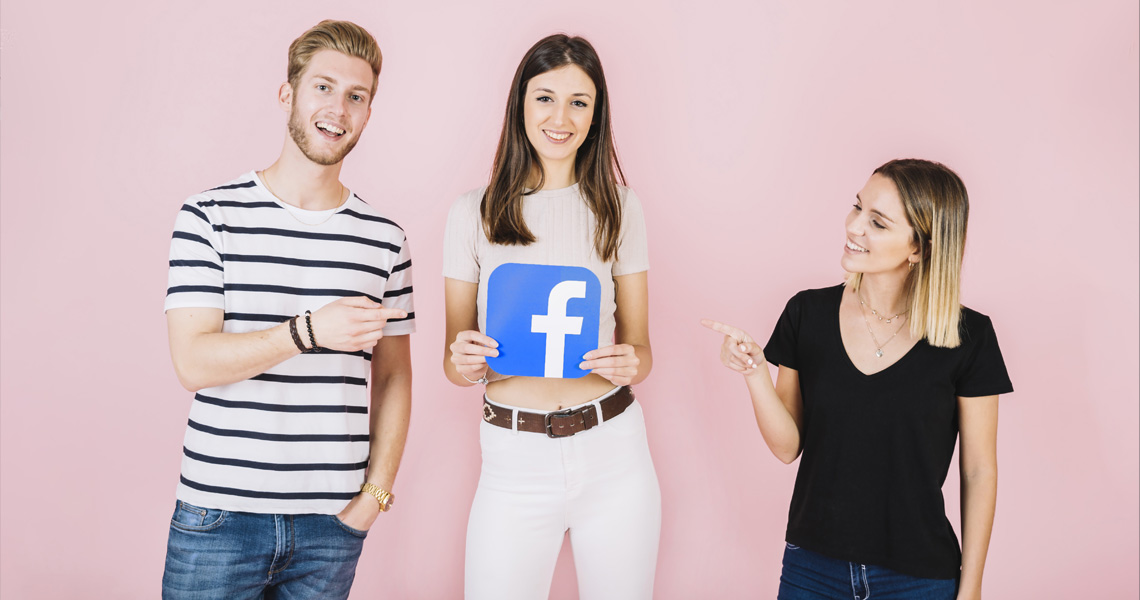 How to Do Facebook Marketing Effectively and Effortlessly

Published on Apr 1, 2020 | Updated on Oct 22, 2022
2.5 billion people around the world use Facebook each month for building a connection with friends, family, and prospects. It is not just any connection but the bond that matters and goes a long way. This is how you get new customers. This is how you build relations and also do Facebook marketing.
Many social networking sites were born. Many of them popularised and earned too many patrons. Have you ever thought, how come Facebook managed to stand the brunt of time? In fact, it is still being considered one of the most viable social platforms for marketing any kind of business (Big or small).
You have ample space in the form of Facebook ads, business pages and graphical posts that you can exploit in your favor. This is the most effective platform to reach out to and connect with your followers. But, how will you connect? You have 2 methods to do it.
Option 1: Rummage all possibilities aimlessly to look for effective connections.
Option 2: Take a planned approach that lets you find results within sight.
So, which one would you prefer? The second one, right? Then let us guide you in that process.
Use videos, stream directly into the hearts of viewers
Facebook video posts attract 59% higher engagement compared to texts or any other format. You might want to boost your brand recognition (by 67%) or probably you would like to simply reach out to the millennial shoppers (30% mobile shoppers say that they discover a new product on videos).
So, if you are not focusing on videos for Facebook marketing yet, it is the time!
Depending on the product/service you are offering, the videos can be educational, entertaining, promotional or anything else that interests, intrigues and engages your viewers.
There is no thumb-rule to create a beautiful video. Your brand should be the bridge between your audience and their problems. Your video should lead the way to a solution. Once that is done, your Facebook video will bring results.
One point I would like to focus on…
Some Facebook users (honestly, includes me, especially while on public transport) disable Facebook sound. So, your video should pack enough punch to hook even without sound and still communicate visually. If you are still in doubt about how to use your Facebook videos effectively, check the Facebook page of DocHipo for reference.
Blog extensively, let your followers know that…
Let them know it. Let them click through.
Guide them into the amazing world of your blog that uncovers information on a plethora of different topics. I am sure that there must be thousands of readers reading your posts every day. But you can reach out to thousands more through your Facebook page. Share your blog link on your business page. Market it heavily and extensively among all your followers. As a result, your blog will market your business for you.
You spend hours (sometimes days) thinking about a topic. Then, you probably brainstorm heavily to research and pour all important information over your laptop. At last, a beautiful blog post is ready and served. Why should you deprive your Facebook followers from that update?
Unlike traditional marketing, blogging has a more soothing, down-to-earth approach to it. It is like, you meet your prospect, say hi, ask them whether they are worried, what they are worried about, then try to offer a solution. According to research, by 2020, US readership of blog posts is stated to grow up to 31.7 million. Not only that B2B marketers that maintain blogs have seen 66% more leads coming their way. Is there any way possible for which you can ignore marketing your blogs? Nah…
While blogging, you might often be at loss to find an apt blog graphic. No worries, DocHipo is at your rescue. We have beautiful templates of blog graphics in our stock and a bunch more is on its way.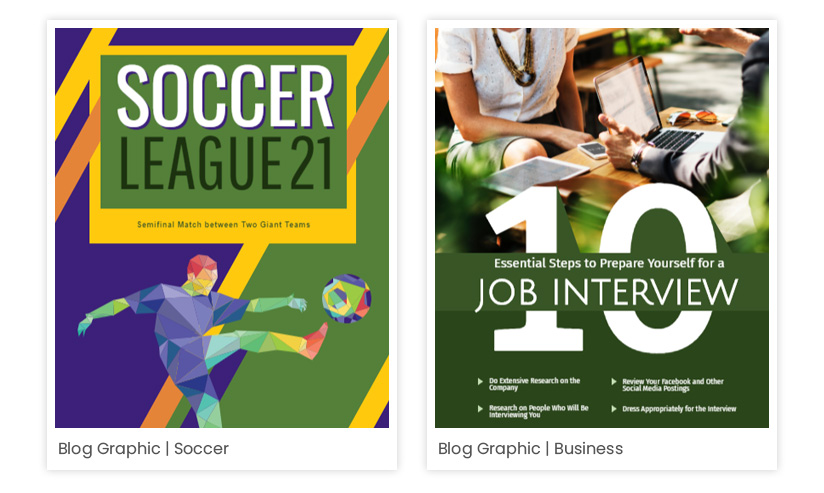 If you think your idea needs pictorial representation for better understanding, our templates of infographics are right at your service. Just use them as they are or repurpose them according to your needs.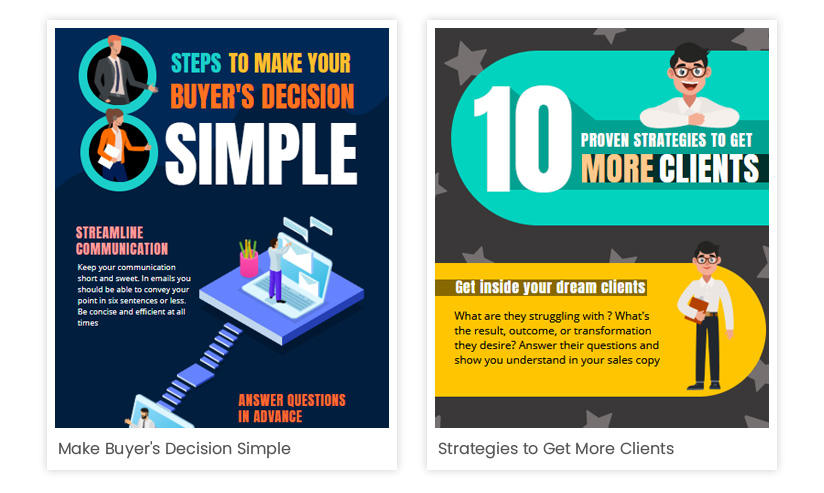 Oh, it's been 5 long minutes since my last Facebook post, should I post again?
NO… You heard me, dear. Not more than one or two posts a day on Facebook. Otherwise, you will end up being spammy and you might ruin your complete Facebook marketing process. According to Hubspot, engagement might drop by 50% with each extra post on a single day. As for the minimum count, 3 posts a week is necessary. The posting time of early afternoon is sorted. So, what bothers you anymore?
All boxes are checked. Can I still expect optimum engagement?
Yes you can, provided the quality of content is great. You have to stand out among the rest. Only then, you can expect results.
You can work on different types of Facebook marketing posts. For instance, if you have sales on the mind, some of the beautiful posts can be like these, (see below)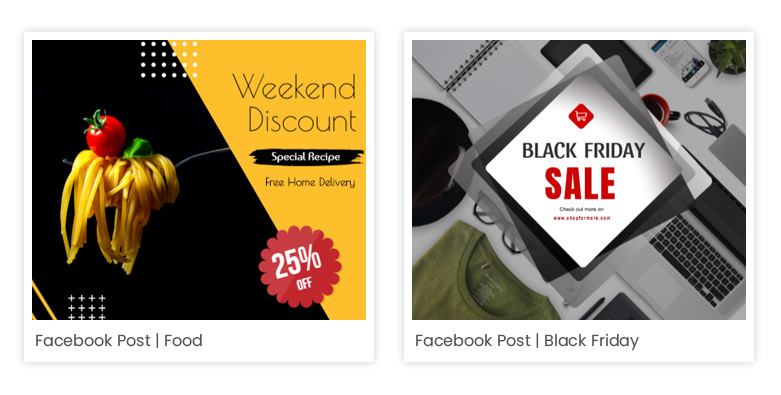 These are all templates created by DocHipo designers that you can use for your benefit. On the other hand, you might require Facebook graphics to announce some events. DocHipo has stock templates for such graphics too. Our designers invest time in their research work to create the most beautiful graphical posts that suite your needs. Take a look at a few,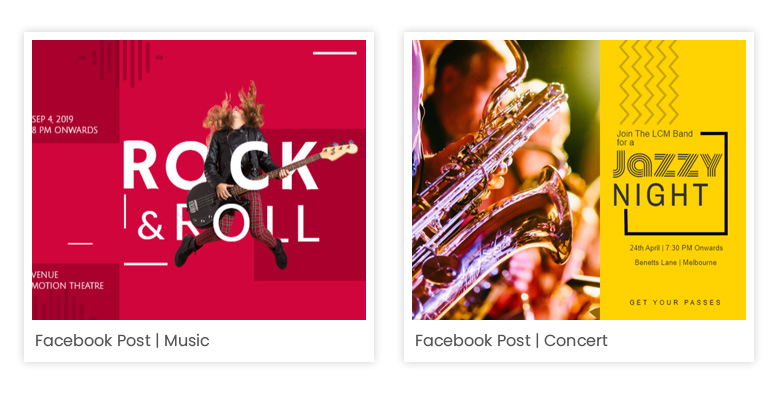 Your Facebook posts can also be about celebration, it can be about some environmental cause, celebration or anything else under the sun.

A beautiful cover image is important for Facebook marketing…
That space is never meant for being empty, right? Nor is that for wasting on unplanned use. So, do some brainstorming before you use that space. First and foremost, your Facebook cover photo is a spacious real estate to do effective branding for your business. That is the first area of your business page that attracts the attention of your target. So, you must use that space for something that really works in favour of your business.
But branding is not the only opportunity you grab while making your facebook cover photo. You can sale easily with it. With a call to action placed at a tactical spot, your Facebook cover can win your customers, patrons, users in no time. Just make sure that you do not look too salesy at that position.
After all, your cover image offers the first glimpse of your business and that glimpse surely creates an impression. You cannot afford a poor first impression, can you? Keep a focus on what you want everyone to know about you.
You can also make some announcements on the cover images. No matter what your purpose is, our Facebook cover image must make your business on top of the attention game. All templates in DocHipo are created with that purpose in mind. So, go ahead and use them.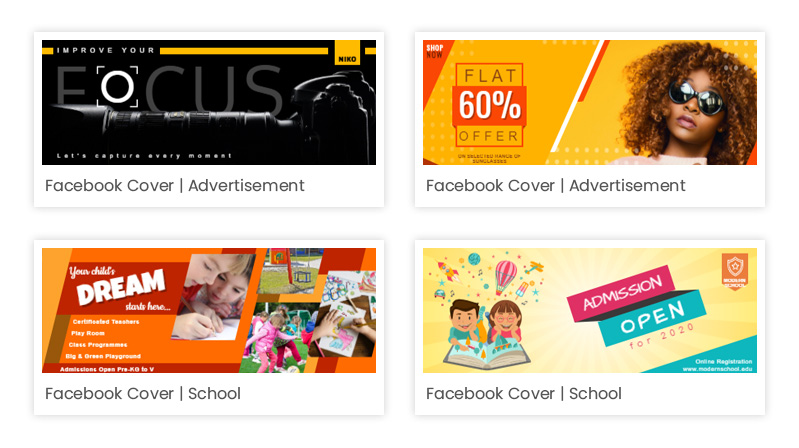 No time for lazing around, start marketing on Facebook…
People are locked down, at home, hooked to social media. This is the right time to grab their attention. Hurry up, churn up some really effective Facebook marketing strategies fitting your business and take the leap. Do it without wasting any more time. You never know when again you will have such undivided attention of your target audience.
You need the help of graphical content. No worries. DocHipo has a huge stock of templates. Use them at your convenience. But first thing first, sign up to DocHipo for creating a gamut of beautiful graphical documents.