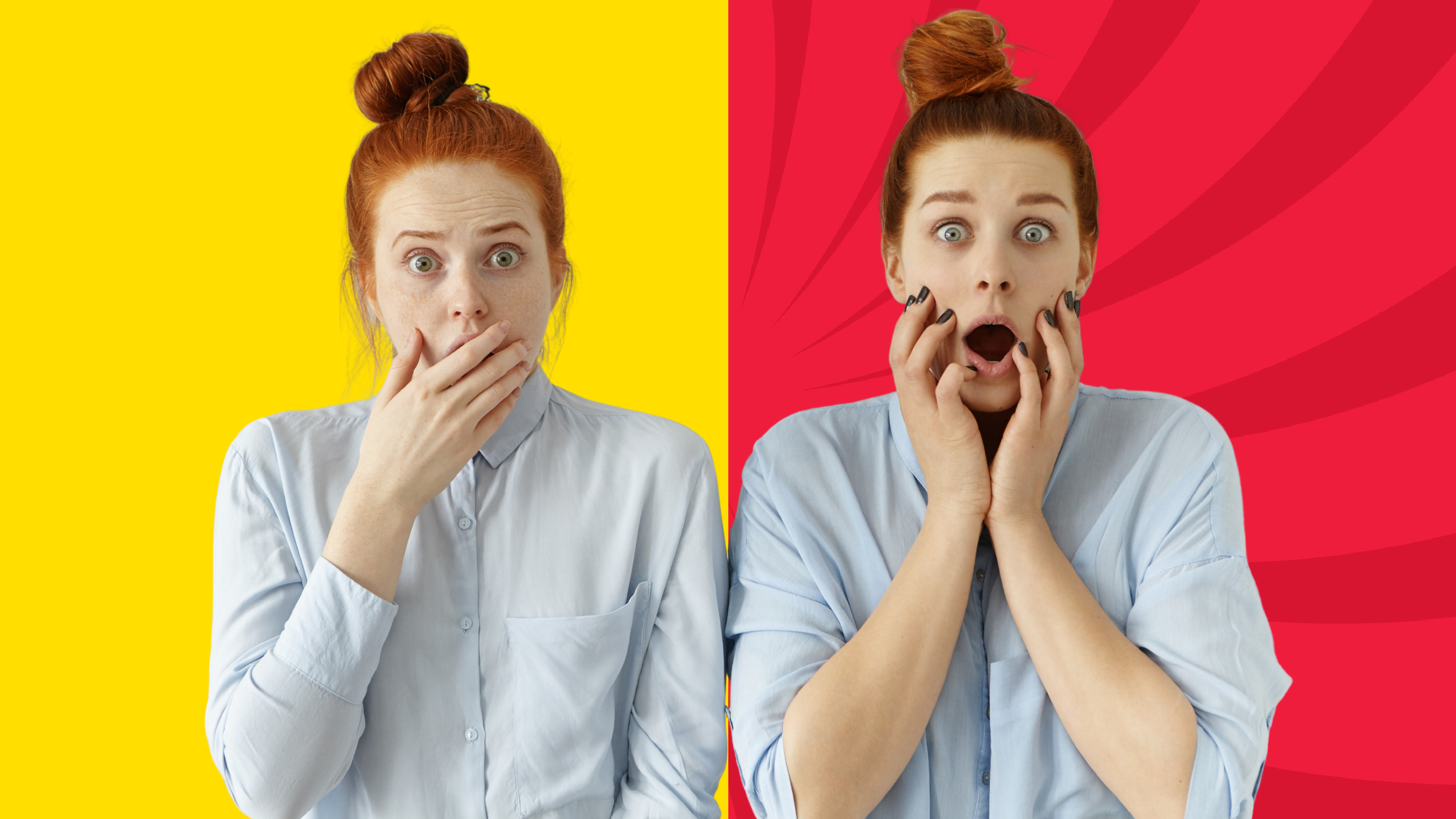 How to Remove Picture Background in Just One Click

Dec 26, 2020
Have you ever fretted over a selfie where you look good, but the background takes away the charm?
Worst still is the fact that the best moments for a picture comes at the expense of having an embarrassing background. After all, you can control yourself and your subject but not the natural elements that have their own pace.
Especially for visual marketing, your images have to be just perfect. This is because as a marketer, you have to manipulate your audience's gaze in a specific direction.
Cluttered backgrounds, if not for a very particular purpose, can totally ruin your efforts of eliciting a message.
Now, what's the solution to this?
Simple…just remove the background!
But yes, this can be so time-consuming to cut your subject off from the background on the editing software. If not in this way then you have to contact a designer to do this task for you…
Well, I have a solution that is far better and quicker than these methods.
In this article, we shall be exploring this exciting feature in DocHipo that lets you remove any background from a picture in just one click.
Remove Background from Picture for Your Selfies
The advent of smartphones has revolutionized the way we live our lives and share stories. This has made way for selfies that instantly teleports the viewers to your moment when you capture it.
A 2015 statistics revealed that 93 million selfies were clicked each day. Hence, we can see that selfies have become a part of this digital era.
Now, it is unthinkable to not take a selfie while enjoying ourselves with our friends or family. We want to record and document everything. Also, selfies accommodate everyone, including the one who is taking the picture.
Yes, while clicking a photograph, we no longer have to sacrifice our pictures because of digital limitations.
Selfies have almost become instinctive. Hence it has become a tendency to capture all our emotions and experiences within the handy digital device.
If you are a social media influencer, then taking selfies is a compulsory act to enhance your online persona. In that case, choosing the right background is necessary to make the picture look gorgeous.
With a tool that helps you remove background quickly, you will get enough space to accommodate the right background.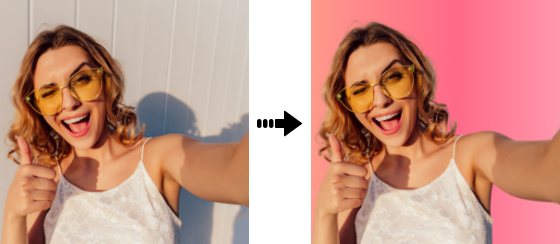 What's more is that you no longer have to worry about messy hairdos, which might make your portrait difficult to separate. DocHipo's tool can remove the background while keeping the foreground exactly how it is.
Remove Background from Pictures for Attractive Posters
Posters are also important marketing material that can make wonders.
With an attractive poster, you can promote ideas, products, and events. As it gives you more space to be flexible with your designs, posters are perfect if you want to spread an impactful message.
Whether on lucrative walls of the street or the online pages, posters give you ample opportunity to leverage your visual marketing strategies.
What makes a poster successful is when your design adds more meaning than being limited to common generalized themes.
When you make an effort to add elements to the poster design pertinent to your brand, it enhances the impression of your prospects. This pushes them to engage more with your poster and probably contact your company for more details.
This is how you can lure in the traffic towards your products/services.
Now, taking pictures that will specifically signify your brand might turn out to be quite expensive.
Probably because you have to manipulate the background. But, if you can use a tool that will help you to quickly separate your impactful foreground from the unwanted background then you can rock that stage.
Yes at DocHipo you can!
Let me show you how: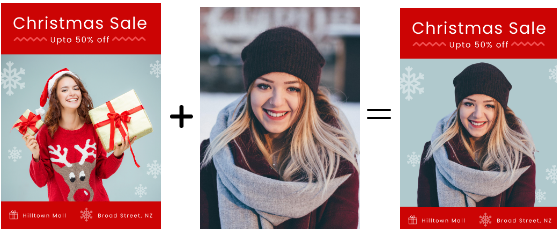 Remove Background from the Visuals for Your Social Media Advertisements
When it comes to marketing visually, social media is the first stop that will pop-up in our heads. Be it Facebook, Instagram, or YouTube, we can never miss out on any chance of spreading the tales of a successful brand.
Statistics suggest that over 50% of the world population uses social media. Also, 54% of social media users search for products on social media. So, we can see that social media serves to be more than just a platform where you can share selfies and personal stories.
Social media marketing has evolved into a potent tool that can instantly attract the onlooker's gaze onto the product/services that you are talking about. As we are all aware of the tantalizing nature of a human gaze, you can never hold them for a long time unless you have offered a stunning looking post.
So to imprison the ever-fluctuating eyes of the users into the world of your products/services, you have to incorporate catchy visuals along with a witty copy.
So whether you have a small startup or a big firm, you can use beautiful social media posts to boost lead conversion.
To create a beautiful social media post, you can always avail the gorgeous, social graphic templates at DocHipo.
But, at DocHipo you also have the opportunity to further personalize the templates by juxtaposing your product or portrait images. So basically you are not posting a generic template, but a template that intimately talks about your brand.
Let me show you how:
Facebook Post:

Instagram Post:

YouTube Thumbnail:

How to Remove Background from Image in DocHipo
Now, you know that removing a background from an image is like a piece of cake in DocHipo.
So you can absolutely put your picture or any other picture on your marketing visuals and pomp it up for more audience engagement.
Let me walk you through a step-by-step guide of how you can fully utilize this feature to your heart's content. To demonstrate this feature let's recreate a YouTube Thumbnail.
But before that sign up now!
Step 1
Here you have two choices.
Either you can type, "YouTube Thumbnail" or any other document name, on the search panel.
Or
You can simply navigate to the "Social Graphic" widget on the left-hand-side panel and choose "YouTube Thumbnail" from there.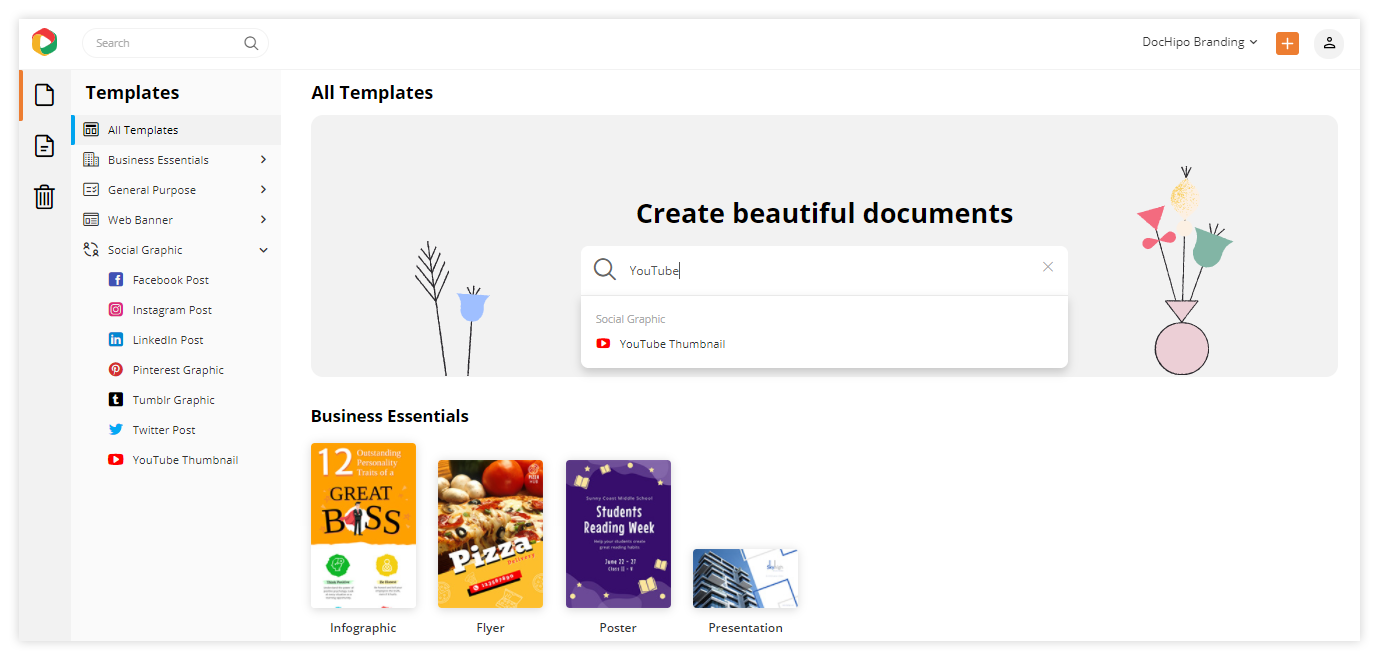 Step 2
When you select your document, you will be redirected to the document templates page.
Here you can select any template that meets your creative aspiration.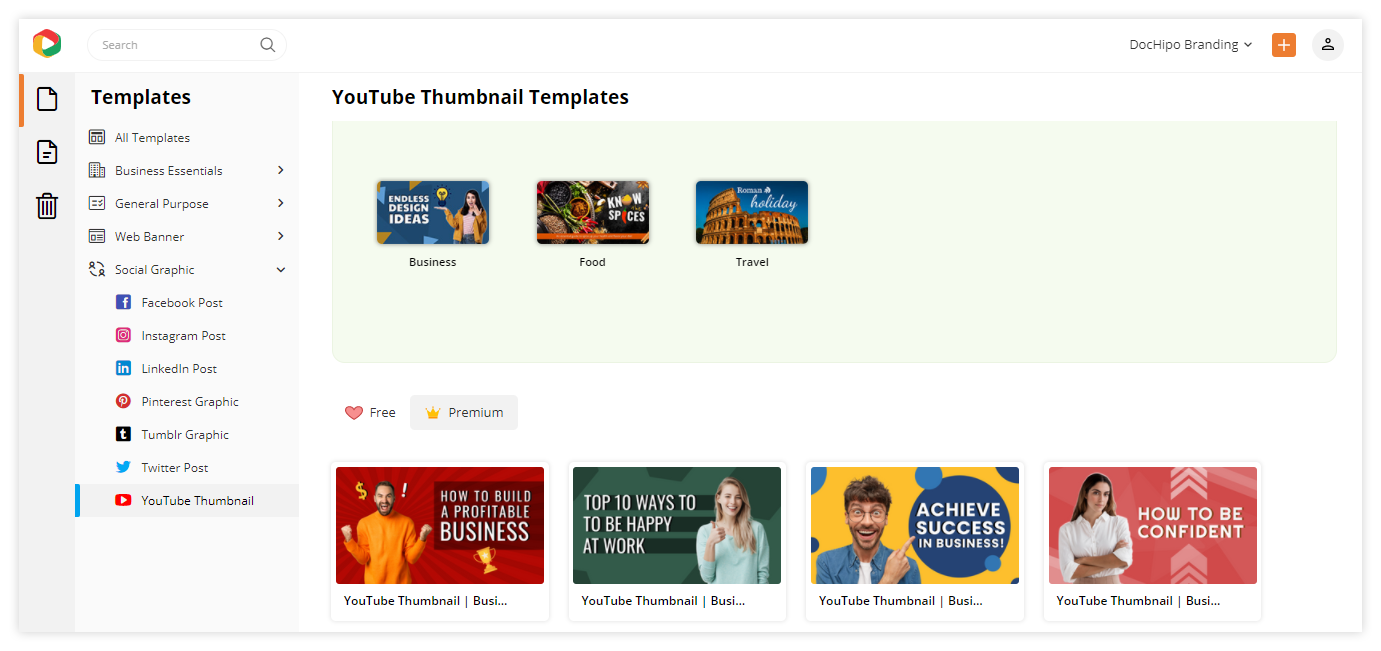 Step 3
Once you select your template, you will again get redirected to the document information page. Here you have to fill in the required details as mentioned.
When you have provided all the required information, you can click, "Next".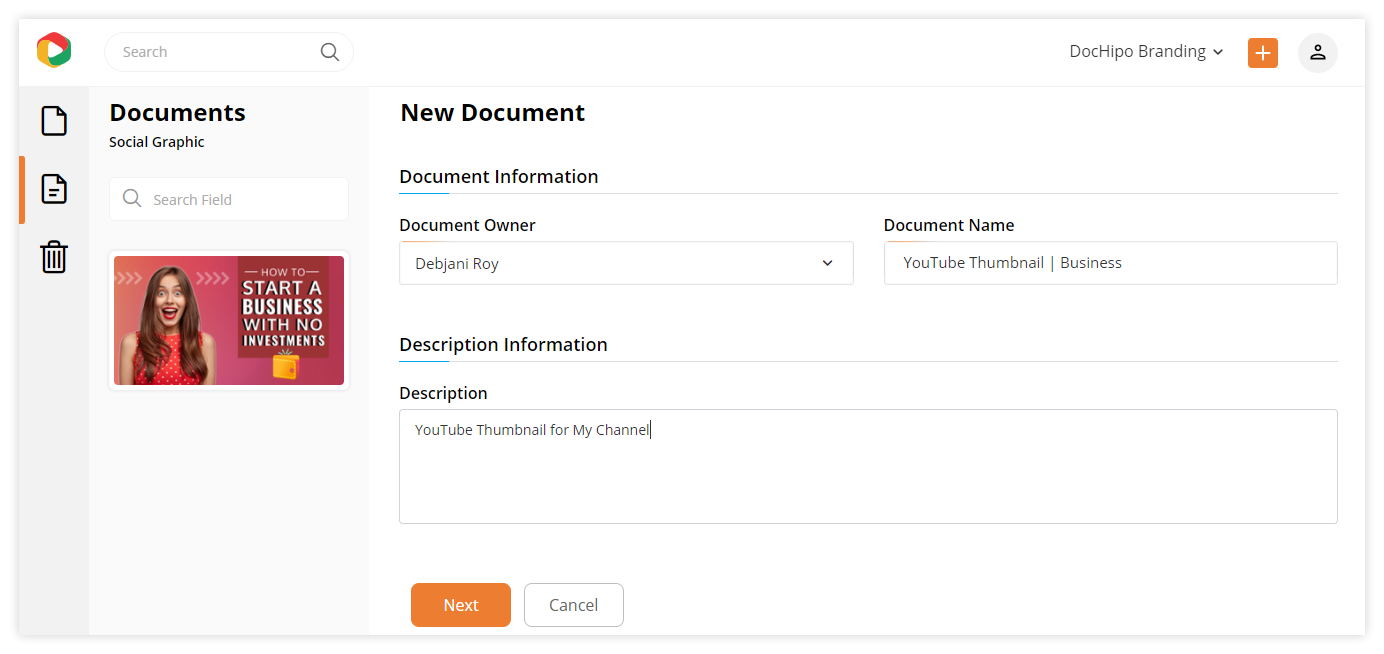 Step 4
Welcome to DocHipo's fascinating Editor.
Yes, that's where you will navigate after you hit the "Next" button.
DocHipo's editor is super user-friendly, having multiple features and tools. You can literally do anything and create a design that can excite your senses.
Like I am going to change the character on this thumbnail, into another character, just with the help of the Background Remover tool.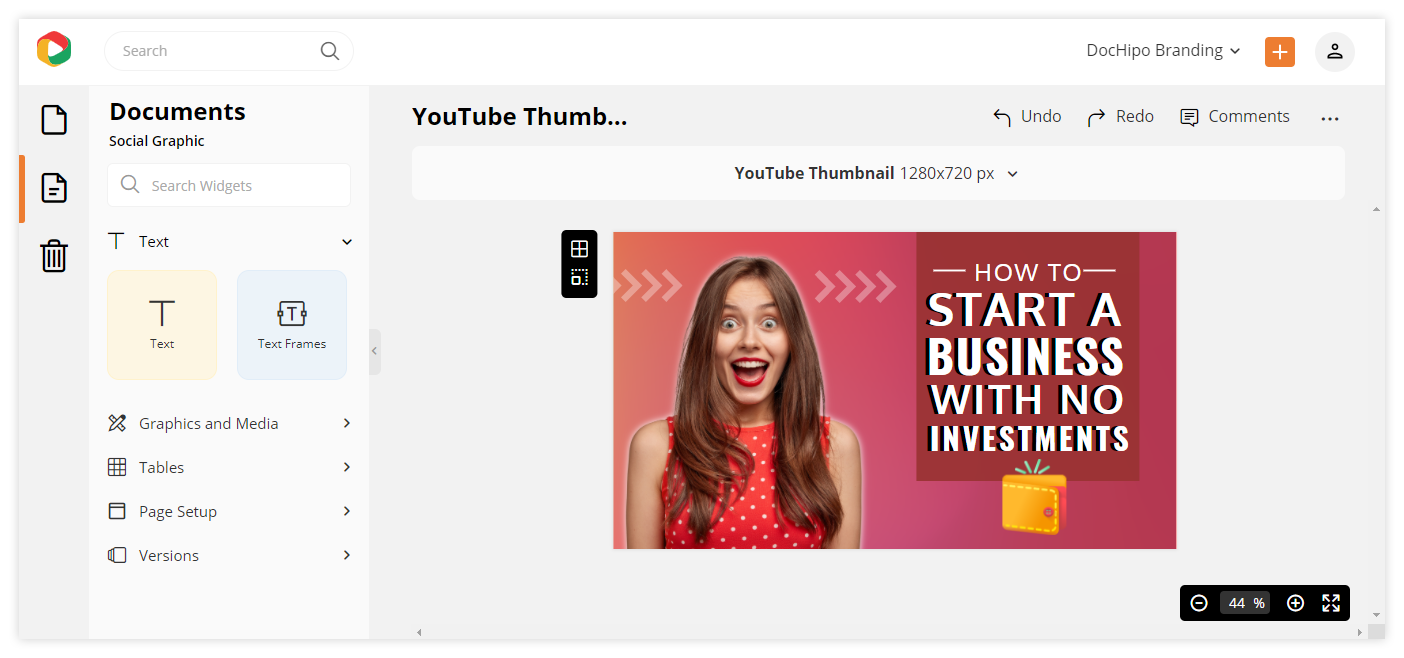 Then select the "Graphics and Media" option, which will expand and reveal more tools. From there select the "Upload" widget.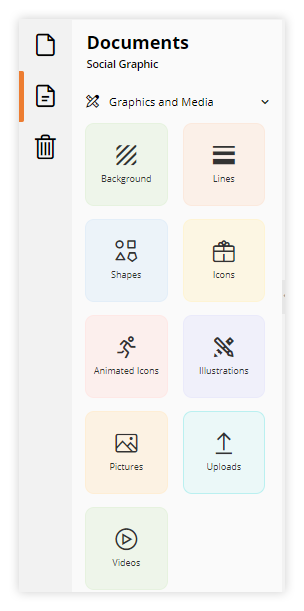 You can now upload the target picture that you wish to incorporate. After that, it is time to remove the background.
Drag the picture on the workspace, then select the Remove Background tool at the top panel.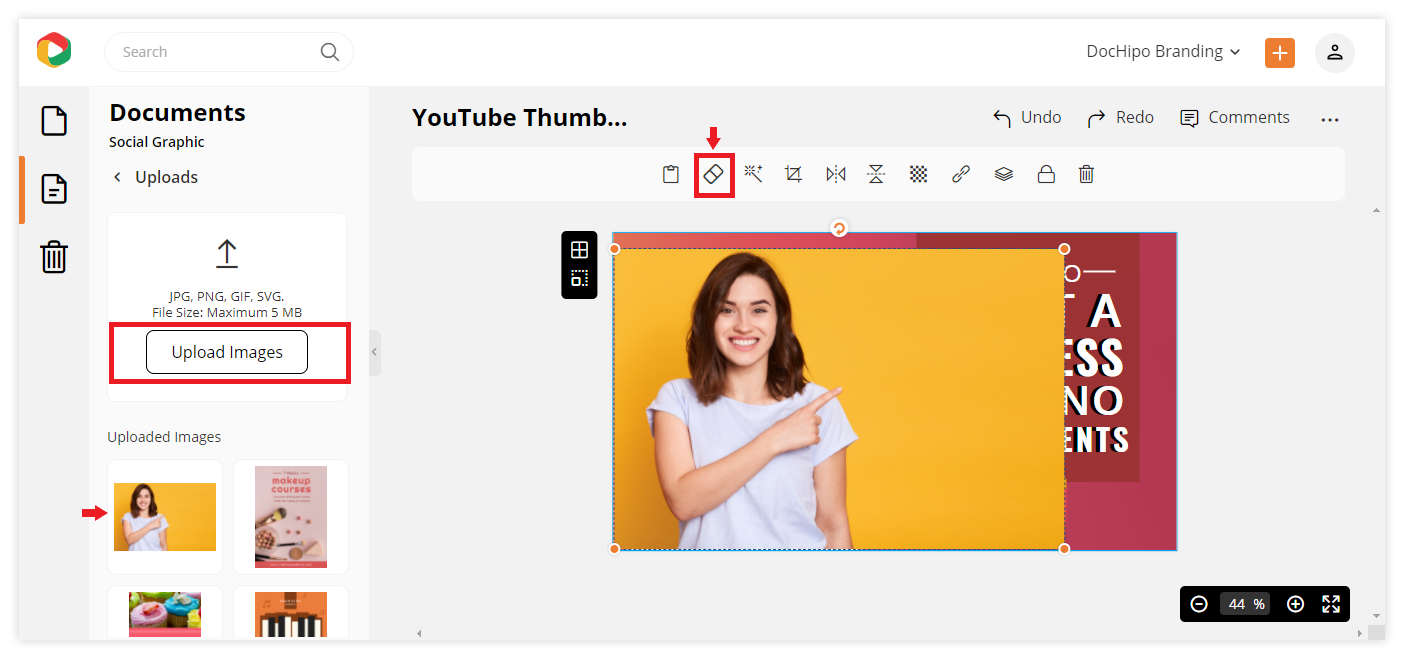 When you select the tool, a box will appear.
There you can select, "Remove" button and then…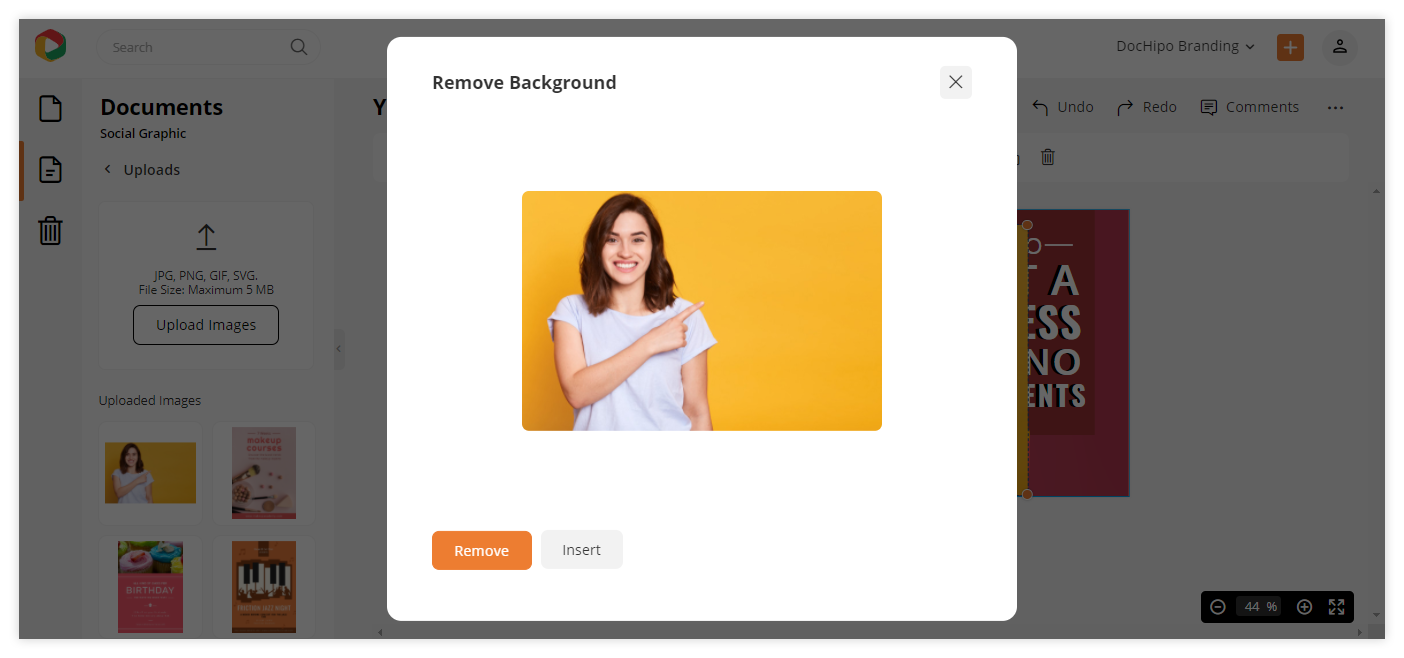 BAM!!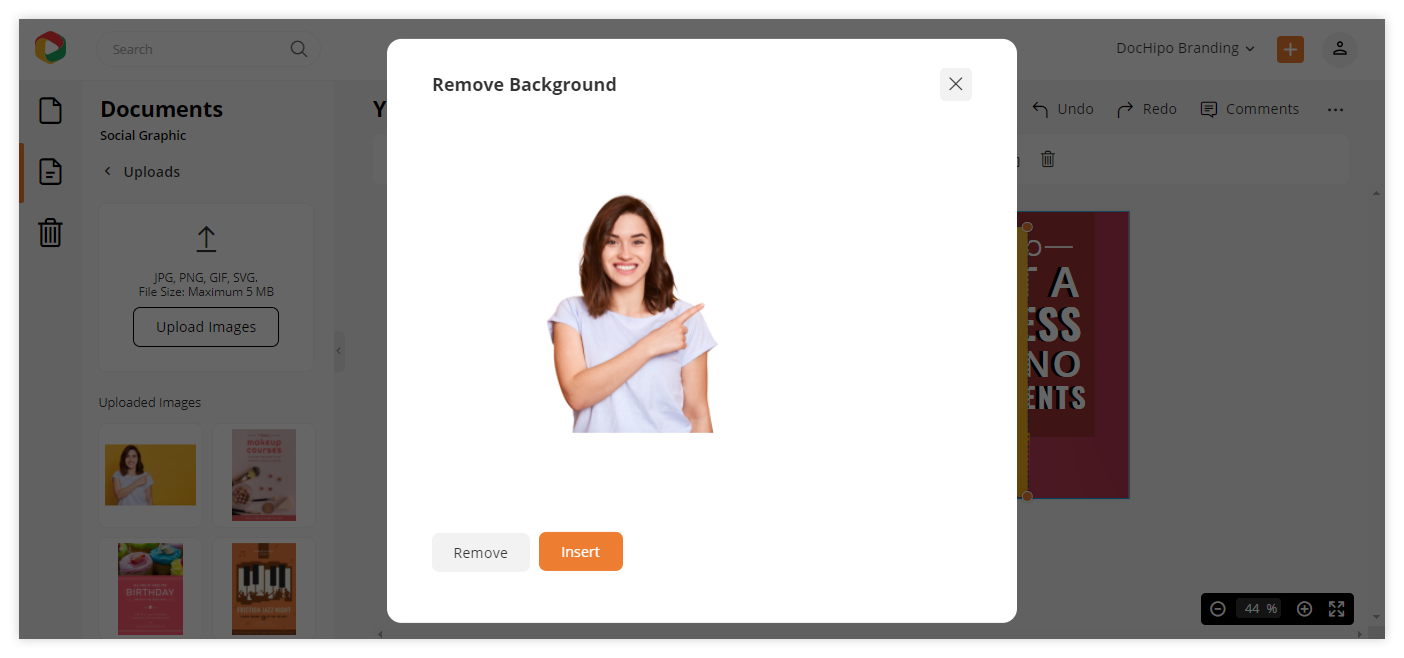 Yes, you get a transparent background on the selected picture.
A transparent background makes the foreground image flexible to be placed anywhere.
Just like now, I will place this picture with a transparent background on this thumbnail.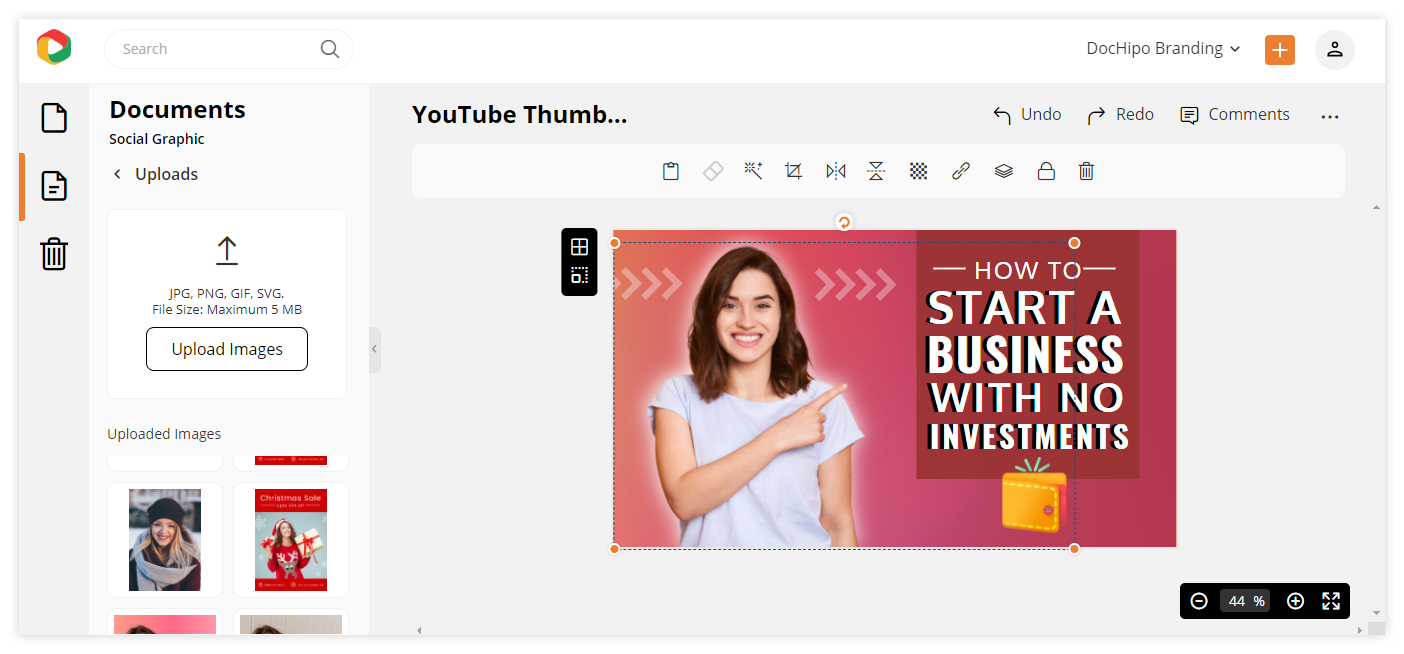 Make small adjustments here and there, and you are all set to create your very own personalized thumbnail.
Step 5
Now, you have to download it.
You can select the three-dotted button on the top-right corner of the page. This will slide down the list of options, from where you can select the "Download".
You have the option to download your document in a PNG or a PDF format. You can also select any quality type (Normal/Medium/High), which is compatible with where you will place the visual.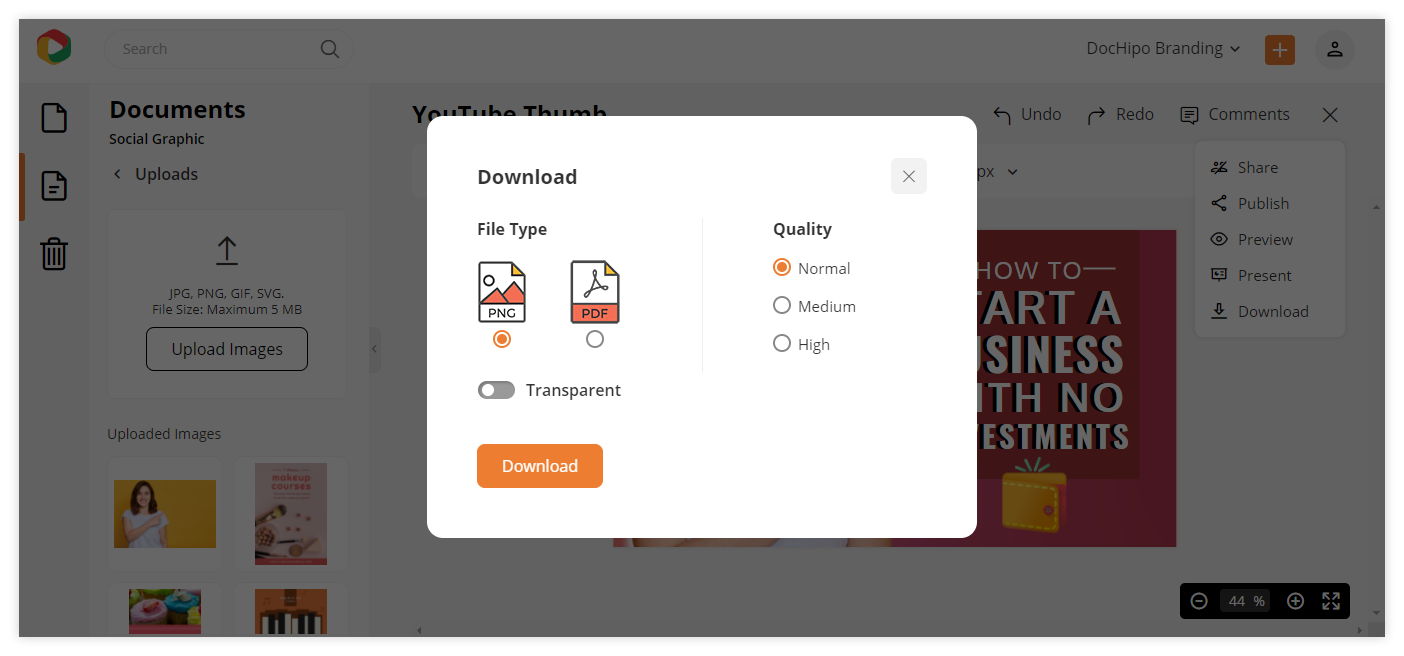 If you want to know more about how to remove background from a picture then check this video out:
Conclusion
Removing the background has never been so easy before!
With Dochipo, you can remove any background from an image, no matter how complicated and pattern-like it might be.
So whether you are an influencer and in need of a flamboyant selfie with a gorgeous background, or a visual marketer, this tool can change your life.
Hence, sign up to DocHipo now and start getting full access to this feature and more amazing features.
Also, to avail this fantastic feature you have to subscribe to the Pro Plan.
DocHipo is offering a 40% OFF launch discount for the first year on the Pro Plan! This offer is available for a limited time (Offer ends 11:59 pm UTC 31 Jan 2021), and I don't want you to miss this! To redeem this offer, use coupon code LAUNCH40 at checkout.
Time is ticking!