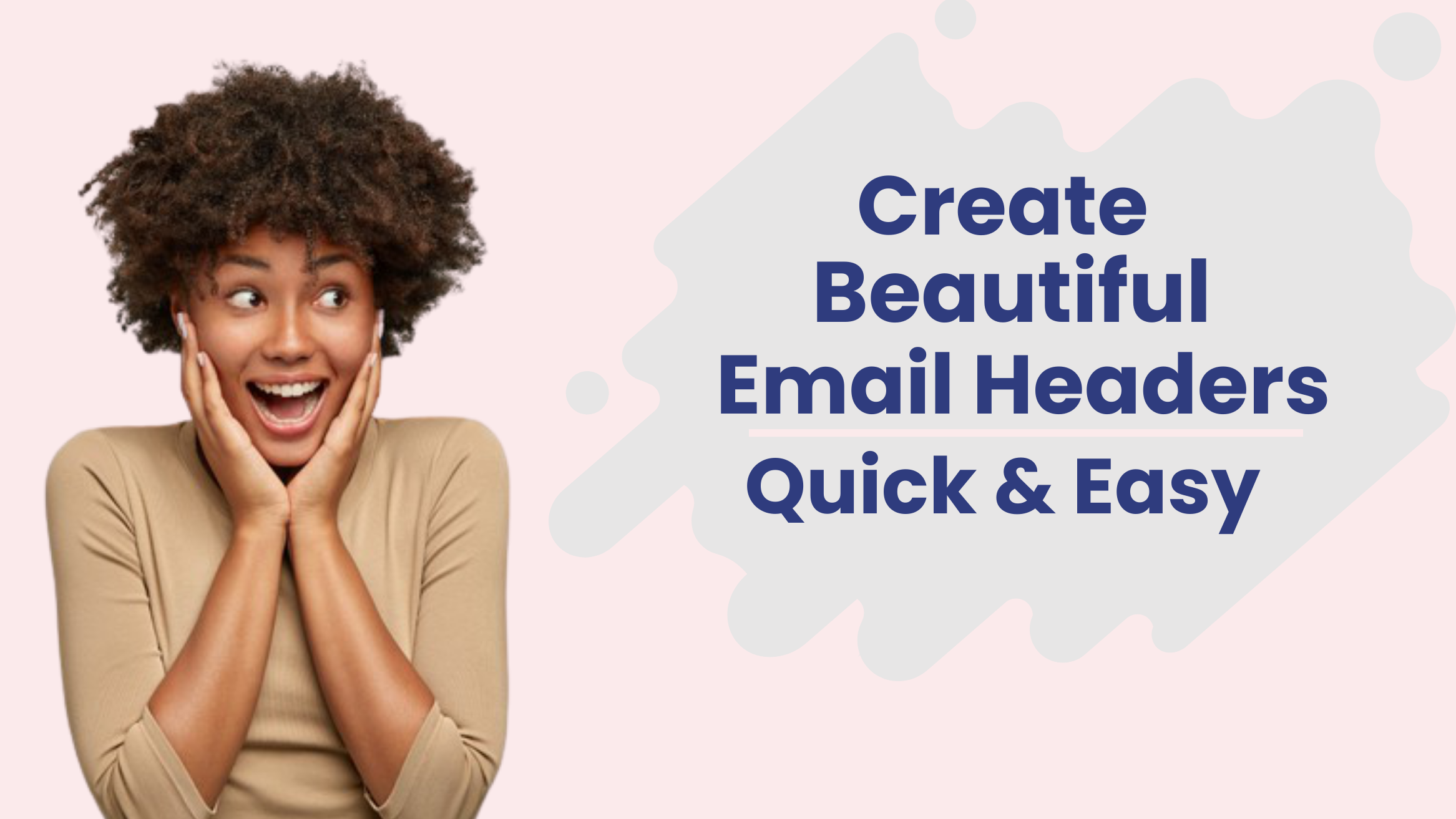 How to Create an Eye-catching Email Header Design

Last Updated Oct 21, 2022
The email header helps you announce yourself to the readers while creating a visual identity immediately. 55% of B2C content creators say that their main priority is to create visual content because it helps them drive 650% higher engagement than texts. Hence, if you don't think much about your email header design, this is the time to consider. Let's explore what exactly an email header design is and how to create one.
What Is An Email Header?
The email header is a graphic that can be added on top of the email body text. It helps the sender set a mood for the email so the intention of sending the email is clear immediately. Email headers are mostly used for marketing purposes. The email header design can include a brand name or logo, special offers or discounts, or maybe a product menu that links to the company's website. An email header can be a great tool for you to use in effective marketing strategies.
However, you can include an email header design to send emails for any purpose, such as birthday wishes, thank you letters, invitations, Christmas and new year wishes and more.
Here are some beautiful email header design template examples that we offer in the DocHipo app.

Get This Template and More

Get This Template and More

Get This Template and More
Email Header Design Do's and Don'ts
Before we discuss how to create an email header design, there are a few things that we would recommend you to consider. These things will help you create an email header design effectively.
Do's:
Make Sure The Header Carries Your Brand Identity: Since the email header design is the first thing that your recipients will see, you can use it to strengthen your brand identity. For example, you can use your brand logo or name in order to create better brand recall.
Make sure to create a balanced design: Your email header design should be well balanced that contains at least 40% images and 60% text.
Include Your Contact Information: The email header is the best place to include your contact information and other resources such as your image, value-added and social media links.
Don'ts:
Don't Create Complex Design: Don't make a complicated design, so the readers get confused. Instead, it would be best if you kept it simple so the readers can get the meat of your email.
Don't Include Excessive Amount Of Text: Again, we are talking about simplicity. Including too much text in your email header design will ruin the charm of your design.
Don't Make It Too Big: When it comes to email header design, size plays an important role. You must strive for your email headers to be 600x200px.
Email Header Design Ideas
Now, you have a clear idea of what to include in your email header design and what not to. So, let's have a look at some email header design ideas.
Use Your Logo
Using the brand logo in your email header is one of the best email header design ideas that many leading businesses are opting for. Your brand logo in the email header allows you to introduce your message while driving your readers' eyeballs to the heart of your email.
Choose Your Colors Appropriately
Use some of the best colour combinations that also fits your brand to create the email header. You don't need to make it fancy. Instead, you can use your brand colour and fonts to design the email header. Thus, your email header design will look aesthetically appealing but not overwhelming. Furthermore, the colours you choose should sit alongside the context of your message.
Drive Attention With Photography
Including relevant images at the beginning of your email is one of the greatest ideas to drive your recipients' attention. However, you must choose the photos appropriately. The photographs should work alongside the other contents you will send.
Use Social Media Icons
If you want to stand out from the crowd, you will have to make your design unique. You can do that by placing the links to your social media pages or accounts in the header. It might seem a little unusual. Moreover, if your primary goal is to drive traffic to your social media pages, adding social media icons will be a great idea.
Use Different Fonts and Backgrounds
Applying custom fonts is one of the best ideas to enrich your email header design. Just be a little creative and choose the fonts accordingly. Furthermore, you can apply different background colours to make it attractive and set the mood of your email.
How To Create Email Headers Using DocHipo
1. Choose A Template
Go to the homepage of DocHipo and sign-up for free using your email address. When you land inside the DocHipo application, type "Email Header" in the search bar and click on the search result.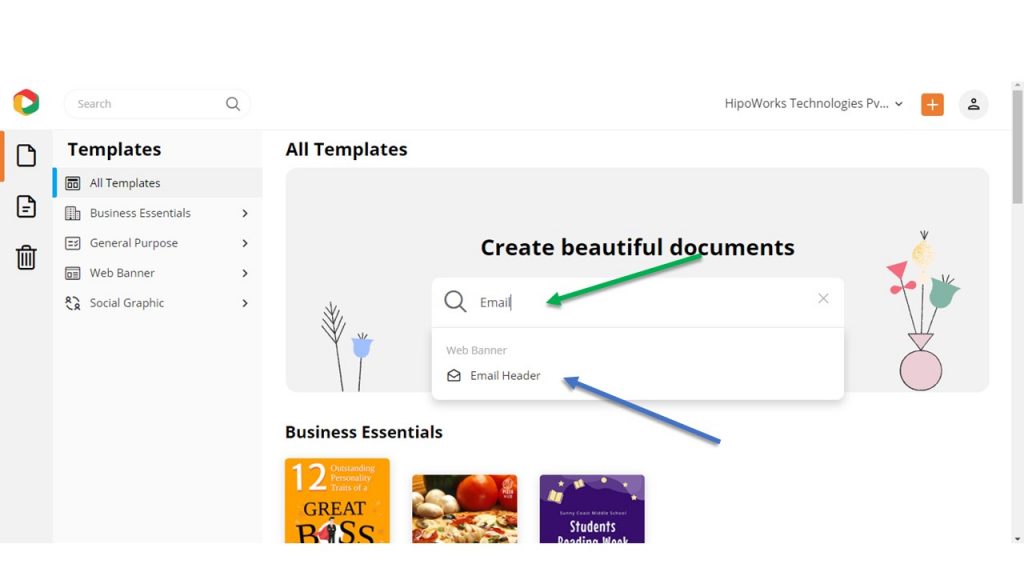 Find an email header template from the wide range of options available. The option to "Preview" or "Select" the template is a great feature. It enables you to preview the templates to avoid selecting the templates if you want to look at them. Hover your mouse over any template, and you will get two different options.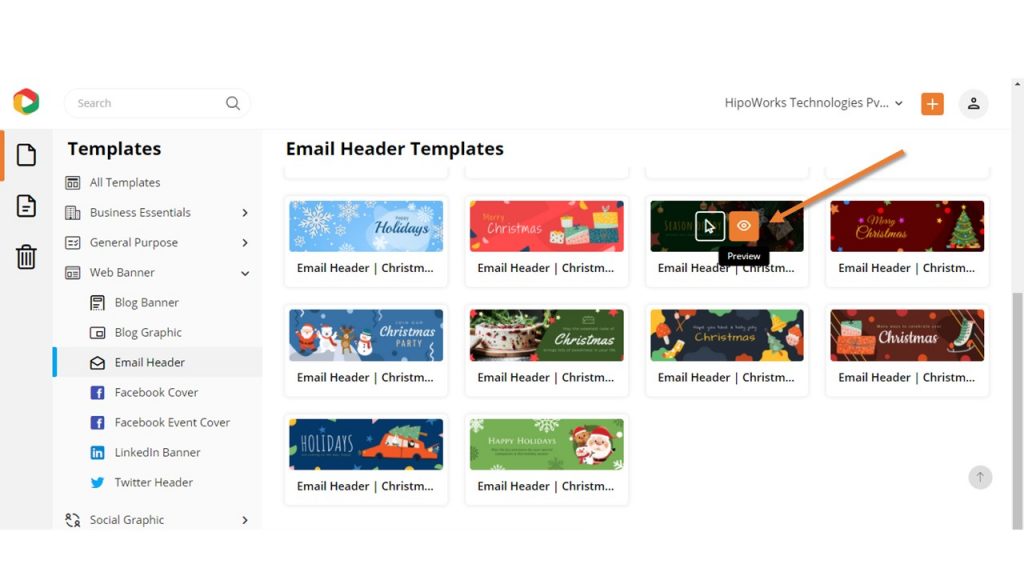 2. Customize the Template
Select the template of your choice to start customizing it. Once you click on the "Select" button, a page will appear where you can give a name to the document so it will be easier for you to find it later. Moreover, you can add a description for the design. Click "Next" to start customizing the template.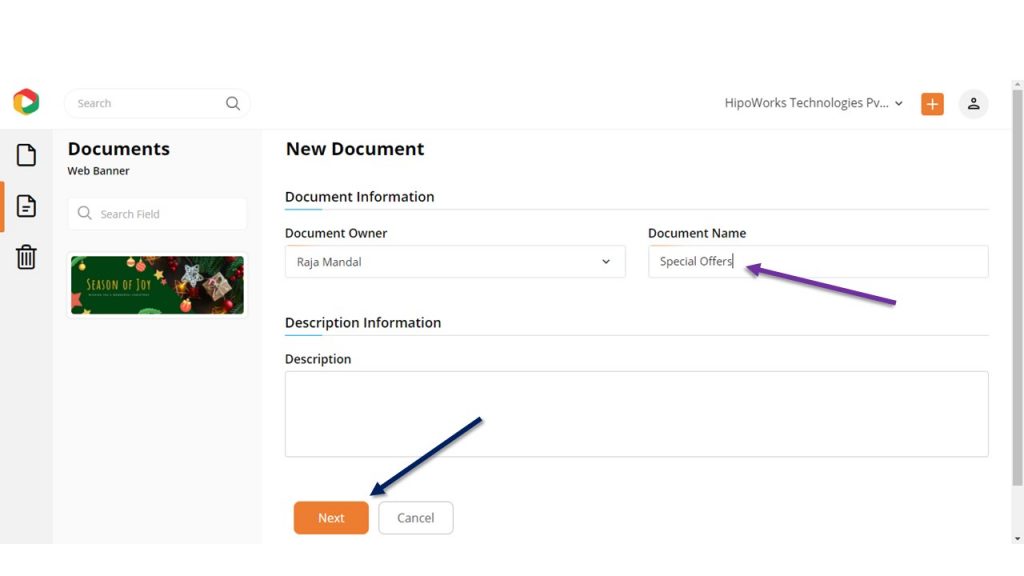 You can change the background colour, font style and size, add or replace the imagery and many more. Here is an example for you:
Before Editing:

After Editing:

Here is a video we have created to help you understand how you can Add, Edit or Delete text in DocHipo.
3. Download Your Design
As you can see that you can customize the template as you want, so keep customizing the template until you are satisfied with the email header design. Once you have finished customizing, you can download the template by clicking on the three dots from the upper right corner of your screen. Next, click "Download" from the drop-down menu.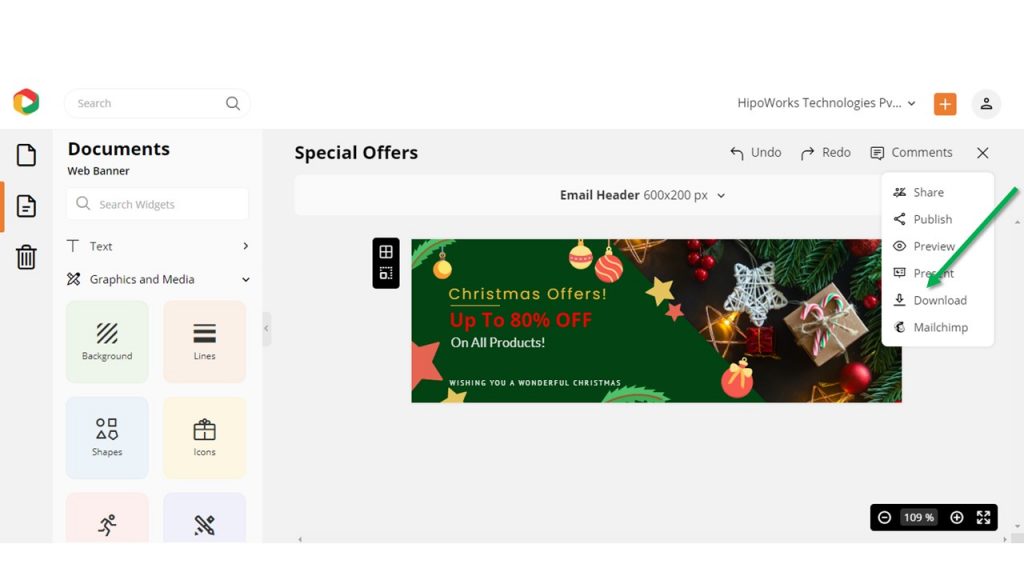 Another window will pop up from where you can select the file type and the download quality of your design. You can either get your design in pdf format or png format. Click "Next", and the email header design will automatically be downloaded to your computer.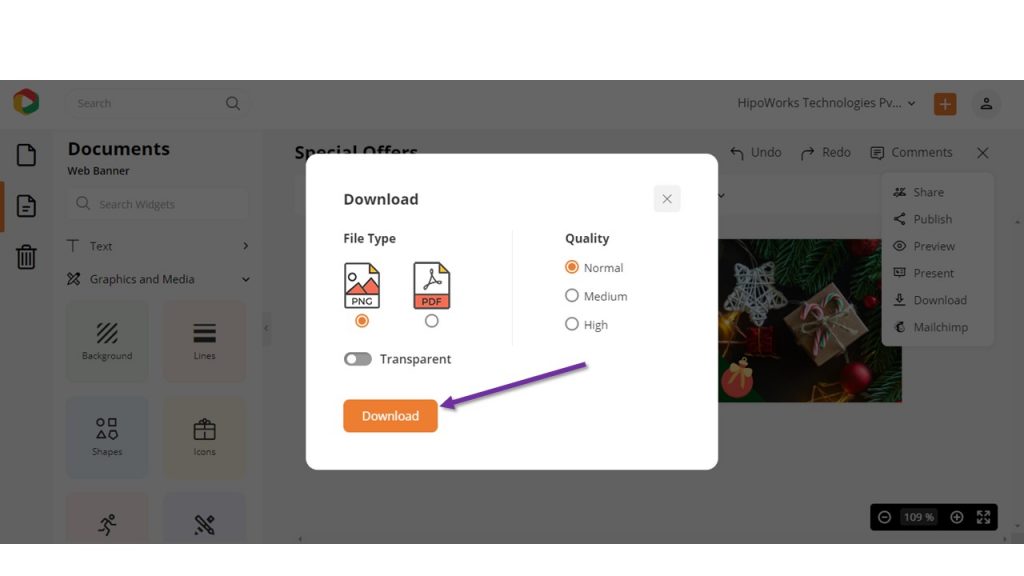 Additionally, DocHipo comes with Mailchimp integration which is a very useful marketing tool. You can save your design directly to Mailchimp from within the DocHipo application in just one click. Click Here to know more about it or watch this video. 👇
Further Reading
Final Words…
Now, you know that you can create some eye-catching email header design using DocHipo by following some simple steps. You can create the email header design for any purpose you want, especially for marketing purposes. Email marketing is still a powerful marketing strategy. So, put your ideas together and create some beautiful looking email header design using the DocHipo application.
So, what are you waiting for? Sign-up to DocHipo today for free and create your own email header design to stand out from the crowd.