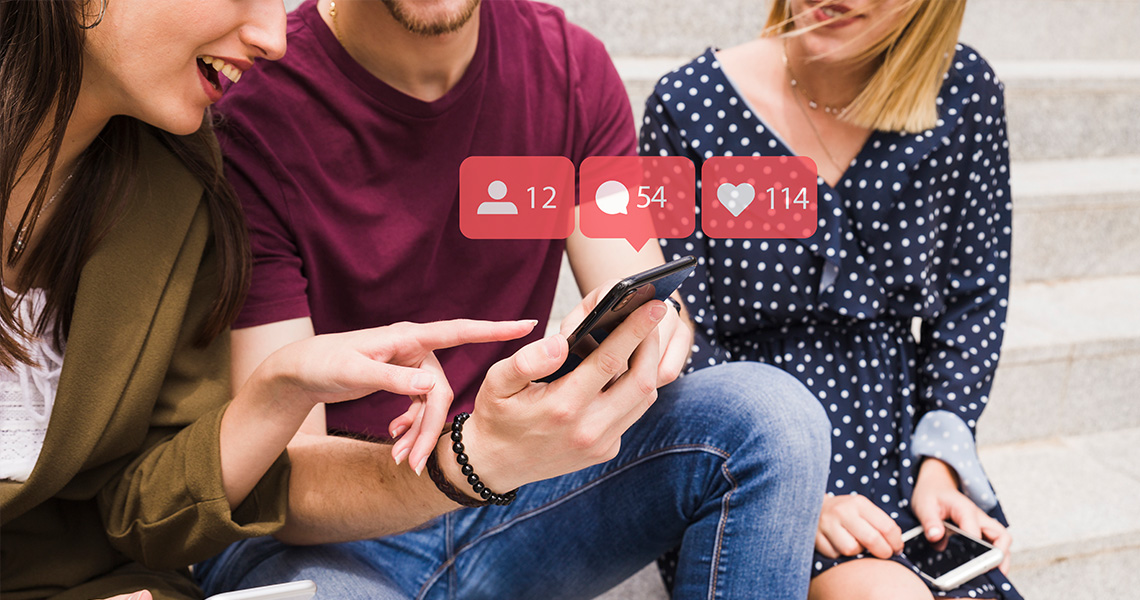 Step up Your Social Media Trending in 2022

Published on Apr 3, 2020 | Updated on Oct 22, 2022
Why are you supposed to mind social media trends? Among 5 billion mobile users worldwide, at least 3.5 billion are on different social networking sites. Most importantly, the number is growing by 100 million every day. Can you really ignore that data? Nopes…This is high time to tab all important social media trending.
Social media has changed our whole perspective towards communicating with the world. In fact, here is a completely new way in which we consume information, data, news or images. You can expect the same from your targets as well. So, this is the time to spruce up your social media marketing.
Moral of the story, you need a completely revamped strategy for social media marketing in 2022.
Private Groups are the Hot New Social Media Trend
If you haven't tried marketing in private groups, this is the right time to do that. This new decade is a new opportunity to have a fresh perspective at customer segmentation. You do not segment only on the basis of gender, location or age anymore. There is a new interest-based segmentation and trust me, that works far effectively than the old-school age-gender or location-based grouping.
For example, the existential crisis of Gen-Z and also people who are a bit older have united them for the conservation of earth. They often share their insight on climate change and how to arrest or reverse the process. So, there are numerous private groups where they exchange thoughts, opinions, and ideas. These are like-minded people, having similar interests and philosophy, with similar ideas and aspirations.
And this is not limited to environmental consciousness only. People are more aware of the kind of content they consume. And, this gave rise to this trend of private groups!
It is time to add this social media trending to your strategy!
You can create groups of your own and attract an audience that is especially interested in your messaging and causes. Or you can identify groups whose interest aligns with yours.
How do you market in private groups effectively? You can share motivational quotes, nice videos, beautiful posts (just for entertainment), etc. You can use templates of beautiful social media posts for marketing too. DocHipo has a large stock of such templates.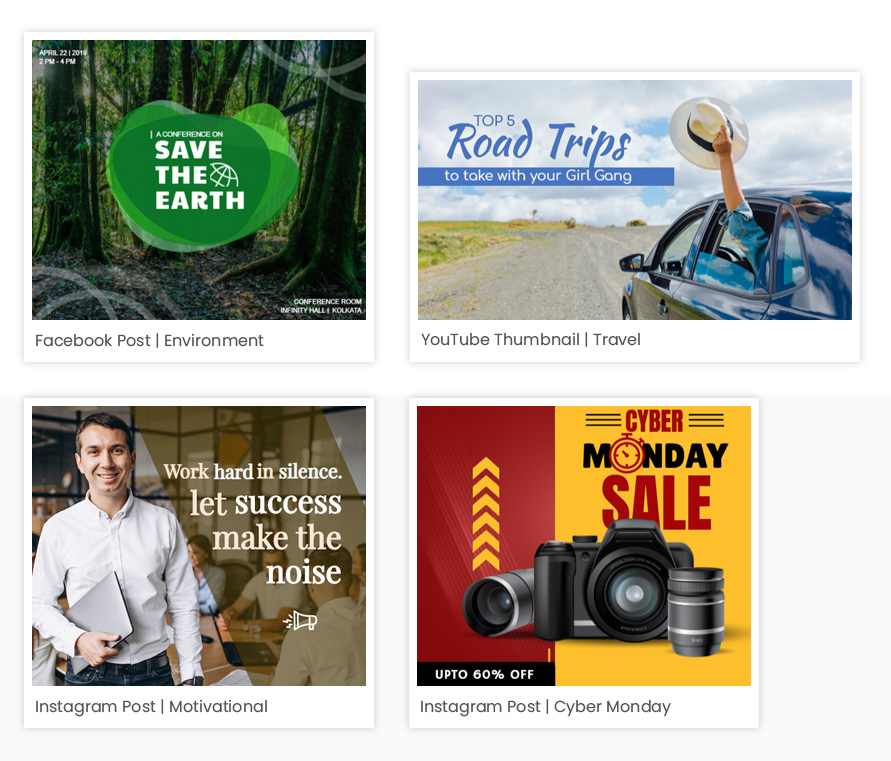 Imperfection, embrace the #NoFilter social media trending…
32% marketers have agreed to the fact that visual content has proved to be the most important element for their social media marketing. Here, visual content is used to tell stories. And, the more real the story is, the better!
We have already discussed that people spend their screen time only on something that adds value to their lives. There is no space for deception. So, your content must be authentic, unfiltered and direct-to-heart.
While stock images can create perfection, they don't do much in terms of showing the real you! Social media trending in 2022 is all about embracing the imperfections, celebrating the diversity and bringing your audience closer to your own self
There is a gamut of beautiful templates on DocHipo. You can use them and simply change them according to your need… of course with authentic images relevant to your business. What else, post them and see the magic happening.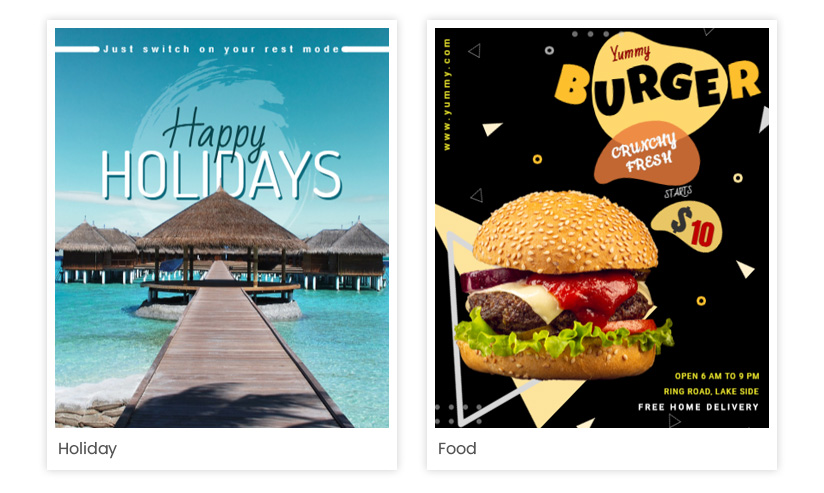 Ephemeral Content One social media trending that Stuck
You use Facebook or Instagram stories more often these days, right? These social media stories are built on the concept of ephemeral content. Again, that concept of reduced screen time works here. People are losing interest in keeping up with sequence, order of content. Stories are random, crisp and they engage with a snap.
The timelessness of these content entertains people fast. People check them out in a jiffy and just move on. Facebook has 500 million daily users, Instagram and Snapchat stories are close competition too. Take a look at the graphical representation of the viewership of all social network stories.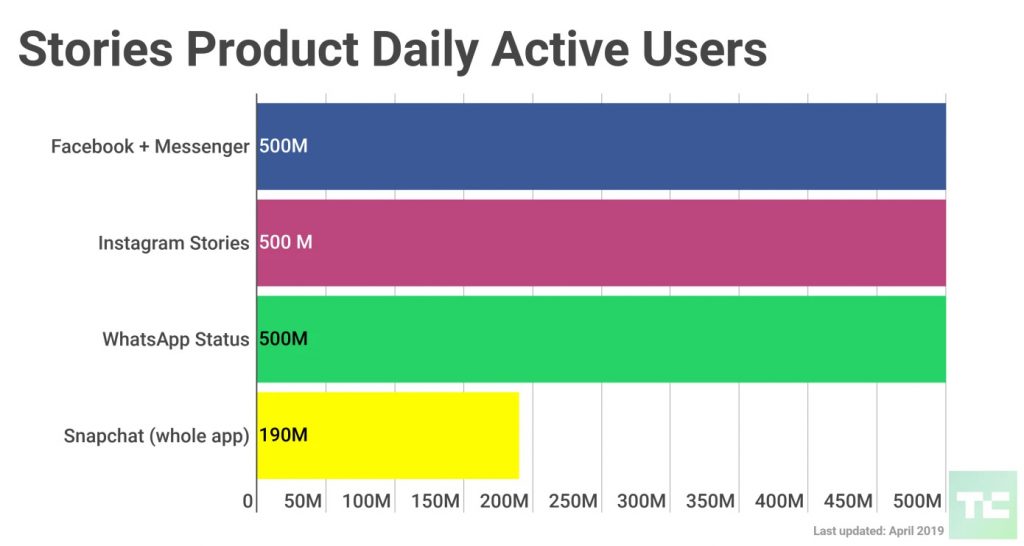 Image Source: Techcrunch.com
But you definitely have competition in the domain of ephemeral content too. So, your graphics in this department have to be super-catchy and attractive. So, you better work in that department. Because 2022 is going to be the year of social media stories for sure.
Influencer Marketing; Is It There in Your 2022 Social Media Plan?
People trust people more than brands. It is an eternal fact. Now, there are a good number of influencers who are going off-piste in their branding methods. Fortunately, or unfortunately, their marketing solely depends on this particular channel. It is yielding results too.
'Fortunately,' because their social media marketing is more targeted, devoid of distractions and result-bearing. In fact, that has proved to be effective as well. 'Unfortunately,' because they solely have social media for this type of niche marketing. If people trust these influencers, which they would definitely do, they will also trust them and buy from them as well. So, the role of influencers is only on the rise in 2022.
Live video: Social media trend that is here to stay…
Live videos started taking social media by storm in 2018 and the popularity is in steep rise ever since. Be it Facebook, Instagram, LinkedIn or TikTok, the popularity of Live Video shows no sign of diminishing. If you are not leveraging this yet, it is time to add this to your strategy.
Have you checked the right frequency of content posting?
If 'digital detox' is actually trending, we must mind what we post. Most of the online users would plug themselves into IRL for a considerable amount of time. Please restrict yourself to a logical number of posts every day. A Tsunami of them will only drown the important ones. As a result, users will lose interest in your feed. So, post infrequently, but post responsibly.
On Facebook, you shouldn't post more than once or twice daily, while 15 tweets a day is ideal. For Instagram, 1 to 2 posts a day are recommended while 1 post is enough for LinkedIn. In all these social media platforms, quality should be your priority and not quantity.
These days, more than ready engagement, marketers concentrate on adding value to the lives of their followers. You can lay your hands on a plethora of beautiful templates for social media posts. Just peep into DocHipo gallery of templates and select the ones that suit your needs. Make changes according to your requirement and you are good to go.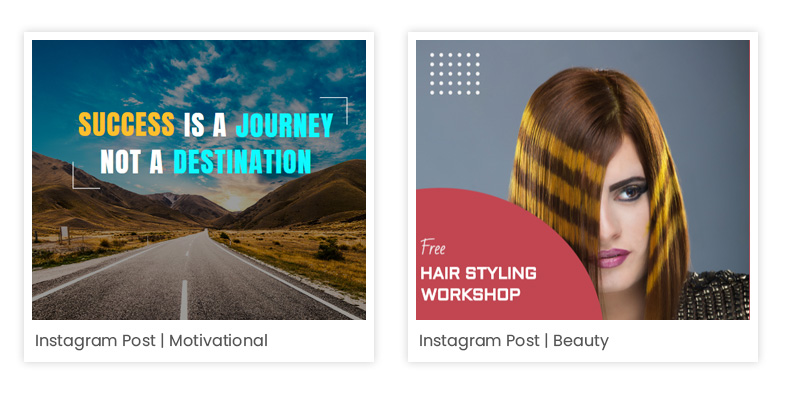 Social media trend of user-generated content for credibility…
Comments, reviews, testimonials are all okay. But nothing works wonder for credibility towards your brand as UGC (user-generated content) does. Videos are trending these days big time. But if your user simply clicks a selfie in the clothes, make-up elements, bags of your brand and posts it on Instagram that is going to work.
It is not only your customers that notice such UGC on your page. The users have their own followers and friends. They all can see such content shared by your patrons. As a result, the images manage to have a larger viewership.
These types of content enjoy better credibility as people trust people and people buy from people. According to data, consumers attach 2.4 times more credibility to UGC than content posted by the brand itself. Not necessarily all users have to be influencers. Human face works for that matter. Even the most next-door-boy looking guy can pump up the sale of your chinos.
After all, consumers cannot be fooled these days. They know that they cannot look in certain apparel as celebrities do. They will appear in them as any Tom, Dick, and Harry does. So, user-generated videos, images appear more realistic. They convince consumers readily into buying.
Are you loving this concept of UGC? It is the social media trending of 2022 indeed. Just organize some online contests. It can be done with the images, videos consisting of your customers using your products. It can be the images of a look contest, cookery or photography contest and what not. You can take help from DocHipo to get certain templates of such posts.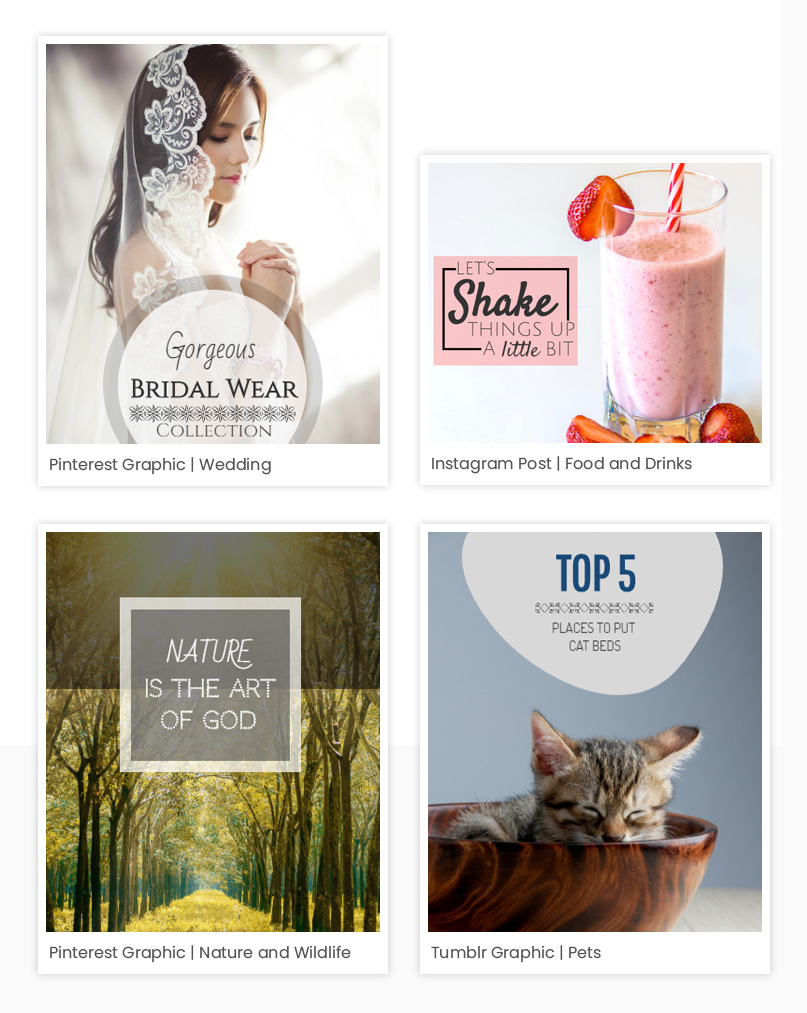 Get your own list of social media trends that work for your business…
The handholding was up to here. Now it is your turn to start afresh. Maybe you have some additional ideas for blasting social media marketing for your kind of business. Give it a serious thought. Social media marketing can higher your profit by a few notches.
Sign up to DocHipo for all the beautiful templates of different types of graphics for social sharing. And your social networking efforts are sorted for 2022. Good luck and happy networking.