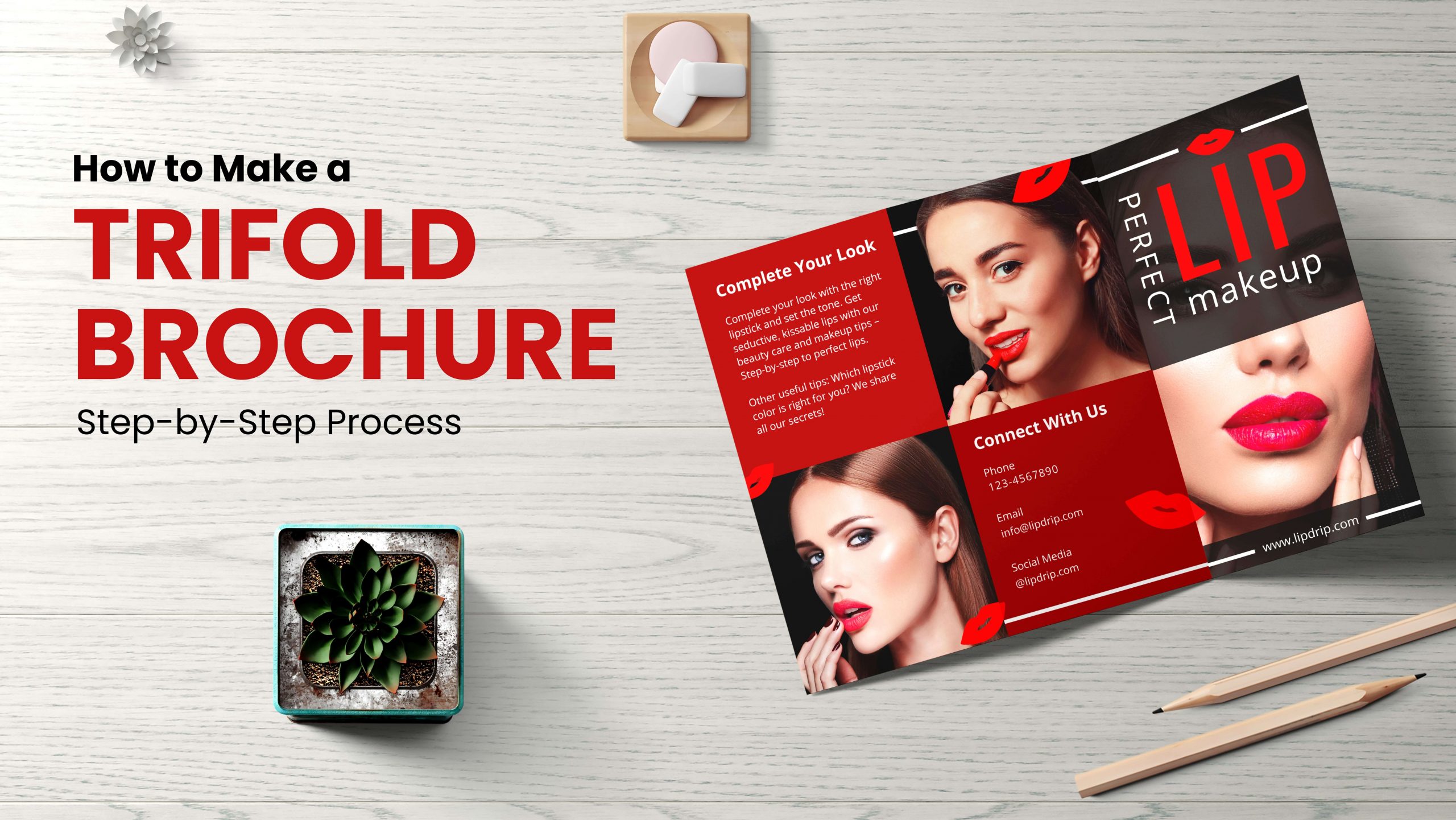 How to Make a Trifold Brochure: Step-by-Step Process

Last Updated Jul 16, 2023
A brochure is one of the most impactful offline marketing collaterals to reach a broad audience and get your message across. A trifold brochure provides plenty of space to introduce your company to your target audience and showcase your products or services. Whether you're a fashion brand, travel agency, real estate company, or fast food restaurant, you can make these assets work for you.
Like any other marketing material, designing a trifold brochure is also tricky, as it takes a lot of planning. But with the right tools, it can be easy. To share any message, build brand awareness, establish credibility, and convert more prospects, you need to start by learning how to design a trifold brochure. In this blog post, we'll dive deep into the different design aspects and walk you through a three-step process of creating a convincing trifold brochure. You'd also love to see many free trifold brochure templates as examples.
What is a Tri-fold Brochure
Tri-fold brochures are the most commonly used because of their simplicity and convenient design. You can fold it twice over its middle section, providing six equal-sized panels for your content – three panels on the front and back sides. First, you fold the right panel over the middle and then the left panel over the right one, and it folds into a compact, pocket-friendly size.
Before You Start Designing Your Trifold Brochure
To create an impactful trifold brochure for your business, consider the following before getting started with your design process:
Have a Clarity About Your Brand
Since your brochure is a means to promote your brand's image, you must have clarity about your brand. Having clarity will help you reflect your brand's mission and values in your brochure design. Think of your branding elements, such as the logo, tagline or catchphrase, color scheme, typography, nature of the graphics, etc., as your signature. Your overall design will undoubtedly vary depending on the context. But using your unique brand elements across all your marketing materials will maintain brand consistency across all platforms. Hence, you must ensure all your marketing and promotional materials follow your brand guidelines.
Know Your Purpose for Designing a Trifold Brochure
What do you want to achieve with your brochure?
The ultimate goal of using a brochure is to provide your potential customers with appropriate information and advertise your products or services. But you can be more specific about what you wish to accomplish with your brochure, as this clarity will give you a design direction. Your purpose could be making your target customers visit your website, bringing them to your store, inviting them to an event, driving attention to a specific cause, etc. No matter your purpose with a brochure, it should help you increase your brand awareness, build trust and generate more revenue for your business.
Consider Your Target Audience
Understand your target audience's needs and wants. Knowing your target audience well will help you craft the appropriate message and incorporate visual elements they can relate to. You can reflect your understanding of your target audience in your message and the colors, typography, images, etc., you use in your brochure design.
For example, designing a brochure for a school will be completely different from that of a real estate business because of two different target audiences.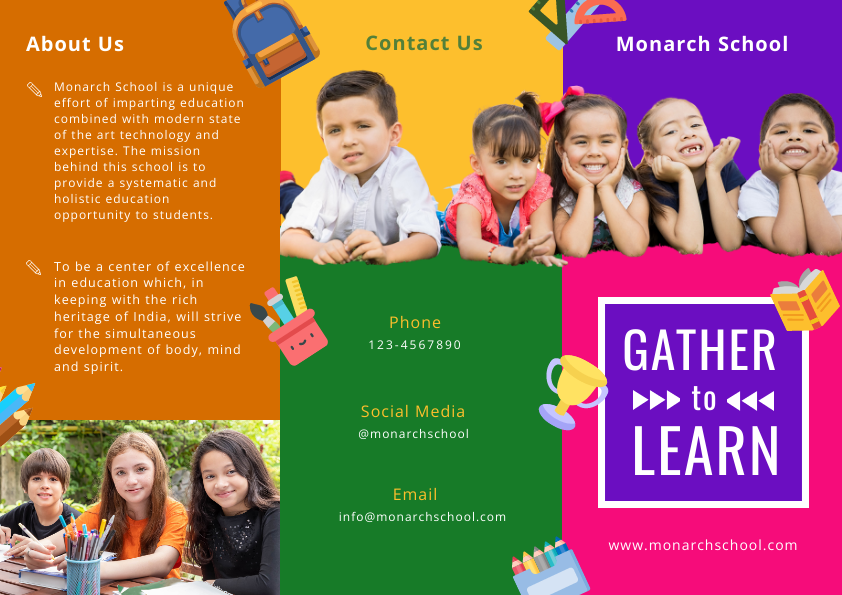 Get This Template and More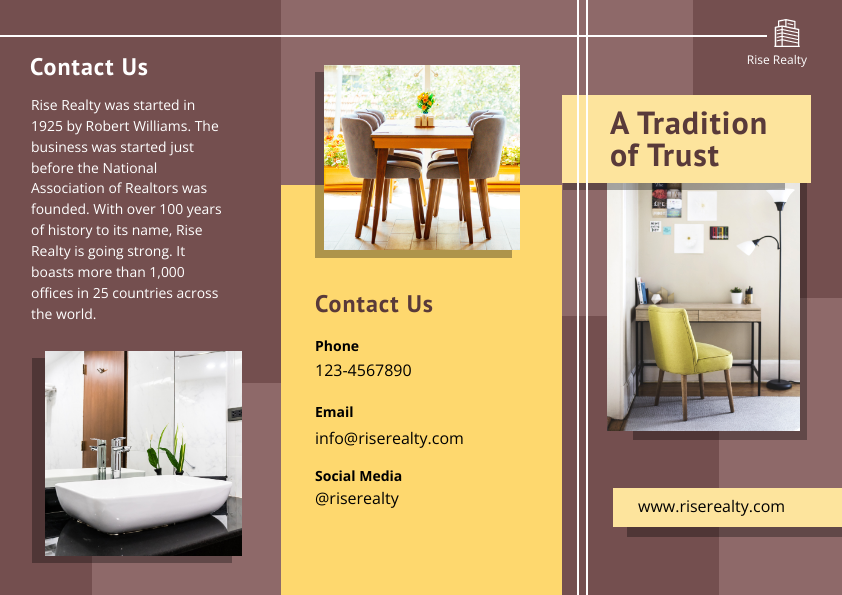 Get This Template and More
The school brochure template uses bright, lively colors that appeal to children and students. On the other hand, the real estate brochure template gives a sleek and professional look with a different color scheme appropriate for such a business.
What to Include in a Tri-Fold Brochure
While designing your trifold brochure, you should know where to place each piece of information. Your brochure content may vary depending on your business and the context, but below are some must-include elements:
Logo
Use your highest resolution version – logo in the brochure, so it delivers well in print. If you're in the initial phase of your business, create a logo if you haven't made one.
A catchy headline
The headline is among the first elements a person will see when they receive a brochure. Craft the headline to be quick to read and so catchy that it piques their curiosity to read the brochure thoroughly. Choose catchy fonts that complement your brand image. If you don't work on your brochure headline, they won't bother to read it.
For example, observe the welcoming headlines in the following real estate brochure templates.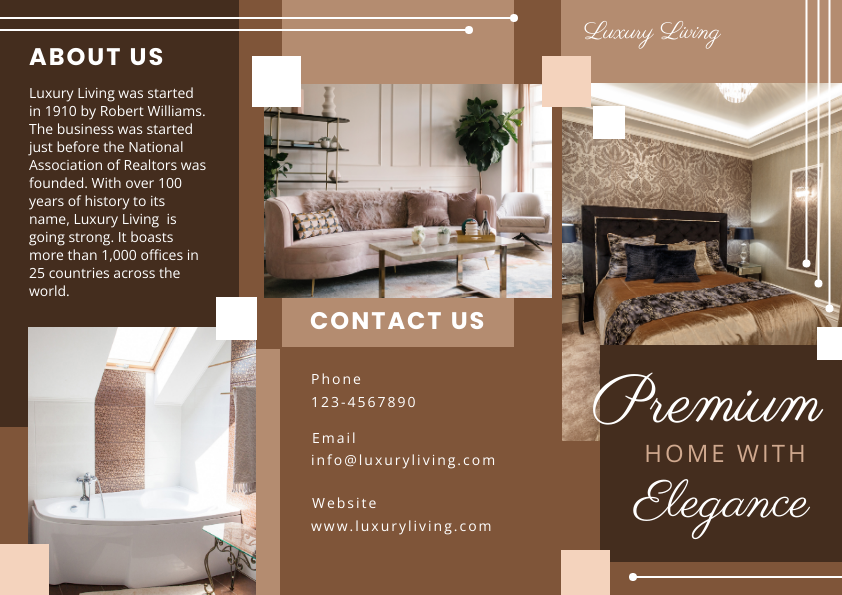 Get This Template and More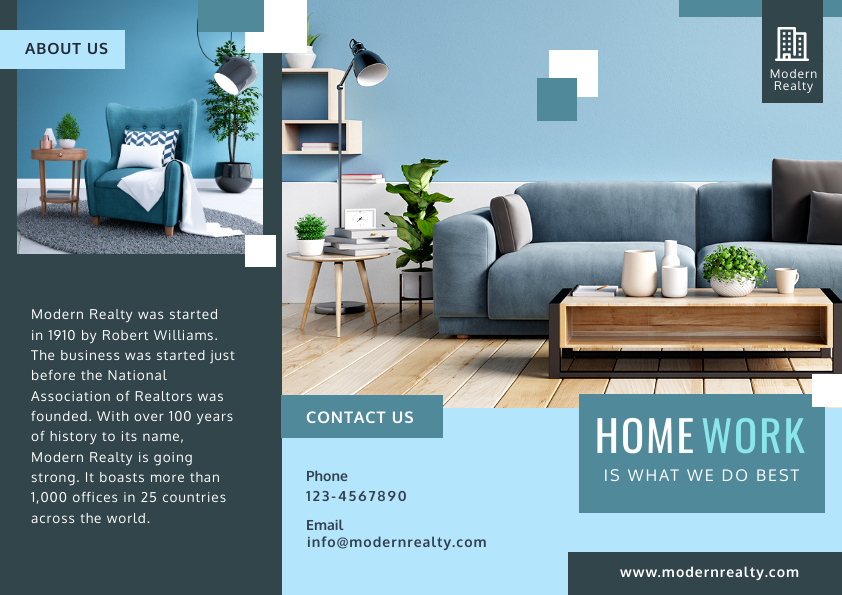 Get This Template and More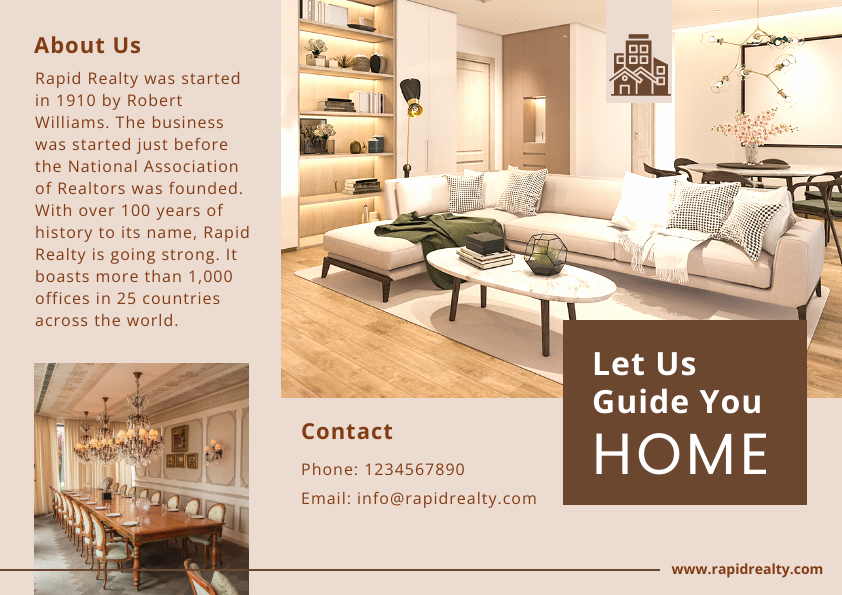 Get This Template and More
You can check out more Real Estate Brochure Examples and Templates.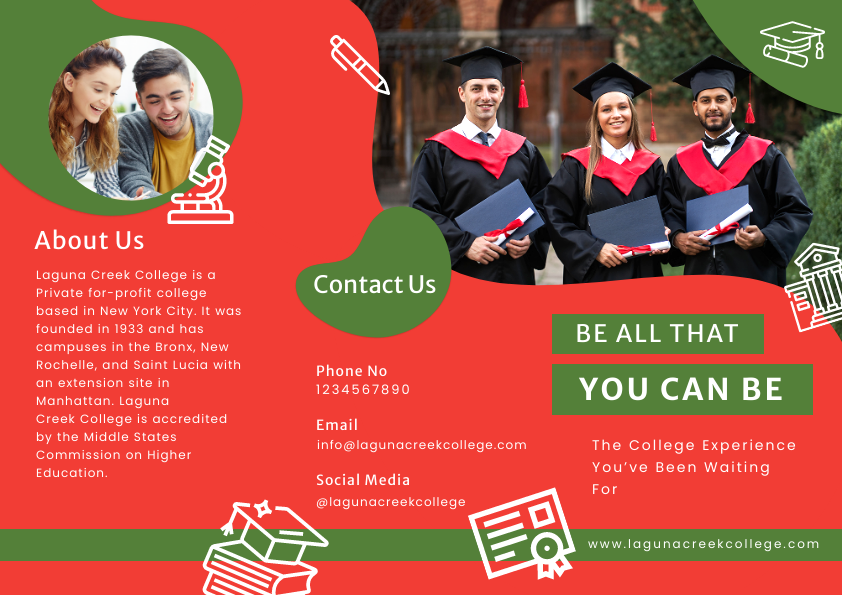 Get This Template and More
Add High-Quality, Purposeful Visuals
Images are one of the most crucial elements of a brochure or any other marketing material design. The visuals you use must support your message. Depending on your purpose, you can use your image or that of your teams', images showing your products or communicating the service you offer, etc. Always include relevant, high-quality images that people can't ignore. Neat and professional pictures and other graphics contribute to your brochure's readability and overall look.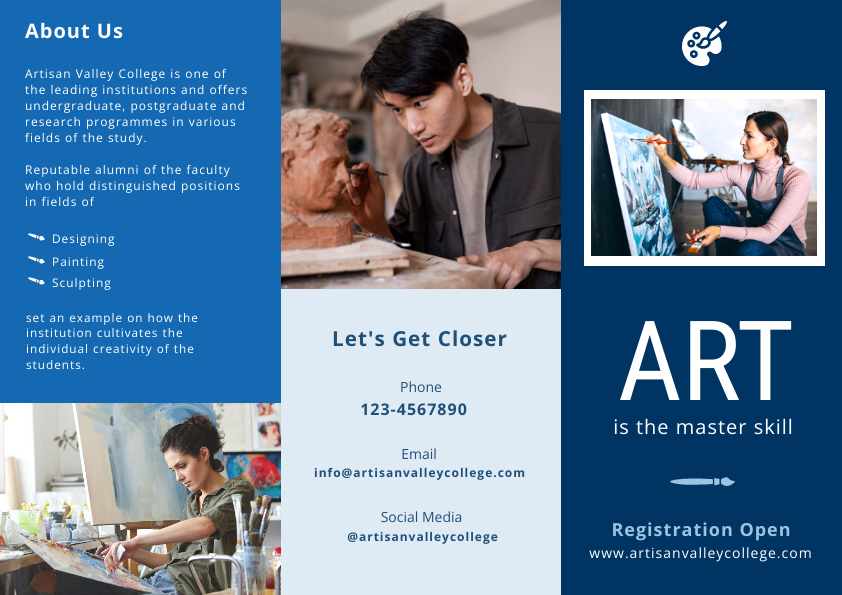 Get This Template and More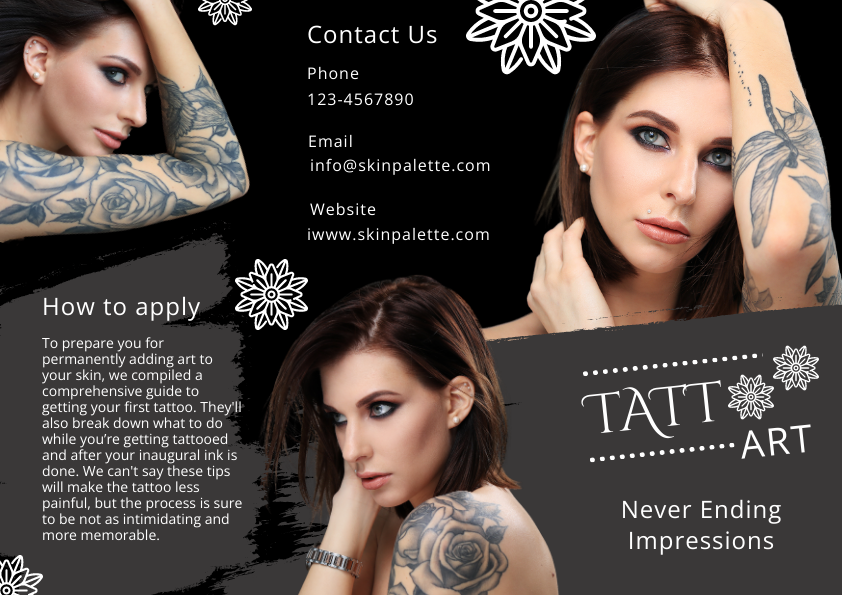 Get This Template and More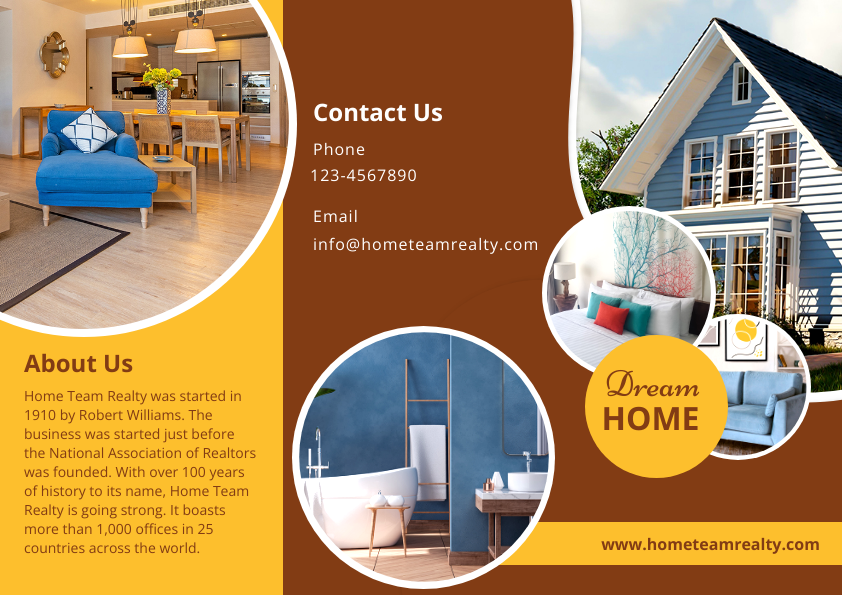 Get This Template and More
Clear and Concise Copy (text)
Take some time and note what message you want to convey through your trifold brochure. Your copy should be crisp and must include the following:
About Your Business:
A company brochure is a great medium to communicate who you are as a brand, its foundations, and what you stand for, be it your signature quality products, customer service, the reliability factor, etc. Try to boil it down to one or two key messages, conveying what makes your service unique and special to intrigue them to take action.
Product or Service Information:
Provide detailed information about the category of products or services your business offers. Highlight them in an easy-to-find section of your trifold brochure. That way, it's easier to grasp.
Contact Details:
It's a no-brainer to include your business name, address, contact number, social media handles, etc. Make it as convenient and easy as possible for potential customers to contact you after reviewing the brochure.
Apart from that, depending on the context, you can add event details like time, date, location, discount coupon, etc. Now that you know what to include in your brochure copy, craft one in an easy-to-understand language.
Call to Action
Another essential and powerful element of a brochure is the call to action that intrigues and encourages your target customers to take your desired action. So, choose the right words depending on your brand and the message.
Below is an example of a trifold brochure with the call to action "Register Now."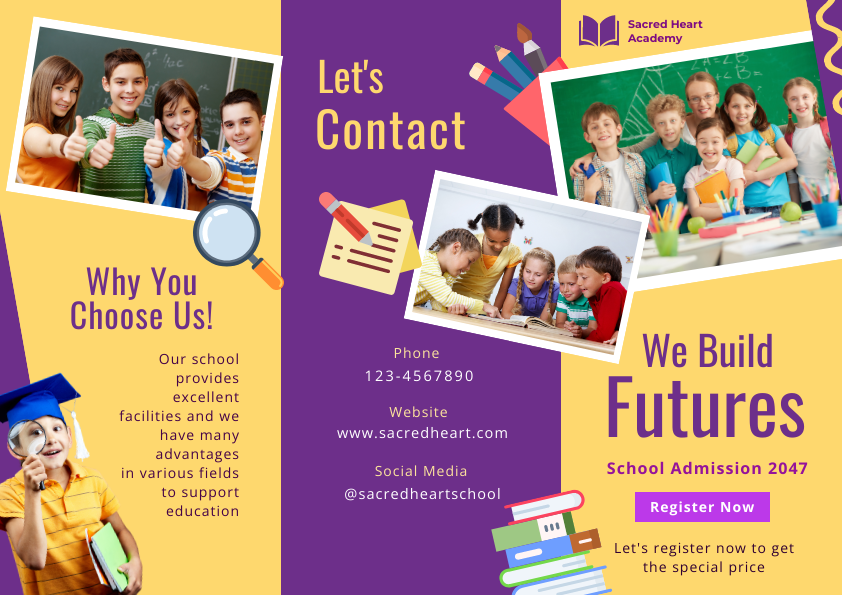 Get This Template and More
How to Design a Trifold Brochure in 3 Easy Steps
Once you're ready with everything discussed above, let's proceed to the trifold brochure design process.
STEP 1: Choose a Trifold Brochure Template
DocHipo's Online Trifold Brochure Maker will make the design process smooth and easy. If you're a new explorer of DocHipo, you need to sign up with your email address and password. Now, you'll be on the 'All Templates' page. You can either type 'brochure' in the provided search bar and click on the result or select it from under the 'Business Essentials' category on the left sidebar.
If you haven't designed a trifold brochure earlier, it might feel intimidating as you must get all the design aspects right. To make it super-easy, you can make a smart move by leveraging our professionally designed and fully customizable Brochure Templates.
You needn't worry about striking the perfect chemistry between the text and other visual elements. Explore all the templates, select the one that aligns with your needs, and tweak it with our drag-and-drop editor.
Add a document name and brief description.
STEP 2: Customize Your Chosen Brochure Template
Once you select a tri-fold brochure template from the DocHipo library, follow the graphic design best practices to customize the template.
Change Content
Double-click on any default content to replace it with the brochure copy you crafted. To add more text, select the text widget on the left sidebar.
After adding your message to the brochure design, edit them with the options in the above panel.
Watch our video below to learn about adding, editing, or deleting text in DocHipo.
Customize the Visuals
High-Quality Images
To showcase your products, upload them from your device. You'll get the 'Uploads' widget under the 'Graphics and Media' tab on the left sidebar.
Upload images in JPG, PNG, GIF, and SVG files; the maximum file size should be 5 MB. Simply drag your uploaded picture and drop it on the existing one in the editor, and it'll get adjusted automatically.
If you still need it, you can adjust the size and position of the replaced images using the drag-and-drop tool.
Watch our quick tutorial on how to upload pictures in DocHipo.
Alternatively, you can use stock images in your design from DocHipo's library. Explore our Online Photo Editor and apply gorgeous filters to your trifold brochure design if needed. Read through 10+ Simple Ways To Enhance Images with the same.
You can also watch our related video guide.
Use Icons and Illustrations where Applicable
Check out how the icons add to the beauty and functionality of the following Education Brochure Templates.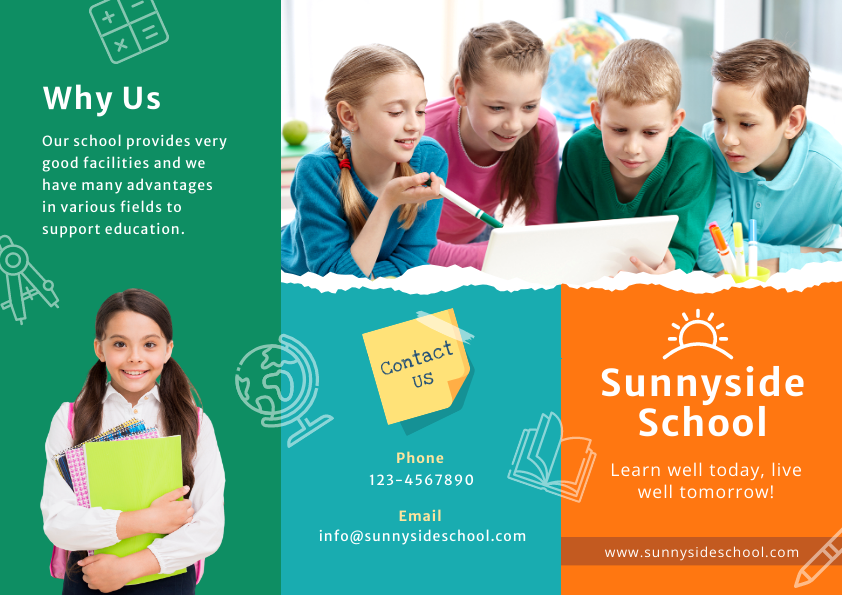 Get This Template and More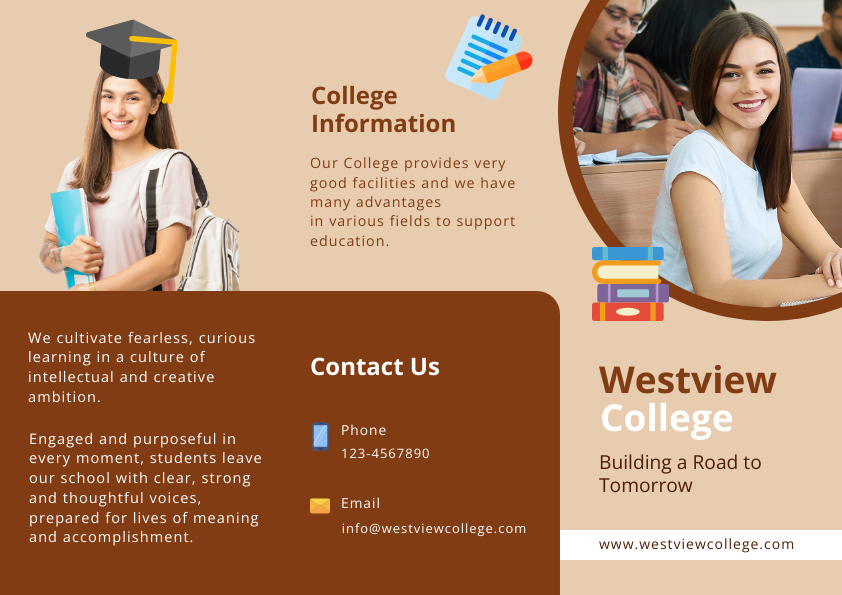 Get This Template and More
Watch our video on using icons in DocHipo.
Choose Appropriate Colors
Colors are critical in design, branding, and marketing. According to a study, colors alone can influence up to 90% of an initial impression and increases brand awareness by 80%. Don't choose a color palette just because they look good together. You can experiment with monochromatic, analogous, complementary, and various other color schemes and stick to the one that best fits your trifold brochure context.
For example, check out our stunning Beauty Brochure Templates.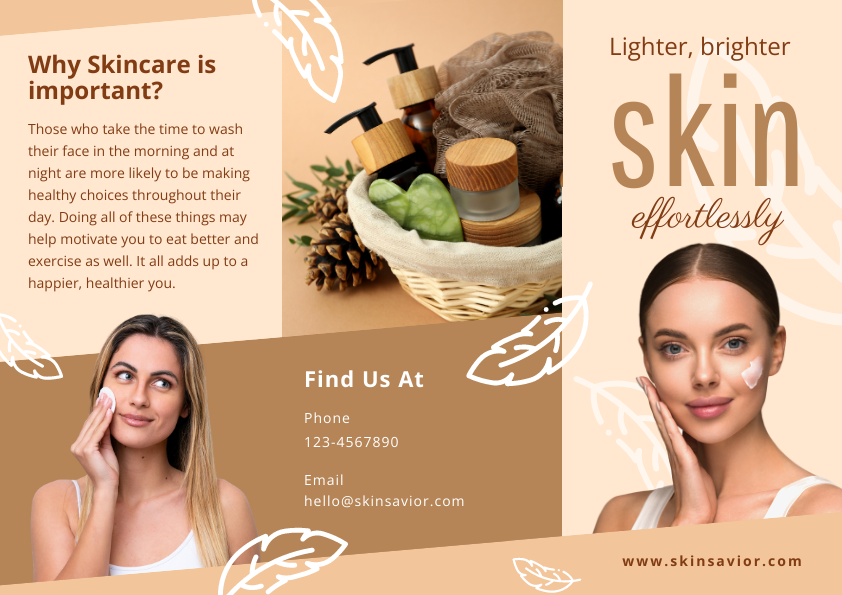 Get This Template and More
The Beauty Brochure Template below is rocking the monochromatic color scheme.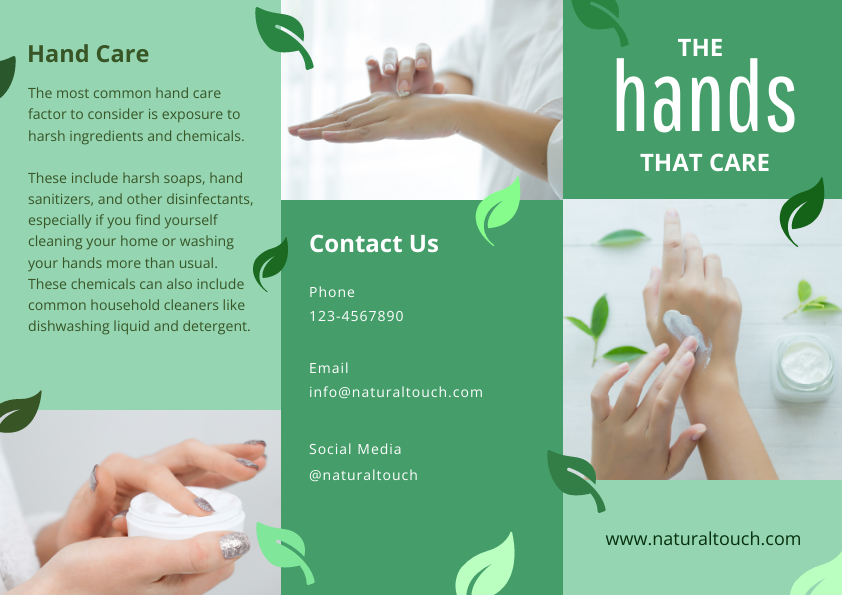 Get This Template and More
The analogous color scheme looks perfect for the below trifold brochure template.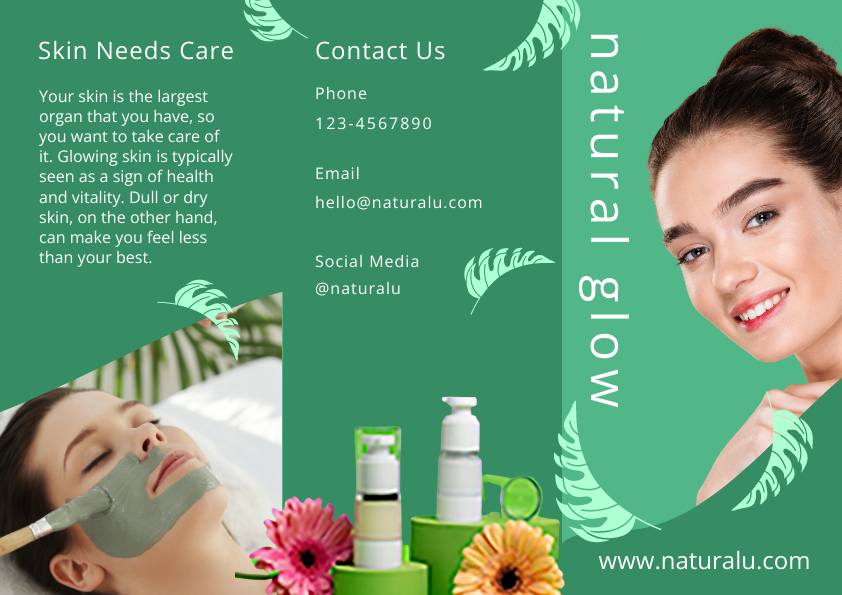 Get This Template and More
I love the complementary yellow and purple color scheme that makes the Real Estate Brochure Template so bright and charming.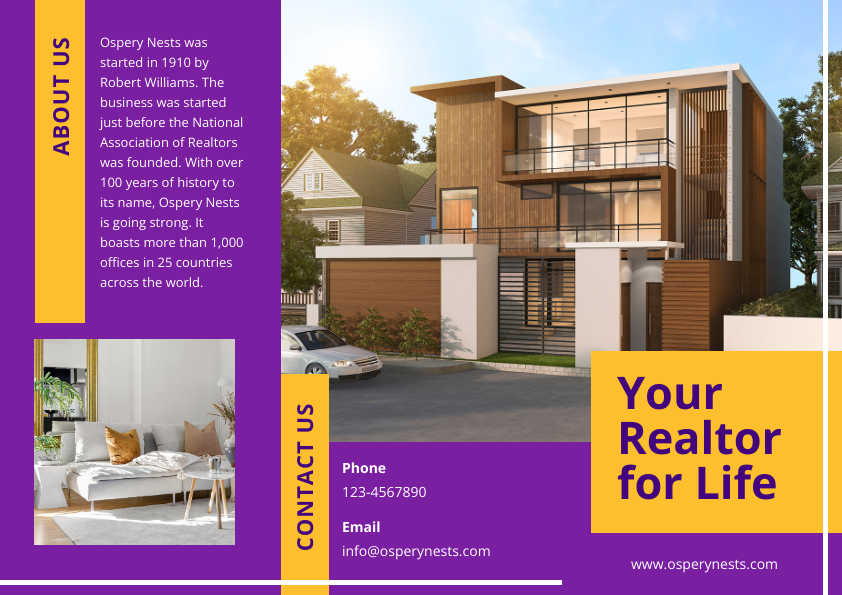 Get This Template and More
Select the area you want to change the color of and click on the color icon in the editing panel. You can also select the Background widget to explore the beautiful colors, gradients, and patterns.
You can put the color hex code directly in the space provided or experiment with the theme colors. Change the font colors in the same way.
Go through our video below for a detailed explanation of changing background colors, patterns, and gradients in DocHipo.
Pay Attention to the Typography
Typography is the design element that helps you attract recipients' attention and make the brochure design look exciting and unique. It also promotes legibility and reflects the tone of the message visually.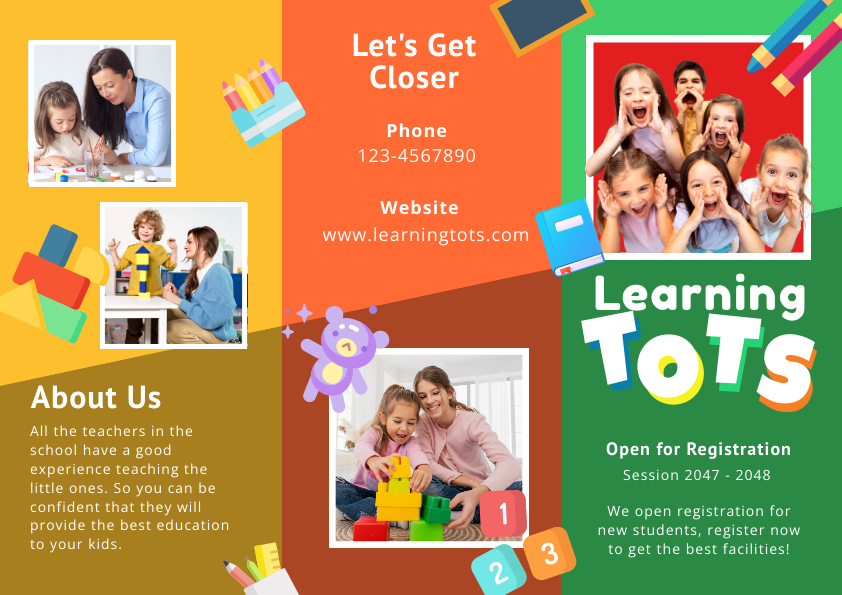 Get This Template and More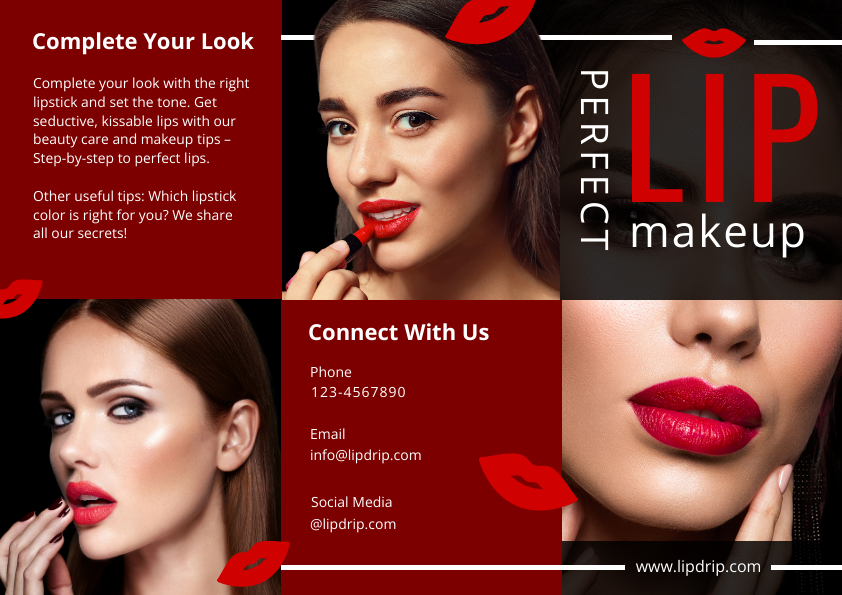 Get This Template and More
STEP 3: Share and Download Your Tri-Fold Brochure
Once you finish customizing your trifold brochure design, click on the three horizontal dots to preview and download it.
Download it in a high-quality JPEG, PNG, or print-ready PDF file without any watermark.
Trifold Brochure Design before Customizing:
Trifold Brochure Design after Customizing:
Here's how you download designs in DocHipo.
Need a quick recap on how to make a trifold brochure? Here you go:
Your Turn to Make a Trifold Brochure
A brochure is one of the most versatile marketing collaterals for building brand awareness and establishing trust among your target customers. Hopefully, you learned how to make a trifold brochure without prior graphic design experience. Love the templates? Start customizing right away and promote your products or services, or events.  Sign up to DocHipo, explore all the trifold brochure templates, and create a stunning one for your business. Leverage all our design elements to design your brochure the way you desire.
FAQ
What software can I use to create a trifold brochure?
You can easily use online graphic design software like DocHipo to create a trifold brochure. All you need to do is select a brochure template that closely aligns with your business needs and tweak it however you want. You may edit the brochure copy, pictures, other graphic elements, color schemes, fonts, and more.
Can I use images in a trifold brochure? If yes, how do I insert them?
You can use relevant images in a trifold brochure, regardless of industry. While using an online graphic design tool like DocHipo, you can upload your desired images into the editor through the 'Uploads' widget. Next, select it to bring it to the blank design canvas. If you're using a pre-designed template, drag and drop your uploaded image over the existing one and reposition it.