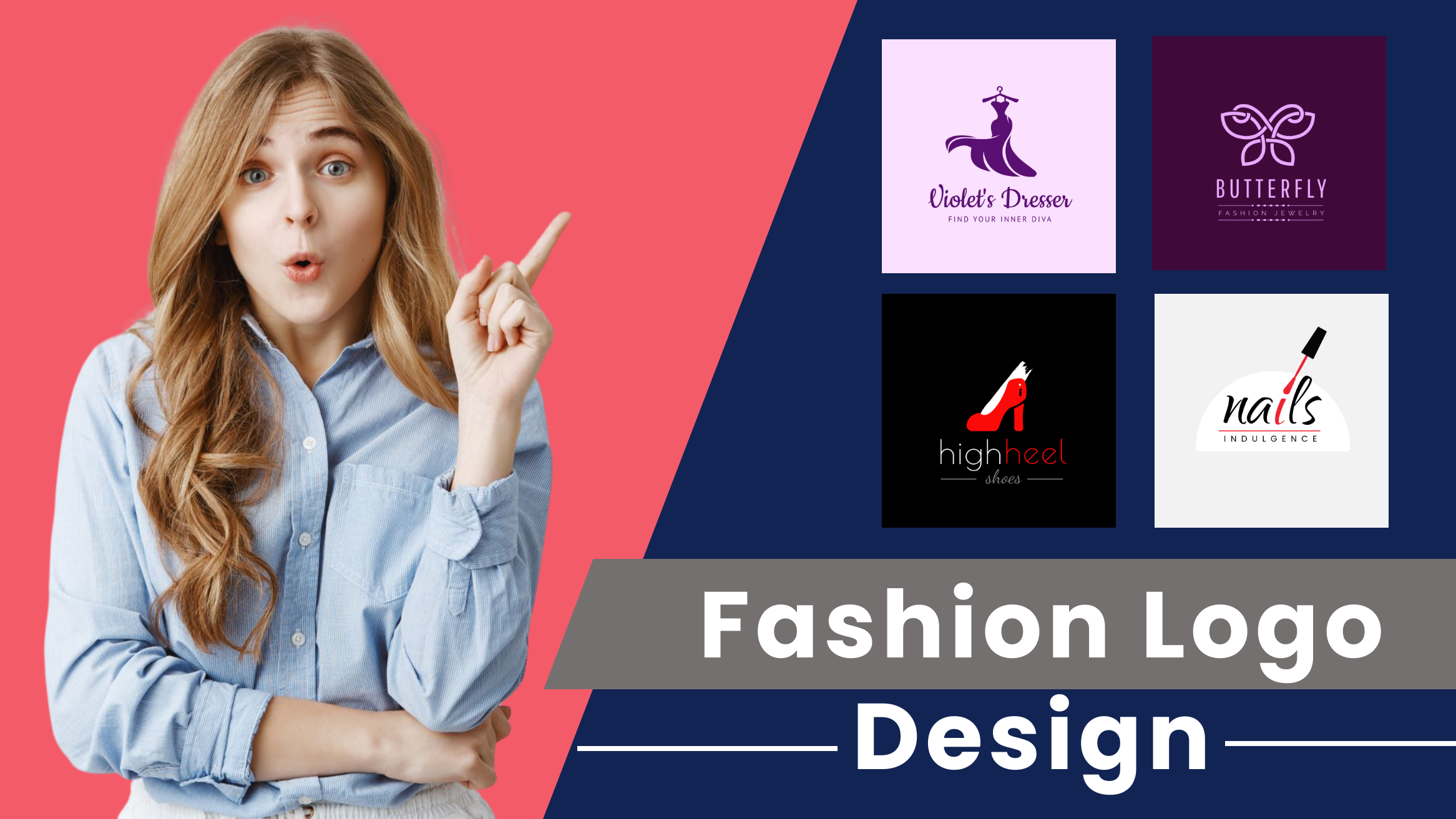 How to Design a Fashion Logo for Free

Last Updated Jun 4, 2023
If you are already in the fashion industry, you might know that design is an integral part of your business. While that's true for the clothes and accessories you sell, it's also true for your fashion brand. To make your business stand out and capture most of the market, ensure that your brand doesn't go out of style. The right first impression is crucial to make that happen. Therefore, you need an excellent fashion logo design to build a brand that lasts through the trend cycles.
Whether you want to open a new fashion business or market your existing brand, there's no better way to brand your business than a fashion logo design. However, such an essential task like logo design requires expertise in graphic design, which you might lack.
Keeping this in mind, DocHipo comes with a Free Online Logo Maker so that an eye-catching fashion design logo is not limited to graphic designers only.
Continue reading to learn how to design a fashion logo and some practical fashion logo design ideas.
Fashion Logo Design Ideas
The logo will work as the face of your business which your customers will perceive before doing business with you. Hence, you can not compromise your fashion logo design at any cost. Designing a unique logo isn't easy without having any idea about it. However, never fear; we have put together a list of fashion logo design tips to help you design a logo that will take your business to the next level.
Know Your Target Audience
Knowing your target audience is as important as knowing your brand personality. Learn about your target audience as much as you can and put yourself in their shoes. It will help you understand how your customers want to see your brand. Pretend you are a person in your target market and brainstorm all the qualities you would look for in a fashion business like yours.
For example, a brand that sells children's clothing and accessories will target all the parents with kids aged between 0-16 in their target demographic. Therefore, a logo to attract them will not be the same as a logo that would target women in their early twenties. Furthermore, learning about your target audience will help you decide on your fashion logo design elements like the color, font, icon, and overall style.
Look at the fashion logo design template below. Do you think it will attract customers looking for ripped jeans and crop tops?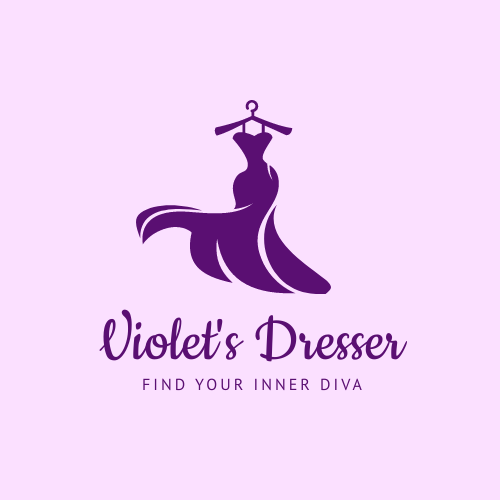 Get This Template and More
Make Use Of Color
Color plays a vital role in delivering your brand's main message. Different colors can evoke other emotions. A recent study shows 84% of buyers get attracted to a brand only because of its associated colors. Therefore, think about the colors that will perfectly convey what your brand does.
Most luxury brands use white, gold, black, navy, or silver to convey their value. They don't want to make their logo eye-catching with bright shades of different colors. Instead, they want to keep their logo simple and have a timeless and classic feel that communicates luxury fashion.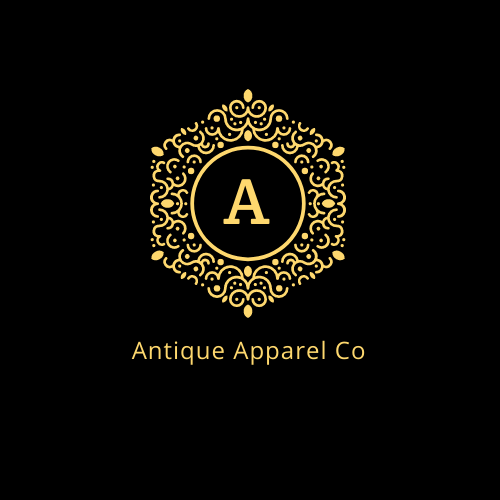 Get This Template and More
The brand focusing on young men and women's clothing and accessories can choose bright colors to make an eye-catching fashion logo design.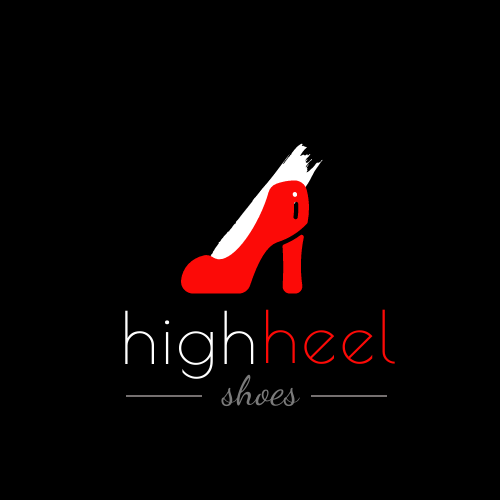 Get This Template and More
As a fashion business owner, you wouldn't shy away from colors, would you? Similarly, your fashion logo design can be of any shade and hue. If you already have brand colors, you can make use of them to design your logo. If you don't have any, then coordinate your brand colors with the collections you have in your store. Whatever you choose, make sure your logo doesn't contain more than three colors, including the colors of the fonts and other elements.
This article on the Best Color Combinations will help you learn more about the same.
Typography Goes Hand In Hand
Typography is the element that can set your fashion logo ahead of your competitors. It will work as your signature style as a brand. You might already have come across many fashion brands with legendary logo designs without an icon but typography.
If you have a modern fashion brand, choose sans serif fonts and make sure they are bold enough to be visible from a distance. Moreover, to give your logo a more personal touch, use cursive and hand lettering fonts with enough thickness.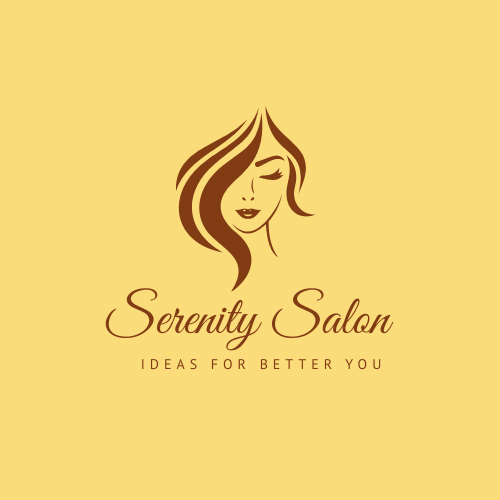 Get This Template and More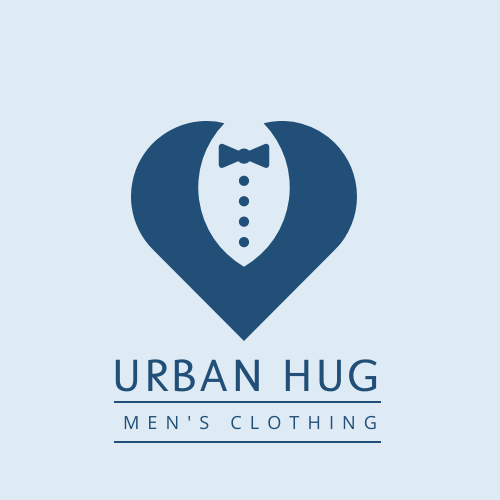 Get This Template and More
Brands associated with women's products can have rounded and curved fonts to give the logo a more feminine vibe.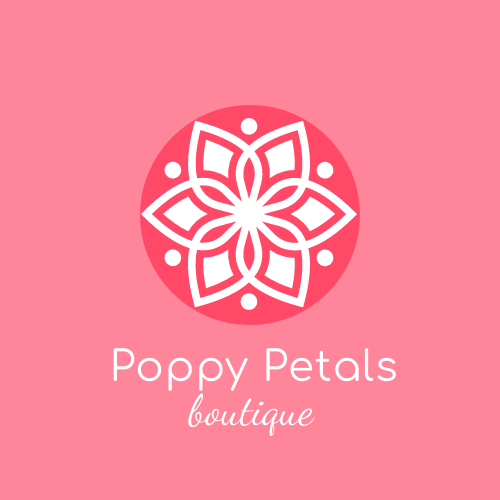 Get This Template and More
If your brand is masculine, choose any gritty and blocky fonts to reach the target audience.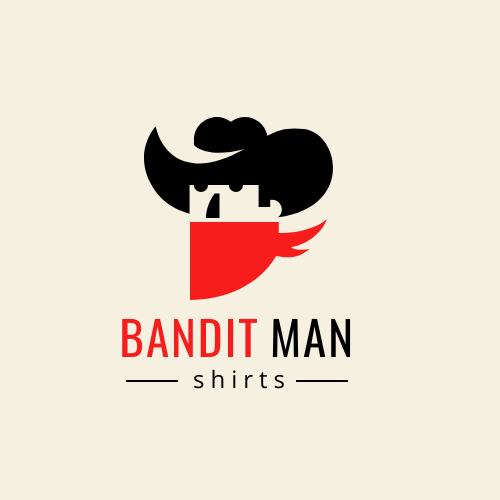 Get This Template and More
Choose no more than two fonts; one for the brand name and one for the tagline. And make sure both fonts complement each other. Also, choose colors that are appropriate according to the other design elements. This will help you create a Typography Hierarchy in your design.
Learn more about Different Typefaces to create the best fashion logo for your business.
Choose The Right Icon
Though you are free to create a logo using only the typography, icons can add uniqueness to your fashion logo design. It will not only draw attention to your brand but also communicate the story that makes you different and better from your competitors.
The best way to choose the right icon for your logo is by finding a logo that is relevant to the brand name or the products and services you deal with. Look at the fashion logo templates below: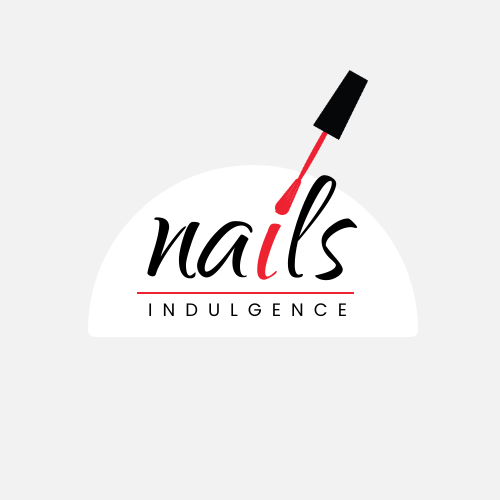 Get This Template and More
The business name in the logo template above is "Nails". The brand is associated with beauty products and primarily focuses on nail care products. So, the nail polish brush cap is strategically placed in the template.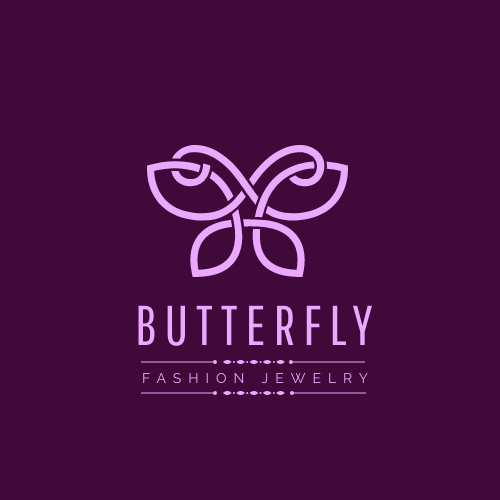 Get This Template and More
The fashion logo above is for the businesses that deal with fashion jewelry, and the name is "BUTTERFLY". Hence, the icon used here is jewelry that also looks like a butterfly.
Hopefully, the fashion logo design templates and design ideas mentioned above helped you understand how your logo should look like. Now, let's move on to the design part, where I will walk you through how you can create your own fashion logo in DocHipo.
How To Design A Fashion Logo In DocHipo For Free
Now, let's go to the design part, where you will learn how to create a fashion logo using DocHipo in just three easy steps. The free fashion logo design templates and awesome Design Widgets will help you do that. But first, create an account in DocHipo for free using your email address if you haven't already.
Step 1: Pick A Fashion Logo Template
To select a fashion logo template quickly from DocHipo's wide selection of templates, type "Logo" in the search bar. Click on the result to browse through all the logo template categories.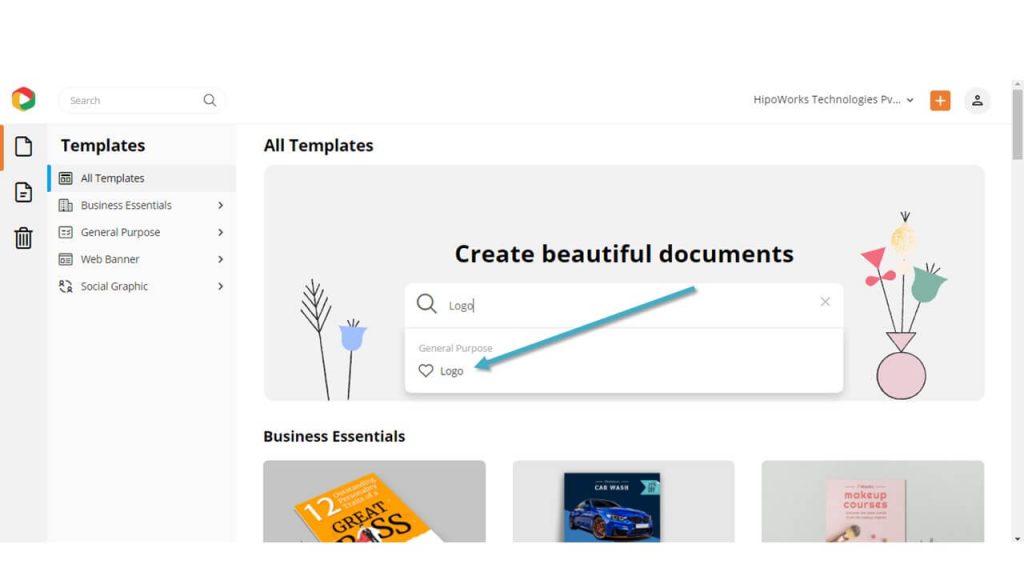 Choose "Fashion" among the template categories.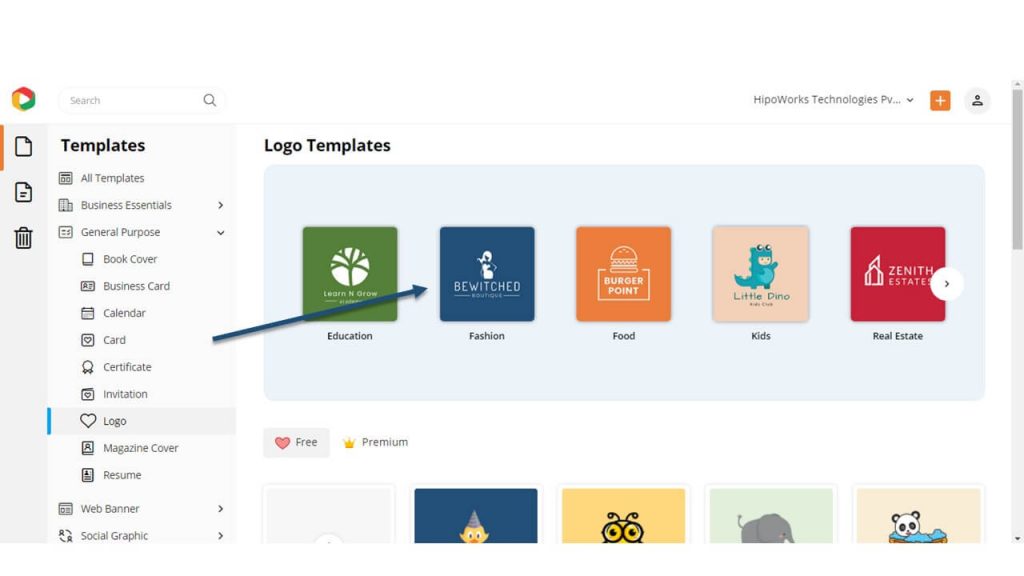 DocHipo lets you preview the templates before taking them to DocHipo Editor. To do that, hover over the template you find suitable for you and click "Preview".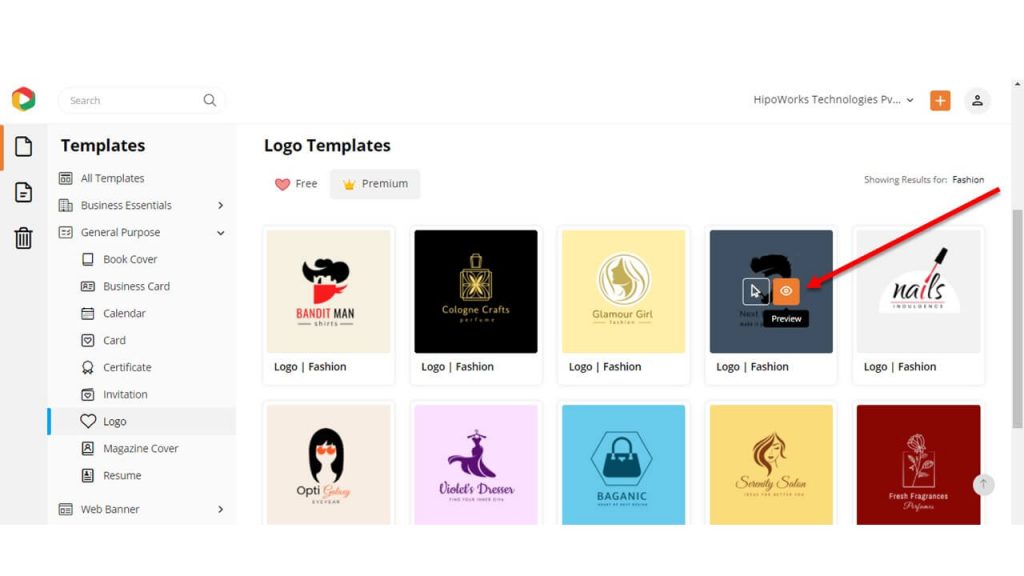 Once you decide on a template, click "Select".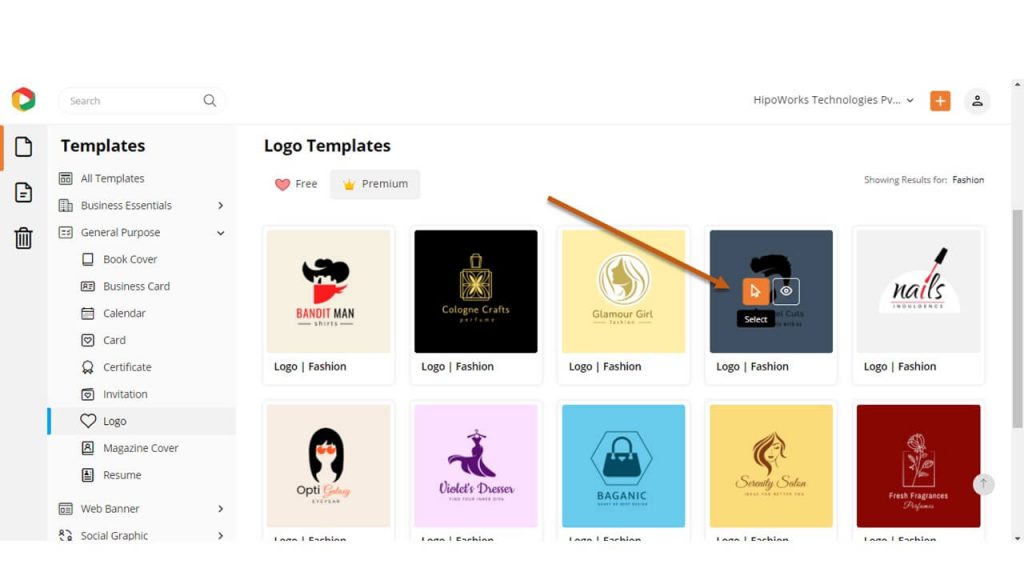 A page will appear where you need to give the document a name and a short description to find it easily after downloading.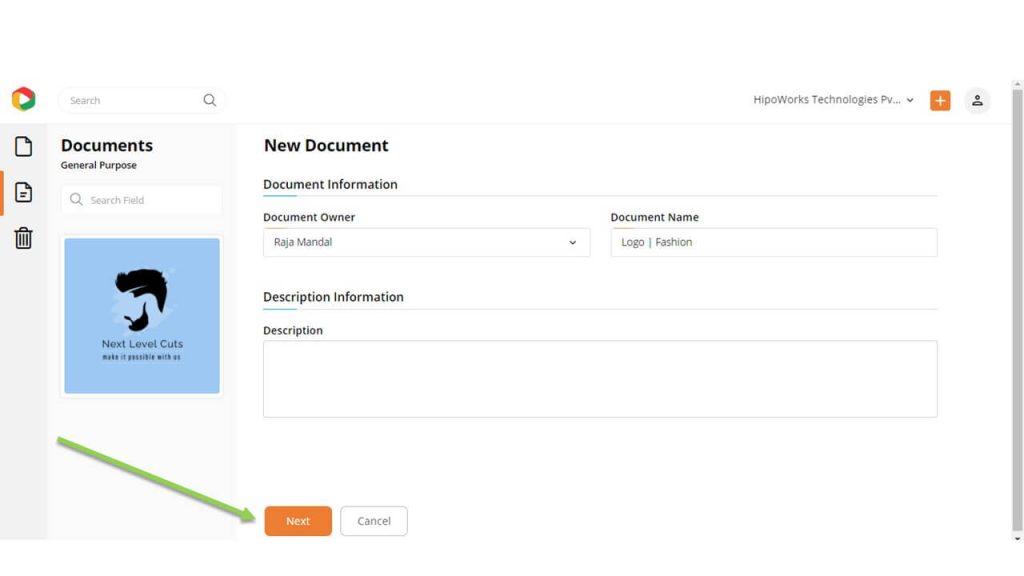 Step 2: Customize The Template
Customize the fashion logo template in whatever way you want so that it reflects your brand perfectly. DocHipo lets you do that in many ways. Change the background color, font style, replace the text with your business name, change the icons or illustrations, and many more. Follow the instructions below:
Change The Background
Click on the "Background" tab from the left sidebar.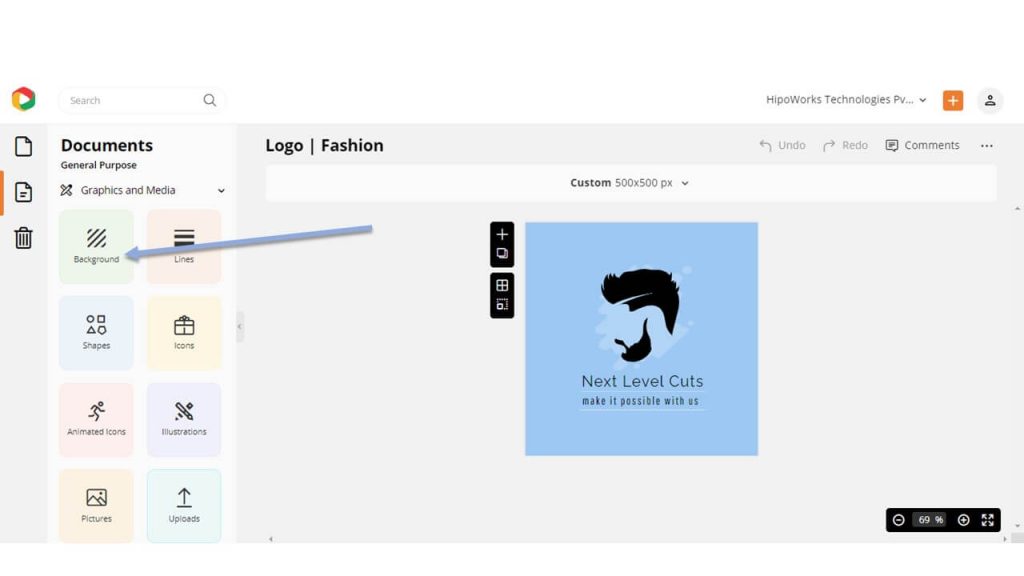 To change the background color, click on the color box and choose any of the preset colors. In DocHipo, you are not limited to the preset colors only. Use the color picker tool to select custom colors.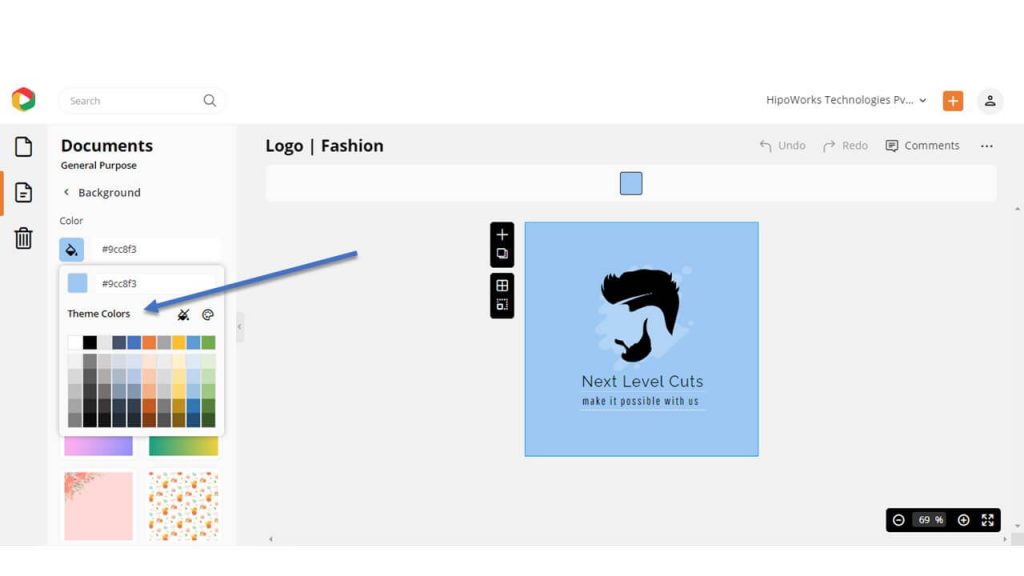 Watch this video below to learn how to create stunning backgrounds in DocHipo.
Edit The Text
Double click on the text to replace it with your business name. Use the edit panel on top to change the font, color, size, opacity, alignment, spacing, and many more.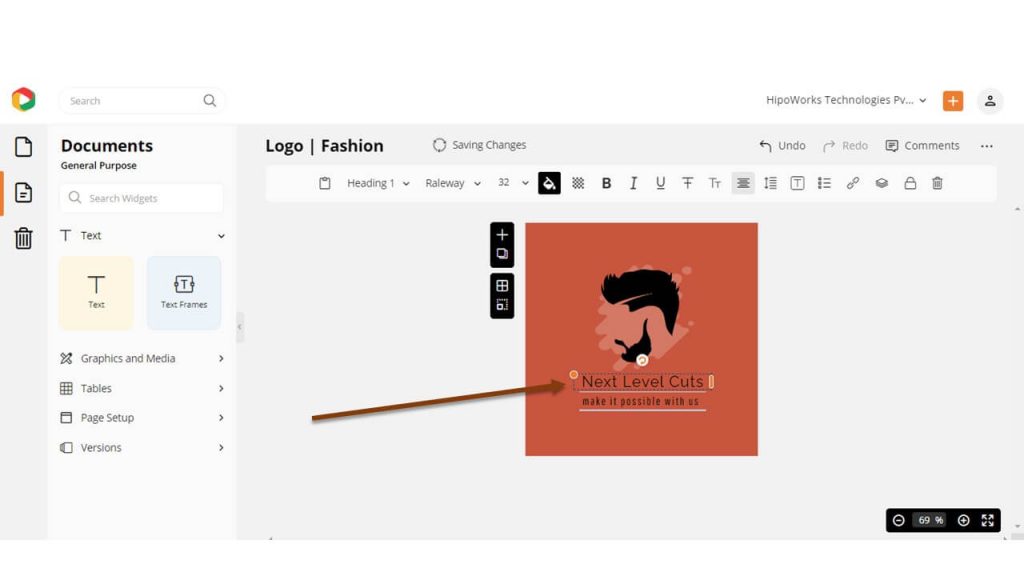 Here is a video to help you learn more about the same.
Customize Other Elements
There might be other elements in the template that you want to customize. Click on the design element you want to customize and use the edit panel to customize it.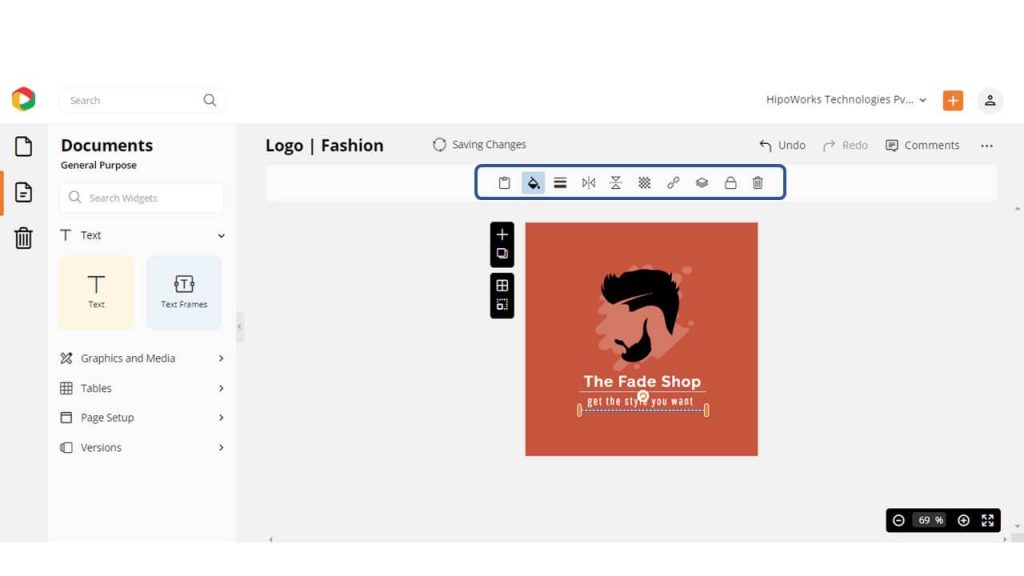 Additionally, you can add other elements like icons, shapes, lines, and more to your fashion logo design template. Choose your elements from the left sidebar.
Here is how to use icons in DocHipo.
Before Customization: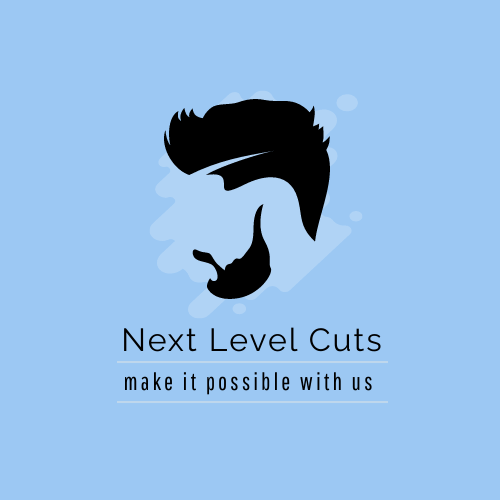 After Customization: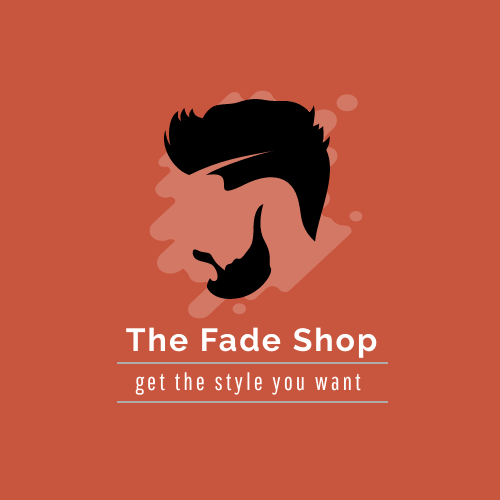 Step 3: Download The Fashion Logo Design
Once you are done customizing your fashion logo design template, click on the three dots from the upper right corner. Choose download from the drop-down menu to download the logo.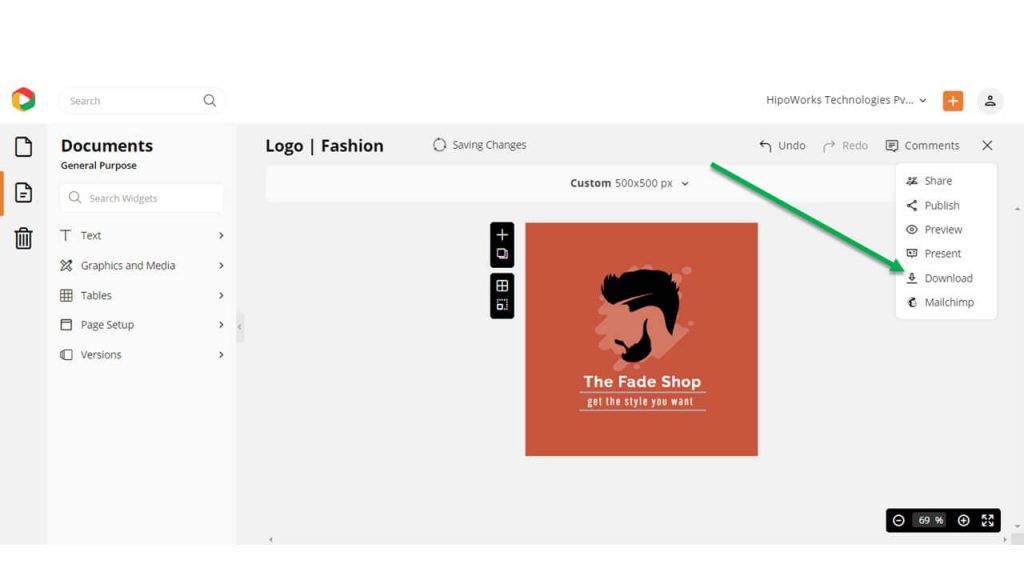 Choose your required file type and quality and hit the download button.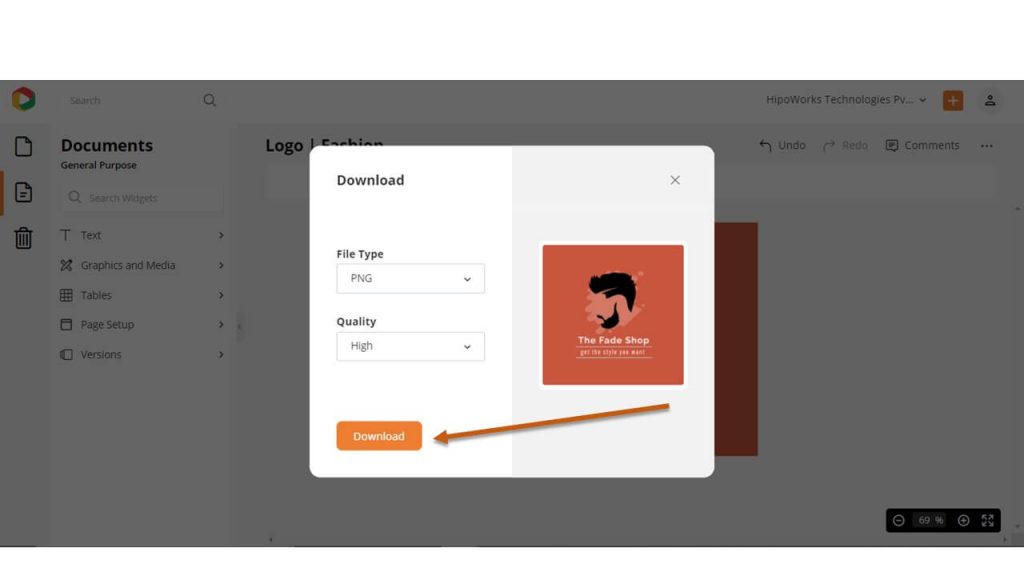 Final Words….
Great brands are not created overnight. It requires a lot of effort to create a strong marketing strategy and proper execution. Fashion logo design is the first and most crucial step to help you build your brand's visual identity and run your business successfully. Therefore, as a business person, you don't want to miss out on fashion logo design's huge opportunity.
Hopefully, the design ideas mentioned above and the "How To" guide inspired you enough to design your fashion logo. So, sign-up to DocHipo and start designing the logo now.