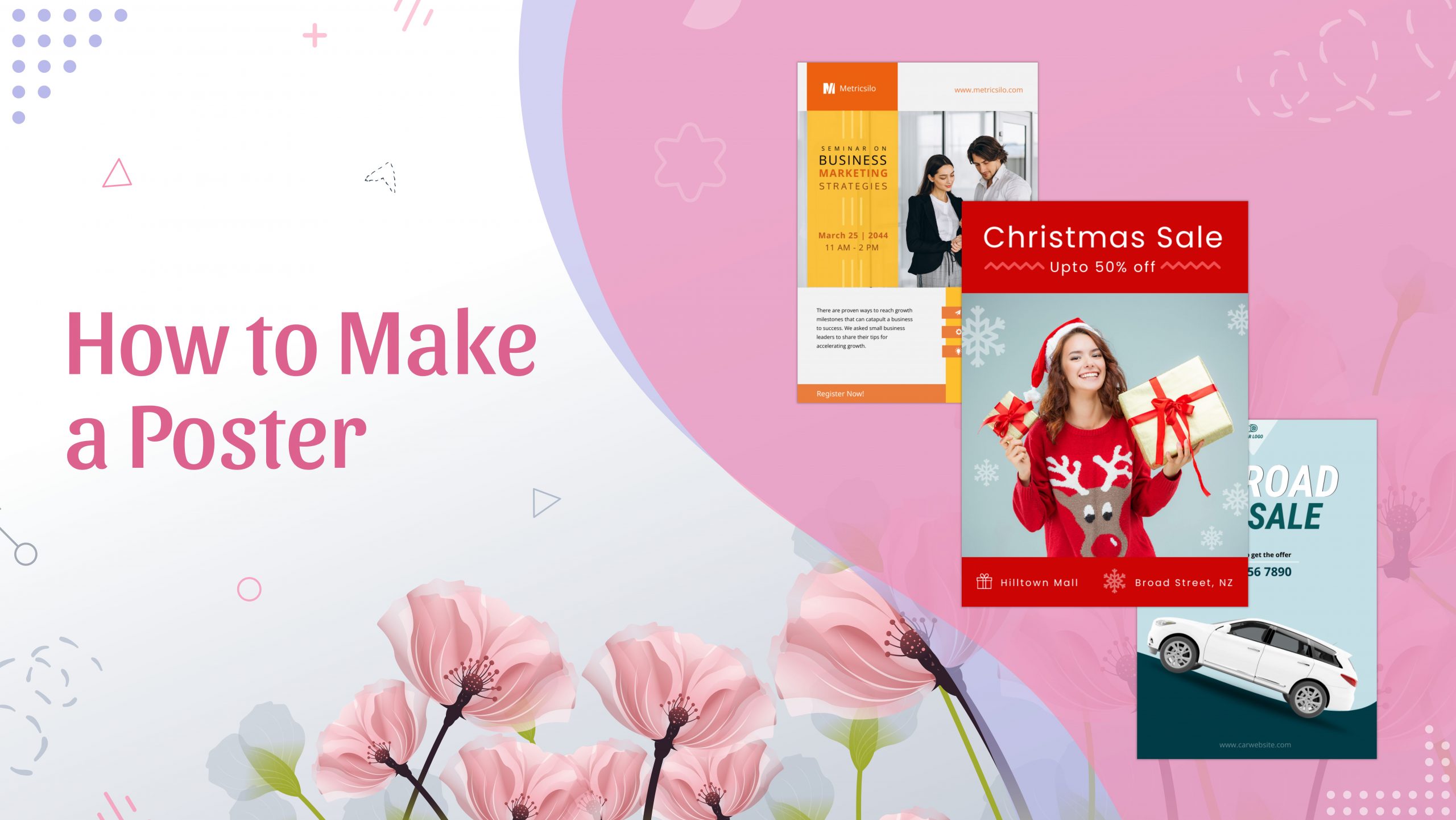 How to Make a Poster: Step-by-Step Guide with Templates

Last Updated Aug 6, 2023
Whether conducting a business conference, inviting students for photography classes, promoting your catering service, launching an event, etc., posters can help you achieve these.
An impactful poster design attracts eyeballs, keep them hooked to check out the details of your message, and ultimately makes your target audience take the action you want them to take. Designing posters with the perfect balance of text and graphics isn't a cakewalk. But it doesn't have to be intimidating as well.
In this blog post, you'll learn how to make a poster online in seven simple steps. I've also picked twenty impressive templates from our library for various use cases to get you started immediately.
How to Make a Poster Online in 7 Easy Steps
There are no hard and fast rules on making a poster. Still, the process becomes smoother if you follow the steps and best practices.
Step-1: Brainstorm and Thoughtfully Craft Your Poster Message
Before you start designing your poster, consider the following to come up with your poster's key message:
Identify the Goal You Want to Achieve with Your Poster
Figure out your end goal for your poster. Your goal could be increasing sales, increasing attendees for your seminar or workshop, gathering people for a party or celebration, etc. What information you'll add to your poster will solely depend on the purpose of your poster.
For example, designing a conference poster to invite people to a webinar, you must choose visual elements that set a professional tone.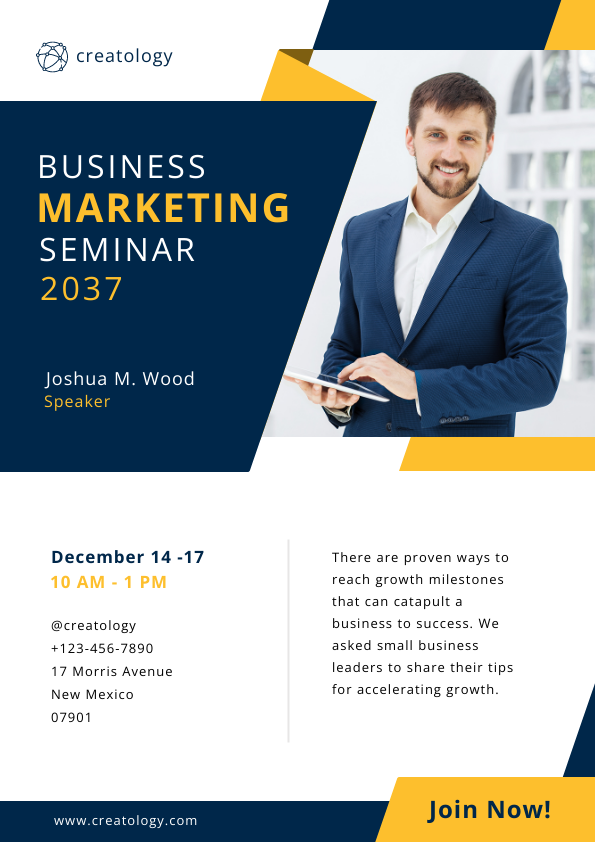 Get This Template and More
On the other hand, while designing a poster inviting people to a New Year party, you need to go with a design style reflecting a cheerful and fun vibe.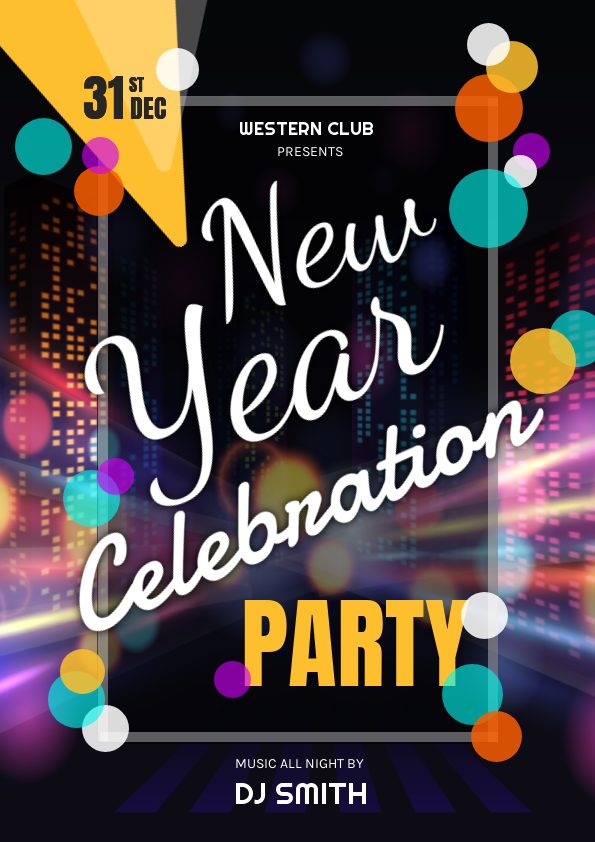 Get This Template and More
Consider Your Target Audience
Knowing your target audience and what excites them will help you choose the right words to draft your poster copy that they can't resist.
Plan Ahead Where You Want to Distribute Your Poster
Are you going to hang the poster on a wall? Or share on your social media channels?
Planning it will help you choose a poster size where you can fit all your crucial information without making it look cluttered.
As per your need, you can select the poster page size in DocHipo.
You may check out Social Media Post Size Guide 2023 if you wish to share your poster across social media.
Clear answers to the above points will help you decide on the correct poster size, draft your message correctly and choose the most appropriate poster template.
Step-2: Choose a Poster Template
Once you're clear about your poster's ultimate goal and target audience, it's time for a smart choice that saves time and yields effective results.
If you've never designed a poster, it might feel overwhelming. You need to make the perfect choices for graphics, colors, fonts, etc.
Using professionally-designed poster templates can be your savior. It sets the foundation for a proven design with the right chemistry between each design element.
Firstly, log in to your DocHipo account or sign up with your email and password if you're a new user. You'll see 'Poster' under the 'Business Essentials' category.
The poster templates in DocHipo are available for different industries and occasions, such as advertising, beauty, business, food, music, sports, gym, school, sales, thanksgiving, Christmas, New Year, and so much more.
Look for a close match in the templates regarding the industry, your poster's theme, layout, etc. However, you can completely change any aspect with the Online Poster Maker.
Once you choose a template, you love or that match your purpose, hover over it to proceed.
If you don't prefer using templates, you can design from scratch.
Step-3: Add or Edit the Poster Copy
Your poster's primary message must communicate its purpose. The copy has to be to the point and impactful, as you have just a few seconds to make a solid impression. So, adding a chunk of text will repel your viewers. You can add extra information only if it complements your key message.
In DocHipo, you can replace the default contents by double-clicking on any text and adding your own message.
You can add more texts by clicking on the 'Text' widget and choosing the required text format amongst the heading, subheading, and body text.
Watch our quick demo on adding, editing, or deleting text in DocHipo.
Step-4: Add High-quality Pictures and Graphics
Next, it's time to add attractive visuals that'll add life to your poster design. Depending on your poster's context, you can use the following:
Pictures
To make your poster eye-catching, add a relevant and meaningful picture that effectively communicates your key message.
For example, in the Food Poster Template below, we've used a mouth-watering image that food lovers can't resist.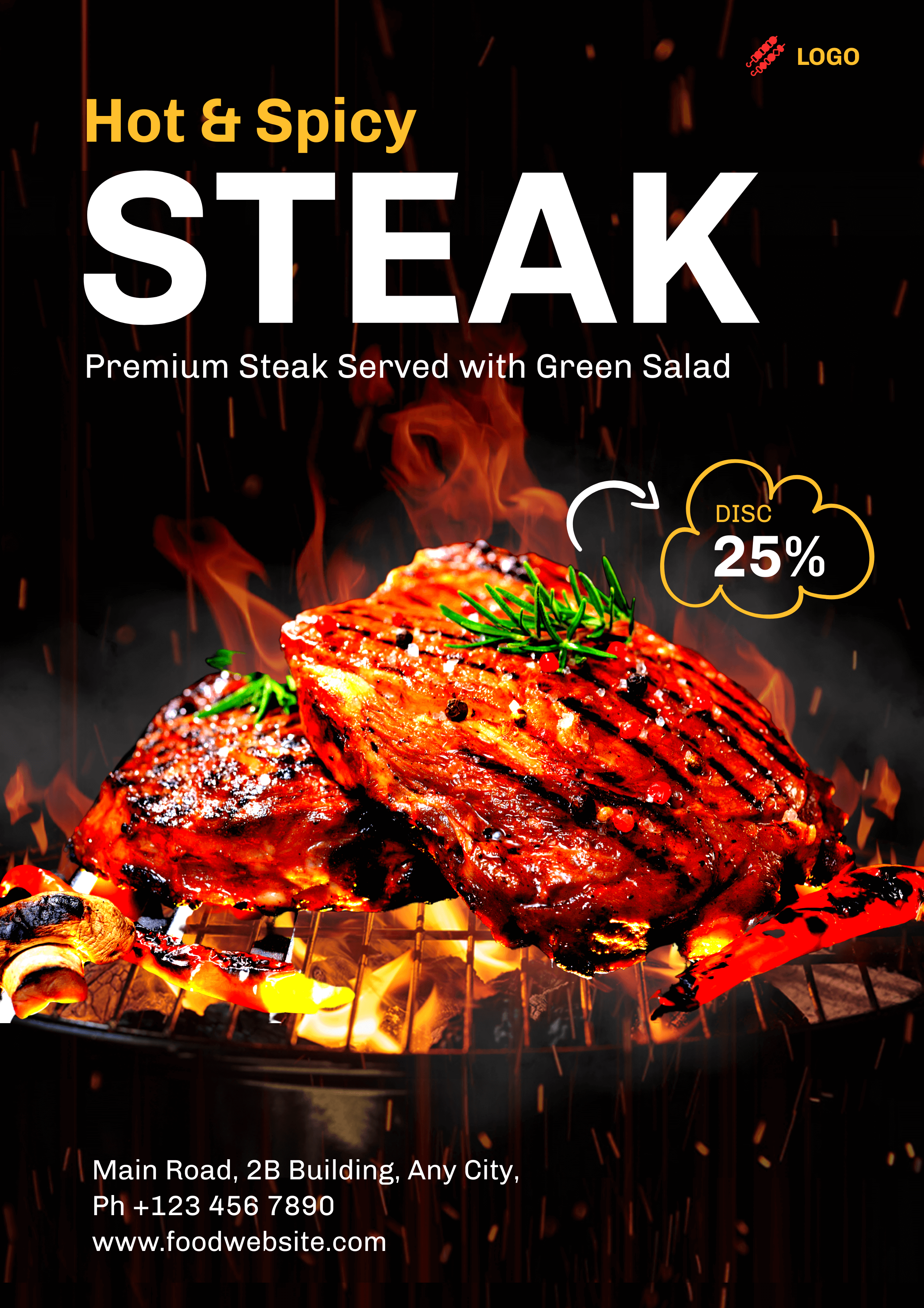 Get This Template and More
Browse through DocHipo's built-in picture library to find high-quality, high-resolution pictures.
The pictures are categorized into various themes for your convenience. Choose a picture that best suits your purpose and goes best with your overall poster design. Below, we're choosing the 'Beauty And Fashion' theme.
Once you find the perfect match to your poster design, drag it and drop it over the existing picture.
This is how it looks after resizing and repositioning the picture with the drag-and-drop tool:
If you want to upload images from your device, here's a tutorial.
DocHipo's built-in photo editor lets you remove photo backgrounds, crop photos, and apply different photo filters to make your visuals more appealing.
Here's how you enhance pictures with DocHipo filters.
Illustrations
Illustrations will set the mood and tone of your design and uniquely strengthen your message. For example, look at the magic created with illustrations in the Catering Services Business Poster Template below.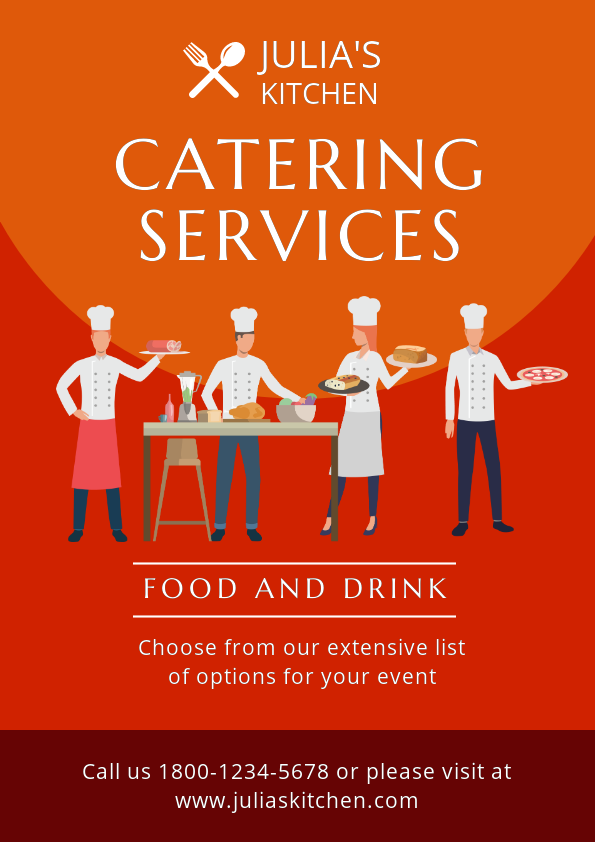 Get This Template and More
Depending on the nature of your poster, leverage our illustrations library to create a lasting impression.
Check out our video on using illustrations in DocHipo.
Icons
Icons are another effective way of visual communication to enhance your poster design.
For example, look at the charming food icons in the Advertisement Poster Template below.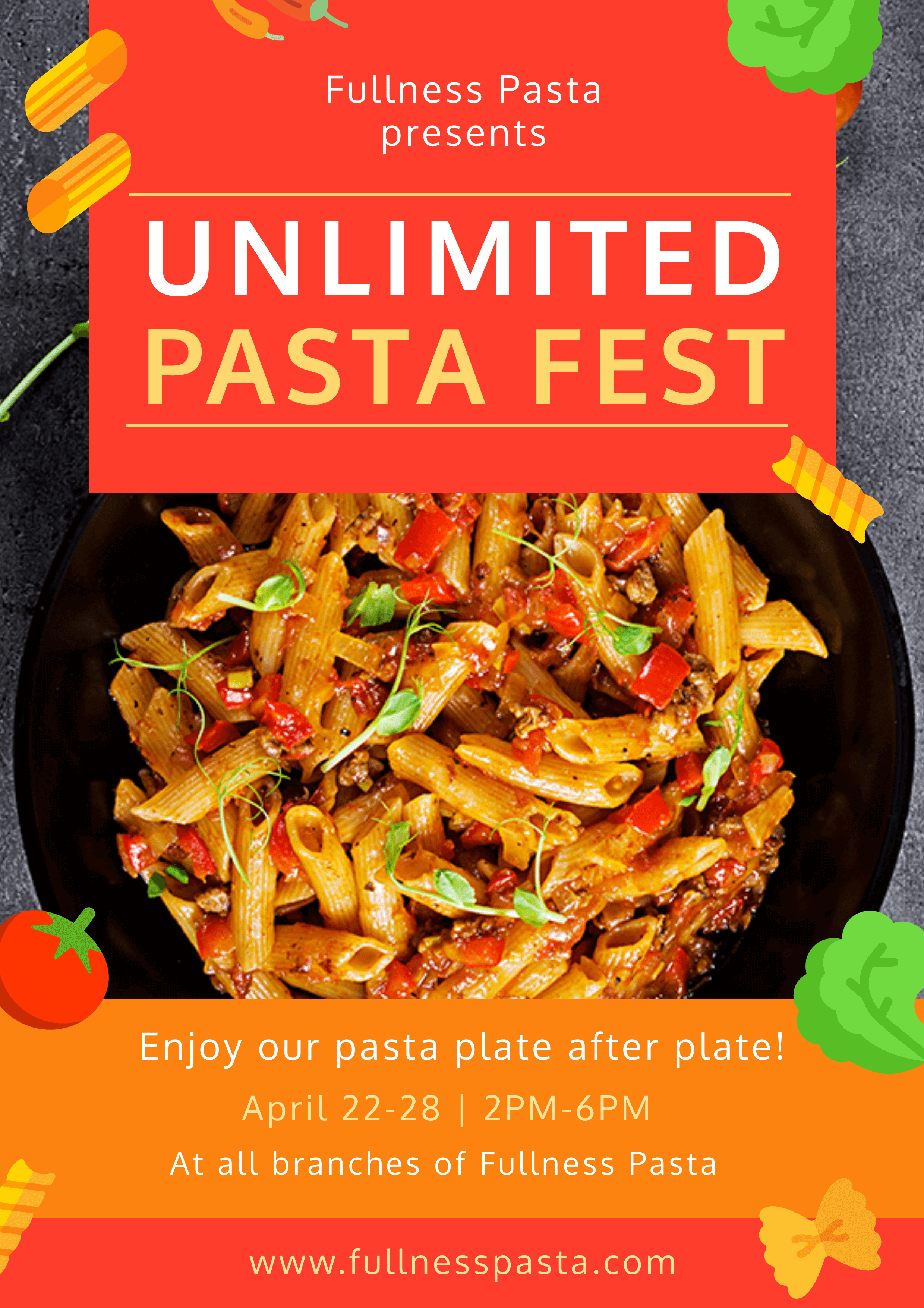 Get This Template and More
Here's a tutorial on how to use icons in DocHipo.
Check out the poster ideas to add creativity and uniqueness to your design.
Step-5: Customize Colors and Fonts
If you've already set your brand guidelines, choose the color scheme that aligns with your brand style. Otherwise, select colors that go with your poster theme, mood, and other visual elements in your poster design. So the whole poster design looks cohesive. You can check out How to Choose Colors for Your Brand if you need help.
In some cases, the color scheme is obvious. For example, if you're creating a poster for a Christmas event, undoubtedly, a combination of red, green, and white will evoke the vibe of the occasion.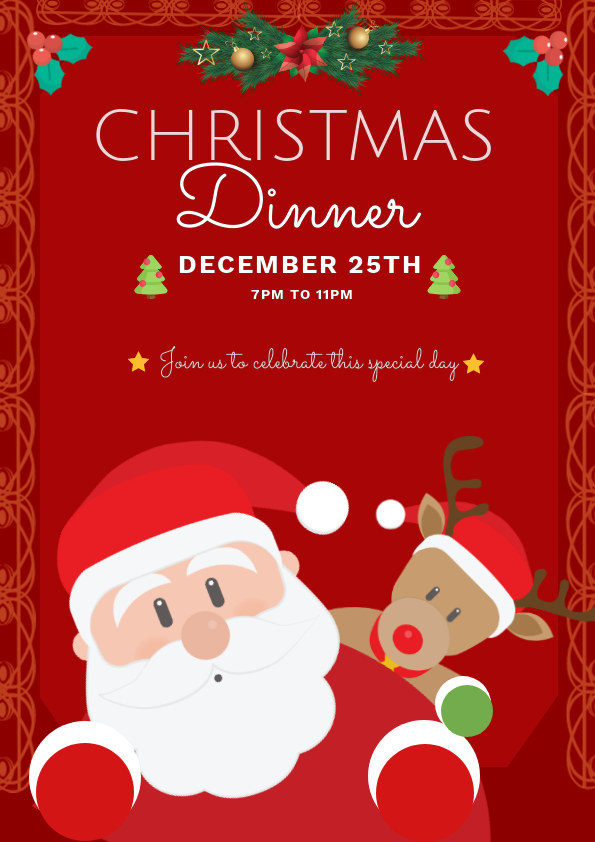 Get This Template and More
You can also consider the meanings and emotions each color evokes. For example, you can use blue for a business or marketing poster to represent wisdom, trust, and professionalism.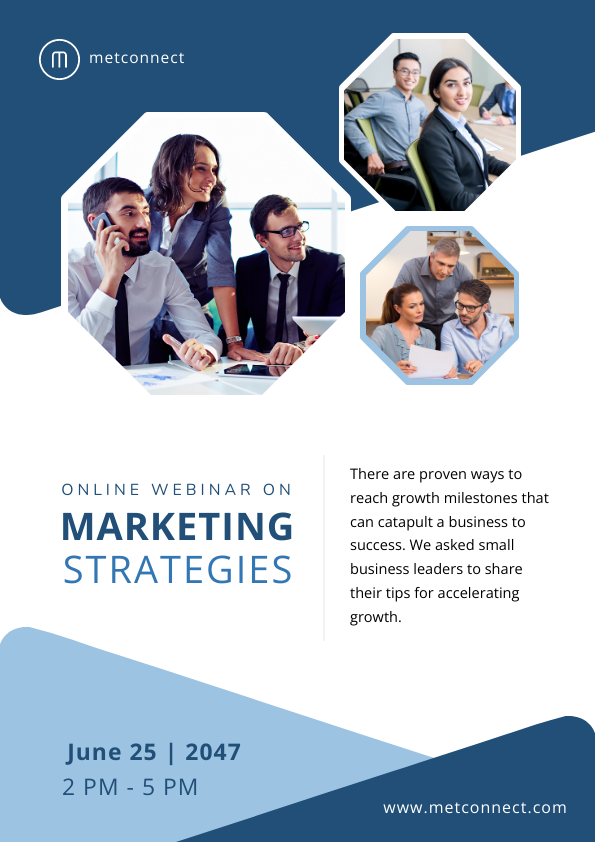 Get This Template and More
Similarly, purple can be associated with luxury and mystery.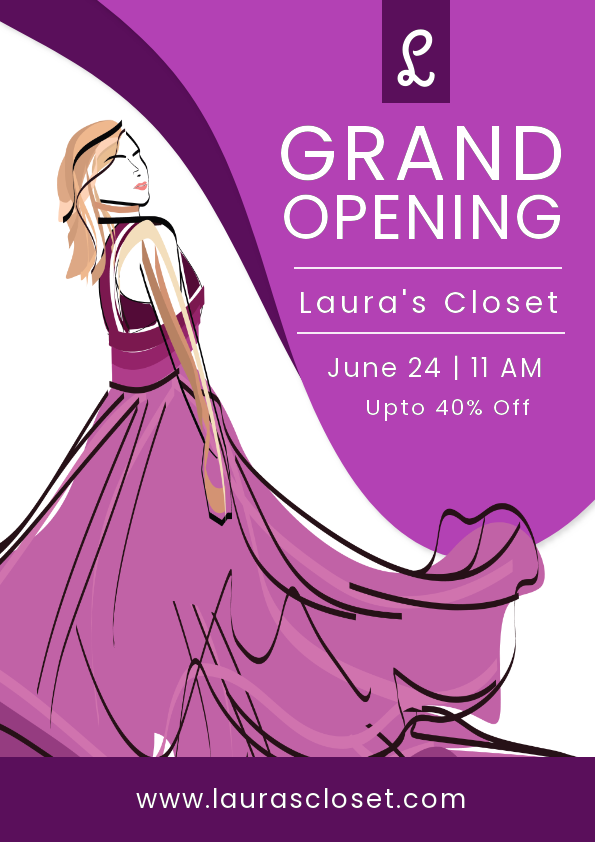 Get This Template and More
Go through the poster design ideas to see more such great color combinations.
If you need help choosing the perfect color scheme, check out Best Color Combinations And How To Use Them In Your Design.
To change the color of your poster background or any individual object in DocHipo, select it and click on the color icon in the editing panel. Theme colors will show up.
If you want to experiment more, click on the color palette icon for the custom colors option.
Watch our quick tutorial on how to work with background colors, gradients, and patterns in DocHipo.
Now, coming to the fonts. It's a no-brainer to use easy-to-read fonts. Viewers should be able to navigate the contents of your poster easily from a few feet away. Also, you should choose a light font color dark background.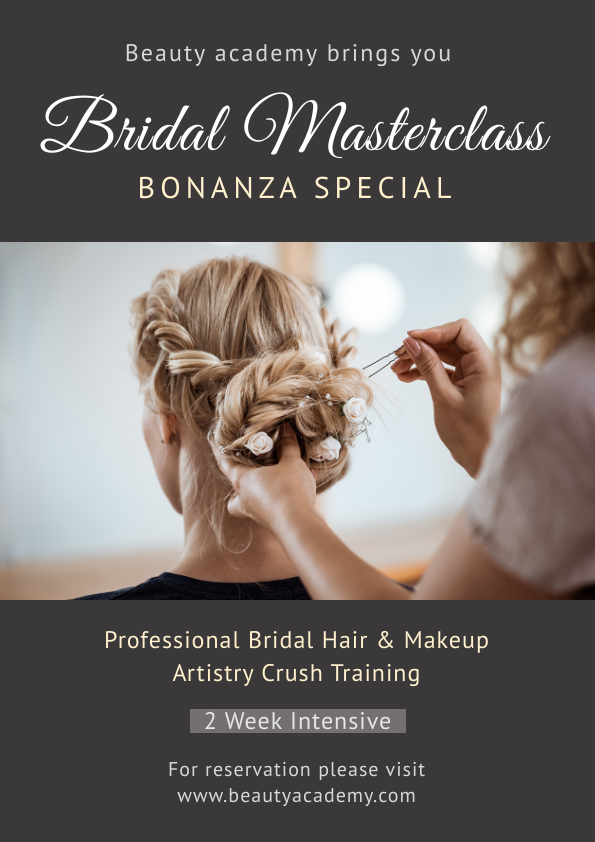 Get This Template and More
Conversely, choose a dark font on a light-colored background.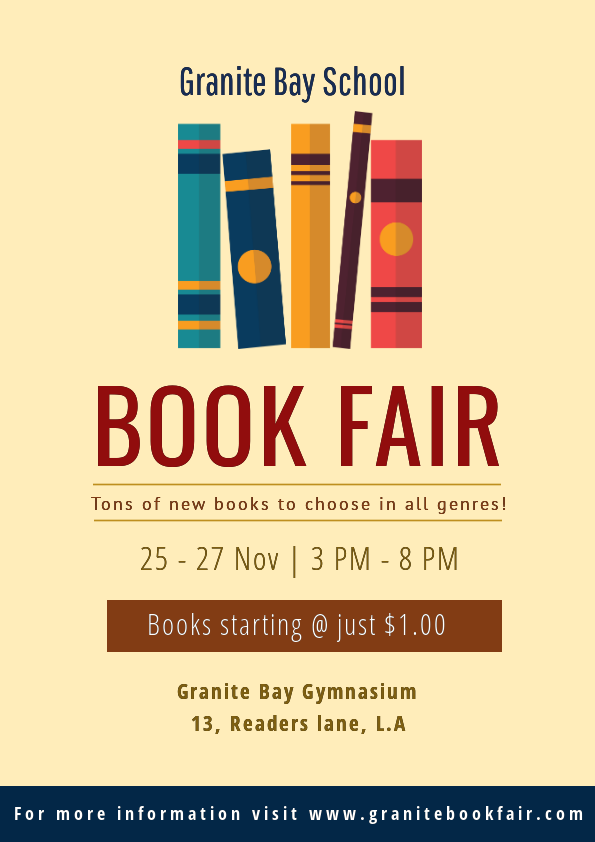 Get This Template and More
Read How to Choose Fonts for Your Design for a detailed explanation.
Pay attention to typography to emphasize your key message.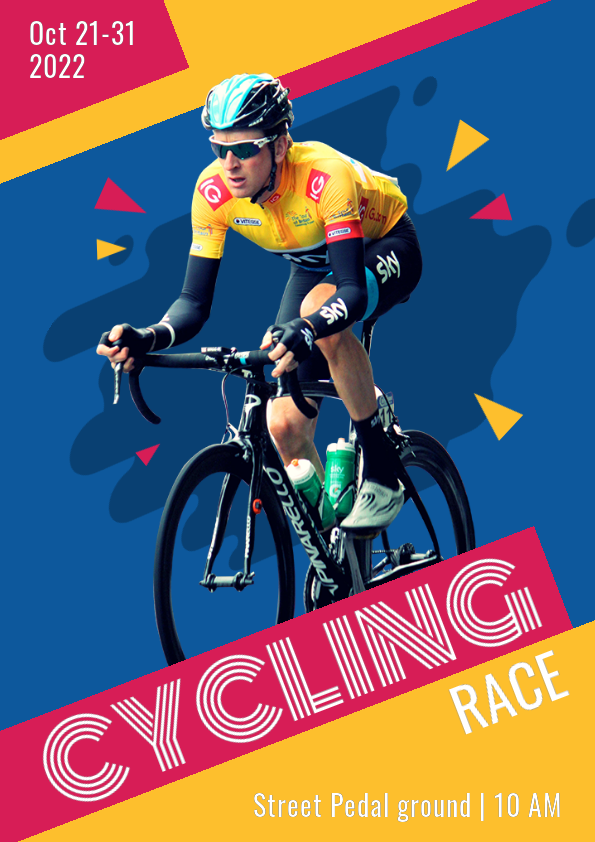 Get This Template and More
Step-6: Include a Call-to-Action
You've already given a solid reason for the onlookers to keep them hooked to the poster.
Now let's give them a compelling Call to Action to take the next step. The CTA should be prominent. This crucial step ensures your poster's effectiveness. The CTA should be prominent.
In this school Poster Template, the CTA is the "Register Now" at the bottom-left corner.
You can check out DocHipo's Text frames for taking inspiration.
Watch our video on how to use text frames in DocHipo.
Also, to make your digital poster interactive, you can insert clickable links to your relevant page.
Here's how to add a clickable link in DocHipo
Step-7: Download and Share Your Poster
Once you're delighted with your poster design, download it in PNG or PDF format.
You can also publish the poster online or share it on social media directly from DocHipo.
If you need to print the poster, go with 'High' quality.
Watch our tutorial on downloading documents in DocHipo.
Before Customizing: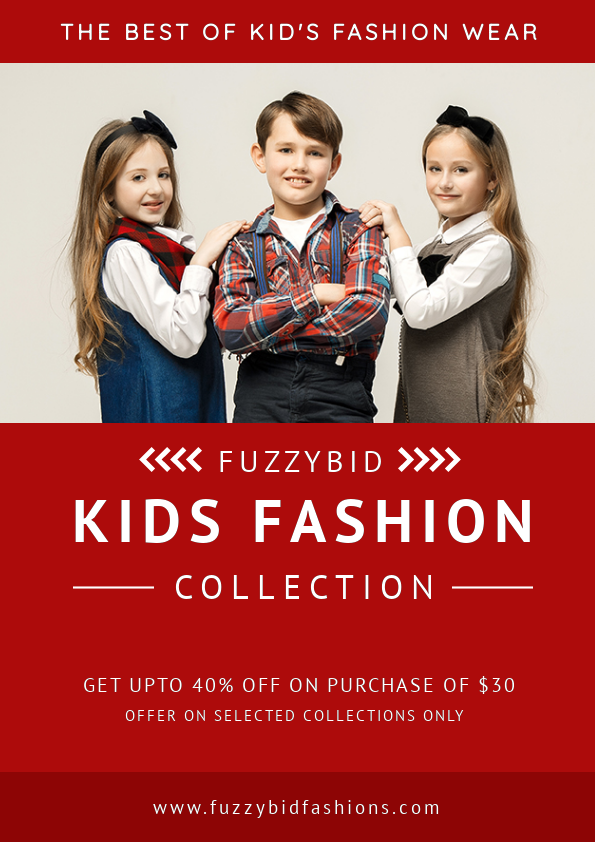 After Customizing:
Need a quick recap of the whole process of how to make a poster? Here you go!
Poster Templates to Speed up Your Design Process
Now that you know how to make a poster check out the beautiful poster templates to kickstart your poster design journey.
Template #1: Fashion Sale Poster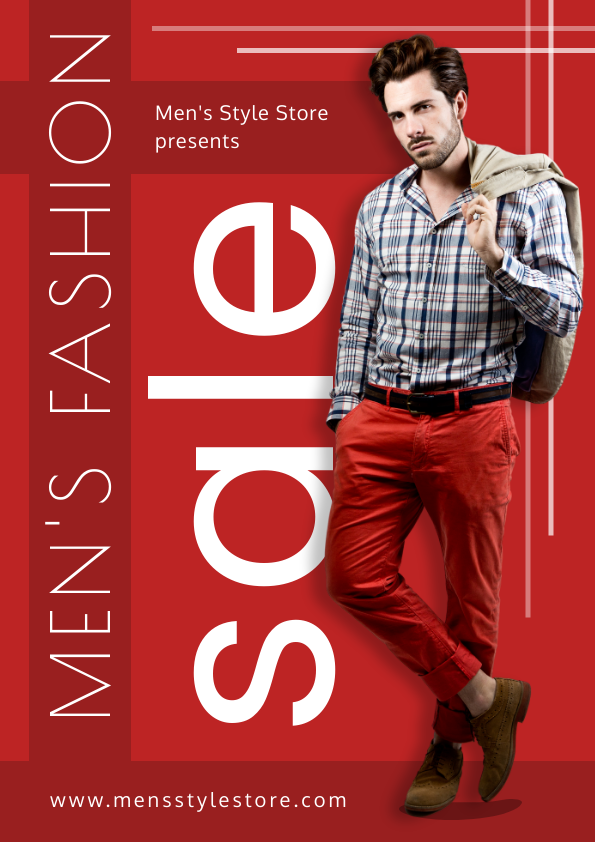 Get This Template and More
Template #2: We're Hiring Poster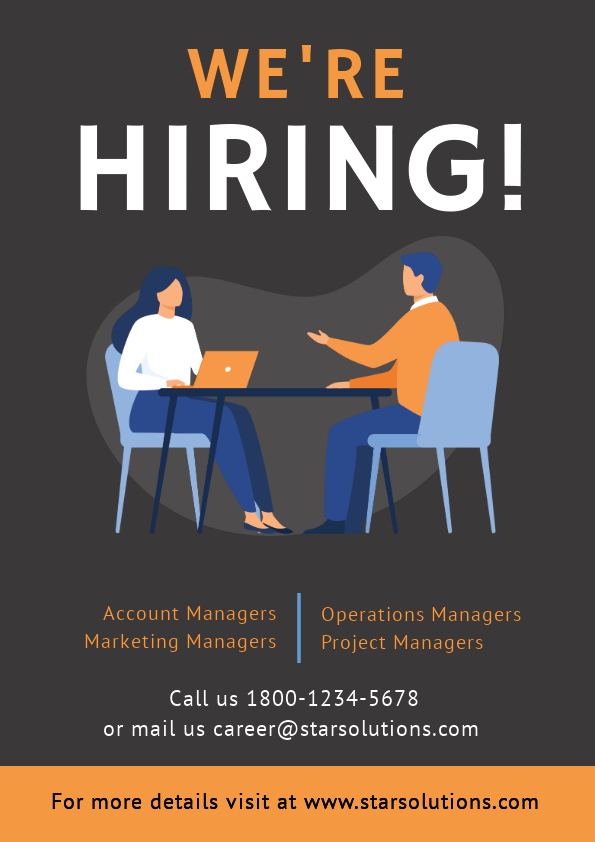 Get This Template and More
Template #3: Farmer's Market Poster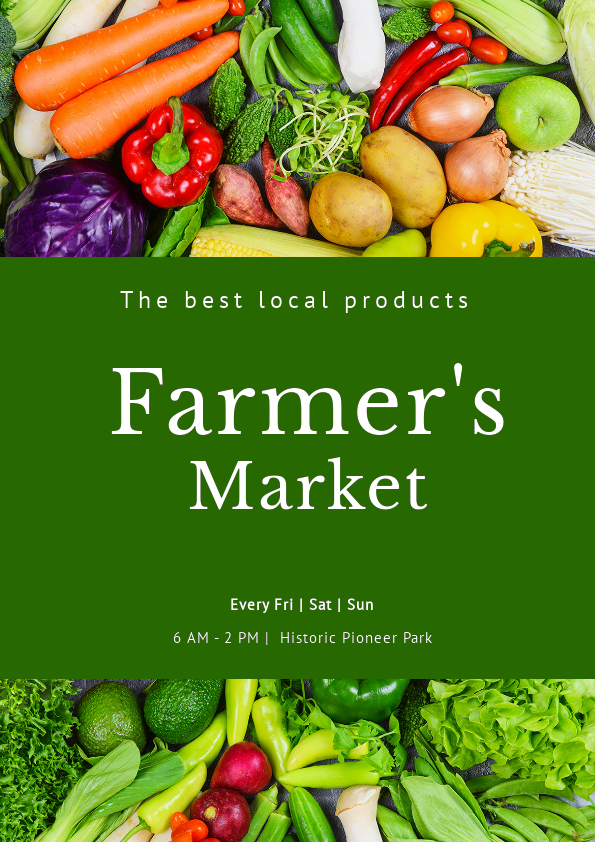 Get This Template and More
Template #4: School Admission Poster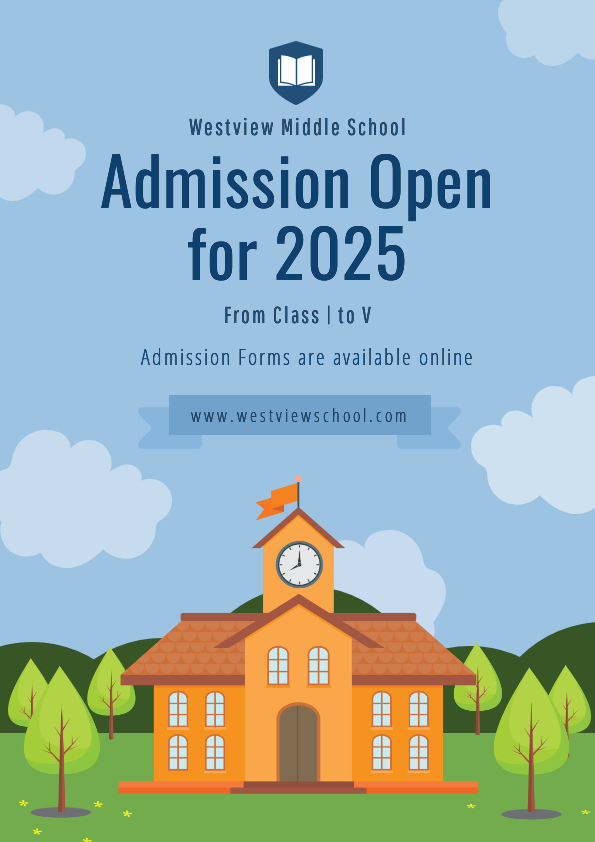 Get This Template and More
Template #5: Fitness Gym Poster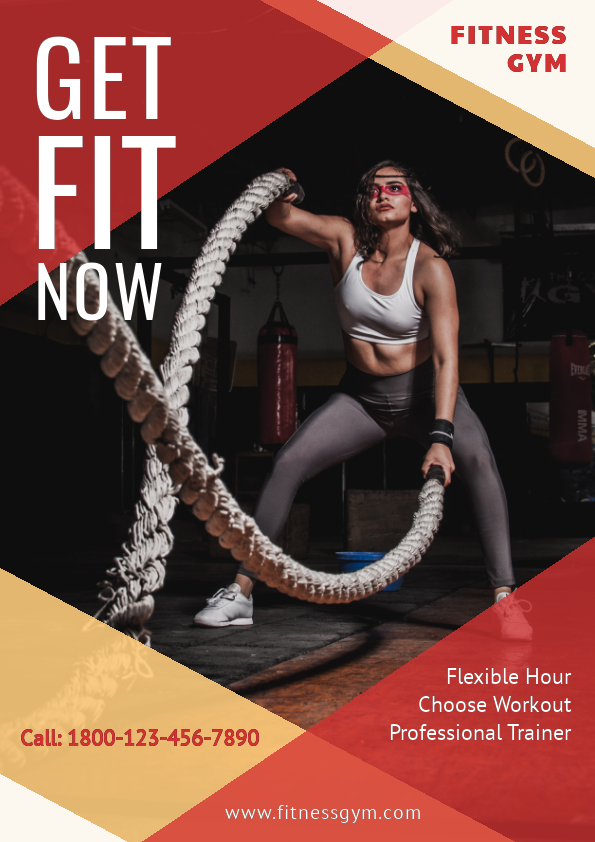 Get This Template and More
Template #6: Seminar Poster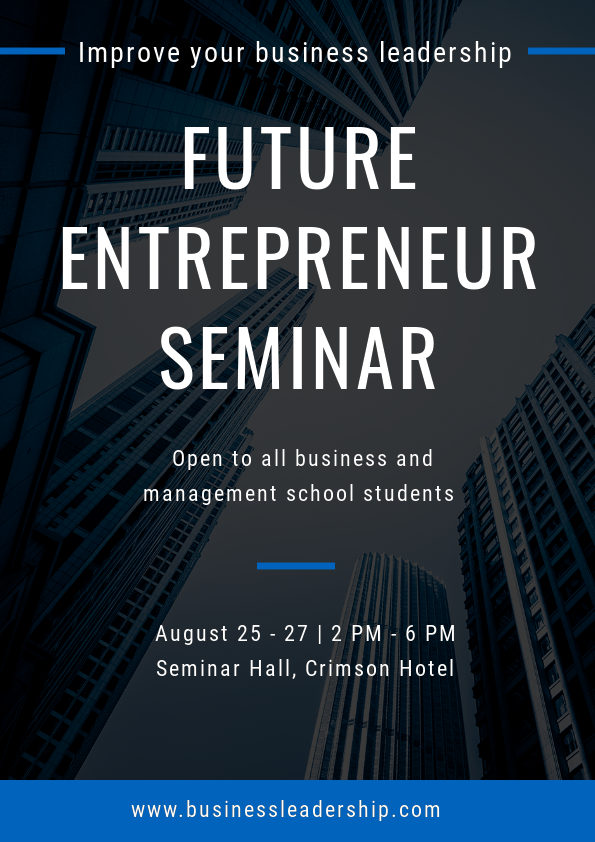 Get This Template and More
Template #7: Salon Poster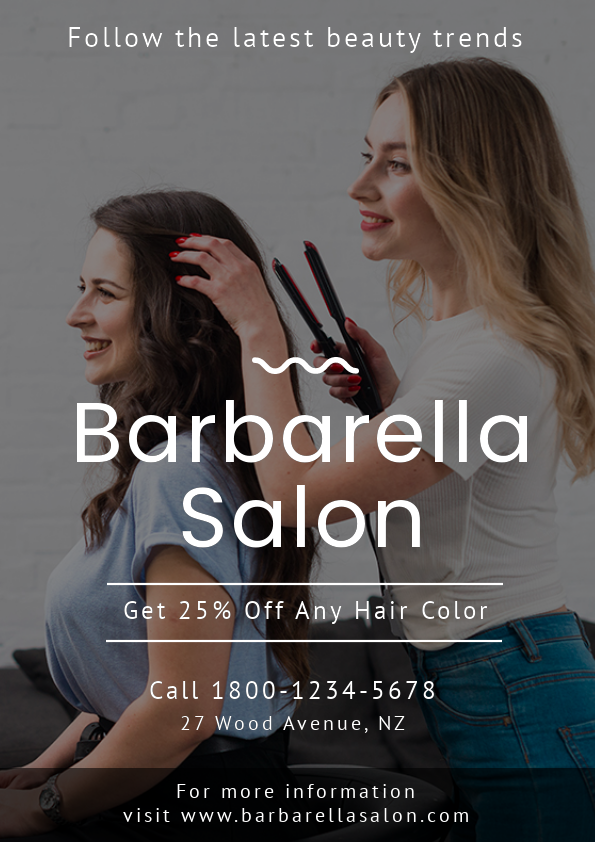 Get This Template and More
Template #8: Makeup Workshop Poster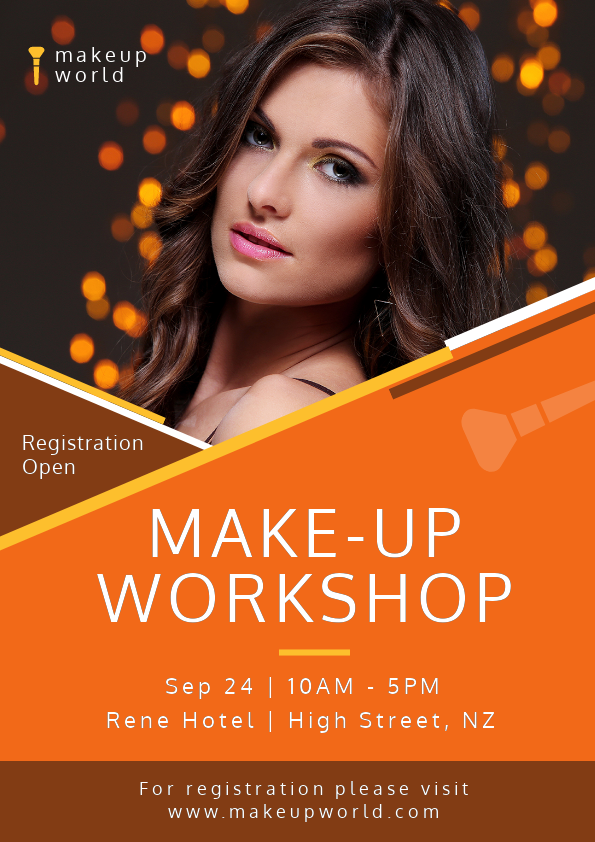 Get This Template and More
Template #9: Music Concert Poster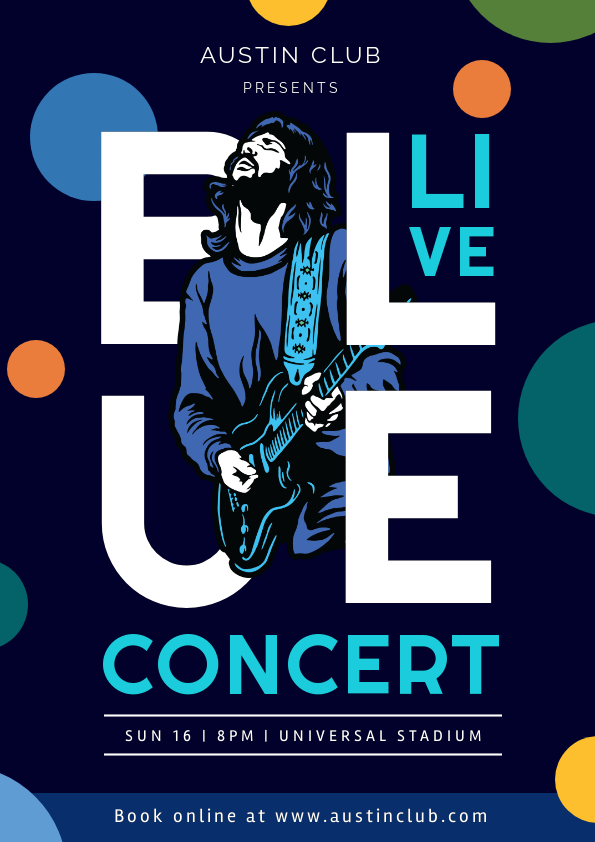 Get This Template and More
Template #10: Basketball Poster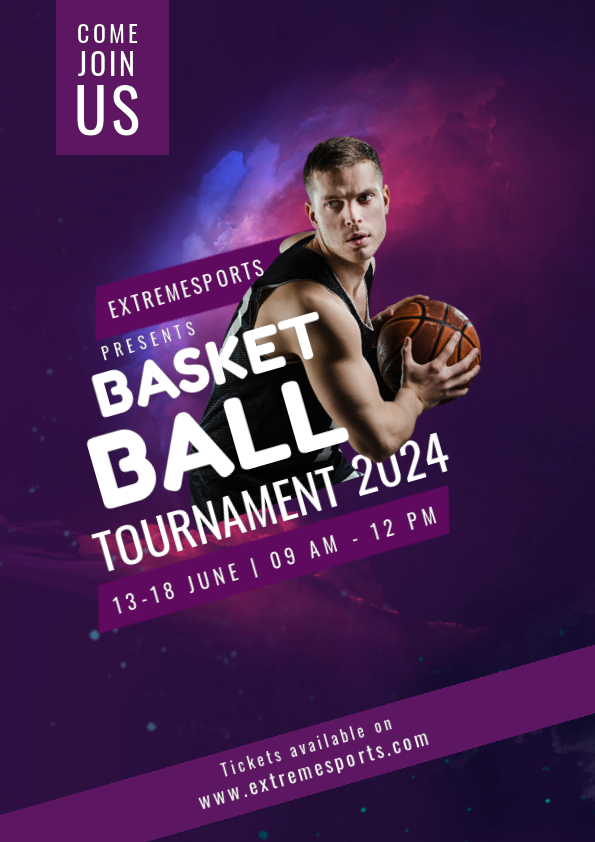 Get This Template and More
Template #11: Grand Opening Poster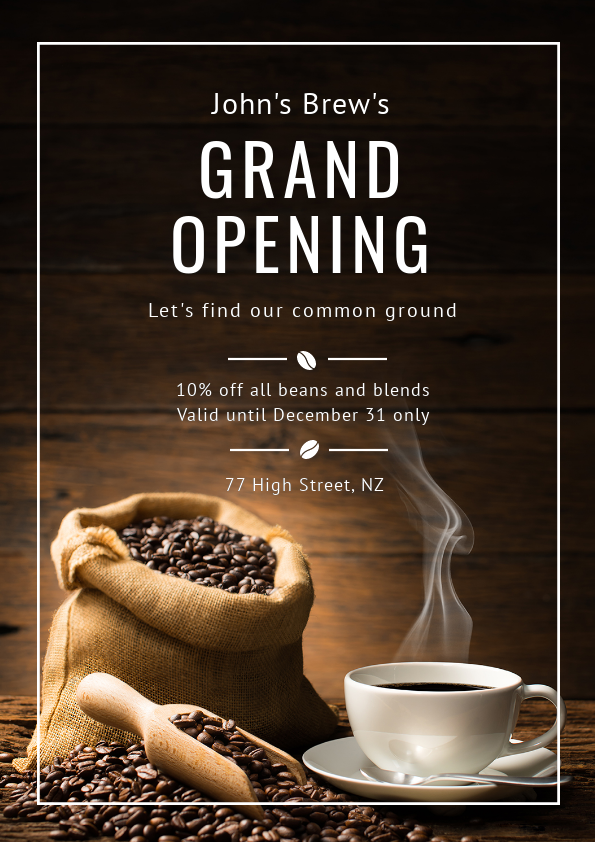 Get This Template and More
Template #12: Badminton Poster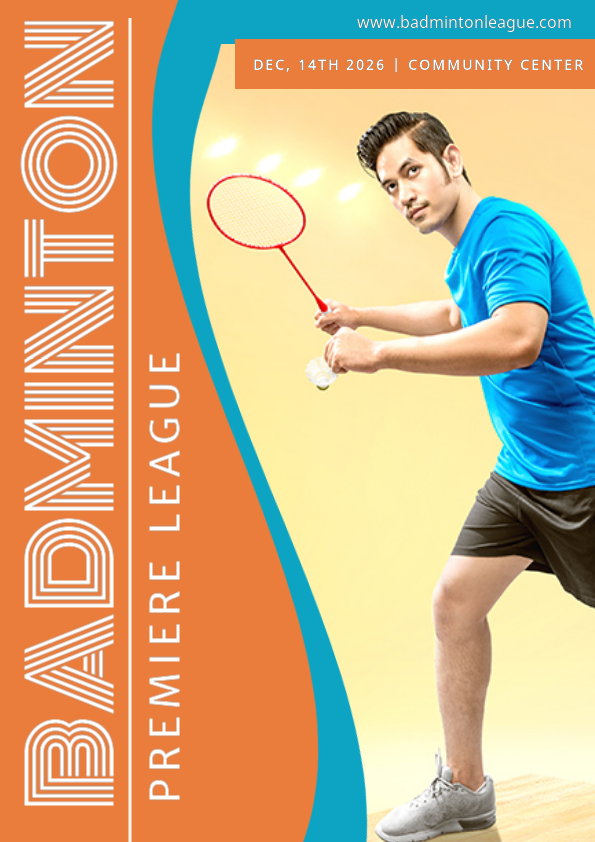 Get This Template and More
Template #13: Real Estate Poster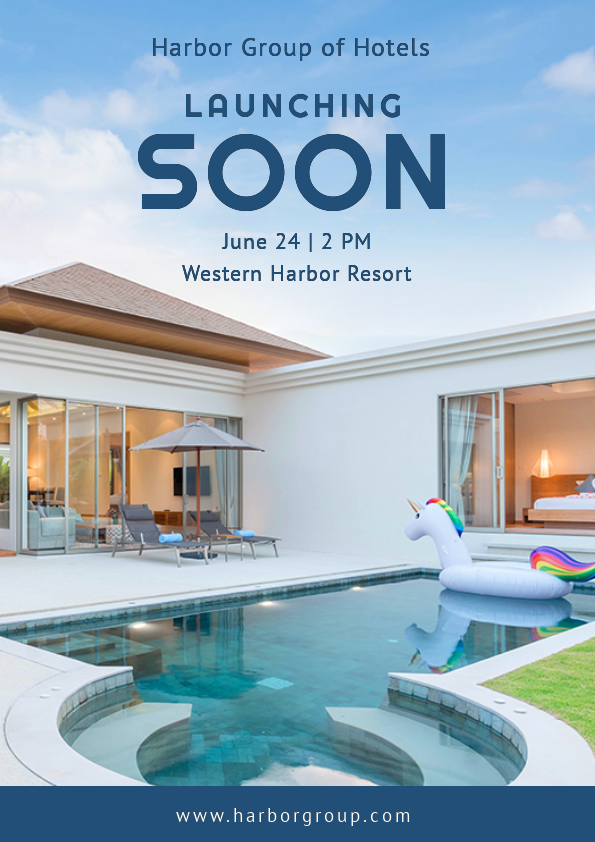 Get This Template and More
Template #14: Car Sale Poster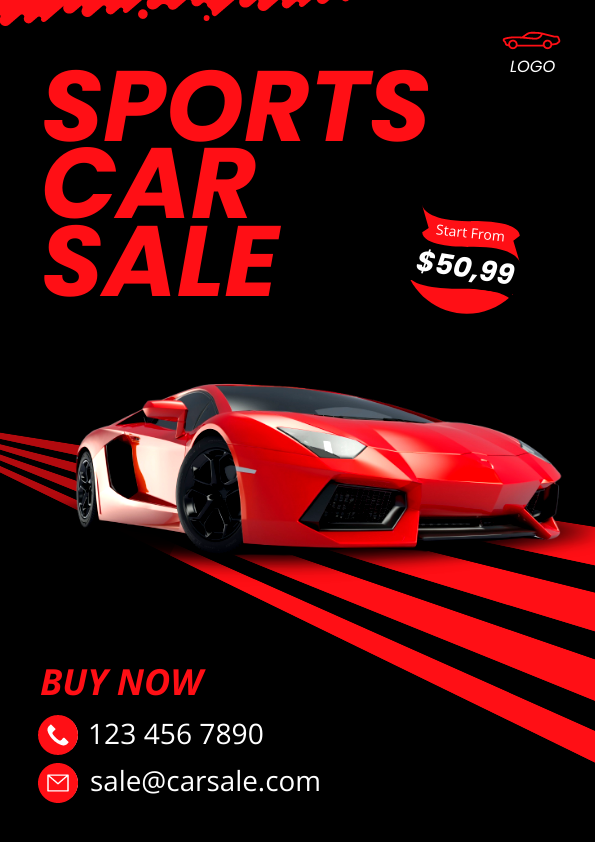 Get This Template and More
Template #15: Conference Poster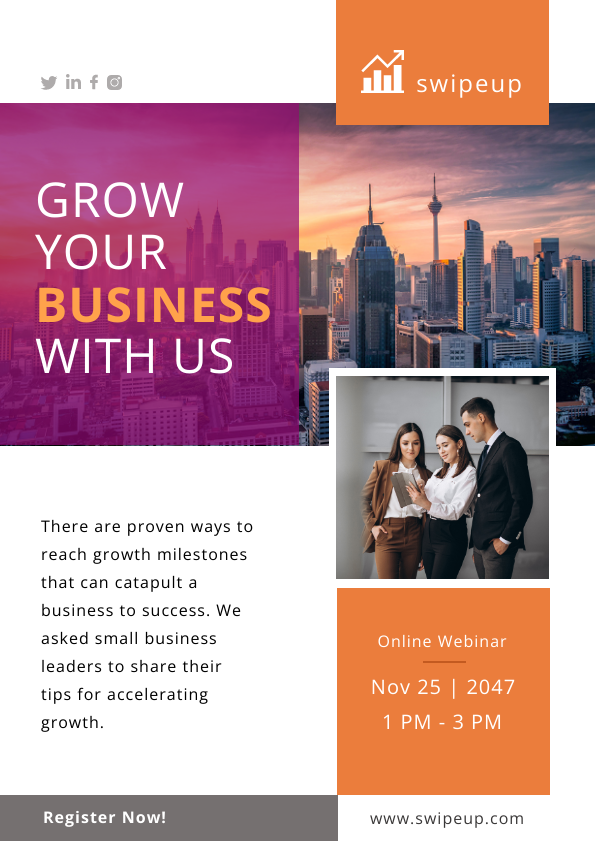 Get This Template and More
Template #16: Swimming Poster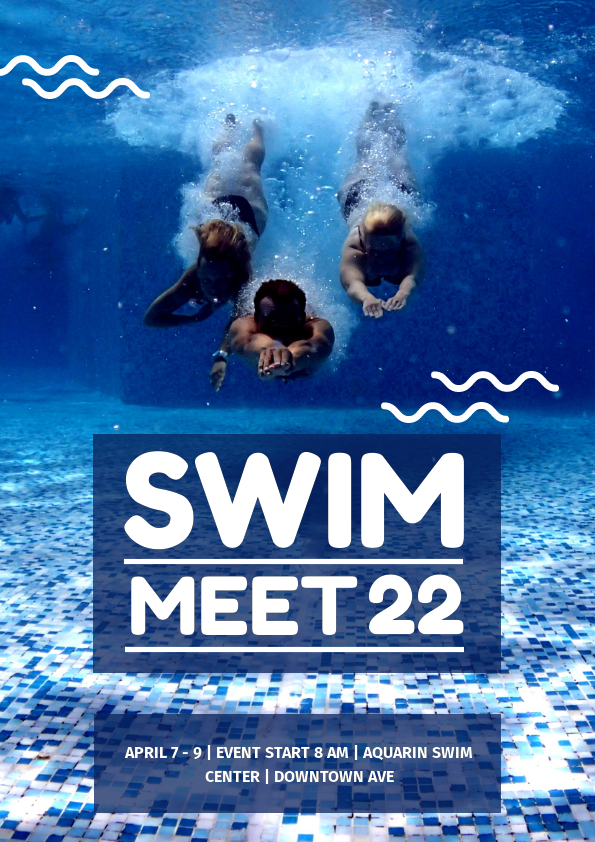 Get This Template and More
Template #17: Food Poster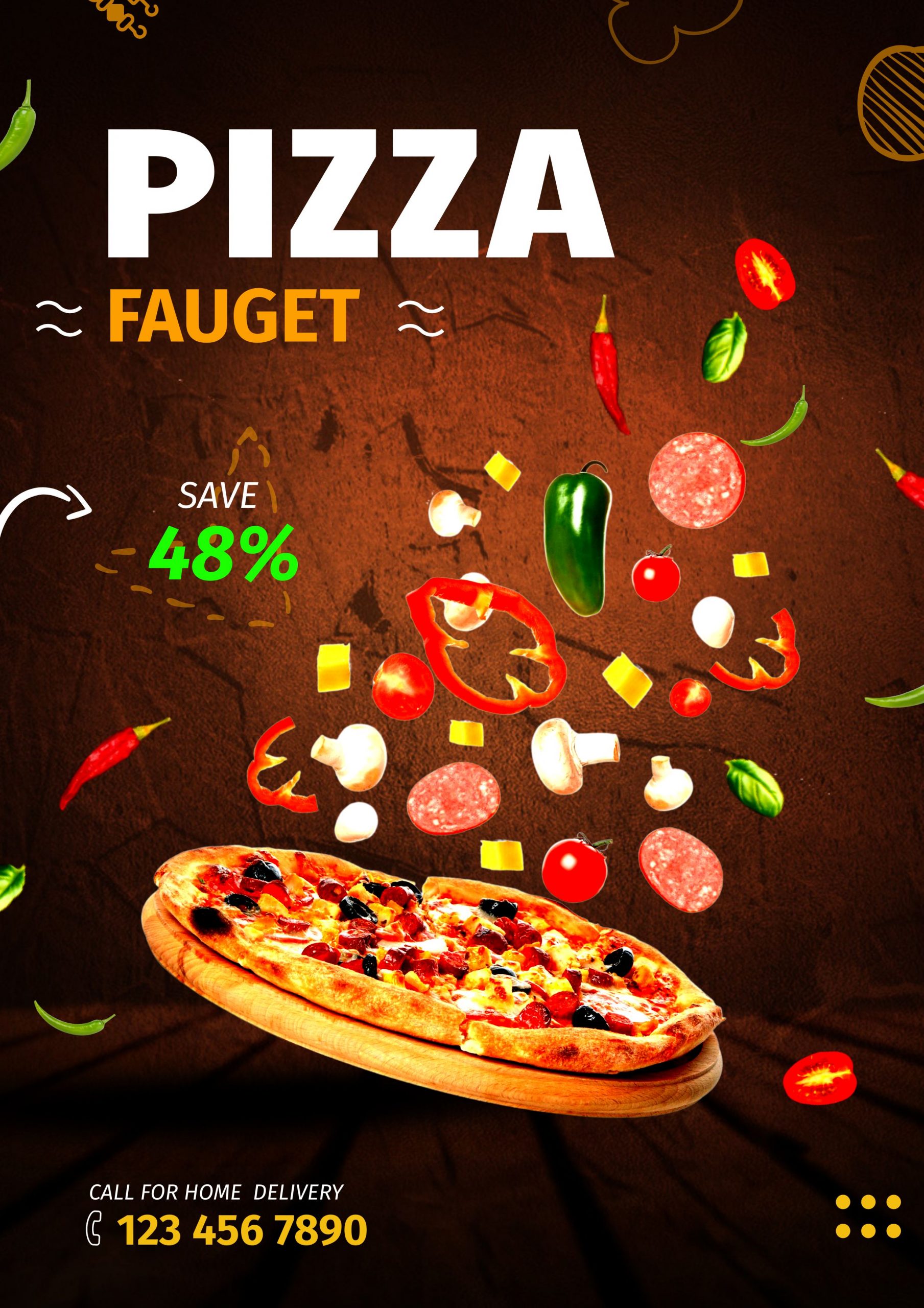 Get This Template and More
Template #18: Thanksgiving Poster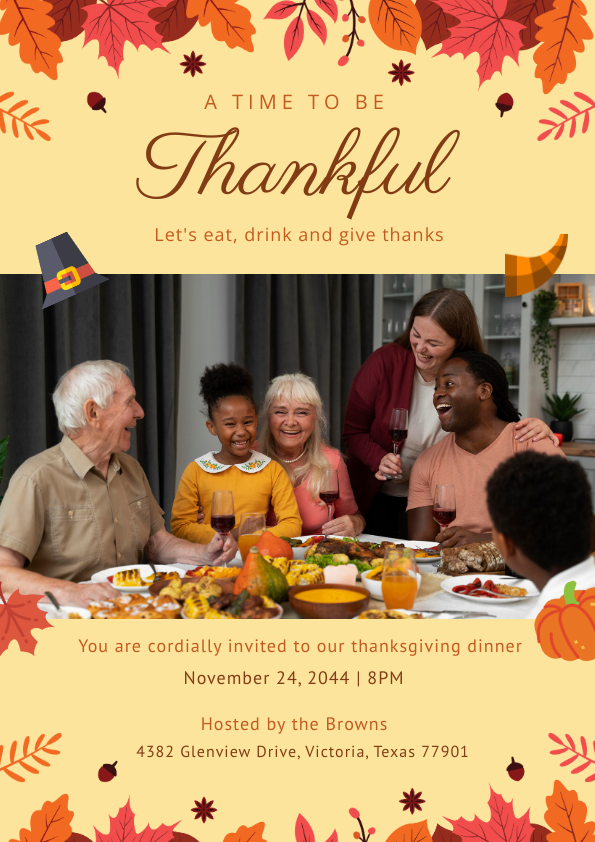 Get This Template and More
Template #19: Soccer Poster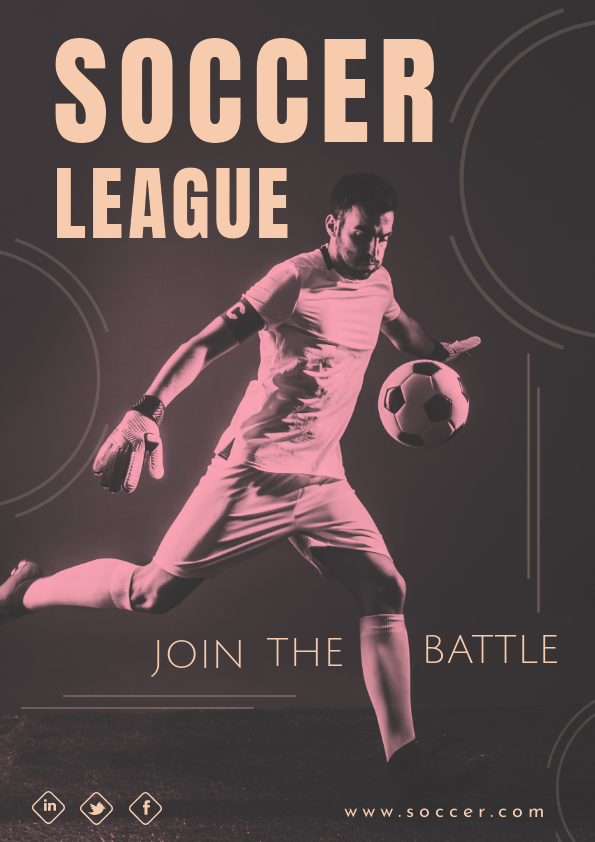 Get This Template and More
Template #20: Photography Class Poster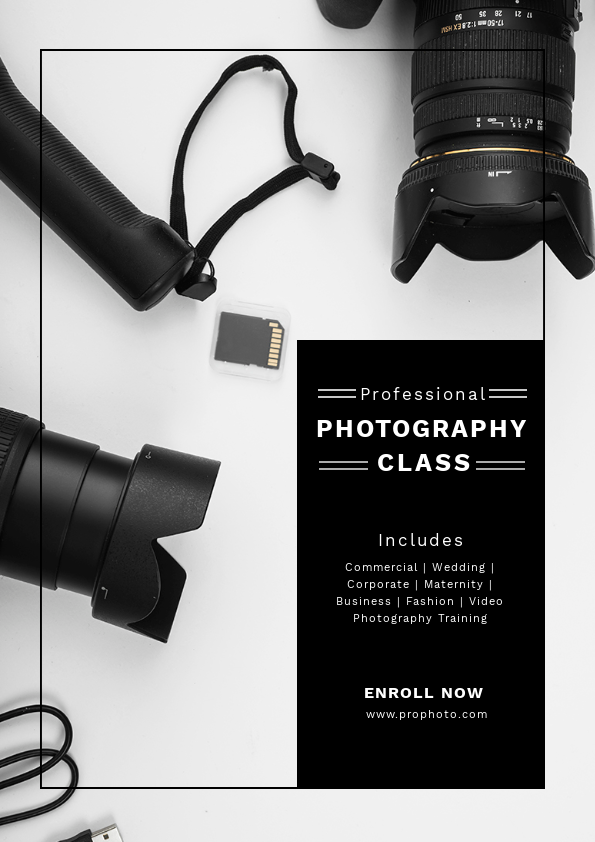 Get This Template and More
Wrapping Up
I hope you find this step-by-step guide helpful. DocHipo makes the poster design process painless with its stunning templates. Our rich design widgets help you create an online poster that is effortlessly unique and memorable. Sign-up for DocHipo, explore all the templates and work with the ones that match your purpose. Zero in on your messaging, add your own style to it and your captivating poster design is ready to grab eyeballs instantly.
FAQ
Why should I make a poster?
If you own a product or service business, host an event, or raise awareness about an issue, and so on, a poster is a remarkably impactful way to get your message across in public. This cost-effective visual medium, if designed strategically, can instantly capture and hold passers-by's attention, making them curious enough to read the details and intrigue them to take your desired action.
Are there any poster templates available?
You can explore graphic design tools like DocHipo for eye-catching poster templates across various industries and occasions. You'll find fully customizable templates, whether advertising any product or service, promoting special offers, spreading heart-melting wishes on special occasions, or creating a buzz for inviting people to business conferences, parties, events, and so on.
Can I use images from the internet in my poster?
Once you find an image online, determine if it's under copyright protection. Also, read the license to understand what it permits and if there are any terms and conditions. When searching for images on the internet, try to find licensable ones. However, using your own images in your poster to avoid copyright issues and stand apart from your competitors is best.