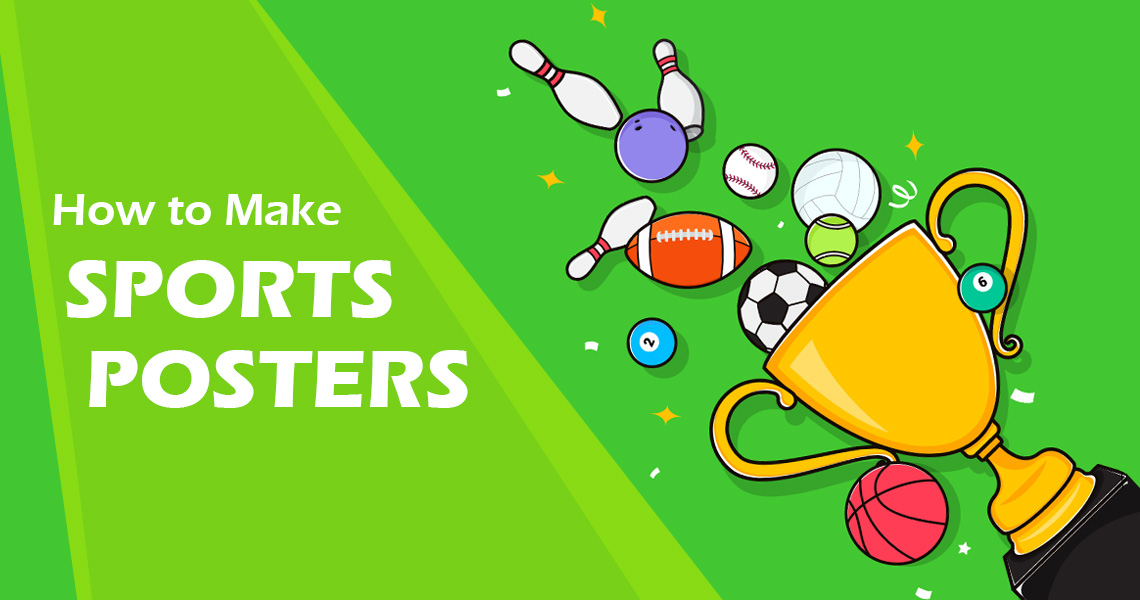 How to Make Sports Posters: Easy and Fast

May 28, 2020
Posters are possibly the most time-tested marketing materials ever used by humankind. As they are attention-grabbing, creative, to-the-point and versatile, posters can be used online or offline as per your requirement. So, if you are into the fitness and sports business wondering how to make sports posters to supercharge your marketing, then it's the right place for you!
In today's post we are going to talk about how to create sports posters that are teeming with energy, have that peppy sports vibe and most importantly don't need you to be a trained designer. Interested? Let's jump in!
Health and Fitness Posters: Take Your Marketing a Notch up
Traditionally, posters were used as a printed piece of document that focused on a singular announcement or idea. And with the advent of online media, posters too became more versatile in use.
So, if your service offering is related to health and fitness, you can use posters for:
Creating brand awareness
Promoting products, services and offers
Engaging and motivating your target audience
The fact that posters can focus on one singular idea at a time and connect with the audience on an emotional level makes them effective. So, while researching on how to make sports posters in photoshop or any other application, you must keep in mind some key factors.
Posters thrive on emotional connect. And the best posters in the history of marketing are those that portrayed human emotion, not logic.
They are visual documents. Of course, it is imperative to create a chemistry of colour, pictures and fonts that attracts and intrigues.
Posters must focus on one singular idea at a time.
Now the question is where to find sports posters that lets you use all of these tricks for your business. Well, the fact is you can create health and fitness posters yourself in as little as 5 mins of time. Too good to be true? Not exactly! Let's see how!
How to Create Sports Posters with DocHipo
Your gymnasium will open in a week. So, you require a bunch of posters immediately. Where can you buy sports posters? No need to search for a designing company. As you can create it all by yourself. We will hold your hand through the process. You must be excited about it, right? Take these easy 3 steps to your designing glory.
Step 1: Select A Template
After you sign up to DocHipo, choose one from a stock of beautiful templates of sports and fitness posters under the 'Poster' section. And you can design a poster from scratch. Or just chill and fast-track the process. You can redesign a beautifully designed template. Our talented designers have already done the tough job.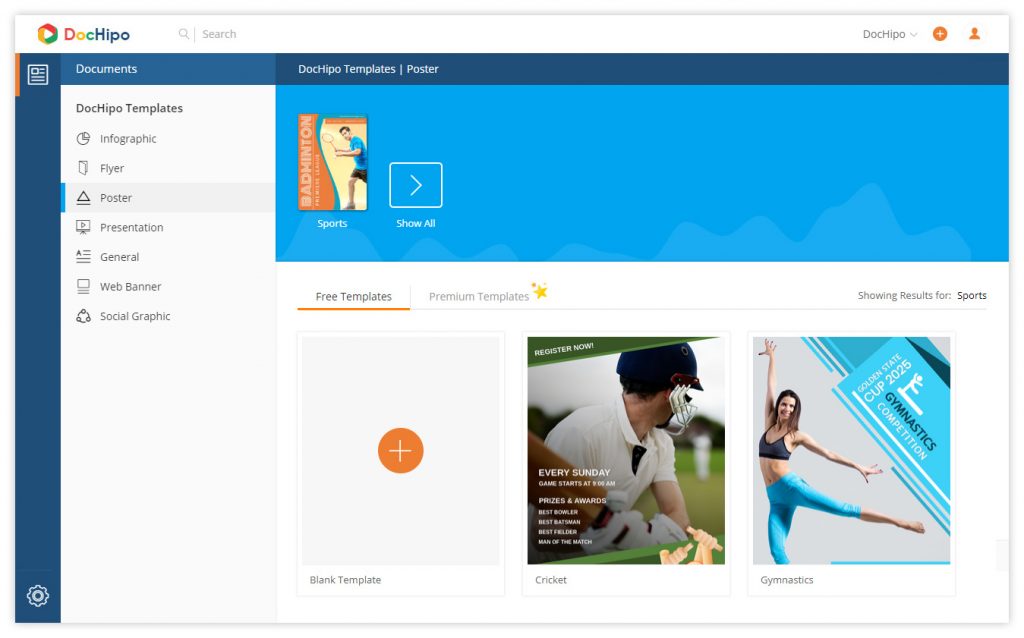 Hover on the thumbnail of a template of your choice. Click on 'select' to proceed!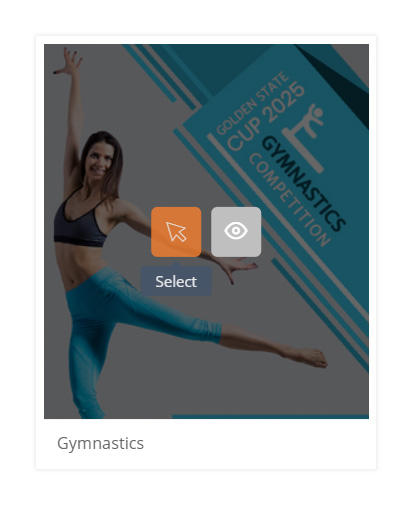 Click on 'Select' button. And you will see a form in which
Your name is auto-populated as the Document Owner (You can change ownership to anybody in the team).
Template name shows up as the Document Name (You can change this too).
Write a description of the Document that shows up in the Description section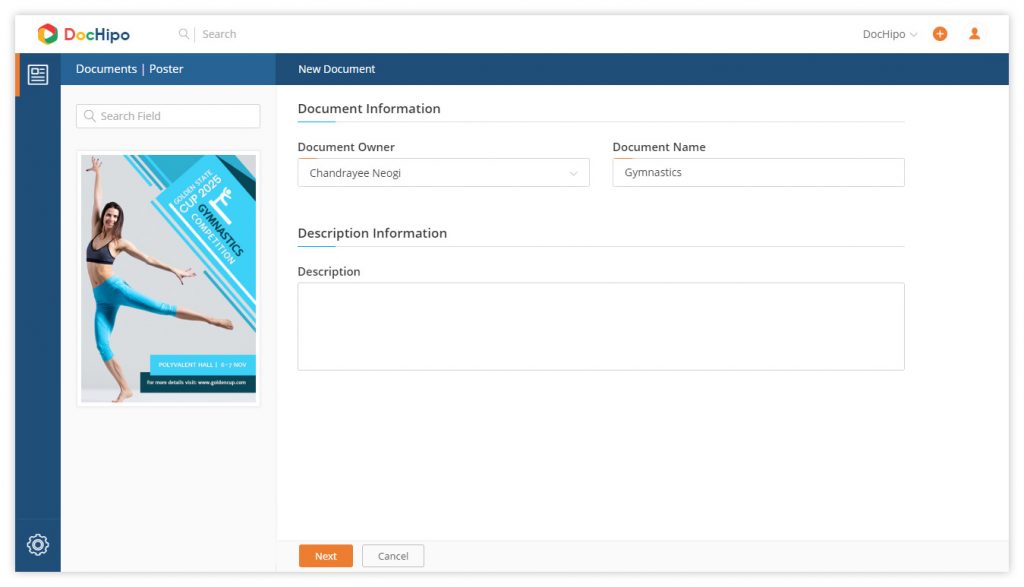 Click on 'Next' button.
Step 2: Edit Design
You have reached the editor. Now, you can customize the template in a simple drag and drop method.
You can change typeface, image, background, apply filter, use icons, illustrations. And all will be done in minutes. (check out this short video on how you can enhance picture right on DocHipo editor).
Stop worrying about dimensions. Because the DocHipo editor has a built-in canvas with the right document sizes. So, no need to check the dimensions.
Ta dah! Customization is done – Check out how your document looks like, before and after customization…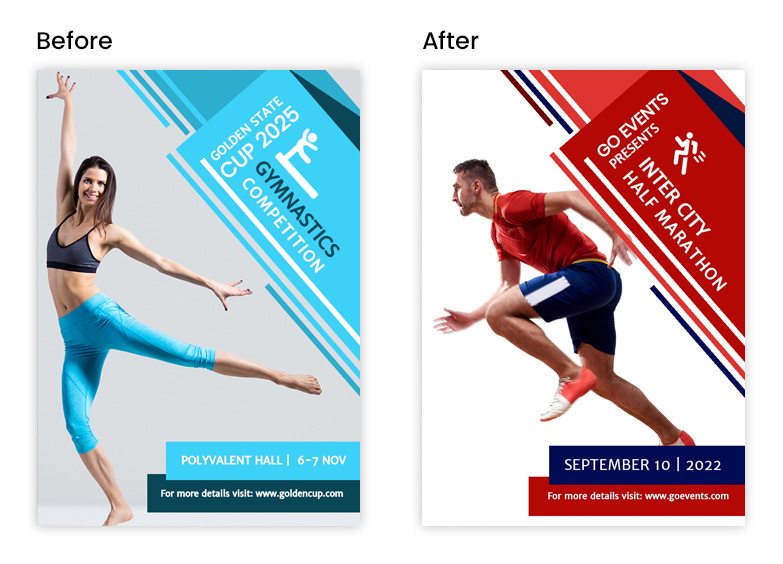 It took me around 60 seconds.
Step 3: Download
Once customization is complete, download the document. As you will print your ready poster, it is advisable to download a high-quality version of the doc. ('Download' button is at the top right corner).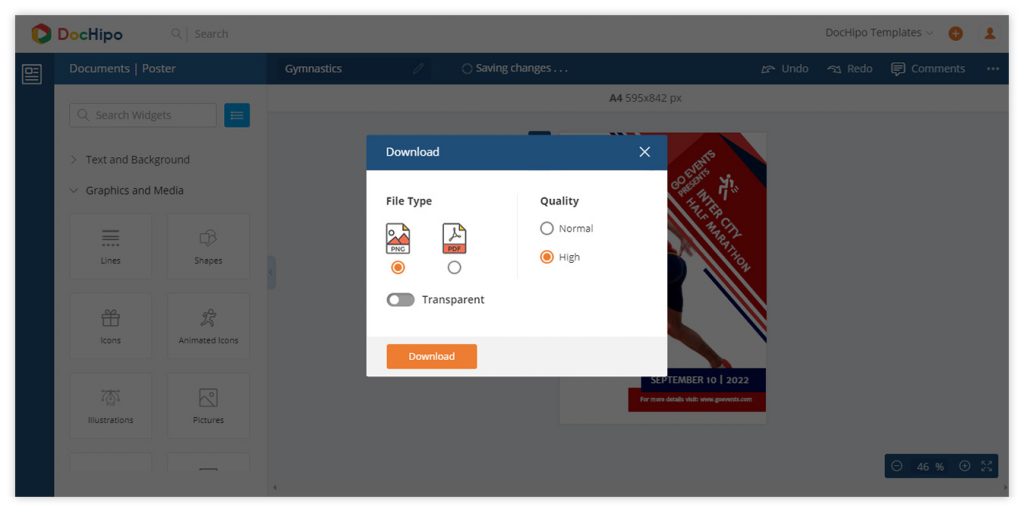 Your poster is ready to grab too many eyeballs. Now, frame it, put it up on the wall or paste it somewhere for maximum attention.
They are also adaptable to upload to any digital device for online distribution. This way, you can even reach out to a larger group of online targets.
How to Make Sports Posters Gorgeous: Pro Tips
Now you know that you can create beautiful health and fitness posters within minutes with the DocHipo editor. But, don't you want them to be drop-dead gorgeous?
DocHipo has a wide range of secret wands that you can weave your magic with. But, use them smartly. Take a look at our suggestions for jaw-dropping fitness posters ideas. For this is high time you learn how to make sports posters jaw-dropping.
1. You can use the 'Filter' option for a little off-beat effect to your poster.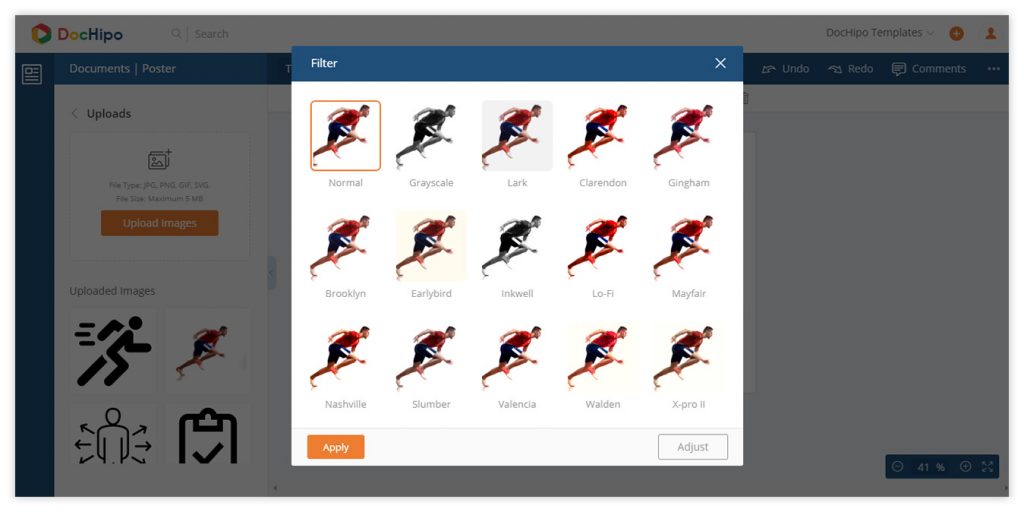 Click on the 'Adjust' button for an enhanced effect. Now, you can change the brightness, contrast, hue and tone of your poster.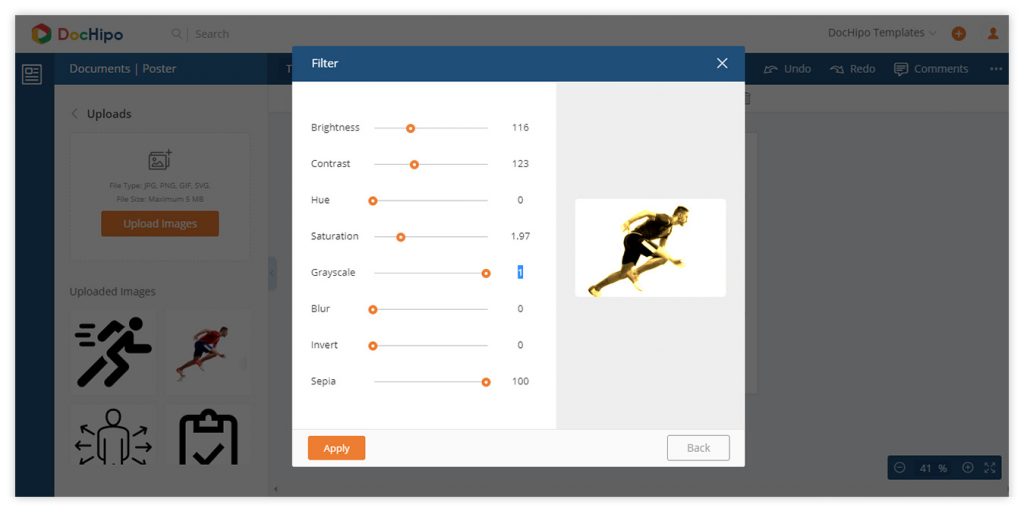 You can also play around with the crop button on editor for a different perspective.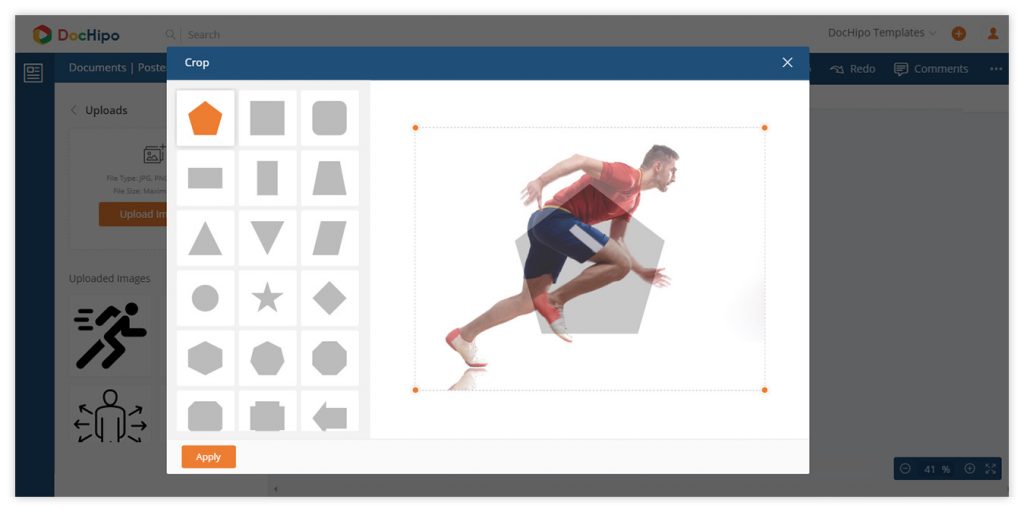 2. DocHipo has a long list of beautiful fonts that you can use on your posters. If you are deep in thoughts about how to make sports posters, it is time to focus on the typeface. Because the text on your health and fitness posters should have a perfect balance of beauty and readability.
You can use 'broken text' for a gorgeous look. We have used it in these templates below. Every letter is carefully placed for a bang-on effect.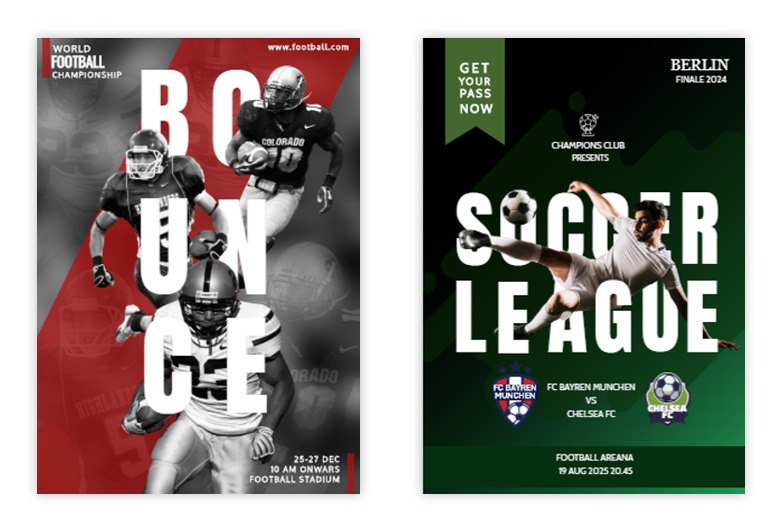 Use different shapes to create a perfect 'text background' for better readability.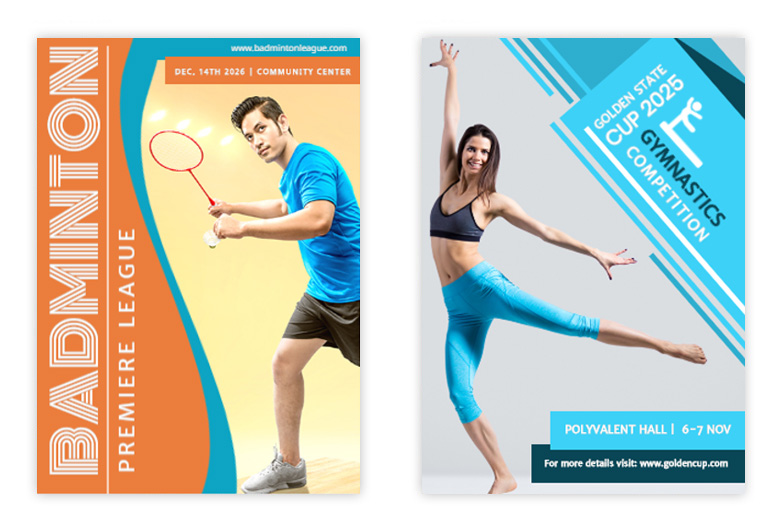 One more point, you must have noticed that in all these DocHipo templates, 'Typographical hierarchy' was our focal point. Because without that, the purpose of your health and fitness posters is defeated.
Now you know exactly how to make sports posters for fast and easy. So sign up to DocHipo for different other wonderful features to jazz up your health and fitness posters with.
Conclusion
If you are looking for sports and fitness related posters for some other use-case, please feel free to let us know here. We will create templates for the same and upload them to DocHipo. Till then, hope you enjoy working on DocHipo canvas.