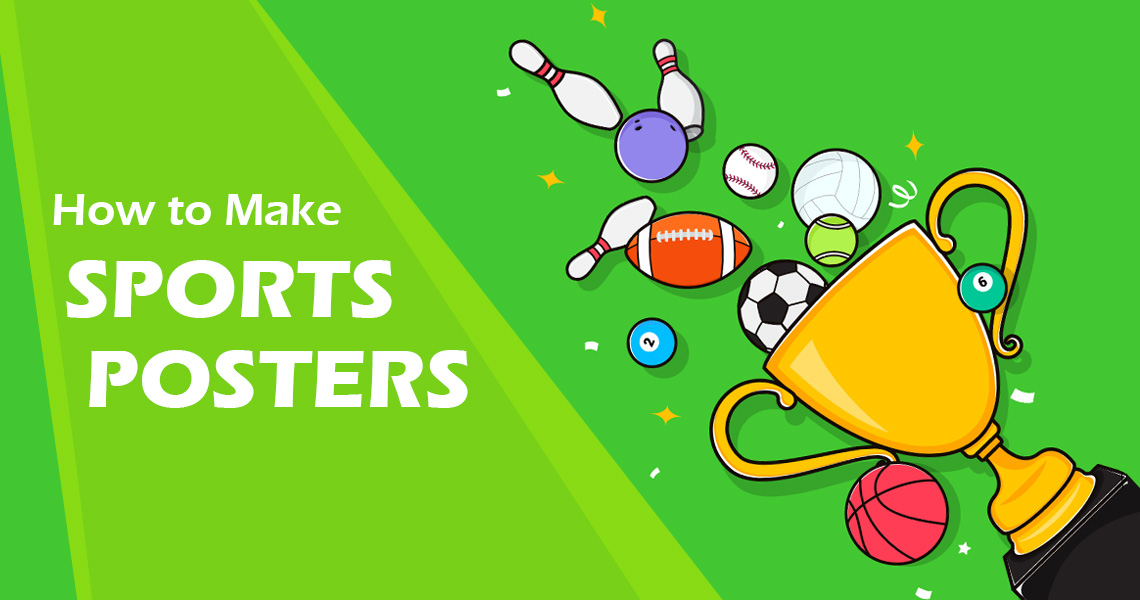 How to Make Sports Posters: Easy and Fast

Last Updated Jun 19, 2023
Are you looking to design one of the most effective printable marketing materials to promote a sports-related business or event?
Posters are possibly the most time-tested marketing materials ever used by humankind. It can draw attention to your sports day, sports business, fundraiser sports event, or anything related to sports you want. However, designing a poster can be one of the most exciting or frustrating design projects. If you are into the fitness and sports business and wondering how to make sports posters to supercharge your marketing, then it's the right place for you! DocHipo's Free Online Poster Maker allows you to design your sports posters like a designer, even if you are not.
In today's post, we'll talk about how to create sports posters teeming with energy, have that peppy sports vibe, and, most importantly, don't need you to be a trained designer.
Continue reading to learn more about sports poster design best practices.
Sports Poster Design Best Practices
DocHipo's stunning sports poster templates and the Design Widgets will smooth the design process. While there are no perfect guidelines for sports poster design, here are some best practices you should follow to get the perfect design.
Make Sure The Sports Poster Is Easily Readable
The primary goal of your sports poster is to expose people to an event or a business. Hence, the key information in the poster should be easily understandable from a distance; otherwise, it'll become useless. So, strategize your sports poster design accordingly. Avoid using fuzzy pictures, inappropriate fonts, and irrelevant graphic elements. Get inspired by this template below.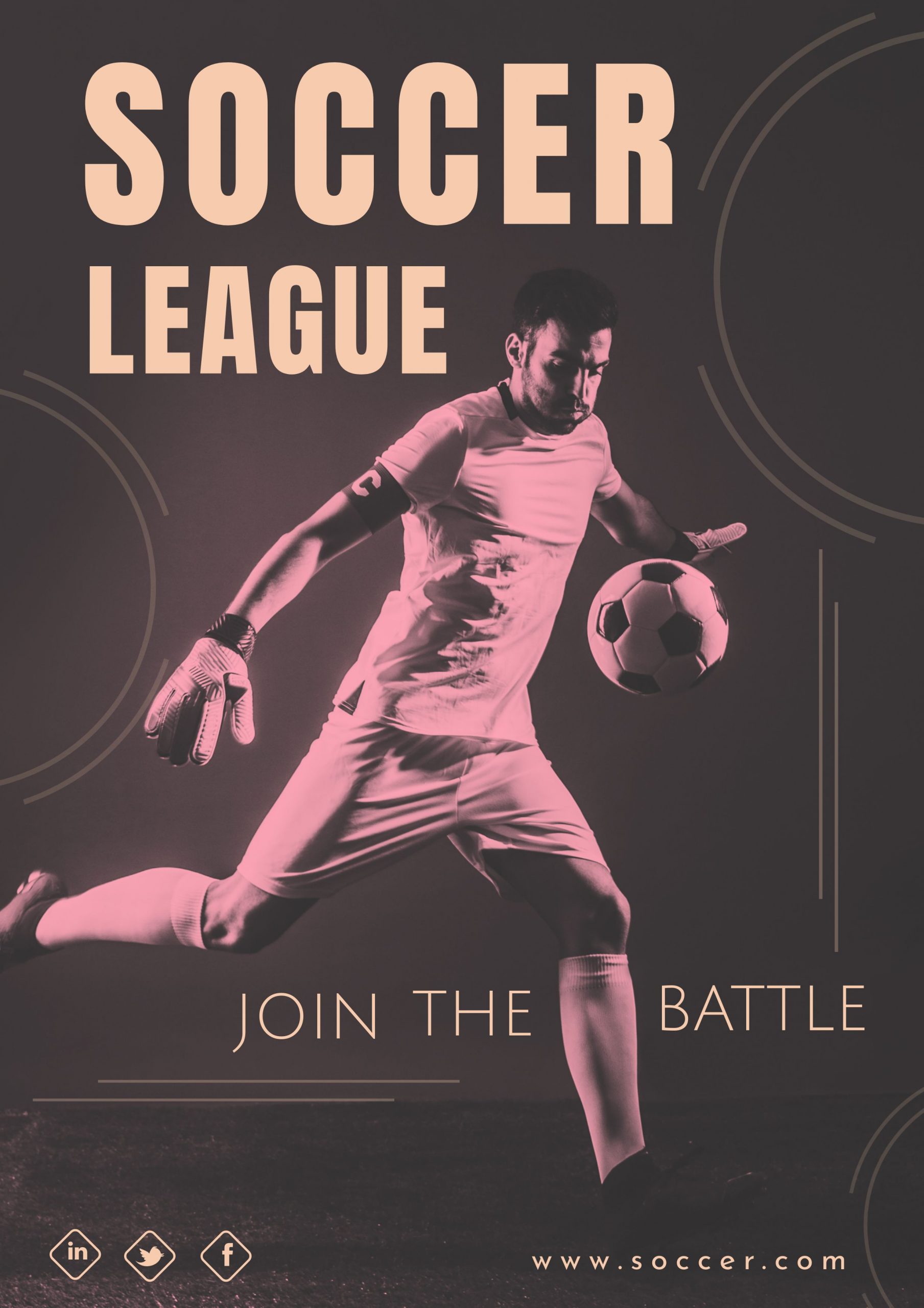 Get This Template and More
Utilize The Typography To Create Focus
The poster gives you the space to go crazy with beautiful typography. You might have seen those legendary posters that feature type and color only. Thus, you can play around with various fonts and include them in your sports poster design. However, always make sure to create a Typography Hierarchy in your design.
Sports poster design doesn't allow using ten different fonts in a single design. Choose two to three bolder, wider, bigger, and legible ones that you see fit. Create a contrast between the background elements and the fonts so the text pops.
Your sports posters will hang in outdoor spaces, so creating a focus is highly recommended.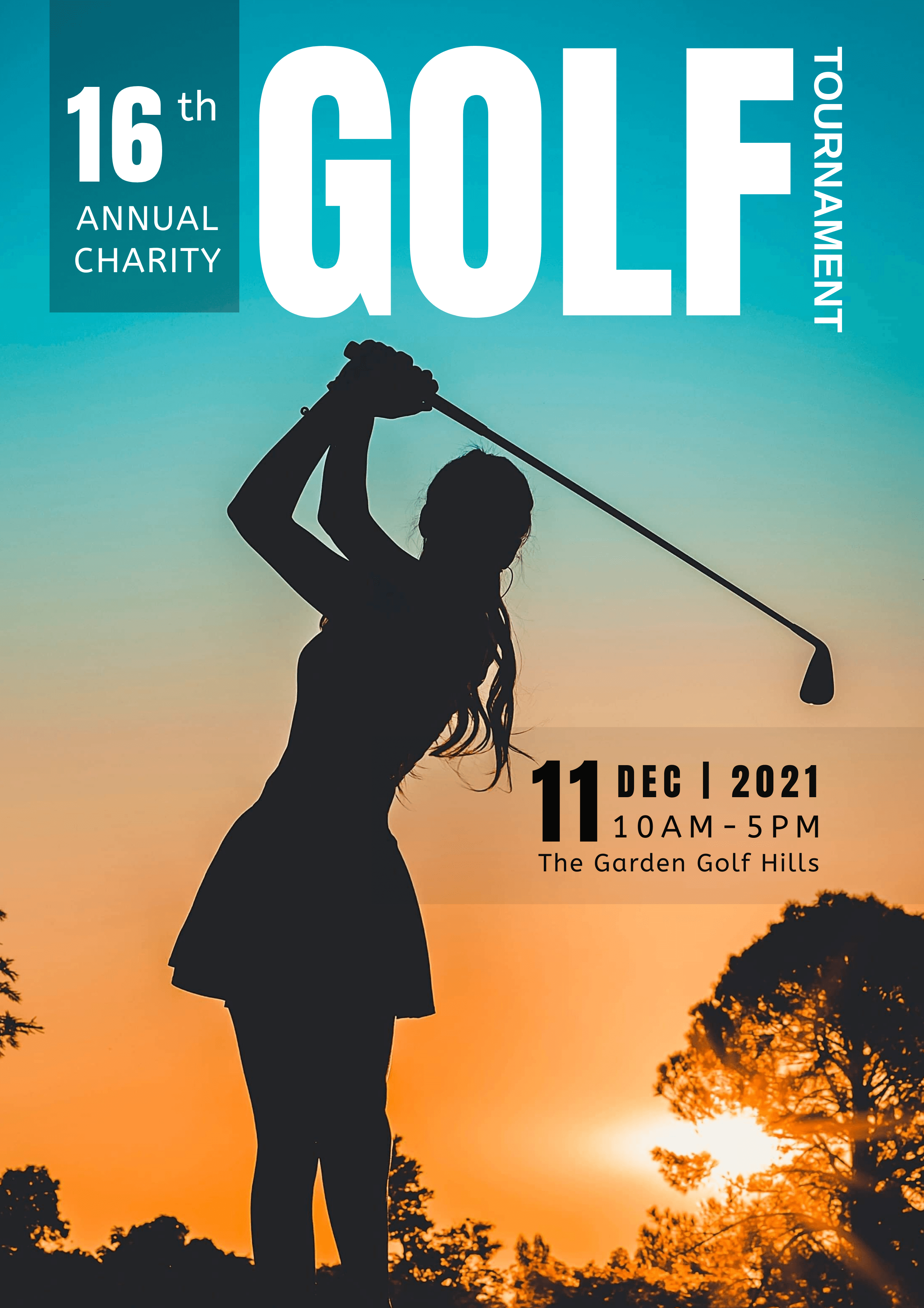 Get This Template and More
Choose Appropriate Colors To Amp Up The Contrast
You have only one glance to draw someone's attention to your sports poster design. Choosing appropriate colors to create high contrast between all the elements can help you do that effectively. If you already have brand colors, try to use them. But if you don't have any, choose a new color or two.
Since you are designing a poster related to sports, the colors you choose should be warm, bright, and bold. Even if you look at the graphic design trends, you will find this type of color in most designs. Sometimes a high contrast background with a full bleed can make your poster stand out from the crowd. Thus, making it crucial for you to choose colors wisely. Here are some sports poster design templates focusing on the same principles.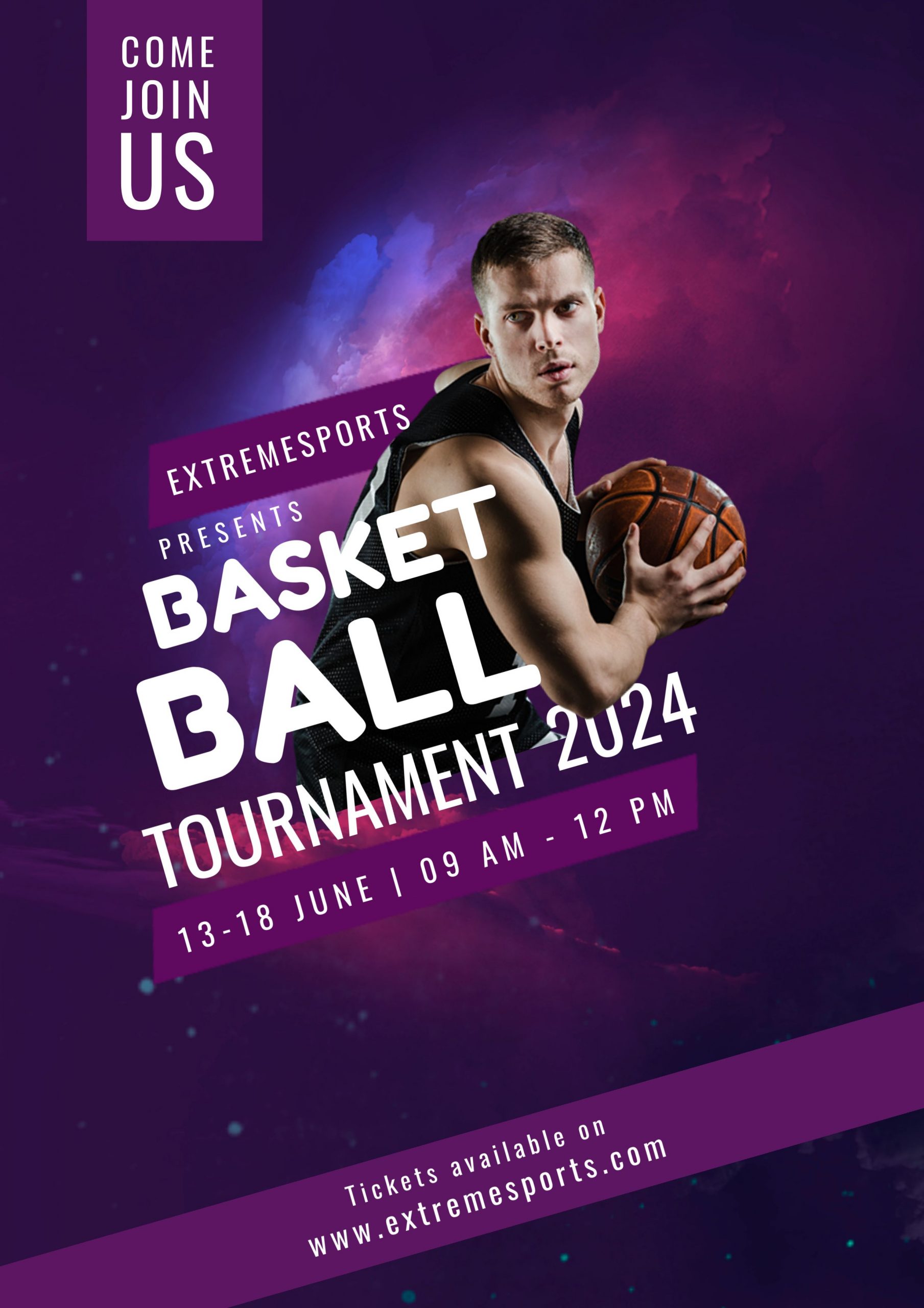 Get This Template and More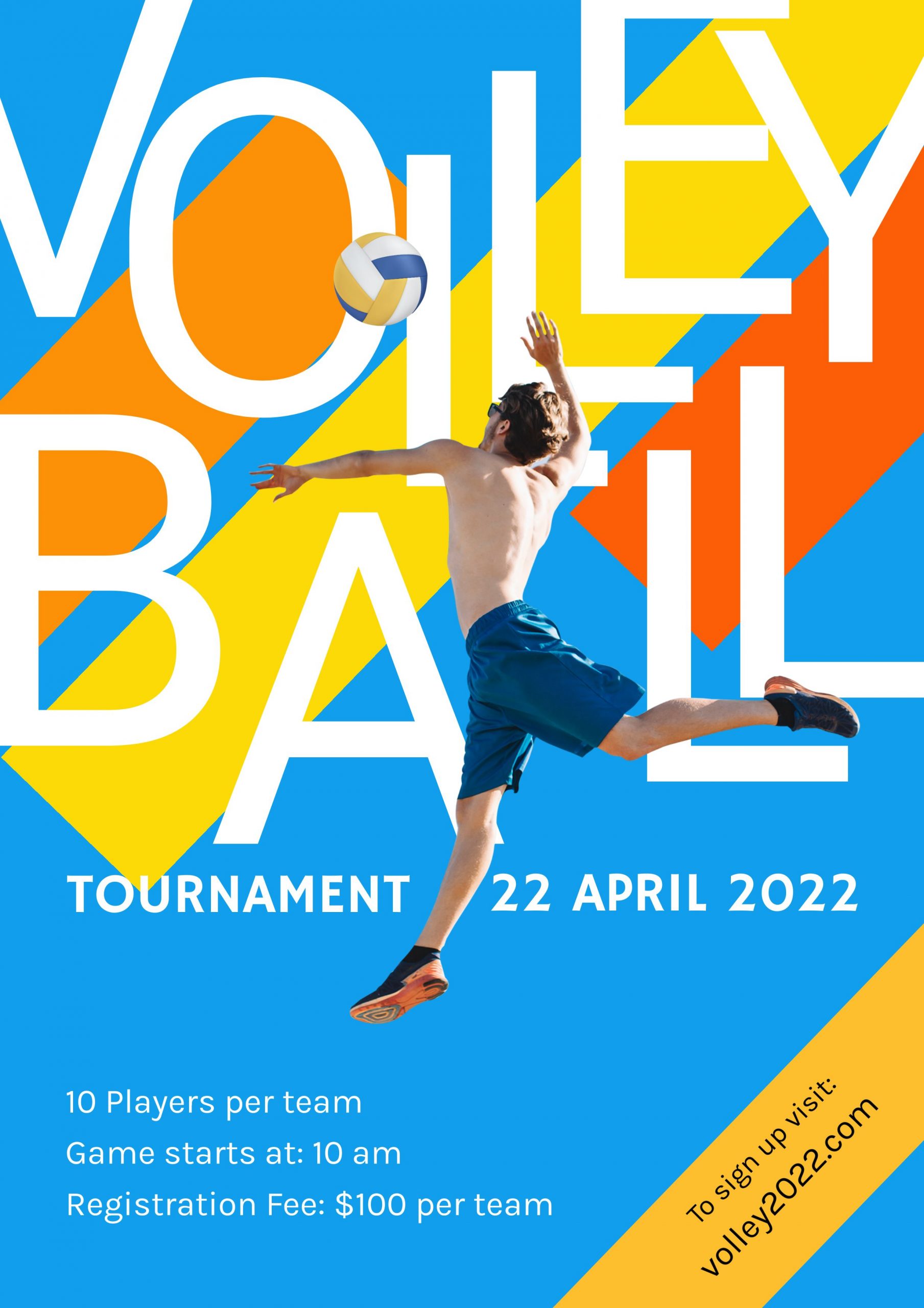 Get This Template and More
Always Use High-Quality Images
You might have already noticed that all the images that the sports poster design templates feature in this article are high quality. After spending hours of hard work printing and hanging them in your target locations, you don't want your design to appear blurry.
If you want to give your sports poster a professional look, you can not take the risk of using fuzzy images. Furthermore, printable document types like posters will be enlarged after printing, so slight blurriness or pixelation can become a nightmare for you. Hence, we always recommend using high-quality photos. And DocHipo's Photo Editor and Background Remover will help you enhance the images.
It doesn't matter whether you use a stock photo or one you clicked; they should be clean and crisp. I prefer a professional and relevant stock image over a blurry personal photo.
You can use photographs as a background.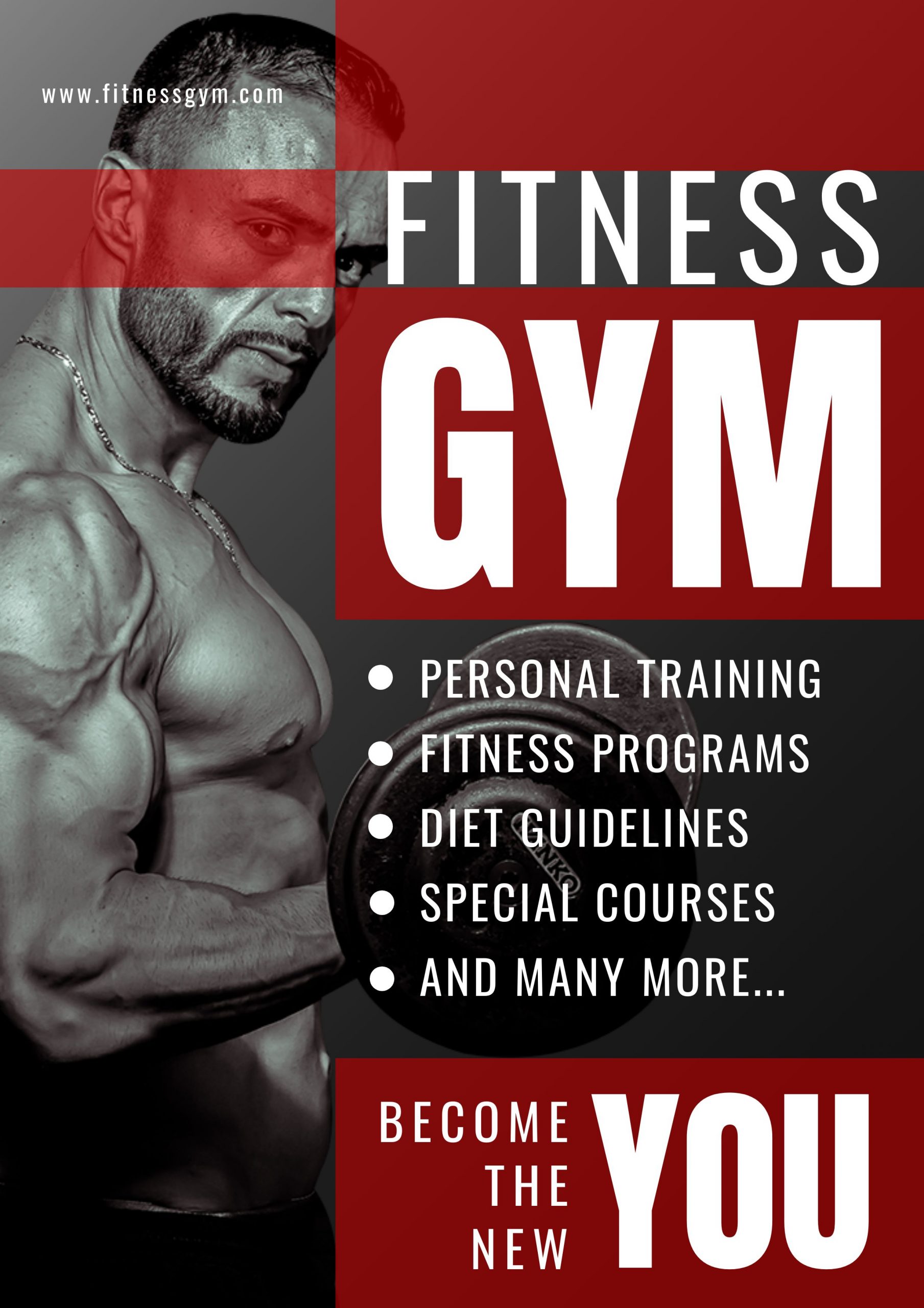 Get This Template and More
Or make it the focal point of the sports poster design.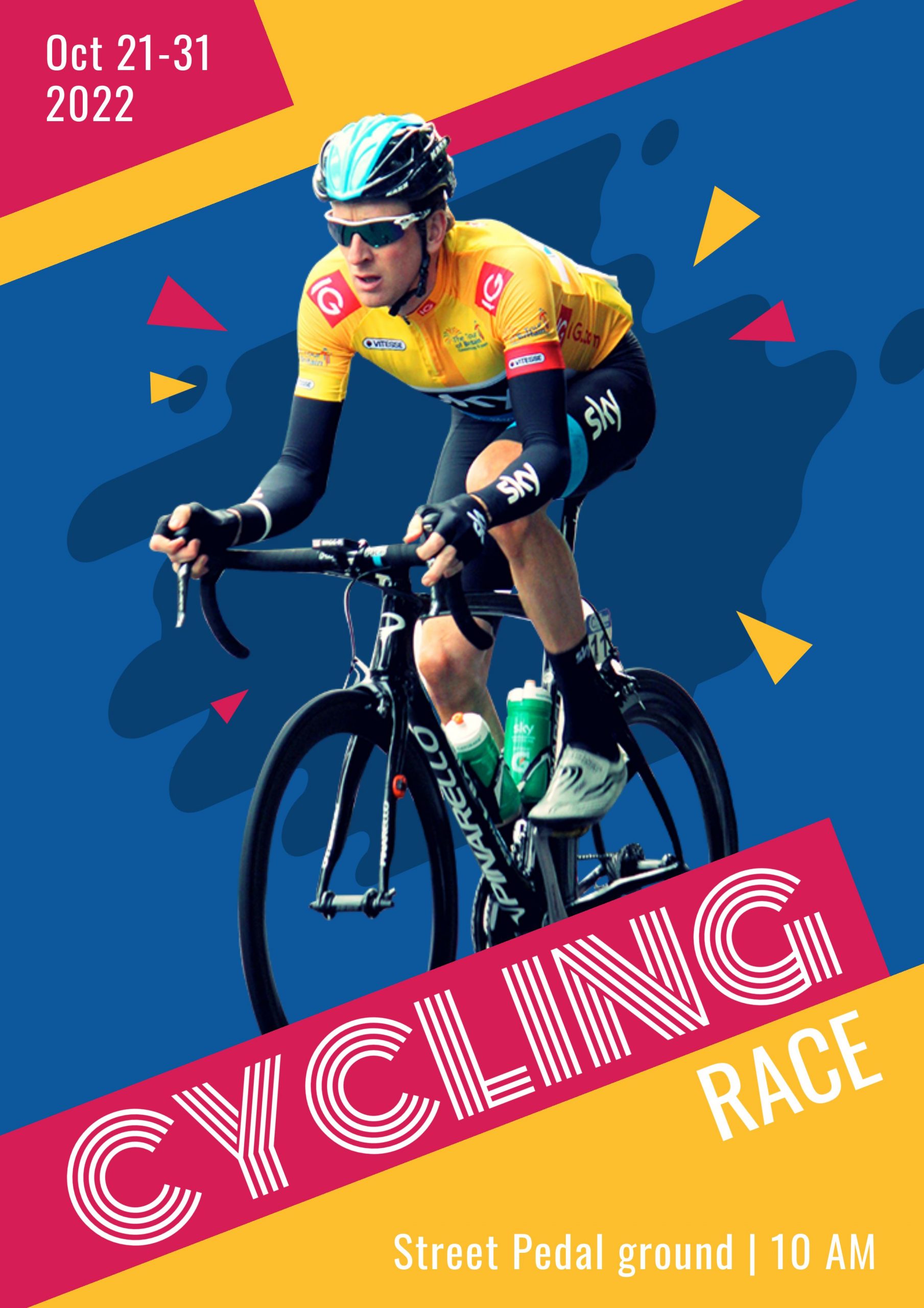 Get This Template and More
Many free stock photo sources like Pexels, Pixabay, Unsplash, Freepik, and more exist.
You can watch our guide on uploading images in DocHipo.
Additionally, DocHipo comes with a stock photo library that you can consider going through and find the image you are looking for. Also, read this article about How To Use Stock Images In Your Design to learn more about the same.
Use One Big Graphic Element
A good poster leads users to imagine a single thing while looking at it. Whether the poster is for an event, promotion, advertisement, or anything else, your sports poster design should feature a single graphic element like isolated illustrations, crops of faces, typography with high contrast, or any other relevant visual element.
Like the text in your template, the focus element should also be easily readable from a distance. Hence, it would be best to keep the balance between typography and the focus element so that they are independently identifiable while complementing each other.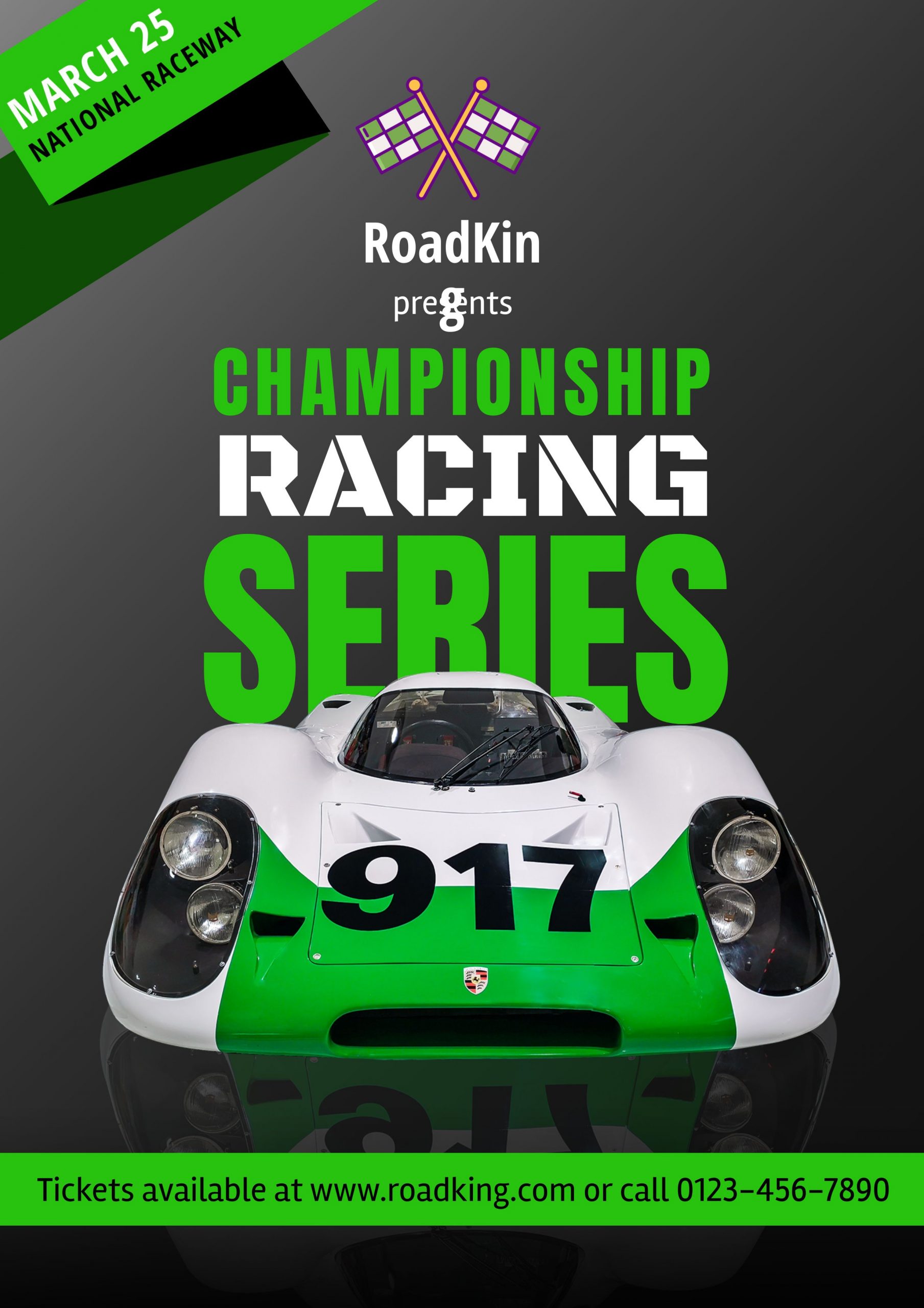 Get This Template and More
Leave Ample White Space
While designing sports posters or any other posters, don't exaggerate the overall design. Leave enough white space or negative space between all the design elements, so they get enough room to breathe. This negative spacing will surprisingly make your design aesthetically appealing.
You can leave space between individual letters, lines, images, texts, around the focus element, and many other places in the template. White spacing doesn't refer to the white color. The space can be of any color, and it can make or break your design, so apply it strategically in your sports poster design. Also, It's a huge opportunity for you to make your posters stand out.
Though all the sports poster design templates in DocHipo come with adequate white space, these two templates below explain it better.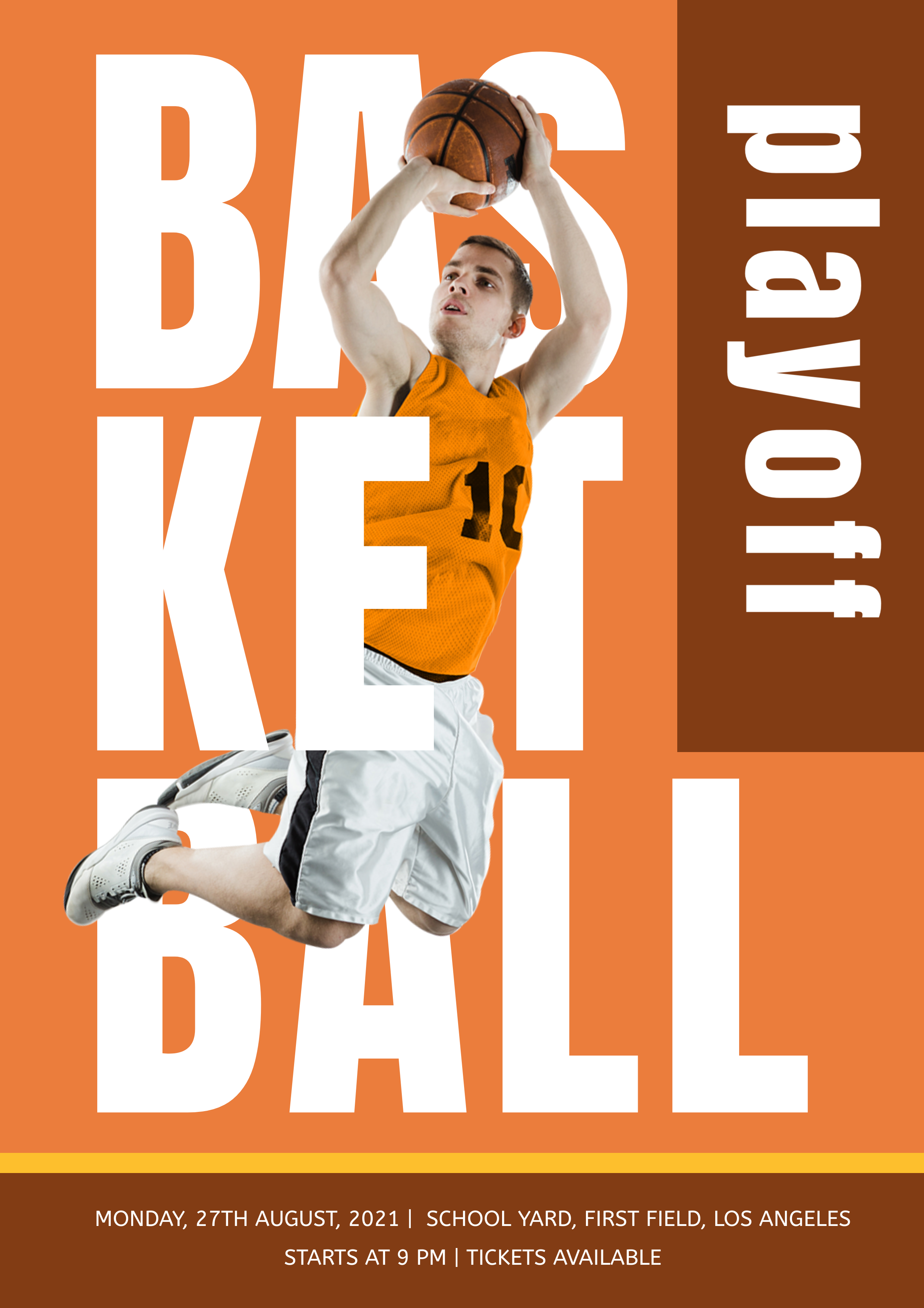 Get This Template and More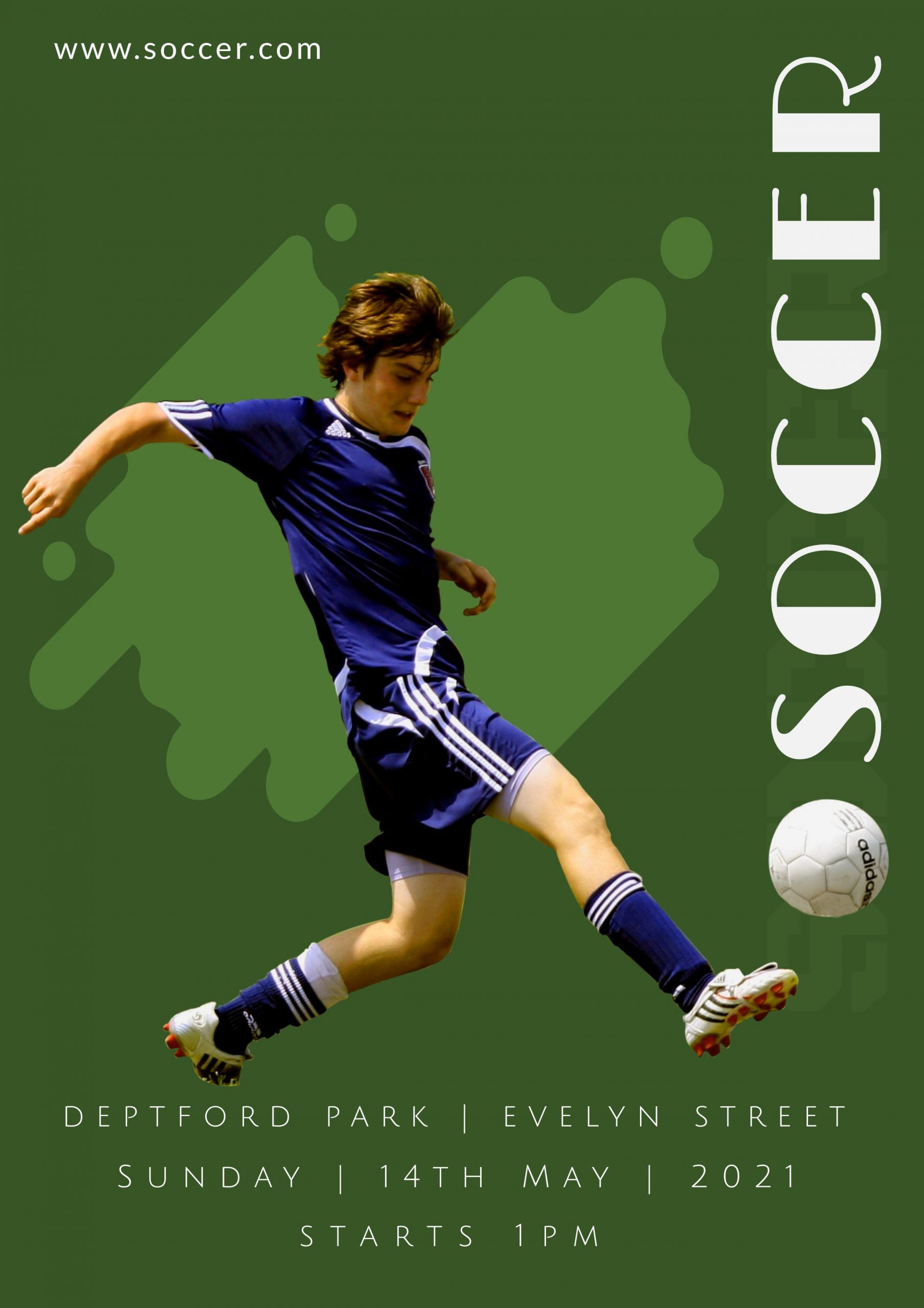 Get This Template and More
If you can follow these sports poster design best practices, your posters will draw a huge number of eyeballs at a glance and achieve your marketing goals.
Here is a video for you to look at the Poster templates that DocHipo offers.
How to Create Sports Posters with DocHipo
Your gymnasium will open in a week. So, you require a bunch of posters immediately. Where can you buy sports posters? There is no need to search for a design company as you can create it yourself. You must be excited about it, right?
DocHipo features a wide variety of elegant sports poster design templates. Just pick your template, customize it according to your need and get your final design in a matter of seconds. And the best part? It's free.
Create an account in DocHipo and follow the three easy steps below.
Step 1: Choose A Sports Poster Template
After signing up, you'll land inside DocHipo's all templates page, where every template category under different document types is well segmented. To find your sports poster template quickly, type "Poster" in the search bar.
Go through the wide variety of template categories under the 'Poster' section and choose "Sports" among them.
You can design a poster from scratch. Or just chill and fast-track the process by redesigning a beautifully designed template.
Hover over the template of your choice and click "Preview" if you wish to take a look at it before customizing.
Click "Select" to take the template to DocHipo Editor if you have decided on a template.
On the new page, your name is auto-populated as the Document Owner (You can change ownership to anybody in the team). The template name shows up as the Document Name (You can change this too). Additionally, you can give the document a short description. Click "Next."
Step 2: Edit The Sports Poster Template
Customize the sports poster design template. Replace the imagery, edit the text, and incorporate other design elements like shapes, icons, lines, and many more. It's easier than you think. Here is how:
Set a Background
There are two types of background in general: The photo background and the solid background. Backgrounds with solid colors with no images are called solid backgrounds. Contrarily, the backgrounds with images are called photo backgrounds.
Click the Background tab under "Graphics and Media" to customize the template's background.
Choose any color from the presets or pick any custom color using the color picker tool.
Moreover, choose any gradient images from the list to create a gradient background like this template.
Watch the video below to learn how to create stunning backgrounds in DocHipo.
Edit The Text
Click on the Text tab from the left sidebar to add text to your template.
Double-click on the text you want to edit and then type your text to replace it with yours. Use the edit panel to change the font, color, size, and many others.
Here's a quick guide on how you can add, edit, or delete text in DocHipo.
Change The Imagery
To change the imagery in your sports poster design template, click "Pictures" from the left sidebar and choose an image from DocHipo's stock images library.
Alternatively, if you wish to use your images, click "Uploads" and then "Upload Images," select an image from your files and upload it to DocHipo.
DocHipo's Drag and Drop feature will help you quickly add images to your template.
Customize Other Elements
If you want to customize the other elements in your template, click on it, and the edit panel will appear on top. Use it to change the color, opacity, arrangement, and many more.
Before Customization:
After Customization:
Step 3: Download The Sports Poster Design
If you are satisfied with the sports poster design and want to download it, click the three dots in the upper right corner and choose "Download" from the drop-down menu.
Select your desired file type and quality and click on "Download." The document will be automatically downloaded to your system.
Your poster is ready to grab too many eyeballs. Now, frame it, put it on the wall or paste it somewhere for maximum attention.
They are also adaptable to upload to any digital device for online distribution. You can reach out to a larger group of online targets.
How to Make Sports Posters Gorgeous: Pro Tips
Now you know that you can create beautiful sports posters within minutes with the DocHipo editor. And we've already covered the best practices. But don't you want them to be drop-dead gorgeous?
DocHipo has a wide range of secret wands with which you can weave your magic. But, use them smartly. Take a look at our suggestions to learn how to make sports posters jaw-dropping.
1. You can use the 'Filter' option for a little off-beat effect on your poster.
Click on the 'Adjust' button for an enhanced effect. Now, you can change the brightness, contrast, hue, tone, etc., of your poster.
Check our demonstration on how to enhance pictures with DocHipo filters.
2. You can also play around with the crop button on the editor for a different perspective.
Here's a quick tutorial on how to crop photos in DocHipo.
3. DocHipo has a long list of beautiful fonts you can use on your posters. If you are deep in your thoughts about how to make sports posters, it is time to focus on the typeface. Because the text on your health and fitness posters should have a perfect balance of beauty and readability.
You can use 'broken text' for a gorgeous look. Every letter is carefully placed in the templates below for a bang-on effect.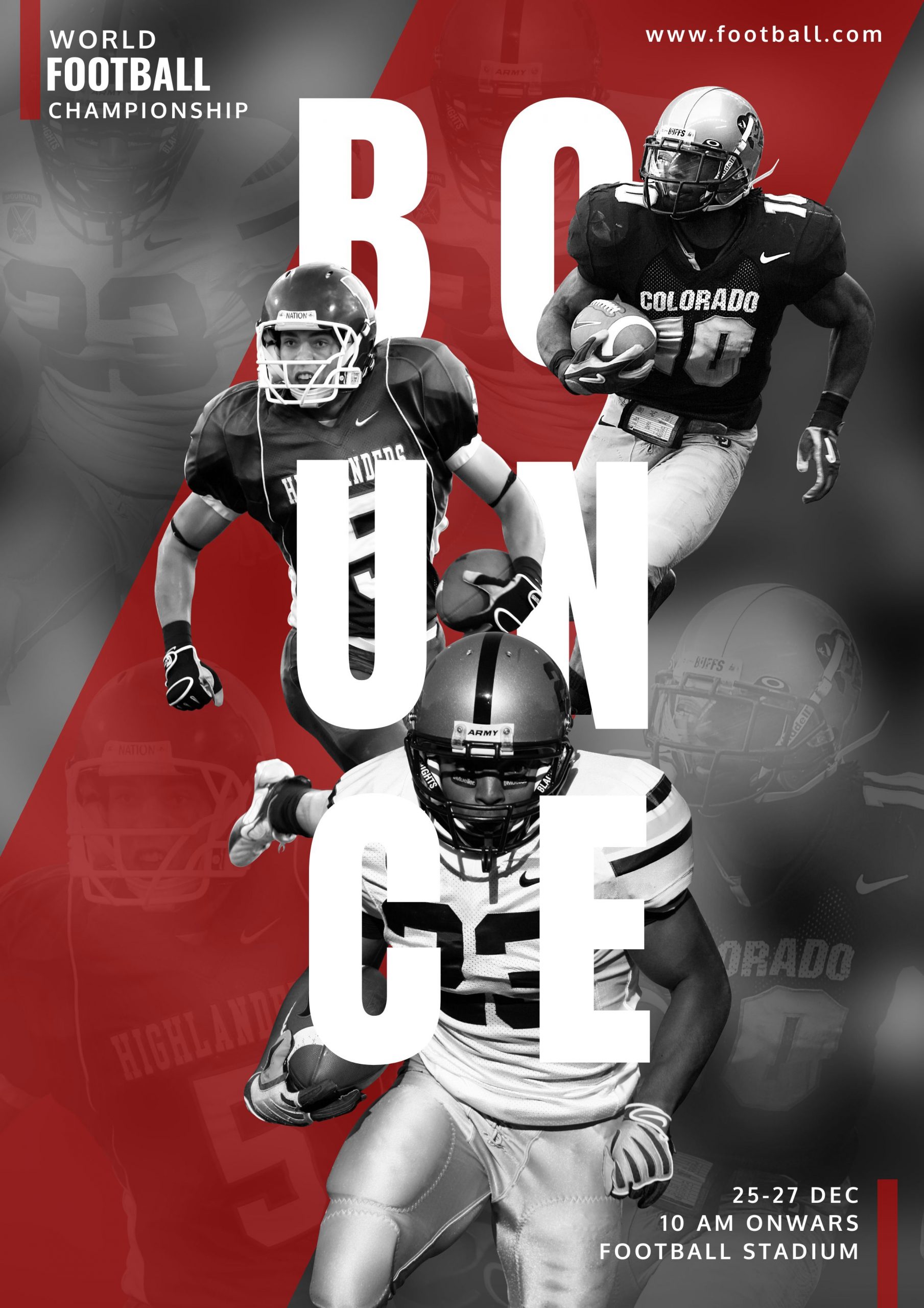 Get This Template and More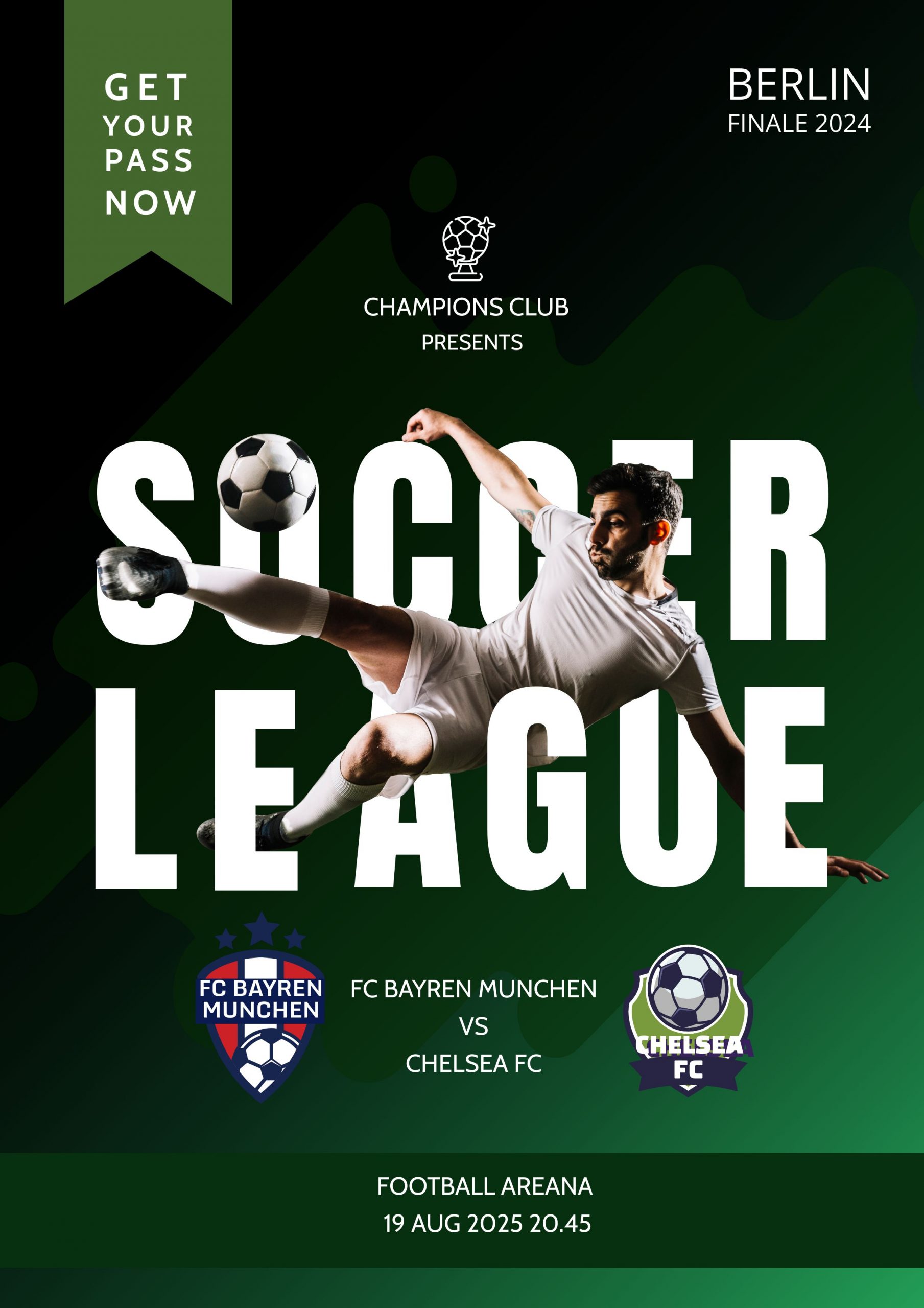 Get This Template and More
4. Use different shapes to create a perfect 'text background' for better readability.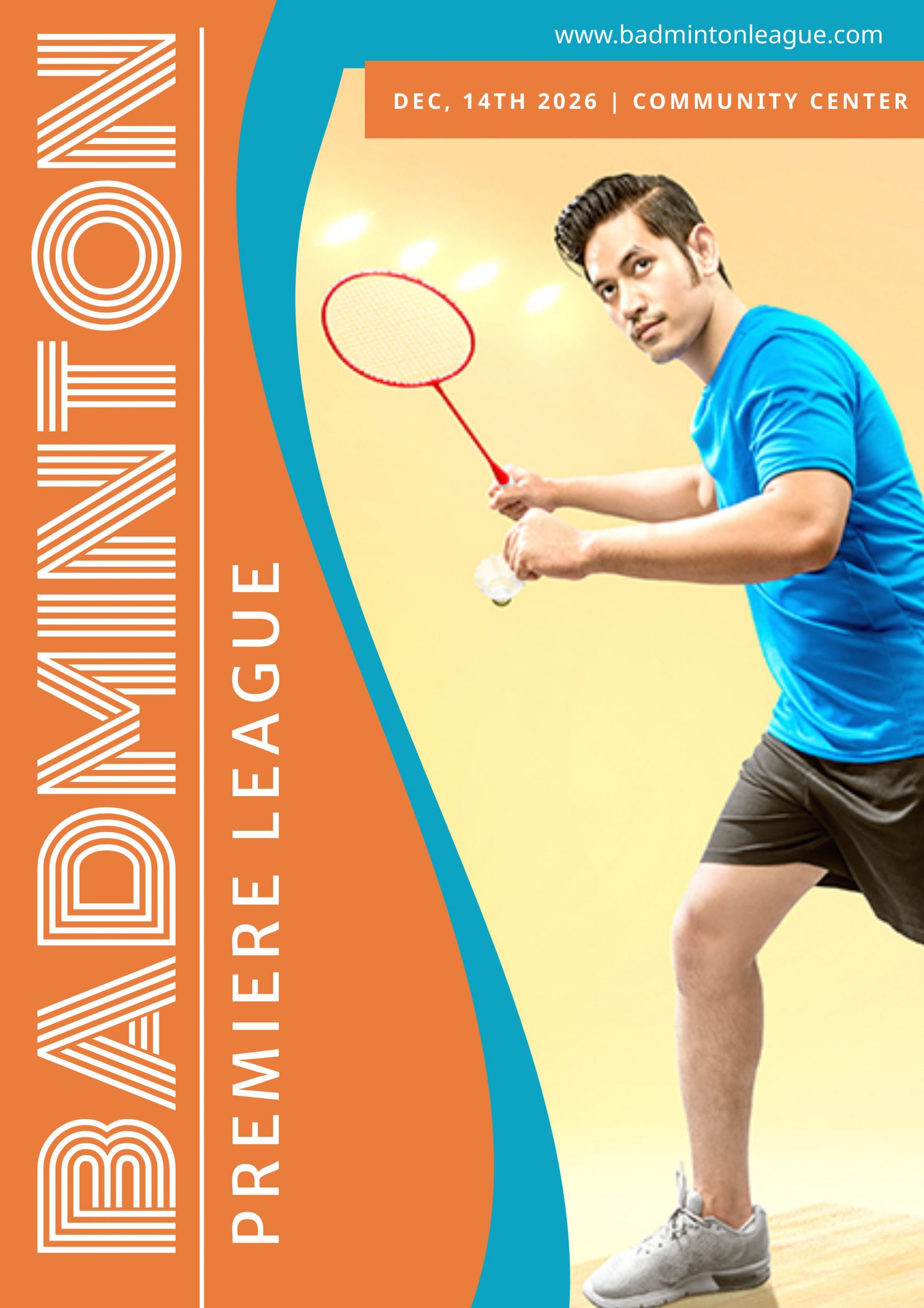 Get This Template and More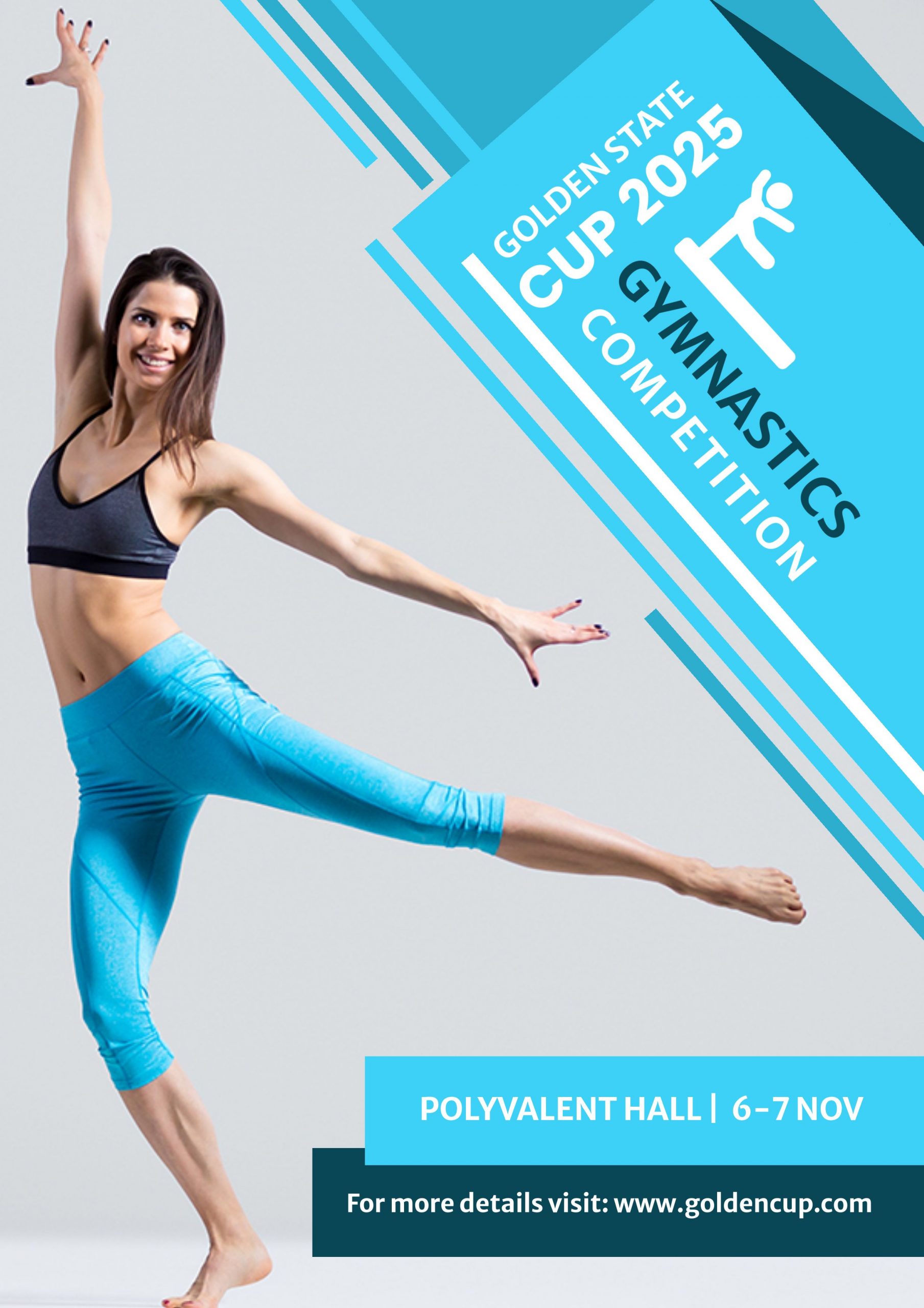 Get This Template and More
Conclusion
If you have carefully read the article, you must have an idea of sports poster design. In an era with most design talk centered around websites and social media, the art of poster design will surely help you stand out. It's a tried and true format of marketing that has been used consistently for centuries. So, Sign-up today and explore the magical world of DocHipo. Design your own sports posters, and you are all set to reach a vast audience with your sports businesses or events.
FAQ
What is the role of sports poster?
A sports poster is an appealing and effective way to promote and draw people's attention to a sports-related business or event at a glance. The role of a well-designed sports poster is to generate a buzz and readily excite people to participate in your event.
How can I make my sports poster?
You can use an online poster maker and choose a stunning sports poster template that closely aligns with your theme and brand style. Then, edit the sports event title, date, location, official website (if applicable), contact details, etc., and add relevant pictures and other graphic elements to your poster design.