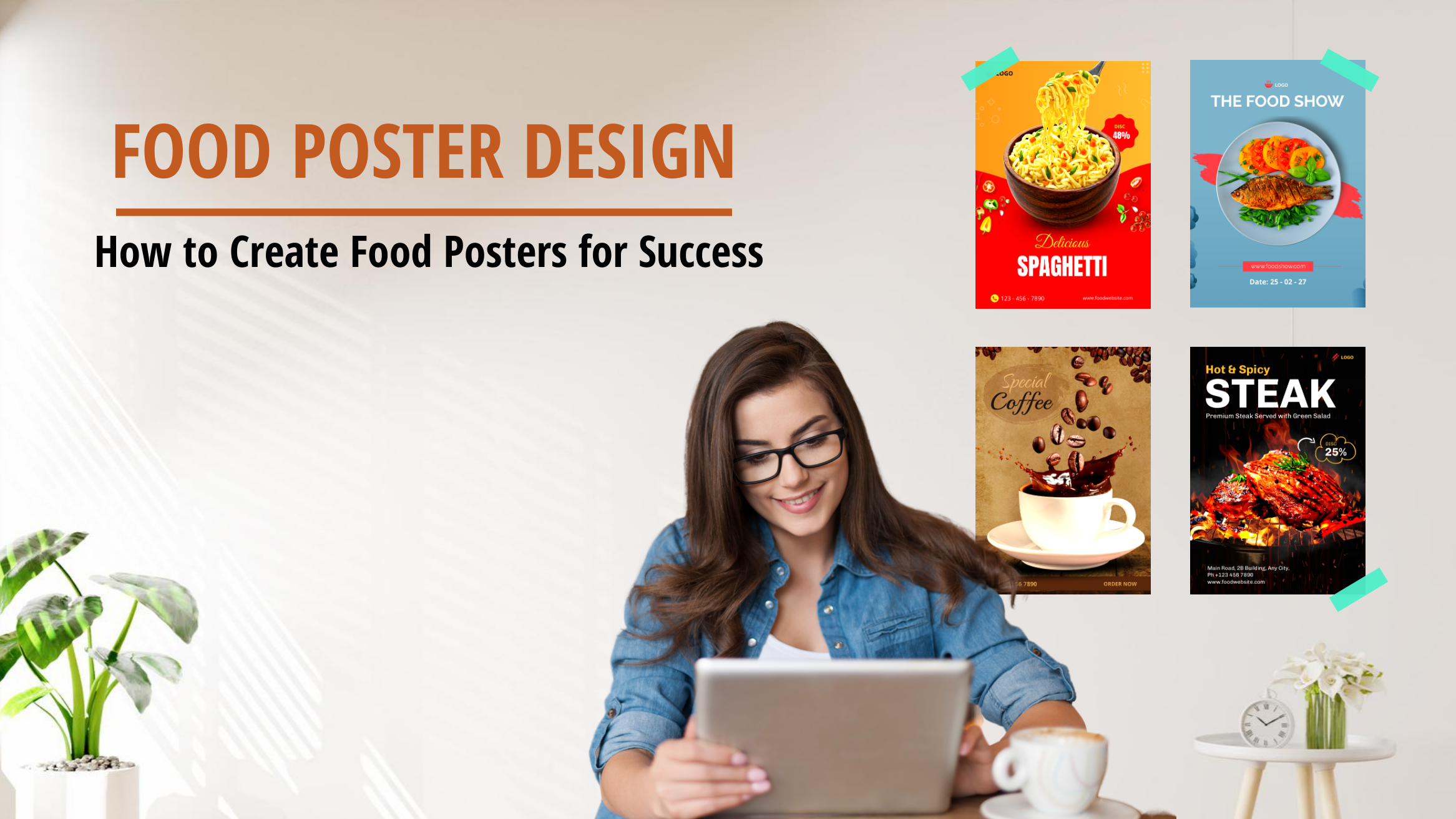 How to Create Food Posters? Tips and 10+ Free Templates

Last Updated Sep 5, 2023
Do you need help to create an attractive food poster design? Your food business requires a good-quality poster to grab people's attention. Posters are a great way to boost your sale. Around 40% of customers visit a store in the US after seeing a poster advertisement, and about 24% make a purchase. The right food poster design will convey your message and boost your business quickly. But designing a food poster can be tricky if you are not a professional. Keep reading to learn more about creating an awesome food poster and become the master of poster design with ready-to-use food poster templates.
What is a Food Poster
A food poster is a visual marketing or promotional material that showcases various aspects of food, such as dishes, beverages, ingredients, or culinary events. Food posters capture attention, stimulate appetite, and convey important information about the featured food items. Restaurants, cafes, food trucks, bakeries, catering services, etc., commonly use food posters to attract customers and generate interest in their offers.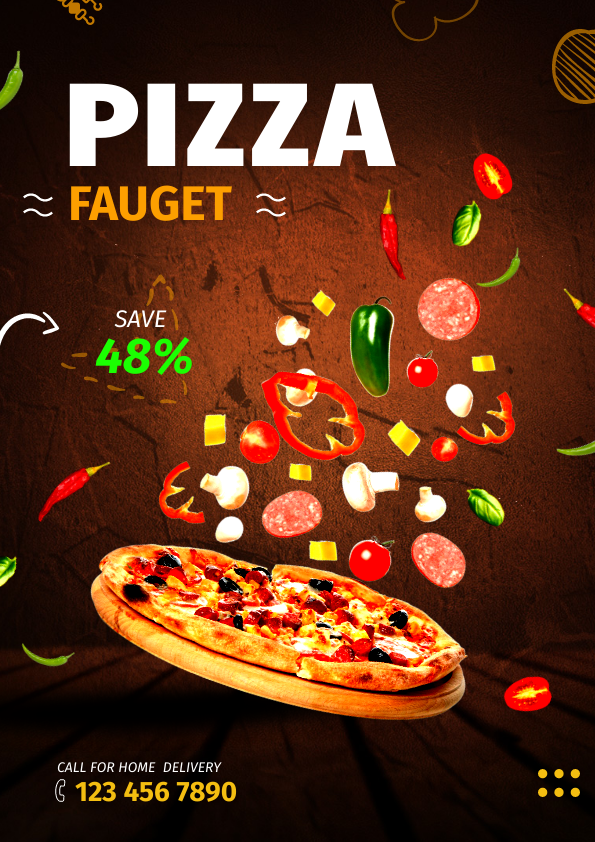 Get This Template and More
What should be in a Food Poster
The food poster design contains
High-quality images
Text
Brand elements,
Contact information (address and website details)
Visual appeal
Event details
Food posters can be displayed both online and in physical locations. They play a vital role in showcasing a business's culinary creations and enticing potential customers.
What is the Importance of Food Posters
Remember to impact your audience through marketing when promoting food as your product. Food posters make it easy as they cover a broad audience at an affordable price. They are crucial for your food business for the following reasons:
Food Posters Grab Attention to Create Awareness
An excellent food poster design stands out in any crowded space to grab the attention of the masses. A great design will captivate your audience on the digital platform as well. If you have opened a new business or started a food vlog, the food poster will give the necessary information to the people.
Increase Engagement by Targeting the Audience
You can use food posters to target the audience at a location. They provide access to the local population, especially the food outlets and restaurants. Most food posters appeal to the audience through offers and discounts. With a one-time investment in posters, you can inform more and more people to visit your store.
Food Poster Helps to Create a Visual Story
Your high-quality images and graphics help in better visualization. Tell the story of your business through posters. If your food product is about traditional food, weave a story around it with a conventional food item on display. The viewer resonates with a poster as it appeals to the senses.
What Makes a Good Food Poster
Now, you know that a food poster is necessary for your business.
Before you start with your food poster design, there are essential elements you need to take care of. These are the small details that bring the best in any food poster. Take a look.
Clear and Concise Information
The primary purpose of your poster is to inform the viewer about your product or upcoming event. Ensure that the viewer can understand the message by glancing at your poster. Avoid using complicated words and stick to simple language. Use catchy words like 'Savor the Flavors' or 'Now Open' to grab the attention.
Use Vibrant Colors in the Food Poster Design
Colors depict the mood of your poster; likewise, they create an emotional response visually. It is essential to use the colors smartly in your food posters for emotional marketing. There are a few colors that stimulate the appetite of the viewers. Red, orange, and yellow elicit the sensation of hunger and joy when used in a poster. If you want to design food posters for healthy eating, it's best to use green as the dominant color. Take a look at this template for a better understanding.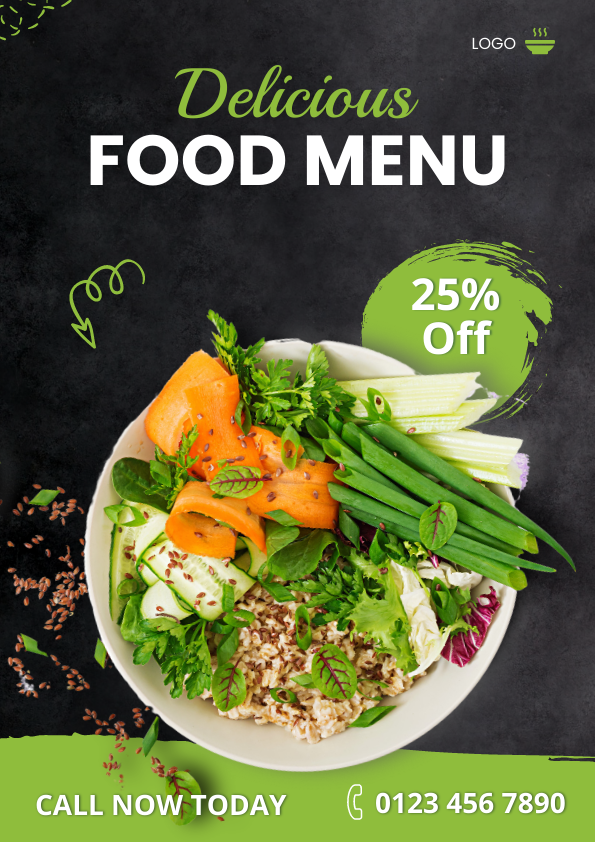 Get This Template and More
Experiment with Fonts using Typefaces
For posters, you should use easy-to-read fonts, but in the case of food posters, you can experiment. Add some fun elements to the font to make your poster playful and engaging while communicating the message. Use more than one font to highlight a few words to grab attention. Enhance the effect by using various typefaces in your posters. Check out this template to get an idea about a fun poster.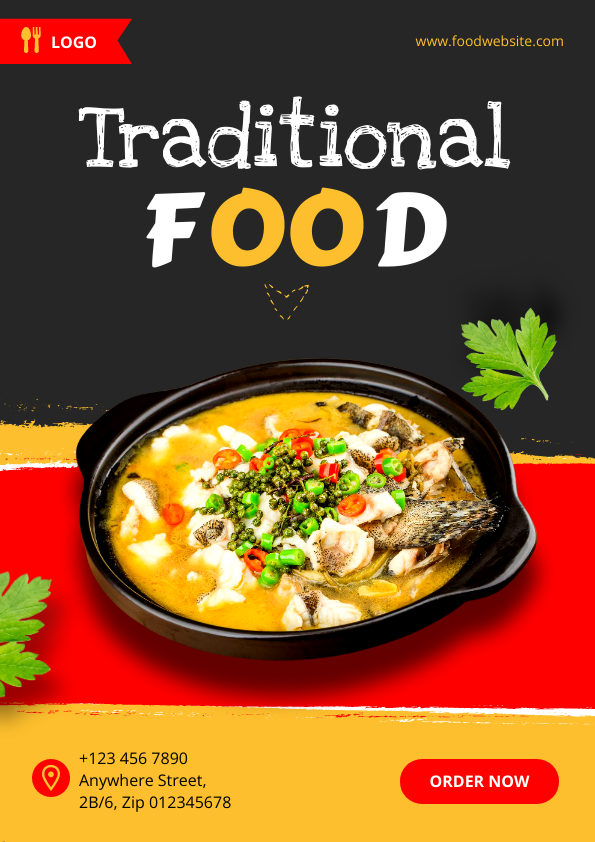 Get This Template and More
Use High-quality Visuals and Graphics
The most crucial part of the poster is the pictures. Food pictures appeal to the viewer and motivate them to try your product. It's best to hire a photographer to take photos of the food items you serve to your customers. If you don't want to do it, choose high-quality images that resemble your food the most. High-quality graphics helps customers to visualize better and sets expectations. Remember to meet customers' expectations with your food, or it can harm your business. Learn food graphic design for stunning marketing strategies for your food business.
Offer Something to Your Customers
If you want to motivate your customers to try your products, offers, and discounts are pivotal. Decide offers based on your target audience. For example, you would want to promote your fast food joint near a college with one plus one offer or combo packages. These discount offers are great to motivate new customers to try your food. You can also include a QR code on your food poster so that people can interact with your poster to know more about your offers.
Learn to generate a QR code for free with this video tutorial
Use Call-to-action Prompt
The primary purpose of marketing your food is to encourage people to take action. Add a clear call-to-action (CTA) prompt to the food poster. The CTA could be anything like 'order now' or 'visit us.' Your CTA should be persuasive and easy to follow. Ensure you mention contact information and address in the poster to avoid confusion.
Learn more about designing posters with this blog post on How to Make an Advertisement Poster in 5 Steps.
Food Poster Design Ideas
Whether you want to create a food advertisement poster or a food poster for your business, we have covered it all. You will be amazed by the impact it makes on the audience. Here are a few ideas for you to use as ready-to-use food poster templates from DocHipo.
Fast Food Poster Design
Grab the attention with mouth-watering fast food posters. Bring an irresistible taste through these poster templates. These highly focused posters help you to tell the delicious tale of flavors.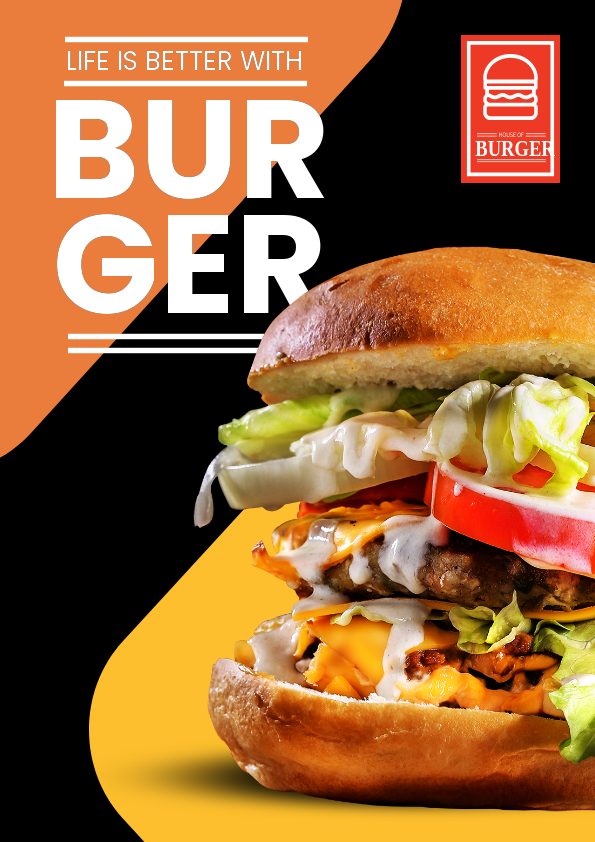 Get This Template and More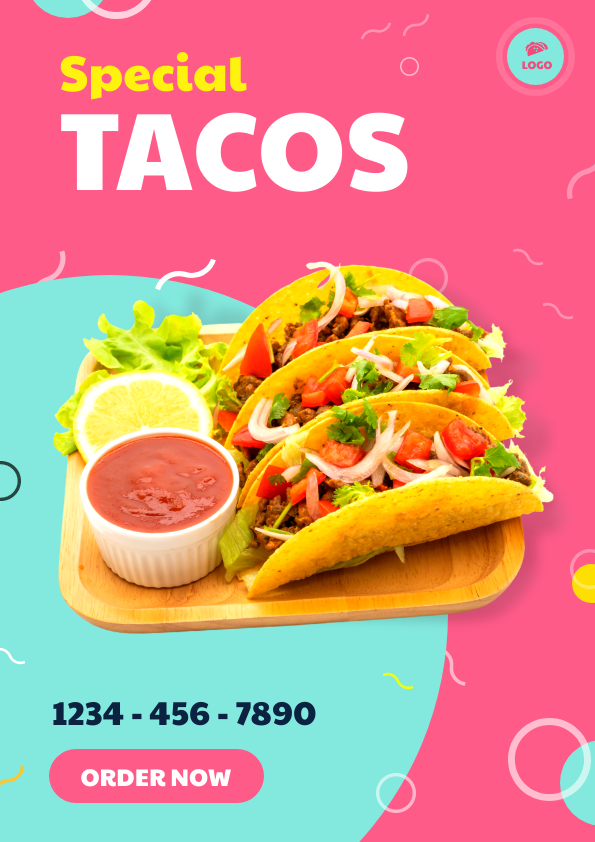 Get This Template and More
Posters for Healthy Eating
Healthy eating is a top trend today; you don't want to miss it. Plus, there are a lot of food joints that focus on the health benefits of food. Take a look at these food poster ideas for healthy eating.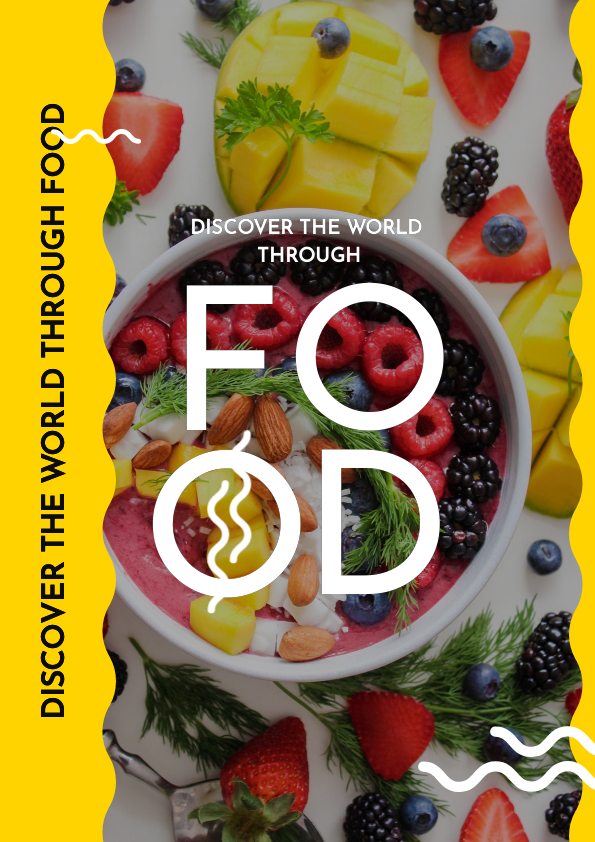 Get This Template and More
Food Posters for Cafe and Bakery
Are you searching for food posters to attract coffee lovers? Check out this poster that motivated you to indulge in the rich and bold flavors of coffee.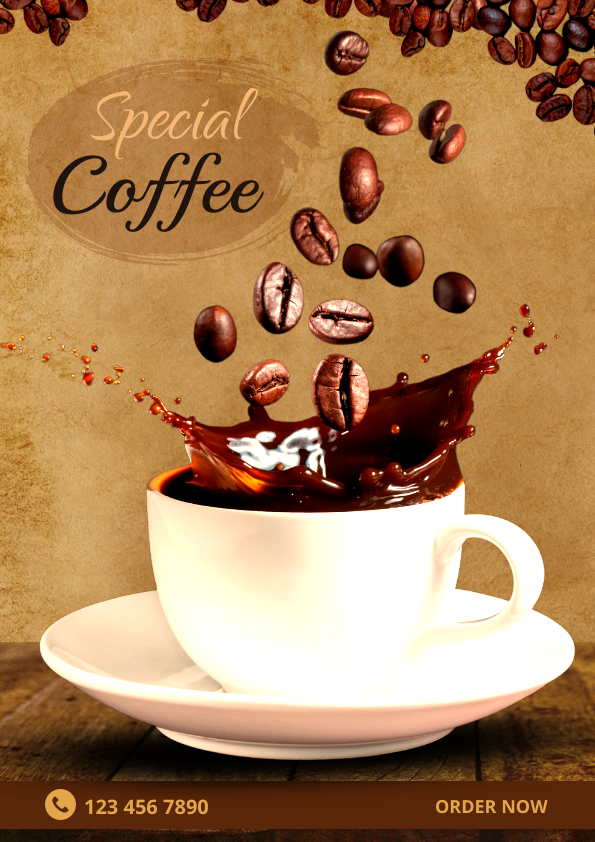 Get This Template and More
Show them the sweet side of the gourmet world with this poster.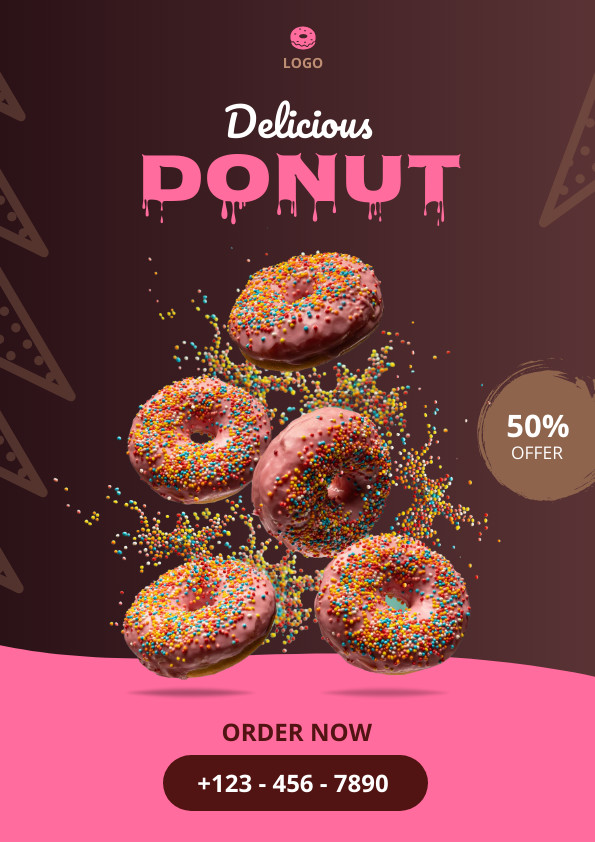 Get This Template and More
Food Poster Design for Asian Flavors
Bring the ethnic touch of Asian flavors with these posters. Whether you serve Sushi or Bao, use these posters specially designed to tell your story of Asian food.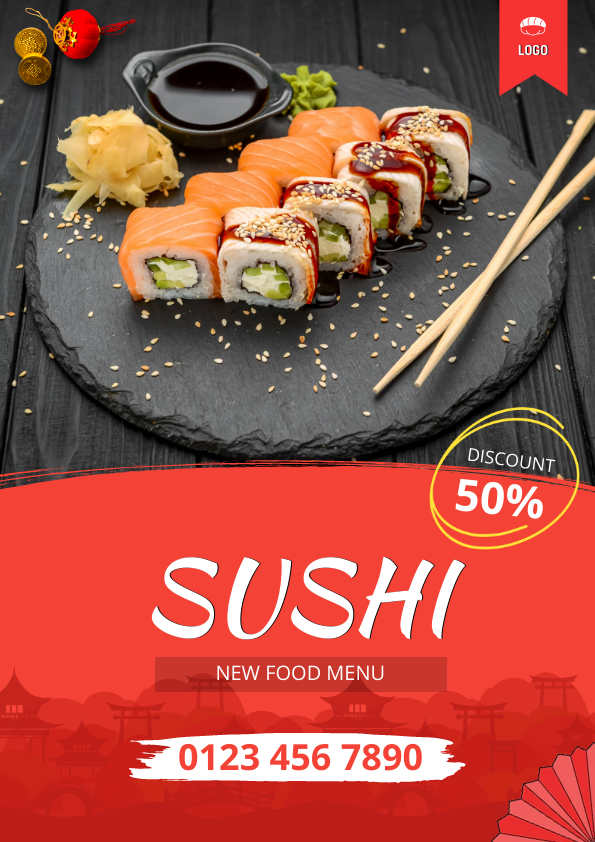 Get This Template and More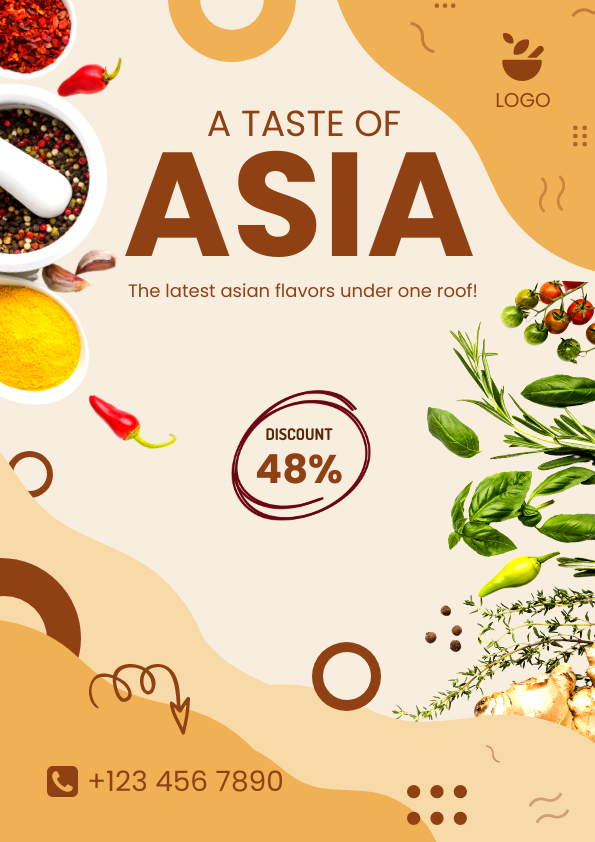 Get This Template and More
Posters for Meat lovers
Do you want to motivate people to indulge in juicy and tender steaks? You need a poster that tells the story just the way you want. Try these food posters to tell your meat story.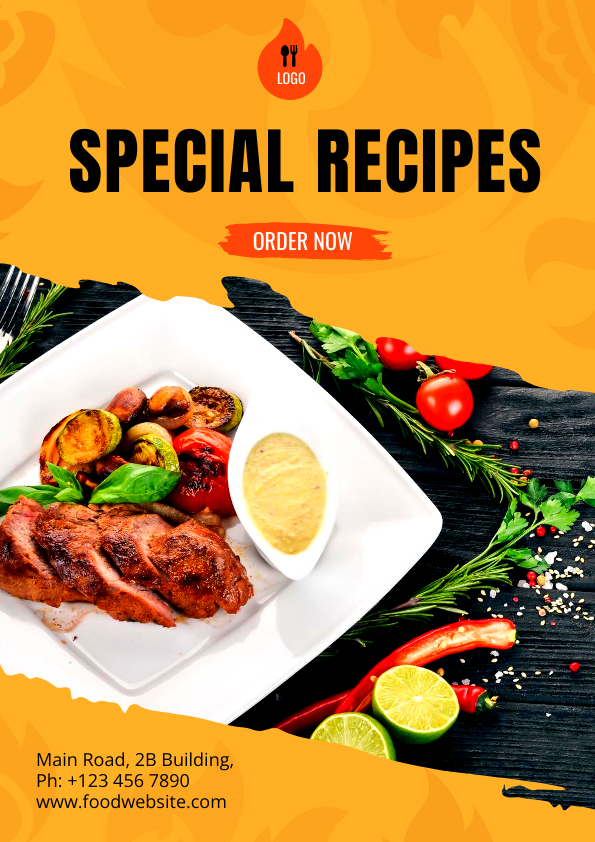 Get This Template and More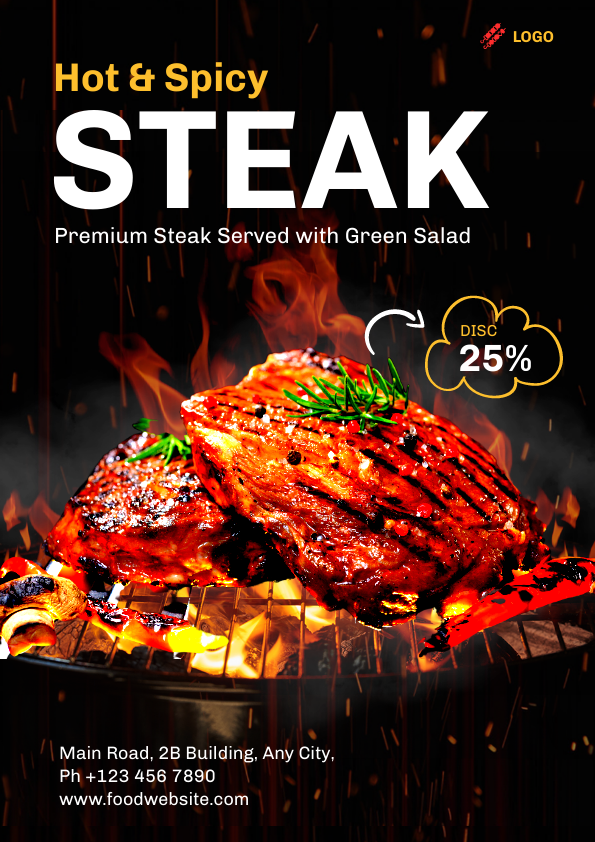 Get This Template and More
Creative Food Festival Poster
Tell people about the food festival with this poster. Show the variety and grandeur of the wholesome menu you will offer. Ensure that you intrigue them enough for a visit to the food festival.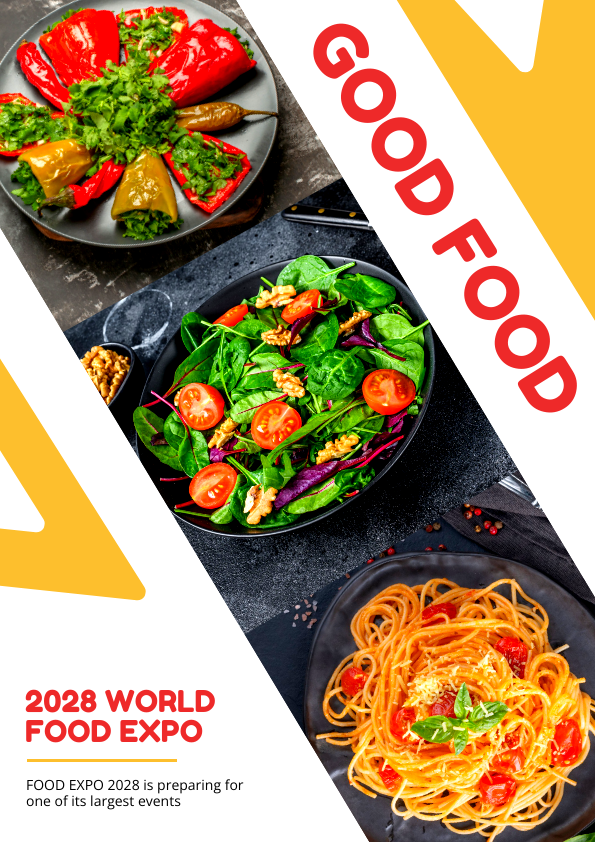 Get This Template and More
Check out The Ultimate Guide to Using DocHipo to learn about designing your documents.
How to Design Food Posters
Now you have a greater insight into making a food poster, it's time to start with ready-to-make food poster templates from DocHipo. Sign up with Dochipo and embark on the journey to discover impeccable food poster design for your business with the following steps:
Step 1: Choose Your Food Poster Template
When you sign up with DocHipo, you will land on the homepage. Here, you can search for posters in the search bar. You can also choose 'Business Essentials' from the left sidebar and select 'poster' as the document type.
In the next step, choose the food category from the template categories.
Once you have selected the category, different food poster templates are available for you. Choose your favorite food poster design to customize as you please.
Step 2: Customize Your Template
After choosing your template, you will land on the DocHipo editor, where you can name the document and add a brief description. Click next to continue with editing.
You can explore a range of customizing options with DocHipo.
Customize the Background
To customize the background, choose the 'Graphics and Media' option, followed by the background widget, as shown in the image below.
You get various editing options to customize the background. Choose a color from the vibrant palette to change the background color. Your template background is changed instantly.
Learn more about background customization with this video tutorial.
Customize the Text
Now we will customize the text of the food poster. Simply select the text widget section you wish to change.
When you select the text, a contextual editing bar will appear at the top of the template. Replace the text with your own, and you can customize the font, color, and size and add effects to the text. For now, let's change the size of the text by selecting the size.
You have successfully customized the text size. Repeat the steps, choose other text widgets, and replace them with the desired text.
You can also add effects to the text widgets. Choose the text effects icon from the bar, as shown in the picture below. If you want to have transparent text effects, choose the outline option.
Change the outline style from none to outline. Now change the outline width to around 4 or 5.
Now choose the color icon from the editing bar.
A color palette will open in front of you. Choose the 'no color' option from the palette.
Learn more about editing text in DocHipo with this tutorial.
You have successfully applied the effect.
Watch this tutorial and learn more about transparent color in DocHipo
Also, explore these brand-new effects for widgets in DocHipo.
Step 3: Download Your Food Poster Design
Once you are done customizing your design, select the three dots on the upper right corner of the screen.
You will get several options: share, preview, and download. Select download to save your poster with yourself.
Choose the pdf file type and high-quality option and select download.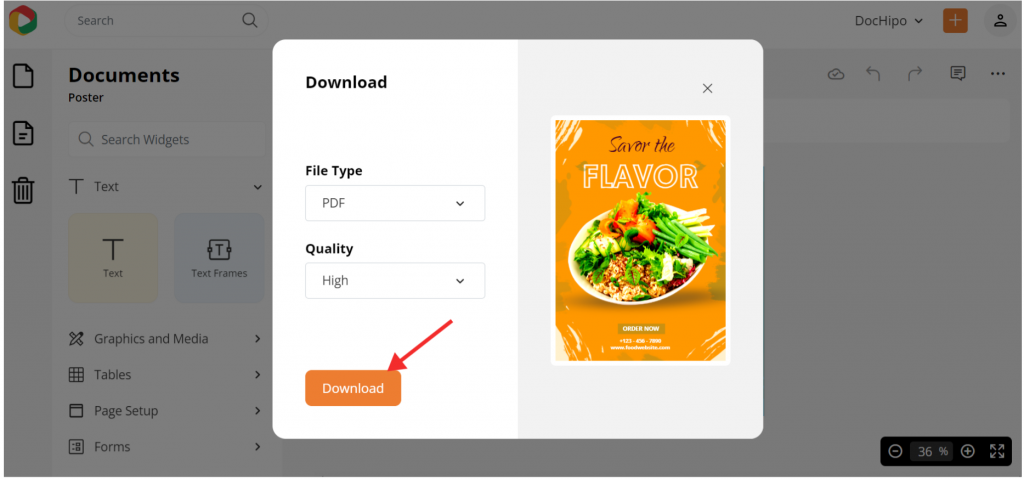 Your poster has been downloaded in the most suitable format for printing.
Before Customization
After Customization
Learn more about leveraging DocHipo for your food business.
Endnote
Bring life to your food poster with these pro tips and give your customers a glimpse of extraordinary taste. Choose your poster locations wisely to grab more audience. You don't have to be professional to design an attractive food poster. DocHipo has got your back. Sign up and get started to make your first food poster.