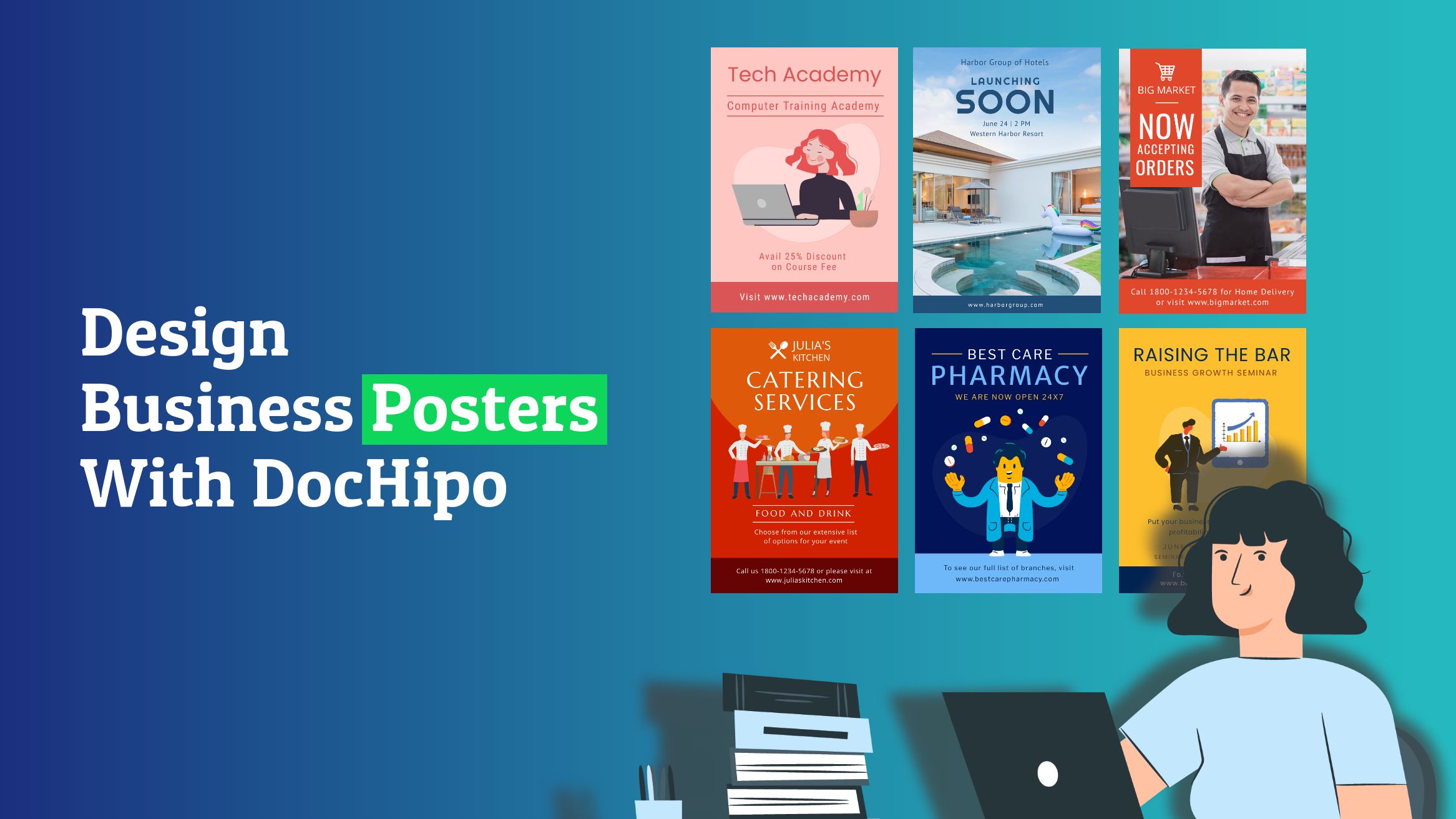 How to Make an Eye-catching Business Poster Design

Last Updated Jun 19, 2023
What separates an unnoticed business poster design from the one that immediately catches people's attention and makes them read the whole of it?
It's the right design with the right text targeted to the right people.
I understand that it's easier said than done.
Posters are one of the oldest marketing collateral but still very effective in drawing attention to your events, sales, etc. Private businesses, public institutions, and freelancers leverage posters to market their businesses.
In this article, I will discuss what makes a good poster design and how to create a poster for your business that achieves its purpose with DocHipo. I've shared some impressive business poster templates that you can get started with right away.
How Can You Make Your Business Poster Attractive?
Below are some best practices to incorporate into your business poster design.
Use High-Quality Graphics and Images
An image is used in the poster for your target audience to immediately understand what your poster is about. The graphics and images should hook your target audience and compel them to read the message in your poster.
Never use a graphic or image only because it looks attractive, but they need to be perfectly aligned with your content and relevant to the poster you're designing. For example, you create a business poster design for a seminar, find images or illustrations of people wearing suits or any chart, etc.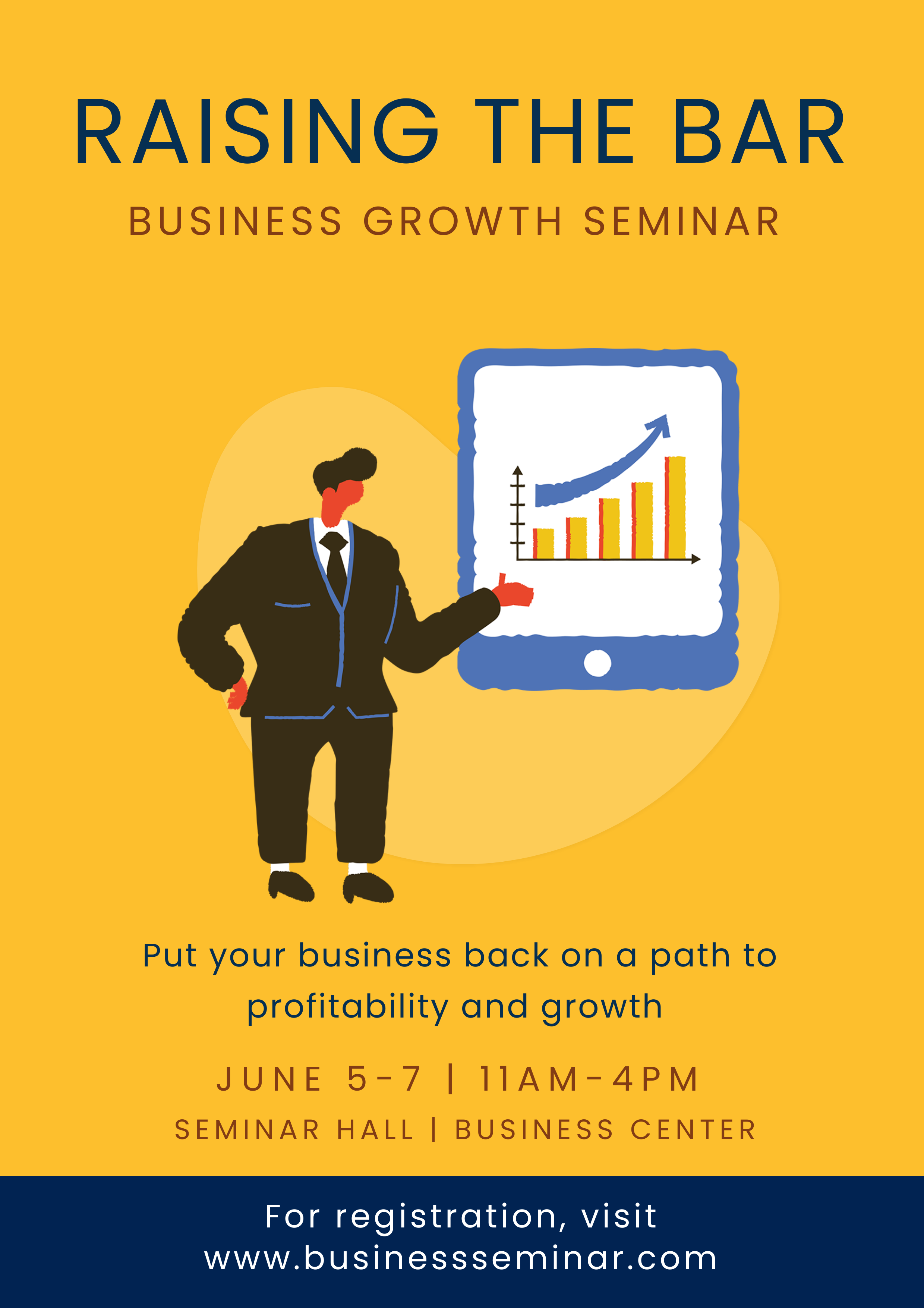 Get This Template and More
Similarly, notice the illustration used in the following DocHipo template designed for a laundry business.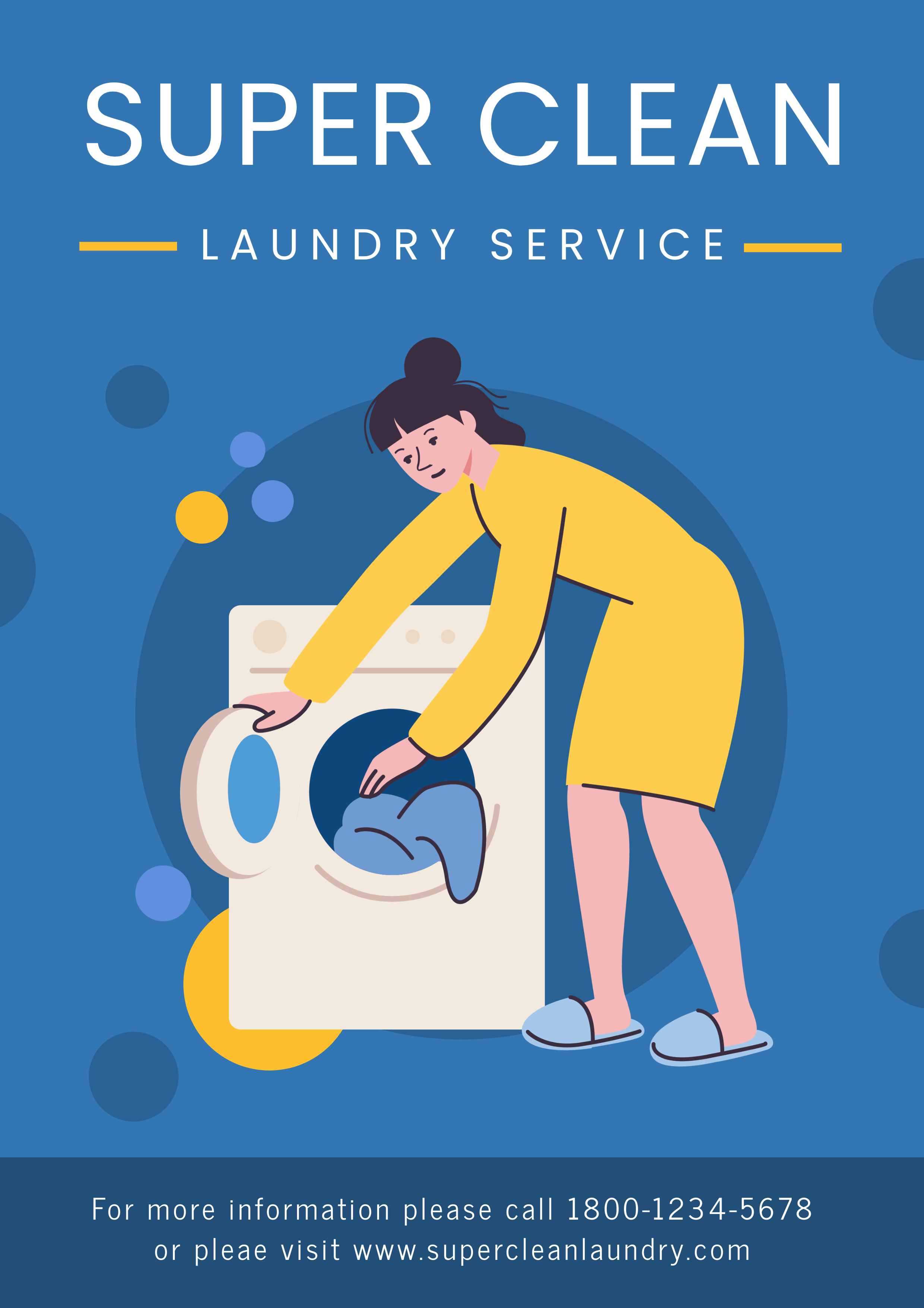 Get This Template and More
You can use a stock photo in the background to boost the visual appeal.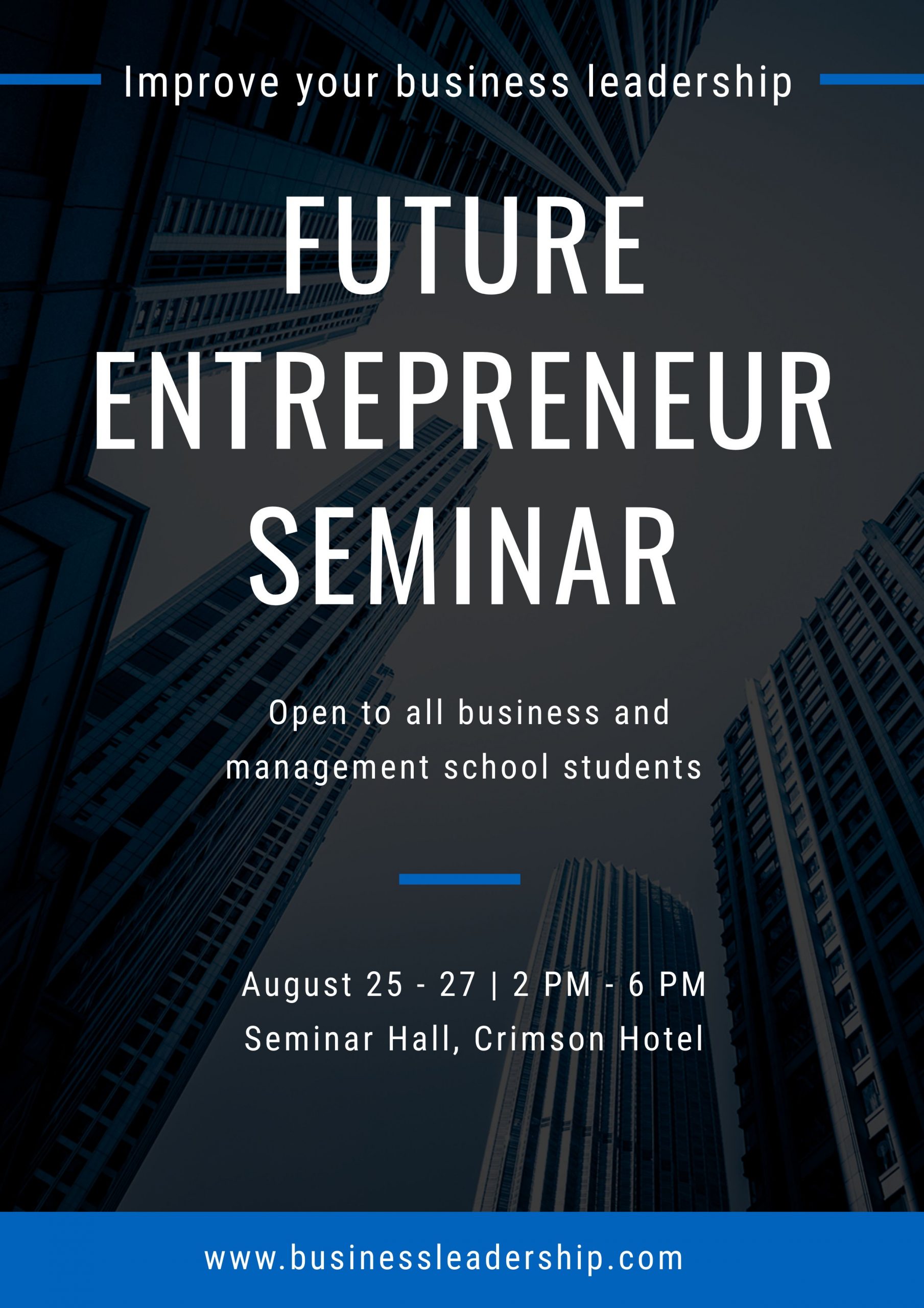 Get This Template and More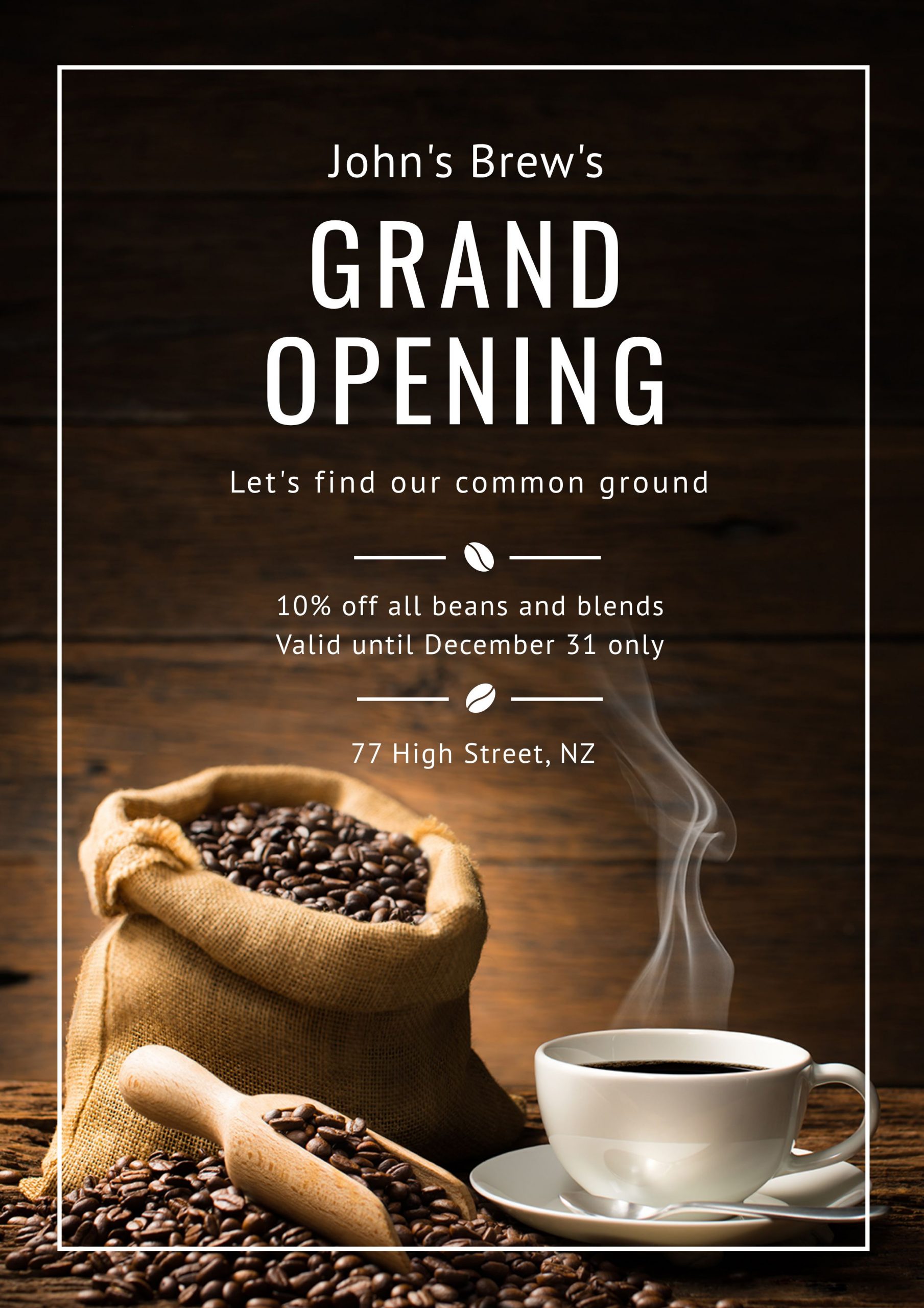 Get This Template and More
Depending on the nature of your business, you can also make images one of the main focal points of your business poster design.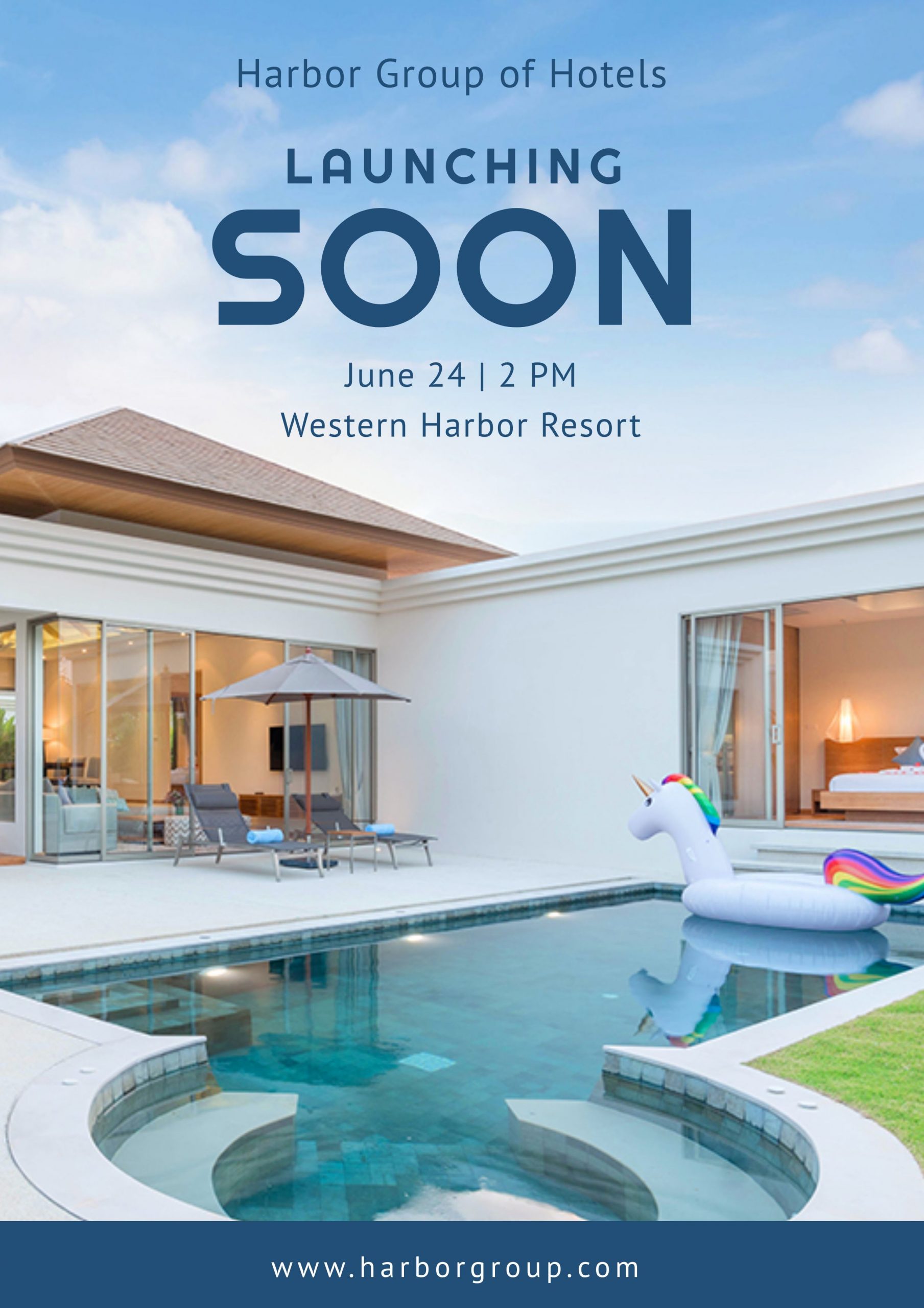 Get This Template and More
Use only high-quality images, whether you use your poster online or print it out. Otherwise, even a little blurriness or pixelation could damage your brand image.
You'll need to do excellent product photography if you advertise your products.
You can leverage DocHipo's library of beautiful, high-quality stock photos for your business poster design if it's not your product.
Typography
How you portray the text, your key message to your target audience, matters. Consider the text's placement along with the appropriate font style and font size. You don't want to stuff all of your text into one area. You need to distribute the information in a limited space and display it visually appealingly.
Use two to three relevant and legible fonts and follow a typography hierarchy. If you get stuck deciding the hierarchy of your poster, simply ask yourself what the most important information you want people to walk away with is or what's the first thing you want them to know about your business poster.
Also, use a dark font on a light background or a light font color on a dark background.
In this business poster template by DocHipo, the designer used different fonts to display the key message.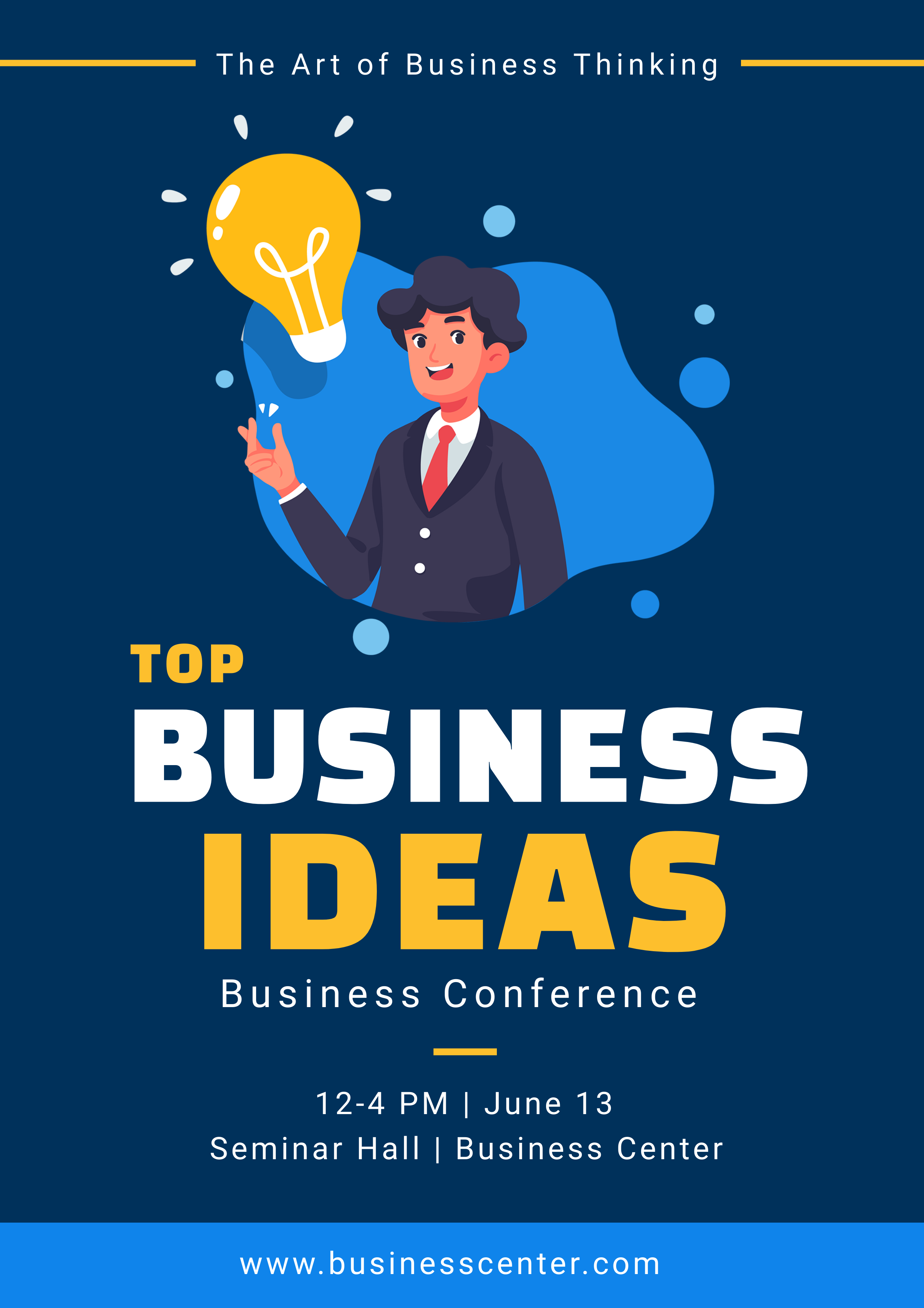 Get This Template and More
Observe that the event title uses the largest font because it needs to immediately catch its target audience's attention. Also, it gives context to the rest of the information in the poster.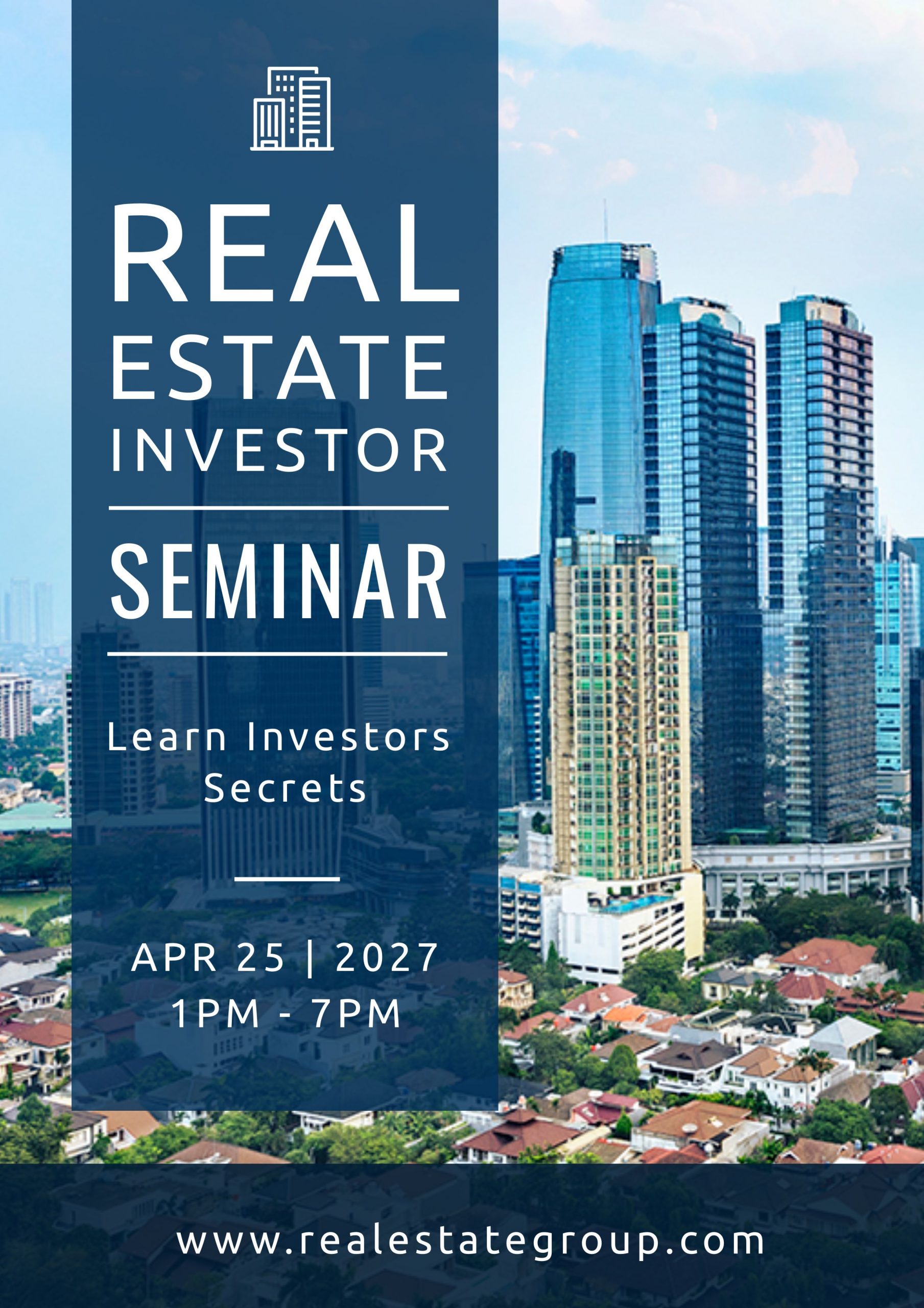 Get This Template and More
Use Branded Color Scheme
Colors influence 90% of consumers' first impressions. So the color you choose can set the mood for your business poster and even compel them to take the action you want them to take.
Take your target audience and the purpose of your business poster into consideration while deciding on the color. Also, using your brand colors will improve your brand awareness and recognition.
If you're still struggling to figure out a relevant color scheme, Best Color Combinations To Use In Your Design will surely help you.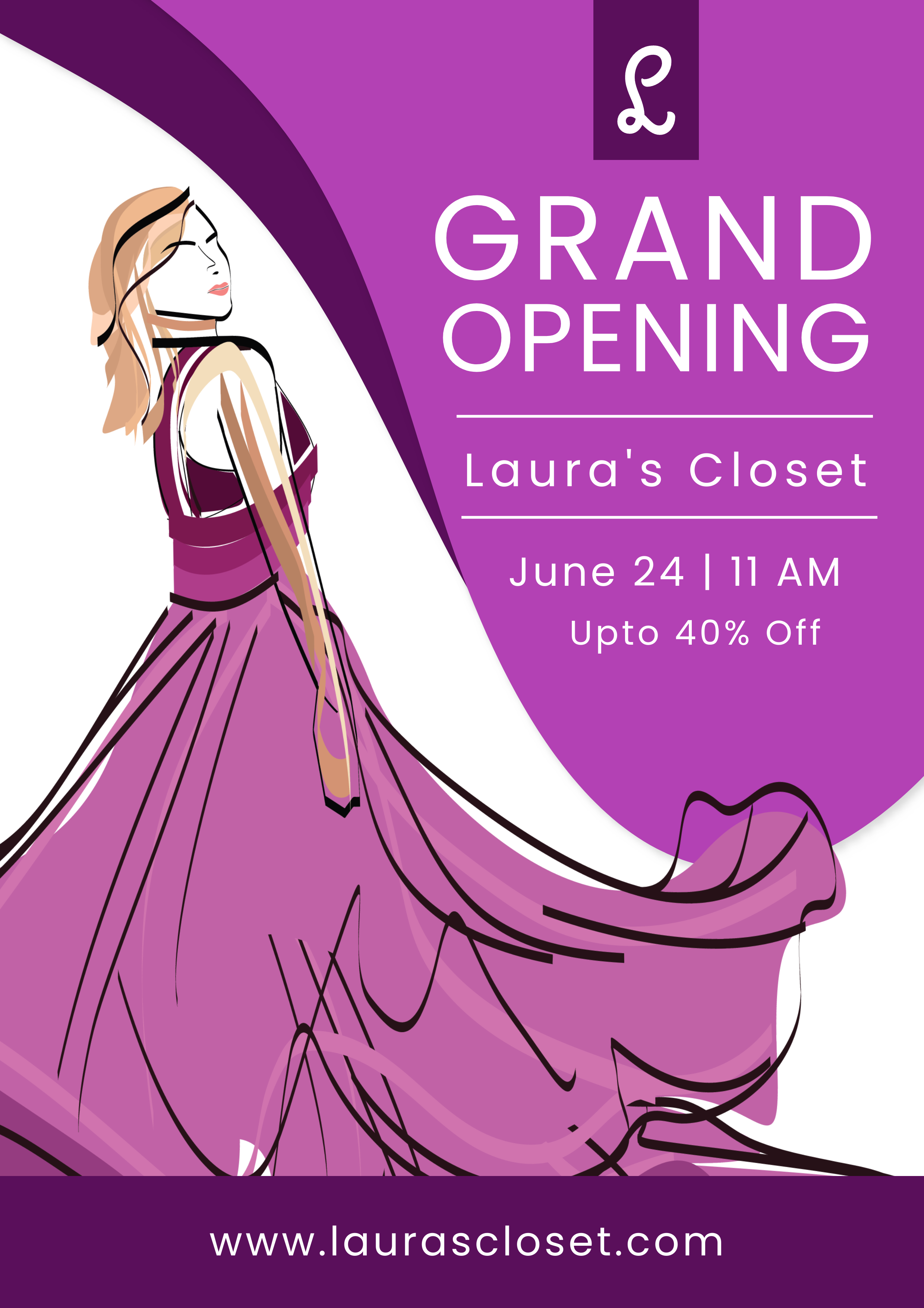 Get This Template and More
Include A Clear Call-to-action
Getting your target audience's attention is hard, but they should be clear about what action they should take next once you get it.
In the DocHipo business poster template below, the Call To Action is "Call 1800-1234-5678 for Home Delivery" at the bottom.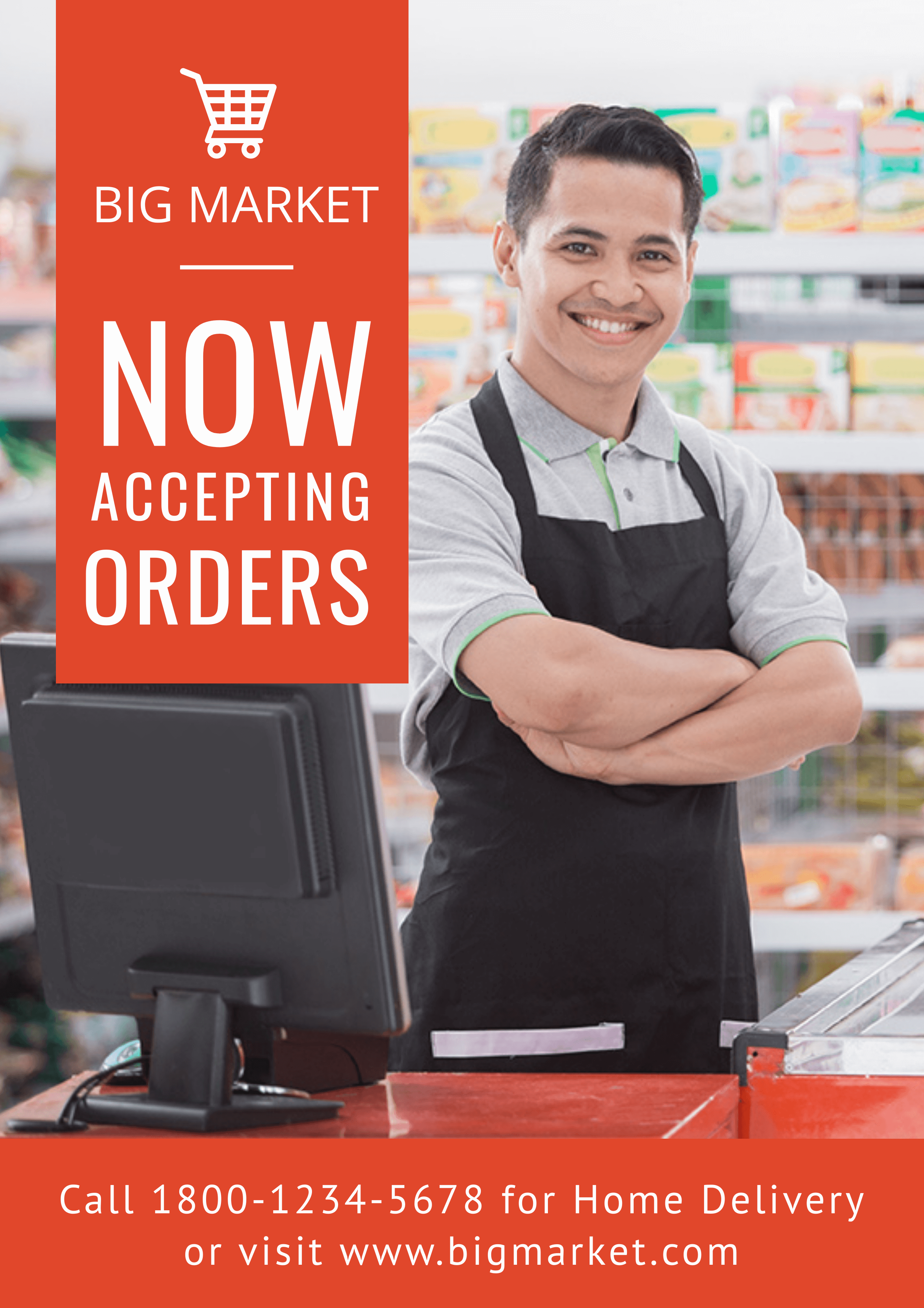 Get This Template and More
Leverage Business Poster Templates
Suppose you have little to no design experience. In that case, our professionally designed business poster template will give you a solid base to create your own eye-catching business poster design.
Especially if you are a freelancer or solopreneur, you have other important tasks to accomplish. In that case, these stunning templates will make your job a lot easier and save you time.
Look for templates that reflect your business, or find one you love and customize it to suit your brand requirements.
Here are some business poster templates to fast-track your creative process.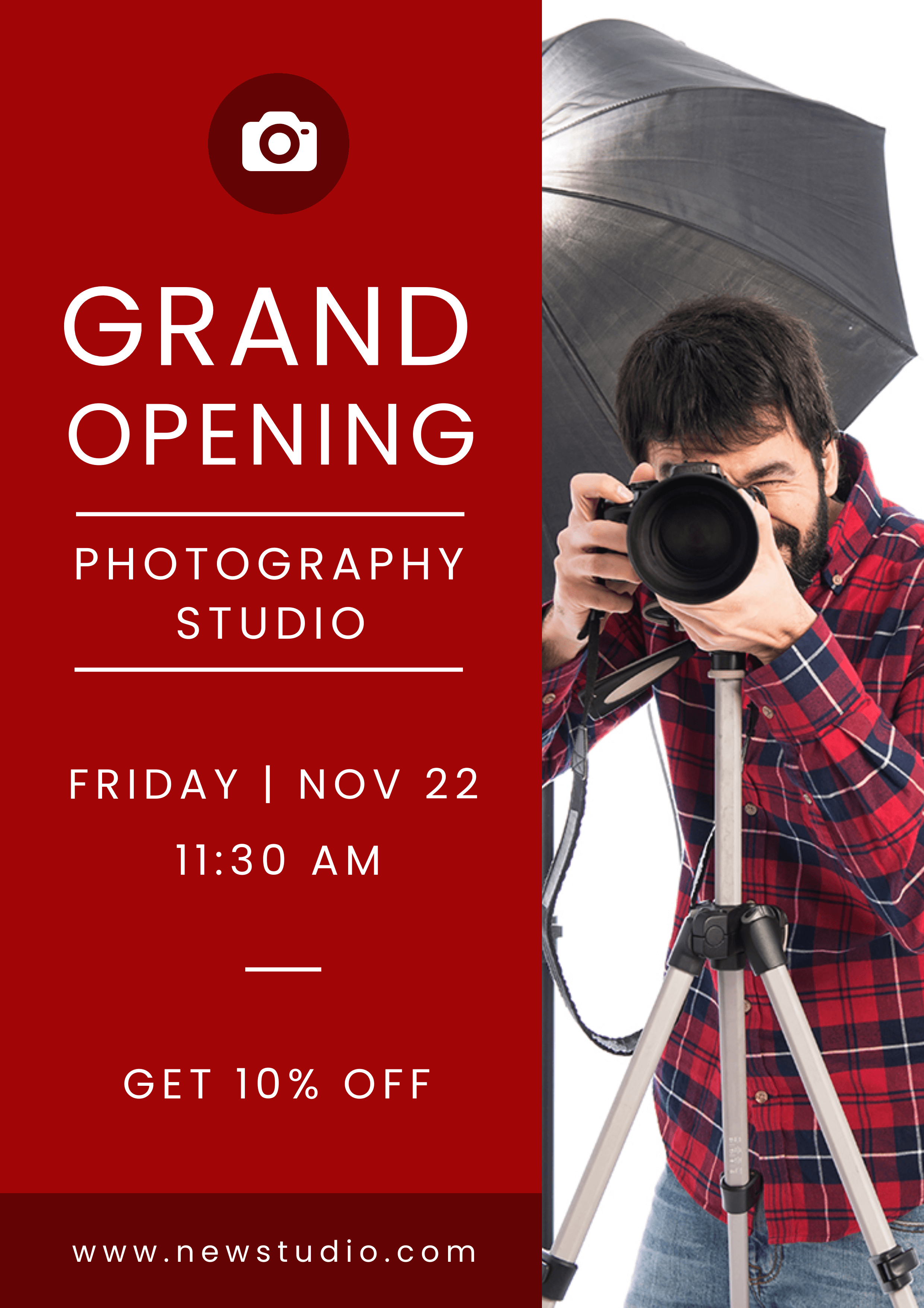 Get This Template and More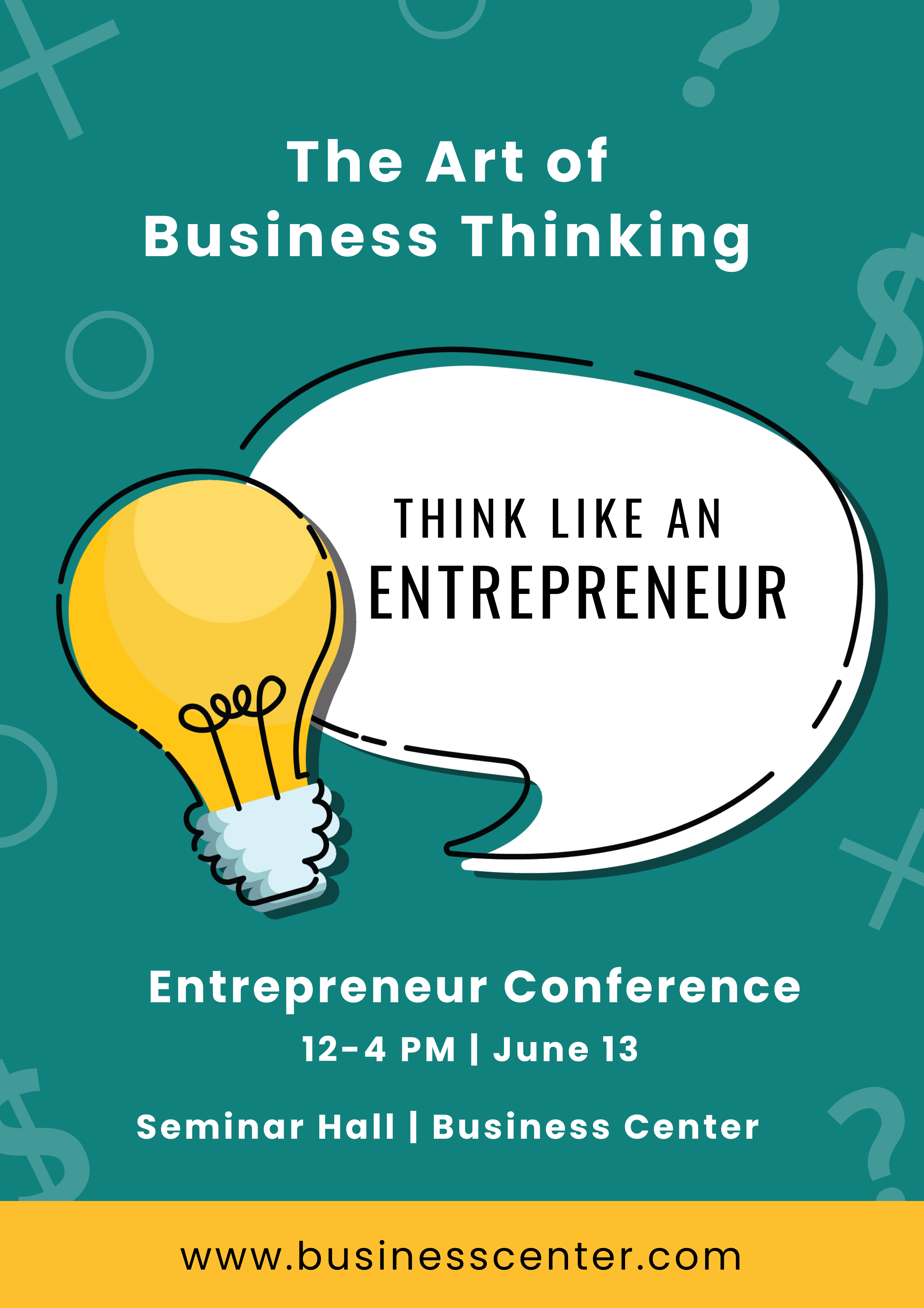 Get This Template and More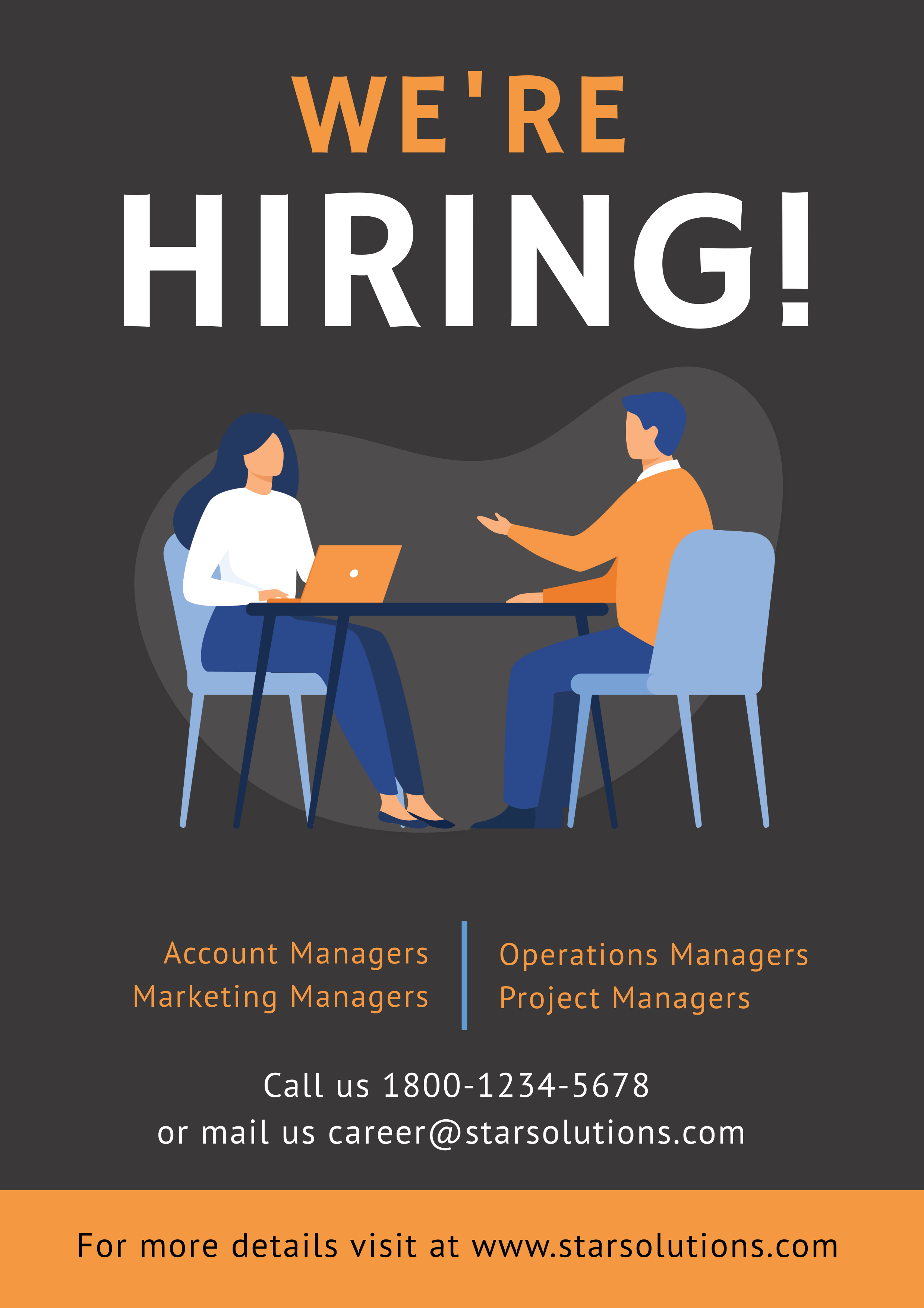 Get This Template and More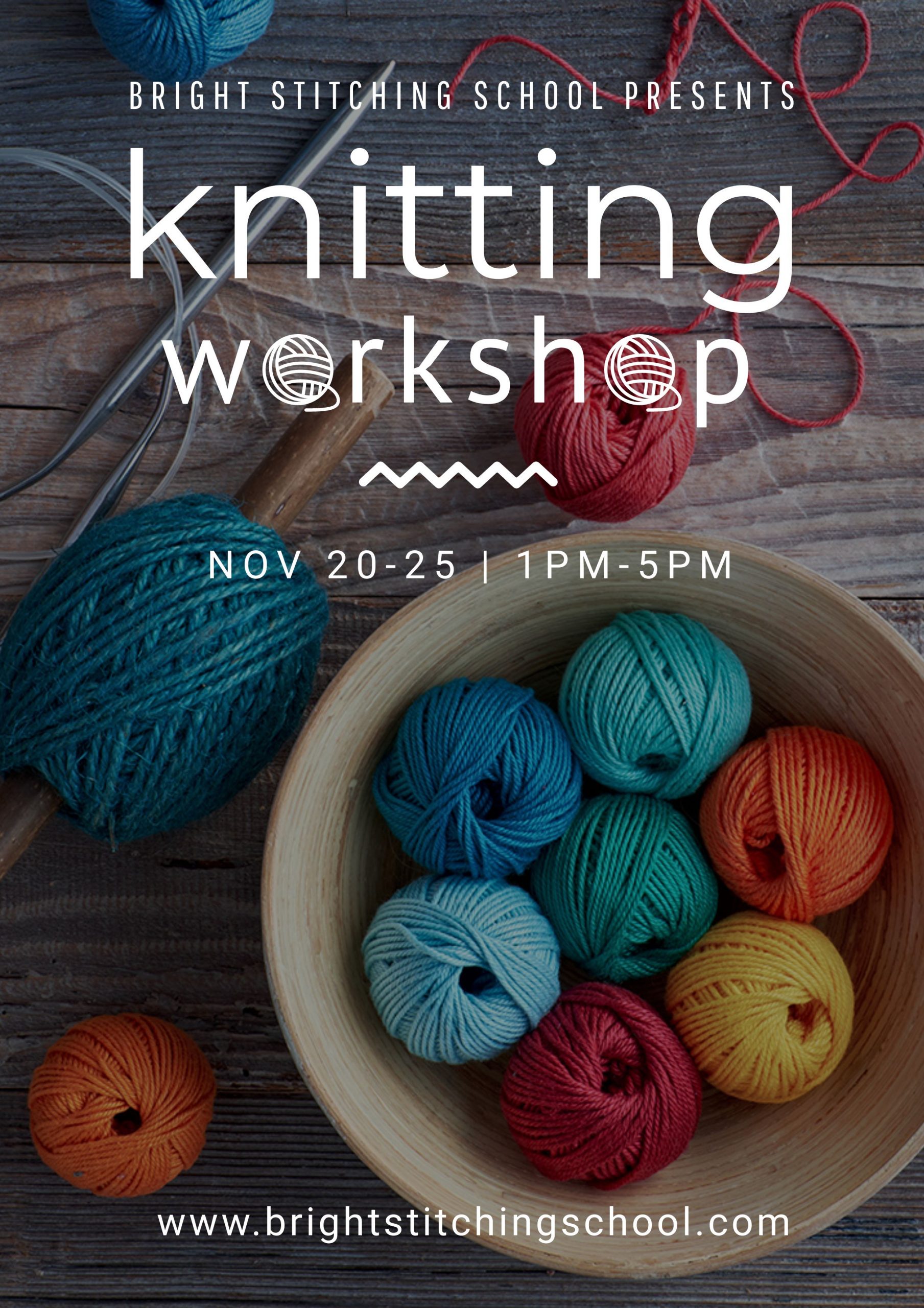 Get This Template and More
How To Make A Business Poster Design With DocHipo's Free Online Poster Maker?
If you are working with DocHipo for the first time, you must sign up for free with your email address and password. Then after logging in, you can follow the simple three-step process below to make your business poster with DocHipo.
STEP 1: Choose A Business Poster Template
Once you log in, you'll land upon the 'All Templates' page in DocHipo. Type the document type you want to create in the search bar and click on the result. In this case, we'll search for the poster.
Our designers have done excellent work designing poster templates in a wide range of themes such as advertising, beauty, birthday, business, Christmas, food, golf, mother's day, music, new year, sale, school, sports, and so on much more.
Let's select the business poster template.
The blank template option is perfect if you have planned your design thoroughly or would like to experiment from scratch.
If you need a base design upon which you can build your own poster, or you want to speed up your design process, the pre-built business poster templates are your best friends.
Hover over the business poster template you like or align with your business requirements to preview or select it.
Once you finalize the business poster template you want to work with, add a name and a short description to the document, and click on 'Next.'
STEP 2: Customize the Business Poster Template
DocHipo provides various design widgets to control your business poster design completely. The easy-to-use drag and drop tool will make your customization process smooth and easy. Let's explore some essential design elements to give you an idea of how it works.
Once your canvas opens up, adjust its size to work according to your comfort.
Illustrations Widget
You'll find the 'Illustrations' widget under the 'Graphics and Media' tab on the left sidebar. The illustrations come in two categories such as solo and scene.
You can search for your desired illustration in the search bar or explore them from the drop-down menu.
Let me show you some of the themes.
Let's explore the illustrations from the social media theme.
After deleting the unnecessary elements, select the one you like to add to your business poster design. Then resize and reposition it using the drag and drop editor.
After adjusting the size and positioning of the illustration, this is how it looks.
Now, to change the color of any part of your chosen illustration, just select it and click on the color icon in the editing panel above and all the colors used in the illustration will show up.
Now click on the color you want to change and either experiment with the theme or custom colors or type the color hex code directly.
Background
The 'Background' widget is available under the 'Graphics and Media' tab.
One option is choosing from the beautiful collection of image backgrounds with different gradients and textures for backgrounds.
You can also experiment with the theme colors for the background of your business poster design by clicking on the small color icon.
Click on the color palette icon for custom colors if you need to explore more.
Lastly, you can also put the hex code of the color you decide to use in your business poster design.
Let's look at our business poster design after customizing the background color.
If you need further guidance in creating stunning background in DocHipo, here you go.
I am now moving on to the text part.
Text
If you want to edit an existing text, double click on it and replace it with your message. Once you select a text, the editing panel will show above to equip you with multiple text editing options.
You can change the text font type, size, color, alignment, letter spacing, etc.
Have a look at the text-shadow and border effects.
Click on the three horizontal dots in the editing panel for more text editing options.
Select the' Text' widget if you want to add new text.
You can add text in three formats heading, subheading, and body text.
Here's a helpful YouTube video recommendation for you on adding, editing, or deleting text in DocHipo.
Other Design Widgets
In the 'Graphics and Media' tab on the left sidebar, you'll find other design elements such as lines, shapes, icons, stickers, pictures, uploads, etc. Leverage them as per your business needs to create a stunning business poster design.
STEP 3: Download Your Business Poster Design
After you are done with the customization and completely happy with your business poster design, you may preview, download, share with your team, publish, save to MailChimp, etc. Click on the three horizontal dots to get the drop-down menu and choose your preferred option.
You can download any document you design with DocHipo in PNG, PNG Transparent, JPG, PDF, MP4, and GIF formats.
After choosing your preferred file type and download format, click on the 'Download' option.
Before Customization: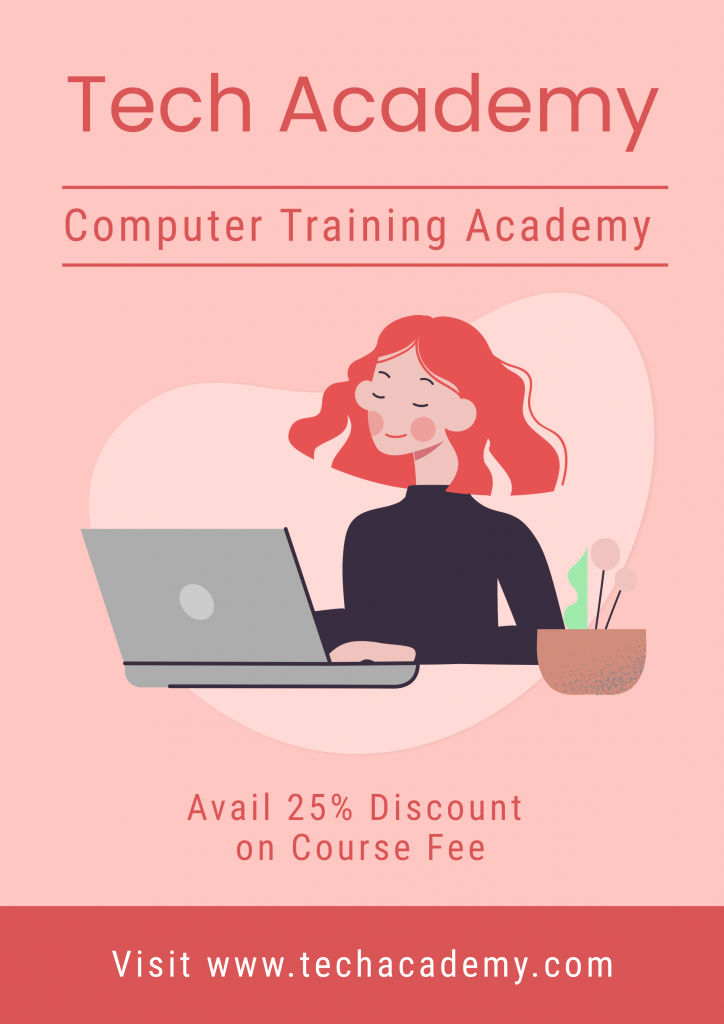 After Customization:
Wrapping Up
I hope you find the step-by-step guide useful and realize how easy it is to work with DocHipo. Sign up to DocHipo, explore all the eye-catching business poster templates designed for you, incorporate your branding, and add your personal touch to it. Keeping the best practices in mind, leverage the design widgets to create stunning business posters that attract eyeballs instantly and make your brand effortlessly memorable to your target audience.
FAQ
What is a business poster?
A business poster is an age-old printed, effective advertising medium to promote your offered product, service, or business events. This cost-effective tool instantly attracts the audience's attention, communicates your message, and makes them take your desired action.
What should be in a business poster?
A business poster should include a catchy title, crucial details of your product, service, or business event, special offers (if applicable), and high-quality, relevant pictures that communicate your message. You should also add a link to purchase the product or register for the event and a compelling call to action to intrigue your audience.