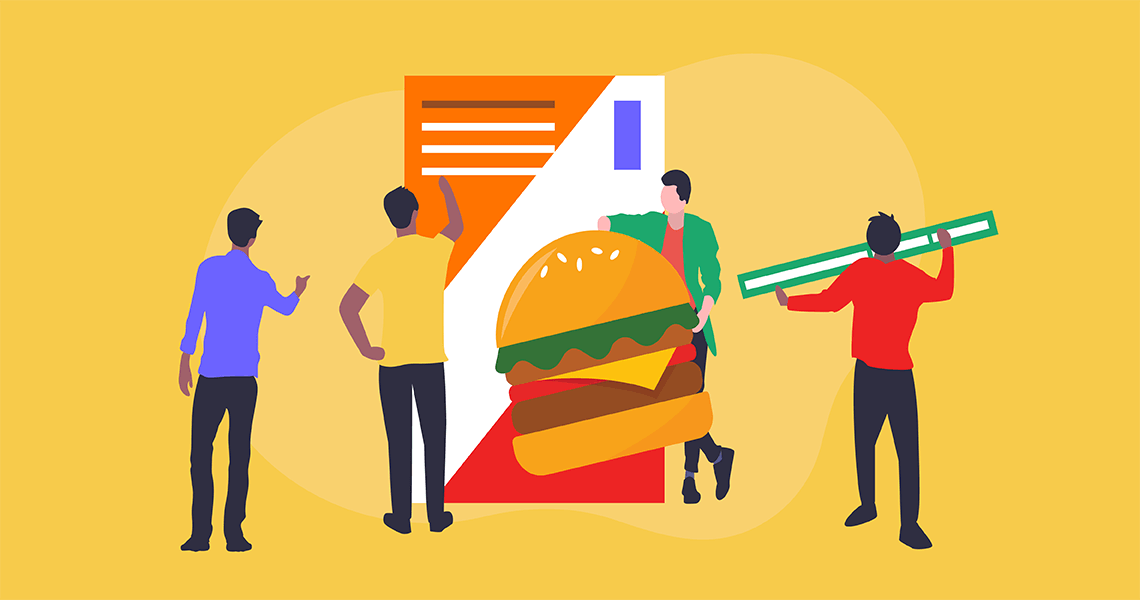 How to Create a Poster: In 3 Super-simple Steps

Aug 21, 2019
Posters are one of the earliest advertisement mediums that not only survived the test of time but thrived. While the stone proclamations from the time of Pharaohs can be considered as the early ancestors of Posters, the present-day version has several form factors. Today you can send your posters via email, publish them on websites, landing pages and social media. What more, you have tons of cool fonts and graphics to play around with! While the good-old printed posters are very much there, digital posters have become mainstream for quite some time now. In this article we'll see how to create poster!
Use of Posters
Posters are my favourite document type. I mean, look at how versatile they are!
You can use it to announce any event, propagate ideas, create brand awareness, advertise your services, products, offers and much more! And, when you are using a poster digitally, you can use one for just about everything; from sending birthday invitation to wishing on a special day to express your ideas!
Here are some of the most famous posters of history: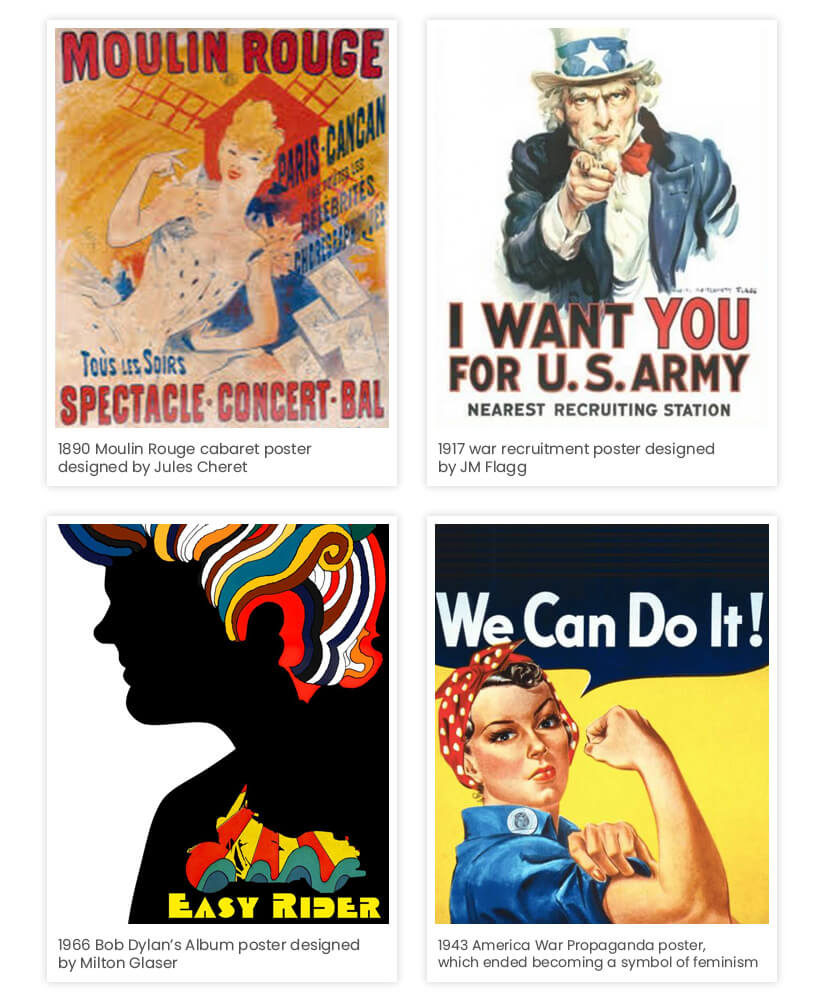 Want to leverage the power of posters to the fullest?
So, what makes a poster great? What makes it worthy to go down in history? Or, if you are looking for more realistic results, what makes a poster effective and impactful?
Well, it's not one thing; but the combination of a few things really!
Bold Colours and Imagery
Posters are designed and used to grab attention. Be it a printed poster on a notice board or a digital poster on your Facebook wall, if it does not stand out, it's not working. This is why from the very beginning artists have preferred using bold colours and striking imagery for posters.
Be it the Art Nouveau posters of Jules Chéret era or today's advertisement posters, grabbing attention is the first and foremost job of a poster. Bold colours like red, yellow, blue, green combined with eye-catchy visuals are the key to success here!
Bulleted Information
A poster, unlike many other document types, is used to offer one single piece of information, concept or call-to-action. No matter what the poster is about, it has only a few seconds to make an impression. So, you do not have the luxury to put out a whole lot of info there.
Zero in on a single THE most important information. Put that on the poster. Yes, if needed you can add peripheral information as well. But they must complement the primary message.
For example, if you are opening a new store next week as well as planning a flash sale, it is preferable to create two different posters for these two announcements. Now, if you are opening a new store and planning a flash sale as an inaugural offer, then you might want to put these two pieces of information together to create one poster.
The idea is to stick to one message and complementary information for one poster!
Typography Matters
Typography matters for any document you are creating. Period. But when it comes to posters, they are crucial.
Posters often have the tough job of grabbing eyeballs and deliver the message in a hurry. Therefore, using easy to read, bigger in size fonts are a natural choice here. In fact, posters played a crucial role in the development of versatile, bold font faces since the days of lithographic print.
After the advent of lithographic print, when posters became a popular art form, artistes and printers needed bigger, bolder, easy to read fonts. So, they started experimenting with different styles, sizes and materials for producing typefaces. Thus, came a number of newer fonts and styles! How to Create a Beautiful Poster Using DocHipo?
Today, with literally thousands of font styles available, you can obviously play around with the style and size of your fonts. Just keep readability in mind and you are good to go!
How to Create Poster Using DocHipo?
Designing an impactful poster is not as easy as it sounds. This is why DocHipo offers you a number of pre-designed templates that you can use to build beautiful posters. How? Just follows the steps below.
Step 1: Zero in on your messaging
For any document, content is king! But, in the case of Posters, it is more important because of its concentrated nature. The message for any poster must be crystal clear, to the point and impactful. So, before you even start thinking about the design part, zero in on the right message.
If you are not sure where to start, finding an answer to the following questions may be a great way to begin.
What is my end goal for developing this poster? What I want my audience to do after reading it?
Does my message clearly communicate the objective and call-to-action (in case, it is needed)?
Am I adding any information which is not complementing or not relevant to my primary message? If yes, can I remove it?
Can I make my message any more precise?
Step 2: Select a template
DocHipo comes with tons of brilliant poster templates for different industries and purposes. Select the one that best suits your needs.
Here are some of the gorgeous poster templates that you can use!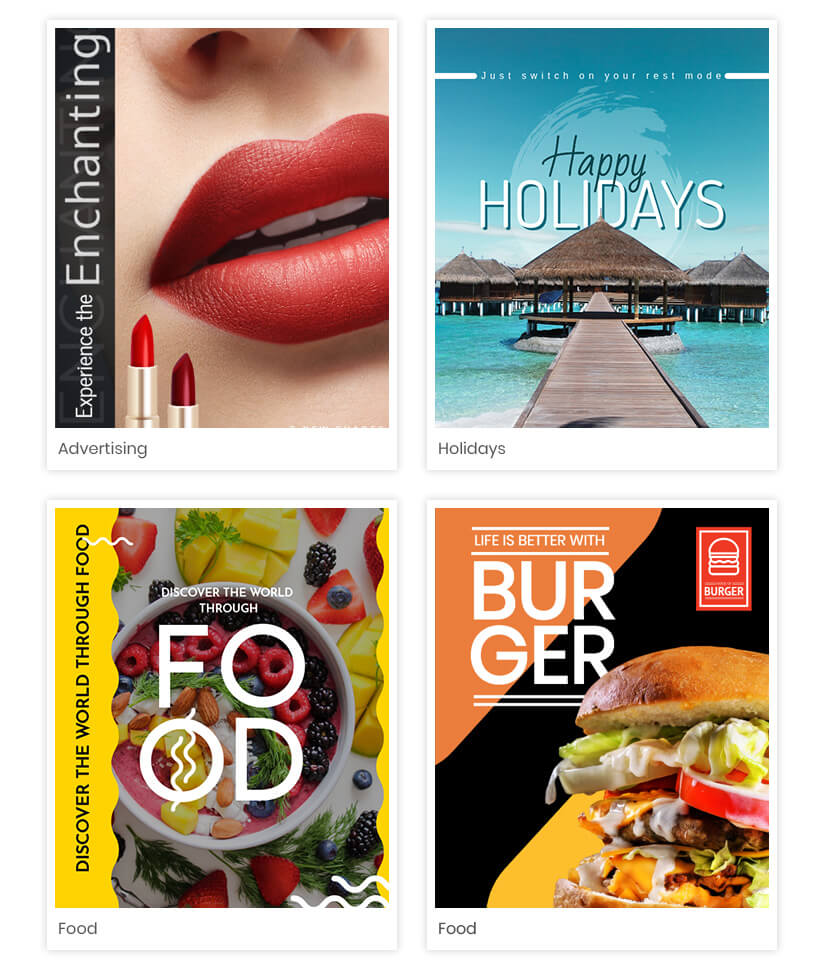 While DocHipo has awesome templates in different categories, keep the following things in mind for creating a great poster.
While browsing the templates, check out your industry section first. All DocHipo templates are specifically designed and categorized for different industries, such as Travel, Beauty, Food, Advertisement, Fitness, Environment and so on. By choosing a template from the relevant category, you would instantly reduce the need for customization a lot.
Look for a template which is closest to your idea. This way you can simply change the text (if needed) and get going!
While updating the content, keep in mind the character count. The style that looks great with five words, may not look that put together with only three words. Try to keep your character count as close as possible to the template. This way, you won't have to worry about rearranging things.
Don't shy away from experimenting with pictures. While all images used in the templates are great; you can definitely try and shuffle things up a bit. You can use any picture from the DocHipo picture library (this too is categorized for your convenience) for free or can upload a picture of your own.
Step 3: Download, share, publish
Once are happy with your poster, use it any way you want. Here are the ways you can use a poster created in DocHipo.
Download the poster in PNG or PDF format. In case, you are looking at printing the poster, go with 'High' quality.
Publish it online and share the poster on social media directly from DocHipo. You can also embed it in your blog or other platforms if you want.
You can also publish the poster privately and set a password. This way, only a select audience (with whom you've shared the password) can view it.
Last Words
Creating an impactful poster is all about developing the perfect chemistry of colours, fonts, messages and images. While it may take years to hone the talent, with DocHipo in place, you too can create captivating posters for all your requirements. And all it takes is 3 simple steps!
So, what are you waiting for? Sign-up for DocHipo now!
It's time to super-charge your marketing, revamp your social feeds and express yourself to the fullest!