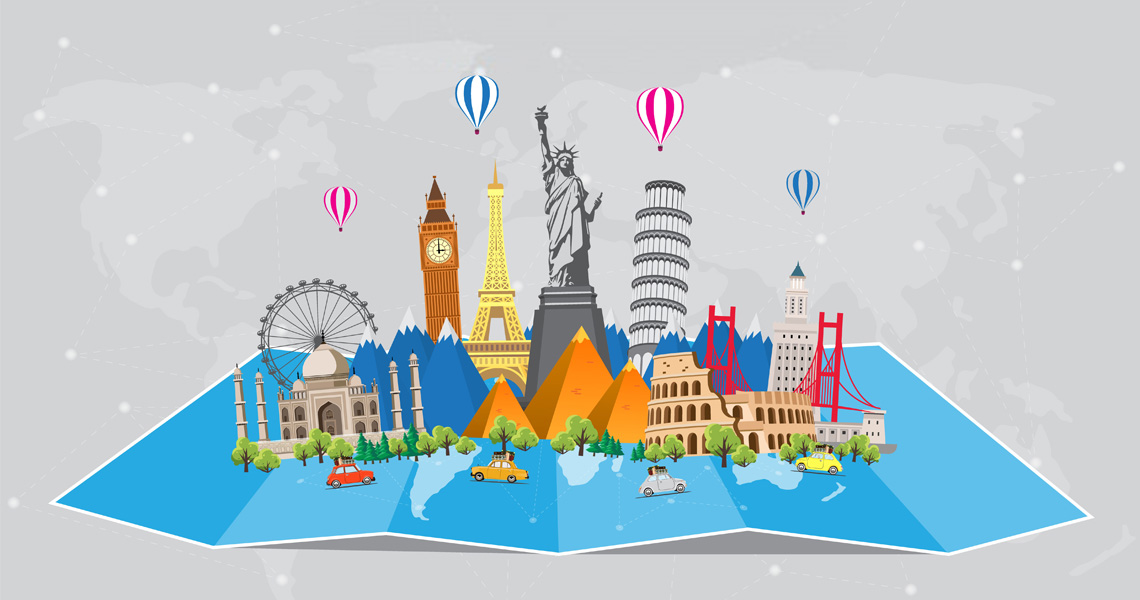 Turbocharge Your Travel Business with Captivating Visuals

Published on Jul 9, 2020
Starting your travel business and maintaining its stability economically has become a real challenge due to the pandemic. It can be said that travel and tourism is the world's largest industry, contributing 10.4% of the world's GDP. Hence, it is obvious how worldwide travel restrictions, due to COVID 19, have impacted the economic situation globally. According to UNCTAD, the travel and tourism sector has incurred a loss of $1.2 trillion, within these four months of halt.
It is a fact that external situations can never be controlled. But let's not forget that this is not the first time for travel companies to face major setbacks. This sector has also faced the brunt of the 9/11 incident and global recessions but has always recovered from it. So, despite this bad situation, let us first believe in the inevitability of brighter days. Hence let us now be more futuristic for generating long-term advantages.
In this article, I will discuss ways in which you can boost your business of travel during coronavirus outbreak. We will also explore the stunning templates of DocHipo that you can use for your business.
Marketing Your Travel Business during COVID 19
The future of travel and tourism post covid will undergo a drastic change. Even if the vaccines come out and secure us from this pandemic, the effect will remain in our minds. Hence, the sector has to reshape their entire perspectives.
So, how do we do this?
We can do this by restructuring the marketing process that will involve the marketing mix in a completely new way. Let's see how we can use the 4Ps of the marketing mix to reconstruct new travel based business ideas. The 4 Ps of marketing mix includes the Product, Prices, Place, and Promotion.

Product
The first step is to re-evaluate your services and the products provided in your travel business with the current situation. Are the proposed services relevant anymore? Do you need to introduce new services that will make your business appear more useful in the current situation?
So, let's assume that your services earlier included everything that a traveler requires. This involves destinations, train/flight tickets, hotels, and local attractions, along with a customized itinerary, within an attractive price range.
Now, we have to see how the services can be revamped to meet the present demands. Your brand can probably be of service to the people from other nationalities to board the repatriation flights. You can also help the doctors, nurses, and other health workers to travel through different places under optimum safety. Recreate your brand image by showing that your company cares for the people in this hard time. Your services provided in this time of distress will fetch long-term advantages. Try to look at different ways through which you can expand your services while staying in your business niche. It will give your brand the image that people will remember and will choose in their brighter traveling days.
Prices
Setting the right price is a tough call to make, especially right now when the economy seems to plummet. In this situation, you have to check your finances and restructure the pricing while still maintaining the humanitarian aspect. As the countries also benefit from the travel and tourism sector, it is always best to come in association with your respective government and try to work with them to deal with the current crisis. This association will give you a better understanding of how to structure the financial aspect of your business.
Place
COVID19 has curtailed people within the premises of their house. Hence the monotony of staying under one roof has increased the usage time of the world-wide-web. This makes websites and social media platforms the most suitable place to start the marketing campaigns. So, actively promote via Facebook, Twitter, Instagram, LinkedIn, and YouTube. Keep on updating your website. You can also use messengers and email platforms for your campaign.
Also, do not miss out on an opportunity of involving radio and television in your marketing campaign strategies.
Promotion
Right now this P of the marketing mix is the most important element in your business and needs most of your attention. Working on this aspect of your business will give you an extra mileage in terms of brand image. Also, a perfect promotion will ensure that people choose your company when booking their itinerary in future days.
The promotions that your company will undergo needs to show that your brand cares! Yes, marketing strategies need to show that people's safety is your company's primary concern. Honestly, this is not the time for sales but for a fantastic marketing strategy. Build a very solid base, which will ensure a stable future. Advertise your brand in different social media, television, and radio channels and promote it through the pandemic context. Also, let your campaigns cheer people up with the hope of returning to good old days, as life is all about change. Promote how people should be more thoughtful about others and how your brand is trying to contribute towards people's safety. Make a good impression!
You can also organize short photography contests, such as best photographs of the streets from your window, themed as "Lock Down". But you have to emphasize that the participants cannot leave their house to take the photograph.
Another interesting tactic I came across over the internet is a scheme that tells you to Buy Now Pay Later. You can introduce this in your business, as it will ensure customer engagement with your brand. Also if you include a competitive deal such as free cancellation, future installments, and other such policies, it will give you an advantage.
So, introduce new schemes, safety messages, hash-tags, captivating blog articles, contests, and more.To be honest, whether people finally opt for it or not, brand engagement is the most important thing here.
Do keep in touch with your existing clients through emails and phone calls. Try to ask them about their health and also talk about your campaign, but never overdo this. The lockdown has already frustrated people and spamming their inbox with constant emails can irritate them, impacting your brand negatively.
Templates for Promoting Your Travel Business
Worried about what visuals and designs to use for a perfect promotion strategy? Then please don't, cause at DocHipo you can download stunning templates. Through these templates, you can redefine your travel and tourism outlook. You have the option to customize and make one right from the very beginning. Also, you can choose the available templates and use them for absolutely for free. Let me take you through.
Steps to Join DocHipo
Log on to the DocHipo website and click the "Get Started for Free" button.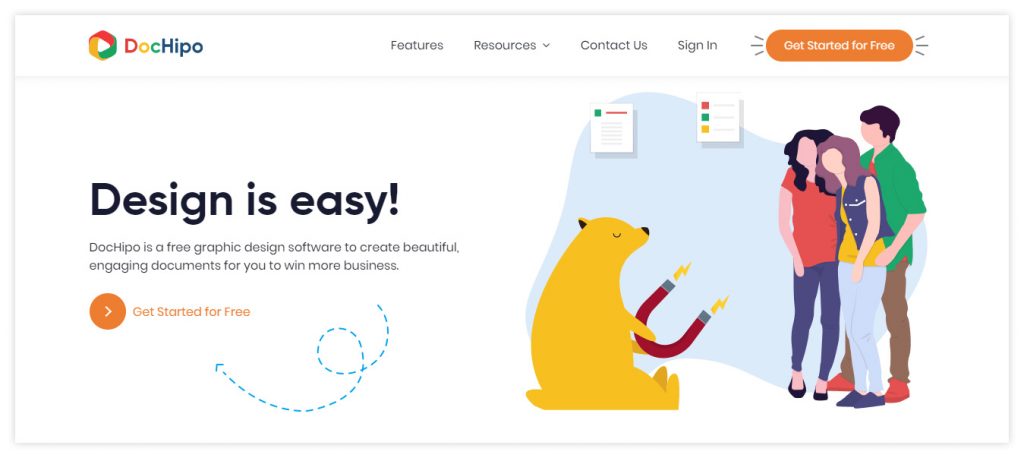 Sign-up, using a very simple process. You just need to add the following details and bam! Welcome to the world of DocHipo!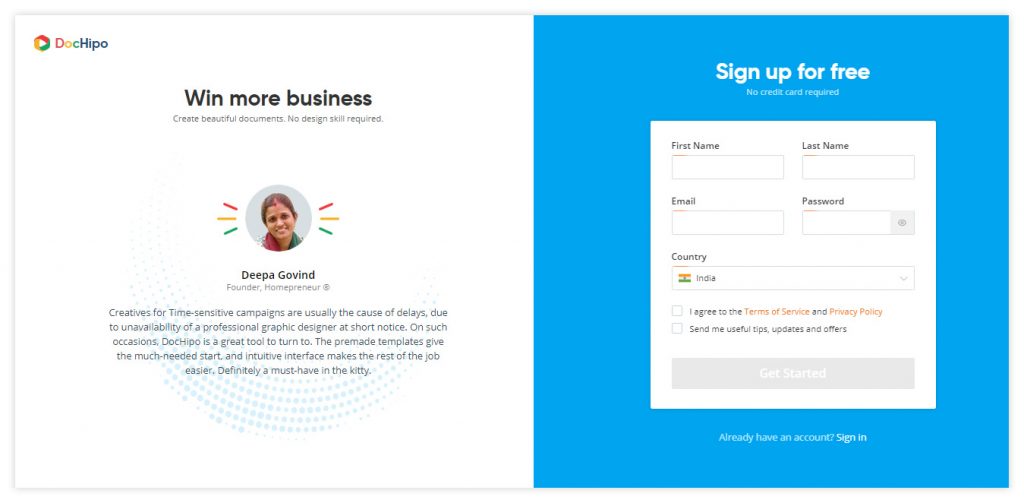 Now, get access to tons of templates for different uses. DocHipo templates include Infographics, Flyers, Posters, Presentations, Web Banners, Social Graphics for social media, and for General use. You can choose any templates that you like.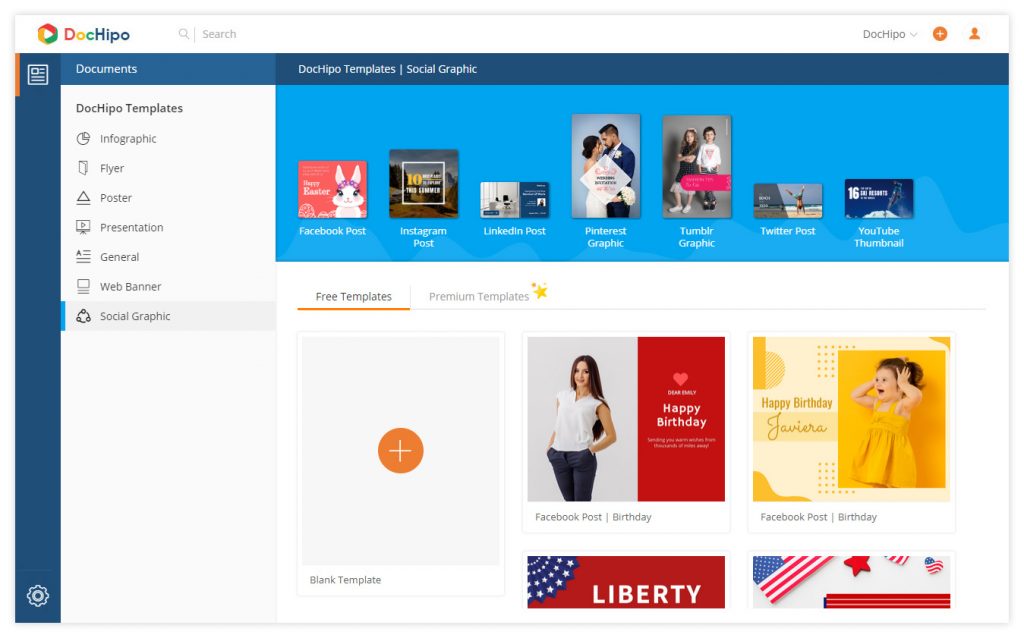 Now select your template and provide the document information.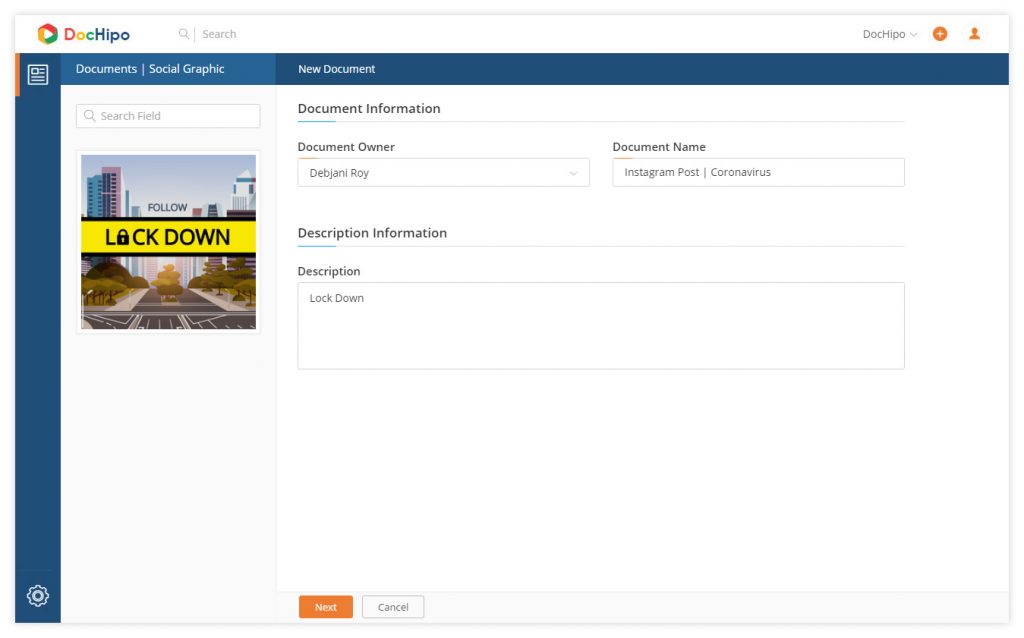 After you enter the workspace, you can fiddle around with the design tools and widgets to create your own. If your design is ready, then download it!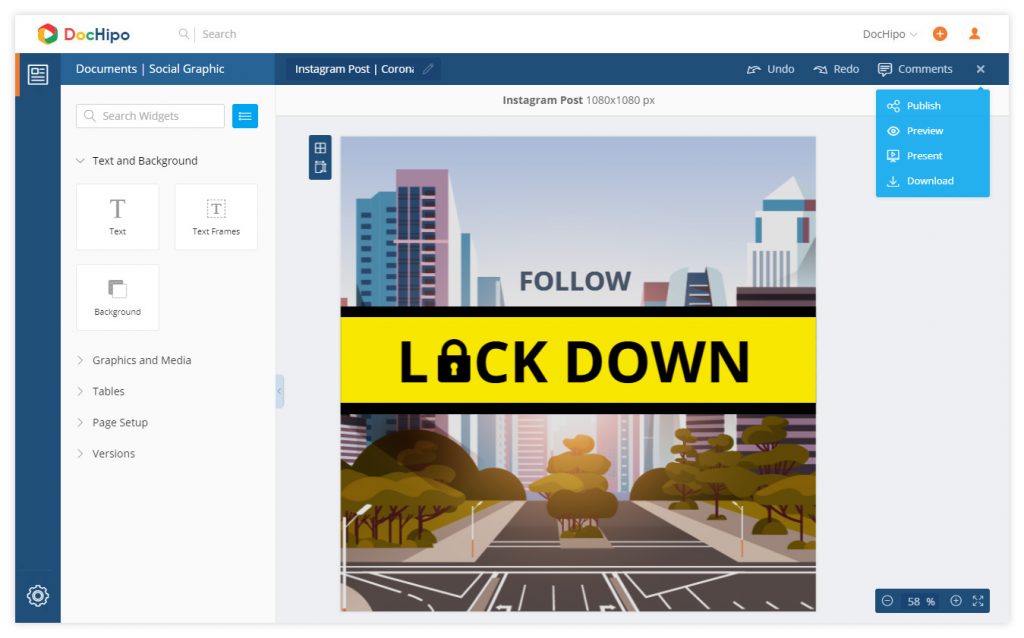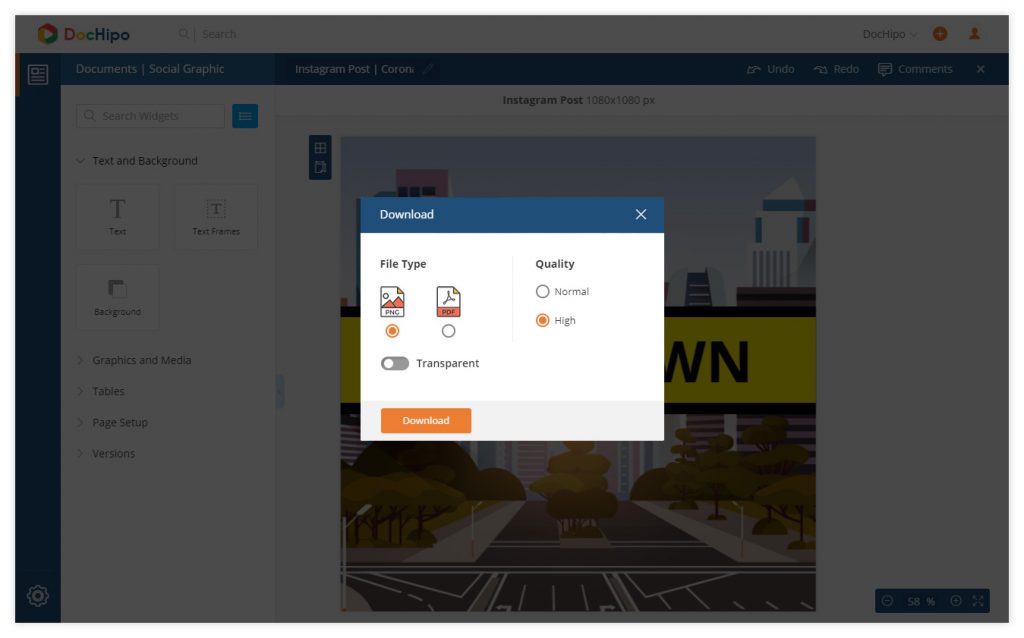 DocHipo also gives you the option to directly publish your design in social media. Check this tutorial out.
Templates for Marketing Plans
In Dochipo you get templates for all your marketing visuals. Let me show you some.
This is an infographic template that you can use in the future or in the present time as well. You can also make changes and customize it to fit your strategy.

Similarly, there are many infographics templates that you can use. These templates provide all the information in a more visual way, making it fun to read.
Here is a poster template that you can use both offline and online.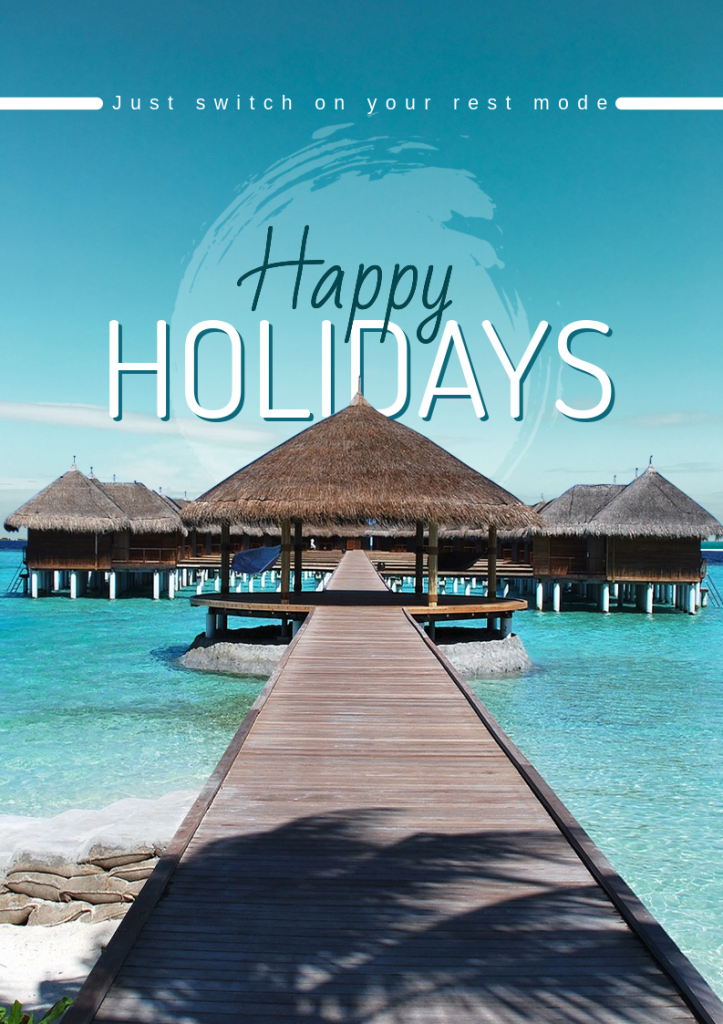 Let me show you a web banner. You can change and customize it according to the social media platform that you are using.

Last but not the least; let me show you a probable YouTube thumbnail and social media posts that you can use.
This is for a YouTube thumbnail that you can customize and use: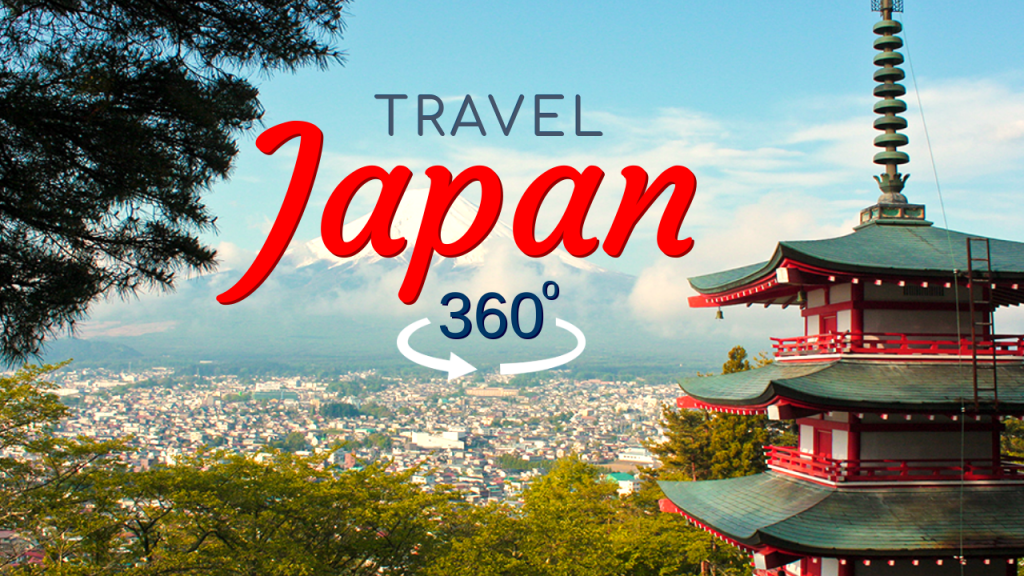 Also, check these social media posts: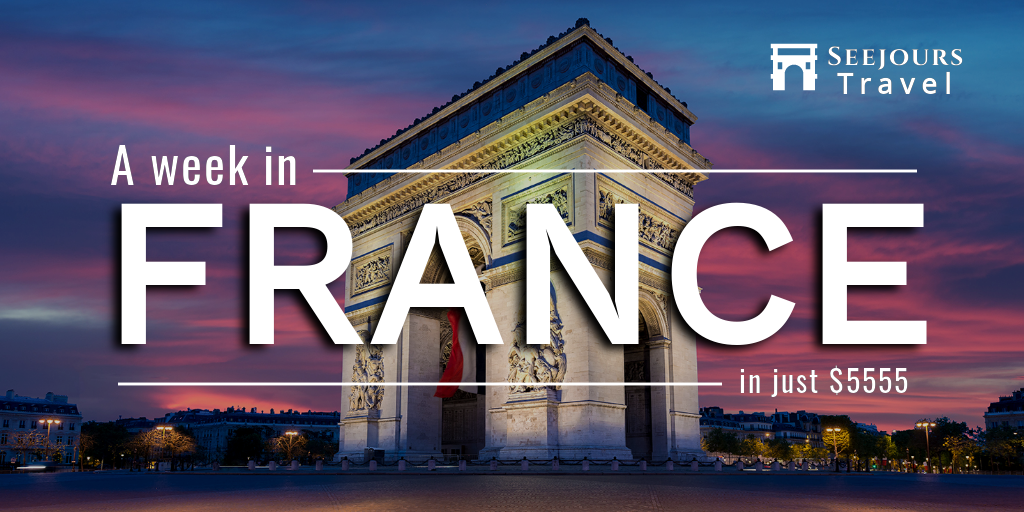 Conclusion
Let us remember that life is all about change. Hence, let's have the faith and learn from this pandemic. Try to analyse how the sector can prepare itself for the future and build a better coping mechanism.
Till then plan your promotional strategies with our wonderful templates. They are bright, colourful and can cheer-up anyone who views it!