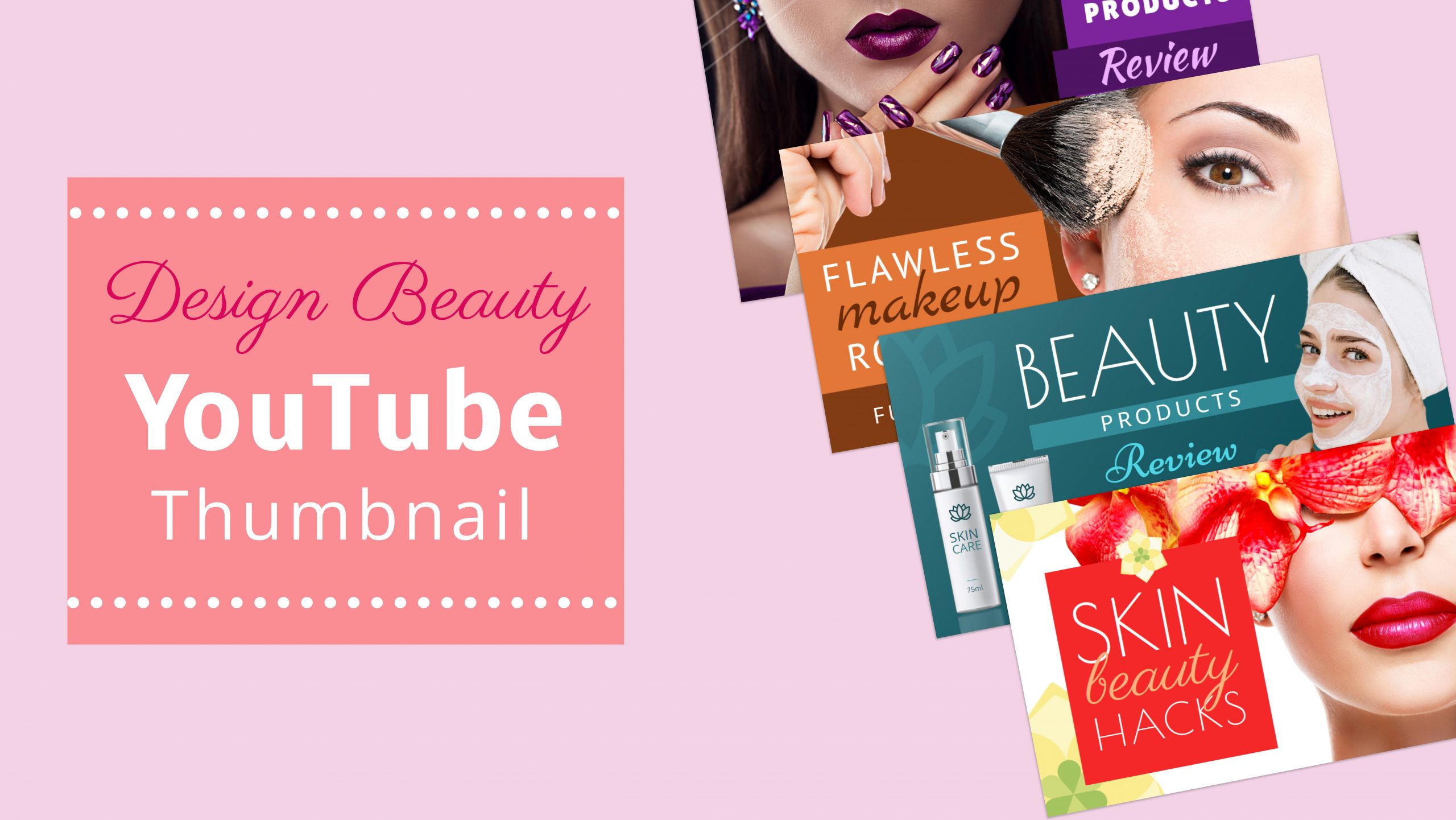 How to Create Custom Beauty YouTube Thumbnails

Last Updated Aug 24, 2022
Got your own Beauty YouTube channel?
The YouTube video thumbnails act as the book cover in the video world. Since thumbnails are the first visual experience your channel viewers get, they have to be the top-notch quality that keeps them returning to your channel.
According to YouTube, 90% of their top-performing videos use custom YouTube thumbnails. But designing custom thumbnails consistently that get clicks can be a tedious task. But it shouldn't be a hassle. 
In this blog post, I'll walk you through a three-step process of designing a captivating and compelling thumbnail for your beauty YouTube channel with DocHipo's YouTube Thumbnail Maker and cover some thumbnail design best practices.
YouTube Thumbnail Design Best Practices that Get You Clicks
I've compiled a list of YouTube Thumbnail design tips and best practices you'll want to keep in mind while designing thumbnails for your beauty YouTube channel.
Get the Thumbnail Size Right
The recommended thumbnail size for YouTube is 1280 by 720 px. You can save time and increase efficiency by starting with DocHipo's pre-built YouTube thumbnail templates, preset in their YouTube recommended image dimensions.
Use Relevant High-resolution Images
Your YouTube thumbnail depicts what a viewer will watch in your video appropriately. So, evaluate the essential part of your video and represent it with a high-quality image to make your audience understand the context of your video at a glance.
Since it's a beauty-themed YouTube channel, you are the face of the video in most cases. It's best if you plan your thumbnail before shooting your video. In that case, you may capture an action-driven still image while recording your YouTube video.
Also, never use a misleading thumbnail image because it could hurt your brand reputation.
Using high-resolution images, here's a glimpse of beauty-themed Youtube Thumbnail Templates from DocHipo.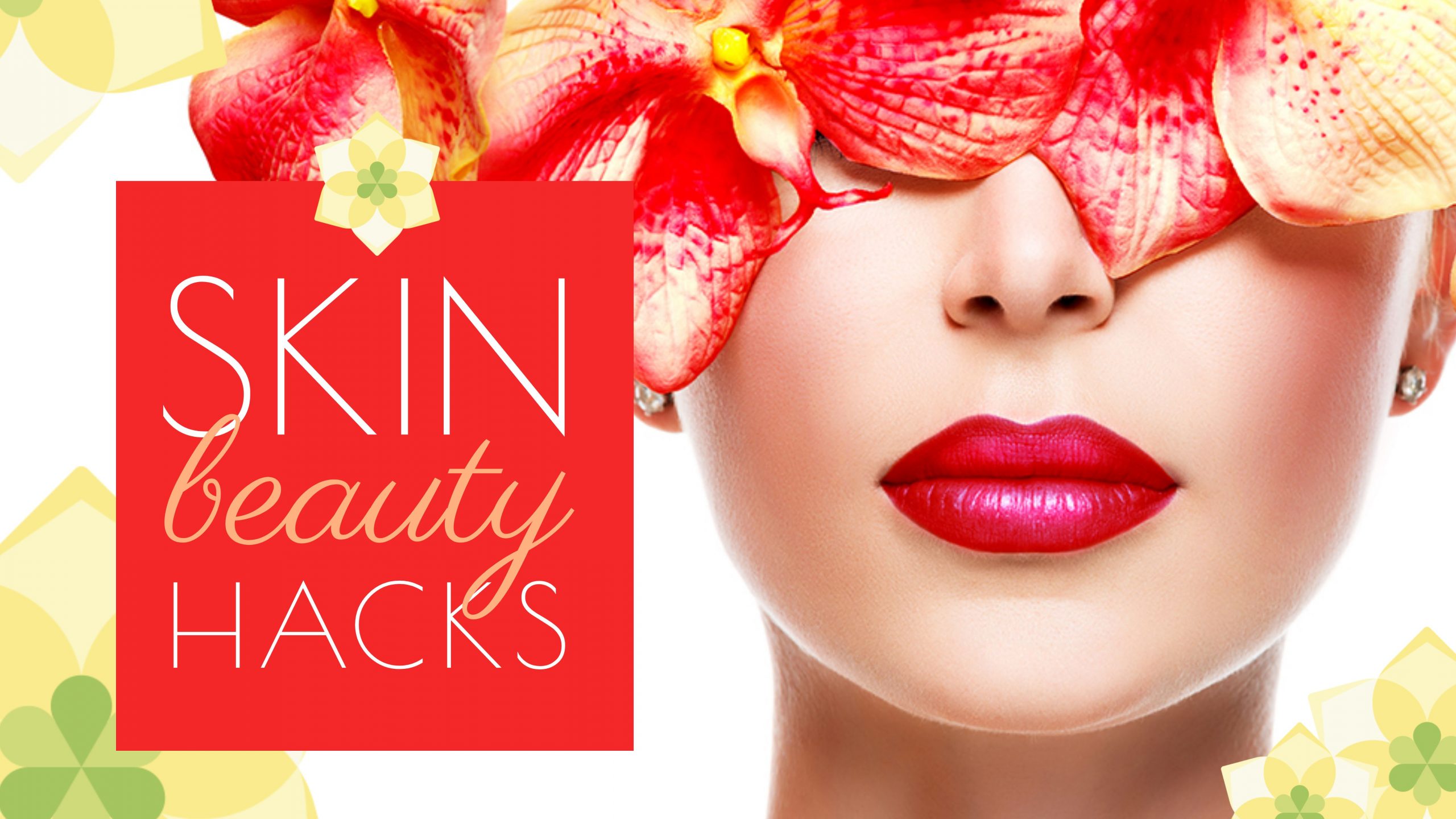 Get This Template and More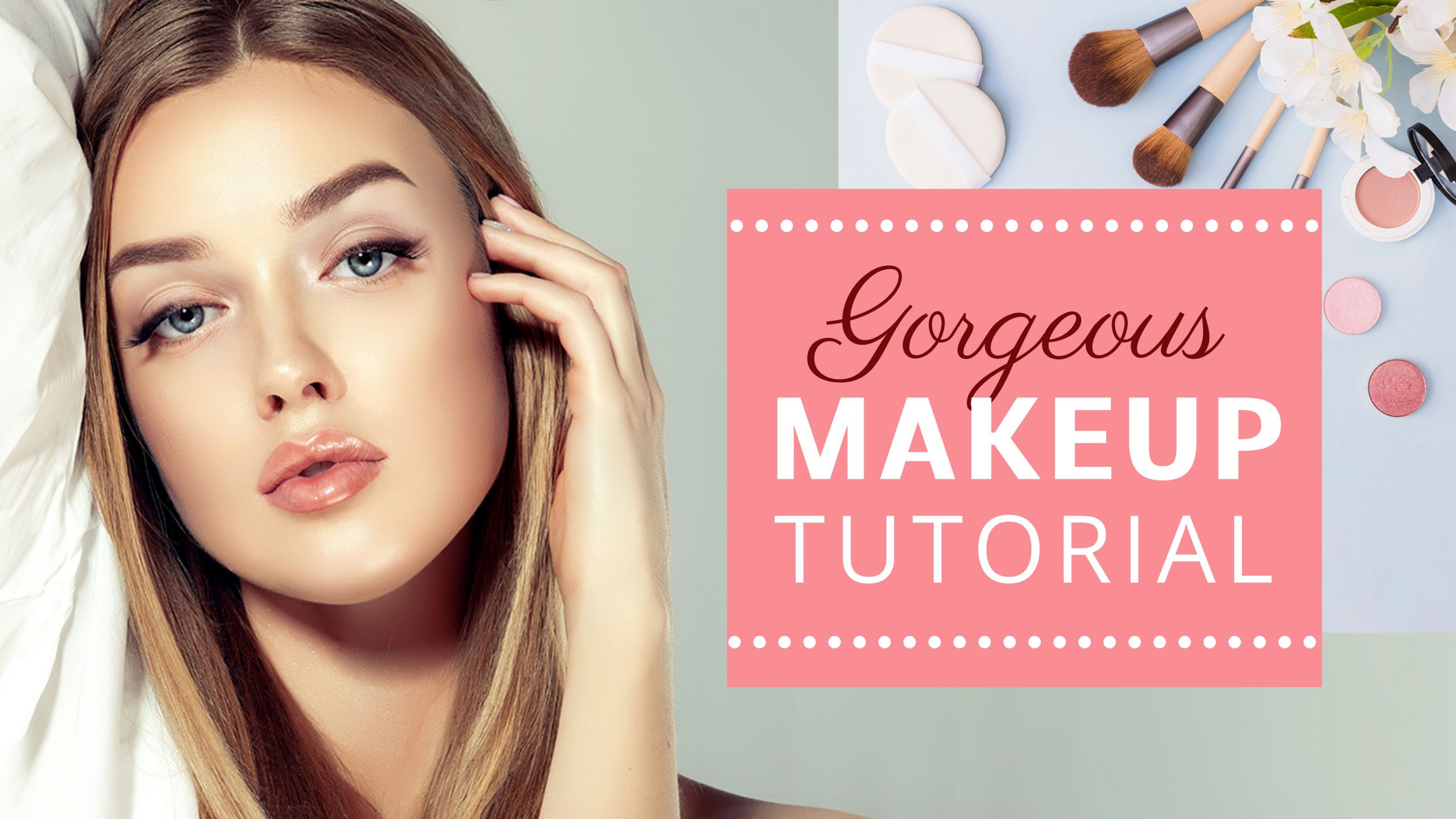 Get This Template and More
Add Text
Texts in your thumbnail are another effective way to add context to it.
Use Large Fonts
Your viewers must be able to read all the texts you add to your thumbnail image in one glance. Your texts should be read effortlessly regardless of the device your audience is watching the videos on.
Here are templates from DocHipo using huge texts to convey their message.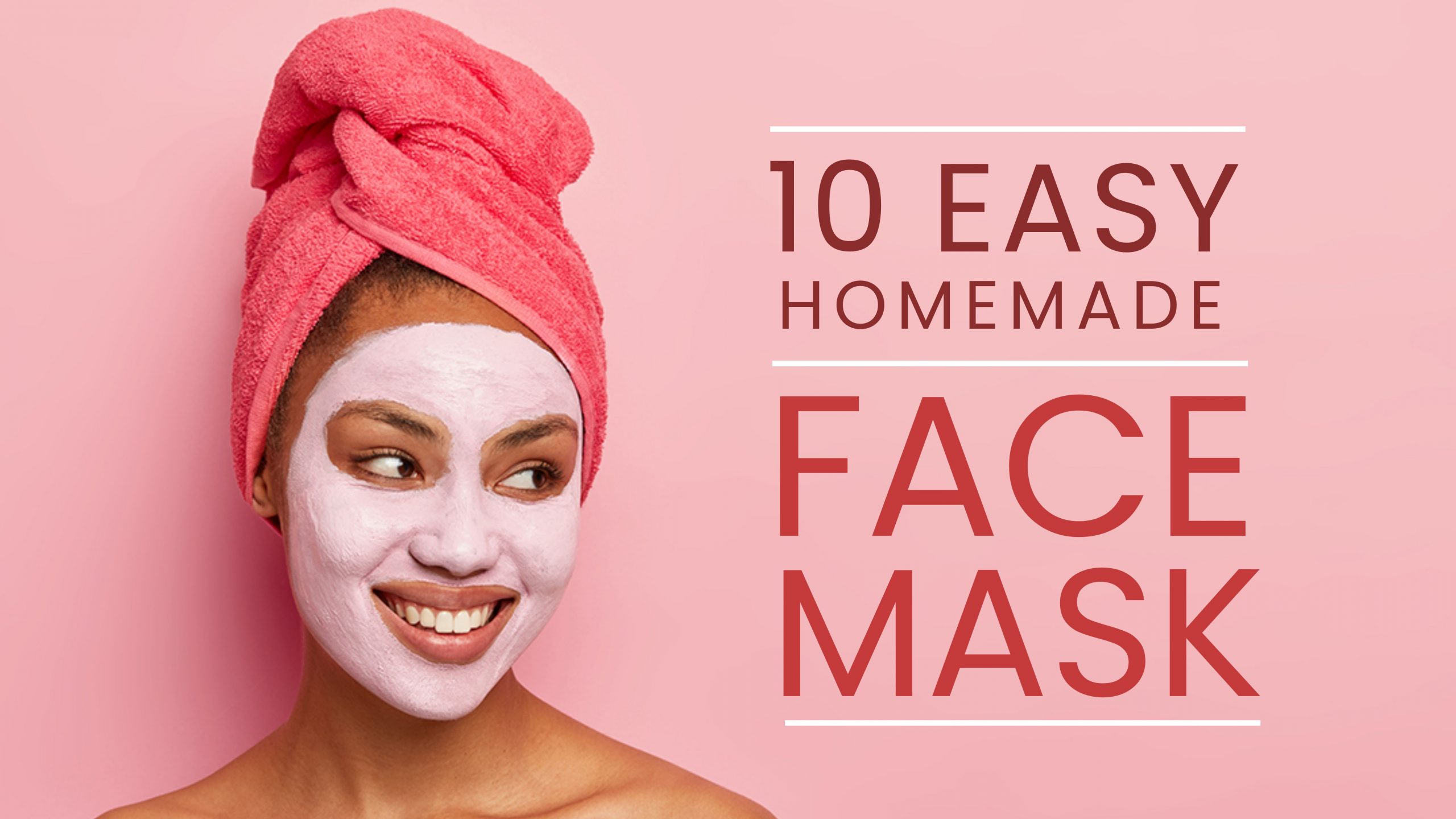 Get This Template and More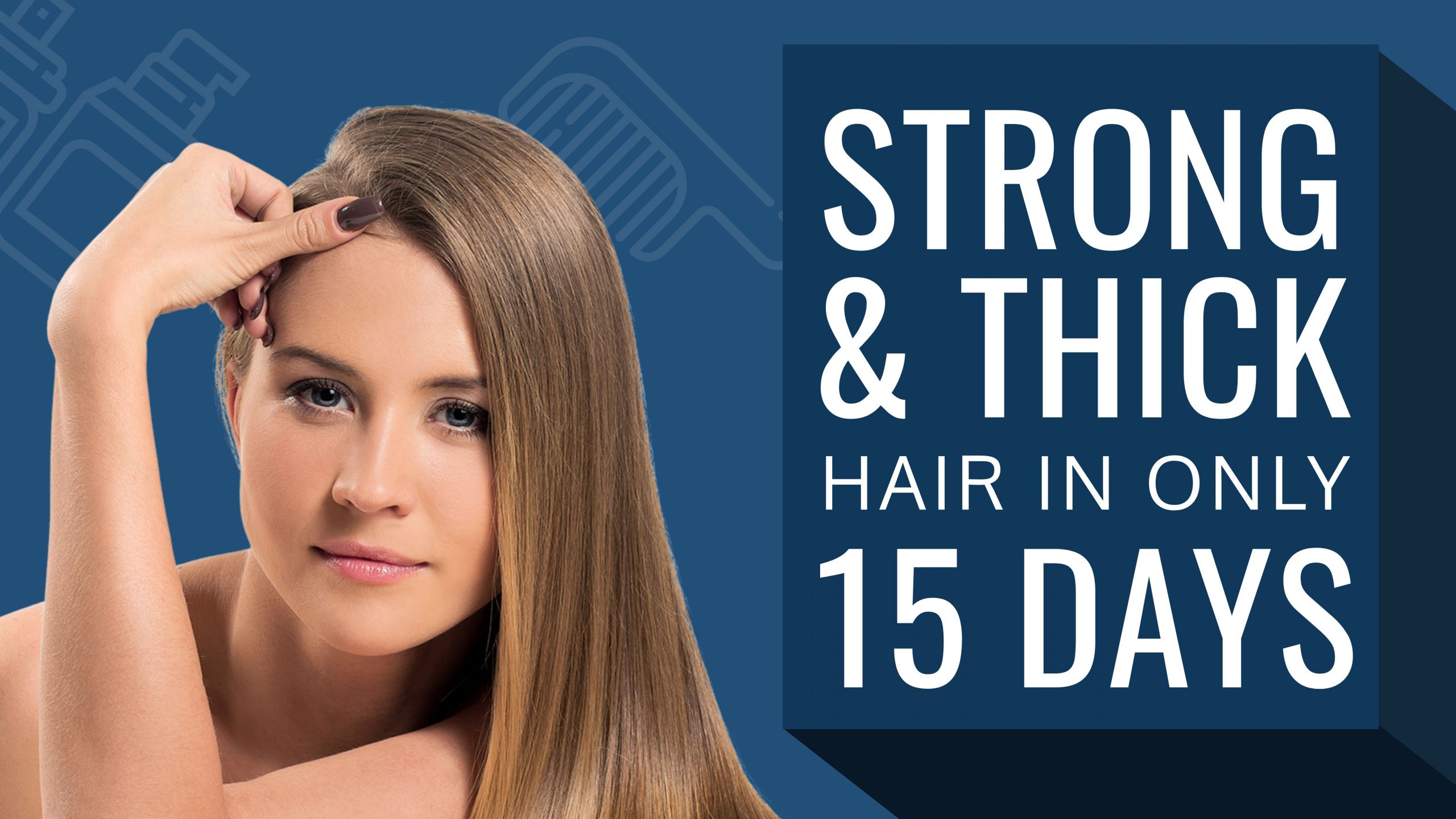 Get This Template and More
Short and Sweet Titles
Don't add too many texts. You want to add enough text to convey what's in it for the viewers. Otherwise, it will overpower the visuals. Craft your texts to raise curiosity in your target audience and intrigue them to click on your thumbnail. Conciseness is the key here. There's no need to use your YouTube video title as your thumbnail text; use a short word or phrase summarizing your video content.
Look at these thumbnails designed professionally by DocHipo, that summarized their thumbnail text into phrases.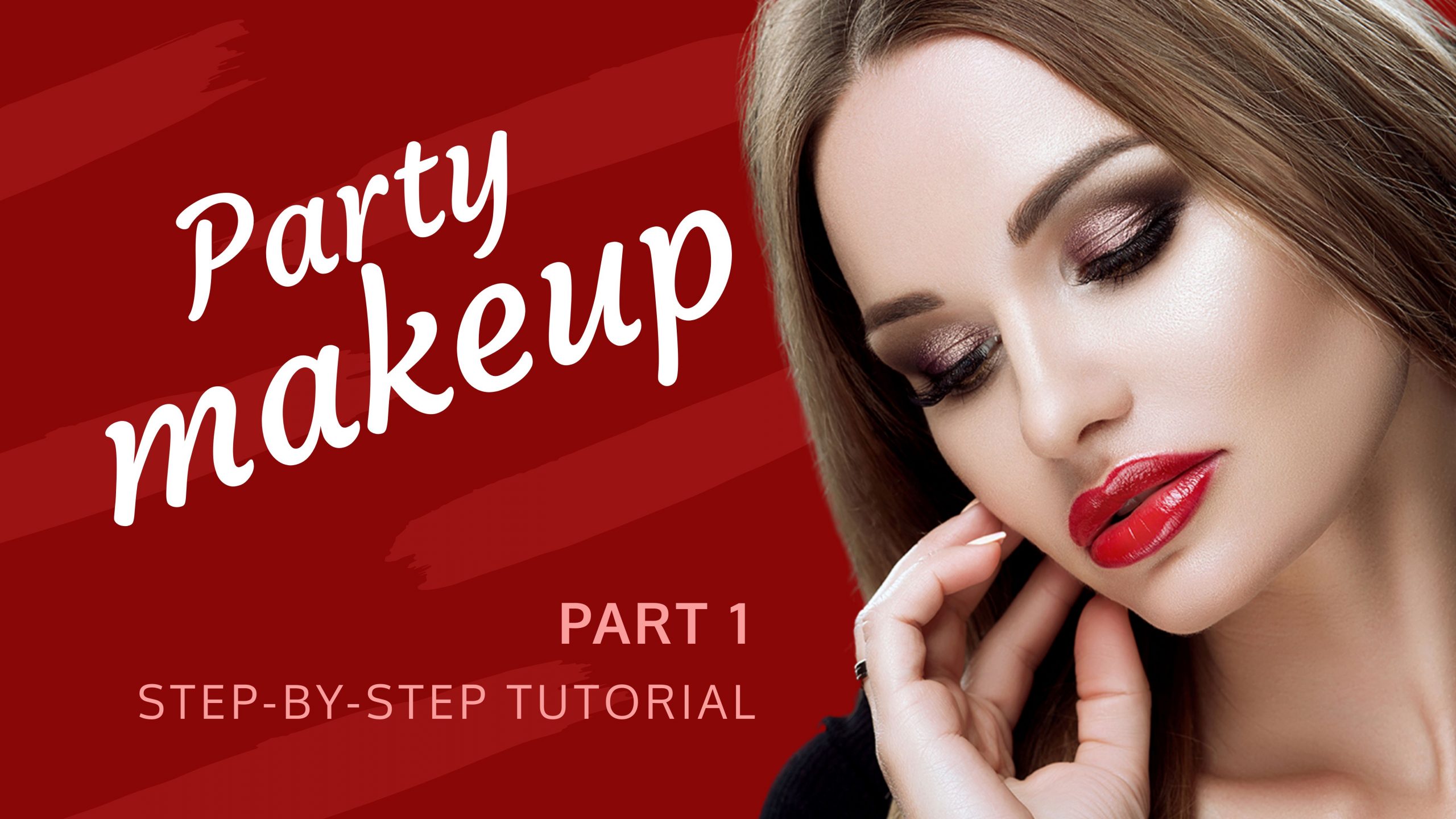 Get This Template and More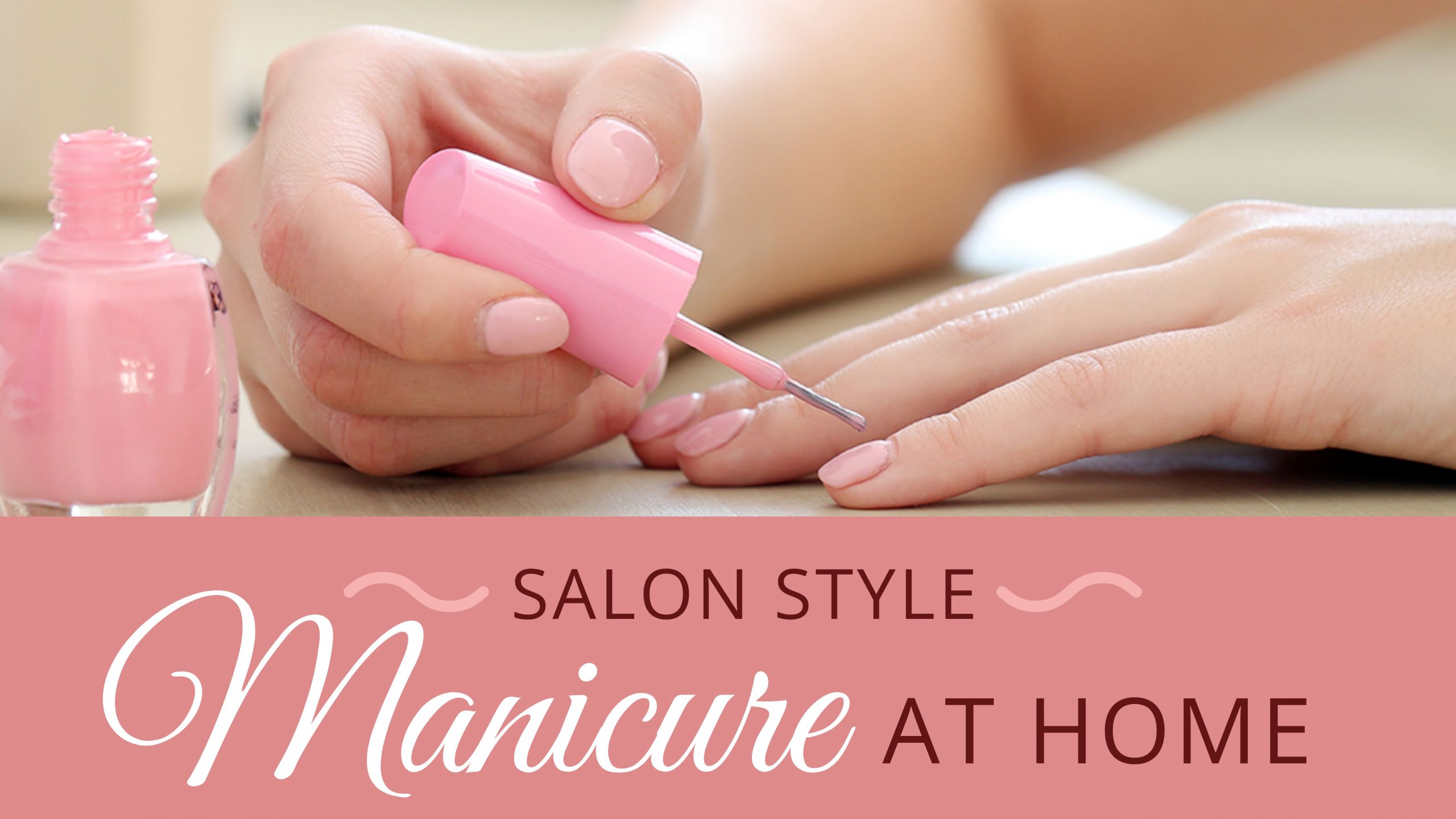 Get This Template and More
Use Contrasting Colors to Stand Out
The visual elements and colors you use in the thumbnail must stand out and maintain a balanced look. Thumbnails with high contrast images are noticeable easily, getting you more views and clicks on your video.
Read Best Color Combinations And How To Use Them In Your Design to immediately draw the viewer's eye into your videos.
Also, ensure to add vibrancy to your thumbnail design so that it pops off in your viewer's YouTube feed or suggested videos.
Our editing platform in DocHipo offers various effects that you can play around with to boost the vibrancy of your beauty thumbnail design.
Be Consistent with Your Thumbnail Designs
Initially, you can experiment with your thumbnail designs and check your analytics to understand what works best for you and eventually maintain consistency. This way, it will be easy for your target viewers to recognize your videos quickly, establishing your beauty youtube channel's brand recognition.
For example, look at DocHipo's YouTube channel, maintaining consistency in the thumbnails by using pastel colors, vibrant images, and a simple and elegant look.
How To Create A Beauty YouTube Thumbnail With DocHipo's YouTube Thumbnail Maker?
I will walk you through a step-by-step guide on how you can design YouTube thumbnails in DocHipo for your beauty YouTube channel. If you are using DocHipo for the first time, you need to sign up for free with your email address and password.
STEP 1: Choose a YouTube Thumbnail Template
After you log in with your credentials in DocHipo, you'll land on its homepage. It lets you create documents of various types but for now, let's search for YouTube Thumbnails in the search bar.
The professionally designed high-quality YouTube Thumbnail templates are categorized into various industries such as beauty, business, education, food, travel, and wildlife.
Now select the beauty YouTube Thumbnail template.
Hover over any YouTube Thumbnail Template you like and then choose either the 'Preview' or 'Select' option to proceed further.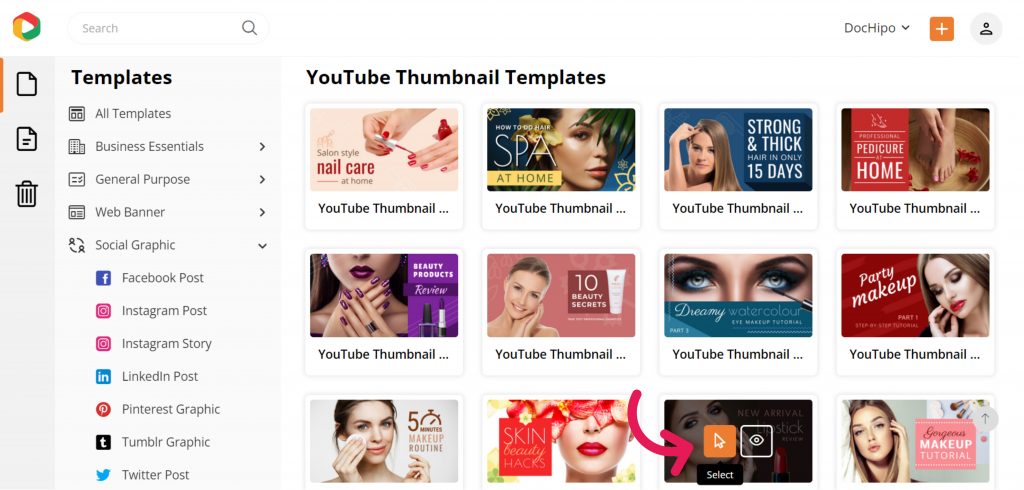 After selecting the YouTube Thumbnail template, you want to work with, add a name and a short description to the document and click on 'Next.'
STEP 2: Customize the YouTube Thumbnail Template
DocHipo's YouTube Thumbnail Maker gives you complete flexibility to customize your beauty thumbnail design just the way you want. Let's see how we can leverage its design elements and the easy-to-use drag and drop editor.
Add or Replace Image
DocHipo has a library with high-quality stock photos, illustrations, stickers, and so much more. If you put up content on some generic topic, you can leverage the library to make the YouTube thumbnail design easy and faster.
But in most cases, you may need to upload your images or that of your beauty products. You'll find the 'Uploads' widget under the 'Graphics and Media' tab on the left sidebar.
Click on 'Upload Images' to upload your own images following the image size and format guidelines.
Once the image is uploaded, drag it and drop it on the existing image, and it will automatically be replaced.
Resize and reposition the replaced image using the drag and drop tool to fit in the design.
If you need to remove the background from the image you used, right-click on the image and select the 'Remove Background' option.
Next, click on the 'Remove' button.
Once the background is removed, click on 'Insert.'
Background
You'll find the 'Background' widget under the 'Graphics and Media' tab on the left sidebar.
Now, you can either use DocHipo's wide range of image backgrounds having different gradients and textures or explore the custom background colors.
You can put the hex code of the color you want to use or click on the little color icon to experiment with the theme colors.
Click on the color palette icon to experiment with custom colors and finalize the one that suits the design best.
Watch the YouTube video tutorial to learn more about creating a stunning background in DocHipo.
Add or Edit Text
Double click on the text you want to edit and replace it with your own text. To add new text(s), you will get the 'Text' and 'Text Frames' widgets from the left sidebar. You can choose from the three text formats – Heading, Subheading, and Body Text.
Select a text and use the editing panel to change the font type, size, color, text alignment, letter spacing, and so on.
Watch the demonstration below on adding, editing, or deleting texts in DocHipo.
Customize other elements
Select the rectangular shape to change its color that matches with rest of your design.
You can also change its opacity from the editing panel to give it a beautiful look.
Now let's explore another design widget: Shapes.
After clicking on the 'Shapes' under the 'Graphics and Media' tab, you'll see a dropdown menu and two options – Linear and filled.
Keep scrolling, experimenting with the wide variety of shapes to make your YouTube thumbnail eye-catching.
Check out The Ultimate Guide to Using the DocHipo Editor to design your documents.
STEP 3: Download your Beauty Youtube Thumbnail design
You can go crazy with your Beauty YouTube thumbnail design while considering the best practices. Once you are done and happy with your design, you may preview and download it.
Click on the three horizontal dots and choose 'Download' from the drop-down menu to download your design.
Your design in DocHipo is available to download in different file formats such as PNG, PNG Transparent, JPG, PDF, MP4, and GIF.
Choose your file type and the quality of the design you prefer or need, and then click on 'Download.'
Before customization:

After customization:

I'm attaching a handy video guide below that you can refer to as you create your thumbnails with DocHipo's YouTube Thumbnail Maker.
Wrapping Up
I hope you got an idea of how DocHipo's YouTube Thumbnail Maker makes your design process easy, smooth, and faster. So you can invest lesser time designing thumbnails and more time creating your excellent content.
Sign up to DocHipo for free, explore all the stunning beauty YouTube thumbnail templates, make effective use of the design elements and create enticing Beauty YouTube thumbnails. Also, use the best practices and utilize the resources provided to come up with YouTube thumbnails that bring you the best possible results you desire.