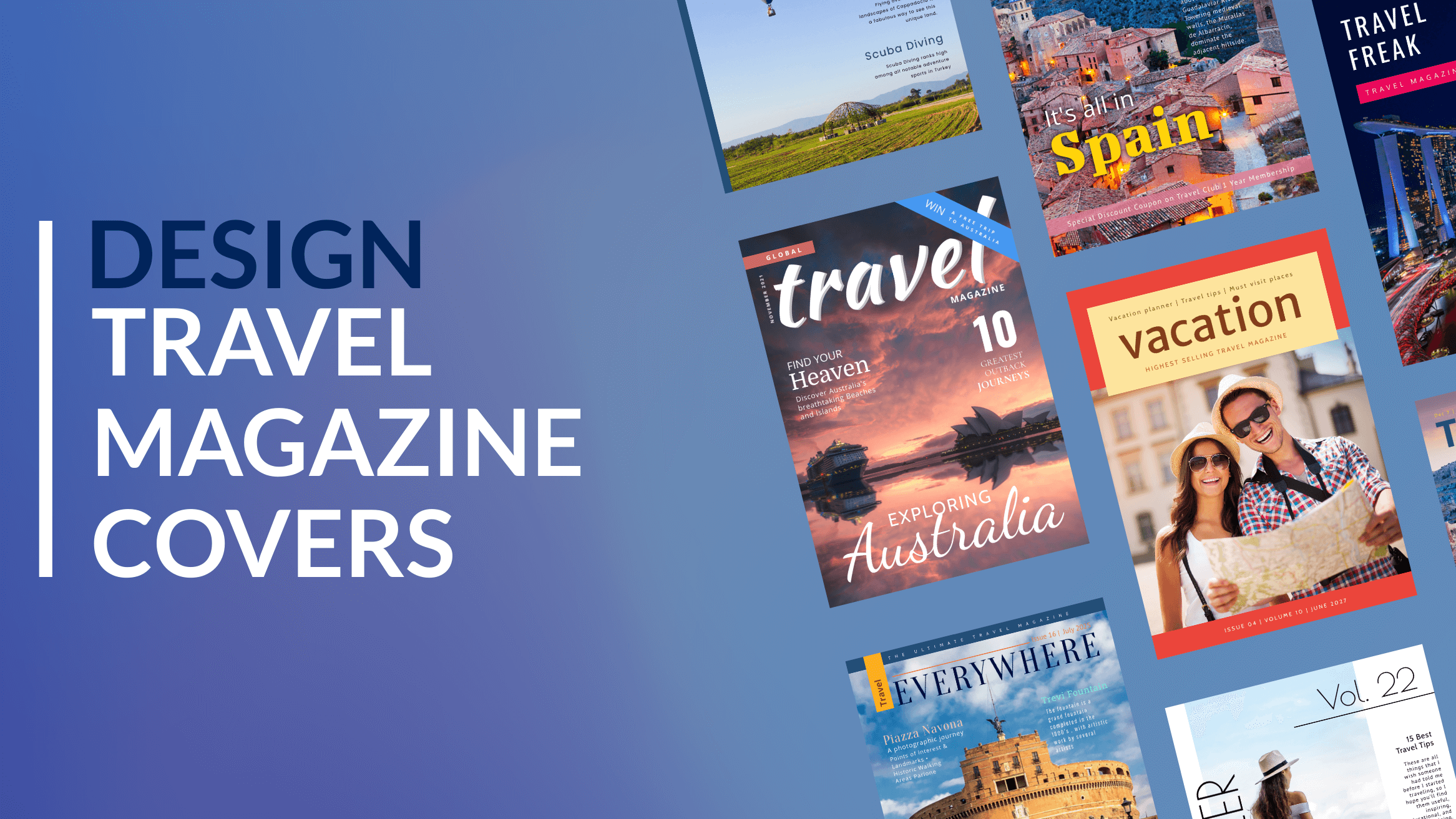 How To Design A Travel Magazine Cover? With Examples and Free Templates

Last Updated Aug 27, 2023
A study by PwC shows that the digital magazine market growth had increased from 16% in 2015 to 30% in 2020. In addition to that, the number of e-magazine readers in the US will increase from 18 million in 2015 to 40 million in 2021. But, if you are new to this rapidly growing industry, you might find it difficult to boost sales and engage more readers.
However, to catch your potential buyer's attention and express the content or theme of the magazine, you need to design a striking cover. This will ensure that your travel magazine cover attracts people by being unusual, prominent, or extreme.
To do that, you should have extensive knowledge of color schemes, typography, visual psychology, and the target audience. Thus, magazine cover design is not everyone's cup of tea. However, DocHipo's Free Online Magazine Cover Maker can help you with travel magazine cover design to achieve your goals. Maybe you are a travel agency or just a publishing house; whenever you search for magazine cover design, DocHipo has your back.
Therefore, this article will show you how to design a travel magazine cover in a few clicks with DocHipo.
Table of Contents
Travel Magazine Cover Design Best Practices
As we have already mentioned, magazine cover design is not an easy task. But our goal is to make it easier for you even if you don't have any design experience. Therefore, we are going to show you some of the best practices for travel magazine cover design. Don't skip this part if you want the perfect magazine cover design for your travel magazine.
Choose High-Quality Cover Image
For an effective magazine cover design, you must use an image or illustration for the cover image of your magazine. It will help you highlight the main story of the magazine and the art direction as well. Also, it gives your magazine a professional and unique look.
When choosing an image or illustration for your magazine, look for a high-quality photo that has enough room to comfortably fit into the template without changing the content of the photo. To get your readers' attention, make sure the images are crisp, clean, and detailed. DocHipo's Photo Editor will help you do that.
Moreover, always avoid using images that have noisy backgrounds. Make your photos uncluttered and clear with DocHipo's Background Remover.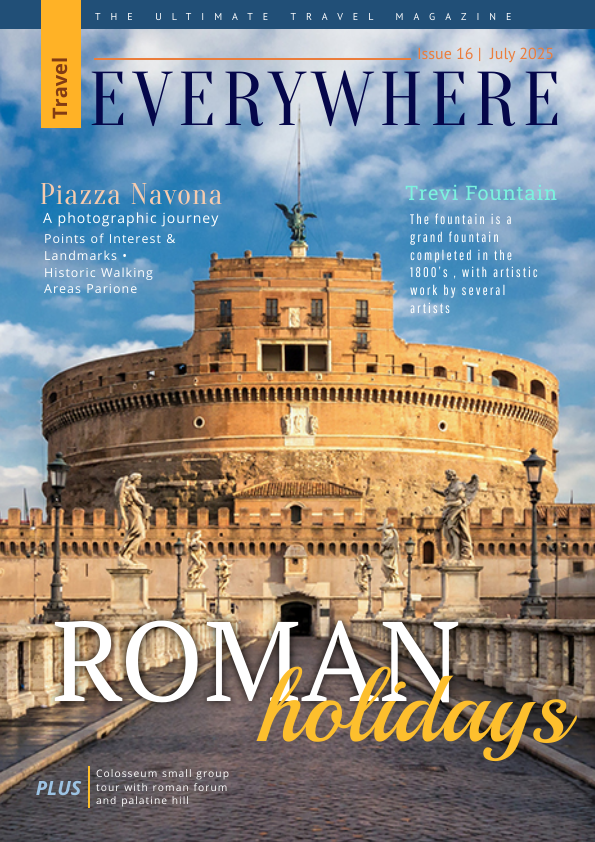 Get This Template and More
Be Clever With Color
Color is the design element that can surely make your magazine cover stand out. So, you need to use colors wisely. If you want to make your cover page pop, use bright color combinations. Alternatively, if you're going to keep it minimalistic, a signal color can get the job done.
Hence, you should take enough time to think about your color and use colors wisely to enhance the content inside the magazine. Always choose color combinations that complement each other. Read about the best color combinations to get an idea about selecting the perfect color for your magazine cover design.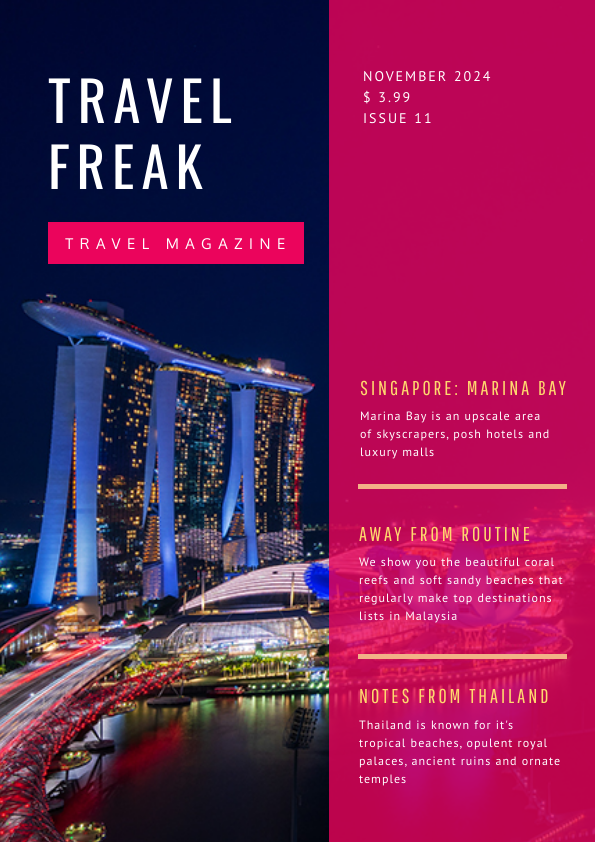 Get This Template and More
Select Fonts Carefully
High-quality images and the right color combination are essential. Still, at the same time, the primary content on your magazine cover will be text. Choice of fonts for your magazine cover can make or break the design.
Choose legible fonts, don't use the same fonts for headlines and body text. For example, if you choose Old Standard TT for the headline, use PT Sans for the body text. Try to use three-four fonts maximum in your design.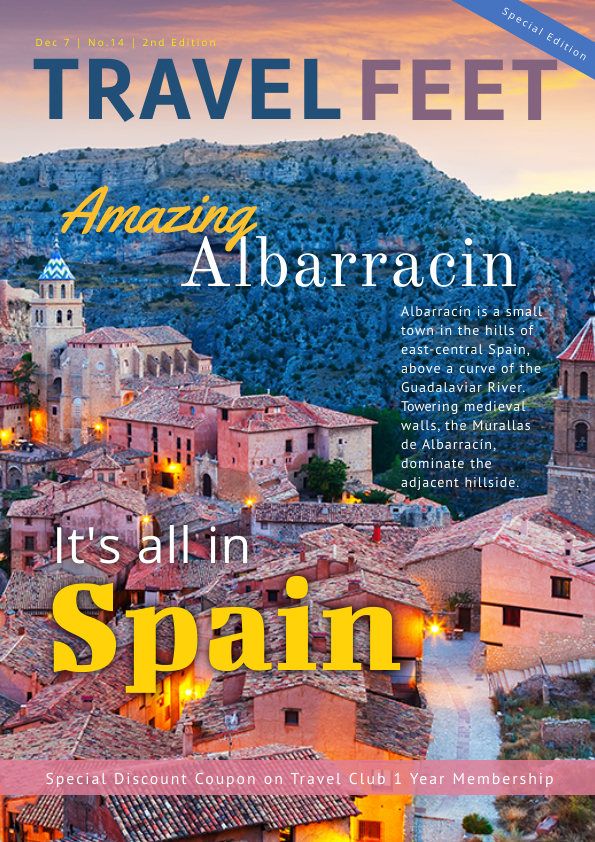 Get This Template and More
Additionally, learn more about typography hierarchy to choose the perfect fonts for your design.
Take Advantage of The White Space
Now that you are done with almost all the major design elements, keep ample white space in your travel magazine cover design. It ensures that your design gets enough room to breathe. Therefore, don't get tempted to fill the cover page from top to bottom.
Leaving white space or negative space in your design makes everything clearly visible and stylish. Moreover, nothing can attract your readers more effectively than the smart use of white space. Whtie space might seem a simple topic, but it's very hard to master. Hence, all the travel magazine cover design templates in DocHipo come with ample white space.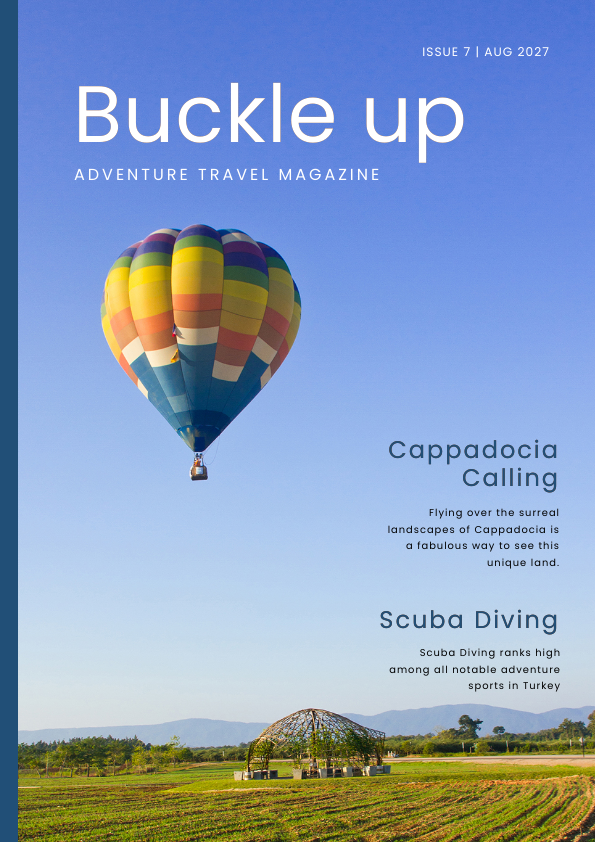 Get This Template and More
Keep Everything Aligned
Choosing colors, fonts, images, and other design elements is important, but so is making sure that all of them are perfectly aligned. Especially the texts. If a text is slightly out of line with the other one, it will ruin the whole design. Your readers can quickly notice this type of mistake, even subconsciously. Look how beautifully all the design elements are aligned in the template below.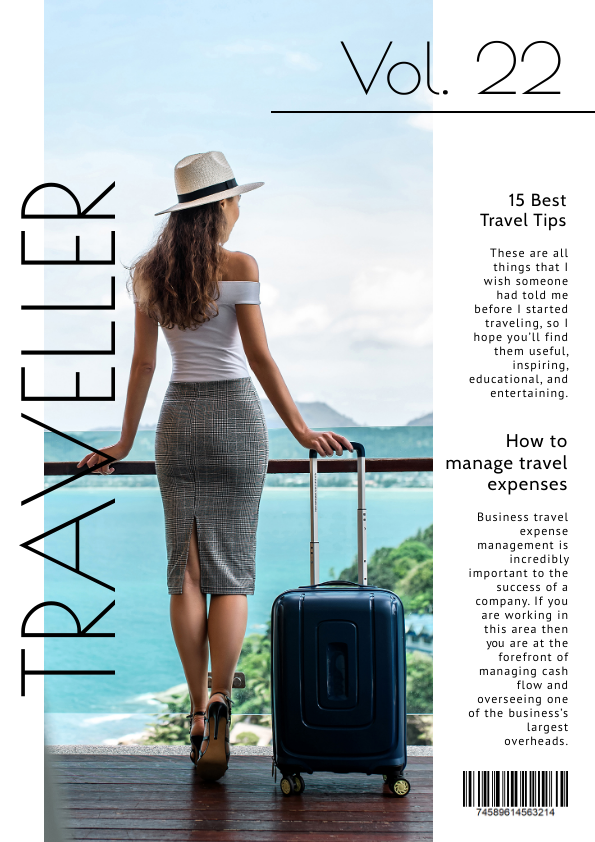 Get This Template and More
DocHipo grid will help you keep everything aligned in your design. The video below will show you how to use the grid.
Additionally, we have introduced the Snap-to-Grid feature in DocHipo to help you with the alignment quickly.
We hope that these methods will help you with an incredible travel magazine cover design. If you have other queries on how DocHipo can help you increase sales and grow your business through design, schedule a live demo to interact with our experts.
How To Design A Travel Magazine Cover In DocHipo
Now it's your turn to design the perfect travel magazine cover in DocHipo. The beautifully crafted Design Widgets and magazine cover design templates will make the process super easy for you. Follow these three simple steps:
Step 1: Select a Template
Go to the homepage of DocHipo and click "Sign-Up" either from the top right corner of the page or type your email address and then click the sign-up button.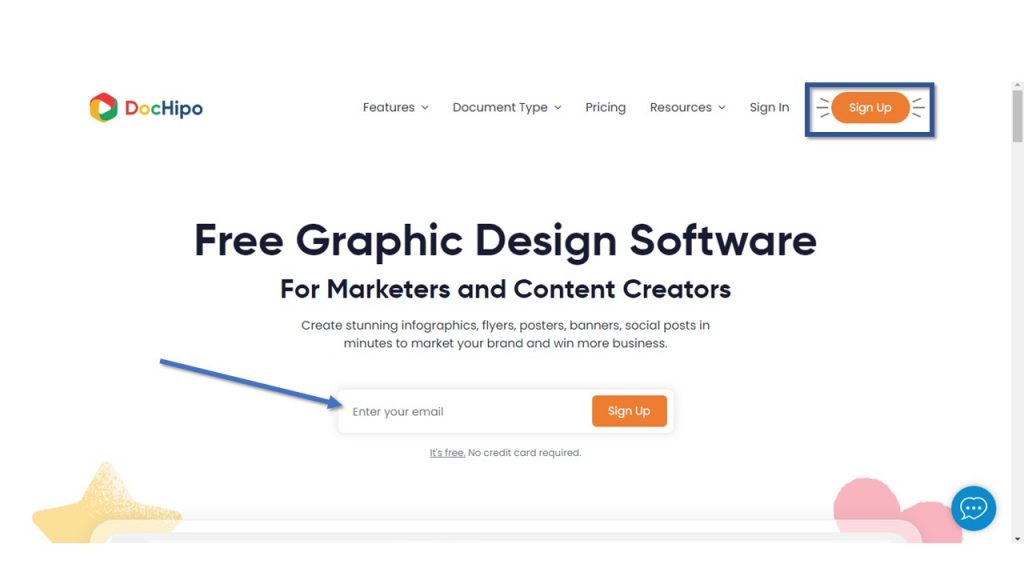 Once you enter the DocHipo application, a wide range of professionally designed templates are listed on the page under different categories. Type "Magazine Cover" in the search box and click on the result to browse the templates.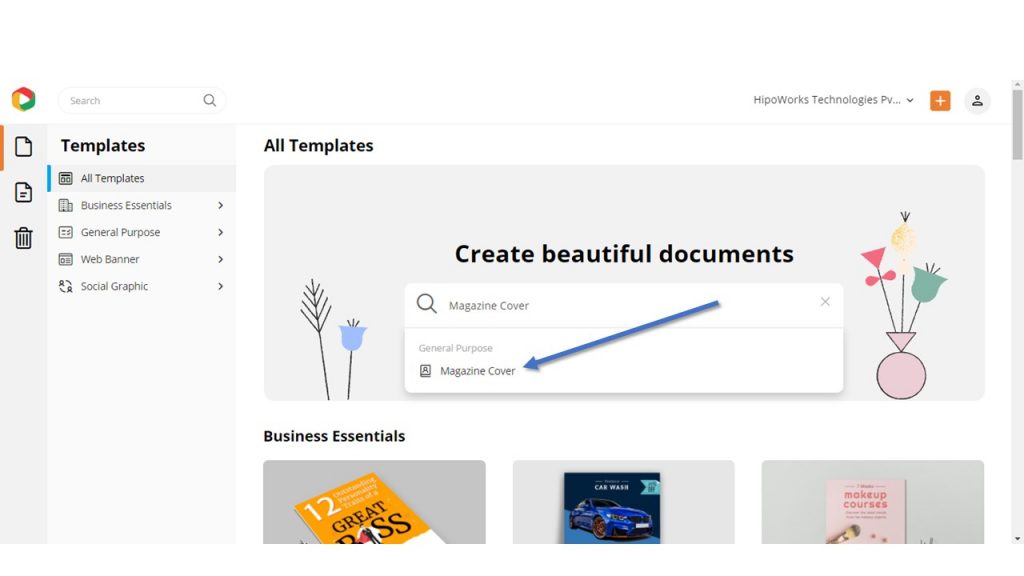 Hover your mouse over the template you wish to pick and customize and then either click "Preview" to take a look at the template or "Select" to proceed with it.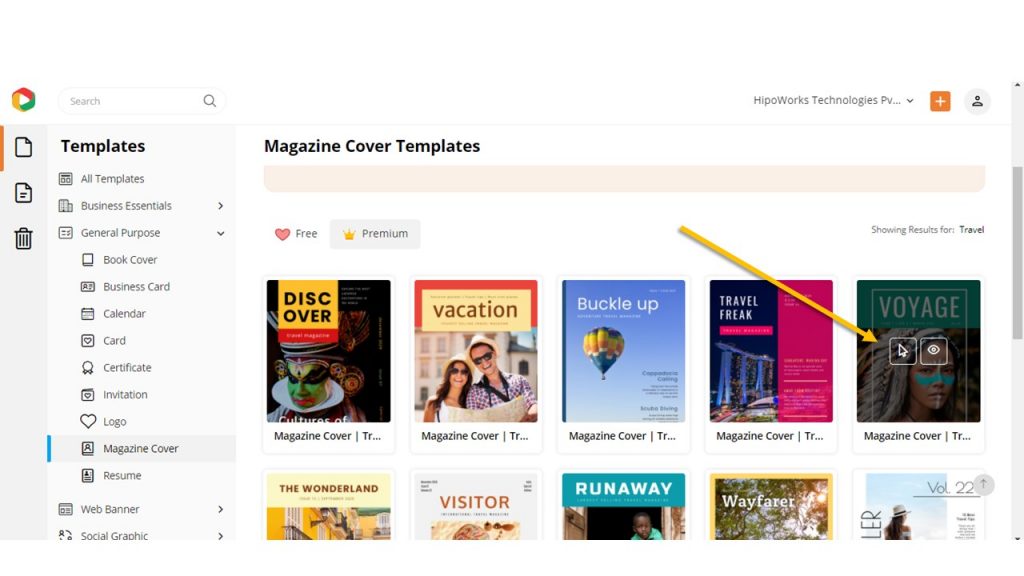 Now, give the document a name to easily find it later and provide a short description if you want. Click "Next" to enter the DocHipo editor.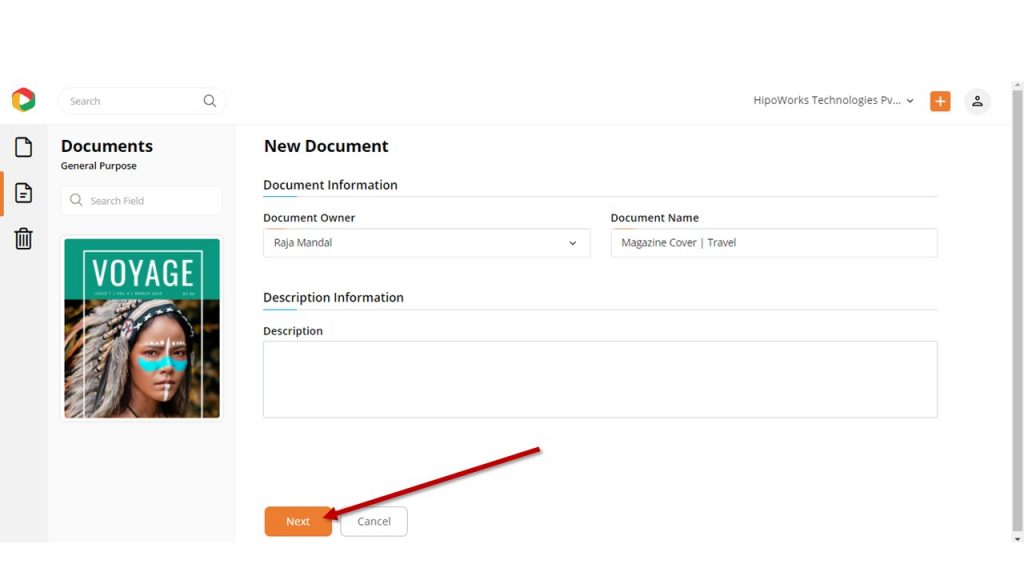 Step 2: Customize the Template
DocHipo lets you customize the template in many different ways. Add, edit, or delete text, change the imagery, change the background, add different shapes, and many more. Here is how you can customize the templates.
Add, Upload, and Adjust Photo
Click the "Graphics & Media" tab on the left sidebar and click "Pictures" to add photos from DocHipo's stock photo library.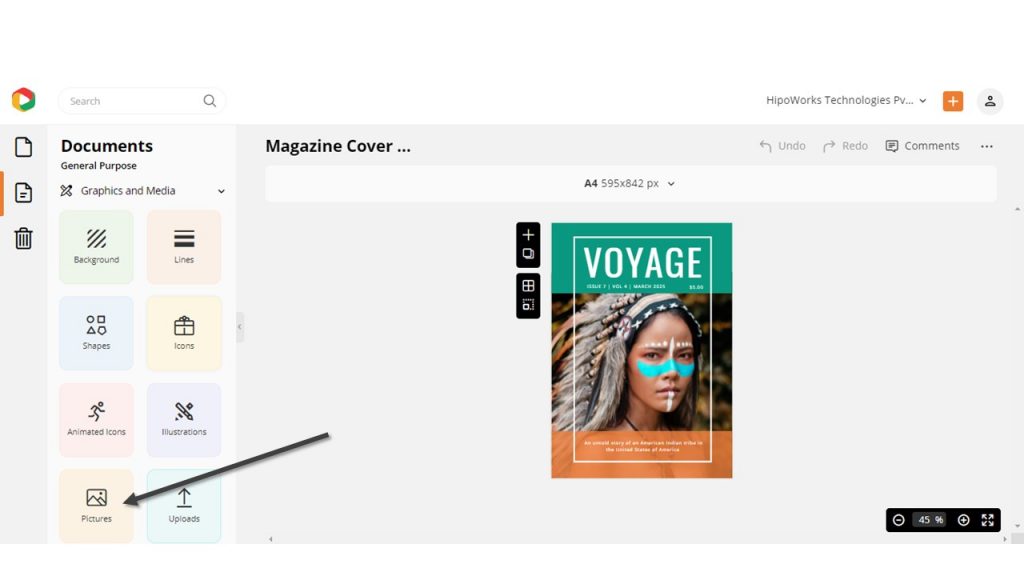 Browse through the wide range of images under different categories to find the perfect image for your travel magazine cover.
Alternatively, to upload images from your system, click "Uploads" under the "Graphics and Media" tab. And then click "Upload Images" to upload your image.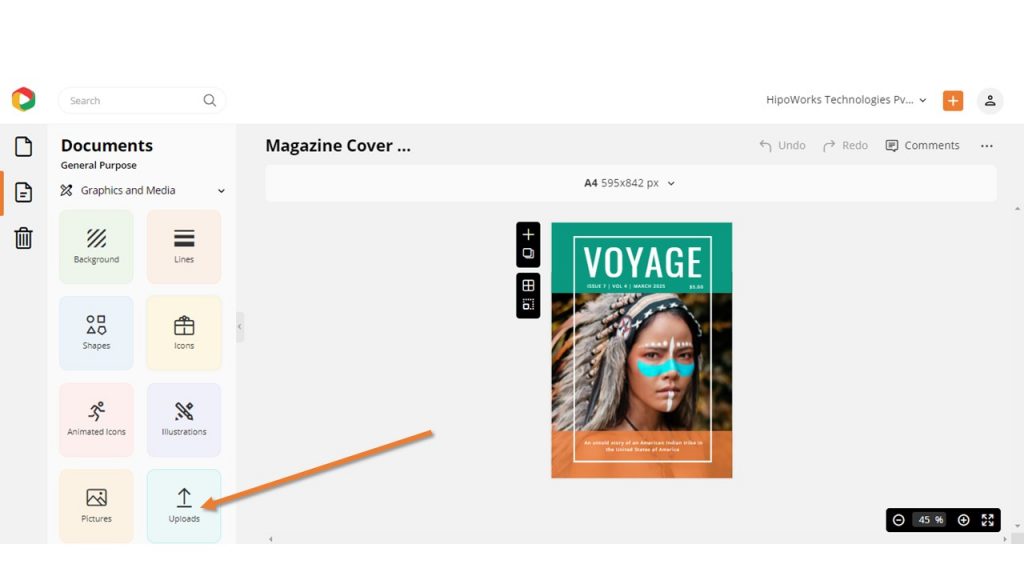 Once you have successfully added or uploaded your images, you can adjust them. Click on the image, and the edit panel appears on the top.
Use the edit panel to crop, rotate, flip, copy, or anything you want to ensure that the picture is perfectly adjusted.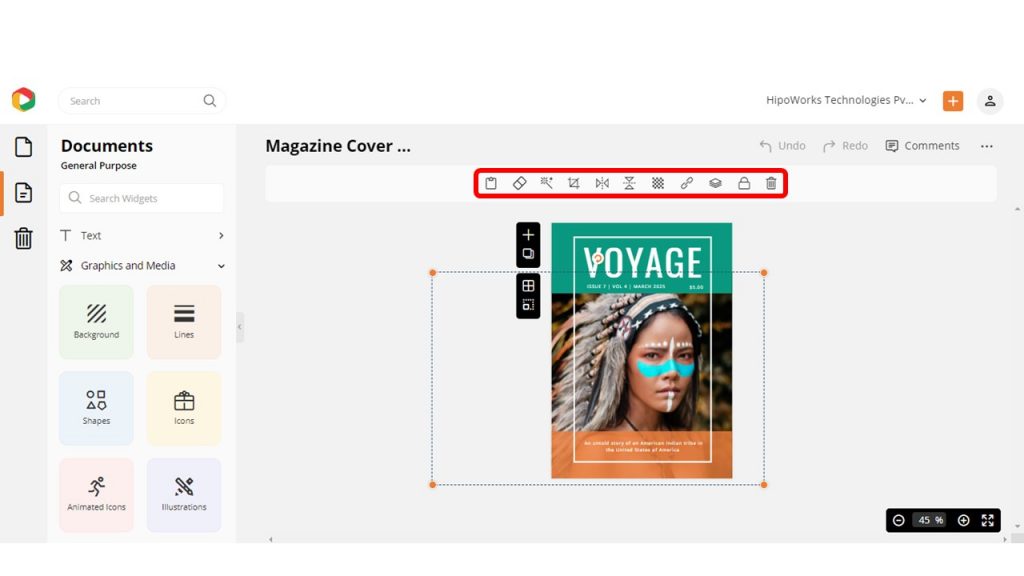 Customize the Elements
You can rotate, resize, and move any design element in the template. Select the element you want to customize and use the edit panel to change color, opacity, and anything you want.
Add, Edit, or Delete Text
Click the Text tab from the left sidebar and then choose "Text" to add text if you want to.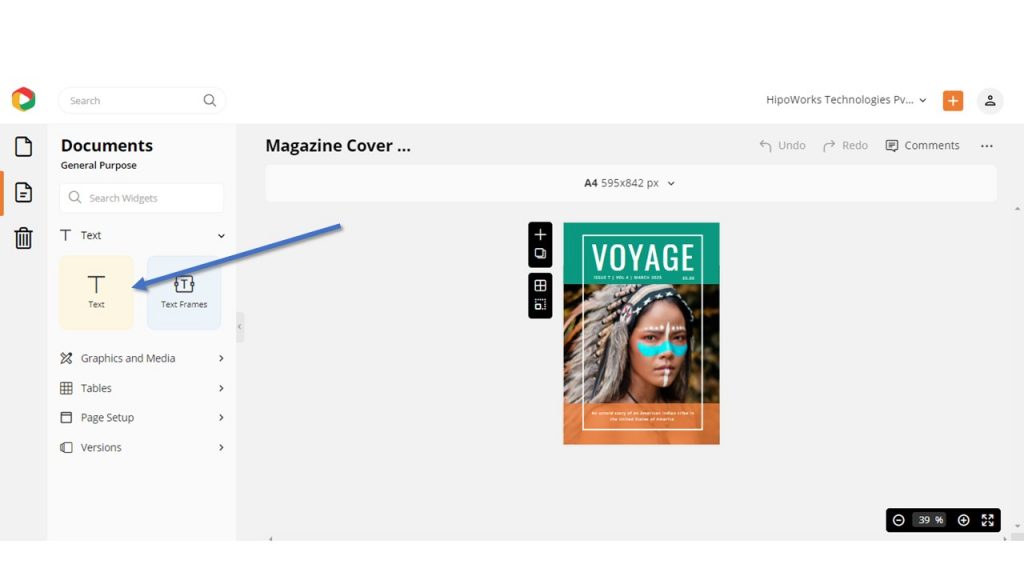 Alternatively, you can double-click on any text you want to edit and then replace the text with yours. Use the edit panel to delete the text you want or just press "Delete" from your keyboard.
The exact process goes for the font style, color, and size as well. Use the edit panel to do the same.
Watch the video below to learn more about the same.
Recently, we have introduced the capability to select multiple widgets at one go. Once selected, you can reposition or resize them as required. What more – you can group these widgets as well. Here's a video on this brand-new capability:
I have customized the template as I wanted and here is the final design.
Before: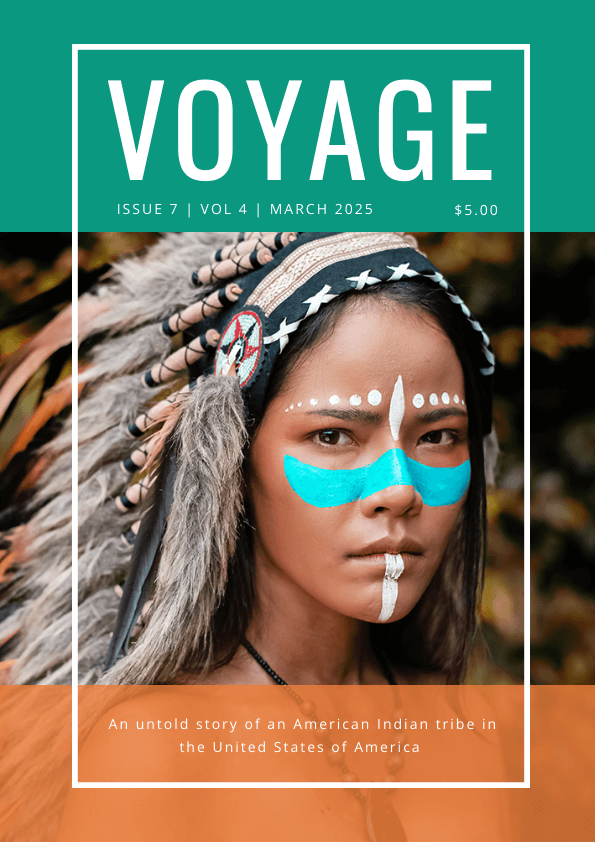 After: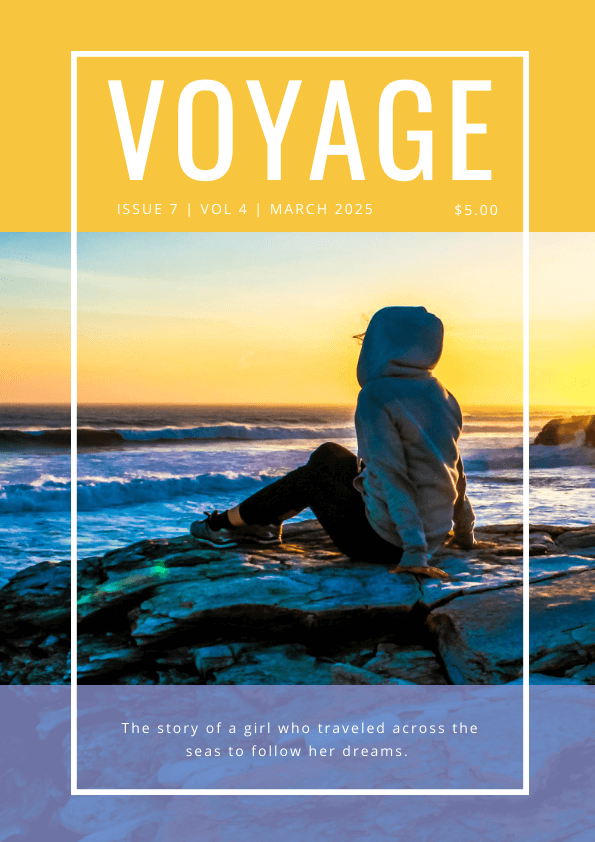 Step 3: Download the Travel Magazine Cover Design
Click the three dots from the upper right corner and then choose "Download" from the drop-down menu.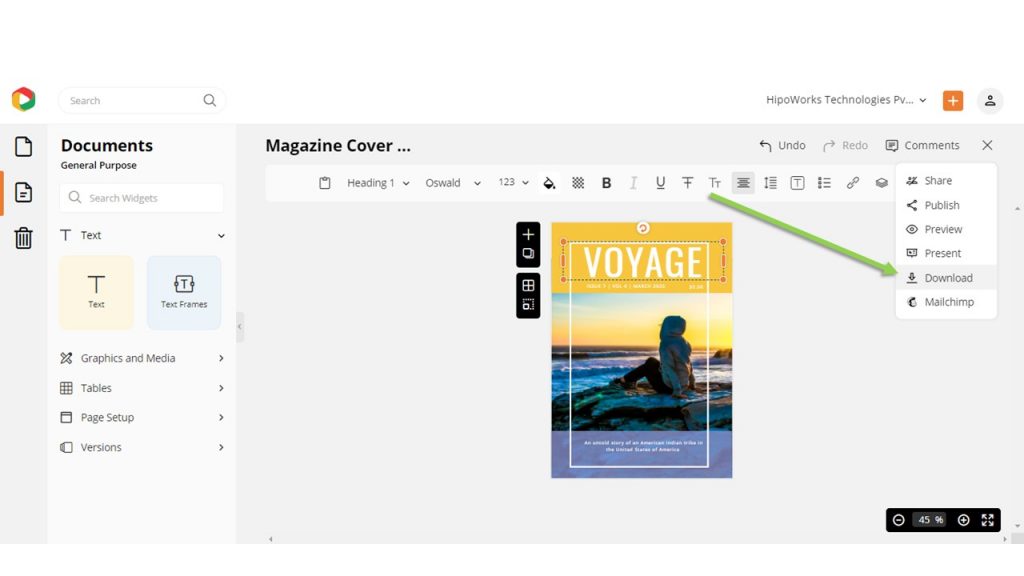 Choose your desired file format and quality, and then hit the download button. Your system will automatically download the document.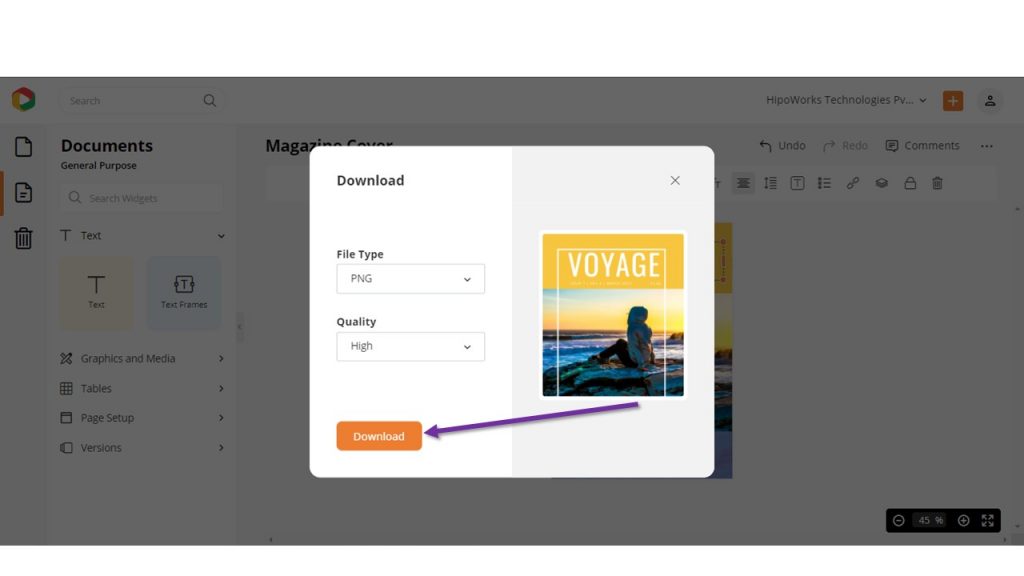 Here is our revamped Download Widget to make the download process easier for you.
To Conclude….
We kept our promise and have shown you how you can design a travel magazine cover in DocHipo without having any design skills. Though the magazine cover design is a pretty challenging task, DocHipo's Free Online Magazine Cover Maker makes it super easy.
The above-mentioned design ideas and steps will not make you a skilled designer, but plenty of room to get creative. And these are pretty enough to design a travel magazine cover.
Once you have gone through this article, sign-up to DocHipo and start designing your travel magazine covers today.