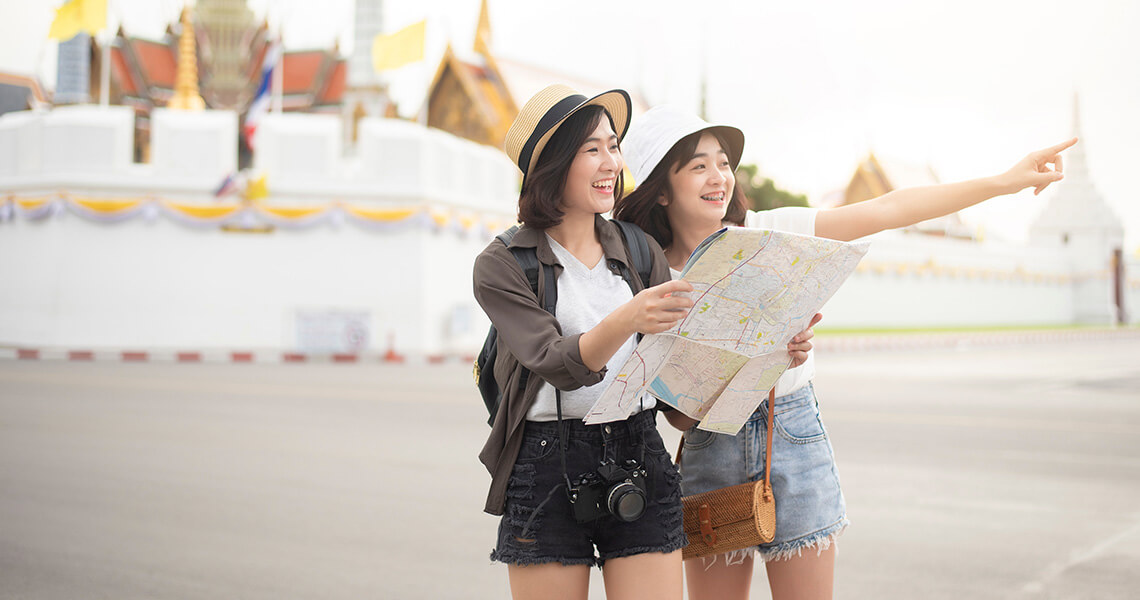 Pro Tips to Promote Your Travel Business

Published on Jan 17, 2020 | Updated on Oct 22, 2022
The other day I was scrolling through the Instagram page of a friend, who is an avid traveller and blogger. A few photographs of Alps got me completely bowled over. From that very moment, I started searching for the best vacation plans to Swiss Alps that can make my Summer holidays fulfilling. This should be the effect of great travel images. According to 32% marketers, visual content proved to be the most important form of content for the promotion process, blog posts being second to that. Sharing them on social media should attract travel enthusiasts like the "Pied Piper". It is especially true for travel business.
All the different graphics and other types of visual documents that you use for social sharing, build the backbone of your travel agency. Your business is not selling air tickets, bed & breakfast, tents or vacation packages. It is selling the experience to cherish a lifetime. So, great image and visual documents created with them are the mirrors that engage your targets. To sell a great travel experience, you need to share it first. Hooking social media users is the key to success. If your archive doesn't have a full stock of great images, use stock images from the internet, put them on document templates like the one featured below (It is on Dochipo) and share them on social media.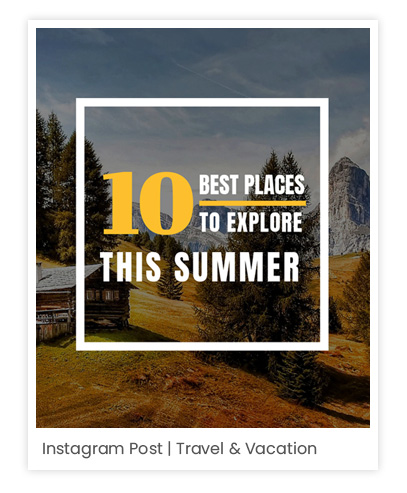 Take your social media followers on a virtual dream tour
Only then, they will start longing for a real trip with your agency. Your visual documents shared on social platforms are the inspiration for a great vacation. How can someone resist them if they are visually quite tempting? Share the links of your travel blog posts and beautiful images as blog graphics or banners on social media. Put the call to action for your destination marketing smartly and wait with an angler's patience for travel enthusiasts to connect. Your job is done.
You have to make the experience of travelling come alive right before the eyes of social media users. Your weapons are self-owned and user-generated content. By content, I mean written content or travel blogs too. Share effective user-generated content but rely on creating your posts too.
Ideally, your posts should be accompanied by authentic travel photographs. Filtering images a bit here and there shouldn't be a problem. The more beautiful you make the images, the more they will attract curious pairs of eyes. In short, you should use destination images that make the trip come alive right before the eyes of readers.
Do you think you have such images to share?
Wonderful, you have moved half-way towards effective destination marketing. Just share them on all your social media pages. Are you confused about how to make an impact with such images? Here is help.
Make sure, all your images and videos are curated in a social media-friendly way. According to statistics, tweets with images receive 150% more retweets and quite a high number of clicks.
Be extra cautious about selecting your social media graphics that they must be of high quality, interesting for maximum engagement. Most importantly, optimise your social media pages from time to time, keeping your visual content in mind.
Once you sort all the most beautiful images that you want to use for social media marketing, use them with your Facebook, Twitter, and Instagram posts. If using them according to the perfect resolution for different social media platforms seems too difficult for you, use ready templates to save time. Take a look at a couple of useful templates that you can customise with vacation photos from your repository and create fresh social graphics to suit your purpose.

What if you tap the offline market with travel magazines?
Yeah, I know people frequently resort to travel blogs for information. Even I do so. But some people still have apprehensions about making payments to a blogger's account for booking rooms or trip vehicles. That apprehension recedes to see payment details, business address on prints. So, try travel magazines for that section of prospects with orthodox ideas.
You can publish a travel magazine with useful information. If you can publish beautiful travel photographs, interesting and useful articles on that magazine, its circulation will gain momentum. As a result, your tours and travel company will be able to make a mark in the industry. So, publishing a magazine with great travel graphics, information and a gorgeous cover doesn't seem to be a wasted investment altogether. Designing magazine covers is a tricky job. So, you can use templates like the one given below.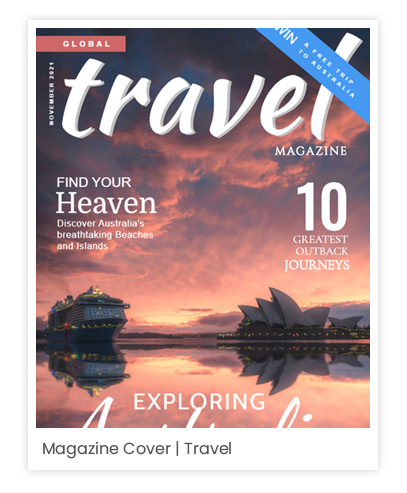 Win prospects with inspiring travel videos
Wyzowl found out that 66% of consumers actually collect information by watching videos and prefer that to reading about your service. I must admit that I have been lazy about curating my travel videos well and then uploading them on different video sharing sites. You should refrain from making that mistake.
If you have travel videos in your archive, make them undergo a seamless editing process. There are plenty of video editing tools available online. It does not cost you much other than a little time. So, take the support of technology, make your videos look interesting and upload them to social sites for video sharing.
How many travel videos are you watching every day? Watch more and more such videos. Gain inspiration from widely viewed and shared travel videos. It will become easier for you to create such videos more often for your users. You need to show your visitors a place, frame-by-frame, through your eyes. That is how you sell a beautiful travelling experience.
Many trip organisers might have plans for Maldives tours. However, I am sure, yours must be the most eligible plan for a once-in-a-lifetime experience. Your video should vouch for that.
Oh yes, you cannot ignore the thumbnail. It is your thumbnail that decides how many people are going to click on your video. Calm down. You do not need to stress it out on designing YouTube thumbnails all by yourself from scratch. Online templates are available for that purpose. Check out an example of a great idea. Yes, the template below has the spunk and foundation to entice the visitors.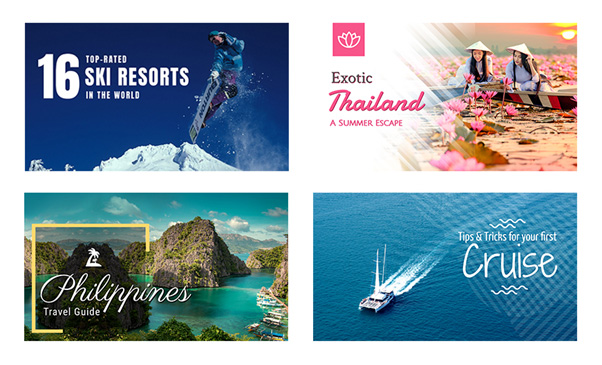 Blog, blog and blog frequently to share travel experience
The entire tourism industry banks heavily on the experience you promise to them. Like I said earlier, you are selling great times. So, you have to weave tales about such experiences and share them on social media for travel enthusiasts. You can use DocHipo templates for blog graphics and edit them to use with your blogs.
Wrap up & start a new journey
I can feel the energy that you are bubbling with. Yes, you have promoted your business enough; it is time to begin the journey. Have you not started promoting your tourism business yet? Then, make it fast. Sign up with DocHipo for all the required marketing related documents. It's free. You will be able to access hundreds of templates to work. So, go ahead, bon voyage.