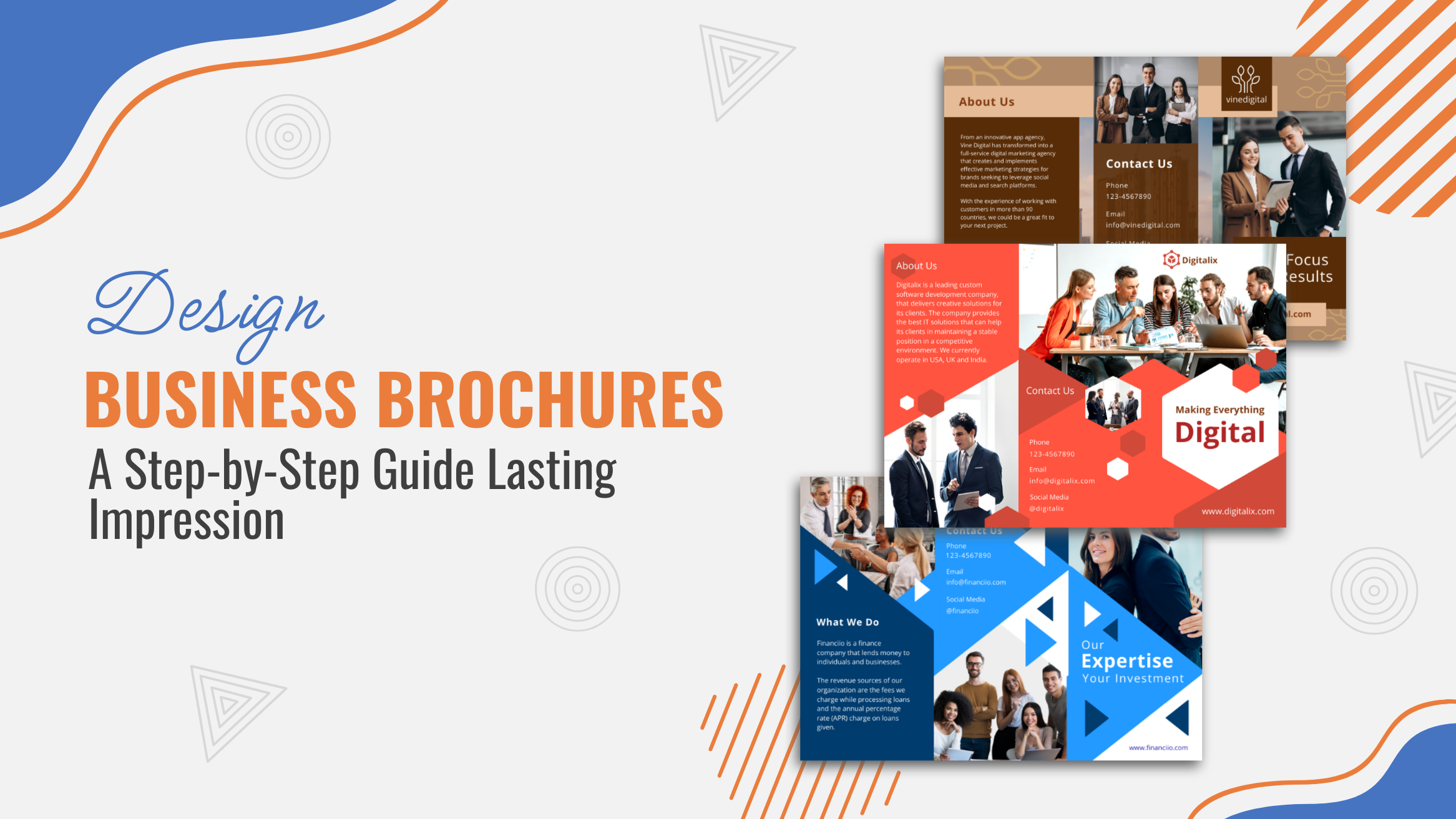 Design Business Brochures: A Step-by-Step Guide

Last Updated Aug 23, 2023
A brochure is a must for any business. But to design business brochures, you must be cautious about the information, visual appeal, and target audience. Brochures are powerful tools for marketing, as 85% of people become aware of a business through brochures.
A well-designed brochure can make a lasting first impression about your business, while a lousy one can repel your audience. Have you ever wondered what makes a brochure worth keeping? Designing brochures for business may seem overwhelming. Keep reading to find out about creating engaging business brochures. You'll also find various business brochure templates to customize as you please.
What is a Business Brochure
A business brochure is a foldable print publication informing customers about products and services. Although the marketing world has experienced a massive shift from physical to digital, brochures for business will be there for a long time. Business brochures promote marketing campaigns, attract new clients, and inform about new services or products.
You can design business brochures in various layouts, depending on what you wish to convey. Ideally, businesses prefer a trifold brochure. To explore business brochure examples, check out these customizable business brochure templates from DocHipo.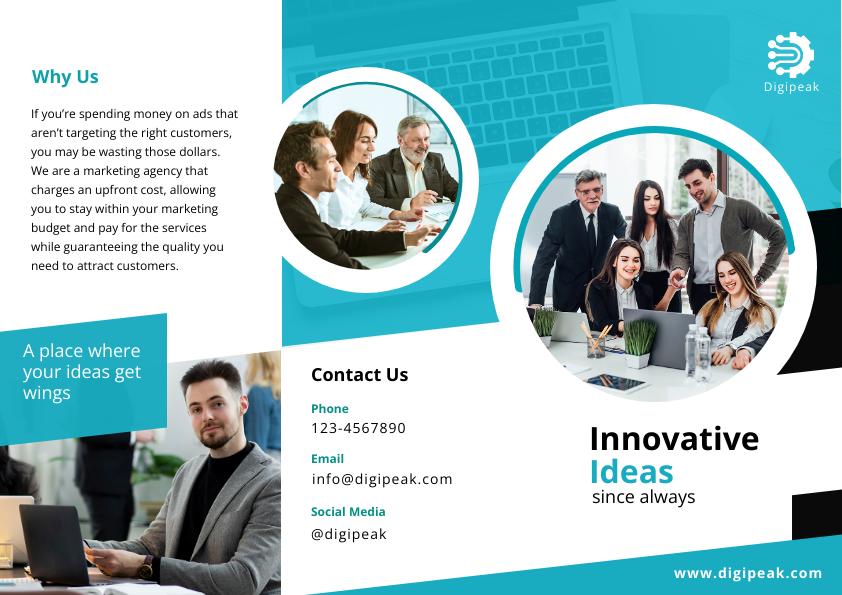 Get This Template and More
What to Include in a Business Brochure
Do you need help designing a business brochure? There are certain things your business brochure must have. Before creating business brochures, ensure you know the following things to include in your brochure.
Informative Headlines and Subheadings
When somebody comes across your business brochure, there is a high chance that they will skim-read through it. Your headline is on the front part of the brochure; therefore, it should grab the reader's attention. Think about something that will hook a reader. For example, if you want to inform about a new product, rather than telling new product, mention what it can do for the customers.
For instance, in this template from DocHipo, the business brochure emphasizes brand building.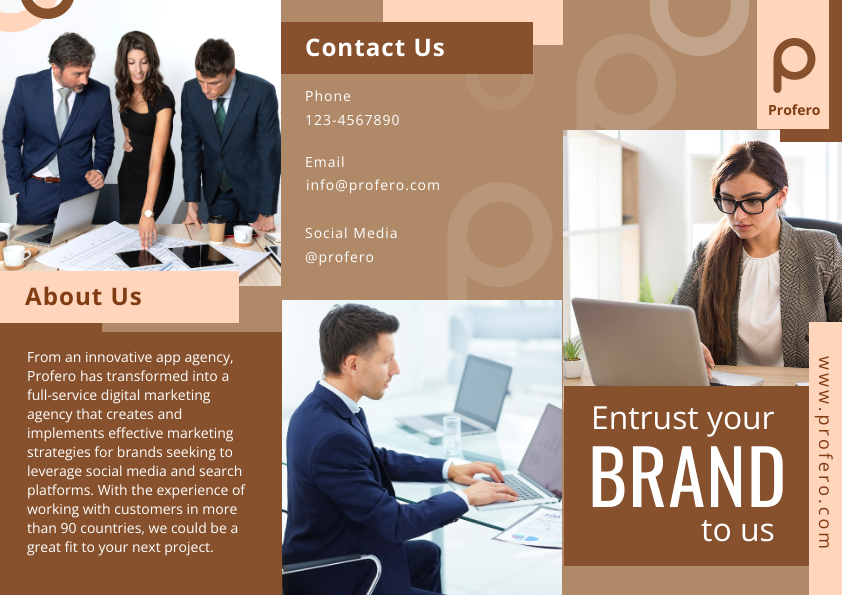 Get This Template and More
Likewise, divide sections and paragraphs with clear subheadings like, about us, mission, services, vision, policies, contact, etc.
Include Brand Elements
Branding is a crucial part of a business. It makes your business unique and memorable for your audience. You would require a logo, color combinations, and a motto to build a brand. You also need to decide on brand colors to mark an identity for your brand. Also, take note that business brochures should give a professional vibe.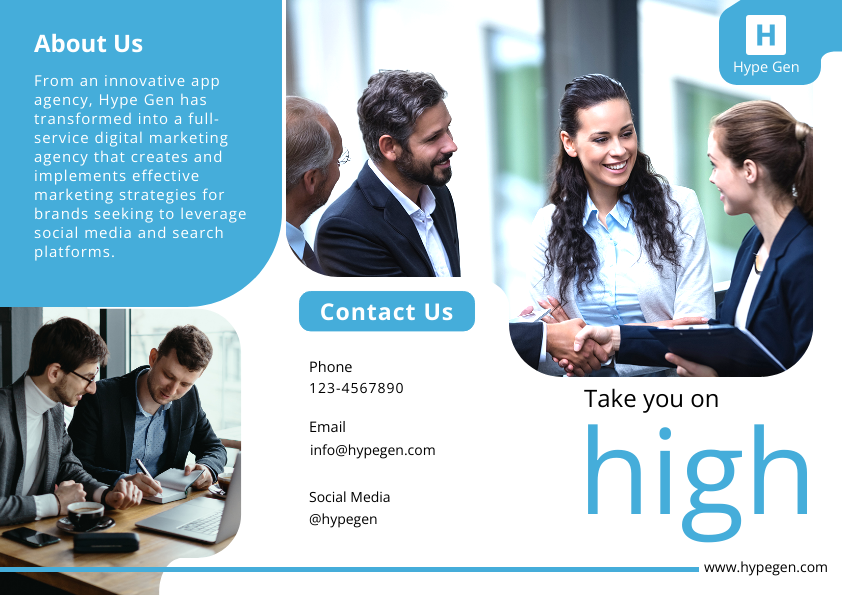 Get This Template and More
Compelling Call-to-Action (CTA)
Along with all the information, remember to place a compelling call to action in front of your reader. Place the CTA towards the end of the business brochures with attractive images. The CTA could be a request to call you for the services or to visit the office. Mention your contact details like phone number, email, and address. If you have a website or social media presence, mention it in the business brochure as mentioned in the given template.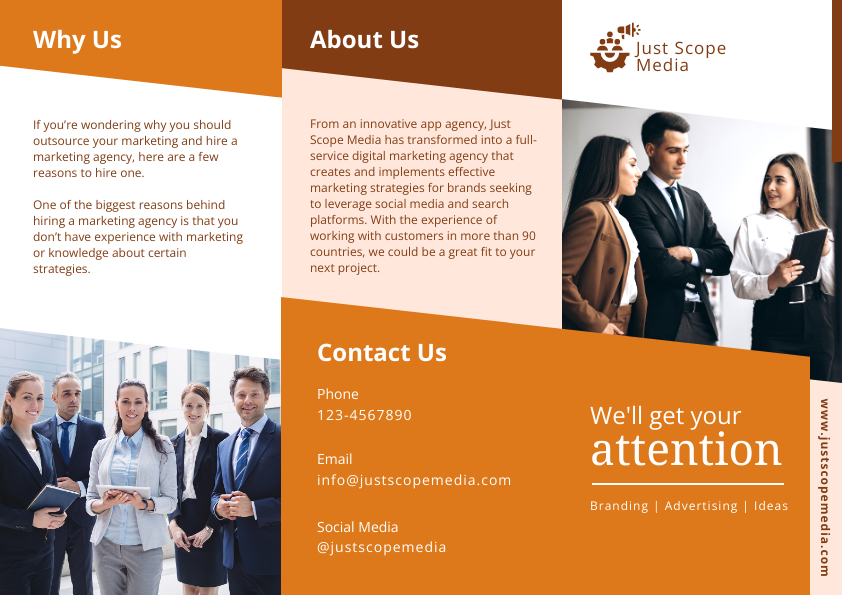 Get This Template and More
Use Text and Visuals
While choosing a text for your business brochure, try to use the signature font of your brand. Stick to two to three easy-to-read fonts for the brochure to maintain uniformity. For visuals, have a clear idea about what you want to convey. To design business brochures with visuals, choose images that represent positive workplaces.
For example, look at the below template. The business brochure exudes a positive work environment and confidence.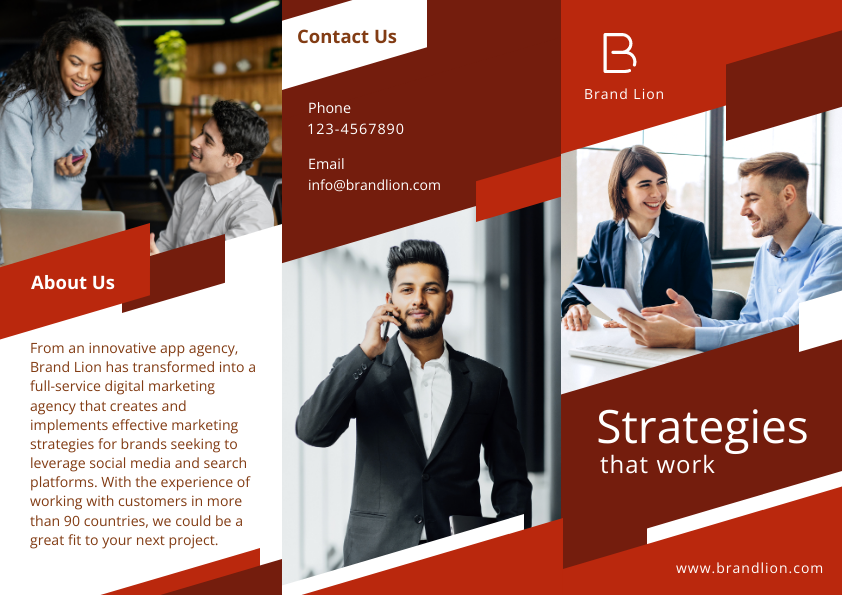 Get This Template and More
How Do You Make an Effective Business Brochure
Brochures are compact and small. While designing a business brochure, ensure you don't have much space. Be precise and focused on the text of your brochure. Decide on the most crucial aspects of your brochure. Here is the roadmap for designing a compelling business brochure.
Gain Clarity about Objectives and Target Audience
You must first ask yourself what you want to inform through your brochure. The next question is, who do you like to inform? Suppose you want to create brand awareness about your business; think about a compelling headline that will grab your target audience.
For business brochures, ensure that you have a layout with subheadings about various sections describing your mission, services, goals, and contact information. Use powerful words like accessible, results, proven, strategies, high, etc., to keep your offer professional.
Combine Design Elements and Typography
Design business brochures with aesthetic appeal using various design elements, including color combinations, visuals, and typography. Combine design and typography cohesively with enough negative space to make your brochure visually pleasing.
Limit your text to around 350-400 for the entire brochure
Choose images that complement the background color
Use small details within the font
Look at this template; that is the perfect combination of design elements and typography.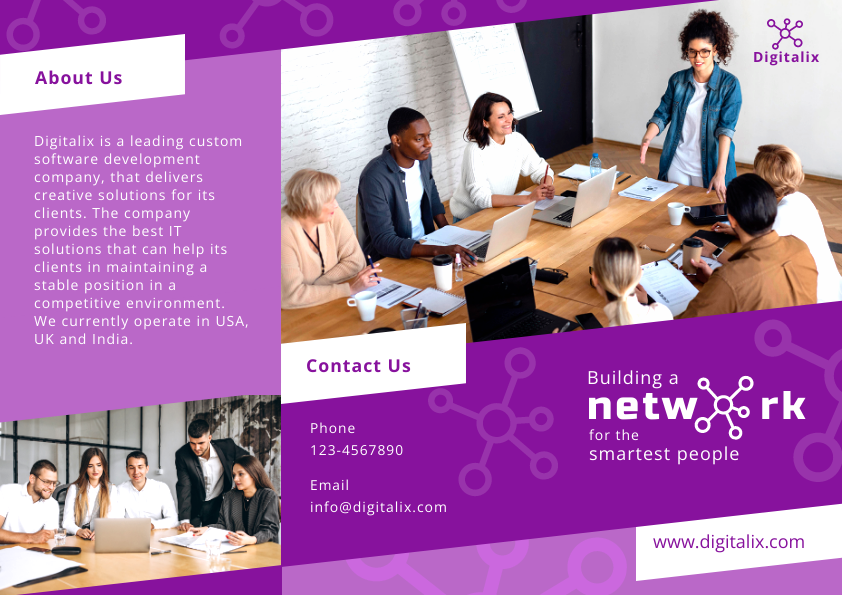 Get This Template and More
Use an Attractive Front Cover to Grab Attention
Brochures are foldable documents; thus, when you hand them out to people, they will only notice the front cover first. Include these essential elements on the front cover:
Business logo
Headline
Complementary image
Website
Ensure that your brochure's cover sends a clear message to the reader and intrigues them to explore inside. You can choose this brochure template to get a catchy front cover.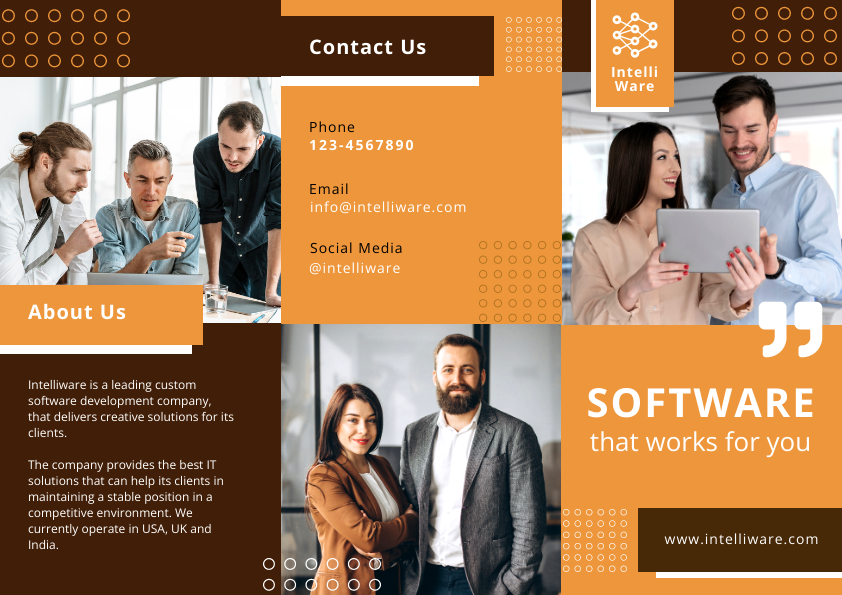 Get This Template and More
Be Creative and Unique
Do you remember any brochures that you came across? We only remember brochures when they are unique. If you want to stand out, add an extra element of creative touch to your brochure. Put yourself in the reader's shoes while thinking about such aspects. Pay close attention to details like shapes, fonts, images, etc.
For example, this business brochure template below has bold colors and hexagonal shapes.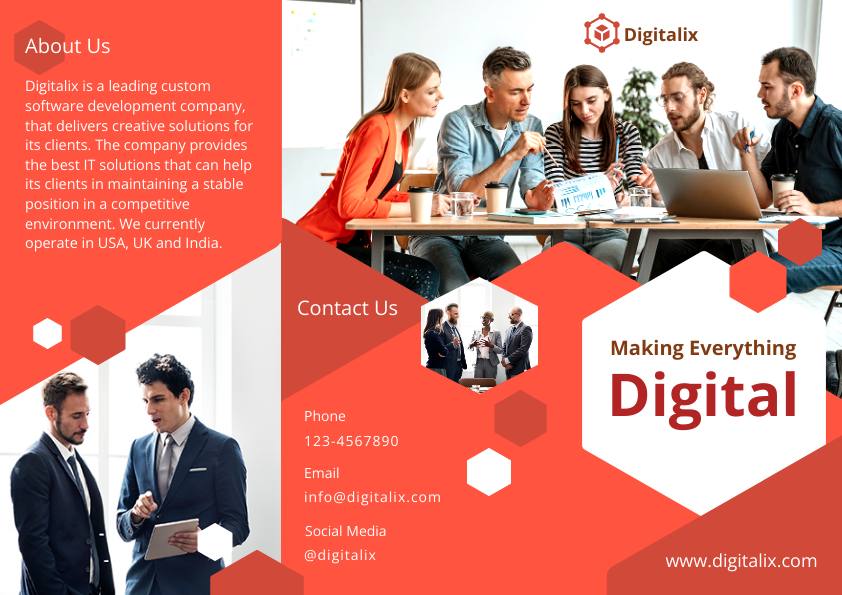 Get This Template and More
Make Your Brochure Worth Keeping
Many brochures end up in the trash as the reader has no use for them. If you add a piece of information that is useful for the reader, your brochure will become vital to them. For example, if your brochure is related to digital marketing, add an image of the marketing metrics list to make your reader aware of your niche. Informing your readers about your niche helps them understand your business's importance.
How to Design Business Brochures
Designing a brochure for your company can be difficult. Use Free Online Brochure Maker from DocHipo to explore a variety of ready-to-use brochure templates. Get started right away to get a unique brochure for your business.
Step 1: Select a Business Brochure Template
Once you sign up for DocHipo, you will land on the homepage, where you can search by document type. Search by typing brochure or select Business Essentials from the groups available on the left side of the screen.
After selecting the Business Essentials group, choose Brochure as the document type.
Now you can choose from various categories. Select the Business category to design business brochures.
You will get some beautiful, ready-to-make brochure templates for your business.
Choose a template of your choice and get started with editing.
Step 2: Customize Your Brochure Template
After selecting the template of your choice, the template will open in the DocHipo editor. Add a little description if you want to, or click Next to continue.
You will land on the DocHipo editor page, where you can customize the template.
Customize the Background
Select the Graphics and Media option to change the background of the business brochure.
Select the background widget to customize further.
Once you select the background widget, you can customize the color, gradient, or pattern.
Select gradient, and get beautiful hues of gradient shades. Pick your favorite gradient shade; your background will change according to the color.
Your brochure is a double-sided document. Don't forget to make the changes for the other side as well.
Also, change the widget colors to complement the background. A contextual editing bar will appear at the top. Choose the icon shown in the picture to change the color.
You can choose colors from the color palette or pick the color with the help of the dropper. You will get a circular frame to select the color from your screen.
Once you pick a color, the selected widget will be changed. Repeat the step with all the widgets to change the layout color completely.
After changing the colors, your business brochure will look like the image below.
Learn more about creating stunning backgrounds with DocHipo.
Customize the Image
Select the image you want to replace and select the Graphics and Media option from the column on the left side of the screen.
Select the Pictures widget to get a variety of images.
Get unlimited stock photos with DocHipo's integration with the stock photo libraries.
Search for business in the search widget bar to get attractive pictures and pick a suitable one.
Drag and drop the selected picture to the desired place.
Adjust the picture by clicking and dragging the handler around the margin of the image.
Further, you can enhance pictures using this video tutorial about Dochipo filters.
Explore more DocHipo customizations with The Ultimate Guide to Using the DocHipo Editor to Design Your Documents.
Step 3: Download Your Business Brochure Design
After all the customization, click on the three dots at the upper right corner of the Dochipo editor.
You will get a list of options where you can preview as well as download. Select Download to download your design.
Once you download, select the pdf file type and high-quality to get your brochure template.
Also, learn about the page-wise download option in DocHipo with this video.
Your business brochure is ready to be printed and shared with your clients.
Before Customization
After Customization
You can create an eye-catching business poster to spread the word about your business.
Or, watch our quick tutorial for creating a business poster.
Folding it up
Designing brochures for your business is now easy. Remember the tips mentioned above and start working with the layout. Sign up for DocHipo and design business brochures to leave a lasting impression. Explore the design world with DocHipo, which offers much more to your business.