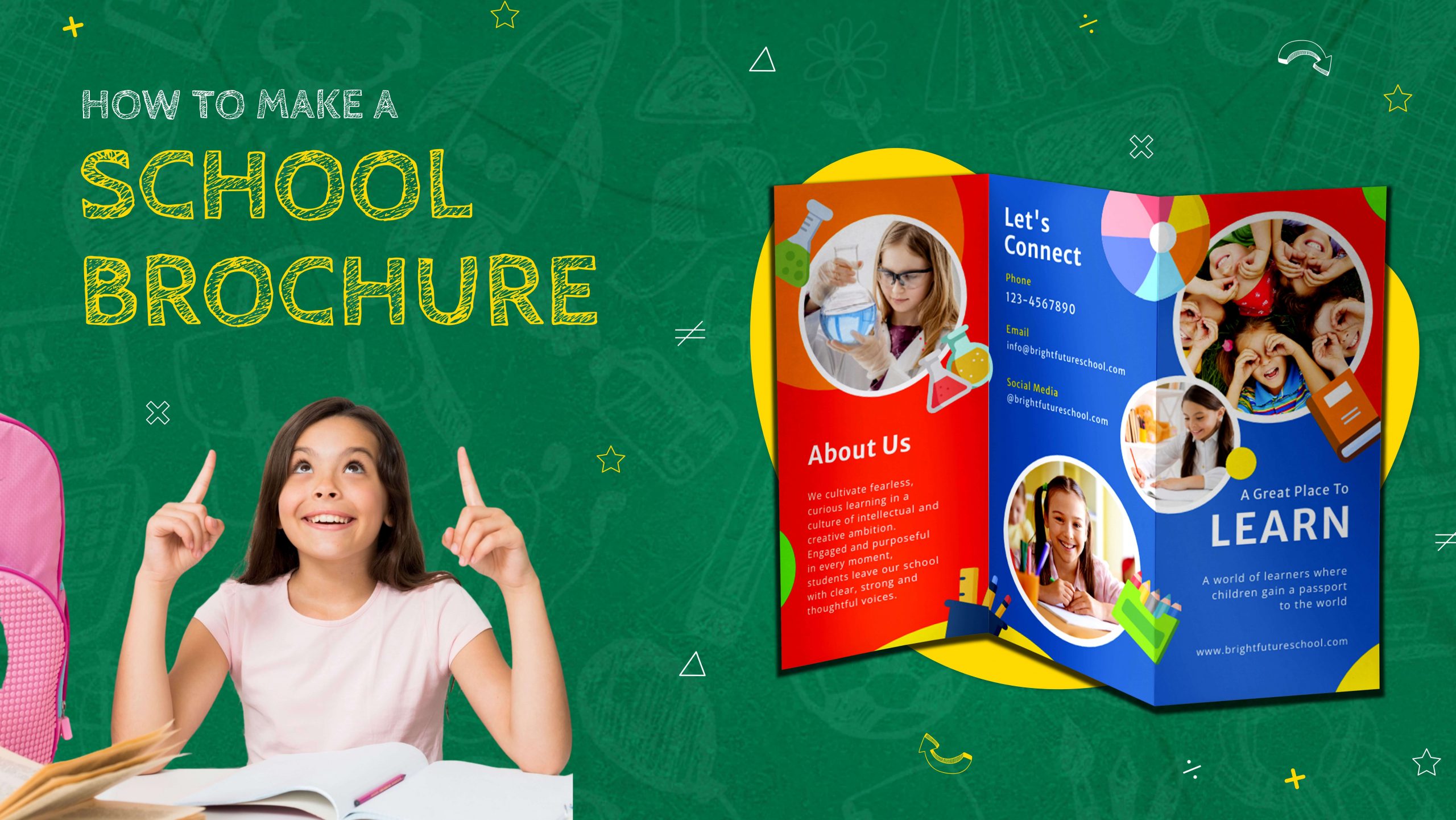 How to Make a School Brochure in 2023

Last Updated Jul 9, 2023
If you are looking for an impactful way to promote your school, be it elementary schools or extra-curricular activities like sports, dance, etc., consider brochures. It has a huge potential for attracting potential students or parents. Also, if a parent aware of your institution asks for crucial information, a brochure can come in handy. Otherwise, it might be difficult for parents to process and remember so much information.
Your school brochure design needs to be eye-catching enough to draw interest. Also, you must deliver the information in an organized way to be easily read. In this blog post, I'll walk you through an easy three-step process of how to make a school brochure. We'll also discuss six school brochure design best practices. Our templates will assist you in showcasing your educational institution in the most effective way possible.
School Brochure Design Best Practices
Read through the following school brochure design best practices to create the best one for your institution.
Prepare Your Message
Before starting your design, define the message to understand how long it will be, what images you'll add, etc. It'll help you determine the brochure layout, format, length, etc.
Now, what to include in your school brochure design?
If it's a tri-fold brochure, you may add your school's name, emblem, picture, and essentials like address and contact information in the front panel. On the middle panel, you may include visuals and graphics.
Furthermore, add information about the subjects taught, the school's teaching procedure, and the facilities and opportunities you provide. In brochures, you may also add your school's mission statements, aims, beliefs, and values.
Below are some examples of brochures for schools from our DocHipo library.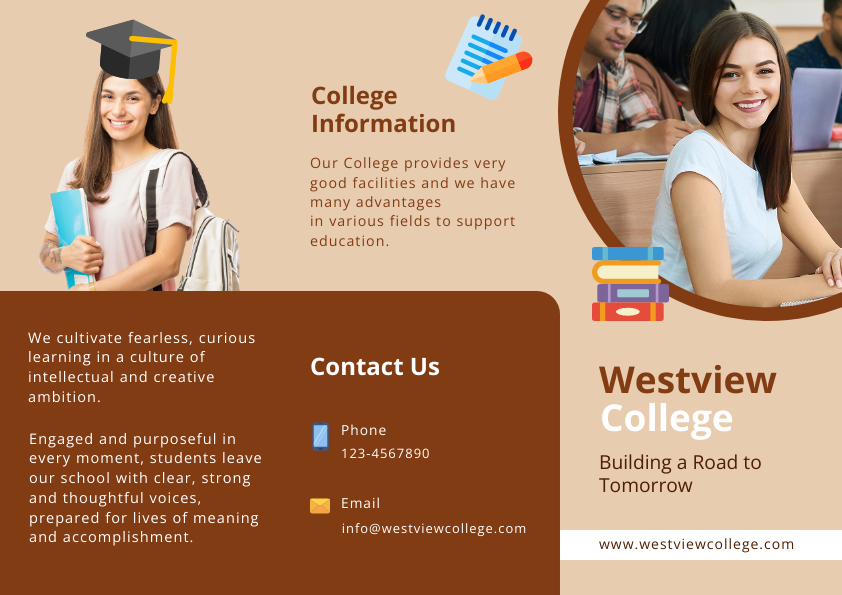 Get This Template and More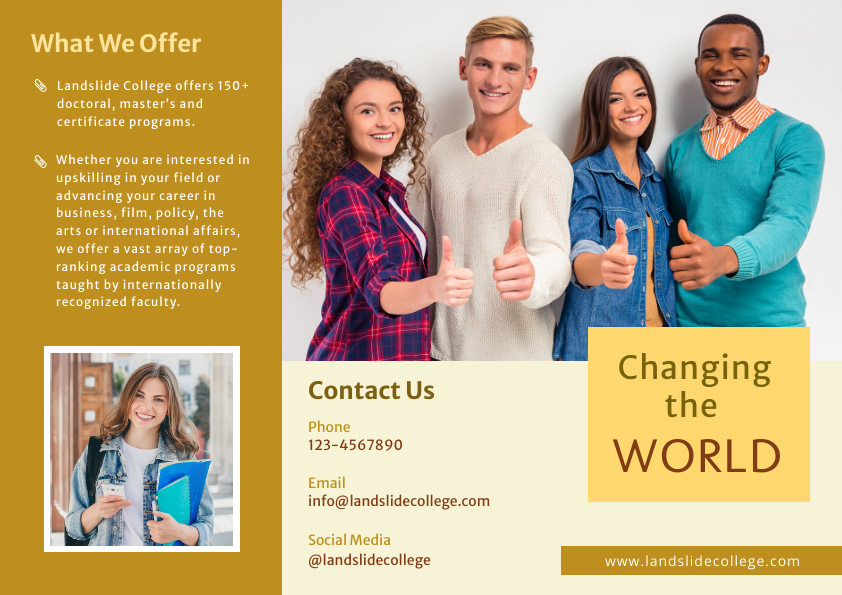 Get This Template and More
While designing, emphasize the headline, as it should instantly convey what your brochure is all about.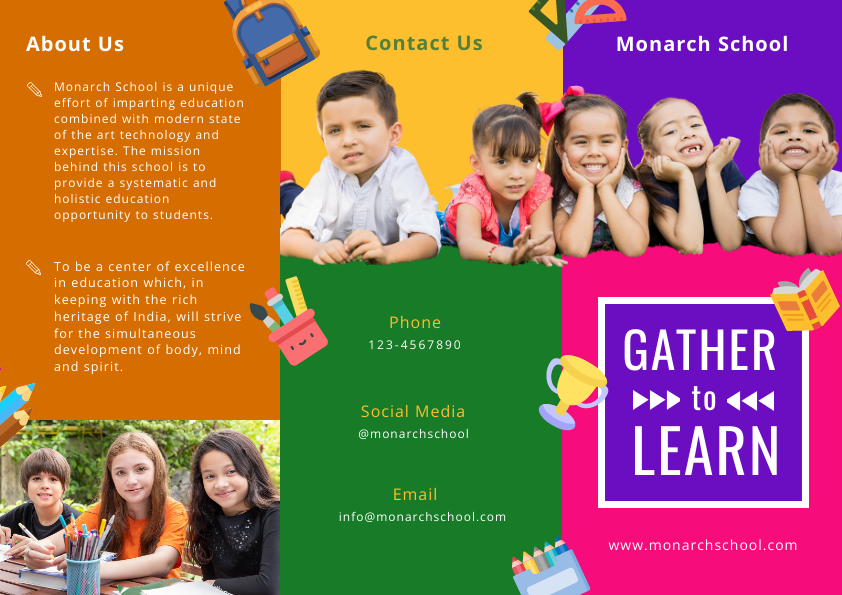 Get This Template and More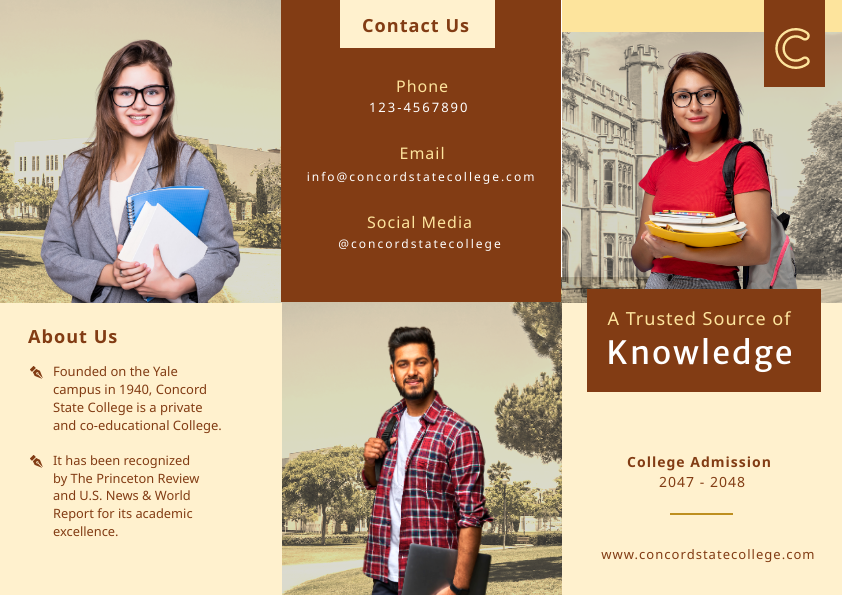 Get This Template and More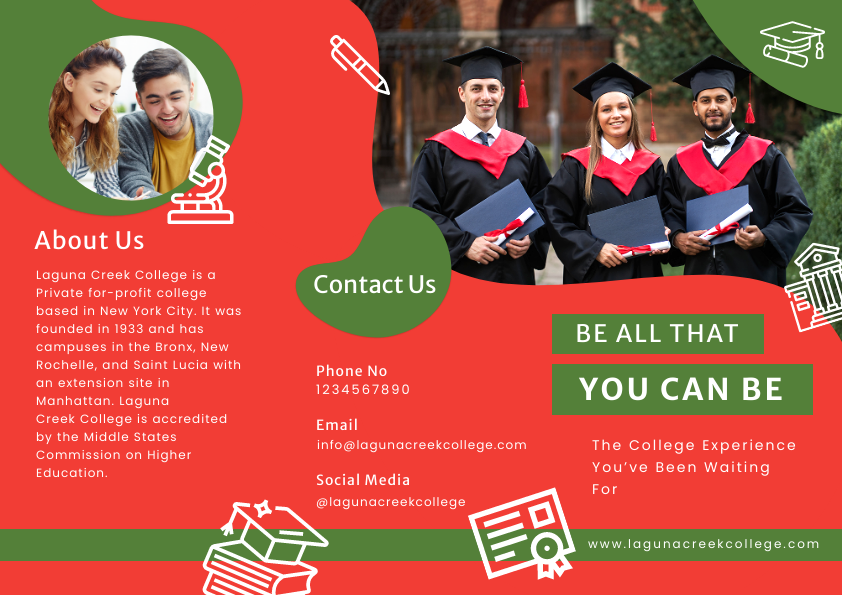 Get This Template and More
Big chunks of text are overwhelming to read. So, use bullet points to convey the message concisely. Avoid complex words and keep the language straightforward.
Use High-quality Professional Photos
Poor-quality pictures in school brochures can create a wrong impression on your target people.
Professionally shot photos can enhance your school or institution's brand. Check your institution's policy and try incorporating shots from your institution, such as the school campus, students, staff, facilities, etc., to add credibility. Otherwise, stock images may be too generic. So, invest in a professional photographer and get the best visual in your brochure.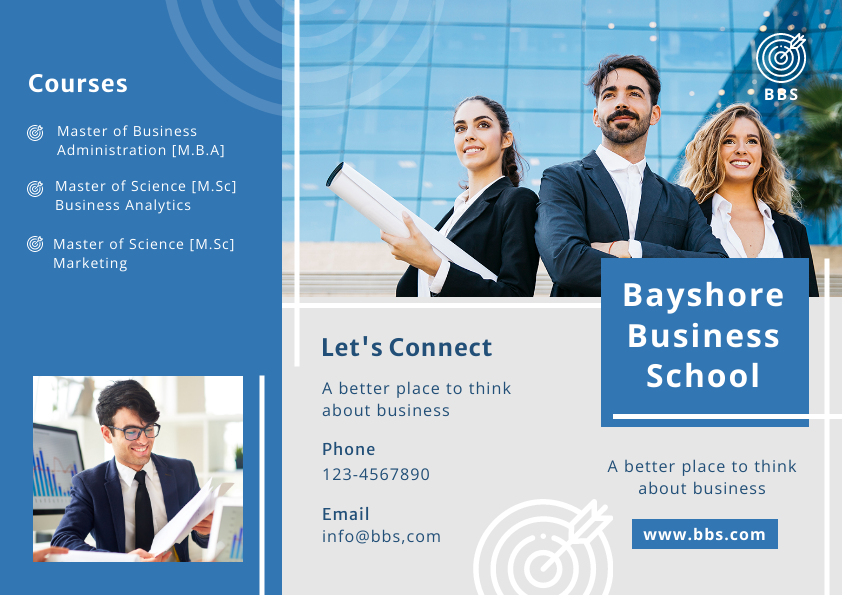 Get This Template and More
Choose an Appropriate Color Scheme
Color schemes bind a brochure or any design together. Your first choice should be using colors that are representative of your school. If you need to add extra colors, choose one that complements your brand colors. Otherwise, go for colors that stand apart and instantly catch eyeballs.
For example, look at the complementary color scheme in the school brochure template.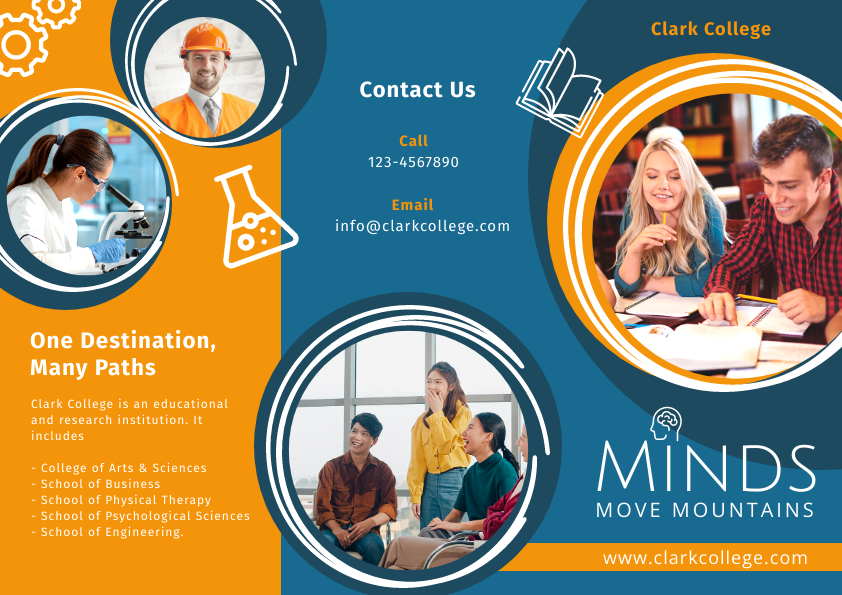 Get This Template and More
Next, we have a school brochure template with an analogous color scheme that looks highly professional.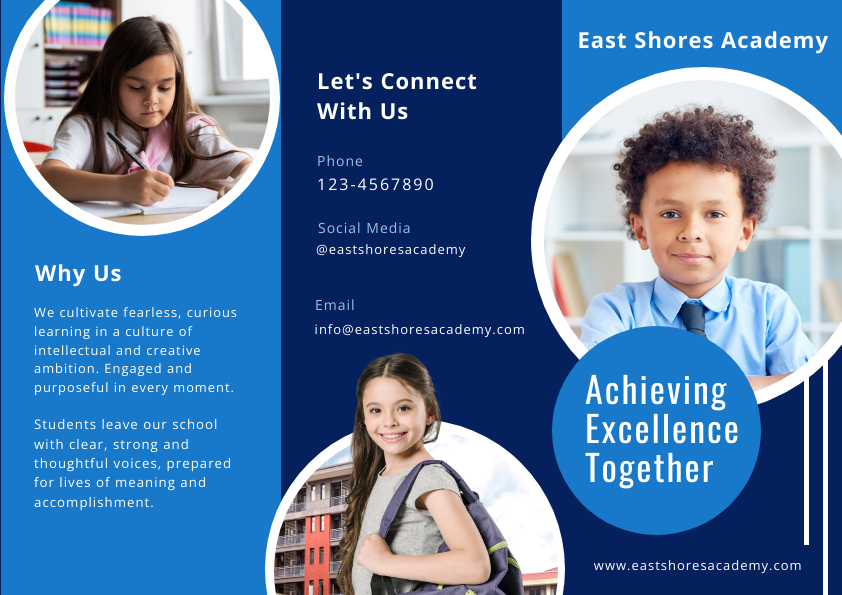 Get This Template and More
The color combination in the below school brochure makes it look so cheerful.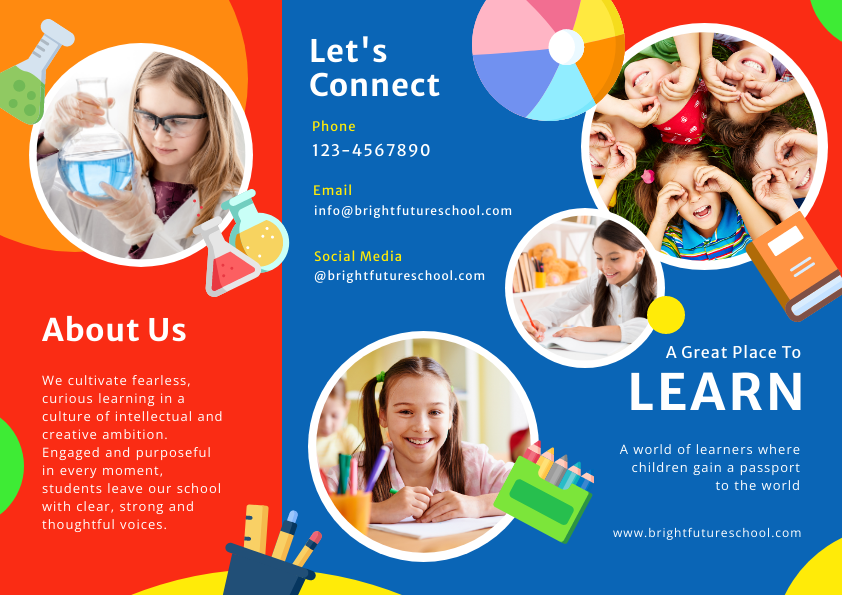 Get This Template and More
Check out How to Create Stunning Background to learn about background color schemes in-depth.
Pick the Right Font
Font choice is another factor that can make or break a brochure design. Depending on the nature of your school, fonts can be more traditional or fun and visually entertaining. Times New Roman, Arial, and Garamond are also easily readable and printable fonts. Also, use a maximum of two or three fonts—one for the titles and subheadings and another for the main body text.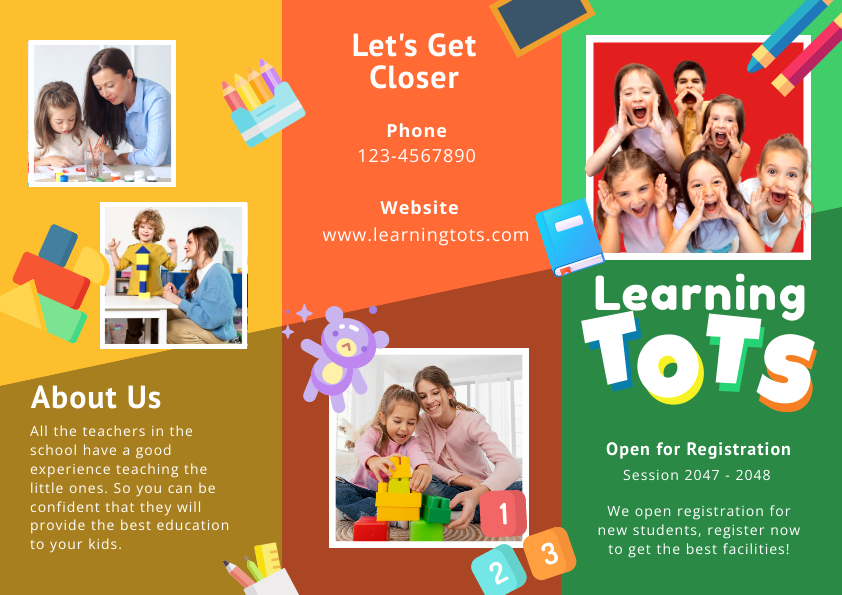 Get This Template and More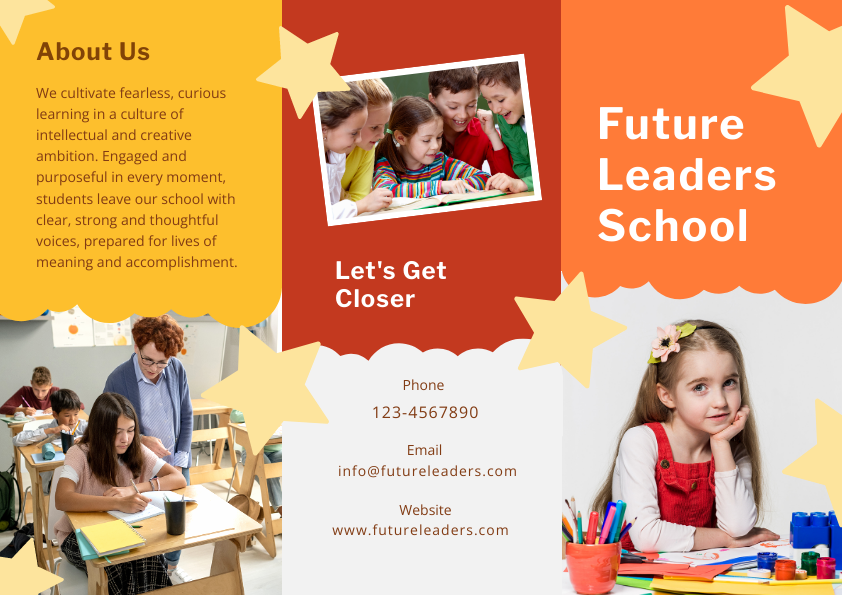 Get This Template and More
Read through How to Choose Fonts for Your Design for guidance.
Craft a Compelling CTA
No matter how eye-catching your school brochure design is, it won't be effective if it doesn't include an intriguing call to action. Once your target students or parents become aware of your school, they should be compelled to take the next step. It could be contacting the school for further information, asking for important dates, admission details, etc. Clarify what should be their next action step in the brochure. Also, make them aware of what will happen next if they take that step. Place your call to action where it's immediately and effortlessly visible to the reader. Some call-to-action examples for school brochures include "Register Now," "Contact Us," etc.
For example, observe how the call-to-action 'Register Now' is highlighted in the brochure template below.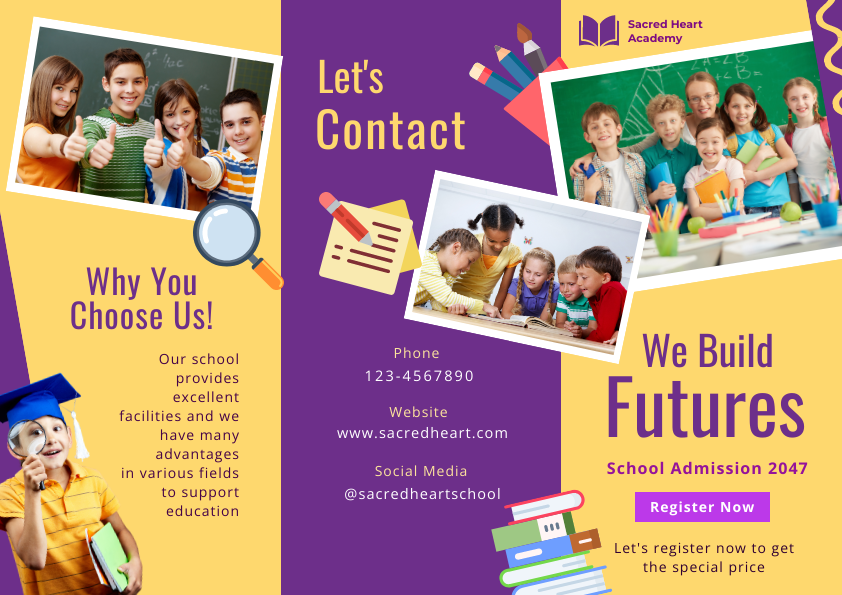 Get This Template and More
Avoid Visual Clutter
There's no point in a cluttered brochure design that nobody likes to read. A simple design will be effective if you can concisely add all the necessary elements. Depending on your educational institution's brand and how much information you need to convey, you may go for a minimalistic design.
The brochure template below has fewer elements, with just the necessary information. The subheadings are in clean, bold fonts and pop up against the background colors.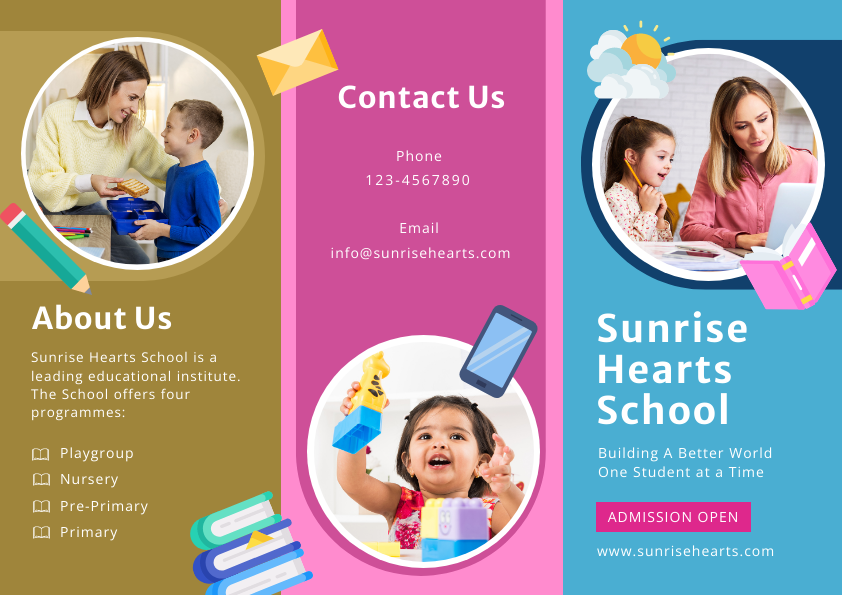 Get This Template and More
How to Make a School Brochure in DocHipo
In three super-simple steps, we'll walk you through how to make a school brochure with DocHipo's online brochure maker. Once you sign up to DocHipo, you'll land on the 'All Templates' page. You can type 'brochure' in the search bar or select it from under the 'Business essentials' category on the left sidebar.
STEP 1: Choose a School Brochure Template
In DocHipo, you can design a school brochure from scratch using the blank template.
But pre-designed school brochure templates will fast-track your design process and yield excellent results. Hover over the template you love that suits your purpose and preview or select it to proceed further.
Once you select the template, provide a name and brief description (if any).
Click 'Next,' and you'll land on the DocHipo editor.
STEP 2: Customize the School Brochure Template
You have the complete creative freedom to customize your chosen school brochure template using great Design Widgets. Let's work with them one by one.
Add or Edit Text
Click on the text widget on the left sidebar.
To add any text, you can choose from a heading, subheading, or body text. Also, you can double-click on the existing text to replace it with your own.
As you can see, there are multiple text editing options, such as changing the text font type, size, color, alignment, adding text-shadow and borders, etc. Click on the three horizontal dots for more editing options like adding a clickable link, arranging text, changing opacity, etc.
You can refer to our quick demo while adding, editing, or deleting text in DocHipo.
Here's how to add a shadow to a text in DocHipo.
Let's explore the widgets in the 'Graphics and Media' section.
Change the Picture
You can use our 'Pictures' library for high-quality stock images that cover various themes.
Let's say you need to upload professionally shot photos of your school campus, students, etc. Select the 'Uploads' widget this time.
You can upload images in JPG, PNG, GIF, and SVG formats; the maximum file size should be 5 MB. Now, drag your newly uploaded picture and drop it on the existing one.
It'll adjust itself automatically. Still, you can resize or reposition it with the drag-and-drop tool.
For reference on how to upload images in DocHipo, watch this video.
You may enhance images to give them a more professional and stunning look. Here's how to do it in DocHipo.
Change the Color Scheme
You can select the 'Background' widget or the area you want to change the color.
For custom colors, click on the color palette icon.
After changing the color scheme, the school brochure design looks like the following:
Watch our quick video on changing background colors.
Incorporate Additional Design Elements
You can add more design elements to your brochure design only if necessary, adding to the impact. The elements could be illustrations, icons, shapes, lines, etc.
For example, you can leverage the education icons.
Here's how you can add icons in DocHipo.
STEP 3: Download Your School Brochure Design
Once content with your design, click on the three horizontal dots to preview and download it.
Choose your file type and quality to download your school brochure.
Here's you download a document in DocHipo.
Keep your brochures on school or college websites for parents or students to download.
Before Customization:
After Customization:
Watch the below recap on how to design Trifold School Brochure.
Wrapping Up
A brochure is one of the effective ways to present information about your school and make people aware of it. You just learned how to make a school brochure, even without prior graphic design experience. Hopefully, you also got a lot of school brochure ideas from the templates shared above. Keep in mind the design best practices and take advantage of the eye-catching brochure templates to accelerate your design process. Explore all the education brochure templates, sign up to DocHipo, and design one that attracts attention, conveys your message interestingly and compels parents to take action.