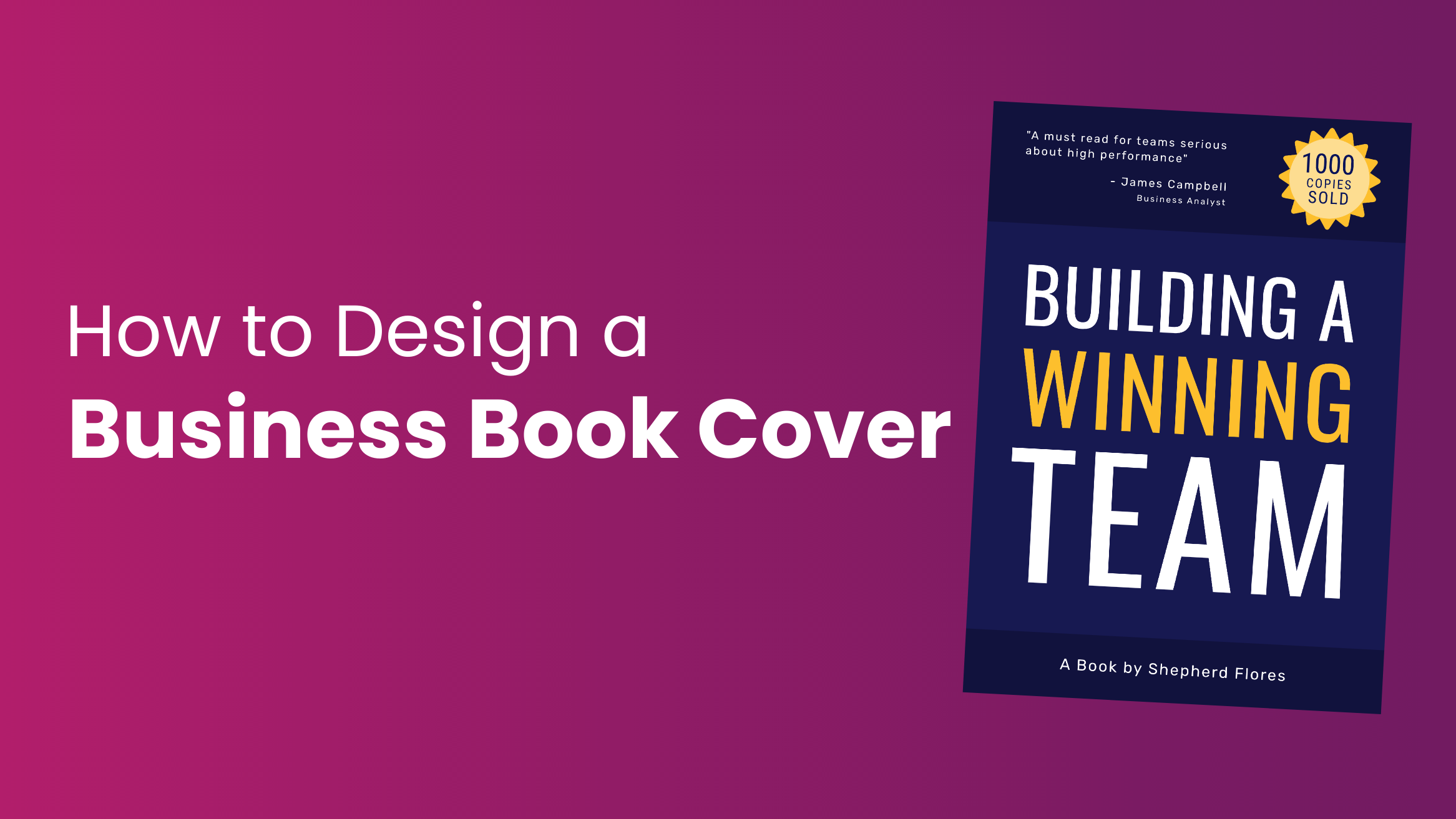 How to Design an Attractive Business Book Cover

Dec 13, 2021
If you are an author who just accomplished writing a book and thinking about designing the book cover yourself or someone who is entitled to the designing work for an author, this post will give you a lot of guidance.
A great book cover design must communicate its content is worth a reader's time, attention, and money. The theme or vibe the cover conveys should intrigue them enough to invest their hard-earned money in your book.
So get ready to learn the best practices for designing your Business Book Cover and enjoy an exciting walkthrough of designing the same by leveraging DocHipo.
Best Practices for Designing a Business Book Cover
You might have amazing design ideas for your book but you may not have a lot of time to invest in designing. Also, you may not want to outsource your design work to a designer. As you know the ins and outs of your book, it'll be best if you reflect your experience, ideas, authority in the book cover yourself.
On the contrary, if you're designing on an author's behalf, get to know him or her, the context, and theme of the book, and follow the below guidelines to come out with a stunning Business Book Cover.
Gather Business Book Cover designs for inspiration and ideas
Research successful Book Covers in your genre and save them in a folder. Observe the different design elements in each of the covers – front cover, back cover, spine, layout, images used, fonts, and so on. Analyze and take note of things like:
What made you want to open a book?
Which part of the Book Cover did you notice first?
Which aroused your curiosity to read what's inside?
How did the designers use an illustration to convey the message of the book?
What did you like and didn't like in a cover?
Having a handful of successful book cover designs will accelerate your design process as you'll have your own ideas ready with you, and you can make tested and proven design methods. Not all designs will work for every book, but at least you'll have a lot of design ideas to start experimenting with, and then eventually, you'll come up with your own unique, memorable Business Book Cover design.
Structure Your Book Cover Layout
A book cover needs to communicate the theme, tone, mood, and vibe of the whole book. A book written in a serious tone shouldn't have funny imagery or not-so-serious illustrations. If you've taught the business topic in your book in a friendly tone by adding a little bit of fun, then do add an image or illustration accordingly to match the mood.
If you are designing the book cover for an author, even reading the synopsis or first two pages will do good in understanding the vibe of the book.
After you analyze the theme of the book, you may incorporate an illustration or photo into the layout to convey the same.
Structure how you would like to combine and position the core elements – book title, author's name, the imagery. So, outline the book's main themes and structure your Business Book Cover layout accordingly.
Use a Compelling Image
The image has to be powerful enough to catch people's attention, arouse curiosity, express a unique idea. Make it meaningful to align with the theme or idea of the book appropriately. Try to think out-of-the-box sources for an image or create your own for your potential readers to see a never seen before image. It will add freshness and make your Business Book Cover stand out, among others.
If you use it in the right context, a single photo can work great. Also, illustrations are a powerful way of expressing the theme contained in your book. You can mix and match the graphics to create a one-of-a-kind Business Book Cover design.
Choose an appropriate color palette and fonts
Color is that core design element that sets the tone for a book, signify a genre, and communicates a message to people evoking a certain emotion that ultimately make them purchase the book.
Typography establishes an information hierarchy. Try to avoid complex script typefaces.
While experimenting with typefaces, preview it on both large and small size displays to test the readability.
How To Design An Attractive Business Book Cover In DocHipo
DocHipo's Free Online Book Cover Maker will equip you with eye-catching book cover templates and a whole lot of design widgets to meet all your design needs.
Firstly, click sign up for free to create your account using your email address and then get started with your designing journey.
Follow the below simple 3 step process to attract your buyers/ to make your amazing book stand out.
STEP 1: Choose a Business Book Cover template
After signing up, you will see a 'Template' panel on the left side of your screen, where you can find a variety of pre-designed templates of different document types for various industries and occasions for you to customize fully.
In the search box, type 'Book Cover' to explore the wonderful collection of Book Cover templates. Click on the result to choose Book Cover as your chosen document type.
As you can see, we categorized the Book Cover templates according to different genres like Business, Romance, Cookbook, and Children's books, and we are happy to expand our range.
Let's select the Business Book Cover template.
You can also select 'Blank Template' if you wish to create your Business Book Cover from scratch.
If you hover over Business Book Cover template, two options will appear – Select and Preview. Preview any templates that you love, and then select the one that fits the best with your requirements.
After selecting the Business Book Cover Template you want to work with, give the document a name, add a description and then click on the 'Next' button.
STEP 2: Customize the template you have chosen
With DocHipo, you will get a wide collection of illustrations, stickers, shapes, icons, lines, pictures to choose from. You can leverage them to customize your chosen template using the drag and drop tool. Let's walk you through how you customize a Business Book Cover template in DocHipo using their awesome Design Widgets.
Text
To add a new text to the template, first, click on the 'Text' widget as shown.
You can choose a Heading, Subheading, or Body Text as per your need. To edit an existing text, double click on the text and replace it with the one you want.
If you don't need a particular text on your book cover, simply click on it and press delete from your keyboard. Whenever you need to adjust the position of a text, use the drag feature to reposition it.
There are a lot of options available to you for editing the text. These are available in the contextual editing panel.
You can watch the video below to learn more about editing a text.
Under the 'Graphics and Media' section in the left panel, you will find a variety of widgets. Let's design with illustration first.
Illustrations
After selecting the Illustration Widget, browse through the available categories to choose your illustration from.
To see the colors used in the illustration or change it, first select the illustration, then select the color icon as shown.
You can also download illustrations from other stock photography websites like Unsplash, Pixabay, Pexels, and so on and then upload them to add to your so-far-designed Book Cover from the 'Uploads' Widget.
Background
You will find the Background widget under the 'Graphics and Media' tab in the left panel.
There is a beautiful collection of background colors and gradients available for you to work with. You can also add the hex code of a color that you want to add as a background color.
If you click on the color icon, you can choose custom colors for your background.
Now if needed, change the color of the fonts or illustration again to match with the background, adjust the position of the elements, and so on. So play around with the edit panel and design your Business Book Cover just the way you want.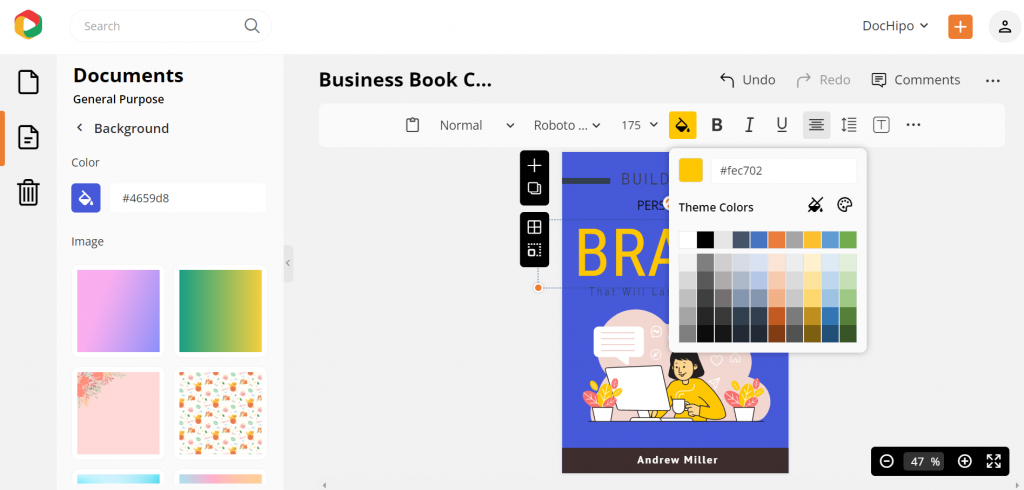 STEP 3: Download your Business Book Cover design
Click on the three-dot option at the top right corner to see a drop-down menu. Then click on the Download option.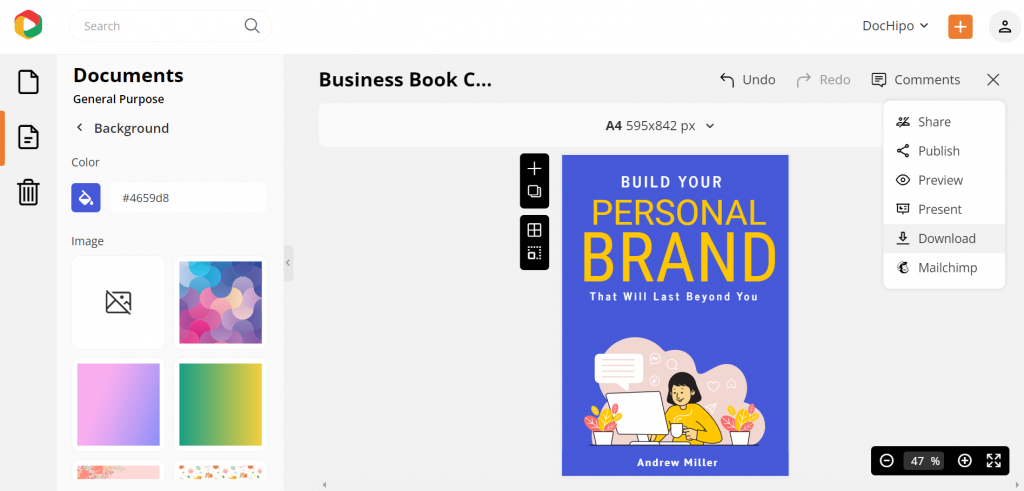 Select the File Type and Quality of the Business Book Cover you created as per your need and then click on the Download button.
Before Customization
After Customization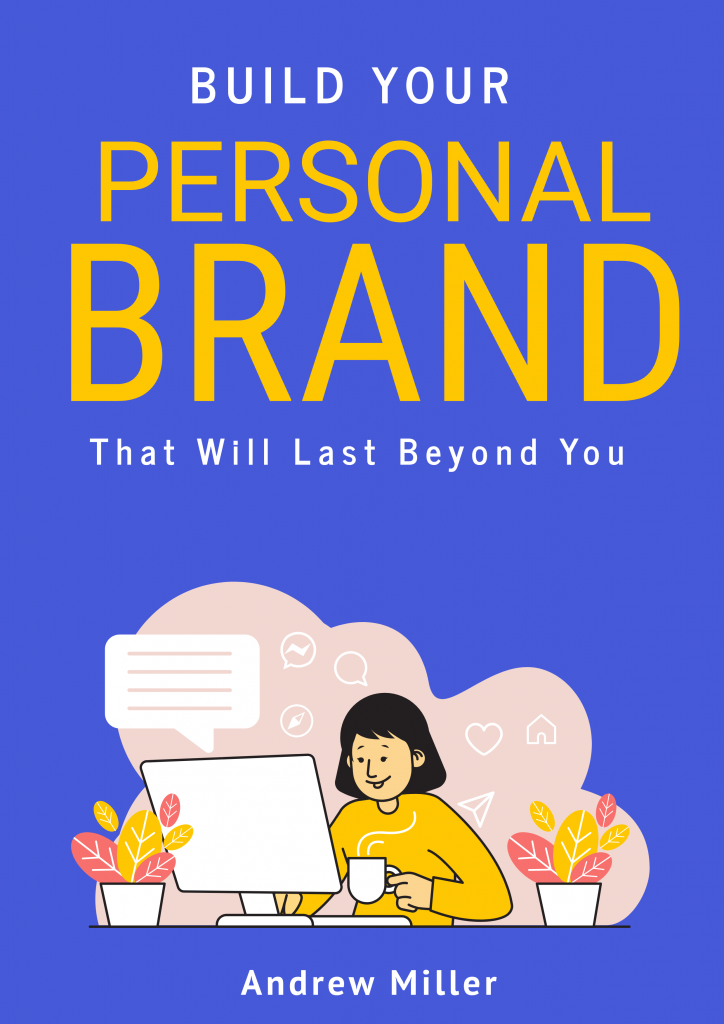 CONCLUSION
Hopefully, now you are charged up to kick start your Book Cover design journey. Seeing your imaginations and ideas come to life in the form of an attractive book cover will be such a beautiful and satisfying feeling. Let DocHipo be your helping hand to craft a design for your Business Book Cover that you will feel proud of.