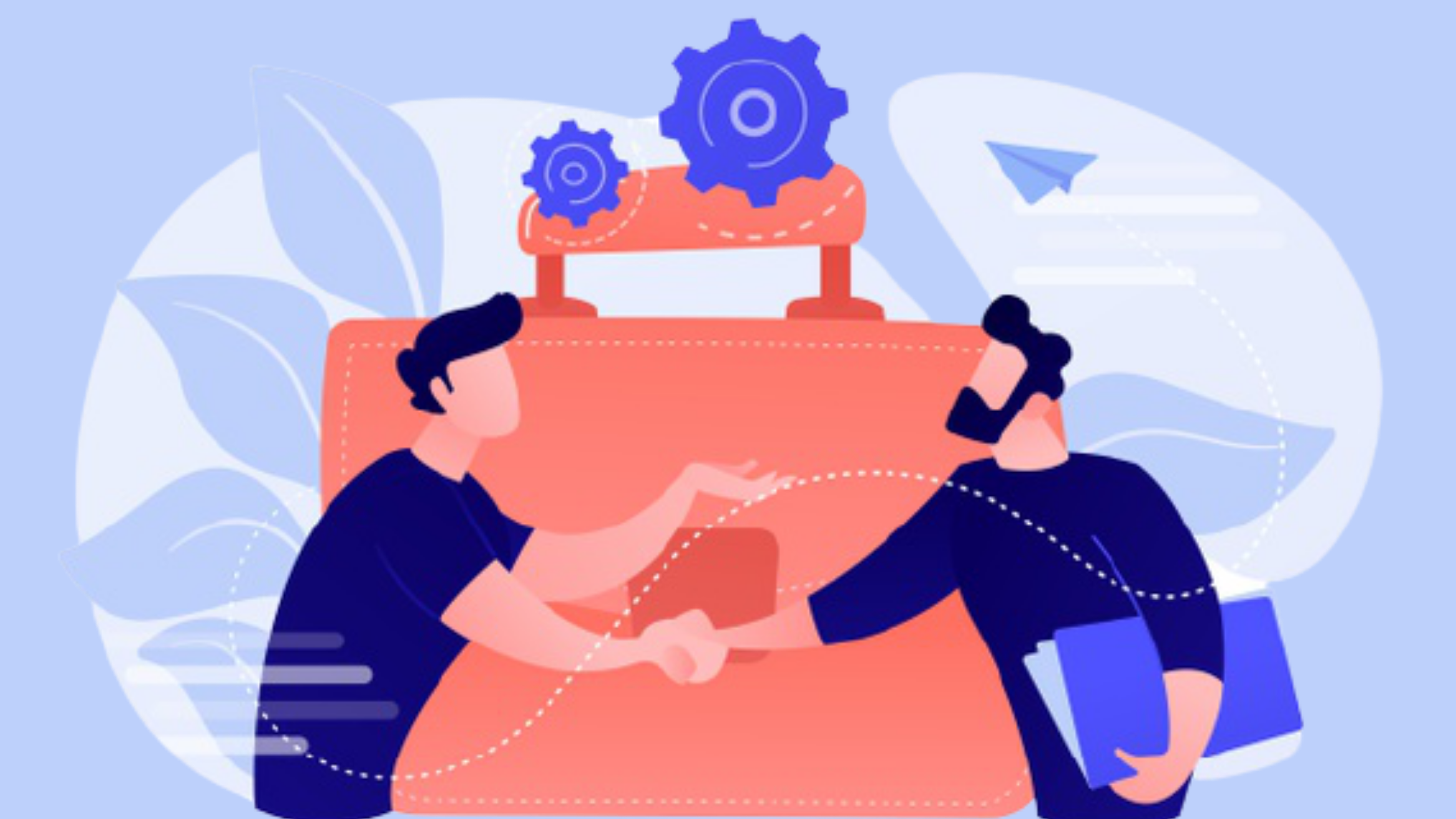 Create Business Card Design Almost Instantly: Three-Step Guide

Last Updated Sep 20, 2023
An exchange of a business card indicates the start of a potential professional relationship.
Just imagine a scenario where you are at a high-profile party. Suddenly, you come across a wealthy client looking for a product/service your company deals in. You and the client have an amazing conversation, establishing a space for future negotiation. Now how do you make sure that your prospect remembers this conversation?
Well, the answer here is simple.
All you need to do is hand him/her an eye-catching, attractive business card.
A business card also helps in turbocharging the networking.
They look simple and insignificant, but in reality, they have a greater deal of impact than you can imagine.
If that were not the case, then the business world would not have witnessed a record of 27 million business cards being printed daily, even in today's digital era.
So, today's article is about why a business card is important and how you can create one for yourself in DocHipo.
Table of Contents
3 Mind-Blowing Benefits of a Business Card
For every 2000 cards that get passed out, it contributes to a 2.5% increase in sales.
If you think 2.5% is not worth it, then you are wrong, as you will never know how this number will prove advantageous. After all, every business opportunity is important and useful. Hence, let's not miss out on any chance.
Also, in some cultures handing a business card to a client is deemed to be a basic part of business etiquette. In Japan and many other Asian countries, exchanging business cards is often done ceremoniously.
So a business card can do wonders and is often considered mandatory.
To understand this better, let's quickly move to the three main reasons why a business card is important.
1. Brand Identity and Design
Your business card can aid in branding, establishing a distinct identity in the client's mind.
Let's first understand what branding is…
Branding is the symbol, sign, or emblem that identifies with a company or an organization. So every piece of information, copy, design, and color is used tactfully to ensure the customer can associate these elements with the company's identity.
Now, let's understand what elements are present on a business card.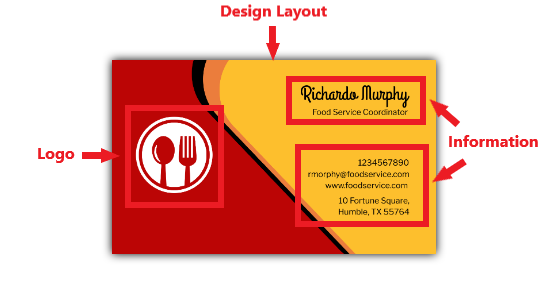 Firstly, your business card will have a perfect design constituting different colors associated with your aim of reflecting a particular emotion and theme. As color and emotions play a significant role in the perceiver's mind, it will signal an indirect message.
Secondly, we have the logo, which is the all-time signifier of your organization.
Thirdly, the basic information will quickly send all the required details to the clients.
This combination is the first indicator of your company's brand identity. Also, never forget that when you meet the customer for the first time, your business card will create the first impression about your company.
2. Retaining Quick Information
Let's face it!
Even though we live in the digital era, not everyone owns a smartphone, primarily if your business focuses on a B2C model. Also, information on the business card travels faster than information sent digitally.
Now, let's see what probable information is present on a business card: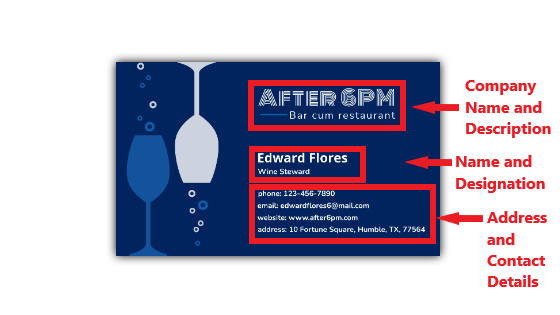 We can see:
The company name and a one-line description.
The name of the individual and his/her designation.
Company address and contact details (phone number, email address, website link).
When the card is exchanged, the most important information is retained at first glance. Like, the prospect is aware of your industry and your designation instantly.
So, when they suddenly need to get associated with your business, they can instantly pull out your business card from their purse and give you a call.
3. Easy to Carry
You will never know when you will bump into a potential customer. After all, the world is filled with surprises and opportunities that you do not want to miss.
So, a business card will always come in handy to cater to these sudden opportunities.
A business card has a standard dimension of 1125×675 pixels: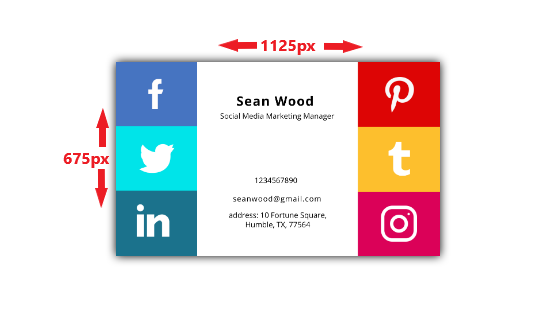 It can get inside the pocket, fit into the small cardholder of your purse, and easily be handed over to prospective customers, allowing them to store your information conveniently.
How to Create Business Card Design Almost Instantly
By now, you know that a business card plays a profound role in establishing your brand and presenting your company's information precisely. However, designing a business card is not easy.
You may think business cards are all about information, but that's not right.
A well-designed business card ensures that it starts your relationship with your client on a positive note. It is the precursor of what they should expect from you and your company. If they like it, they will keep it; if not, they will trash it.
To avoid your business card being thrown away, create business card design in the most alluring way possible. When they keep your business card, they will surely stumble upon it for future use.
With DocHipo by your side, you no longer have to worry about designing your business documents.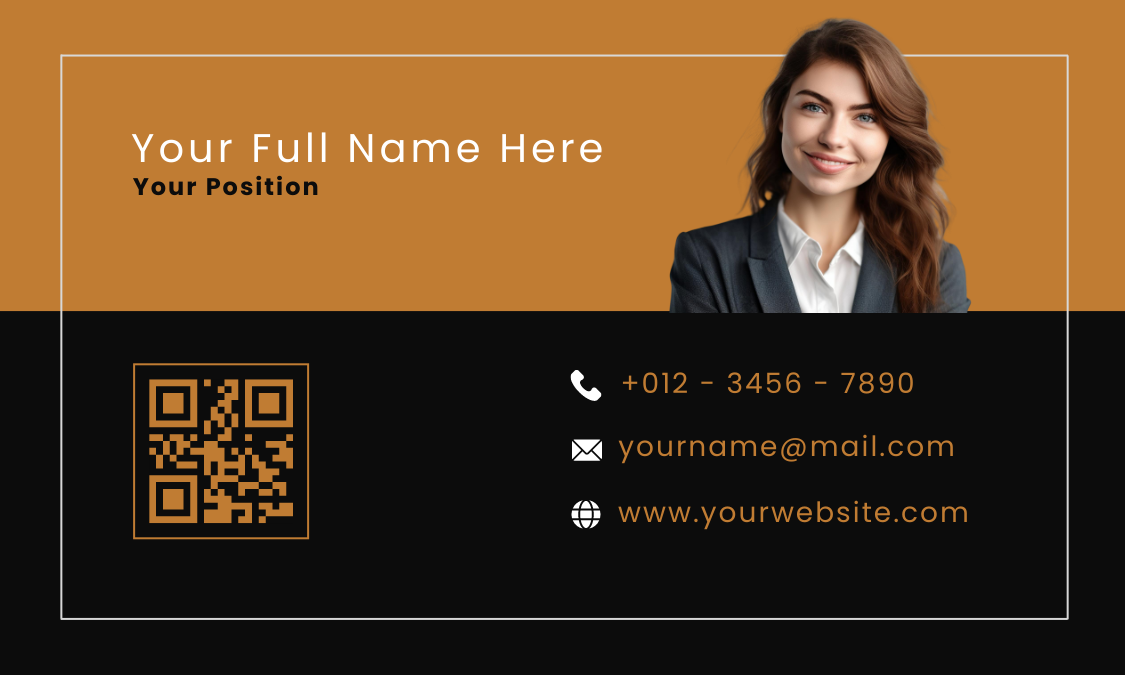 Get This Template and More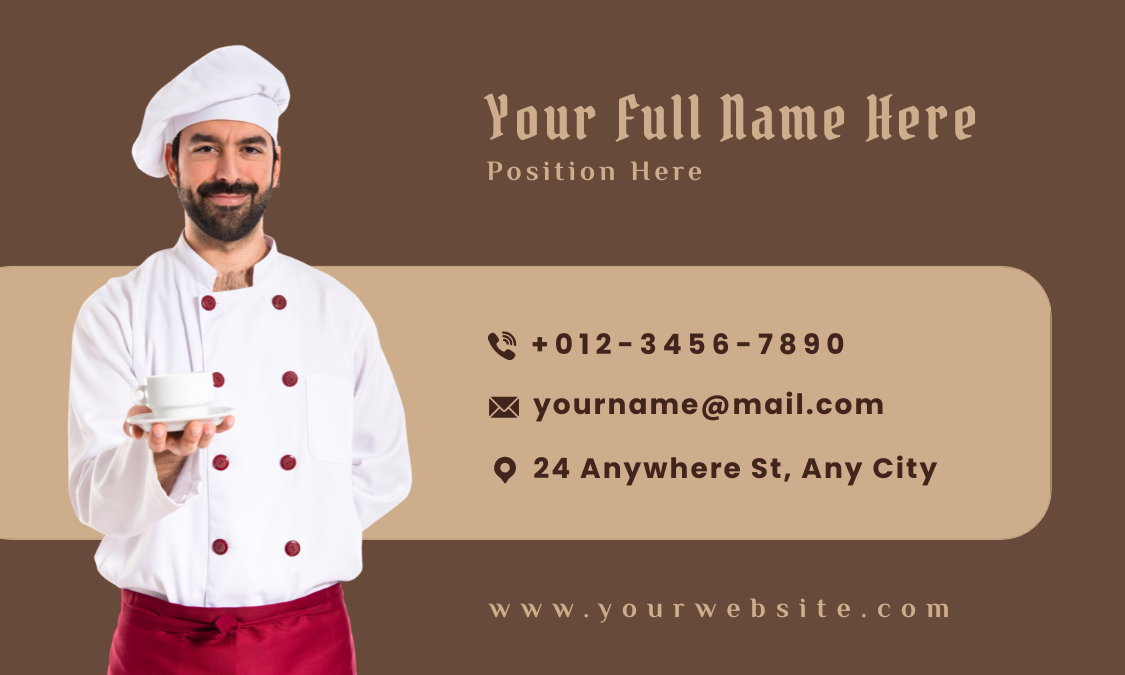 Get This Template and More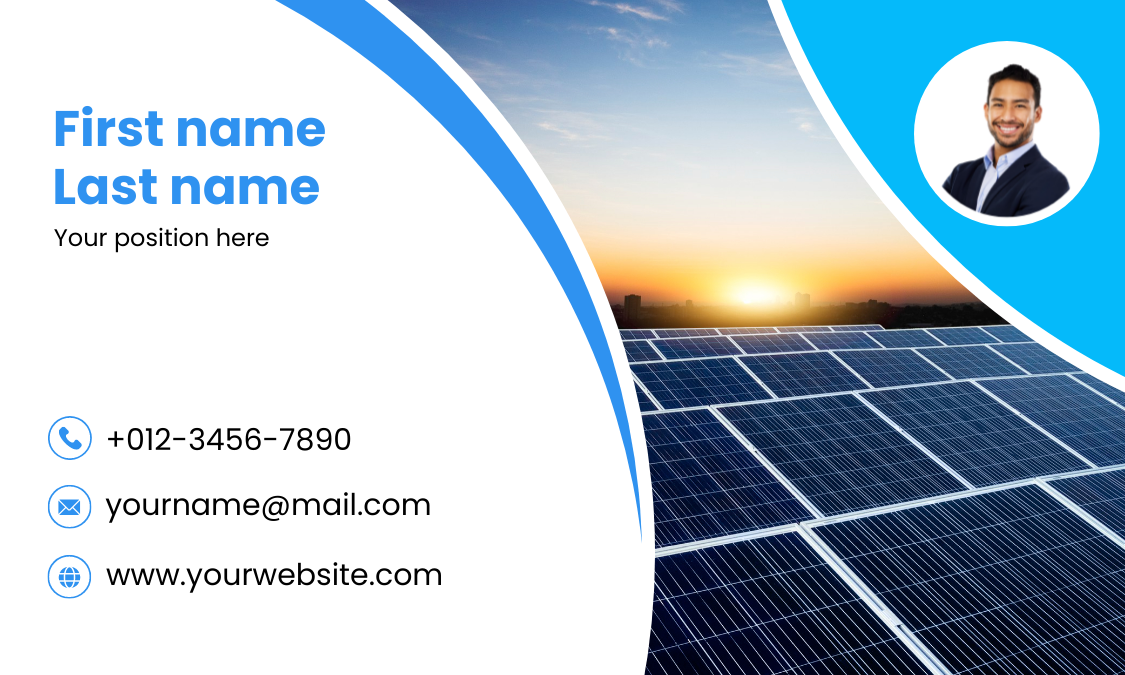 Get This Template and More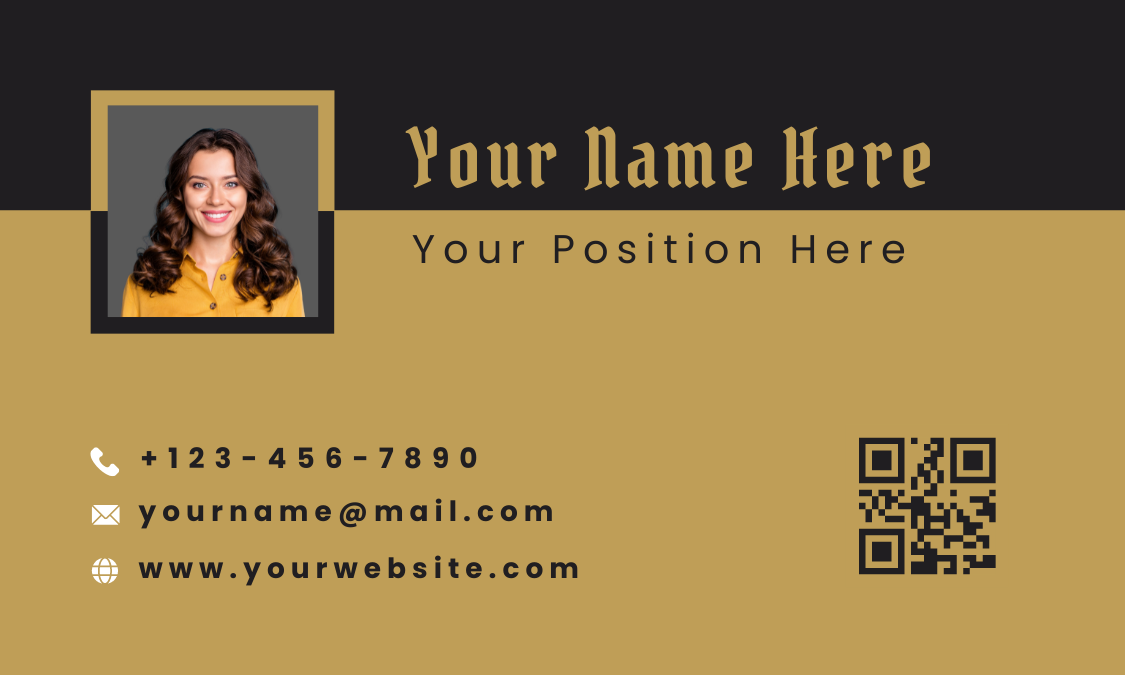 Get This Template and More
In three simple steps, let me show you how to create business card design at Dochipo. But before that, make sure you sign up.
Step 1: Choose a Business Card Template
You can select your document via these two options as you enter the vibrant landing page.
You can either start typing "Business Card" on the search bar or click the option "Business Card" under the category "General Purpose" on the left panel: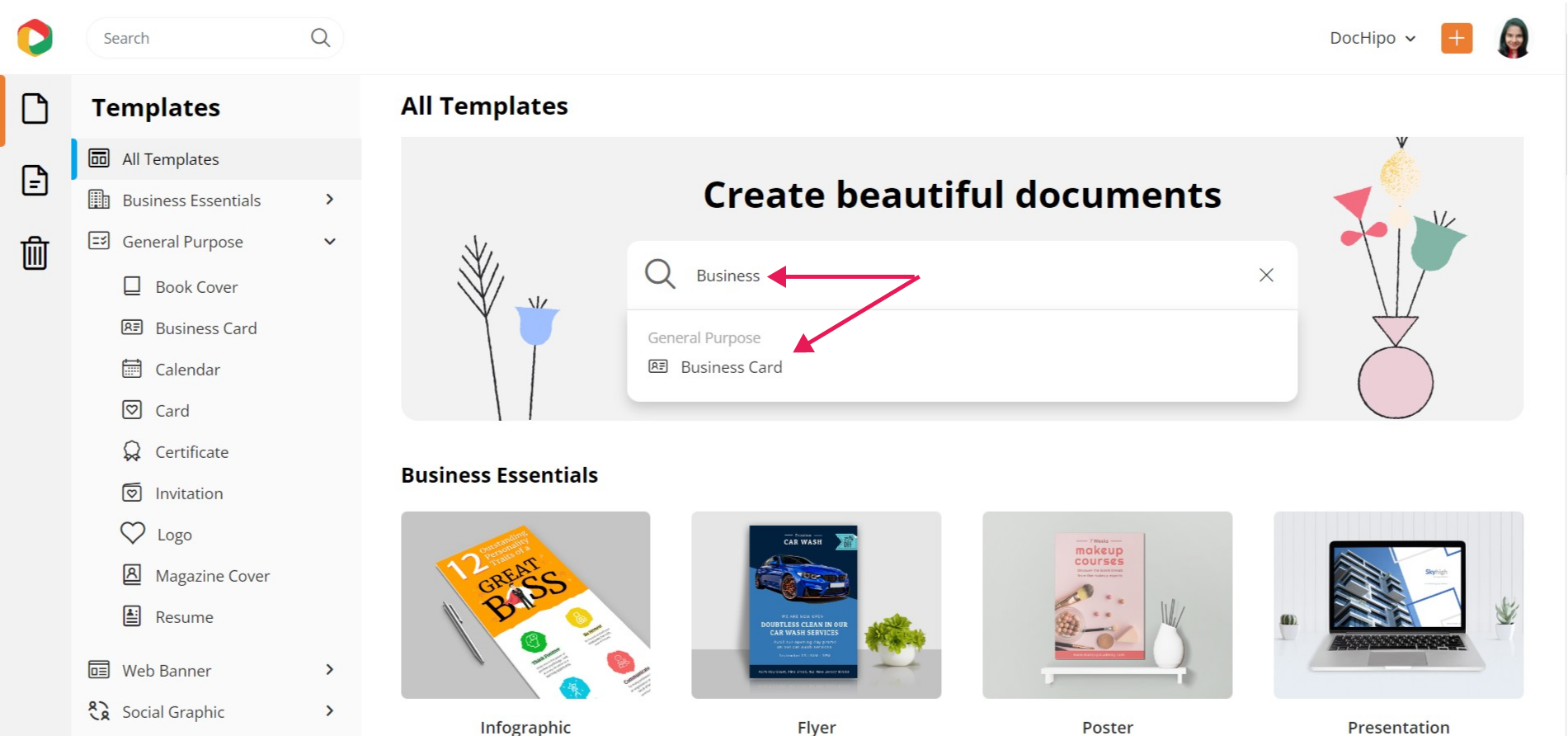 You'll immediately enter the document templates page to witness a series of artfully crafted business card templates. They are categorized into various industries: car sales, education, food, real estate, solar energy, etc.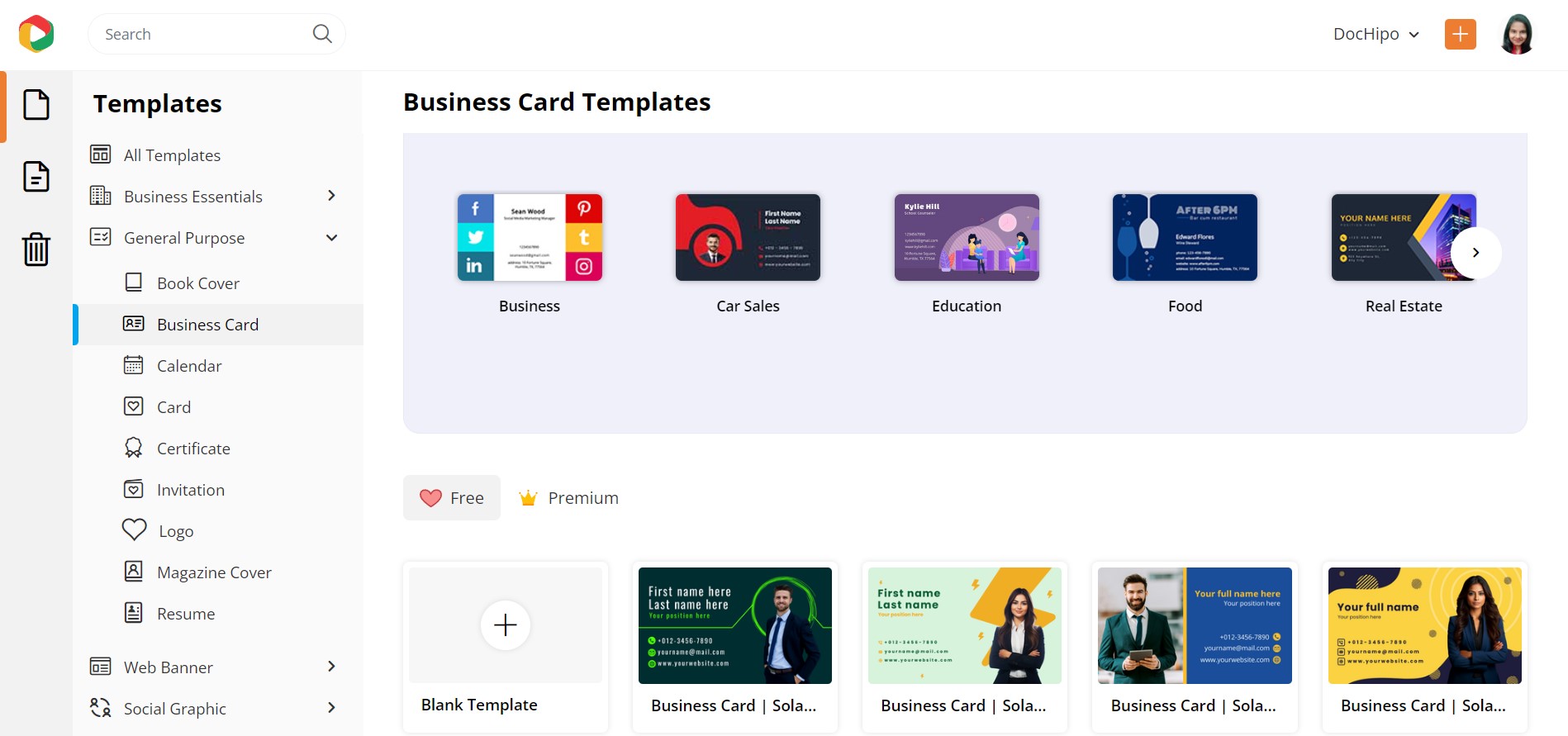 Hover over the template you love to preview, or select it and click on that for further customization.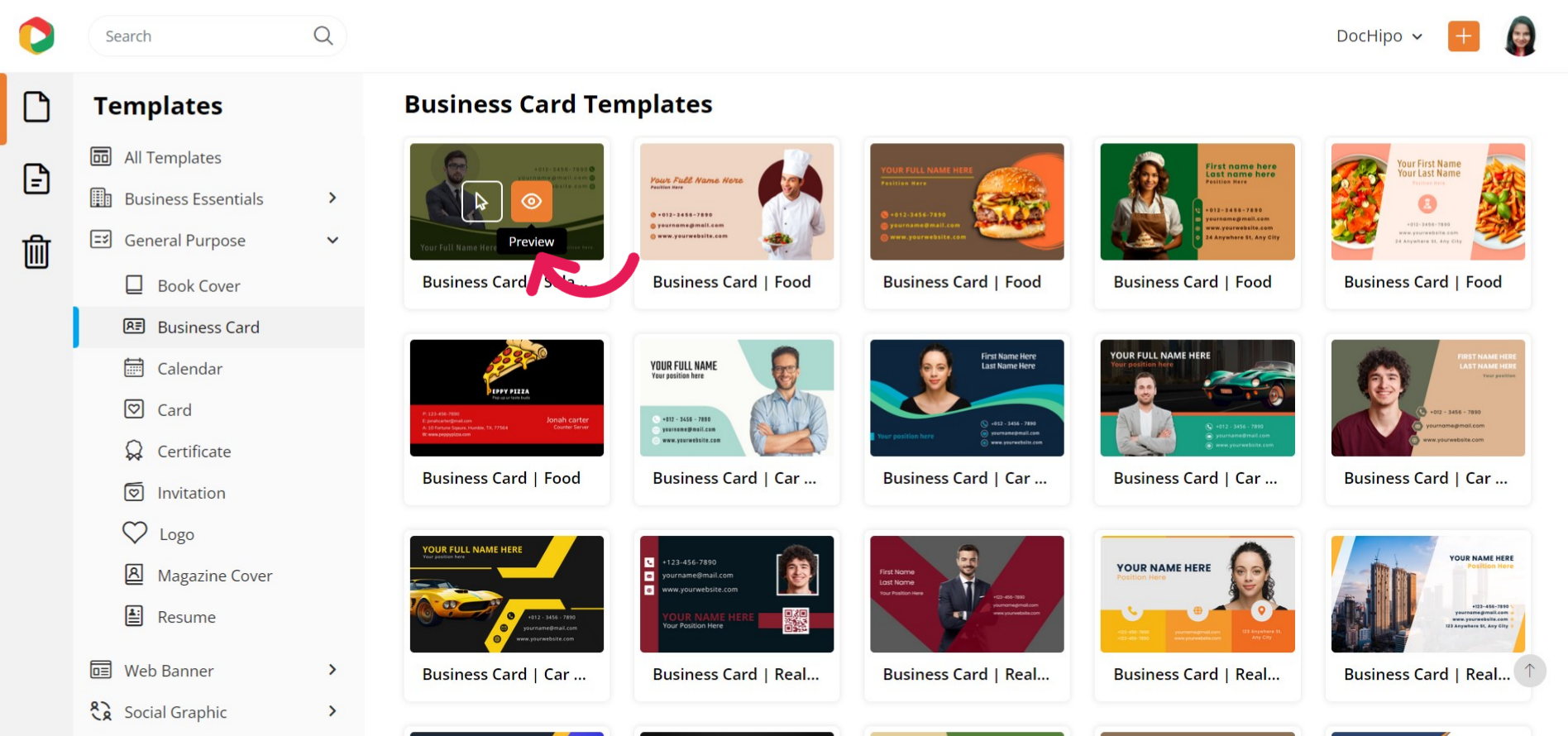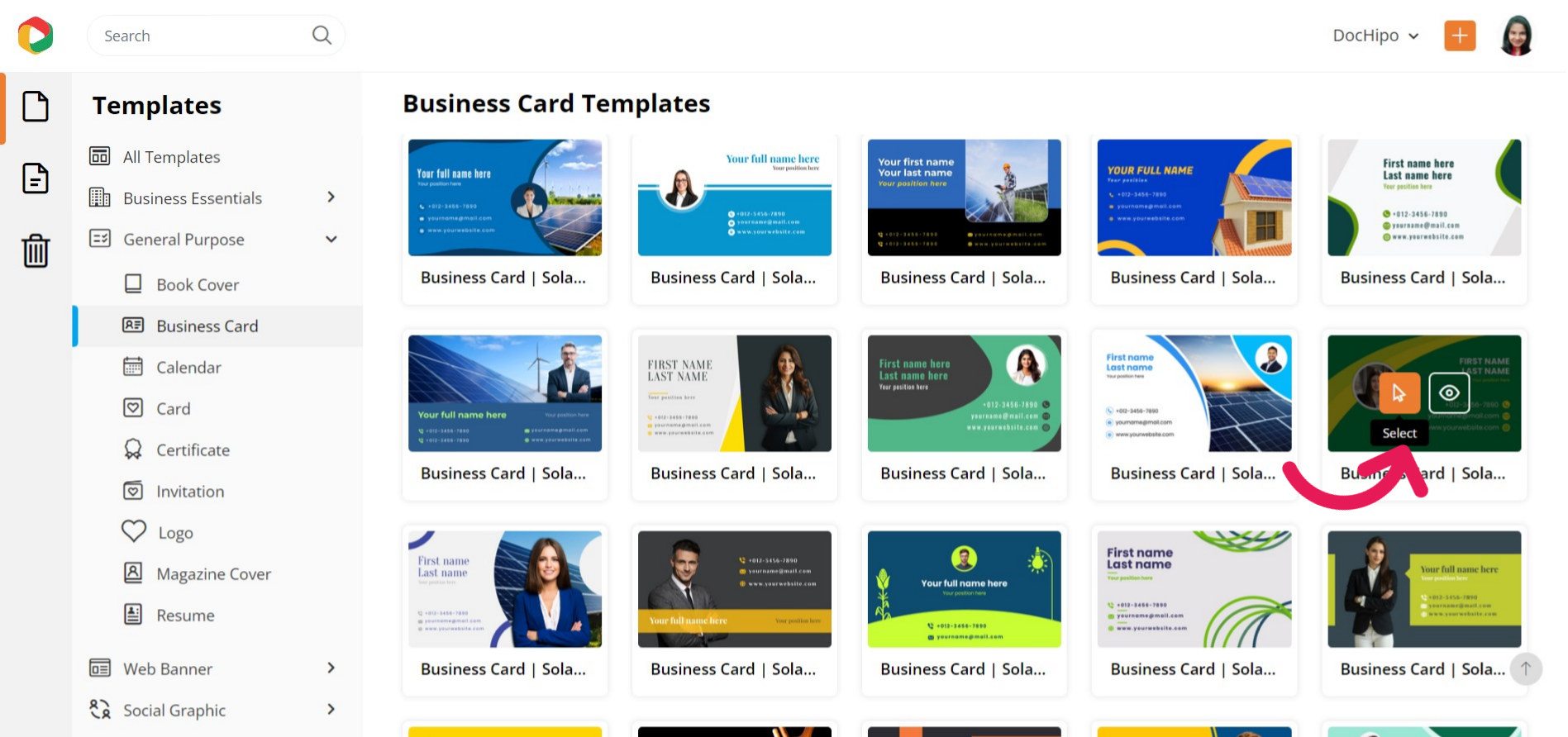 After selecting the template, you'll navigate to the Document information page. Here all the information will be auto-populated, which you can change. You can also provide a brief description of the document, which will make things convenient for you: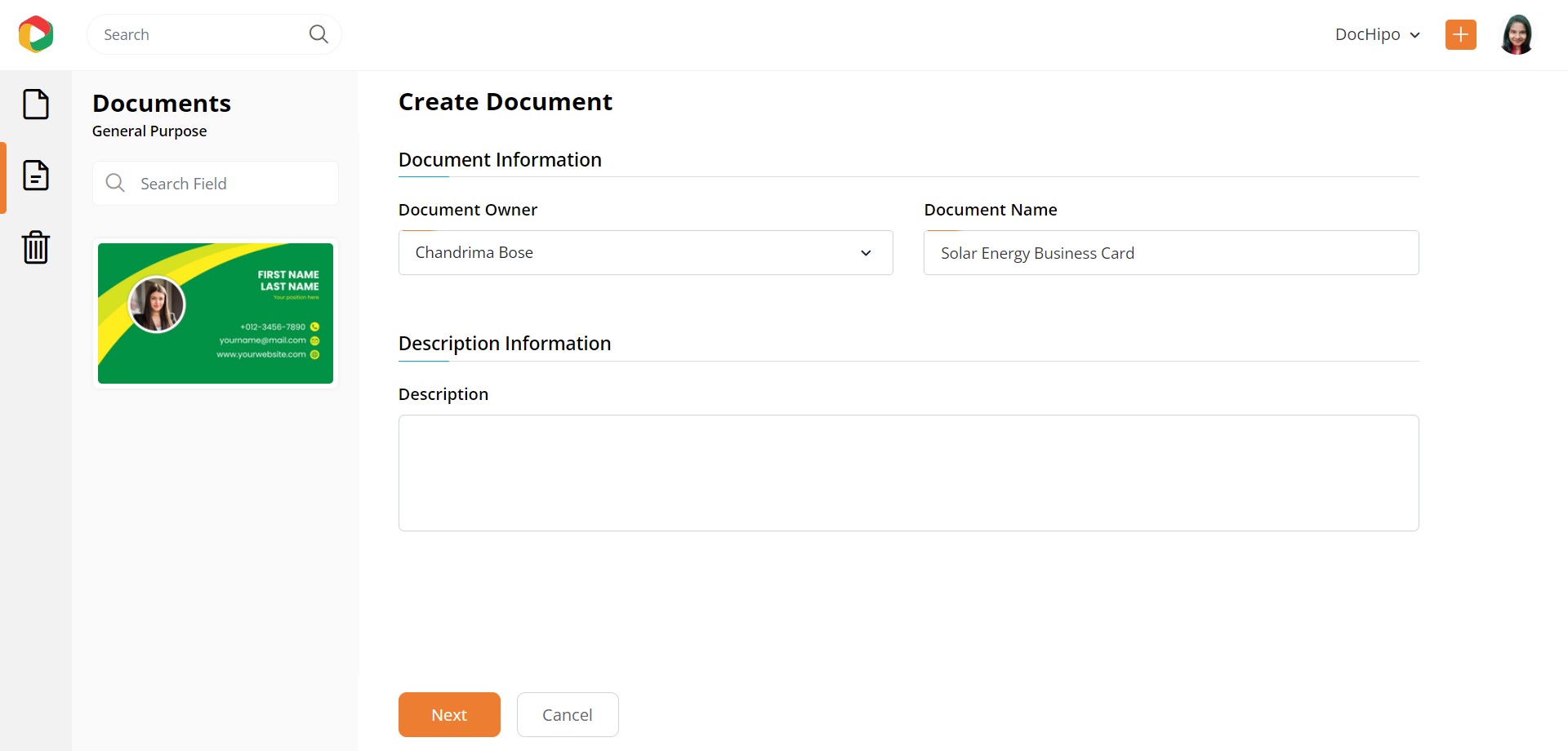 After you click "Next," you will visit the most exciting aspect of this platform: DocHipo's editor.
Step 2: Customize Your Chosen Template
Editing your documents here is super fun.
With design widgets that can fulfill all your design needs, you can dazzle your documents and actualize your imagination. This platform has a friendly user interface, which a complete design novice can also operate.
You can edit the text, add/modify/delete any graphic elements, and even change the color and layout. Also, the document will have the prerequisite page dimension, so you no longer have to worry about sticking to the right size.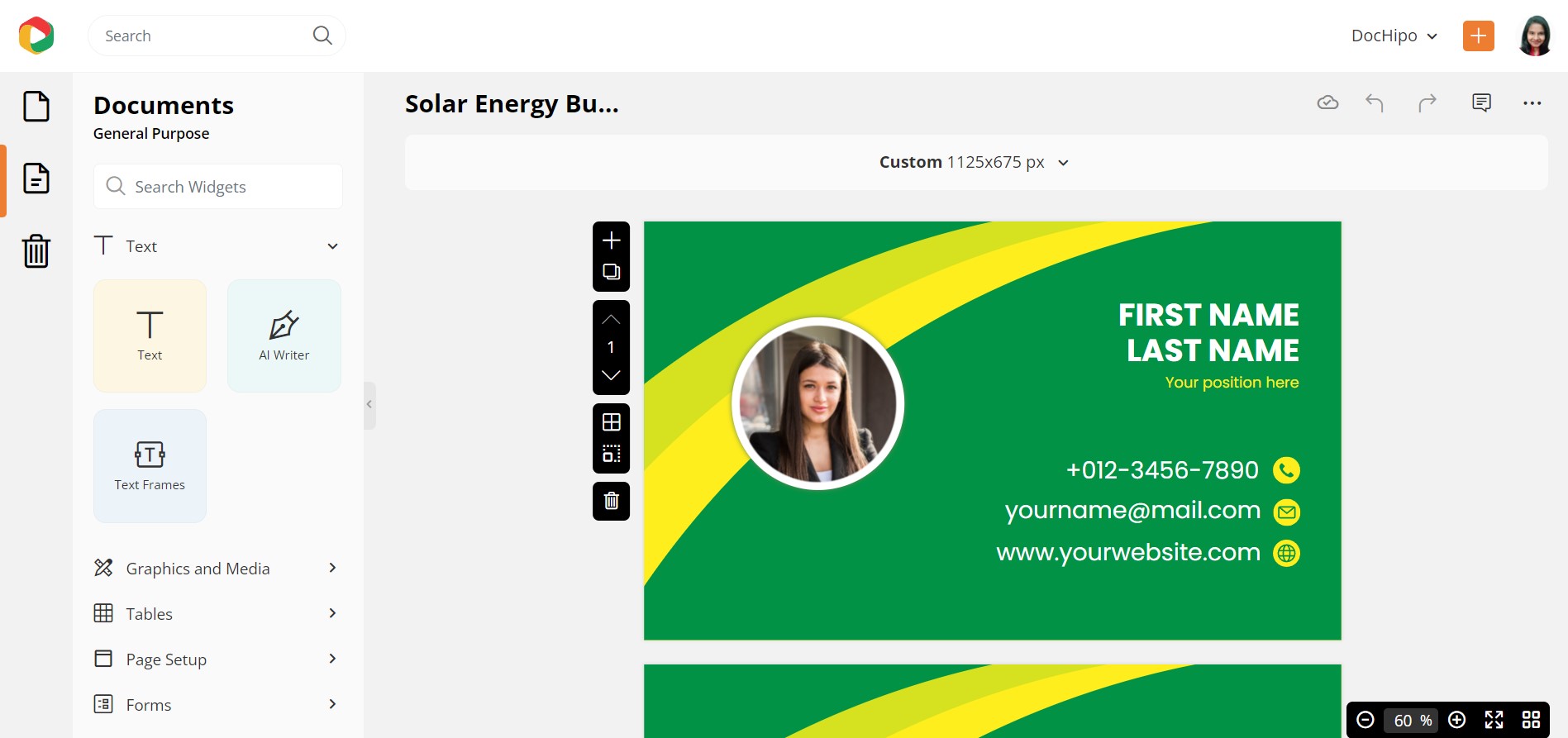 Edit Text
Let's start with editing the text. Select the text you want to change and double-click on it to replace it with your own.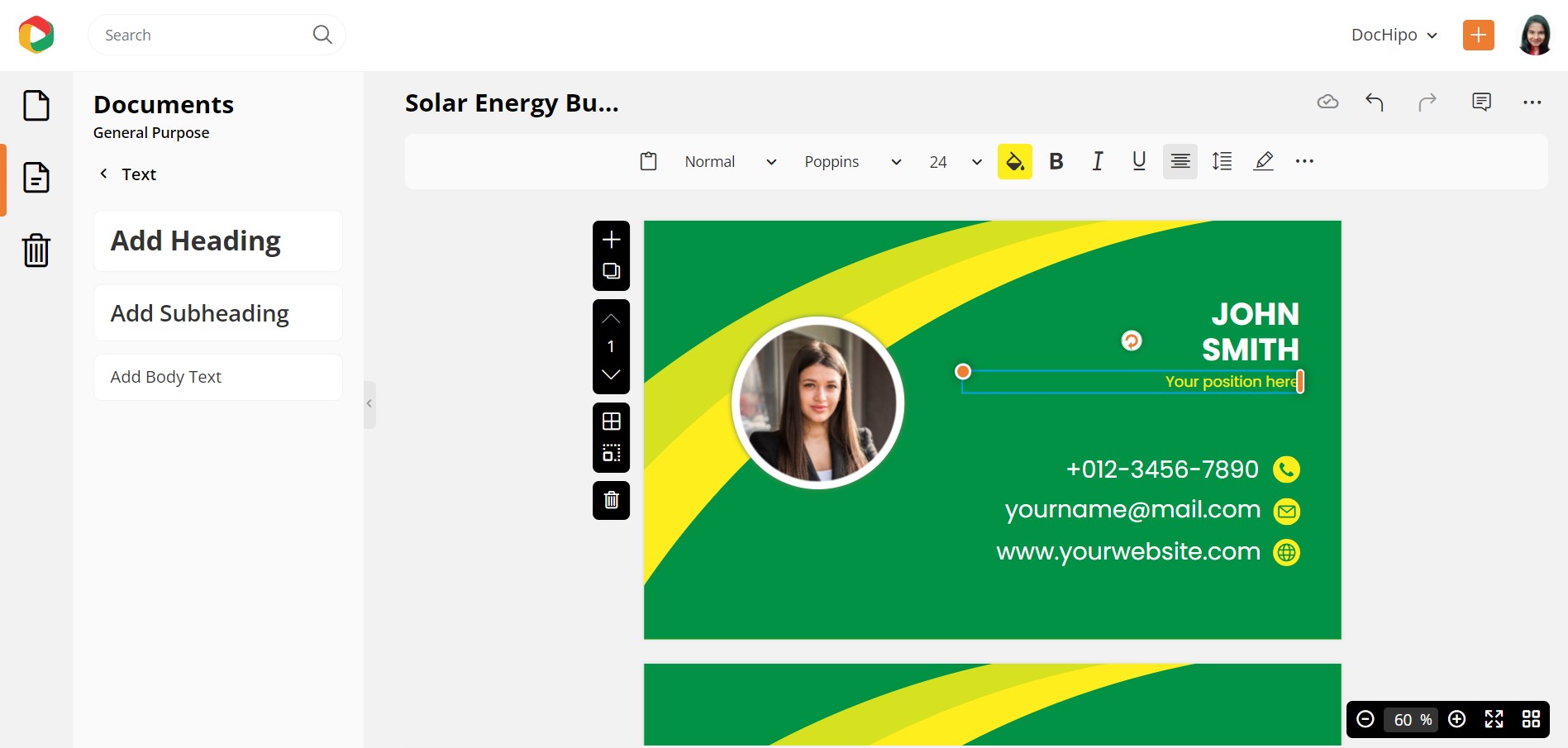 Once you change the name, position, website, contact details, and so on, it's time for some editing to add your personal touch. Select the text you wish to edit and explore the contextual editing panel above. While you have exciting text editing options or effects such as adding shadow, border, outline, transparent color, etc., let's stick to the basics to keep it professional and sleek. I'm changing the font family from 'Poppins' to 'Bodini Moda.'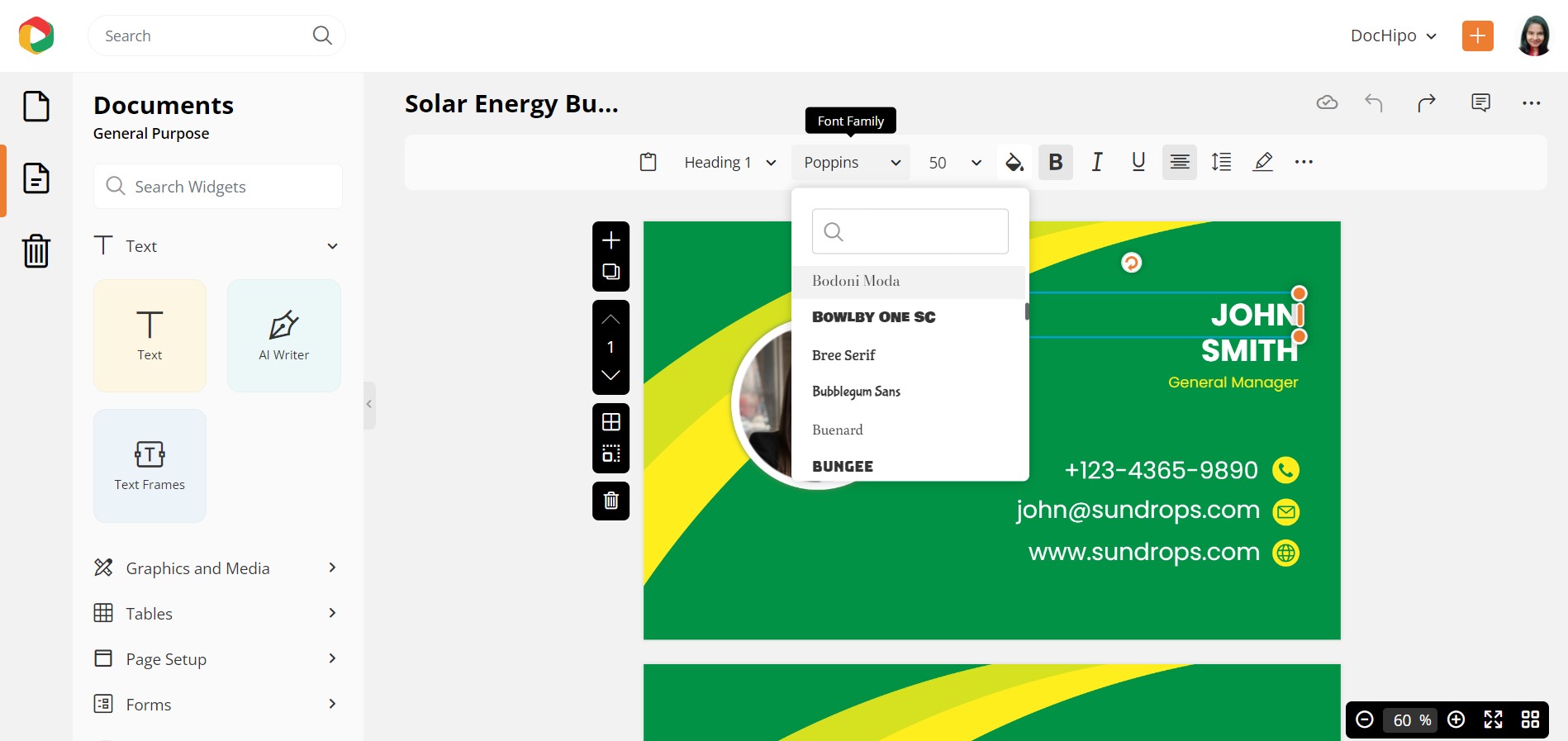 To quickly match the font of the last name to that of the first name, start by clicking on the latter, then click the three horizontal dots, choose 'Copy Style,' and apply it to the former.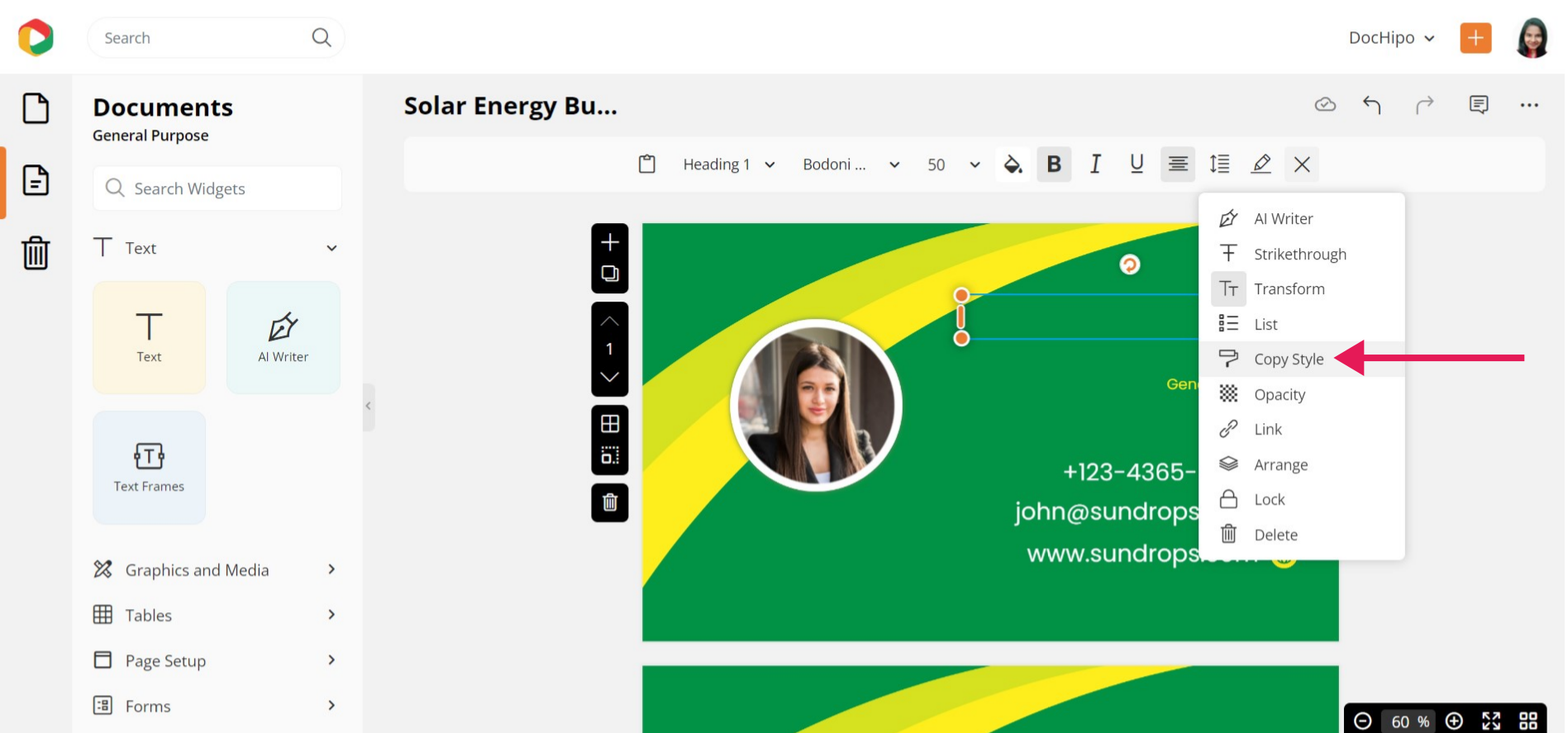 Here's a quick demo of utilizing the 'copy' style' more meaningfully in DocHipo.
Refer to the video tutorial on adding, editing, or deleting text in DocHipo.
Replace the Picture
To replace the existing picture in your chosen business card template, you need to upload your picture into DocHipo. The 'Uploads' widget is under the 'Graphics and Media' section on the left sidebar.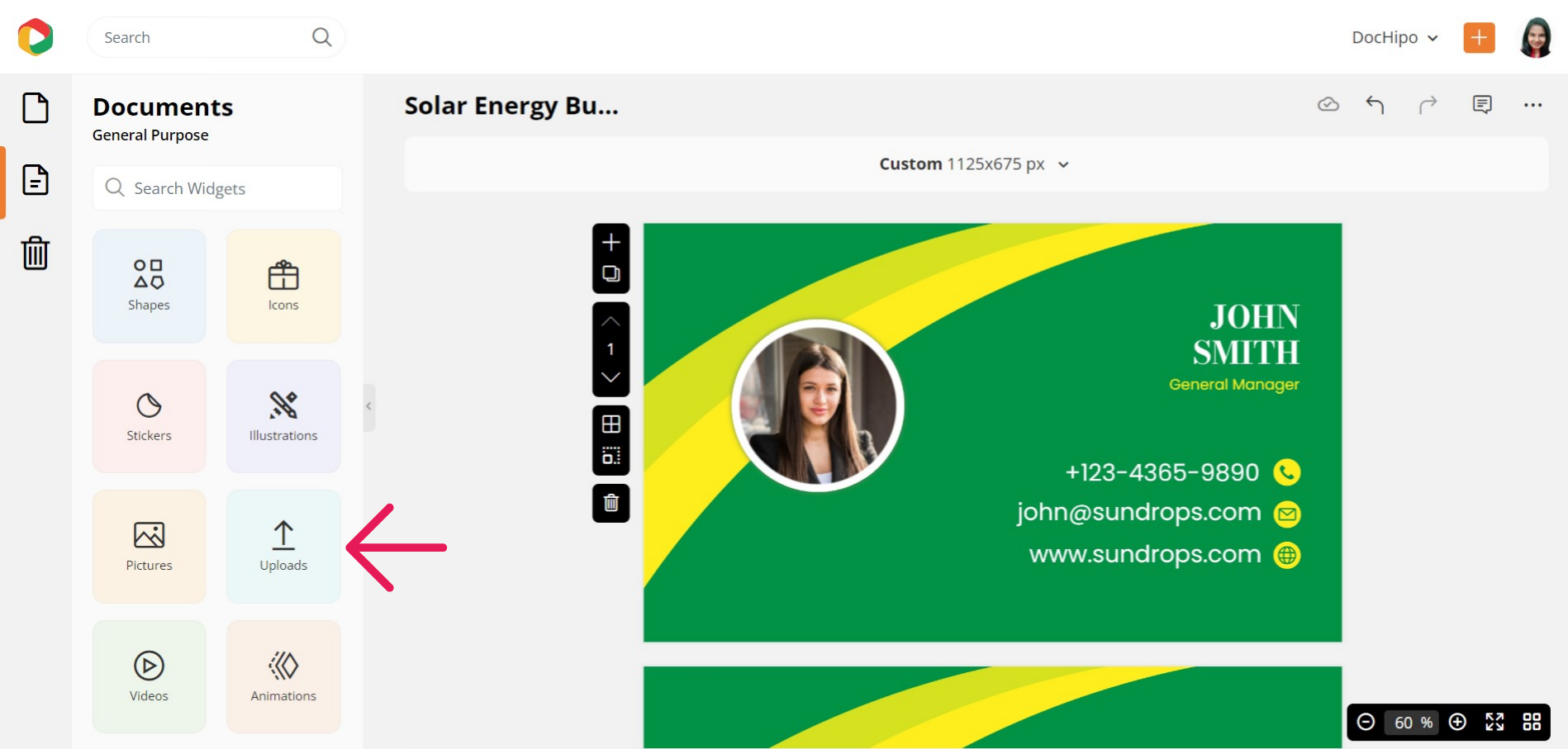 You can upload images in JPG, PNG, GIF, and SVG format with a maximum file size of 5 MB. Now drag your uploaded image and drop it on the existing one.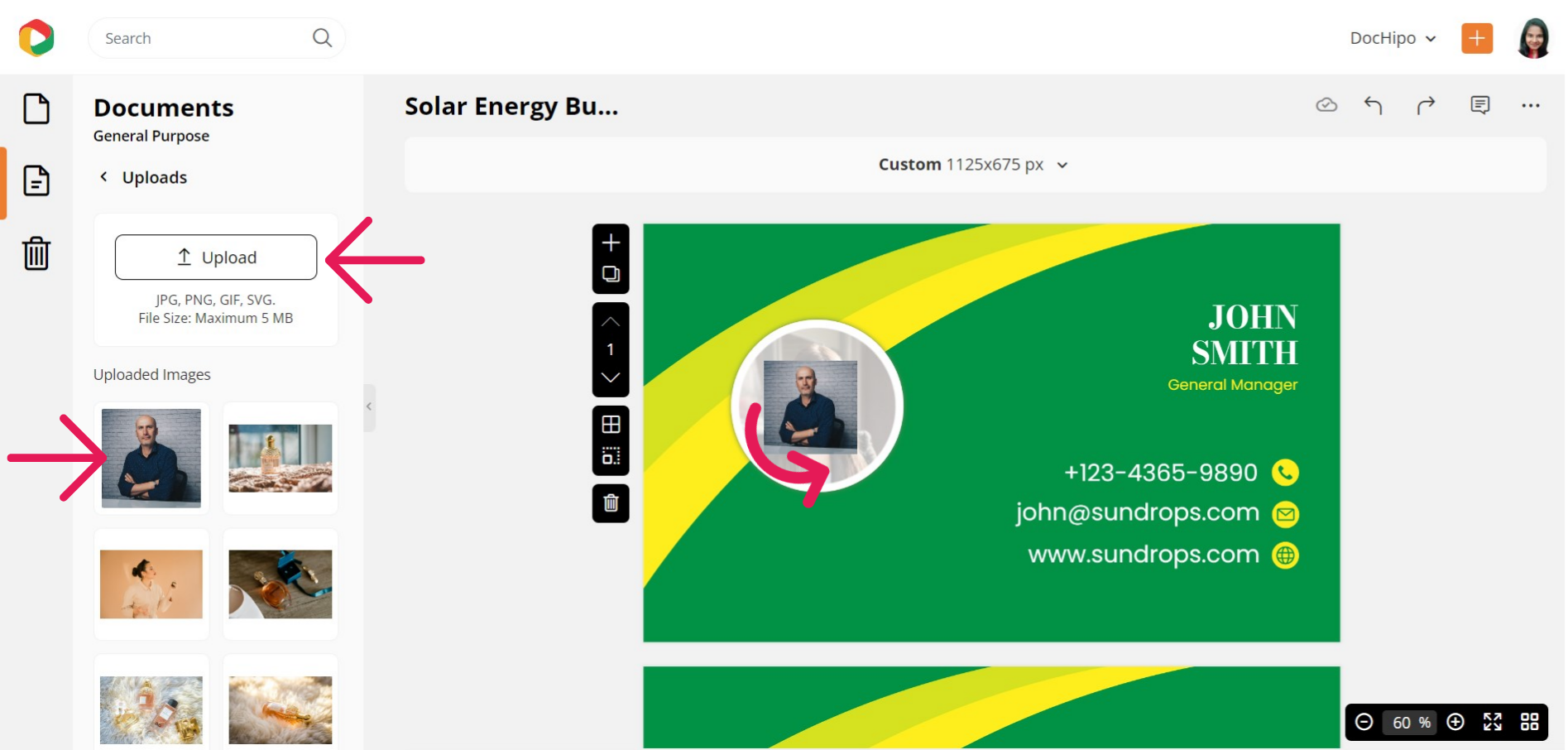 Refer to the tutorial below while uploading images in DocHipo.
To fit your image in the desired shape, select it and click 'Crop to Shape' in the editing panel above.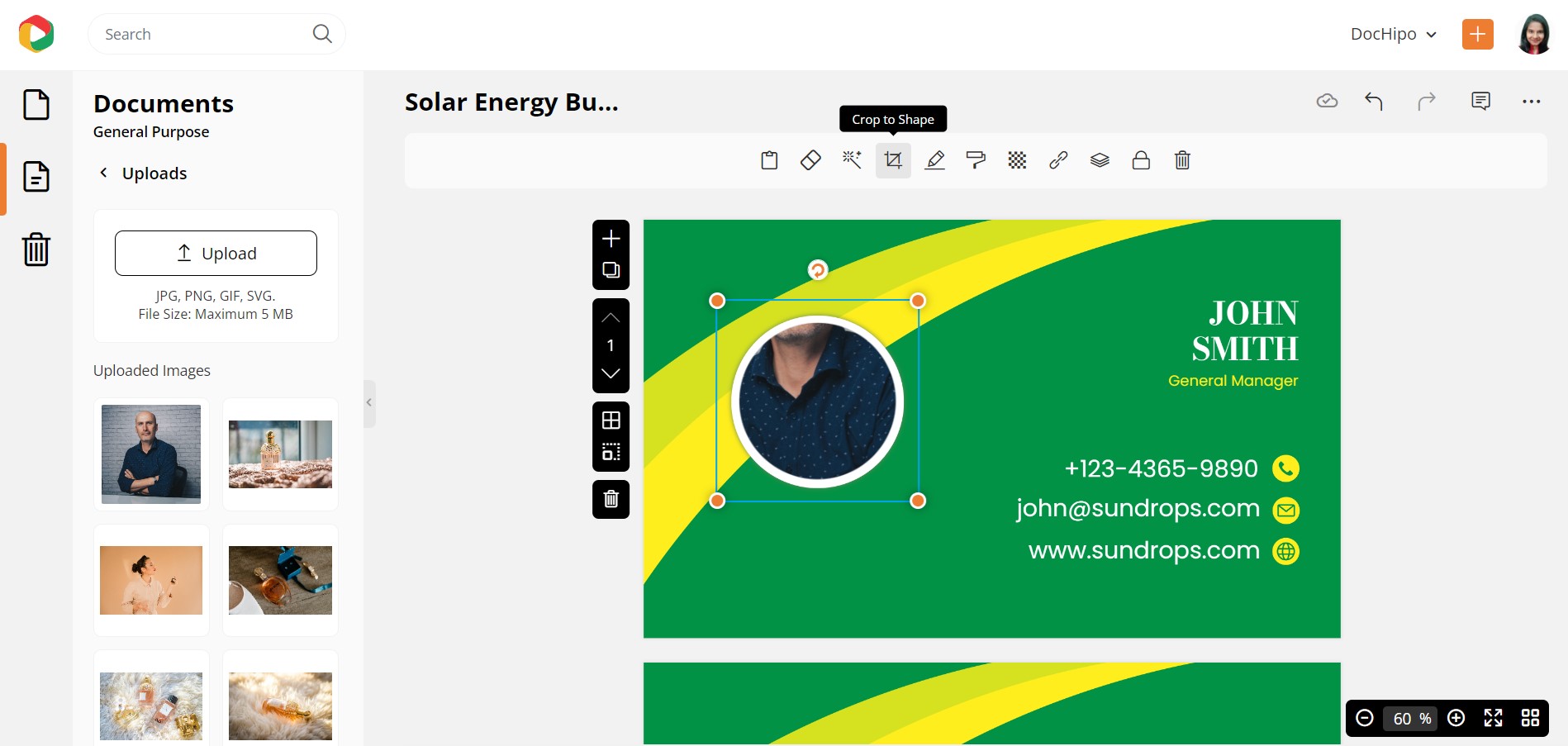 Adjust your picture using the drag-and-drop tool, and you're done!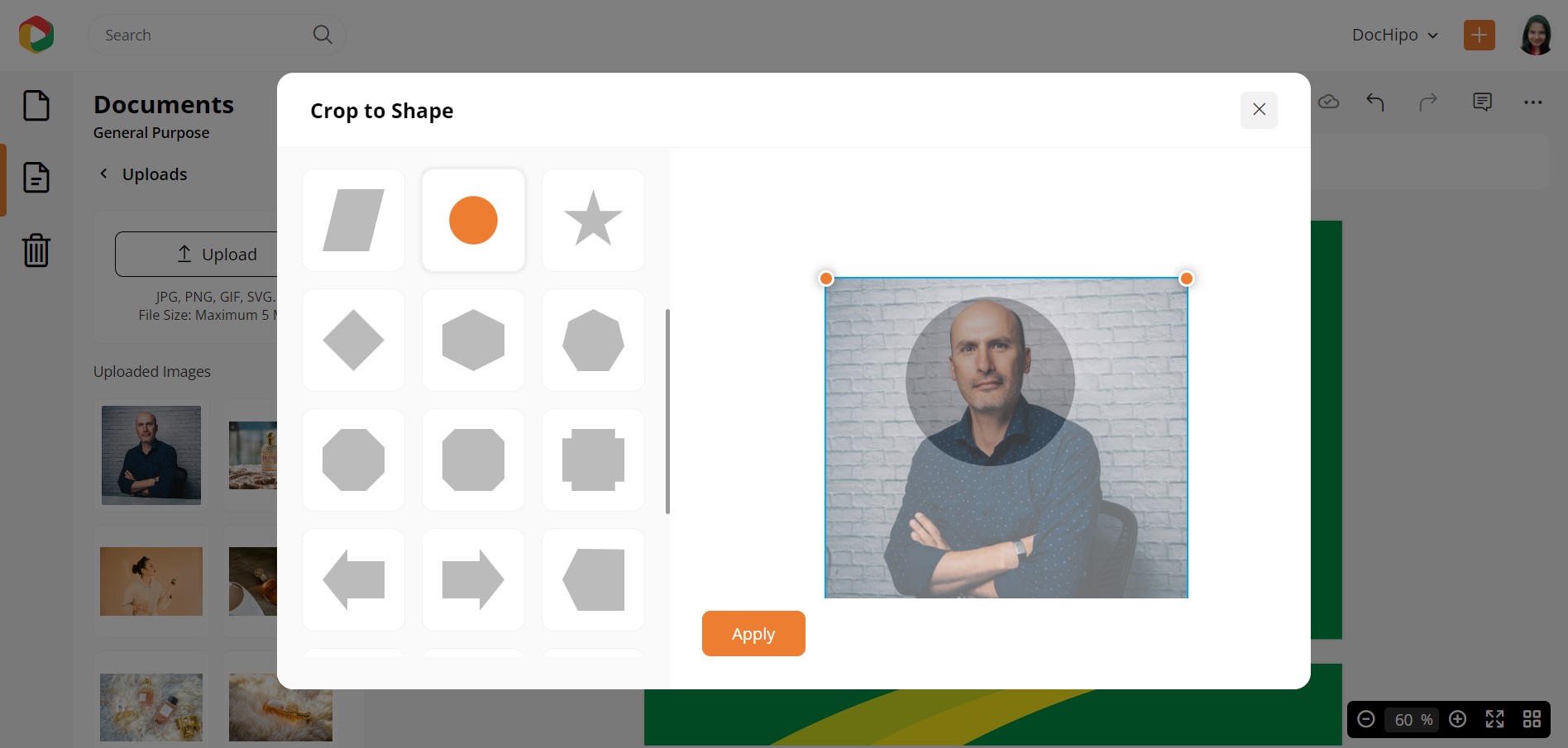 Watch our quick demo on cropping images in DocHipo.
Step 3: Download Your Business Card Design
Finally, when the design seems perfect, go ahead and download it.
For that, click the three horizontal dots on the top-right corner of the editor. Then select "Download" from the options appearing.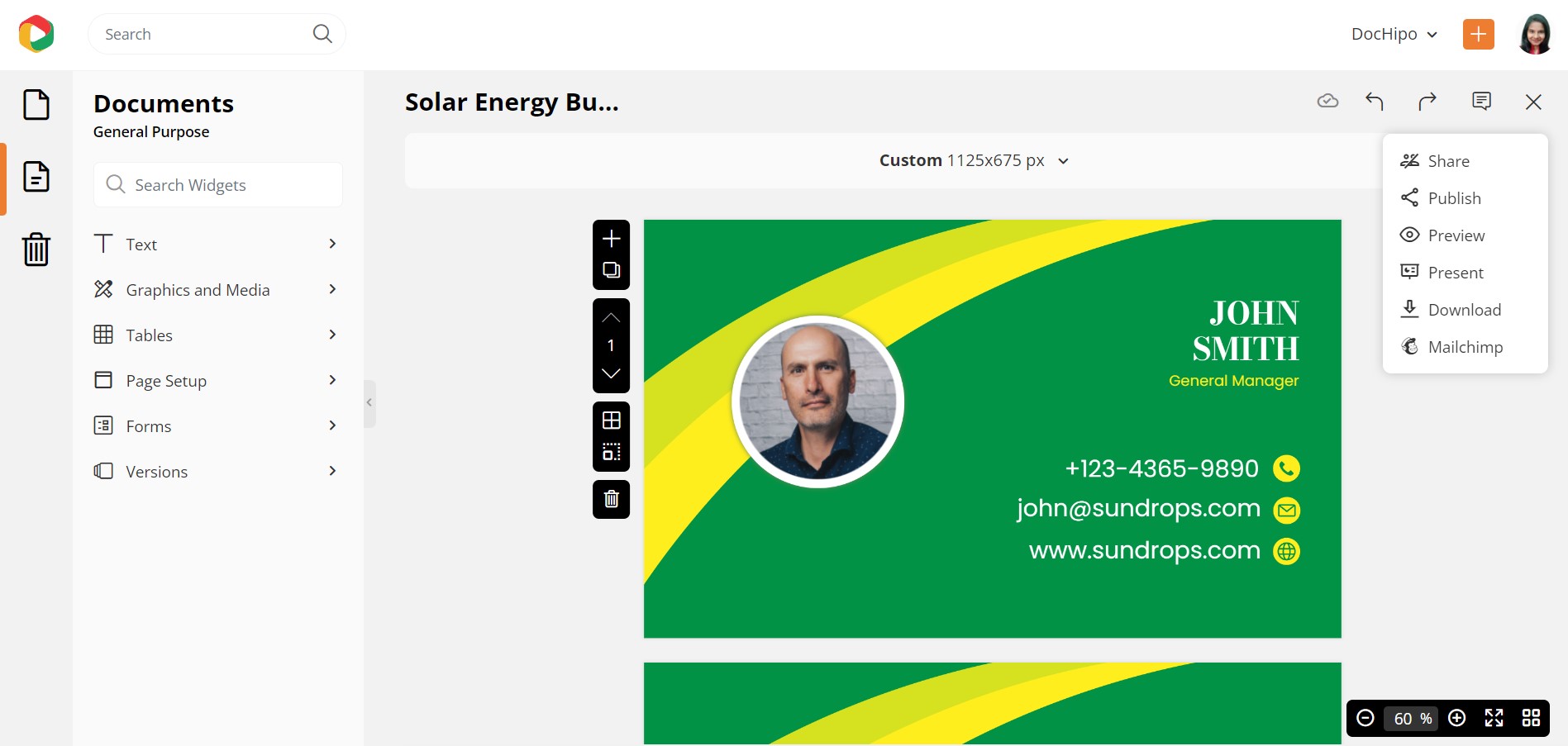 As the box appears on the screen, you can select the file type (PNG/PNG Transparent/ PDF/ JPG/ GIF/MP4) and the Quality (Normal/Medium/High). For printing out the document, you should use a High-Quality option.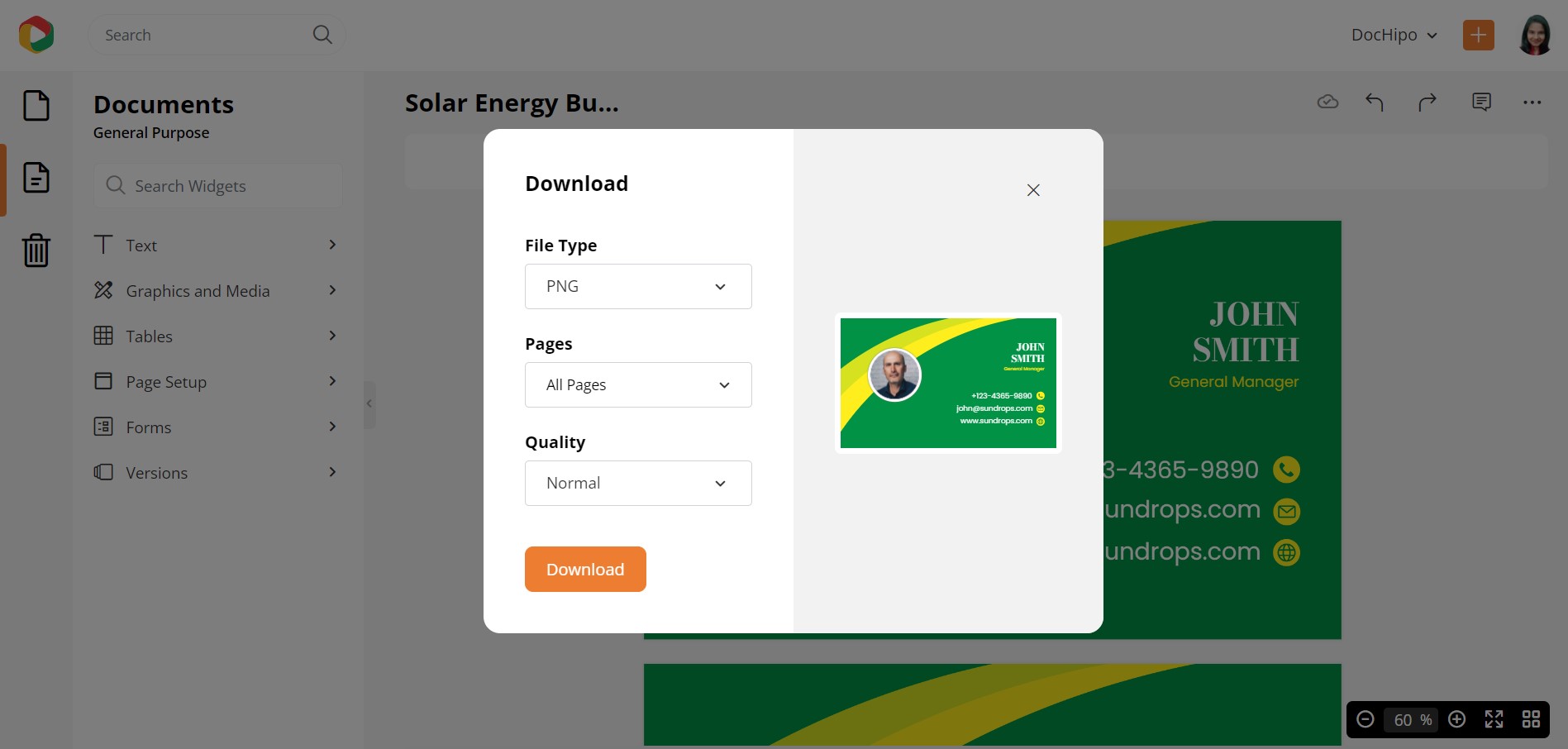 For multi-page documents like this, you can choose to select which page(s) you need to download.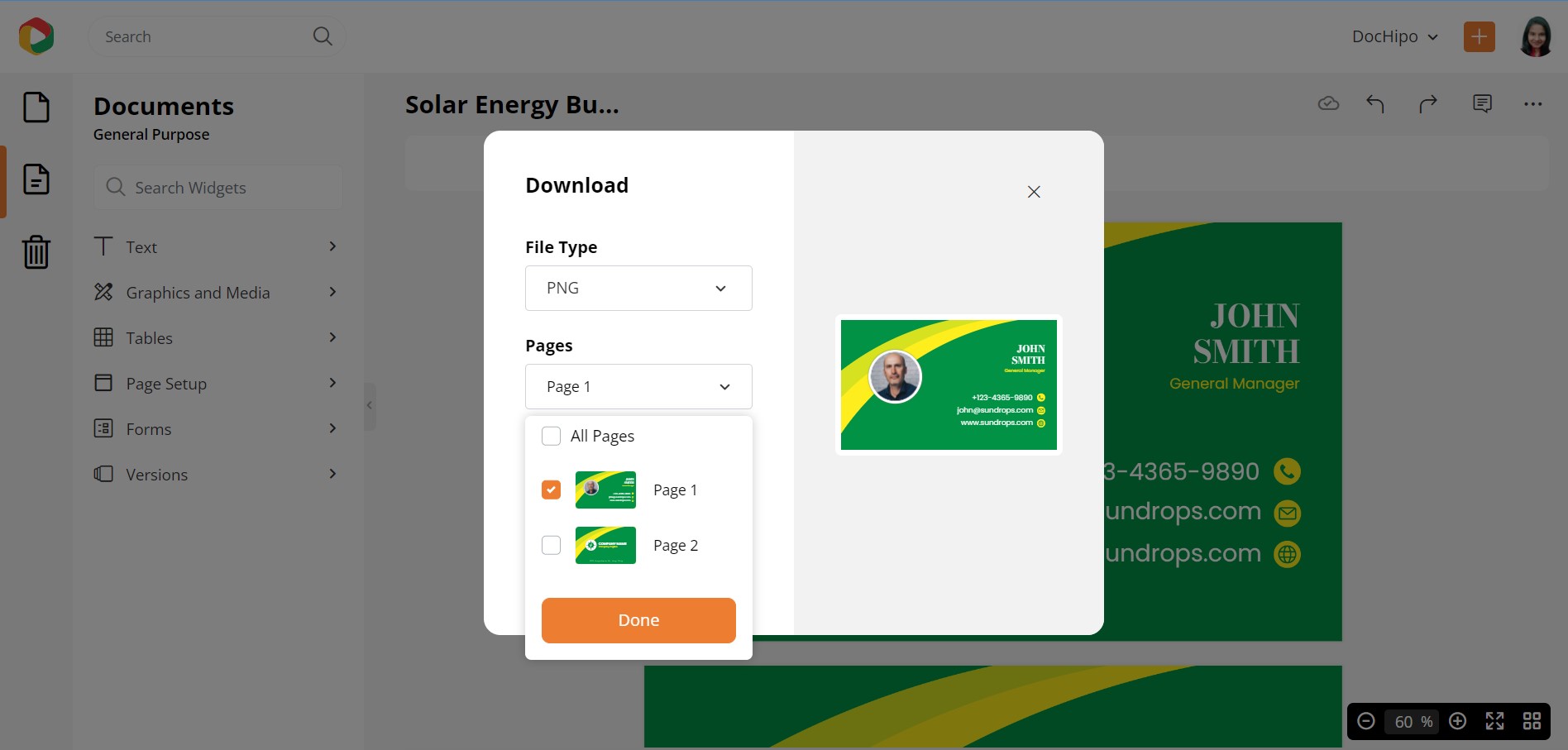 Here's a quick demo for the page-wise downloading option.
Business Card Design before Customization: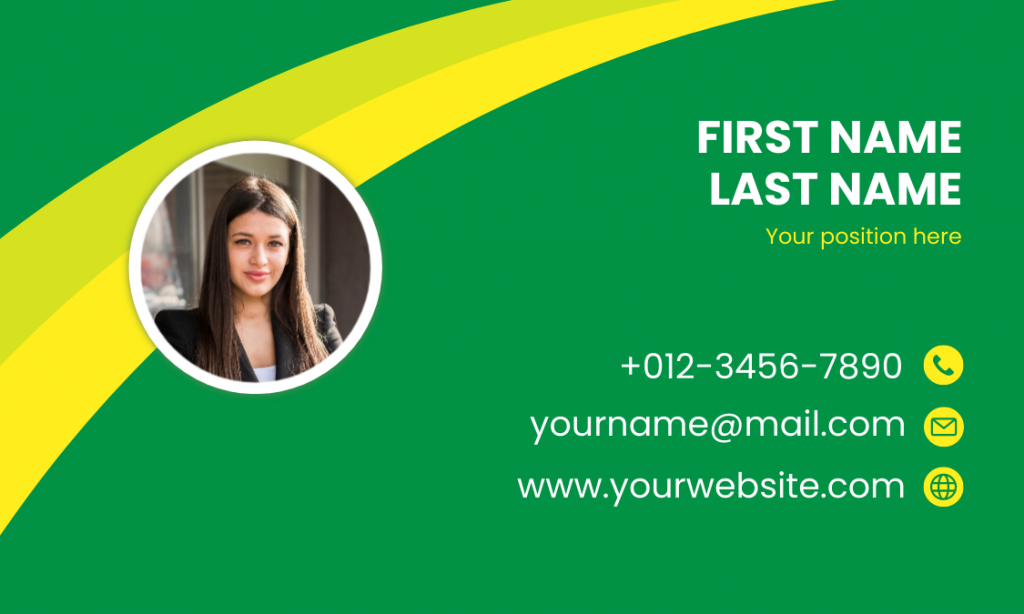 Business Card Design after Customization: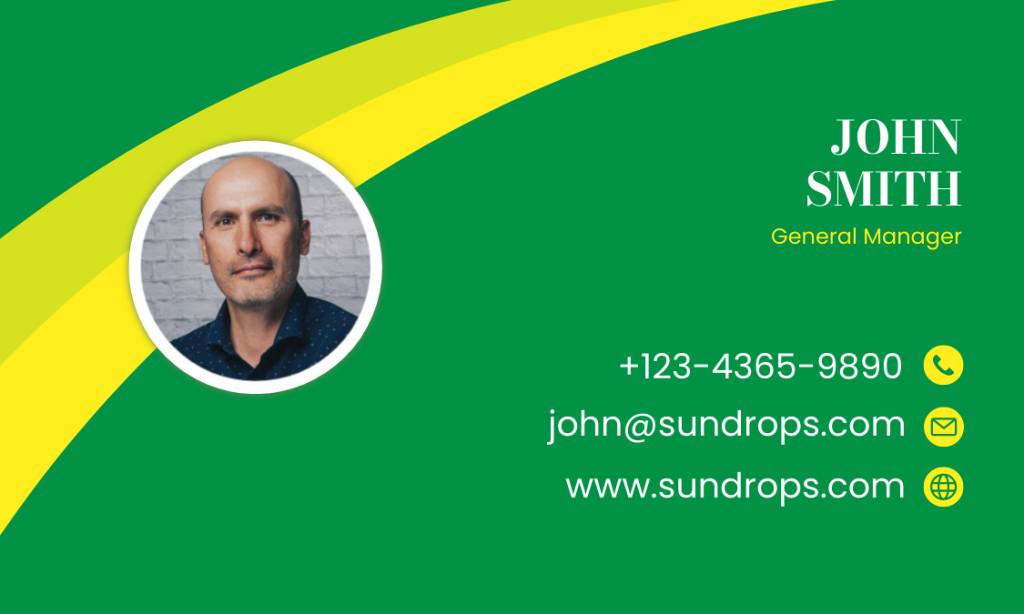 Check out The Ultimate Guide to Using the DocHipo Editor to design any document as you please.
Conclusion
Whether you are a small business or a large organization, the trend of a business card can never become obsolete and still holds equal importance in the commercial world.
Physical business interaction will often expect the exchange of business cards, which is a strategic gesture even now. Holding a piece of information stacked on a card gives a different sensation, and business cards can never grow out of fashion.
This is the reason why it will always come in handy.
To ensure your business card grabs every opportunity, you must brand it well with an amazing design.
With DocHipo always ready to help you fulfill your design needs, you can stop worrying about the creative aspects and focus on other crucial strategies, giving your business an extra edge.
DocHipo allows you to explore any design and download for any business use. This platform is flexible and ever-ready to inspire creative seekers. So, sign up now to create business card design that leaves a lasting impression.