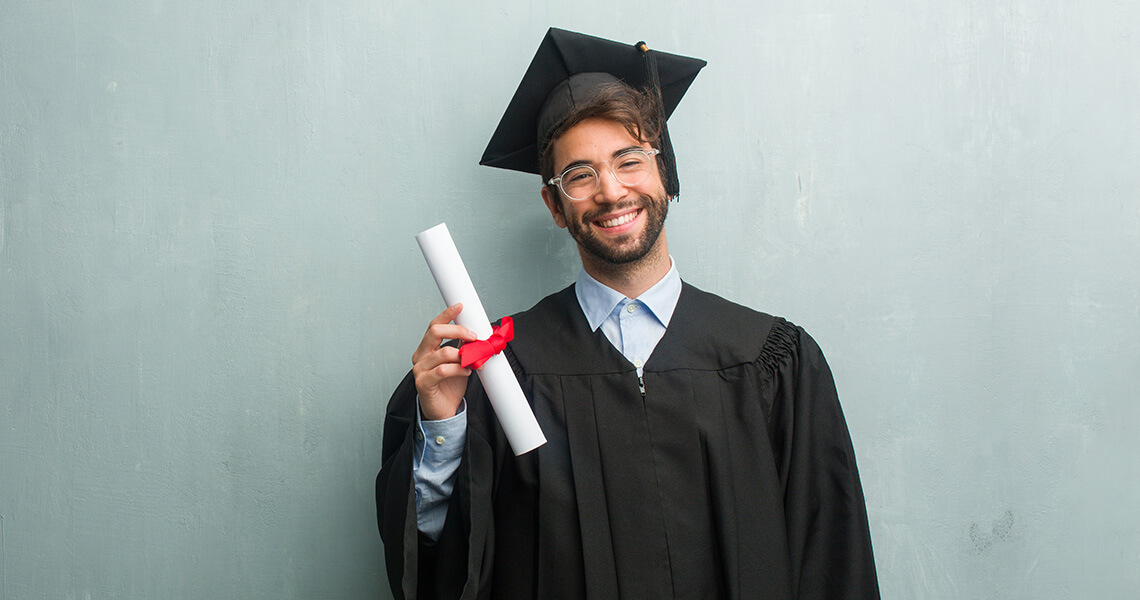 4 Steps to Create Certificates in Less Than 5 Mins

Oct 11, 2019
Certificates are testimony or proof of an accomplishment or participation. You can use a certificate at an educational institute as acknowledgment. This can serve as encouragement in the corporate world. In today's world (even for online courses), the number of people offering certificates is increasing with every passing day.
So, if you are a business, an online trainer or an institute creating a certificate, you will need to keep a few things in mind.
Branding: It is very much likely that the person you are offering the certificates to, will share it with the world. After all, it is a testimony of their hard work, dedication and skillsets. What better opportunity to promote your brand?
Quality: The quality of the certificate (presentation, design, printing material etc) is directly proportionate to the organization issuing it. Or at least, most of your audience will perceive it that way!
Information: It is obvious that a certificate must contain all vital information such as the person it is offered to, the details of his/her achievements and the person or institute offering it to him/her. Without this information, a certificate loses its value.
Now the question is, how do you create such excellent quality certificates to offer information and create brand image?
The answer is DocHipo. DocHipo comes with several beautifully designed certificate templates that you can use with minimal customization. So, let's see how you can create an awesome certificate in less than 5 mins.
1. Templates of Certificates that Match Your Purpose
The certificate template must align with the purpose you have in mind. For example, if it is to testify academic qualification, these templates bare good. If the template is for an art school or art competition, go for one that is specifically built for that purpose.
The following DocHipo templates may give you a better idea:

2. Use Proper Branding on Certificates
As mentioned above, certificates can be potent branding weapons. Although branding is not the primary objective, when used mindfully certificates can foster brand image.
So, before you start working on the content part, make sure that you have customized the template as per your brand colours. If your brand colour is orange, you might want to customize the template as shown below: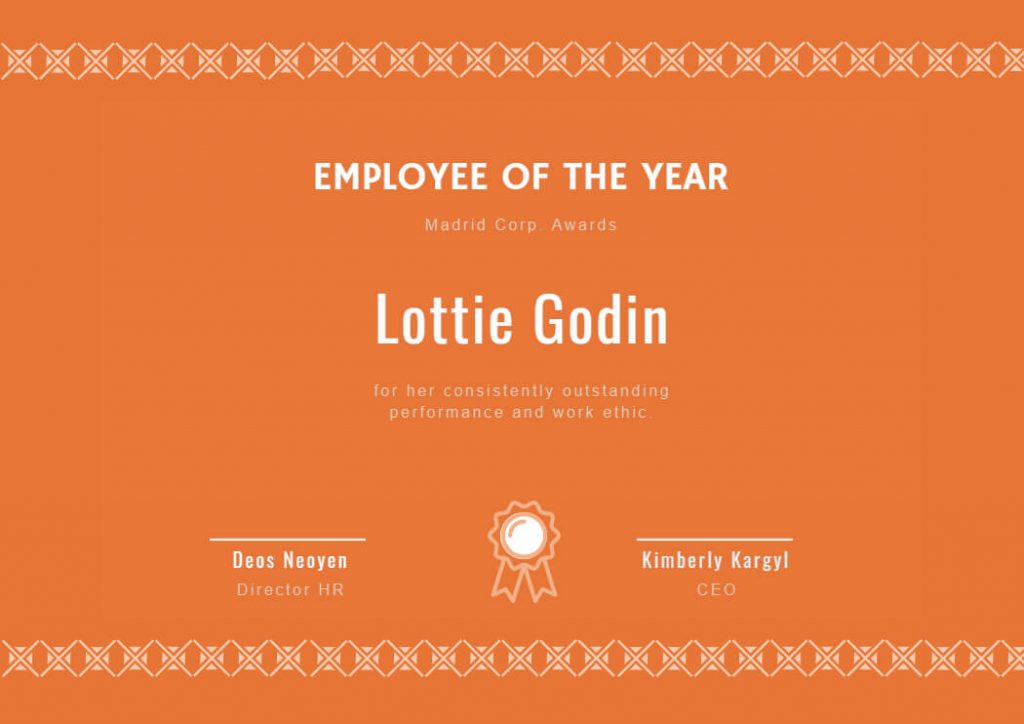 And it took me a few seconds to change the entire colour scheme. In case you have two colours that you use for your branding, you can use the contrast too.
3. Modify the Text to Suit Your Requirement
This is the obvious one. You need to modify the content to suit your requirement. You may want to change the fonts as well to suit your branding. DocHipo comes with all free Google Fonts and more. So, you can very easily modify any existing template with the fonts that are used for your branding purpose.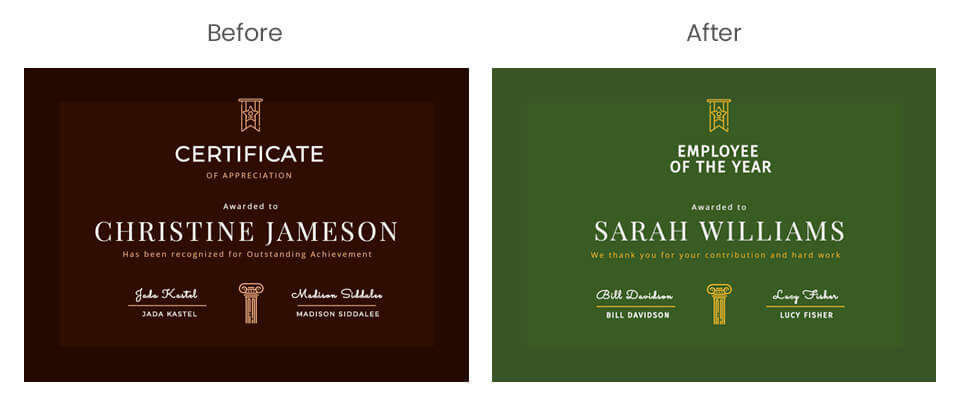 Believe you me, it took less than a minute to change the content, customize the font style and get it ready for use.
4. Be Mindful of How You are Using the Certificate Templates
Traditionally certificates were printed and handed over in person. These days, a lot of institutes and organizations offer online certificates. And DocHipo gives you a lot of flexibility with features like photo editor, design widgets and amazing integrations. You can download the certificate you've created in PNG or PDF format and share the same via email.
In case you are planning to print the certificates and hand them over (like the olden days) make sure to download the high-quality PDF.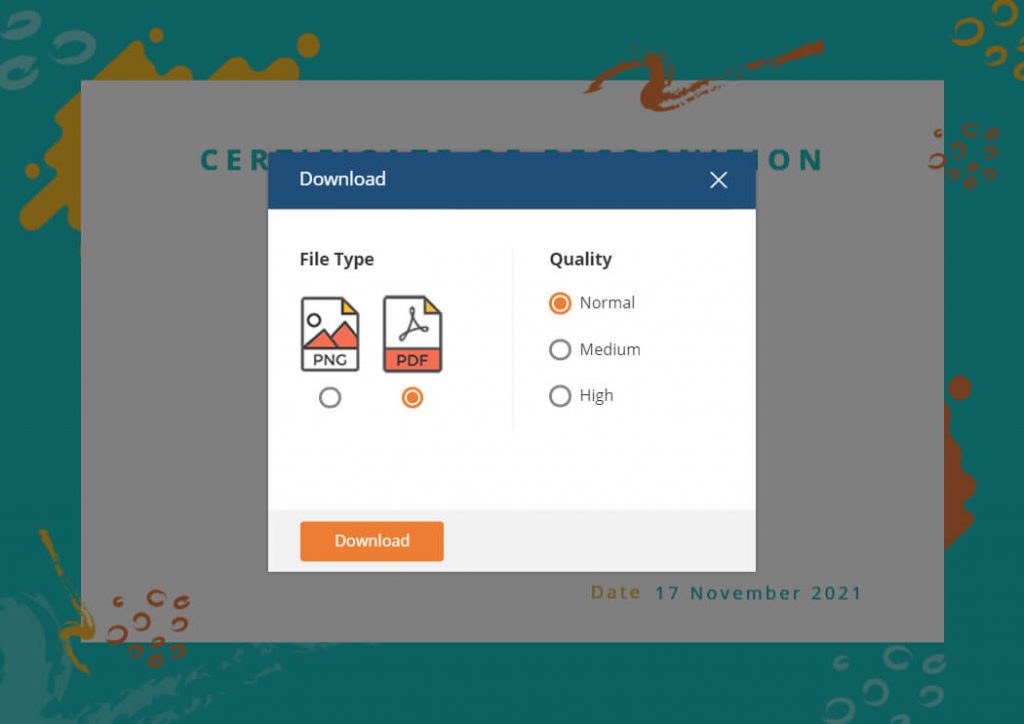 Last Words
Offering a certificate with or without any other award can be a great way to keep your team motivated. this act adds credibility to the courses or training you are offering. And with DocHipo in place you can create your very own certificates, complete with essential branding efforts. It is cost-effective, less time-consuming and it offers you complete control over how you want your certificates to look like.
So, what are you waiting for?
Sign up for DocHipo today to take your brand value to the next level! DocHipo is absolutely free to get started. So, hurry up!