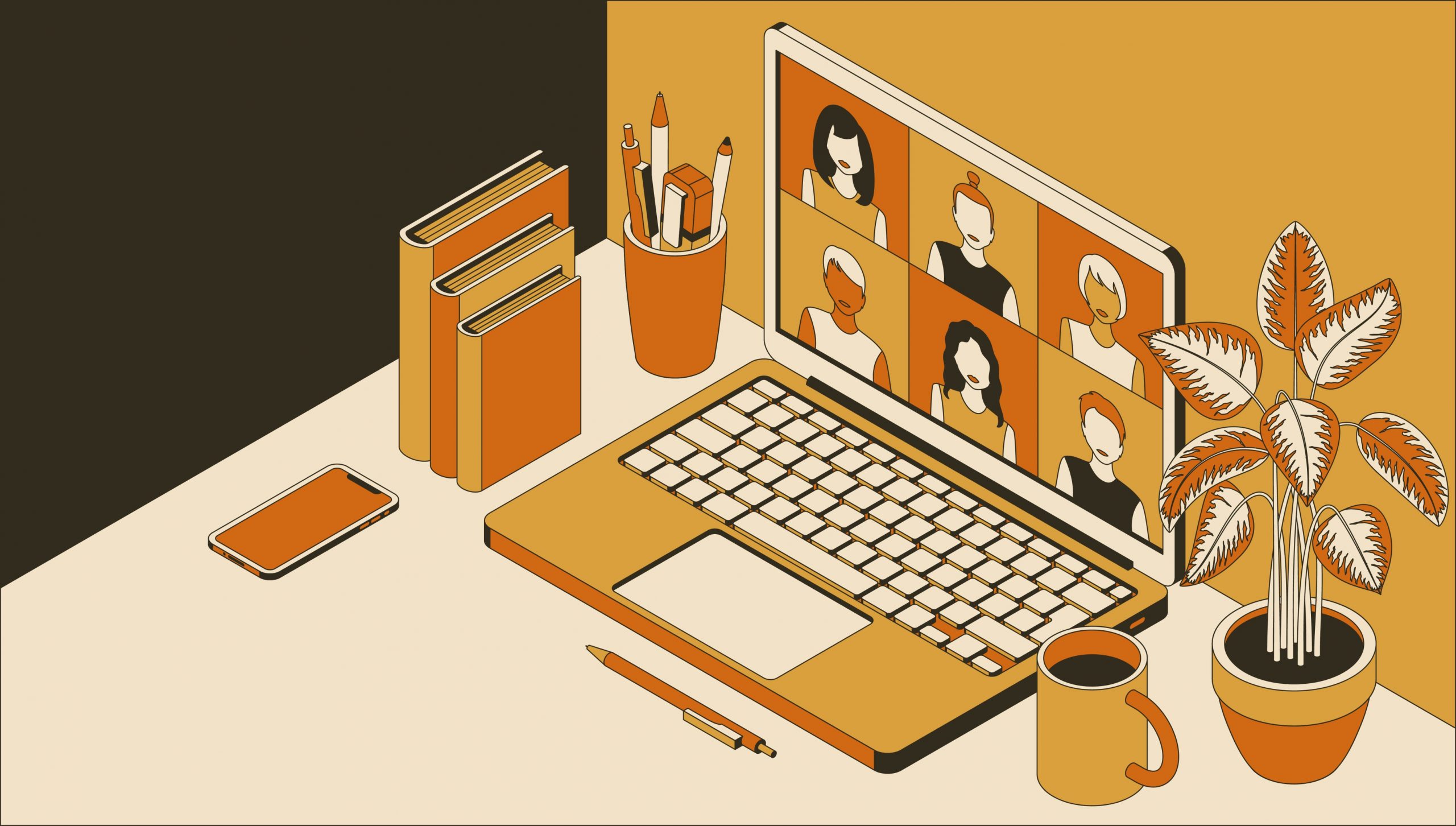 Branding Joe: Joe Get's a Request for a Webinar on Facebook

Last Updated Nov 20, 2020
Hey!
I hope all my lovely readers are doing awesome like always…
Guess what? I have exciting news to share with y'all. Recently, I have been receiving loads of requests for a live webinar on Facebook. So, I have been thinking of unleashing the next step on the social media platform to make it up on the top.
Yes! It is going to be a webinar this time, conducted on Facebook.
So, here is the backstory.
A few days ago, I saw my Facebook messenger flooded with texts from different organizations and individuals. Most of them requested me to participate in their online programme about Self-Development, where I have to present a webinar.
After reviewing all the messages, I decided to go ahead with an NGO that imparts life-skill training to underprivileged teens.
So, in this article, I will share with you the crucial factors that I considered while preparing for this webinar. Also, I will share how I created my presentation for the webinar on DocHipo.
5 Key Factors to Keep in Mind When Creating a Webinar Presentation
Before discussing the important elements that I taught in the presentation, let us first understand a Webinar.
To put simply, it is a seminar conducted on the web. Hence the online version is called a Webinar.
So there is not much of a difference between a seminar and a webinar. The major difference between these two is the mode through which it is being delivered. A seminar is presented to the audience physically in a designated place. But a webinar takes place virtually.
The distinction might not seem huge as an audience, except that in seminars, you have to dress-up and move from one place to another; whereas, in webinars, you can participate while still clad in your pajamas.
But for a presenter, this difference is a big deal!
To understand this, let's check some statistics:
32% of audiences stated that they enjoy a webinar when the presenter is excited and passionate about the topic. Also, 48% of them said that they least enjoyed a webinar when the presentation was poor.
To be honest, terms such as "Poor presentation" and "Passionate presentation", are intangible and abstract. Hence unlike seminars, where both the presenter and the audience is physically interacting, it gets really difficult to express such attributes on a display screen of varied sizes.
So, to make the webinar a success, I considered focusing on these 5 crucial factors.
1. Target Audience
This is the base on which your entire presentation will be standing upon.
Ask yourself some questions before working on it:
Who are your audiences?
Why are they listening to you?
What are they expecting from this webinar?
In which platform will the webinar take place?
Sit with yourself and try to answer these questions.
For instance, if I share my answers, then this is what I will discover…
The first factor here is that it is for an NGO, who is aiming towards providing life-skills to underprivileged teens. So, the participants here are the members and the trainers working in the NGO.
Now, they are listening to me because they are seeking ways to sharpen their empathic abilities to understand and communicate better with their participants regarding life skills. Not to sound fancy, but you do get more understanding towards others, once you start accepting yourself as an individual.
Also, while answering the second question, you must evaluate how you can establish your authority and credibility as the knowledge provider. What special credits have you earned through which you are in the position to share your expertise?
Coming to the third question, here you have to evaluate the expectations that your attendees have. Although expectations are relative in its own ways, you are allowed to generalize the key objectives that you want to achieve. In my case, the participants expect to know potent tricks through which they can have a better way to understand and communicate with their audiences.
Finally, think about the platform on which the webinar is going to take place. For example, a social media platform usually brings in a casual feel within the audience. Whereas a professional company site or something similar stimulates a serious attitude. Hence, you can structure accordingly.
2. Proper Research
Today, you get all the information over the internet. So, you can easily gather data and draft amazing presentation contents.
The more knowledge you gain the better you can communicate about the theories. Also, you will be ready to answer the questions that can be asked by your participants.
Check different webinars of a similar topic on both social media and on other online channels. Observe how other presenters have dealt with it and what comments did he/she receive.
While observing the comment, try to evaluate what was good about the presentation and what was bad about it. Then try to think about how your presentation can be different and better.
Good homework is what it takes to produce a webinar that will incite excitement within the audience. After all, you have to make a stable place in this domain, so that you get more requests.
To share my research, life-skill itself is a very broad term. So, after browsing the net for hours and hours, and also reading books, I realized that it will be good if I take one aspect from this theme, and talk about it. In this way, my audience won't feel overwhelmed and understand this complex yet interesting topic.
3. Speaking in an Engaging and Interactive Way
Considering the fact that webinar is an audio-visual thing and is dependent on speedy wifi, speaking online can be challenging!
But, again these are issues that are hard to command. So let's go beyond this point and talk about those factors that are in your control.
The first trick to present your webinar in an absolutely flawless manner is to accept that it is natural for every human to pause, hesitate, and fumble words while speaking for a long duration. Once you get relaxed from this performance pressure and the anxiety, let's move on to the other critical aspects.
So, to begin with, the introduction (the first 60 seconds) that you speak should immediately grab the attention. The first punch sets the overall mood and interest. Also, make sure you do not speak blandly. Your sentences must have an undulated tone, this will increase engagement.
Give short pauses in-between your talks so that your audience can process the information. Keep your gestures limited but not absent. It is ok to appear all pumped-up and excited.
Another interesting way to engage with your audience is to share stories. Stories are an exciting way to encapsulate facts and exchange information. Also, people can relate better with stories, as the narrative makes the information more relatable.
Especially being a Life Coach, my presentations inevitably have stories, and at times I don't mind sharing my personal encounters of life. This helps my audience to connect with me better.
4. Choosing the right Background
This is actually not a very significant point, but if inculcated then your online video will have a better look and feel.
Honestly, if possible, try to conduct the webinar in a space that does not have too many distractions. If your background has too many objects, then this will distract your audience from your sessions.
Hence, they will remain unmindful throughout the webinar, which is not an ideal thing to happen.
5. Presenting Information visually via Presentation Slides
Research stated that from the total information that gets retained in the brain, 90% comes from visual sources. 
Hence, a webinar that consists of visual slides can make the presentation interesting, engaging, and easy to understand.
A presentation slide that has been properly laid out with bullet points and beautiful visuals can crack the deal for you.
When you present a topic via proper slides, it makes you look like a professional who wants to spread the message to his/her audiences.
But, the first thing is to keep the presentation within the time-limit. When you cross the limit, then the only option you get is to rush through the slides, which will blow up the webinar. Also, do not keep it too short as the audience will feel inadequately informed.
If you ask me about how many slides are ideal for a webinar, then I will say it depends on you.
Let me share how I am doing this:
My webinar is not going to be too long, around 30 minutes.
Now, numerically, a minute should have 1-2 slides. So, based on this calculation if the presentation is of 30 minutes, then I should have around 30-60 slides. But, since it all depends on the time taken to explain each aspect on every slide, so I will start with 25-30 slides. Then I will rehearse the entire presentation and see when I am completing it.
It is alright to end the presentation a few minutes before the exact time-limit.
Not to forget, I have to do a lot of initial talks in the beginning. Also, I just cannot simply say "Thank you" and cut-off. I have to end in a positive way that lingers in the mind of my audience.
Create an Awesome Presentation in DocHipo
You heard me right!
You can even make stunning presentations at DocHipo!
I am excited to make one for myself. The thing is, there are lots of things I need to focus on when creating a presentation. But thanks to DocHipo, I do not have to worry about my slide designs.
The presentation templates at DocHipo are unique, fantastic and brilliantly serves my purpose…
Let me show you the template that I chose: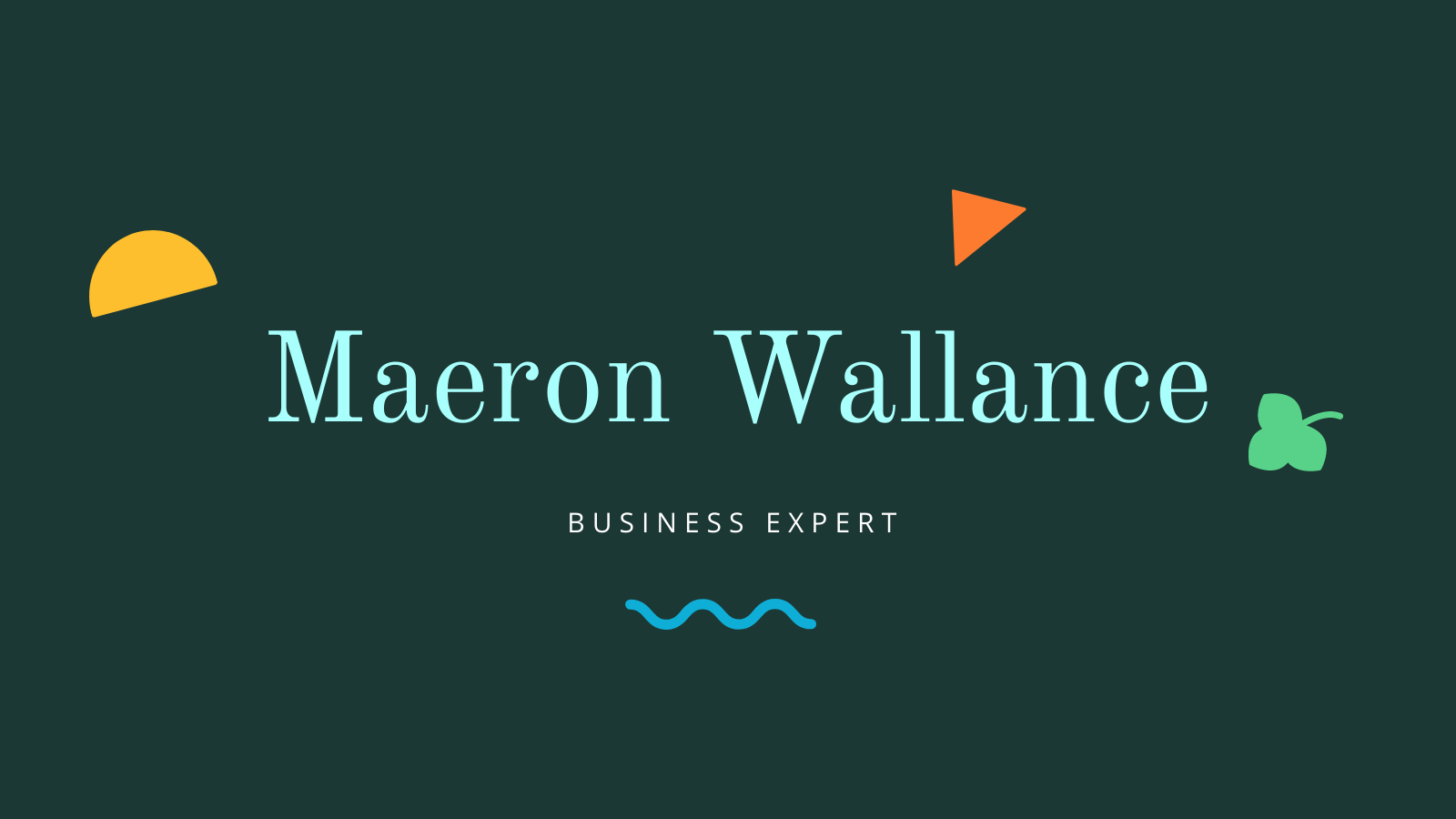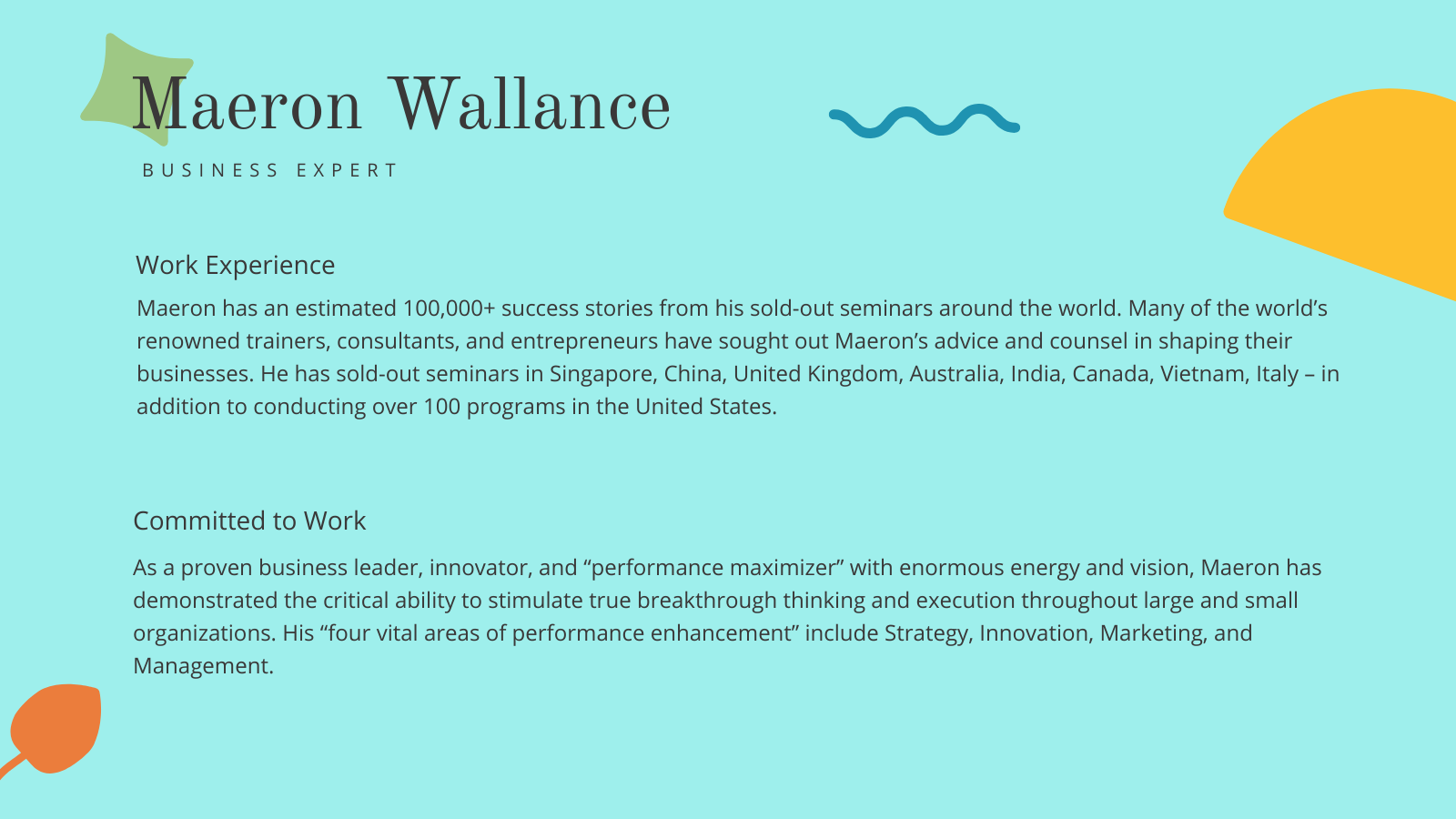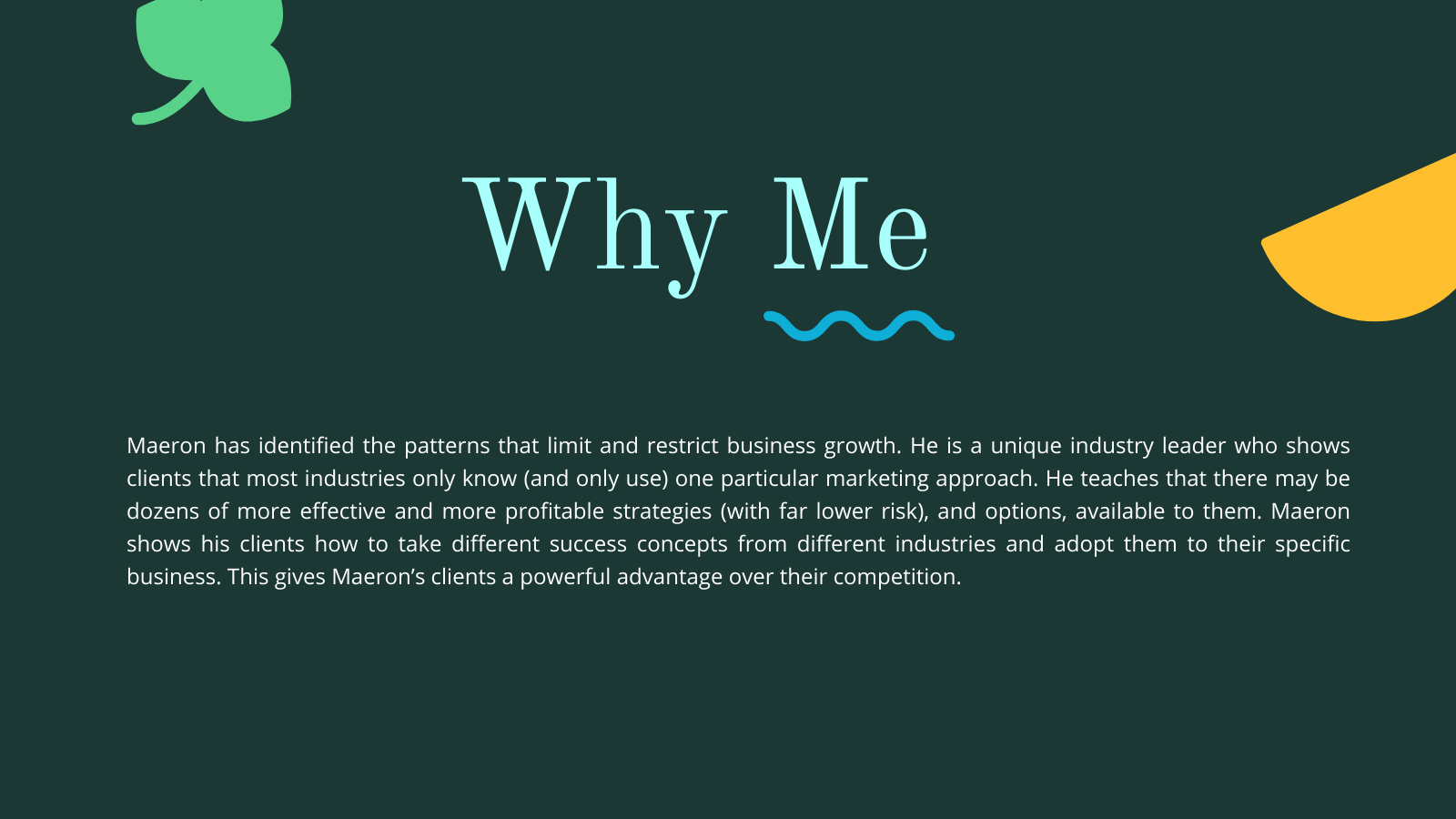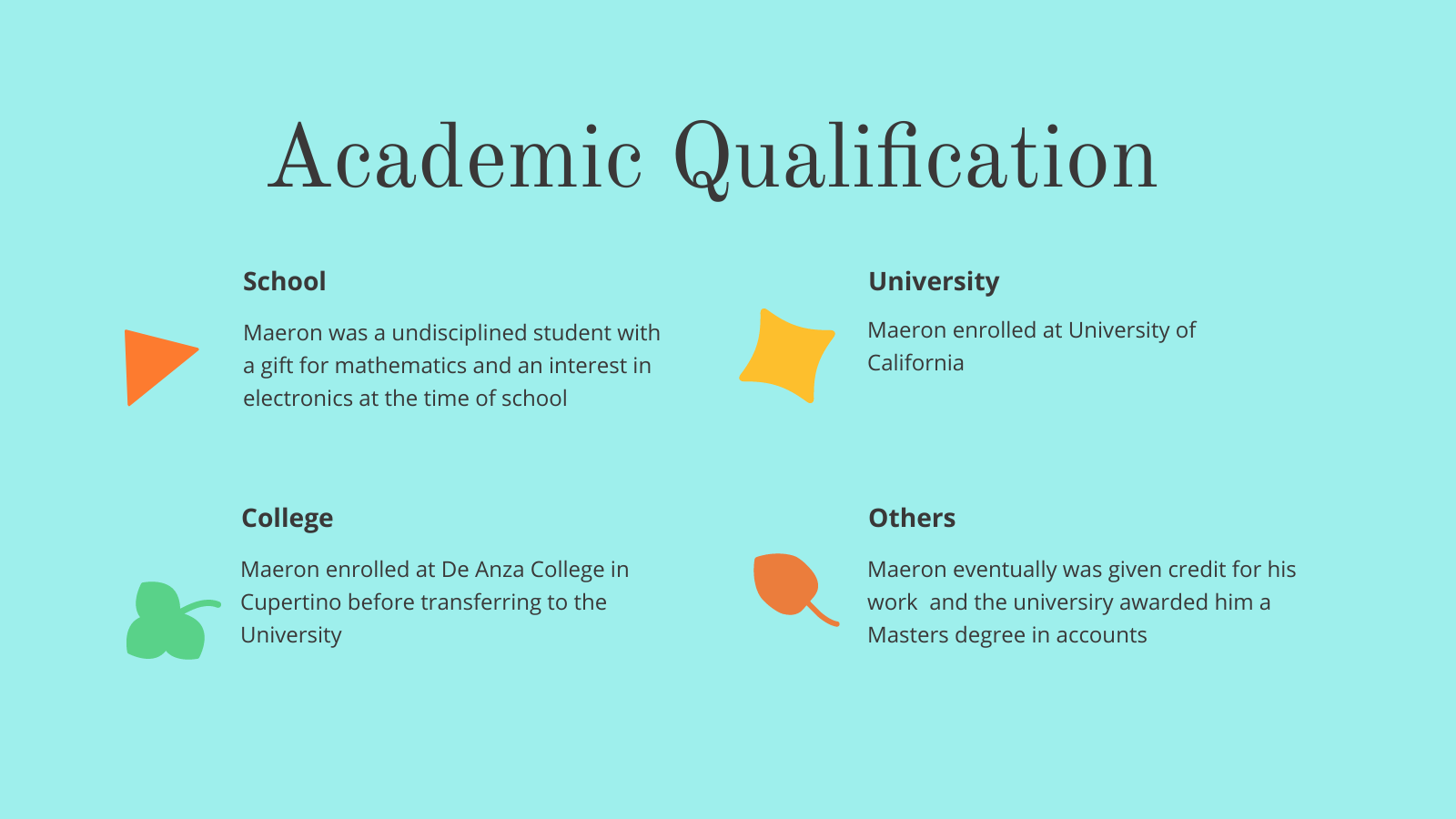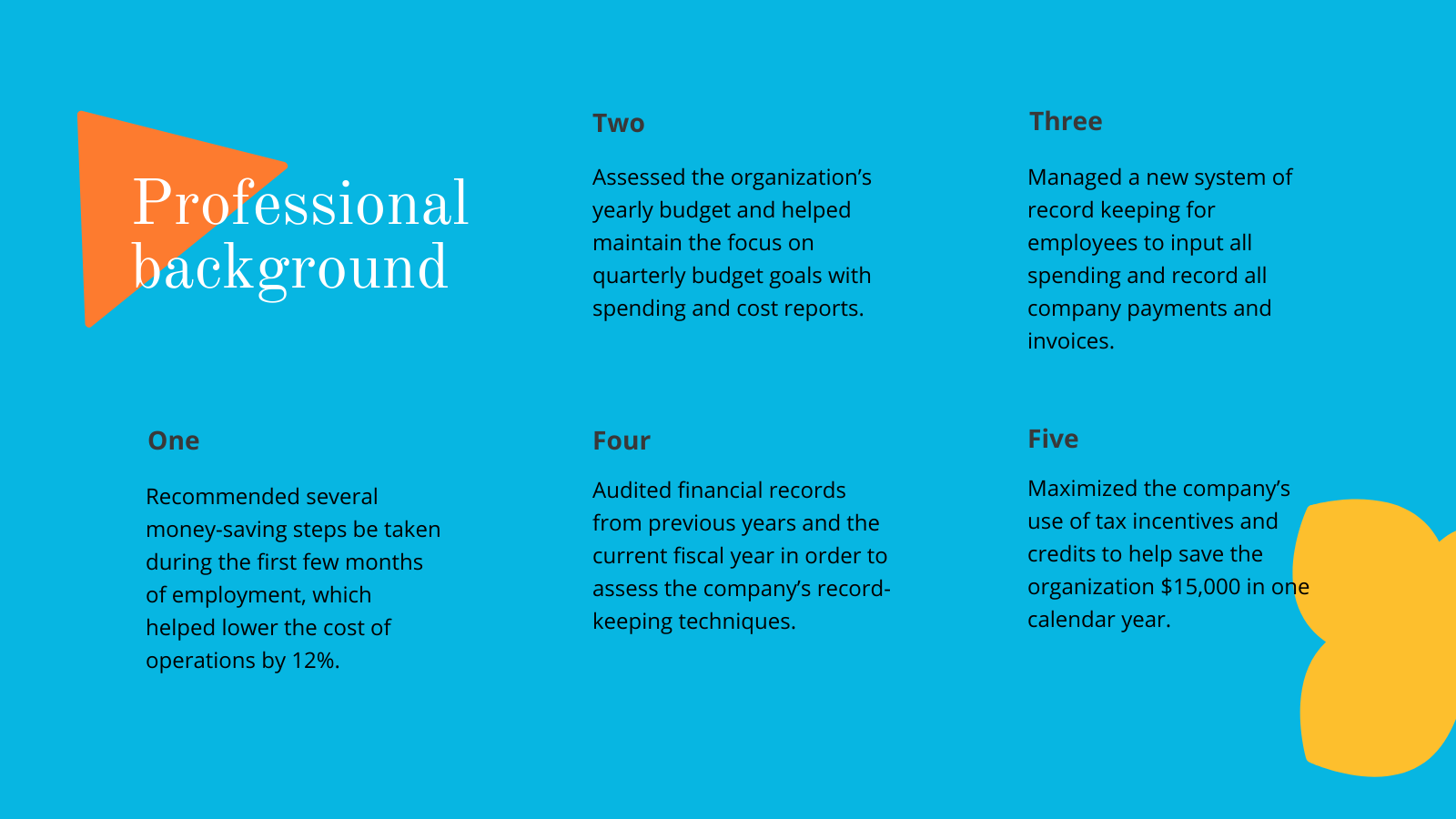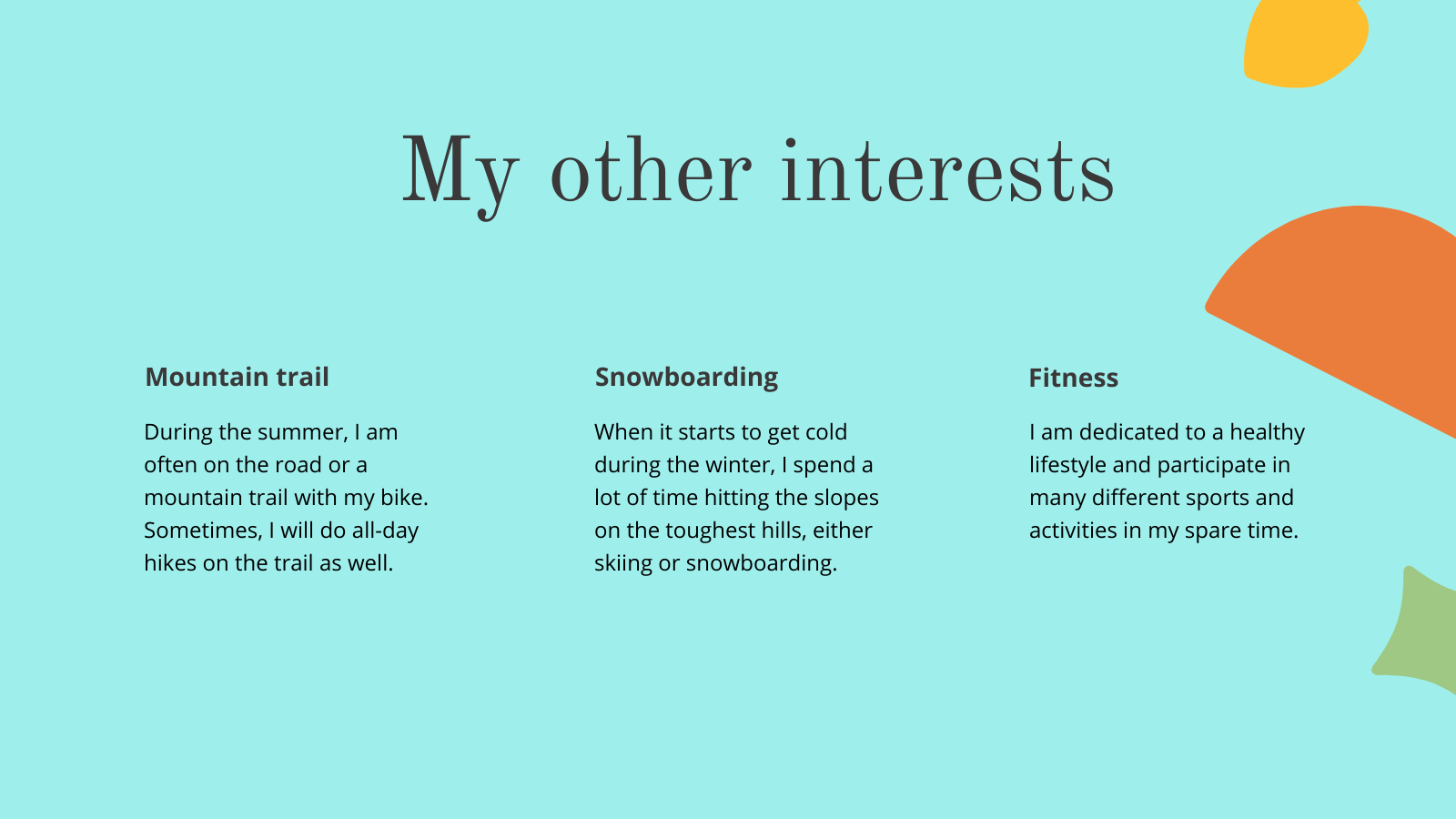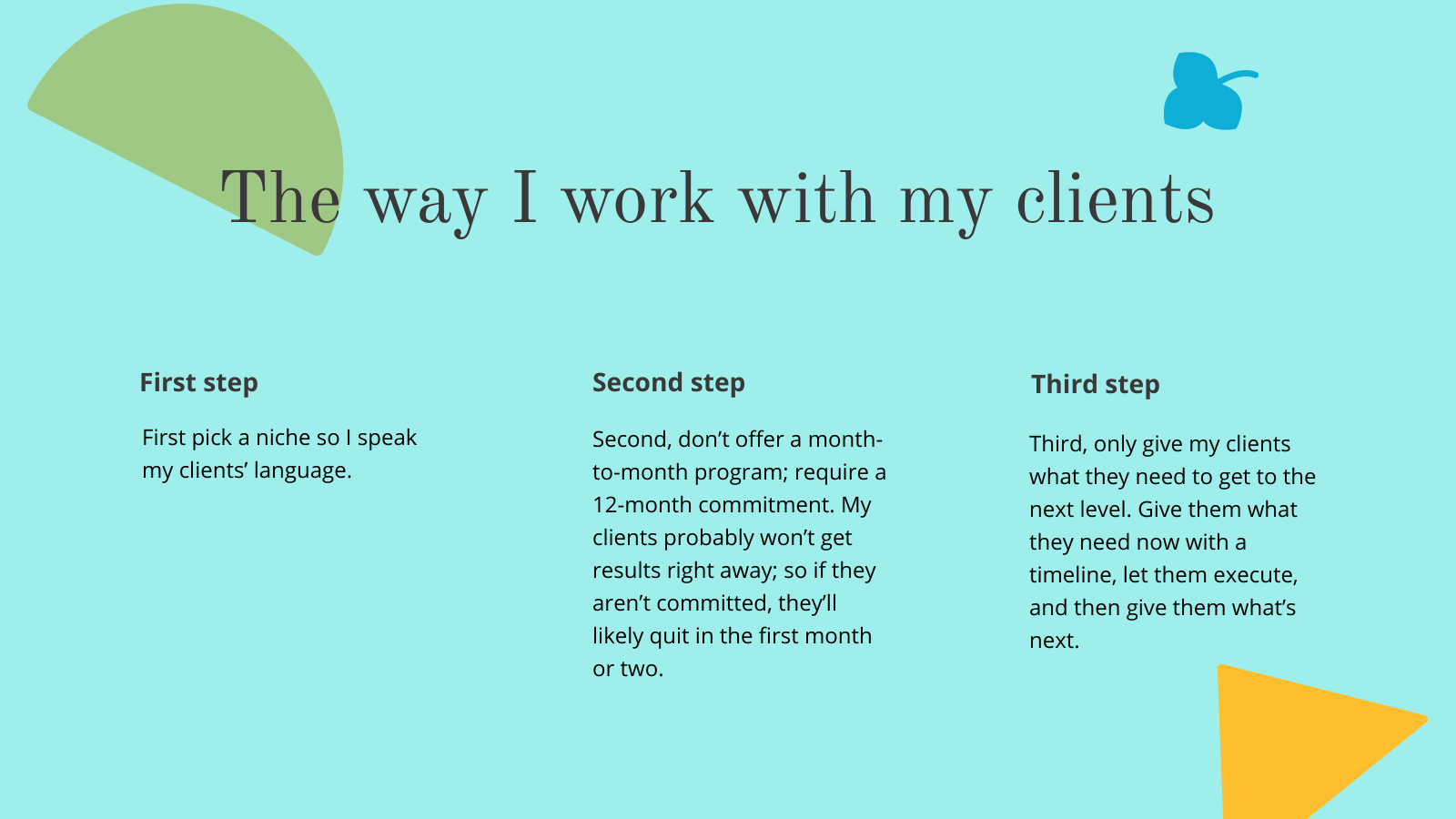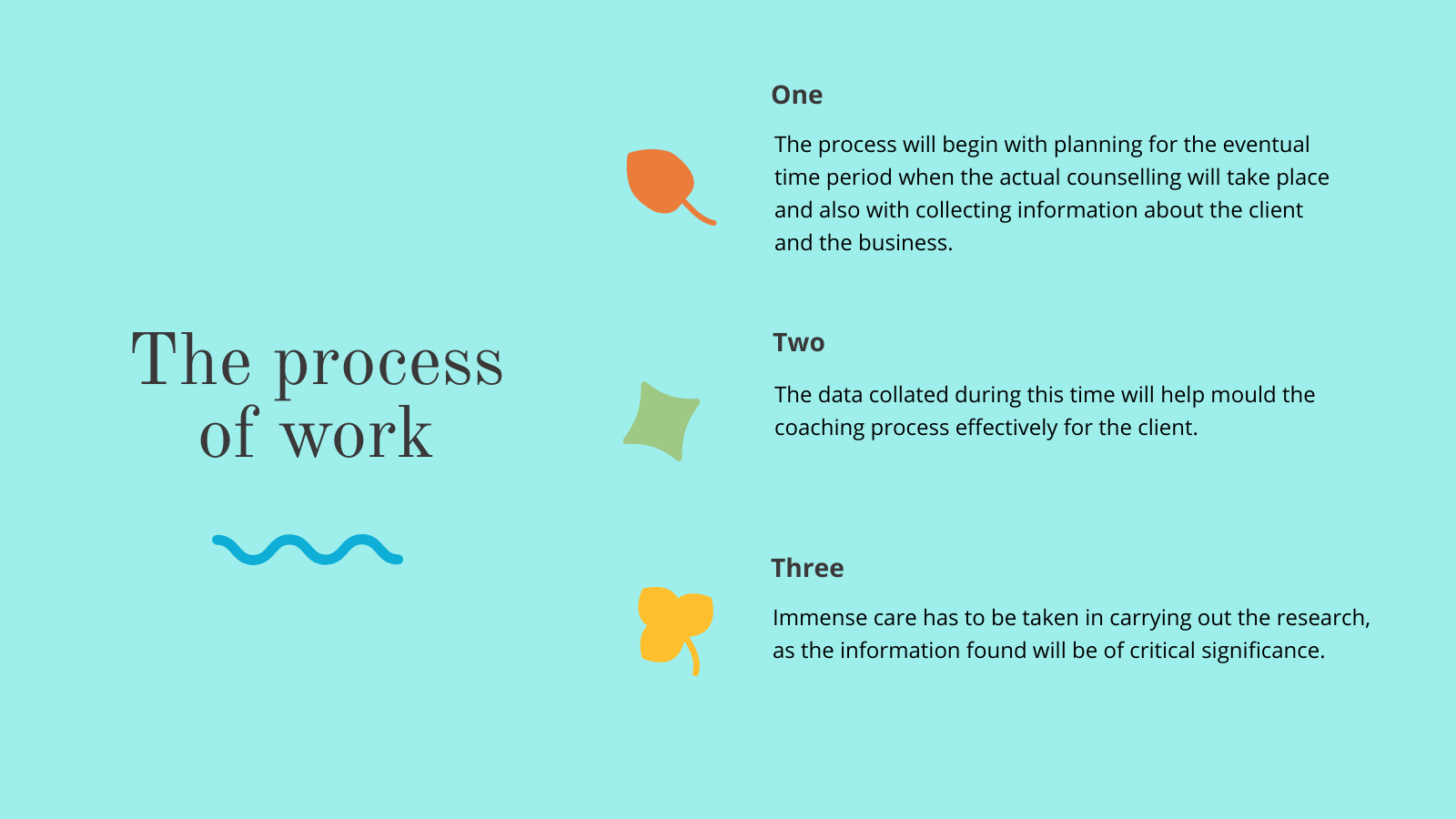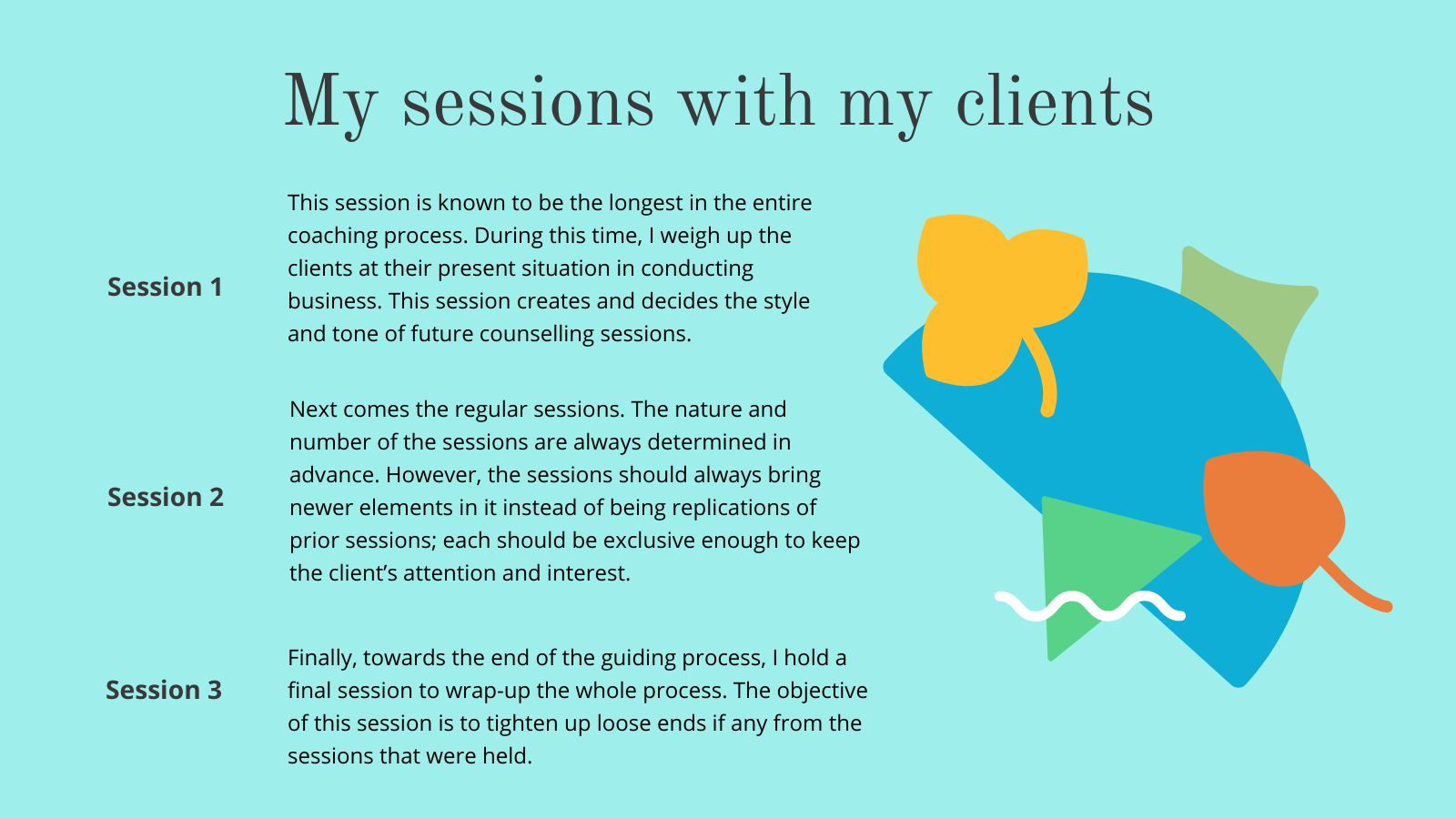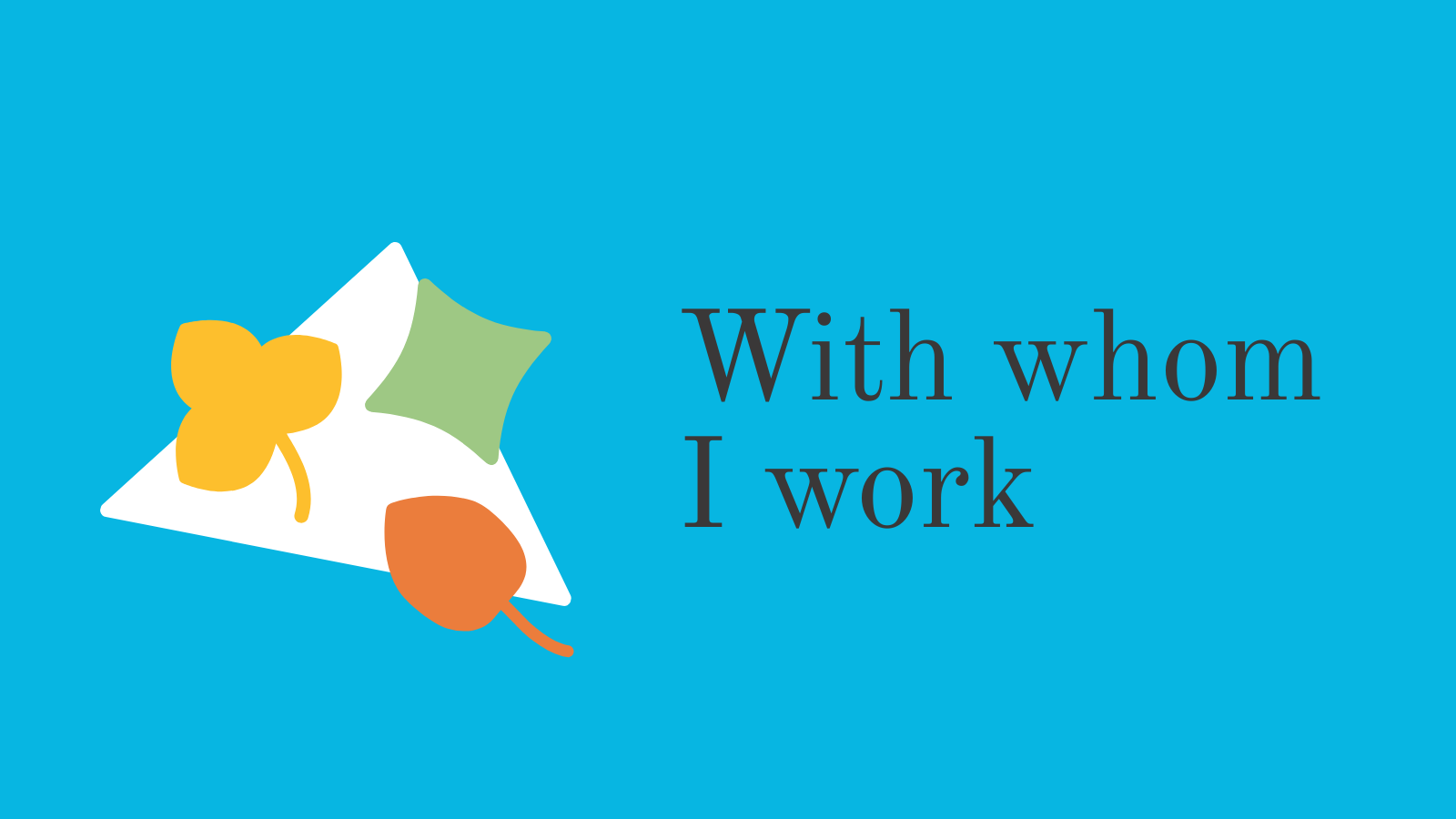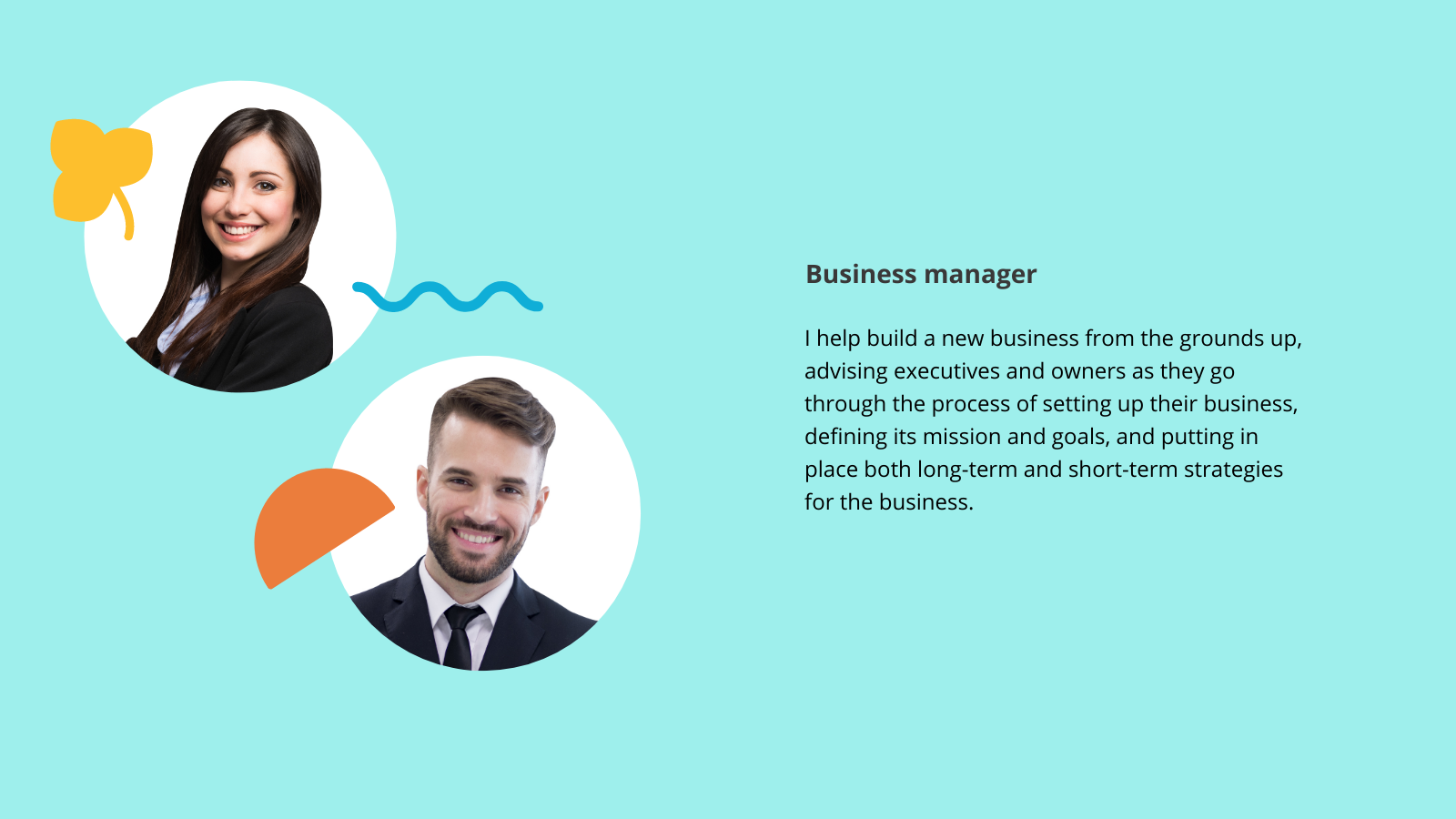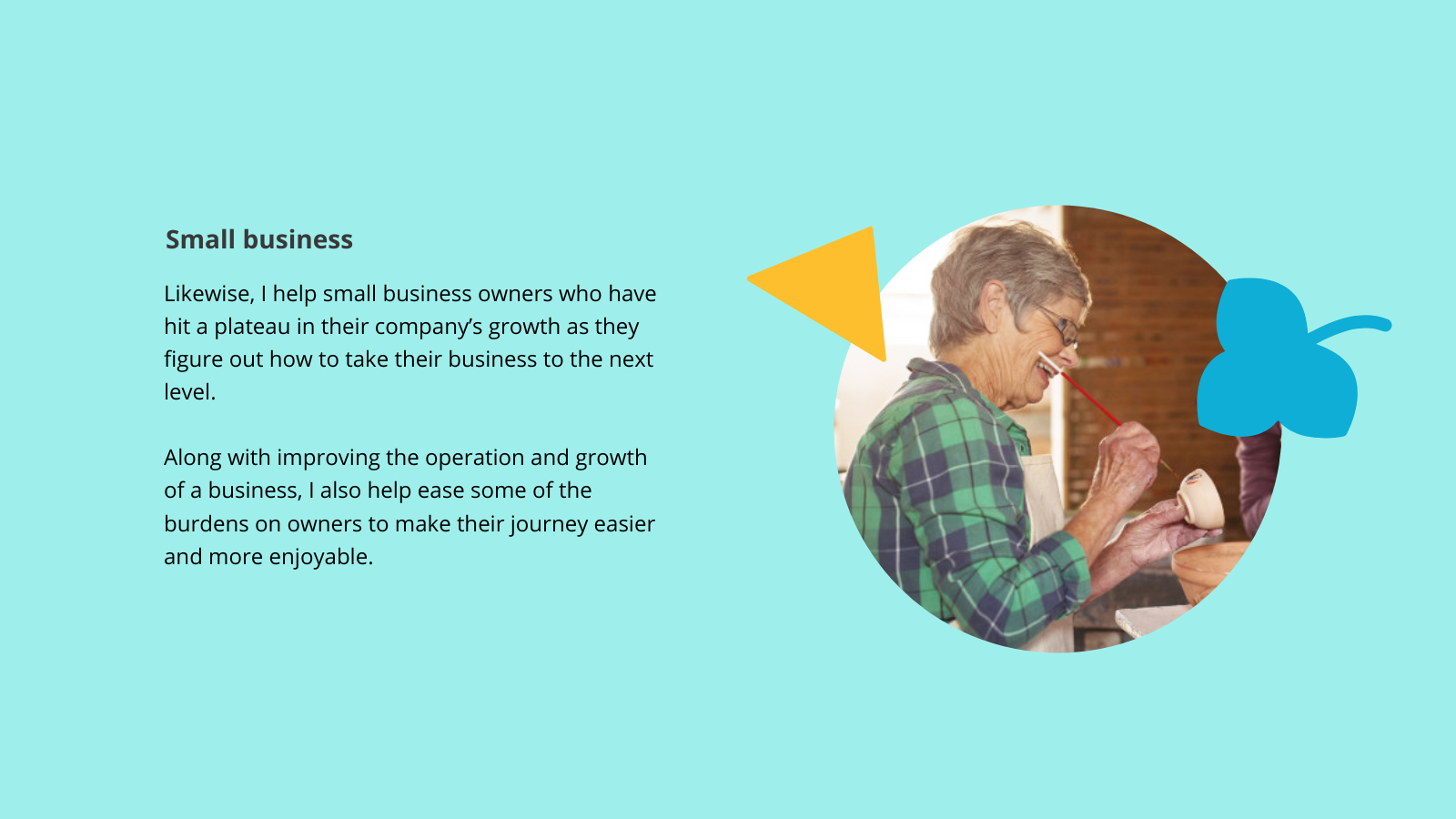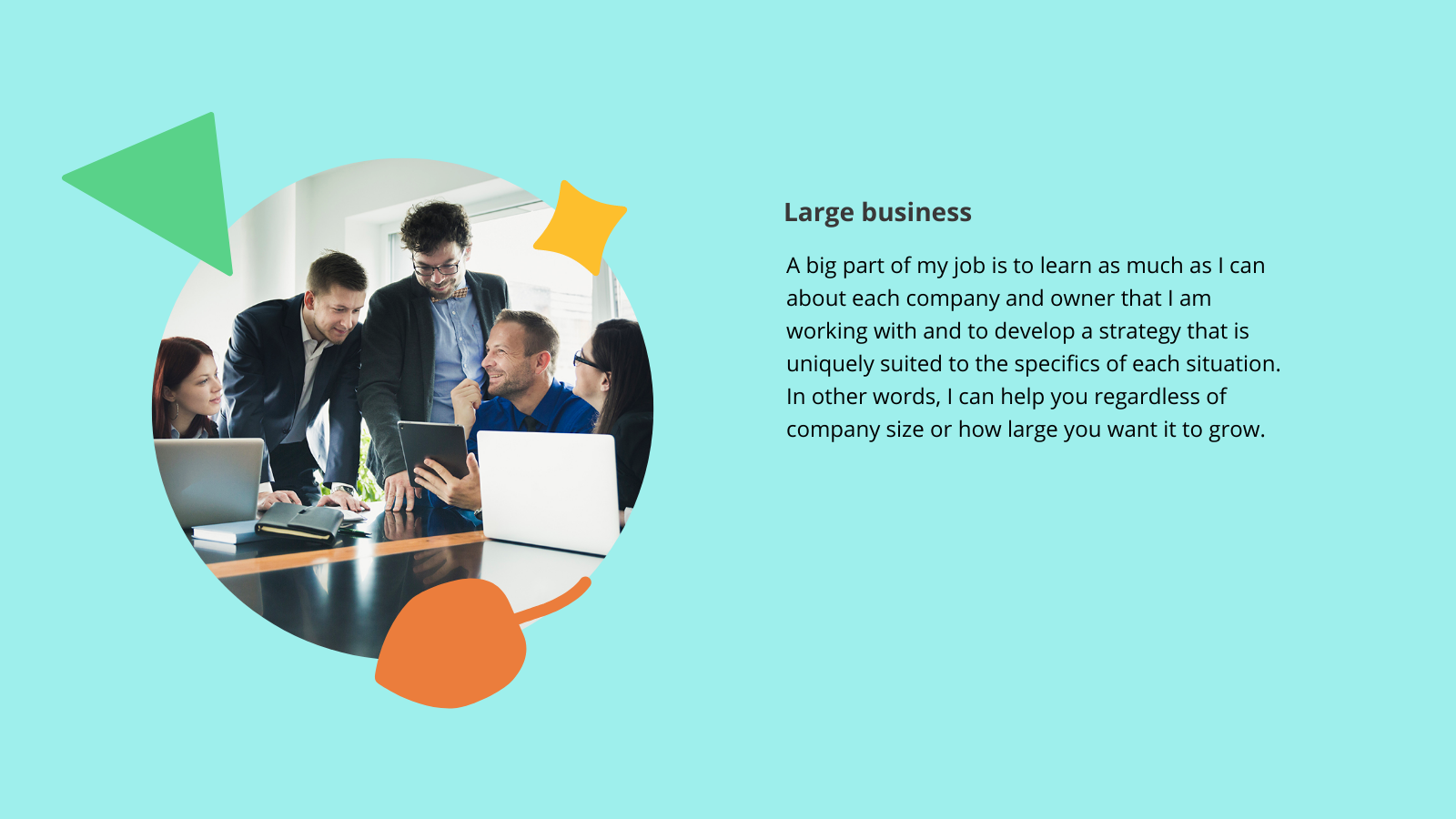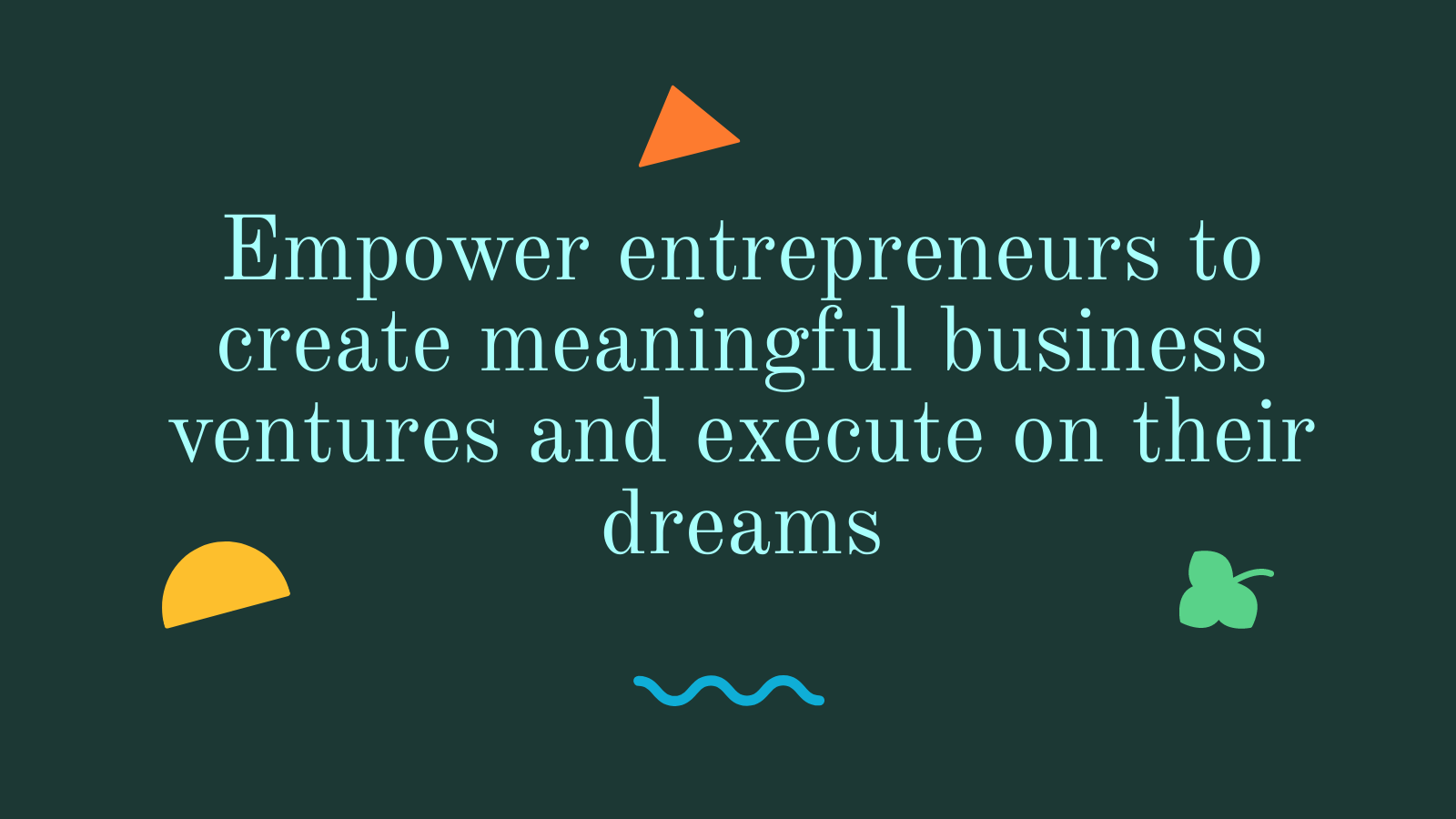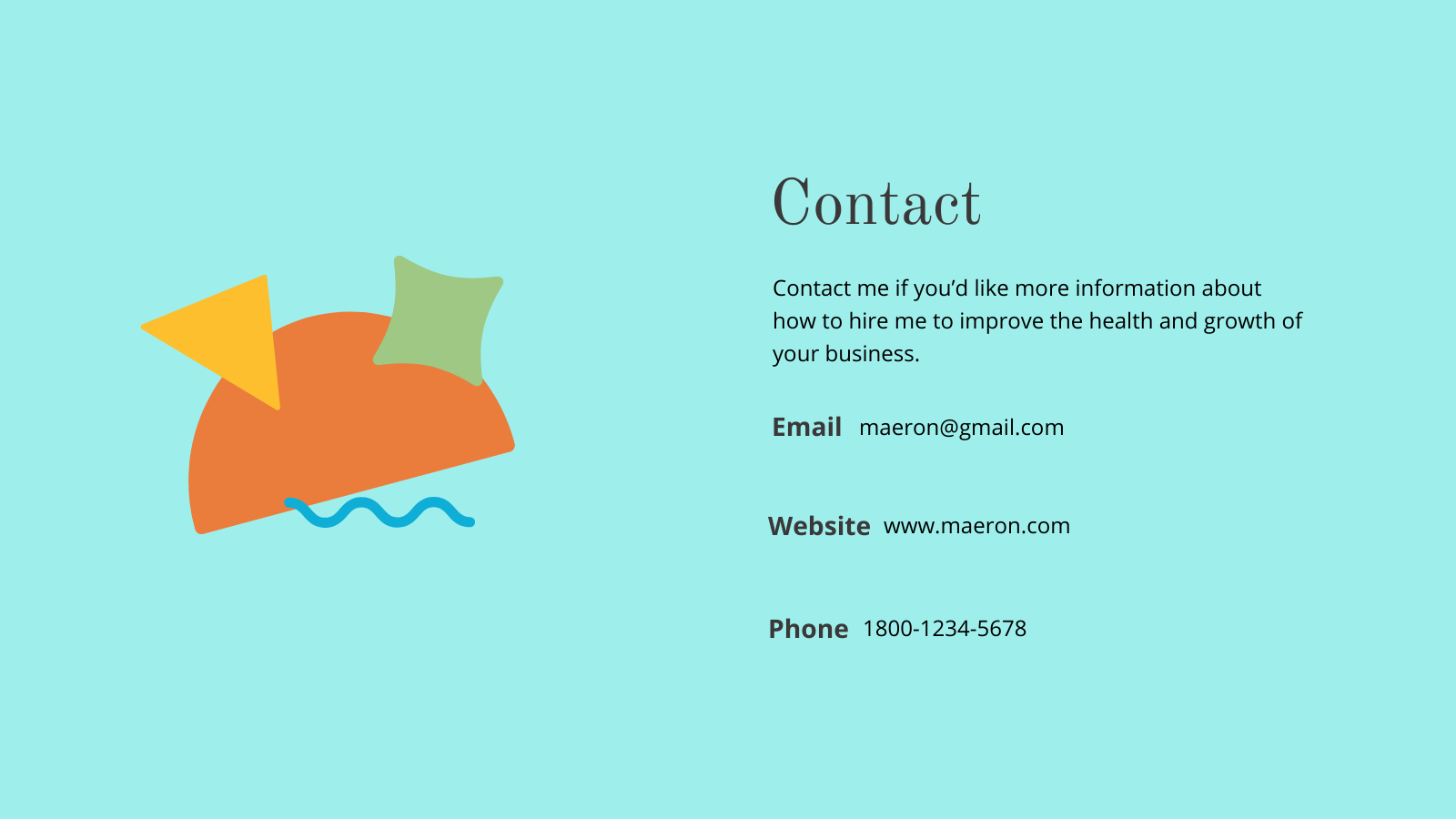 The geometrical shapes and the other graphic elements make this slide designs look really engaging and playful. Especially the texts are visible and clear to understand.
Since the topic is about training teens with life skills, this presentation template seemed just perfect.
How to Create Your Presentation in DocHipo
Creating a presentation in DocHipo is super-easy. All you need to do is to make your bullet points ready; so that you can quickly add the points on the slides and download it.
Let me show you how you can create your presentation within 15 minutes through 3 simple steps.
But, before that, if you haven't signed up yet, then do it now!
Step 1:
After you have logged in, you can either type "Presentation" on the search bar: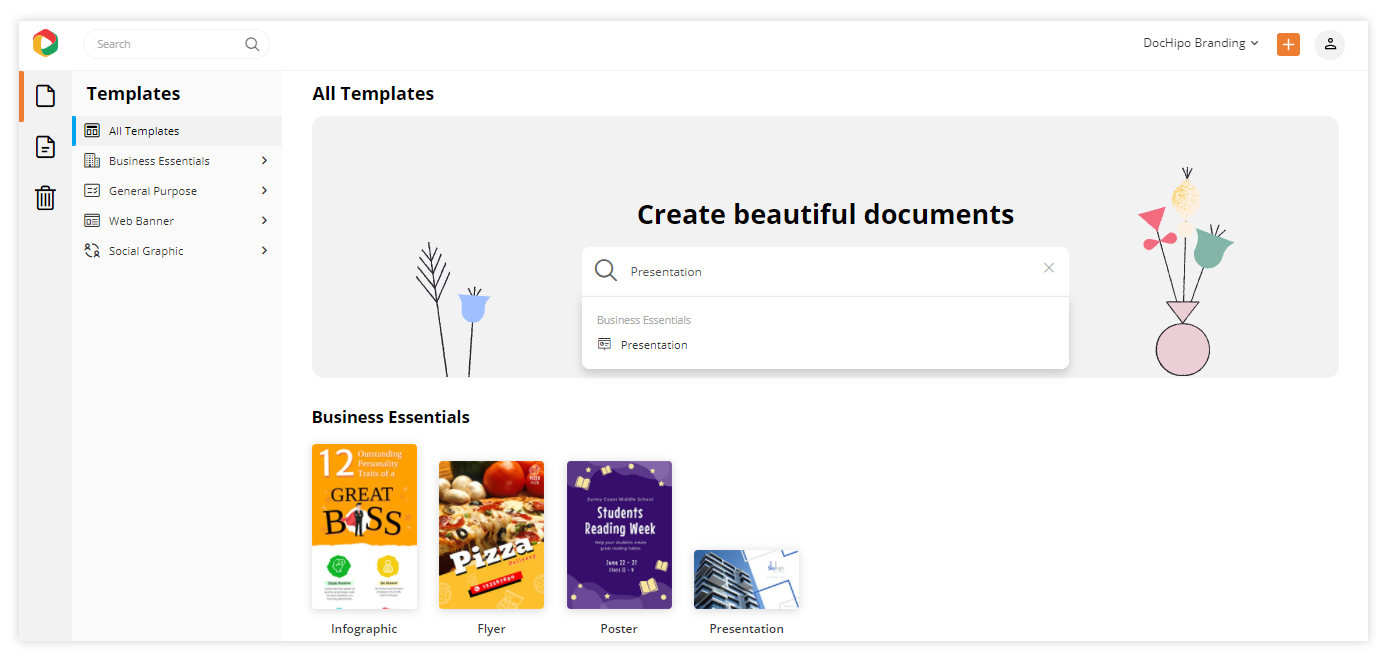 Or,
Click the "Business Essentials" option, on the left-side panel. You will see a list of multiple document options flashing down, from which you can choose "Presentation":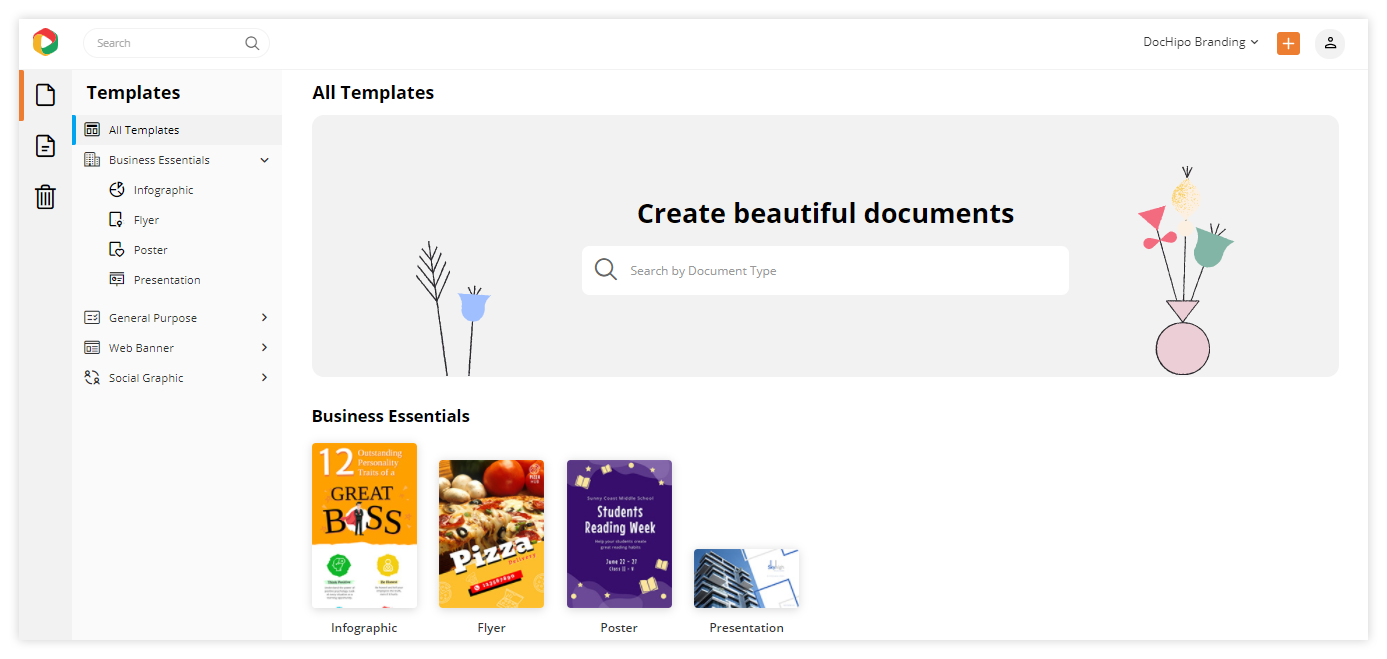 After you click the document type, you will be redirected to that document's template page.
Here you can either choose a template or recreate one right from scratch: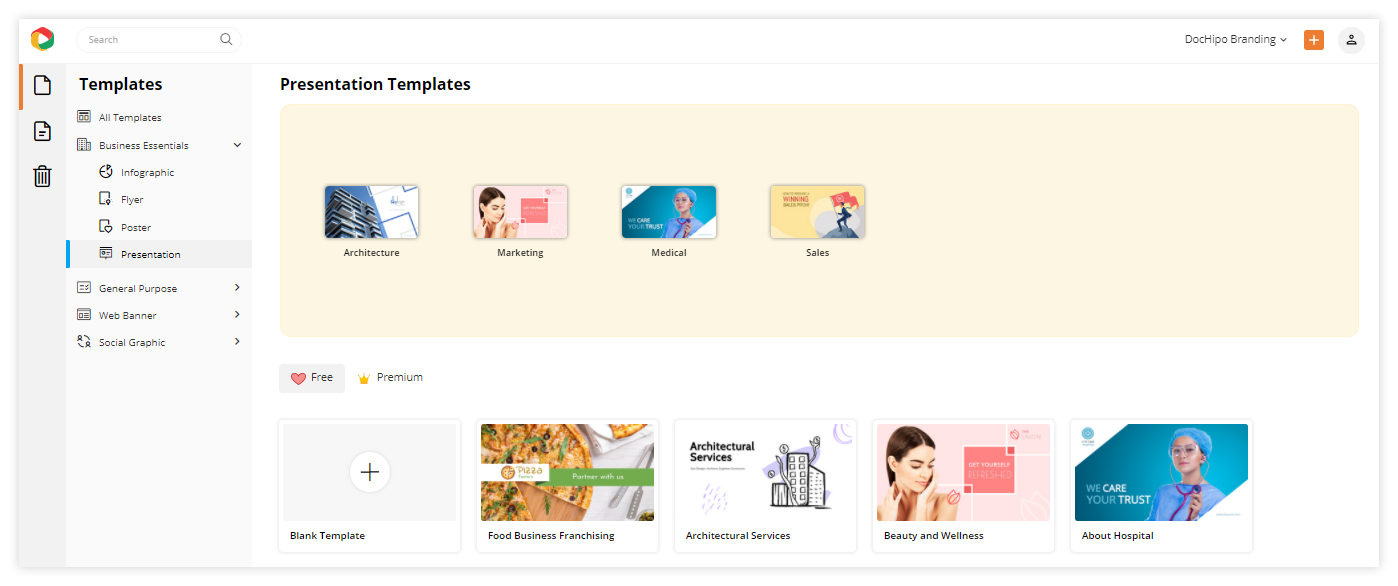 I have chosen the lovely template to use it as my presentation. So let's head to the next step.
Step 2:
When you click the template, you will be taken to the next page. Here you have to provide document information. Although the names will be auto-populated, you have the option to change it: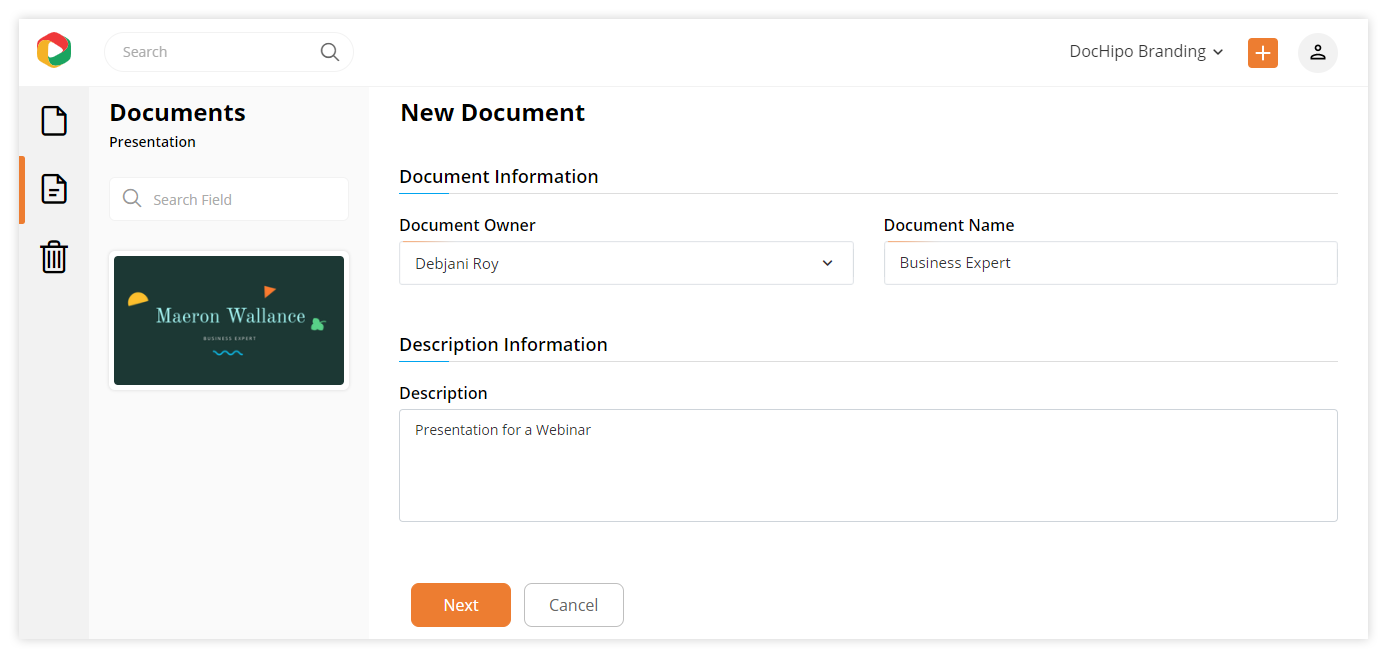 After you click "next", you will enter the editing space: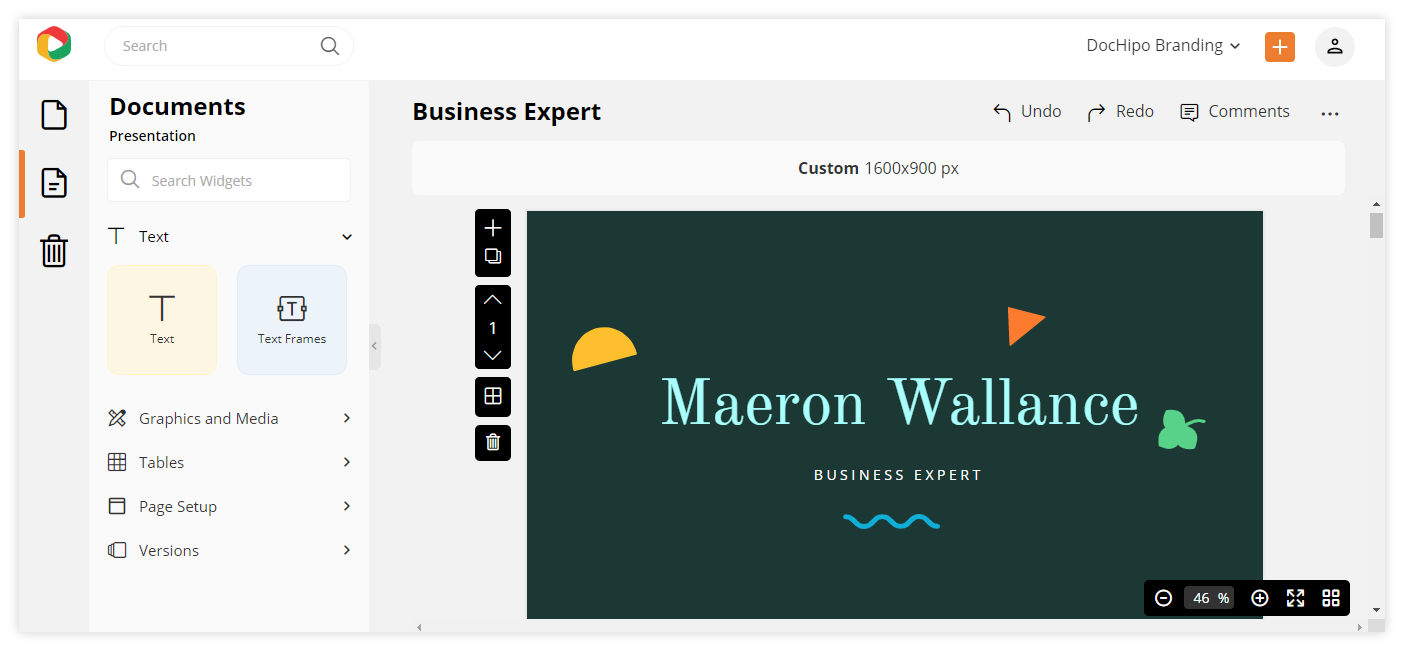 Now, just customize it the way you want it to look. You can change the background color, fonts, and even add other graphic elements to it.
In my case, I absolutely love the design and feel that it is appropriate for my topic. Hence I will just change the text: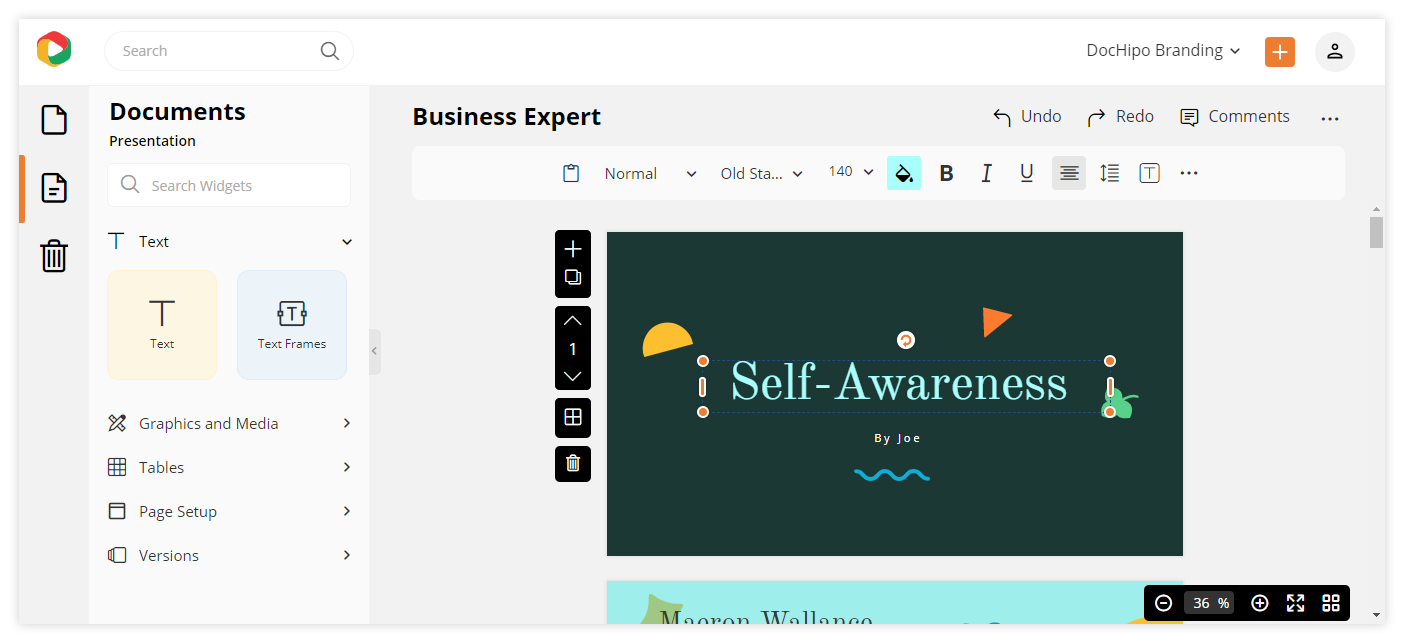 Step 3:
Once you are satisfied with your presentation design, you can now download it in a PDF or a PNG format, in any Quality-type (Normal/Medium/High).
Just click the dotted symbol on the top-right corner and you will see the "Download" option: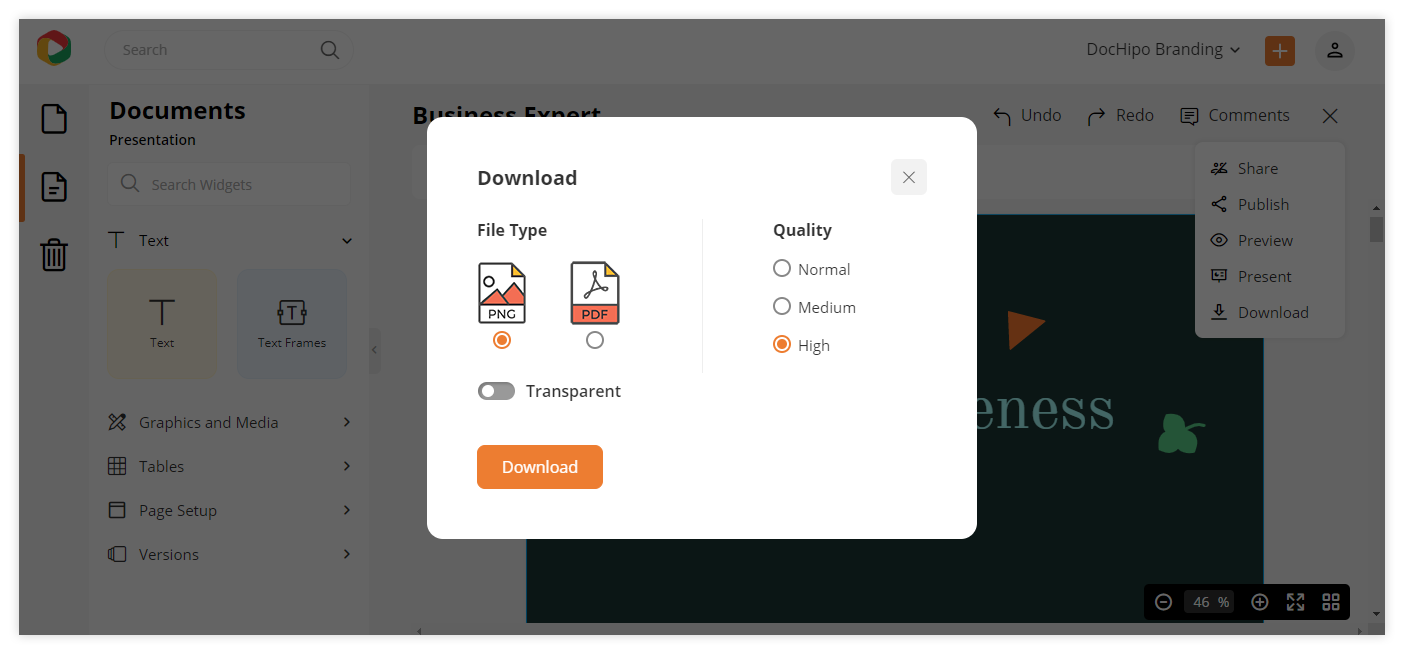 In fact, if you do not want to download it, you can directly display the presentation slides on the DocHipo platform itself.
Under the list of options from the dotted symbol, you will see an option called, "Present":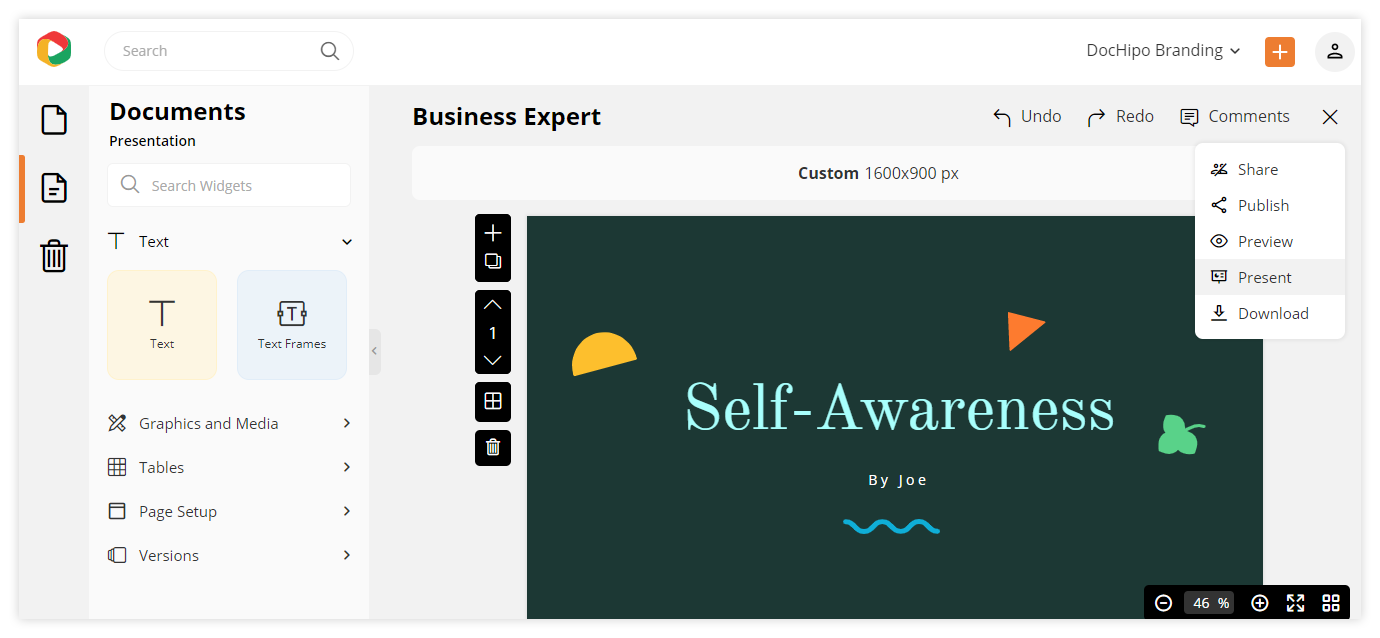 This acts like a Presentation space where you can expand the slides into a full-screen mode and move slides while presenting.
Conclusion
In my opinion, presentations are a brilliant way to make your theories easy to comprehend. But, a boring presentation will never bring the result that you want to expect.
So, do focus on the way your visuals are laid on the presentation slides. Make it engaging, and easy to understand when viewed on any size of the screen.
Presentation is the soul of a webinar because it is only through that visual element you can actually pump things up.
So hurry now and use the stunning presentation templates from DocHipo to make your webinars look exciting.
As for me, I am gearing up for the upcoming event. Don't worry I will share with you how it went.
Till then stay tuned!