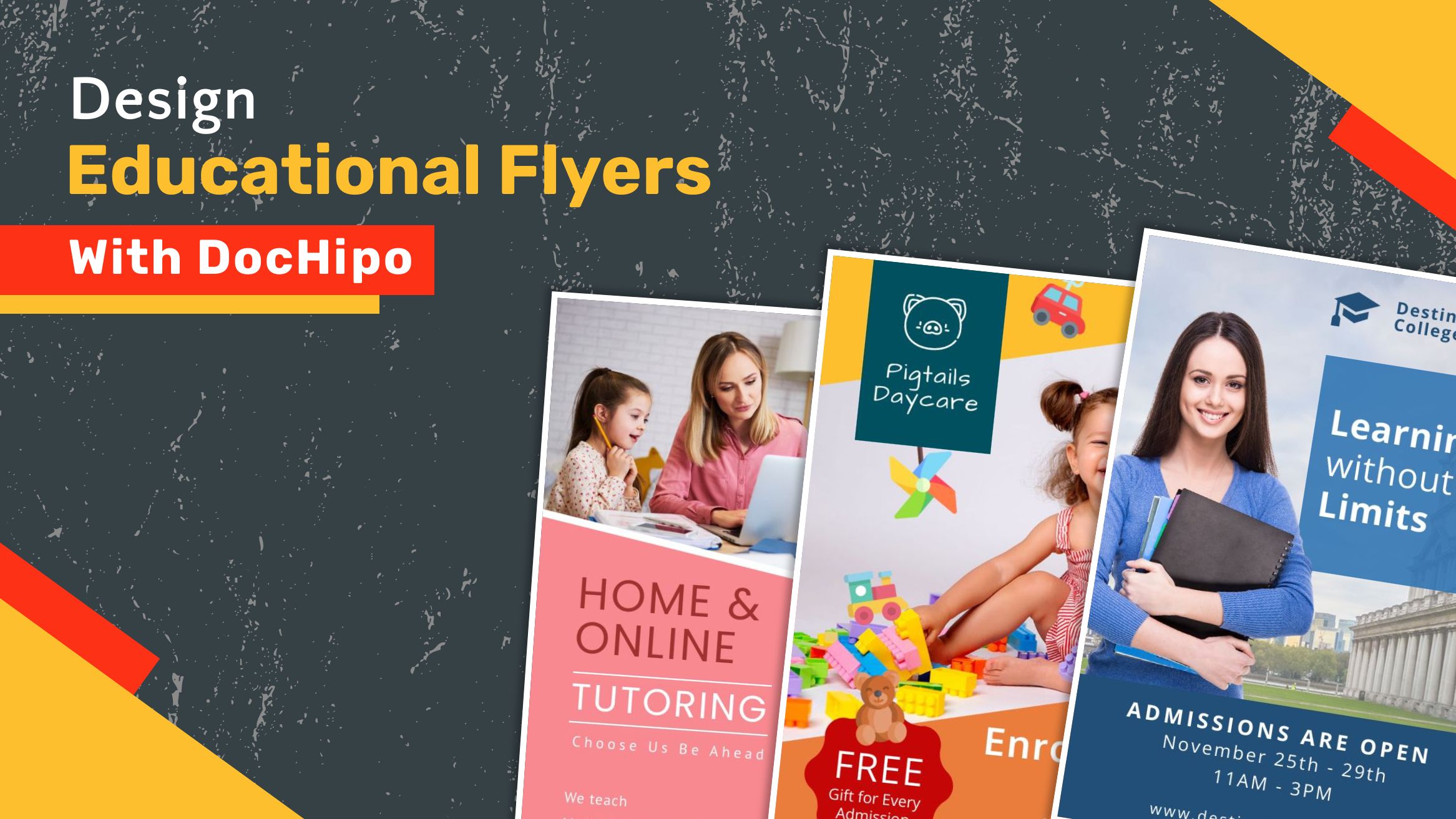 How to Create an Educational Flyer in Minutes [+Templates]

Last Updated Apr 10, 2023
Just started with the noble cause of teaching, online or offline? But wondering how to spread your words across?
Flyers are still one of the oldest, most inexpensive, and foolproof advertising techniques to attract more students to the admissions process.
If you haven't tried your hands out in designing yet, your love and passion for teaching students will make you learn to create excellent Educational Flyers with just the basic design sense.
Regardless of the course or subject your institution offers, DocHipo has got you covered so you can open gates to thousands of learners.
In this post, we'll walk you through an easy three-step method of making eye-catching Educational Flyer designs with DocHipo and some flyer design tips.
What makes a Good Educational Flyer Design?
Since Educational Flyers play a crucial role in bringing new learners to your academy, the design must be top quality. Let's see what adds to the excellent flyer design for your success.
Use Your Brand Color
Be consistent with the color code you use for your educational institute throughout all your documents. This will help your target audience recognize your brand instantly. And establishing trust and authority for your academy will prove to be indispensable.
If you are initially unsure about your color scheme, try two to three colors that complement each other.
You can read Best Color Combinations And How To Use Them In Your Design.
Pick Your Fonts Smartly
Well, choosing the right fonts is a real deal. Fonts determine how effortlessly your Educational Flyer design will be read by your potential students and the flyer's overall look and feel.
No worries, you can always take help from the guide How To Choose Fonts For Your Design.
Here's an example of using fonts from our own Educational Flyer template collection at DocHipo.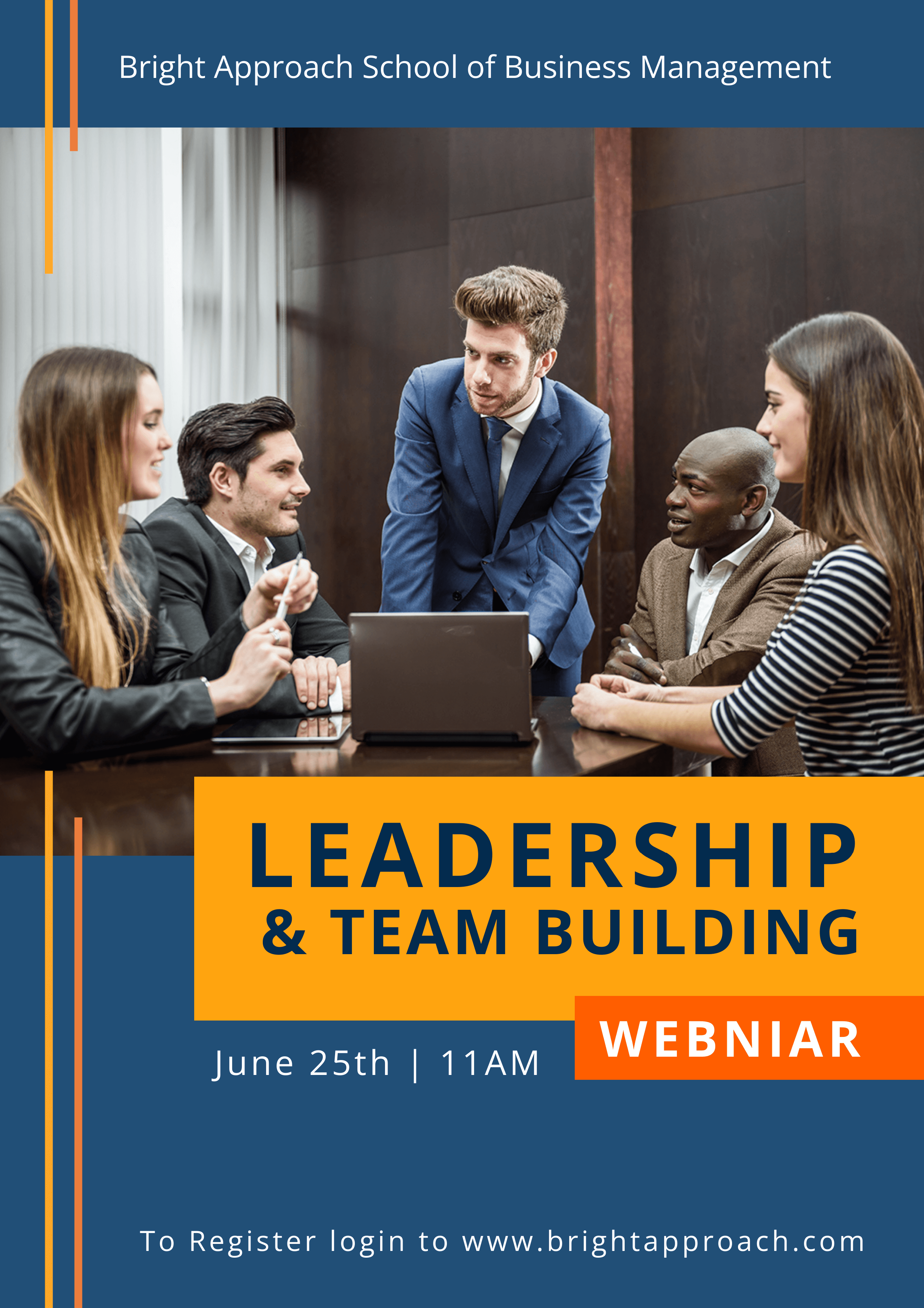 Get This Template and More
Use Icons to Represent Minute Details About Your Educational Institution
These simple vector graphics are handy for adding meaning and fun elements to your flyer and will also make it stand apart from others in the same industry. If icons seem overwhelming to you, just start testing them out; it will be fun and give you great results.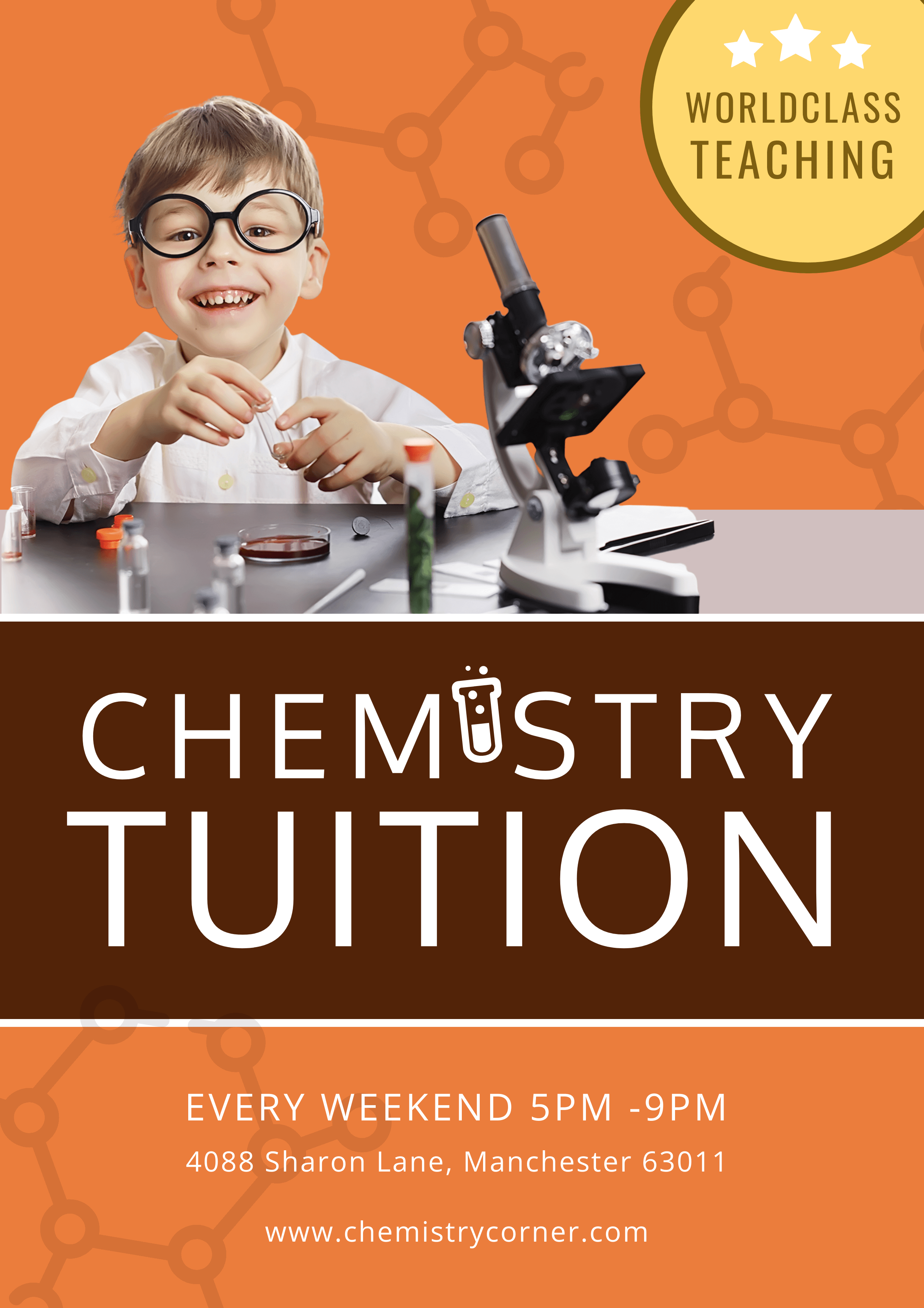 Get This Template and More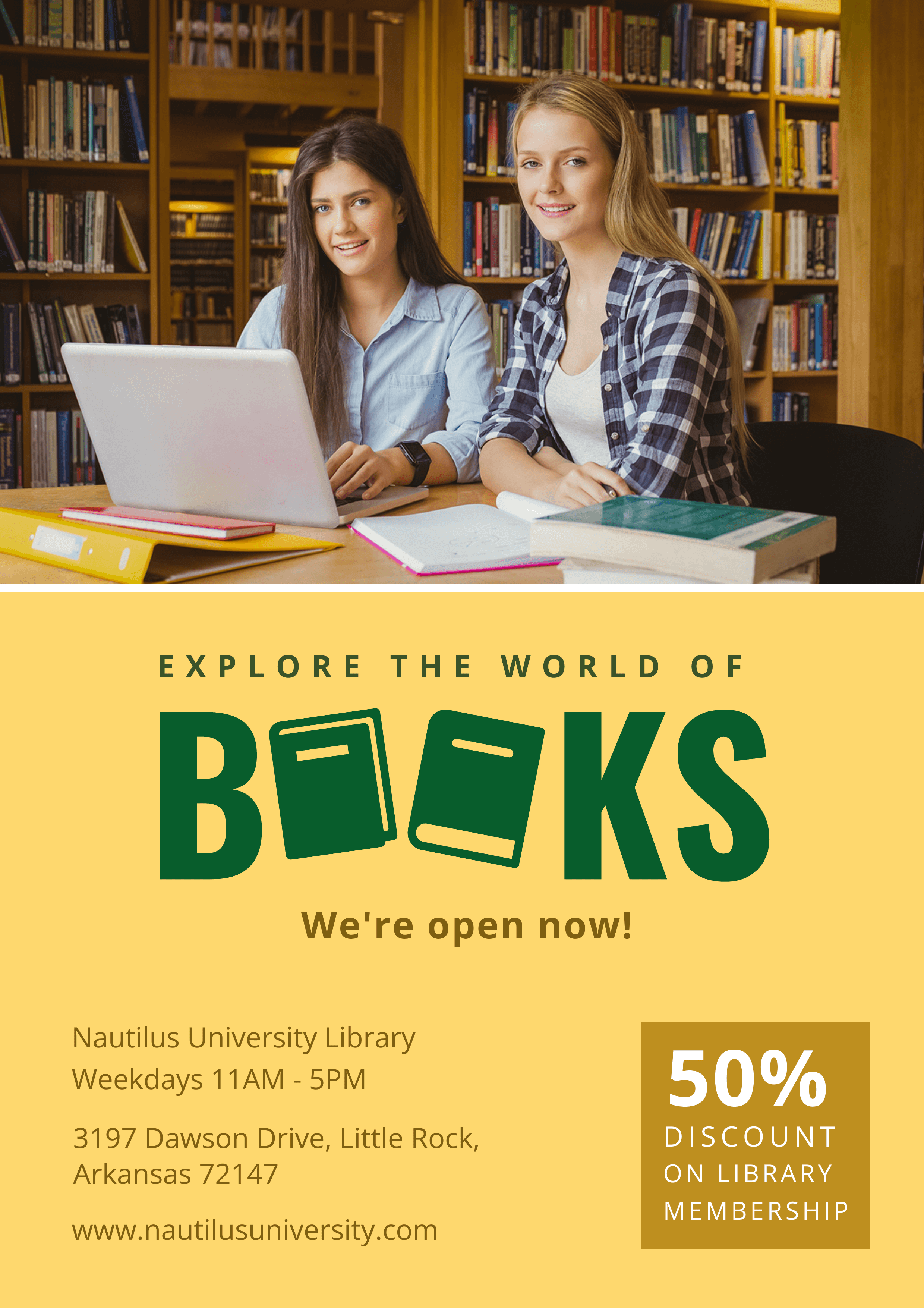 Get This Template and More
Use Other Interesting Design Elements in Your Educational Flyer Design
Make your Educational Flyer design shine among your competitors by smartly using exciting shapes, stickers, etc.
You'll find all these design elements and a lot more in DocHipo's in-house library, which we'll discuss later.
These two Educational Flyer designs I'm showing here have a professional and refreshed look. Isn't it?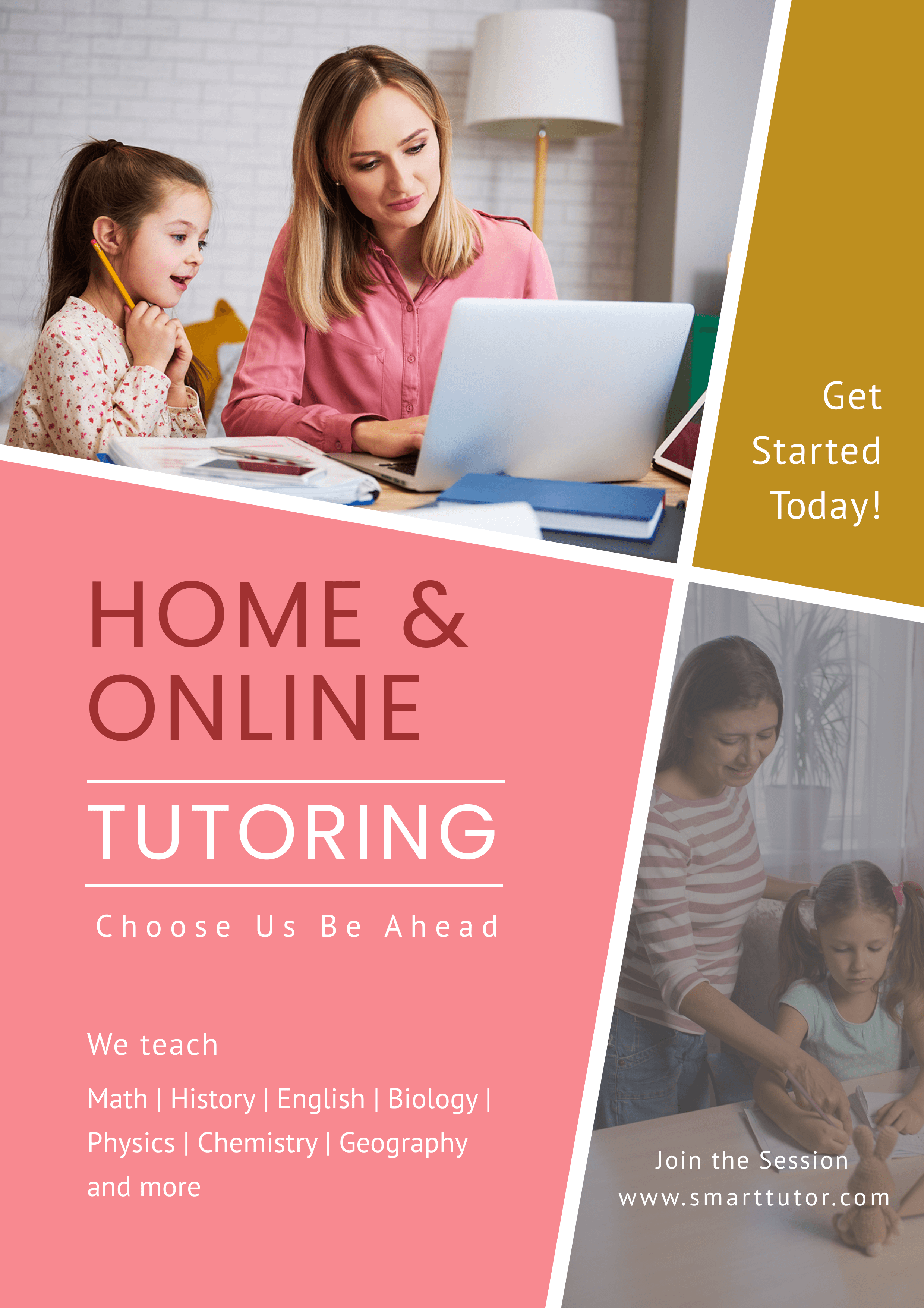 Get This Template and More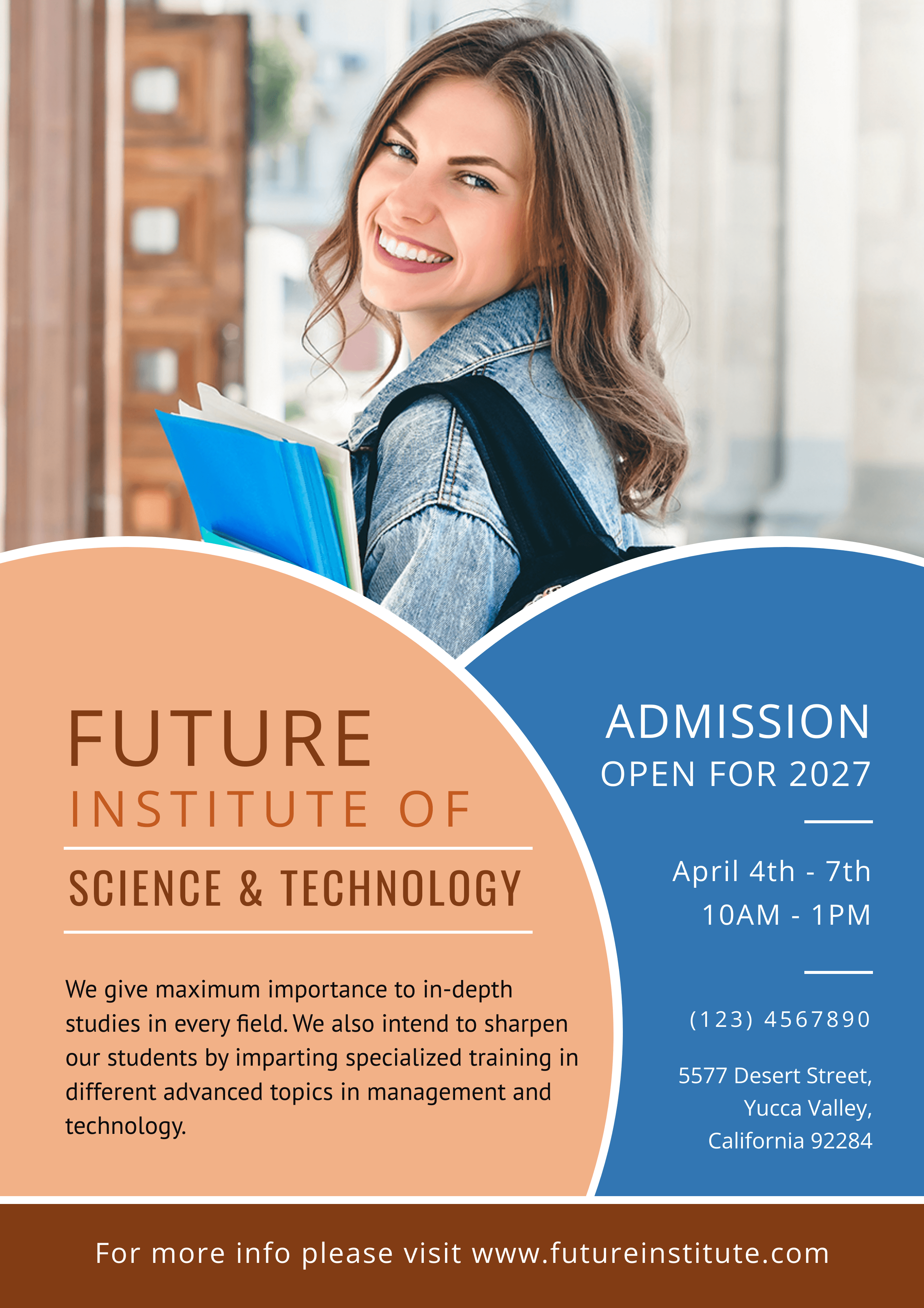 Get This Template and More
Just look at the use of stickers in the following Educational Flyer design professionally created by DocHipo.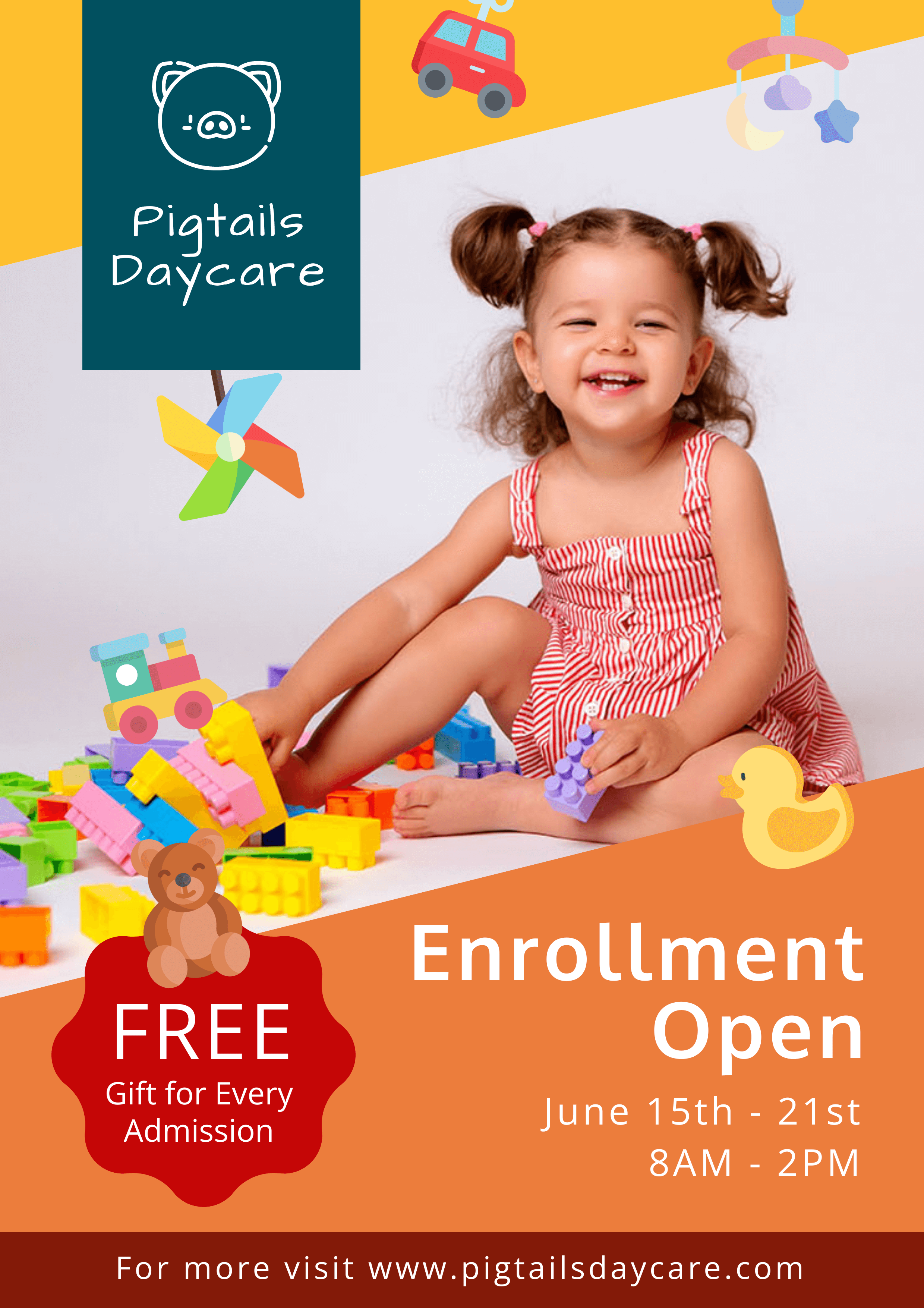 Get This Template and More
Use semi-transparent shapes
The texts you add in your Educational Flyer design shouldn't get lost while your target viewers are reading it. No doubt you'll put a clean background; it's also a good idea to use transparent shapes to highlight your text in a cool way. Observe how this Educational Flyer template overlays a blue semi-transparent shape over the background image for a bold effect.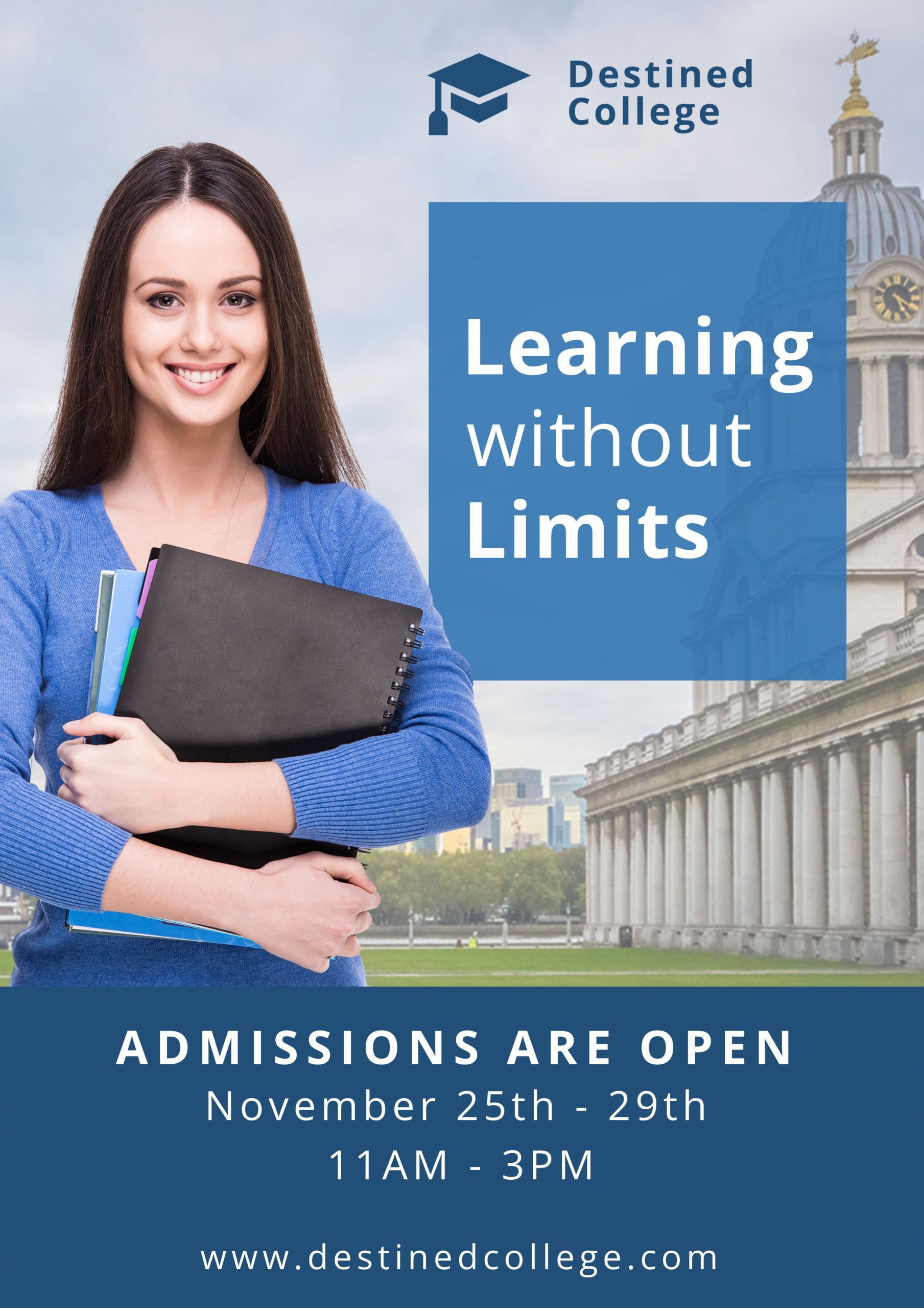 Get This Template and More
Include contact details and a call to action
A clear call to action will make your target students aware of the next step they are supposed to take. So you can't afford to miss out on this information. Otherwise, you may lose out on a lot of leads.
See this DocHipo Educational Flyer template that has provided their website address and asked their target students to enroll now.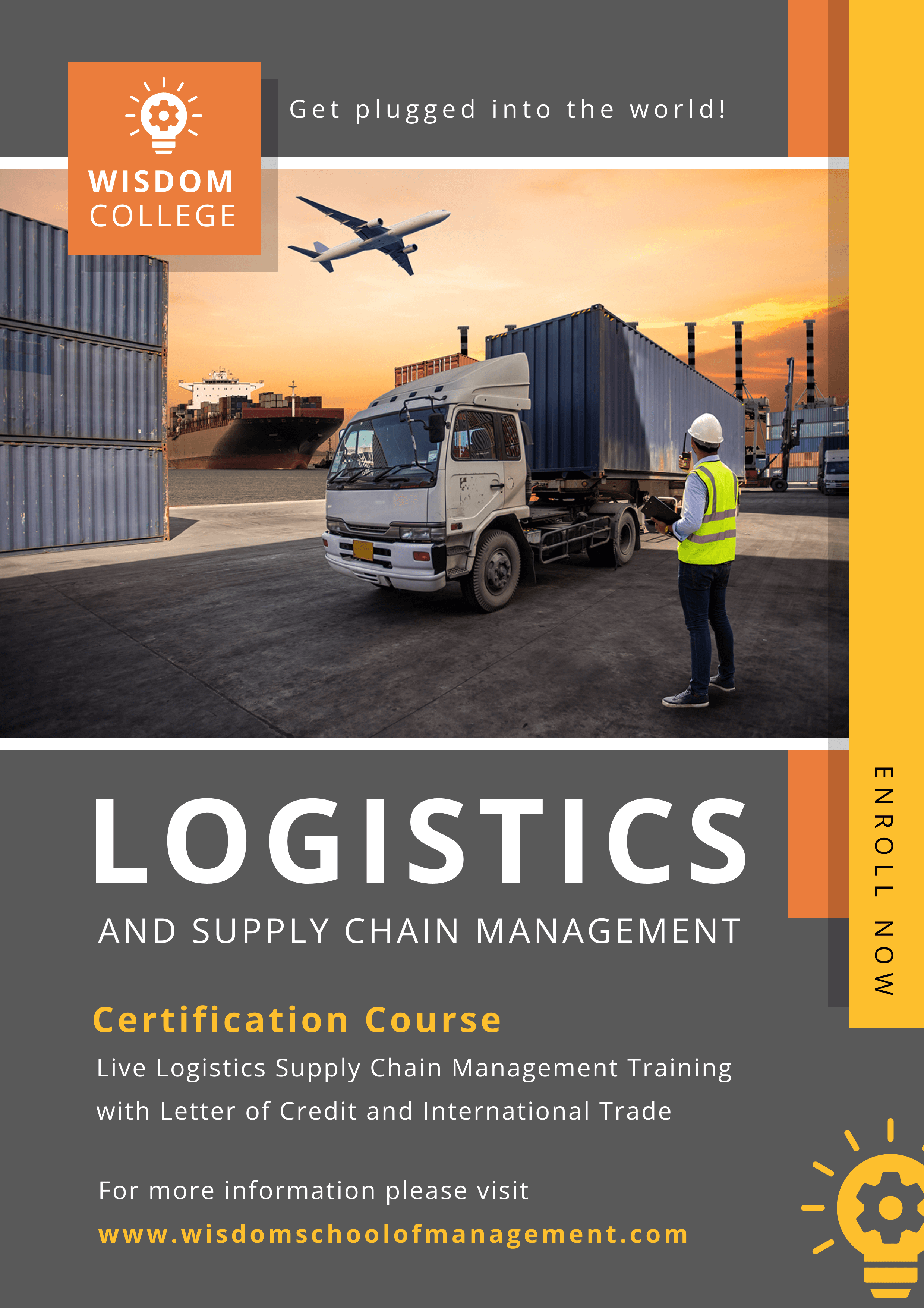 Get This Template and More
Another Educational Flyer template from DocHipo has given their contact details in so much detail.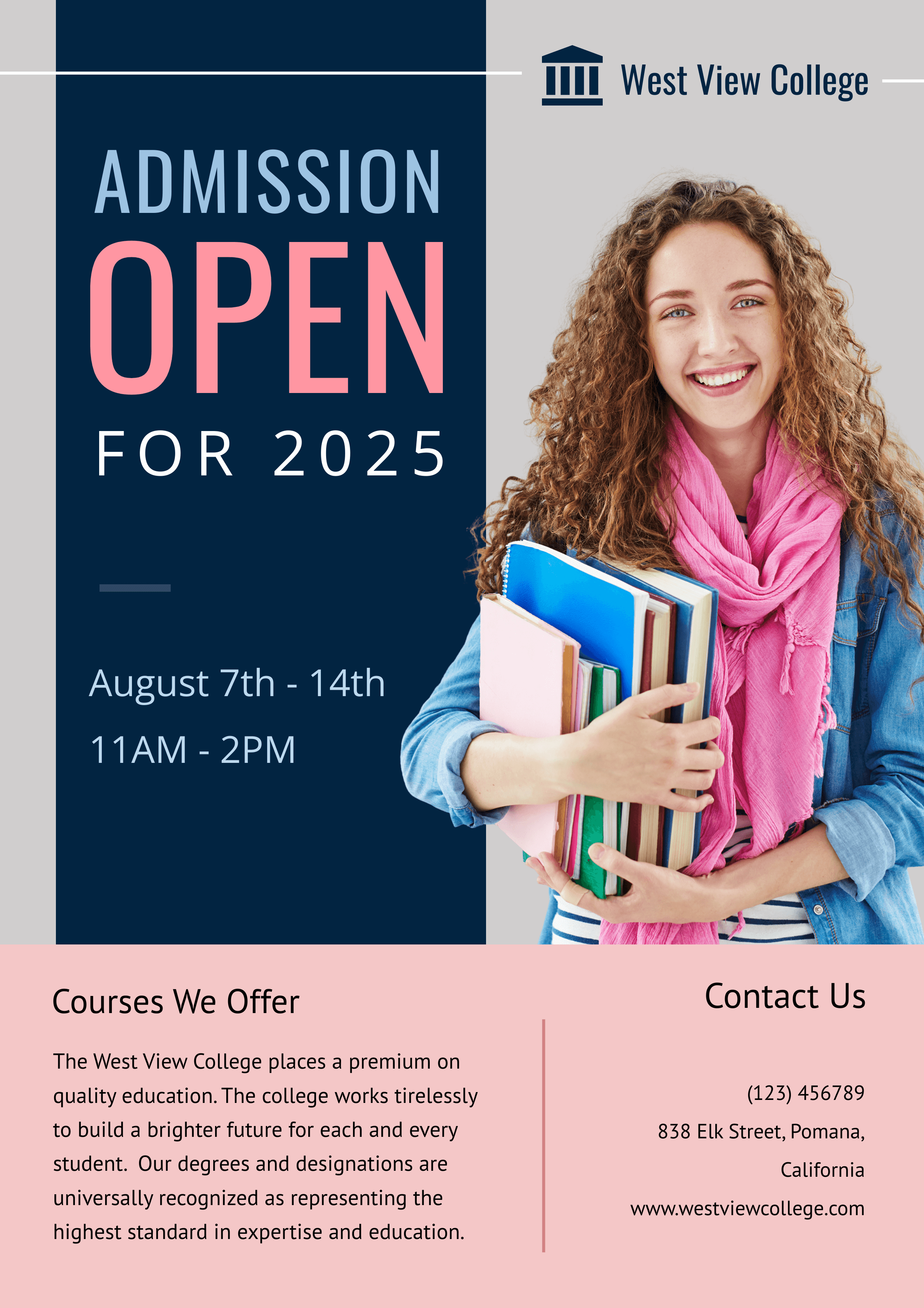 Get This Template and More
How to Make an Educational Flyer Design with DocHipo's Online Flyer Maker?
If you are using DocHipo for the first time, you must sign up for free using only your email address and password. Now I'm walking you through a three-step process on how you can design Educational Flyers in DocHipo's online flyer maker.
STEP 1: Choose an Educational Flyer Template
Once you log in to DocHipo using your email address and password, you'll land upon the 'All Templates' page. You can search for any document you want to create from the search bar. Let's search for Flyer here and click on the result.
The professionally designed Flyer templates are categorized into various industries such as education, car wash, corporate, photography, real estate, and restaurant.
Now select the Education Flyer template.
If you want to design educational flyers from scratch, you may click on the Blank Template and proceed.
Hover over any Educational Flyer template you like or suit your need, either preview or select it to work with it.
After selecting the Educational Flyer template, you want to customize, add a name and a brief description to the document.
STEP 2: Customize the Educational Flyer Template Just the Way You Want
You can edit your chosen Educational Flyer template to meet your requirements with various design widgets or elements and the easy-to-use drag and drop editor.
You can zoom in or out of the canvas at your convenience by clicking on the plus or minus icon or manually typing it.
Now let's cover some of the design elements one by one.
Pictures
You'll find the 'Pictures' widget under the 'Graphics and Media' tab on the left sidebar.
DocHipo gives you access to a wide range of high-quality images. Select the Pictures widget to leverage DocHipo's in-house stock photo library.
You can search images that best represent your educational institution from the drop-down menu.
To replace an image, simply drag the new image and drop it on the existing one, which will automatically adjust itself.
You'll get the option to crop the new picture as needed.
Background
You'll find the 'Background' widget under the 'Graphics and Media' tab.
DocHipo provides you with image backgrounds with a variety of gradients and textures.
The other option is background colors. You can put the hex code of the color you want to use in your Educational Flyer design.
After clicking on the little color icon, you can see the theme colors to choose from.
You'll get the color palette icon to experiment with the custom colors besides the theme color.
Finalize the custom color that goes best with your Educational Flyer design.
Let's see how the Educational Flyer design looks after changing the background color.
You can watch the video guide below for reference on creating stunning background in DocHipo.
Let's move on to the 'Text' widget.
Text
Double-click on an existing text and type in your own text to edit it. Once you select the text, you'll see the editing panel above the canvas, where you can leverage the multiple text editing options.
As you can see, you can change the font type, size, and color, bold, italicize, and underline the text, change its alignment, and letter spacing, add text-shadow and border, and so on.
Let's have a look at the text-shadow and border in detail.
You can get more text editing options by clicking on the three horizontal dots in the text editing panel.
If you want to add a new text to your Educational Flyer design, you need to use the 'Text' widget.
I'm leaving below a YouTube video link on adding, editing, or deleting text in DocHipo for your guidance.
Customize other design elements
DocHipo offers a variety of other design elements like illustrations, stickers, icons, shapes, lines, videos, and animations in general. You need to select the design widget under the 'Graphics and Media' tab on the left sidebar that matches your needs and use them in your design.
In this case, we'll customize the icons already present in the Educational Flyer design.
First, delete the unnecessary elements by simply clicking them and pressing the delete button.
Then you'll get two options – color and mono; choose as needed.
Then select any theme from the drop-down menu that complements the rest of your flyer design.
Click on the icon you want to use in your design.
After that, resize and reposition it with an easy-to-use drag and drop editor.
STEP 3: Download your Educational Flyer design
After playing around with all the design elements and customizing it to your heart's content, you can preview, download, share it on social media, save it to MailChimp, and so on.
Simply click on the three horizontal dots to get the drop-down menu and choose your option.
The downloadable options available to you in DocHipo are – JPG, PNG, PNG Transparent, PDF, MP4, and GIF.
Select your file type and the required design quality, and click on 'Download.'
Before Customization:
After Customization:
I highly recommend you to watch How to Leverage DocHipo for Educational Institute.
Final Words
You see how easy is DocHipo's online flyer maker to work with, and you'll have attractive and effective educational flyers ready to welcome your potential students.
Make DocHipo your best friend, and you can focus more on your business rather than scratching your head with the design needs. So, sign up to up DocHipo for free, explore all the educational flyer templates, make the best use of all the design widgets, and you are great to go!
FAQ
What is an educational flyer?
An educational flyer is a cost-effective, foolproof printed advertising medium to attract new learners to your institution. With educational flyers, you can convey what your academy offers in simple, easy-to-understand words and an eye-catching design to draw viewers' attention.
Why should I create an educational flyer?
You should create an educational flyer because it's one of the most convenient and proven mediums for promoting your educational institution. This single-sheet marketing material is easy to distribute and can convey your message quickly and effectively. A well-designed educational flyer piques one's interest and brings new learners to your institution.
What should I include in my educational flyer?
Your educational flyer should include your institution name, location (if applicable), logo, catchy title, eye-catching and convincing visuals resonating with your message, contact information, important details like admission date, etc., and a compelling call to action.