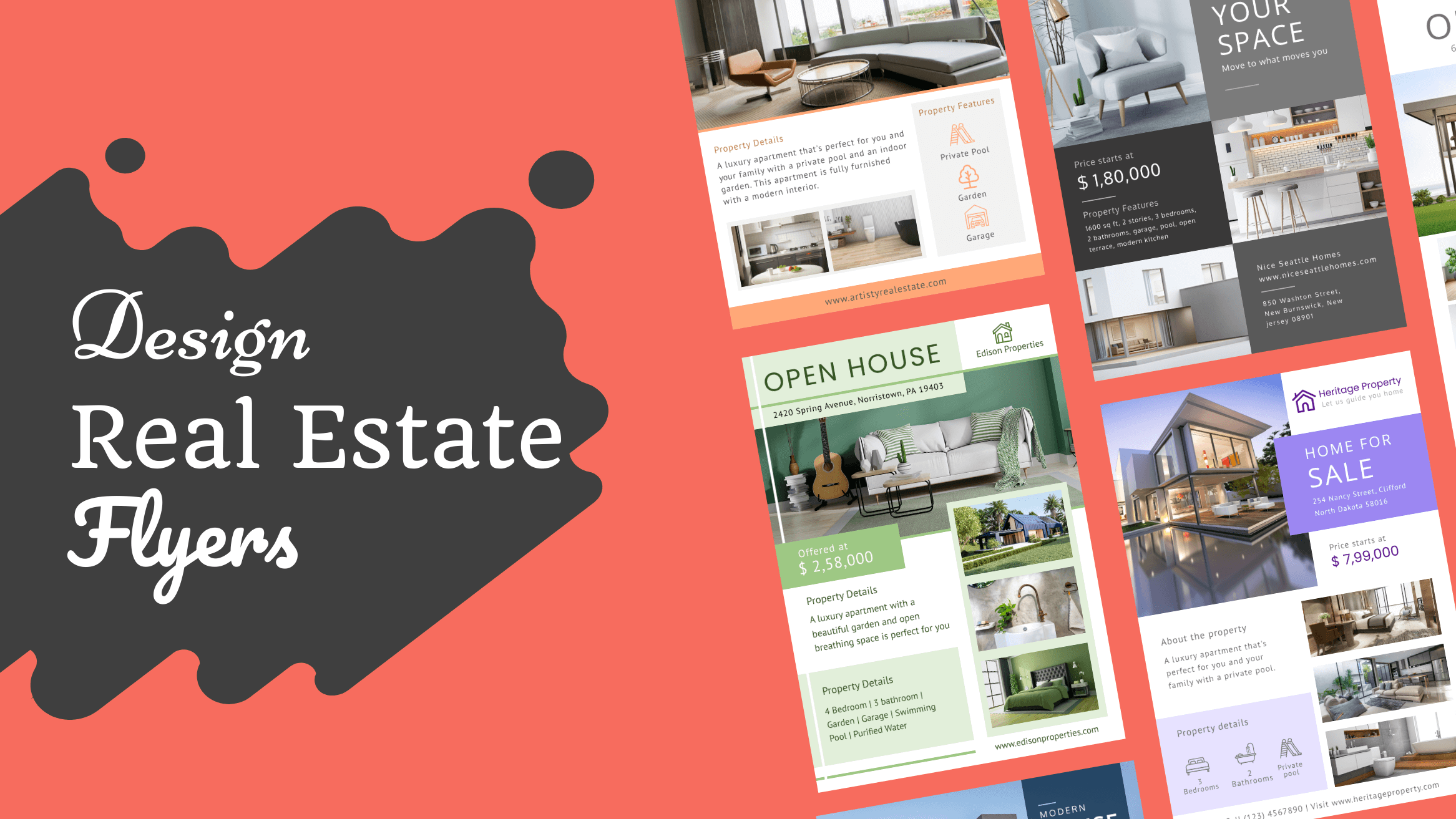 How To Make a Real Estate Flyer

Last Updated Oct 18, 2022
As a realtor, you might already know how competitive the real estate industry is. According to reports, there are more than 7 million commercial real estate businesses globally. The report also claims that the competition in this industry is likely to increase due to the pandemic. In that case, you need to strengthen your marketing strategy to grow your business, especially if you are new to this industry. Real estate flyer design is one of the most effective ways to do this.
Flyers have been an effective marketing tool for decades now. Are you wondering whether the flyers are still effective or not? According to research conducted by The Data and Marketing Association, flyers are still an effective marketing tool.
But the question is, "How To Make A Real Estate Flyer." If you don't have any graphic design experience, real estate flyer design might be complicated for you. And hiring graphic designers for flyer design can make it expensive.
Keeping these in mind, DocHipo comes with a Free Online Flyer Maker that features a broad range of real estate flyer design templates. Anyone can design eye-catching flyers without any design skills or experience using this tool. And the best part? It's completely free.
Continue reading to learn how to make a real estate flyer in three easy steps.
Why Is Real Estate Flyer Design Important For Your Business
Are you still not sure about real estate flyer design to market your business? Well, it's not unusual. With the advancement in technology and digital trends, it's obvious to not recognize the effectiveness of traditional marketing methods. Therefore, if you are not getting enough sales, consider the following reasons why real estate flyer design is essential for your business:
Reach Your Target Audience
You might spend a lot of time and money strengthening your marketing strategies, but it's a complete waste if it can not reach the target audience. With real estate flyer design, you can tailor your messages and graphics to reach your target audience. For example, if your target audience is first-time home buyers, you might want to showcase properties with children and pets running through the backyard. According to a recent study, 50% of mortgage borrowers in the USA are millennials. So, keeping the target audience in mind is crucial for a successful marketing strategy.
With real estate flyer design, you can reach the right audience at the right time and convince them to engage with your business.
Create A Great First Impression
When it comes to marketing a real estate business, visual appearance is of utmost importance. Your properties should please the buyer's eye first. The study says it takes only 7 seconds to make a first impression. And don't forget, "The First Impression Is the Last Impression". So, you and your business have only a few seconds to impress your audience. Therefore, the marketing graphics you use should be aesthetically pleasing enough to grab your audience's eyeballs at a glance.
Flyers will help you create an impactful first impression and a long-lasting impression moving forward and ultimately showing the target audience the professionalism of your business.
Create A Brand Awareness
Statistics show, there are over 1.46 million realtors in the US alone. Almost all the realtors are involved in the same type of business: purchasing or selling the properties. So, chances are almost zero that you are the only real estate business owner in your locality. That is why creating brand awareness is crucial for your business.
Real estate flyer design helps you create uniformity between your brand. Thus, giving your customers an agency they can trust. Include your real estate logo, brand colors, and images in your real estate flyer design to stand out from the crowd and create a unique brand identity.
Click here to learn more about how you can enhance your branding efforts through flyer design.
Generate More Leads
As a real estate business, your sales pipeline should always be filled with leads. The more you can generate leads, the more sales your business will get. An effective marketing strategy is one that generates leads and converts them into potential buyers. Designing real estate flyers and delivering them to your target audience is one of the most effective traditional marketing strategies. It helps you create opportunities to expand your network and reach new clients.
Your real estate marketing flyers can become your best lead generation tool with just a bit of creativity and a design tool like DocHipo. Include your contact information, social media sites, and other websites on the flyer to generate leads successfully.
Influence Buyer Decisions
In addition to generating leads and creating brand awareness, real estate flyer design can sway a lead's opinion about you. It allows you to add a personal touch to your marketing strategy, like listing the famous local cafes, restaurants, shops or sharing a message about the perfect house.
You just need to know what your prospects are looking for when buying a house. For example, 78% of home buyers prefer neighborhood quality over home size. Contrarily, 57% want a shorter commute than a larger lawn. Flyers help you show your prospects that your properties have all the qualities they are looking for.
Save Time And Money
Real estate flyer design is a cost-effective and time-saving marketing strategy despite providing all the benefits mentioned above and many others. Printing and distributing your flyers will cost a little money. But you can share them on social media, websites, and emails, which are also cost-effective options.
Use DocHipo to design the best real estate flyer using the free templates, which saves you time and money so that you can focus on other marketing strategies.
Click Here to learn how to grow your business using virtual marketing.
Now that you know the importance of real estate flyer design, why not give it a try? This is where DocHipo comes in handy; anyone can design an impressive flyer effortlessly. So, let's move on to the next part.
Real Estate Flyer Design Ideas
Without a striking and informative design, your flyers will just be a piece of paper or an image in your files. We have given you our word that with DocHipo, you will be able to design flyers even if you don't have any design skills. So, to keep our word, we are going to help you with some real estate flyer design ideas.
Create An Attention-Grabbing Headline
A headline is the most important and the largest piece of copy on your flyer. It lets your audience instantly know what your flyer is about. So, people looking to buy a house should find your flyer easily. You can use the name of your business, offers, or properties as your headline. Whatever the case, make sure that they are large and bold fonts that can immediately grab your audience's attention.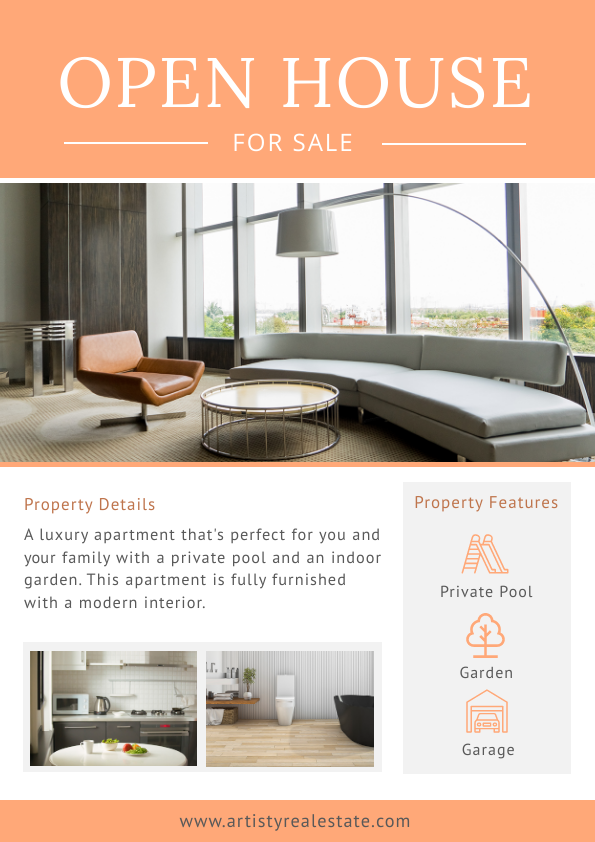 Get This Template and More
Also, it would be best to make sure that the font style, size, and color of the headings, subheadings, and body text complement each other to create a typography hierarchy. Don't overcrowd your flyer with text and choose only three to four fonts max.
Read more about different typefaces to sizzle up your visual marketing design.
Opt For Cool & Complementary Colors
Color plays a vital role in your real estate flyer design. For a professional-looking flyer, color should be one of your major design considerations. But how do you select an effective color palette for your flyer? Our design tip is to choose complementary and cool colors. Restrict yourself to different shades of a single color. You don't want to throw a rainbow of bright colors in front of your audience, do you?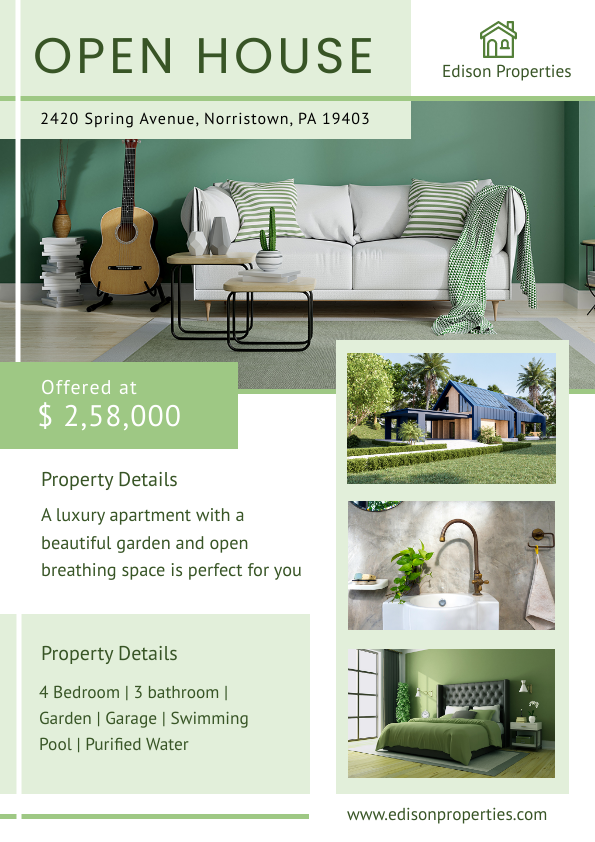 Get This Template and More
Therefore, you must aim for colors that give your flyer design a minimal, subtle, and calm look. If you're wondering how to make a real estate flyer for intelligent or corporate consumers, these are the standard for choosing colors.
Read about the best color combinations to find the right color palette for your real estate flyer design.
Use High-Quality Photographs
When it comes to designing flyers for the real estate business, there's no place to compromise on the visuals. The flyer is your opportunity to turn stunning images into major attractions by placing them behind or around other content like text, shape, and color.
Use gradients and transparency effects to step outside the box and create a layered effect in your design. However, when you are thinking about how to make a real estate flyer, make sure that you already have high-quality photographs of your properties. If not, then click some pictures and add use DocHipo's Photo Editor to enhance those pictures. It will ensure that your flyers always look professional.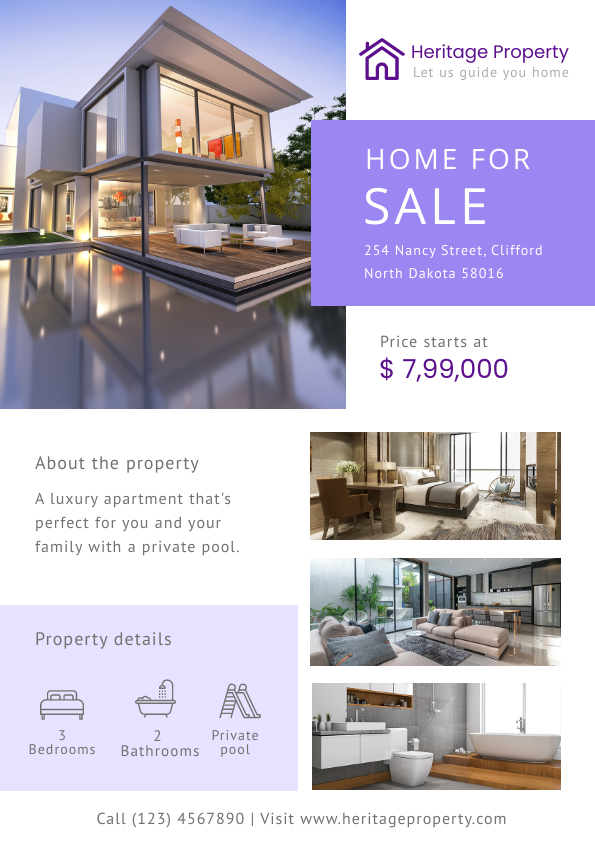 Get This Template and More
Utilize The Space Smartly
Utilize every small amount of space in your real estate flyer design while maintaining the visual hierarchy. While incorporating multiple images, you might feel short on space. In that case, you need to think a bit more creatively about how to make a real estate flyer.
You can divide the flyer into different irregular sections. For example, there are six-part grids in the template below, with the top half devoted to the headline and image and two irregular width columns below.
This real estate flyer packs a lot of information and content in a small space but still manages to remain minimal and calm.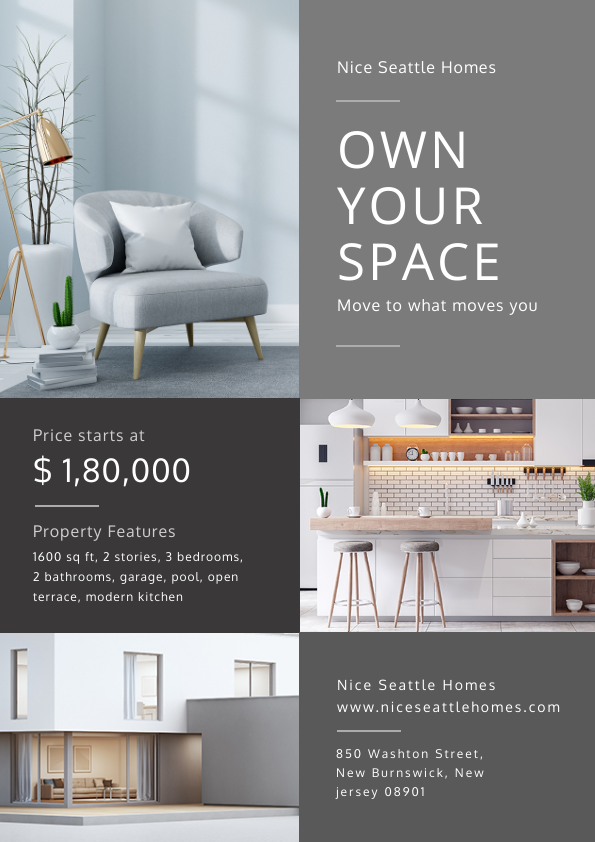 Get This Template and More
Incorporate White Space
White space or negative space is one of the crucial elements of flyer design. White space is not about white margins and space between design elements in the flyer. It's just a space of any color that ties all the elements together while giving them room to breathe.
It is always advisable to use white space in your real estate flyer design, so you are not designing edge to edge and making the flyer easily readable.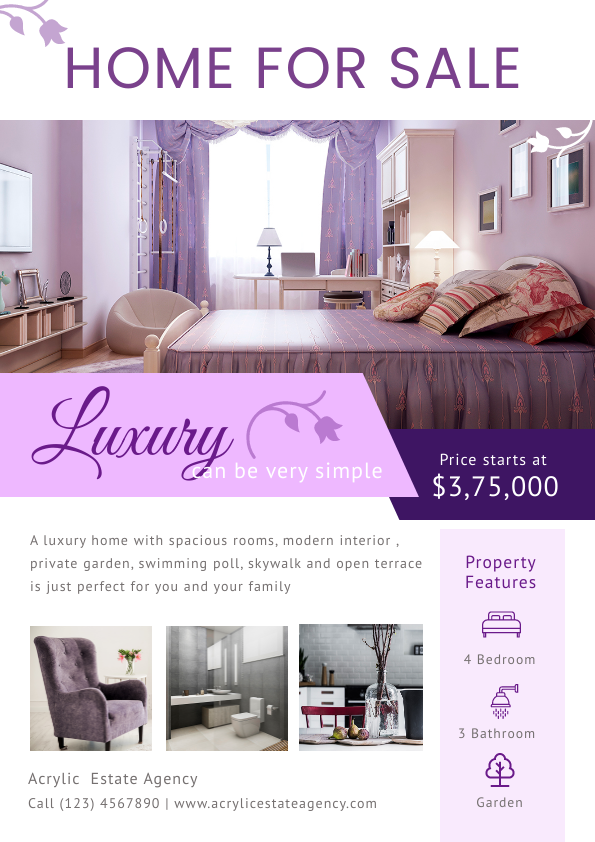 Get This Template and More
In the real estate flyer design template above, notice how the margins between the pictures and the text make the design aesthetically pleasing. Keeping this in mind, DocHipo editor enables you to turn on the grid view on your template. So that you can measure the amount of space you're giving your images, texts, and other elements, consider watching the video below to know more about the same.
If you are stressing out about how to make a real estate flyer, keep these flyer design ideas in mind.
How To Make A Real Estate Flyer In Three Easy Steps
With DocHipo's real estate flyer design templates and awesome Design Widgets, you can create eye-catching flyers for both online and offline use. All you need is a DocHipo account. So, click here to sign-up to DocHipo if you haven't already. Now, follow these three simple steps below to design your real estate flyer.
Step 1: Pick A Real Estate Flyer Design Template
Signing up will take you to DocHipo's all templates page, where you can find all the Document Types and template categories that the application offers. The best way to find a document type is by using the search bar.
Type "Flyer" in the search box and click on the result to browse through the flyer templates.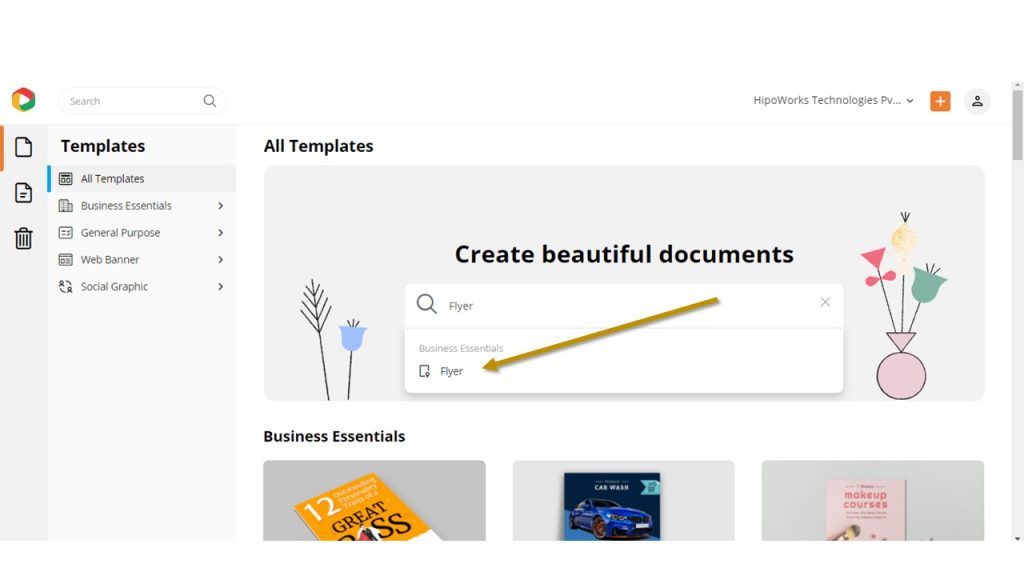 Choose "Real Estate" from the template categories and then search for a template that suits your needs.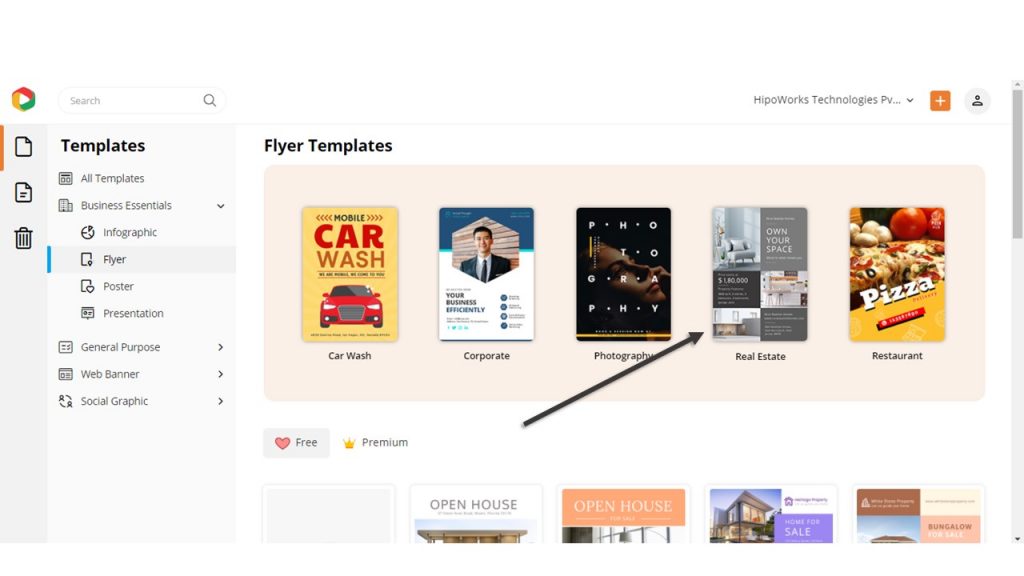 Once you find a template, hover over the template and click "Preview" to look at the template before you take it to the DocHipo Editor.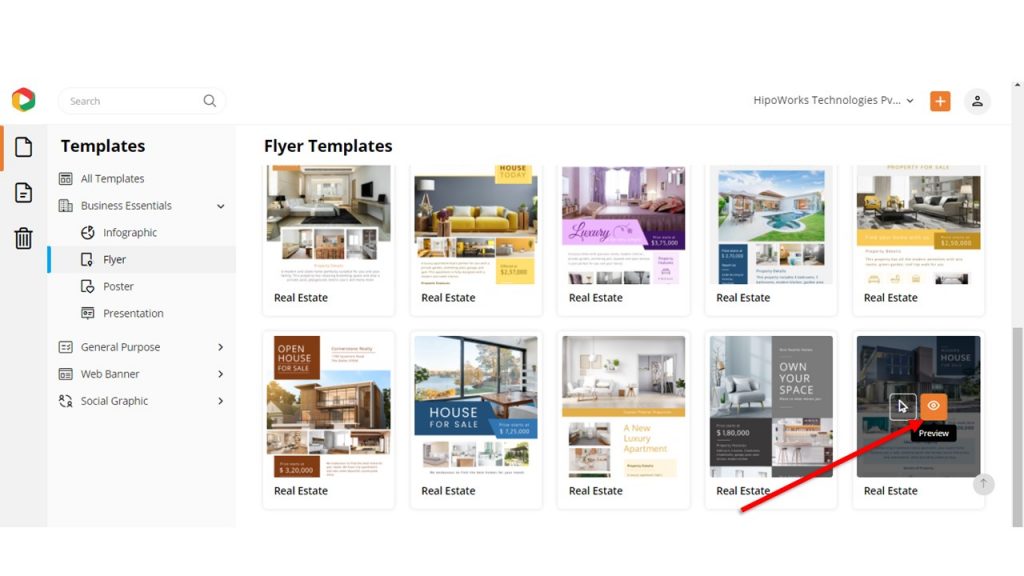 Click "Select" to edit the template.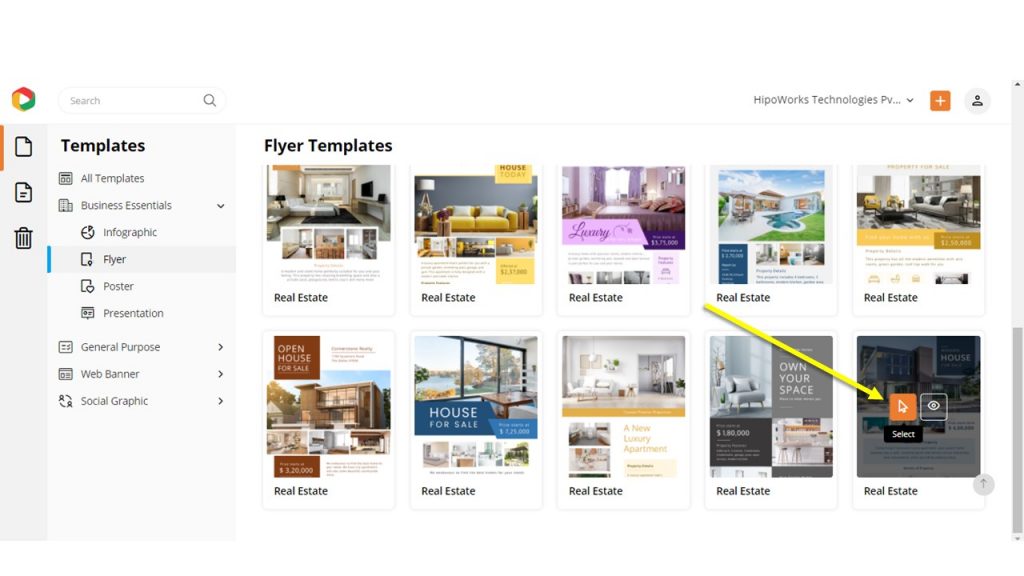 Give your flyer a name so that you could easily find it later and a short description if you want. Then click "Next".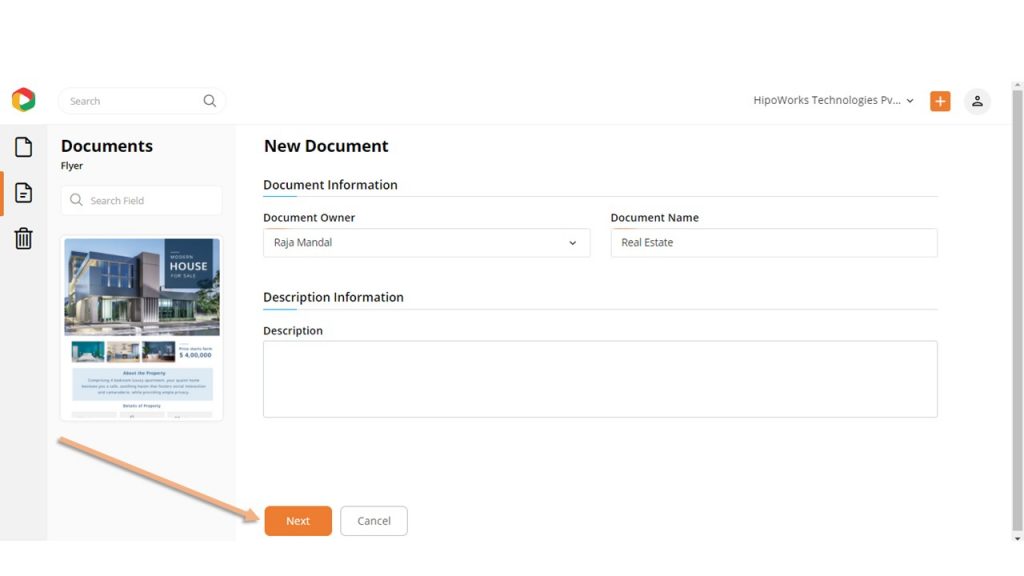 Step 2: Customize The Flyer Template
DocHipo enables you to customize a template in many different ways. You can change the Background, Replace the imagery, Edit the text, add other elements, and more. Follow these steps below:
Add, Edit, Or Delete Text
Click "Text" from the left sidebar to add your own text in three different types: Heading, Subheading, and Body text.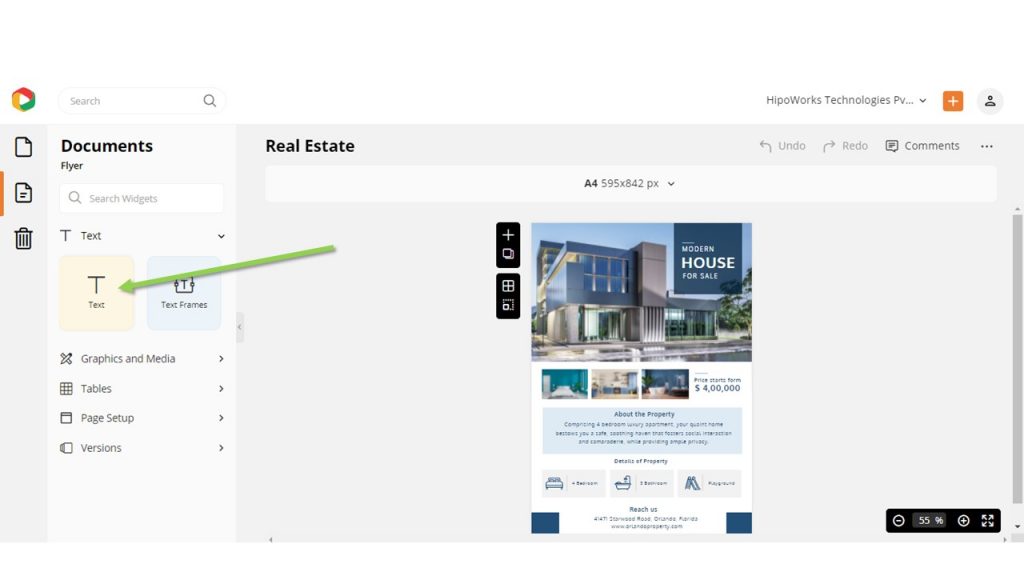 Alternatively, to replace the text with your copy, double-click the text and type your words.
Use the edit panel on the top to change your text's size, color, and font style.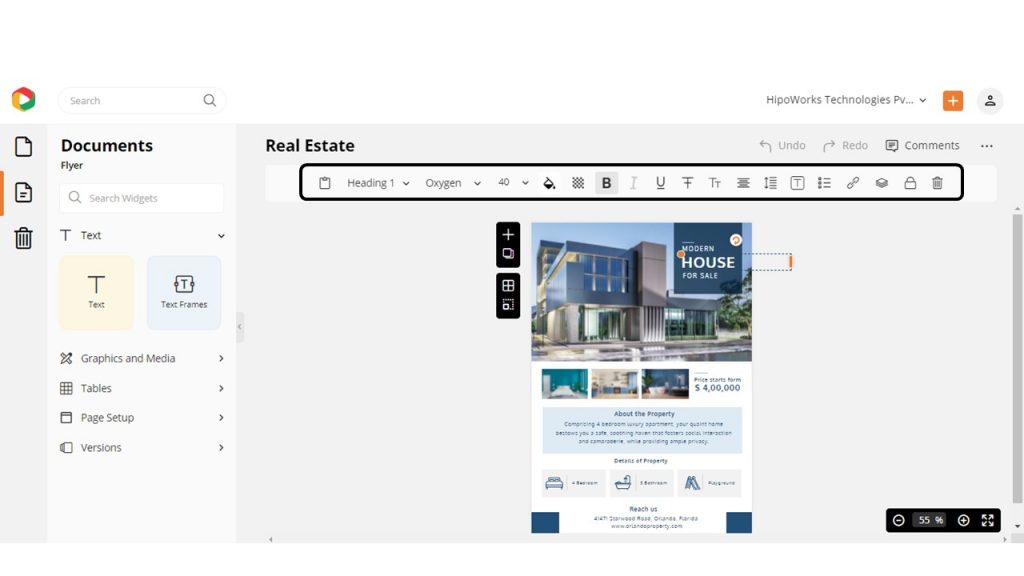 Watch the video below to learn how to do the same.
Change The Background
Click the background from the sidebar under the "Graphics and Media" tab to customize or create a background.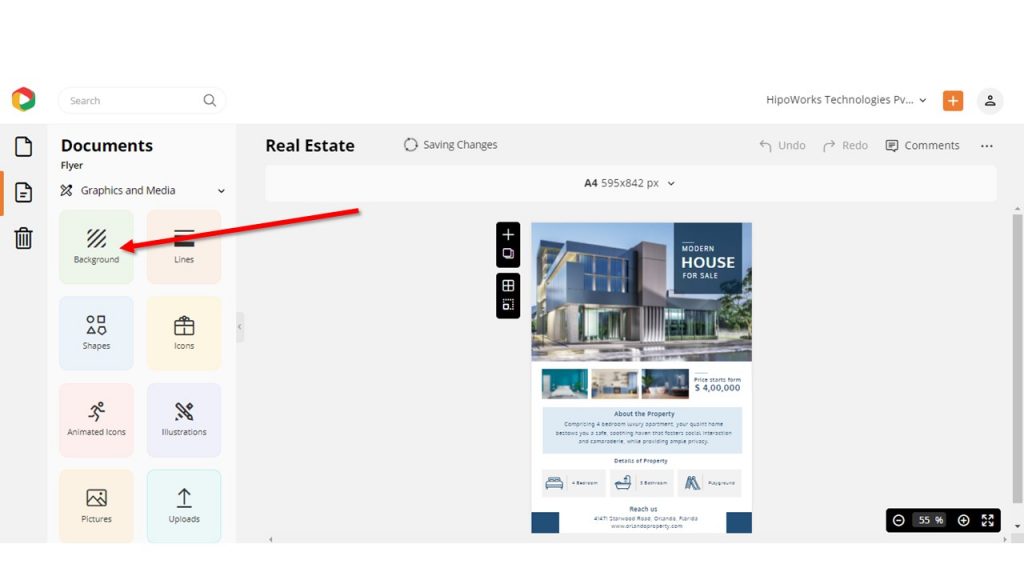 Choose any color you want from the color presets or use the color picker tool to pick any color you want. So, in DocHipo, you are not limited to predefined colors.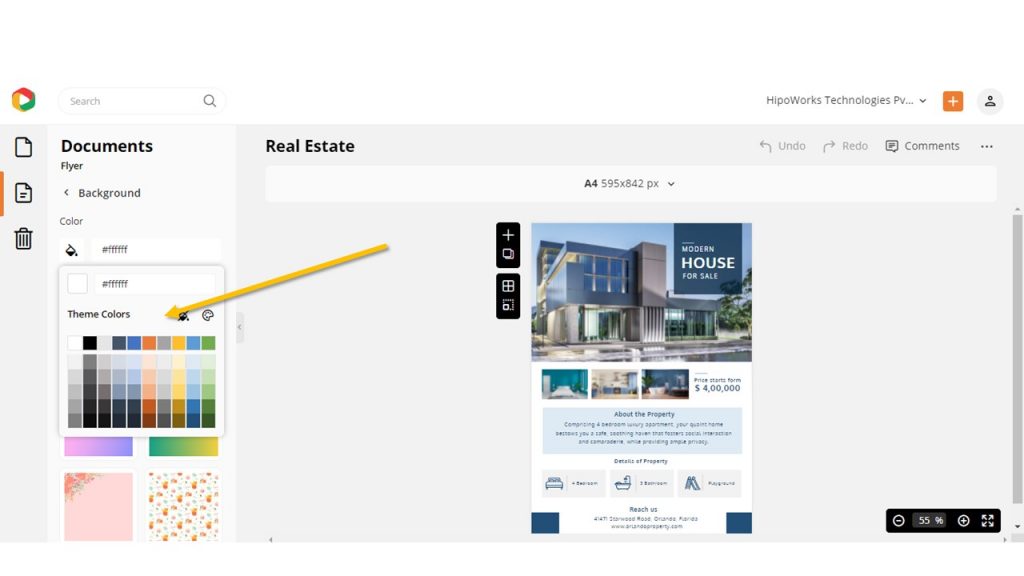 Here is how to create a stunning background in DocHipo.
Replace The Imagery
Adding images of your properties is crucial when it comes to real estate flyer design. To do that, click "Uploads" from the sidebar and upload your pictures.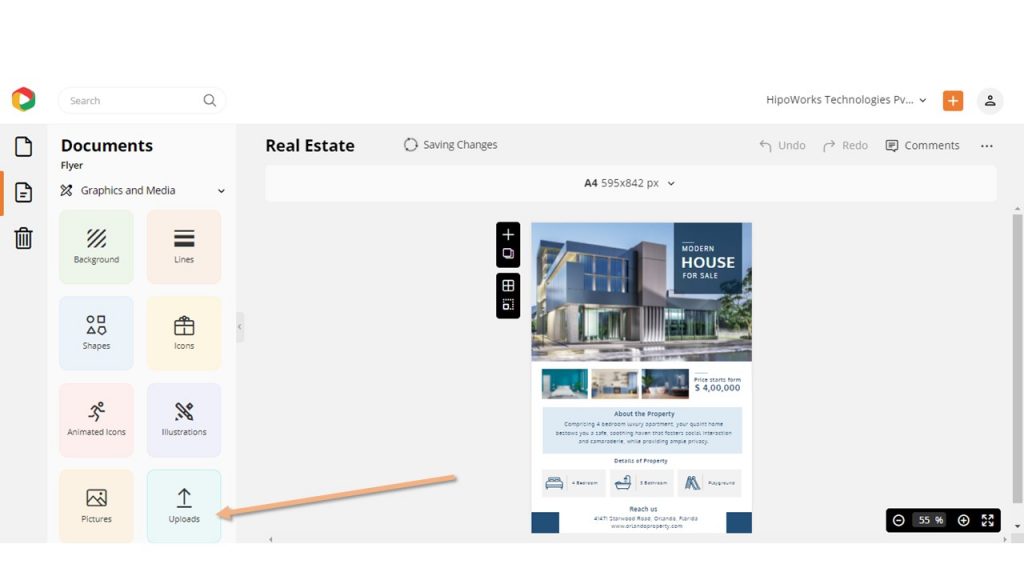 DocHipo's Drag & Drop tool will help you replace the imagery easily.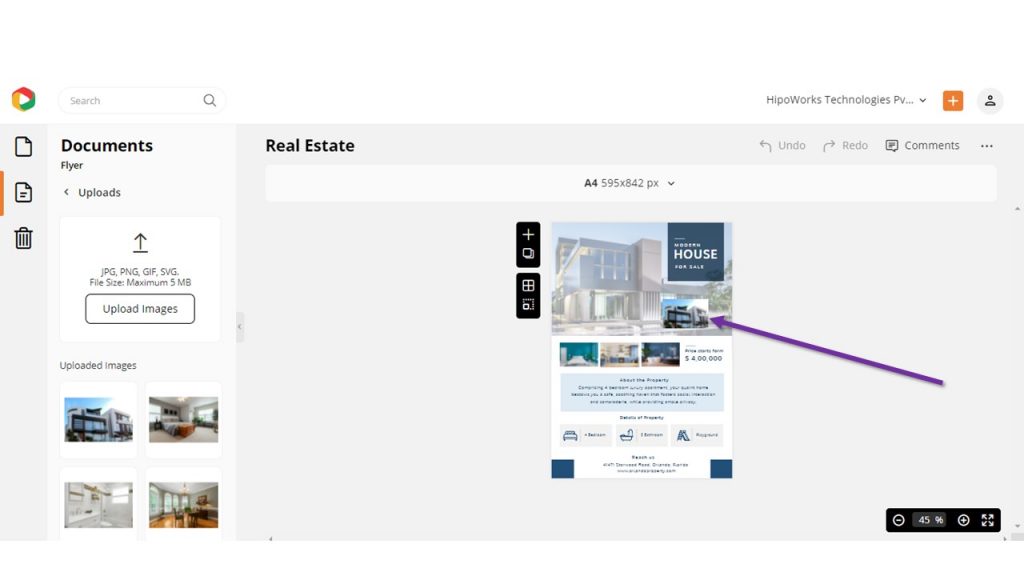 Additionally, you can use DocHipo filters to enhance your images. Here is how.
Edit Other Elements
There might be other elements like shapes, lines, icons, illustrations, and others in the template. You can customize them using the edit panel. For example, change the color of the shapes that have been used in the template to highlight the texts.
DocHipo lets you add these design elements as well. Choose icons, illustrations, lines, and shapes from the left sidebar.
Before: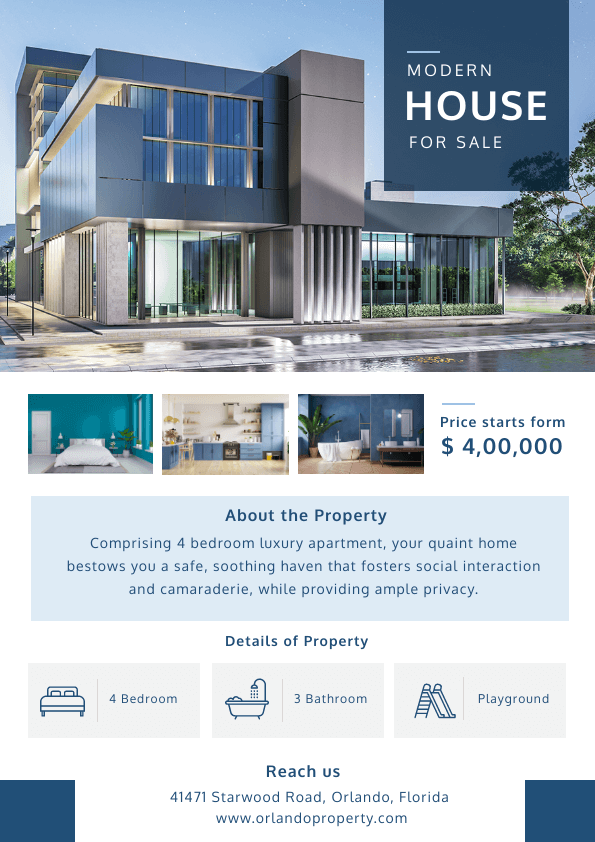 After: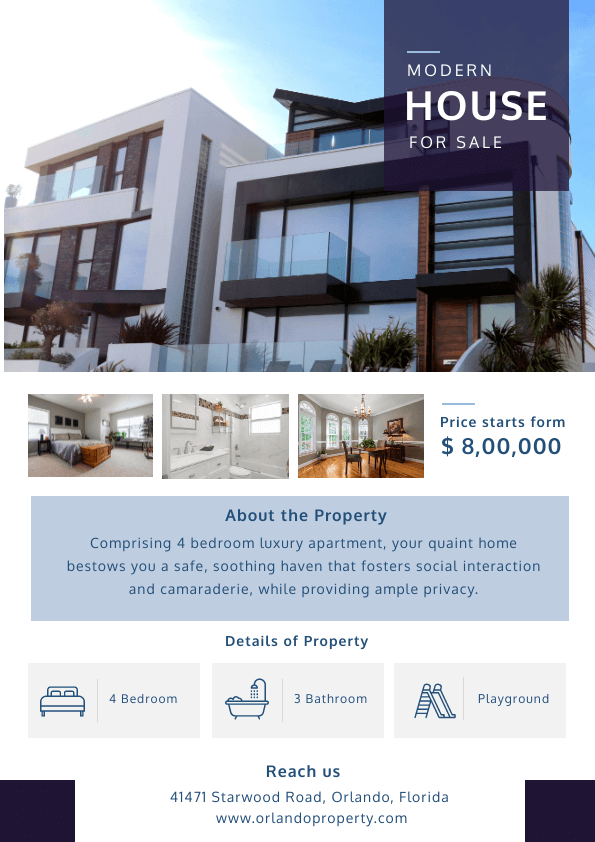 Step 3: Download Your Real Estate Flyer Design
Click on the three dots from the upper right corner of your screen and choose "Download" from the drop-down menu.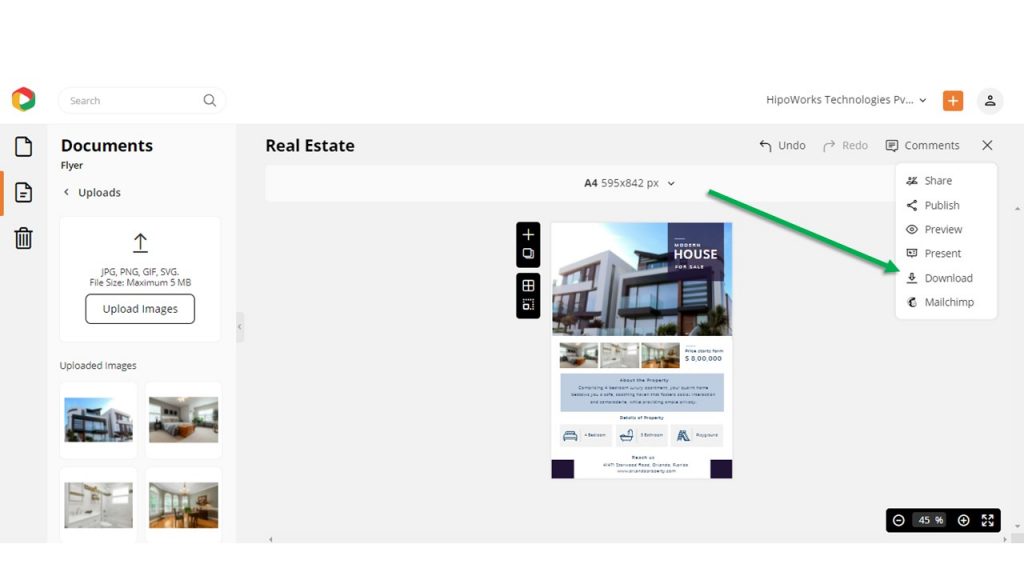 Choose your required file type and quality, and then click the Download button.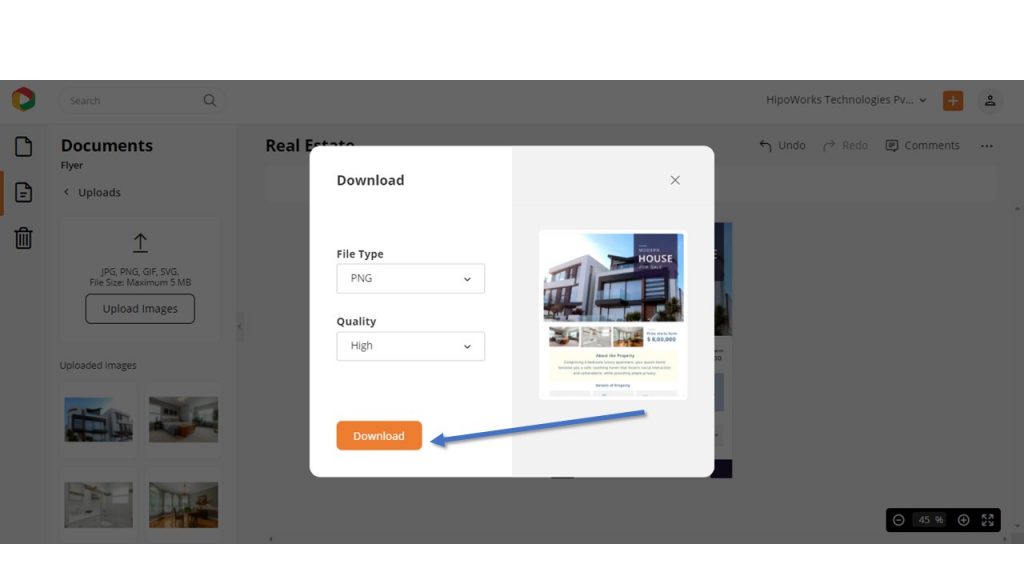 Watch the video below to learn more about downloading a document in DocHipo.
A real estate business's survival requires an online presence in this competitive world. DocHipo can help you design other marketing graphics such as Facebook Post, Instagram Post, Twitter Post, and your business Logo.
To Sum Up…
As a realtor, you should always look for ways to reach prospective buyers and grow your business. When done correctly, real estate flyer design can help you showcase your listings and reach new prospects in your target location. And this is one of the crucial marketing tactics of a real estate business.
The world is more digital than ever, for sure. But that doesn't mean that other marketing forms are obsolete. A unique flyer design should be one of the core pillars of any real estate marketing campaign.
Hopefully, the article helped you learn how to make a real estate flyer easily. Now, include real estate flyer design as one of your marketing tools without further ado. Hence, highlighting your listing's best features and increasing your exposure is just a few clicks away.
Sign-up for DocHipo today and design flyers to grow your real estate business.