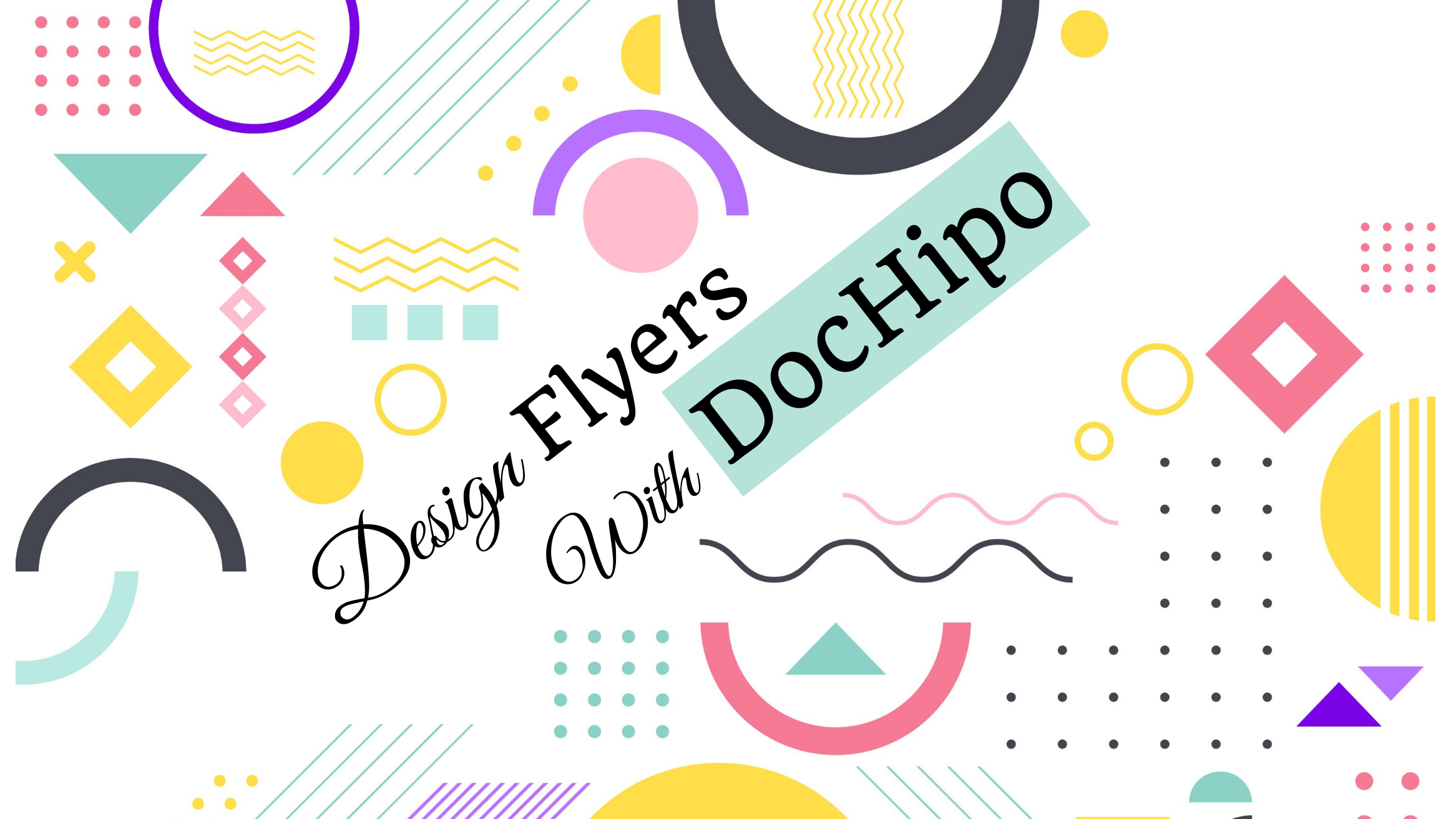 How to Create a Flyer in Minutes

May 21, 2021
Flyer design is one of the most effective and inexpensive ways to promote your business regardless of the size. You might be thinking, why Flyers? As they are not as trendy anymore as they once were. But does that mean they are not effective? No. Even today, flyers are one of the most effective marketing materials when it comes to creating personal relationships with customers.
This article will discuss why you should include flyer design in your overall marketing strategy and, most importantly, how to create a flyer using DocHipo.
What Is Flyer Design?
First things first. Before we dive in, let's talk about what flyer design is. A flyer is simply an advertisement material intended to distribute widely and bring attention to promoting business products, services, and events. They are also called "handbill," "circular," "leaflet," and many others.
Flyers are a low-cost form of advertising or marketing. We all have come across flyers where businesses promote their products and services. Using these marketing tools, you can target your audience more effectively. And DocHipo is there to help you with the design work. But another question arises when thinking about designing flyers.
Are They Still Relevant?
The answer is Yes! Though digital marketing has become the primary marketing strategy, other printable marketing graphics like flyers can still be compelling.
There are many reasons why flyers are still an effective marketing material.
First, you can design flyers for whatever your purpose is and bring them to an event that is hyper-relevant to your event's audience. It gives you the perfect opportunity to promote your business.
Second, flyers can be hung in public places where people can get attracted to them. As long as people visit sites and look at things, flyers can generate awareness and an audience for your business promotions.
Third, you can use flyers digitally as well. Design flyers using DocHipo, download the file and share it on social media, websites, landing pages, and more.
Now, you know what is flyer design and why they are still relevant for your marketing strategy. We have come up with a few essential points to show you why flyer design is vital for your business.
5 Reasons Why Flyer Design Is Important For Your Business
As a business owner, you might come across a wide variety of marketing strategies. All of them claim to be of immense benefit. However, some of them might be costly, ineffective, and even unable to reach your target. Hence, you and your marketing team need to choose the marketing strategies wisely.
Flyer design is one of the traditional marketing strategies that have a significant impact on building brand reputation. Here are some reasons why flyer design is essential for your business.
#1 Flyers Are Cost-Effective
The most important aspect of flyer design is it saves you a lot of money. Statistics revealed that 48% of consumers respond to the flyers they receive from the businesses. So, 48% of consumers might choose to do business with you through flyers. And how much does it cost? You can design flyers for free using the free flyer design templates in DocHipo.
Flyer design comes in handy when you have a strict budget for your marketing. Especially when your business is new. However, flyers are an effective yet sensible investment for businesses of all sizes. Thus, flyers are the most reliable way to spend money for marketing, and the effectiveness of the flyers is unmatched.
#2 Flyers Save Time
Marketing is not as easy as it seems. It requires a lot of brainstorming and creativity. Thus, making it time-consuming as well. Though flyer design requires effort, it is comparatively low and has a massive impact on the target audience. You just need to make your flyer design stylish enough to grab people's attention. And your job is done. Design flyers to get high impact with low efforts.
#3 Flyers Attract The Right Audience
Reaching the right audience is always the most important task for every marketing team. No one wants to invest in advertisements where the audience is not interested. Flyer design will help you reach the target audience that will ultimately bring success to your business. For example, if you own a training provider business, you can design flyers and distribute them to educational institutions.
#4 Flyers Highlight What's Important
With Flyers, you can highlight the most important aspects of your business in a short space and still manage to grab your audience's attention. A few catchy words in large and bold fonts are enough to summarize the primary objective of your business. If your flyer design is stylish enough to impress your audience, they will try to know more about the brand. Thus, giving you a huge opportunity to generate leads and keep your sales funnel always full.
#5 Flyers Help You Monitor the Marketing Campaigns
Flyers are a traditional marketing tool that dates back a long time ago. But the marketing strategy has evolved with time. It allows you to monitor your marketing campaigns effortlessly. This is one of the crucial benefits for marketers. You can put coupon codes on the flyers, and when your audience purchases through that coupon code, you will get the results. Furthermore, you can provide QR codes and custom URLs on your flyers to help you monitor your campaigns' progress.
Flyer Design Tips
What do you do with flyers that someone hands you on the streets? Do you read it or throw it away? When was the last time you read a flyer?
Before you start designing flyers, think about what catches your attention. Many businesses fail to design their flyers appropriately and end up making no impact on their audience. Here are some flyer design tips to help you design flyers that will grab people's attention.
Focus On The Key Message
The most important thing that you should remember while designing your flyer is your key message. It would be best if you did not attempt to communicate too much with a single flyer. Otherwise, all your messages will get lost in the shuffle. Focus on the key message; the less you try to communicate, the easier your message will be to get across.
Include A Catchy and Clear Call-To-Action
Call to action is the most important part of your marketing strategy. Without a call to action, your marketing strategy is incomplete. The most successful flyers are the ones that drive results. But your flyer will never perform well if you don't tell your audience what you want them to do. If you want your audience to take action, whether to attend your event, come to your office for a free consultation, sign-up for your newsletter, or anything else, you need to tell them.
Include a clear and eye-catching call to action on your flyer. It will surely help you get maximum results and achieve your marketing goals.
Make Sure The Flyer Design Reflects Your Branding
When it comes to building your brand identity and credibility, consistency is the key. It will help you create good relationships with your customers. Hence, when planning to design flyers, make sure that most of your brand elements are on them. You can include your logo, brand fonts, colors, and others. It will allow your audience to link your brand with your flyer design easily.
Keep Your Audience In Mind
To create an appealing flyer design, you need to identify your target audience for whom you are designing it. Flyer design for a travel agency is entirely different from a flyer design for the training providers. Or, a business that targets millennials should not design the flyers the same as the businesses that make an impact on CEOs, Managers, Retirees, and others. The point is, you need to know your target audience first, and they design flyers keeping that audience in mind.
Use Your Flyers Digitally
There is no doubt that your flyer design is printable marketing material. But don't just stop there! There are various other ways you can use your flyer design. You can use them through social media posts, email newsletters, and web pages. Thus, making it a great way to reach your target audience effectively. Include the flyer design in your digital marketing strategy to double their impact.
Flyer Design Templates In DocHipo
1. Car Wash Flyers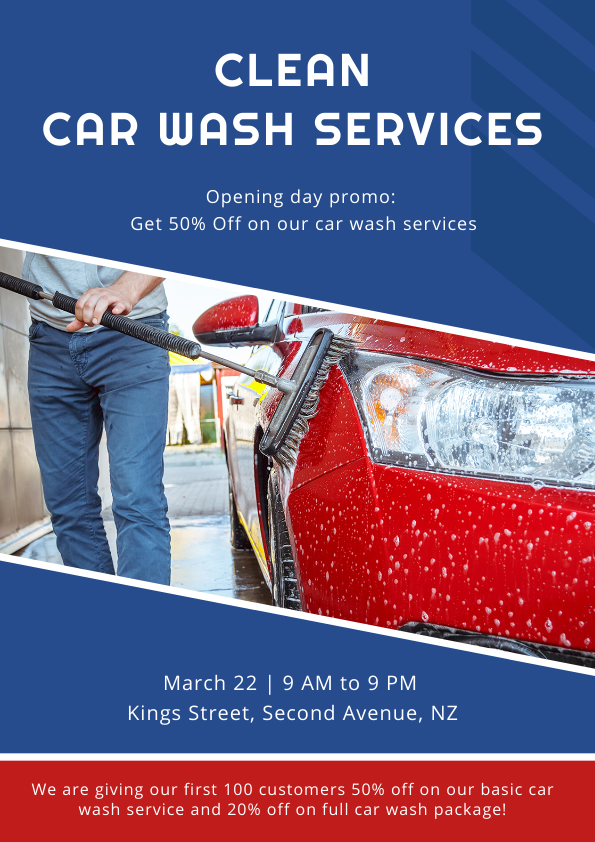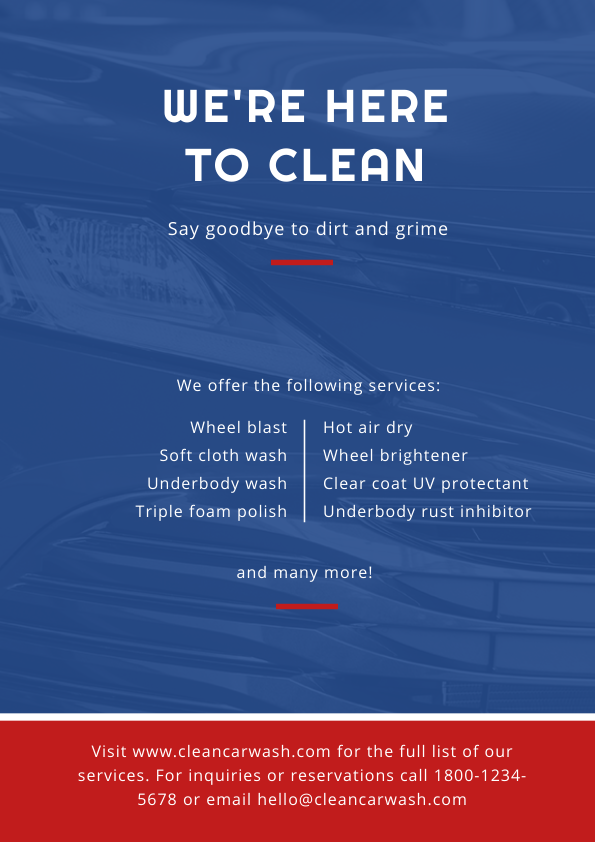 2. Restaurant flyers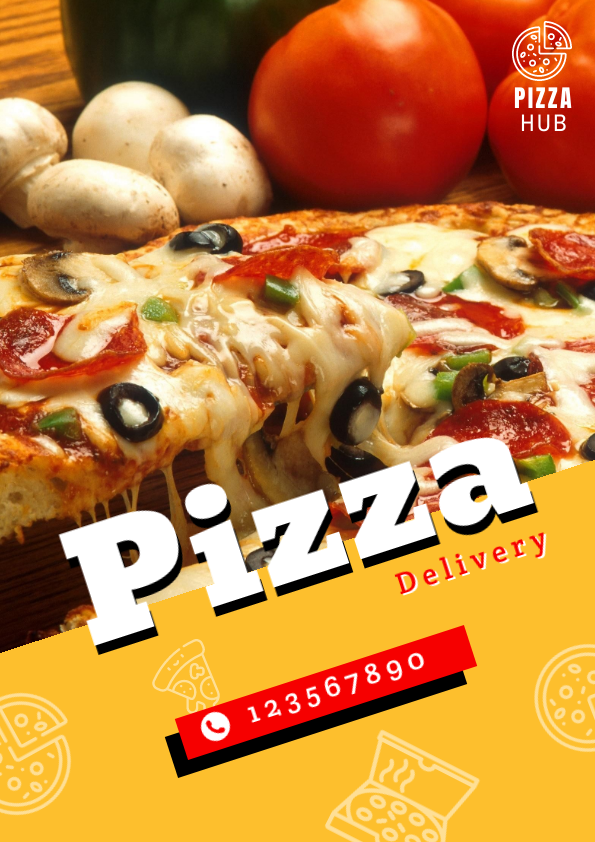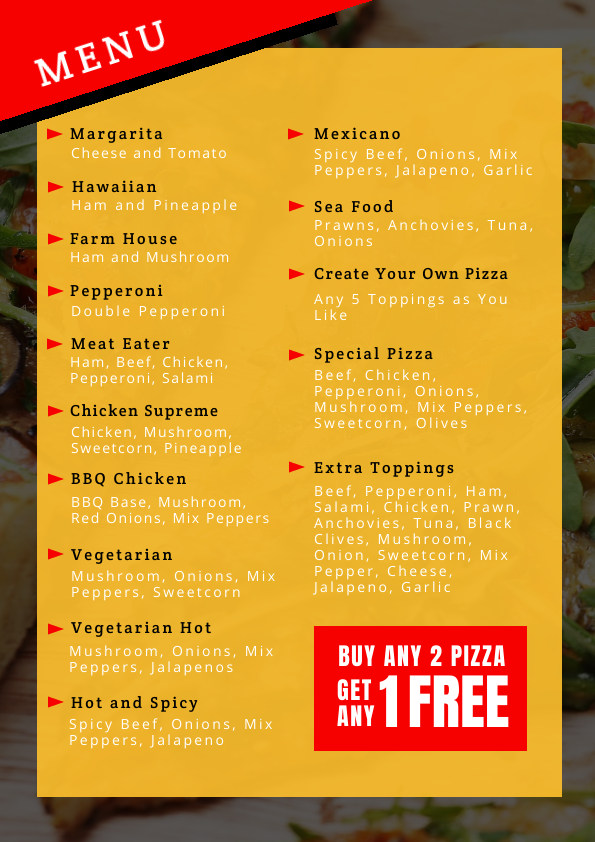 3. Corporate Flyers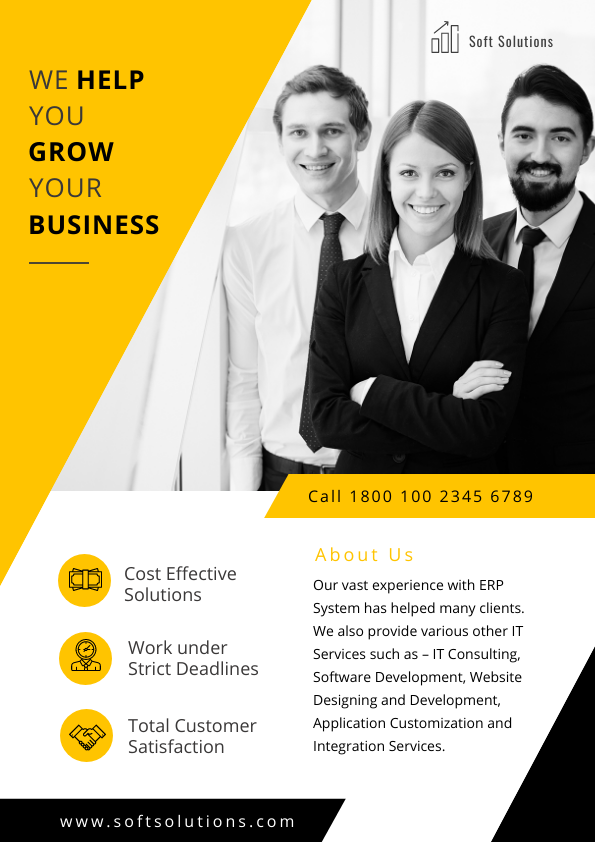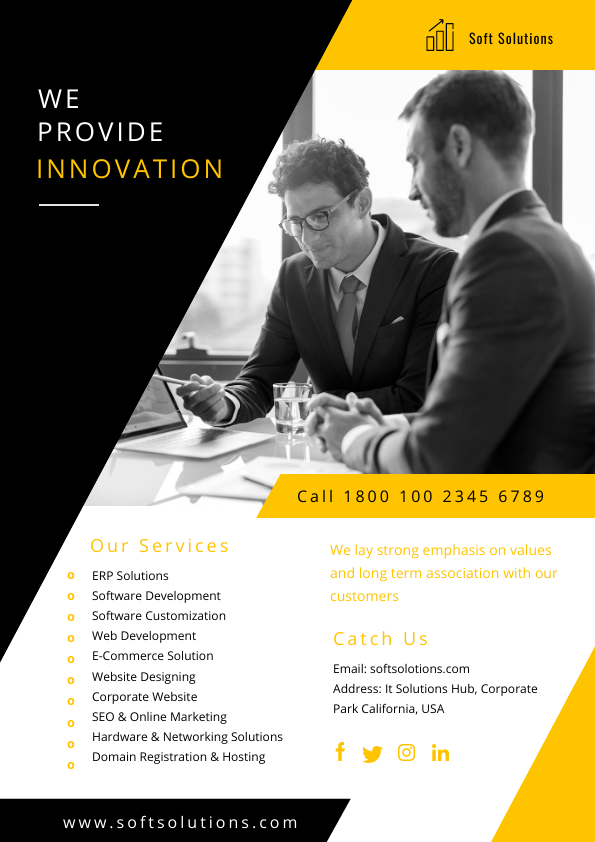 4. Photography Flyers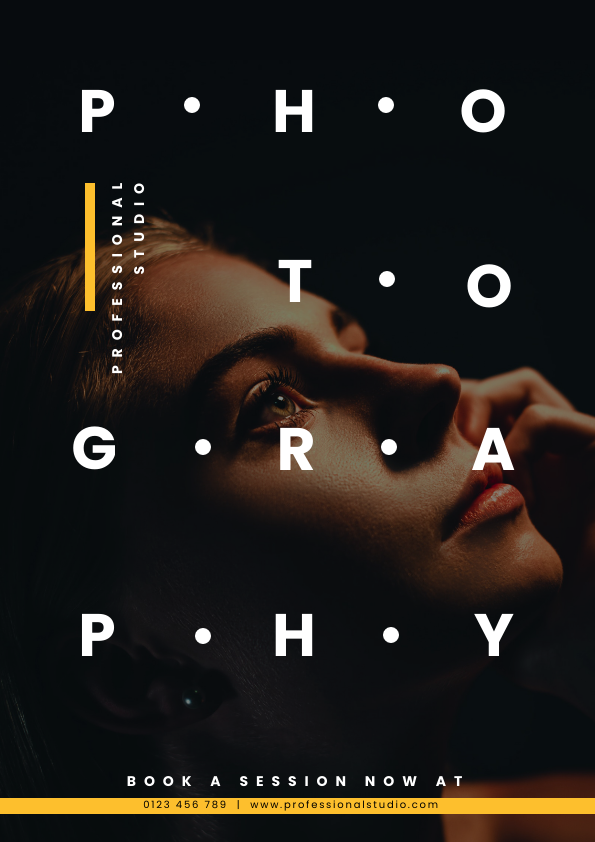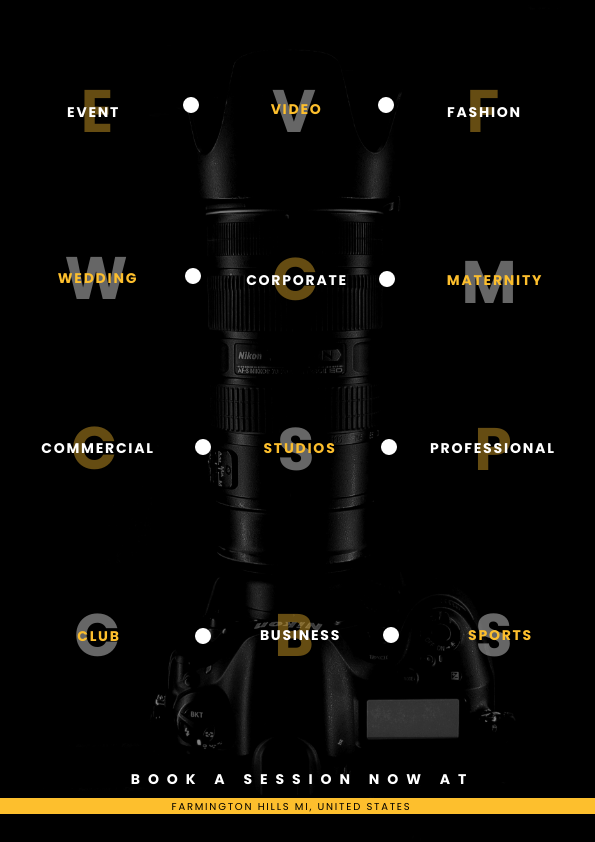 How To Design A Flyer In DocHipo
Now it's time to create your flyer design with fewer efforts. In DocHipo, we have a bunch of professionally designed flyer design templates for a variety of categories. You can edit the templates that are displayed above and make them your own. Here's how to design a flyer in DocHipo.
Step 1: Sign-Up To DocHipo
If you have not already signed up for DocHipo, then go to the homepage of DocHipo and click on "Sign Up." Use your email id, create a password, and complete an account in DocHipo for free.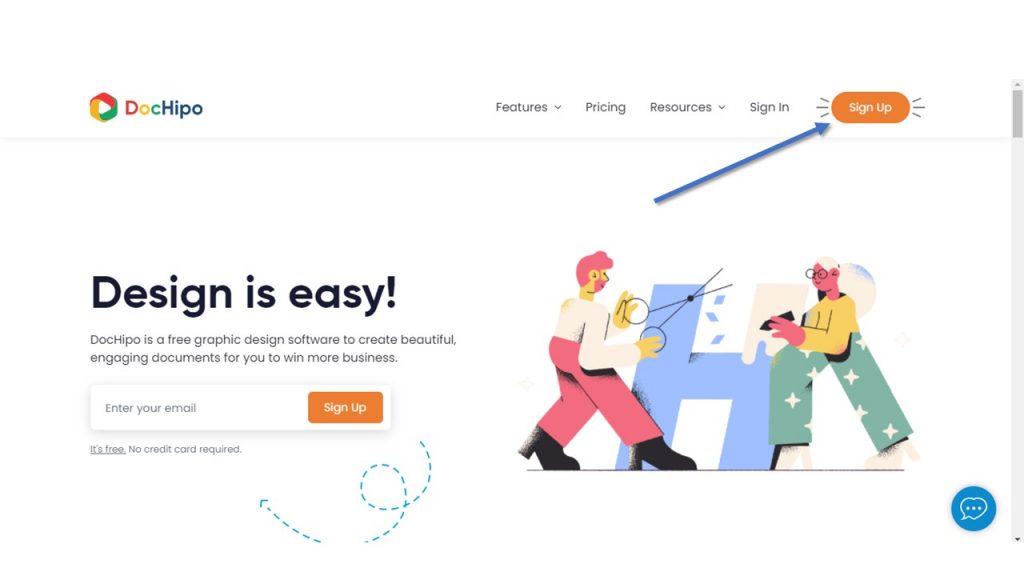 Step 2: Select A Template
Once you land inside the DocHipo application, you will find a wide variety of templates on your screen. To minimize your efforts of finding the suitable template you are looking for, we have created a search bar. You can search templates by Document Type through the search bar. Type "Flyer" in the search box, click on the result and all the template categories will appear in a quick second.
However, you don't need to type "Flyer" in the box. Just click on the search bar, and the second document type is "Flyer." Click on it and choose from the myriad of template options.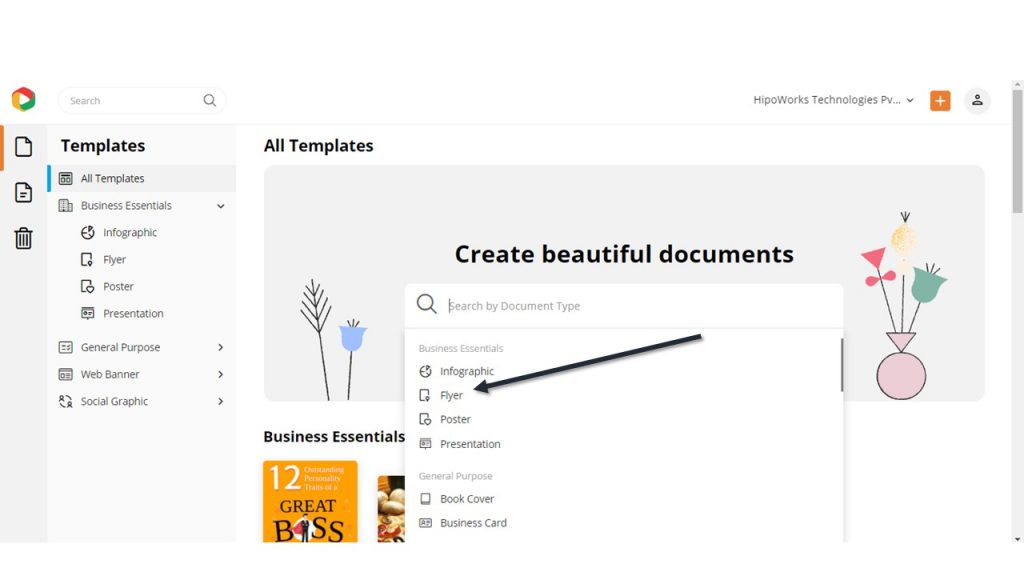 Step 3: Customize The Template
Once you find a suitable template for your flyer design, start customizing it according to your need. DocHipo has some beautifully crafted Design Widgets that will help you edit the templates and make them as you want. You can change almost anything you want; background color, fonts, images, and other design elements. Now, we will customize the below car wash flyer template to show you how DocHipo works.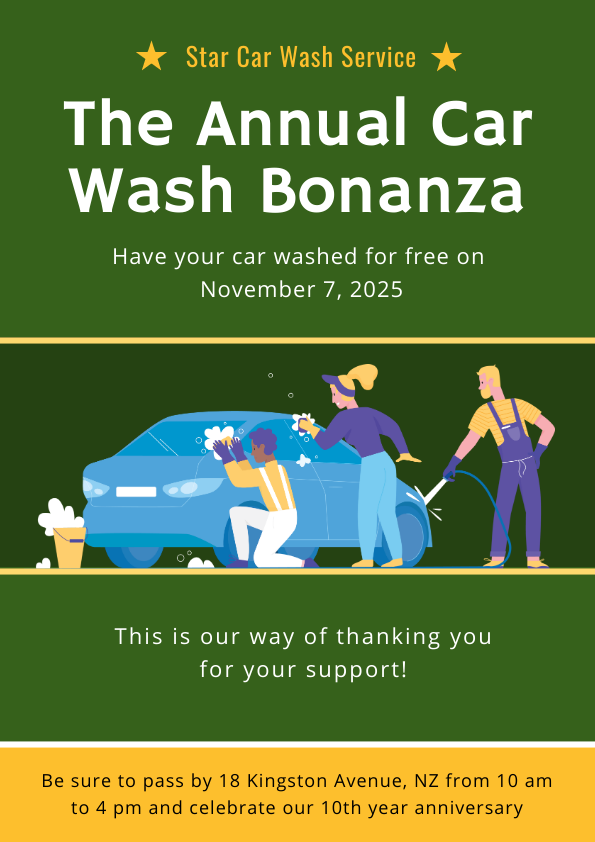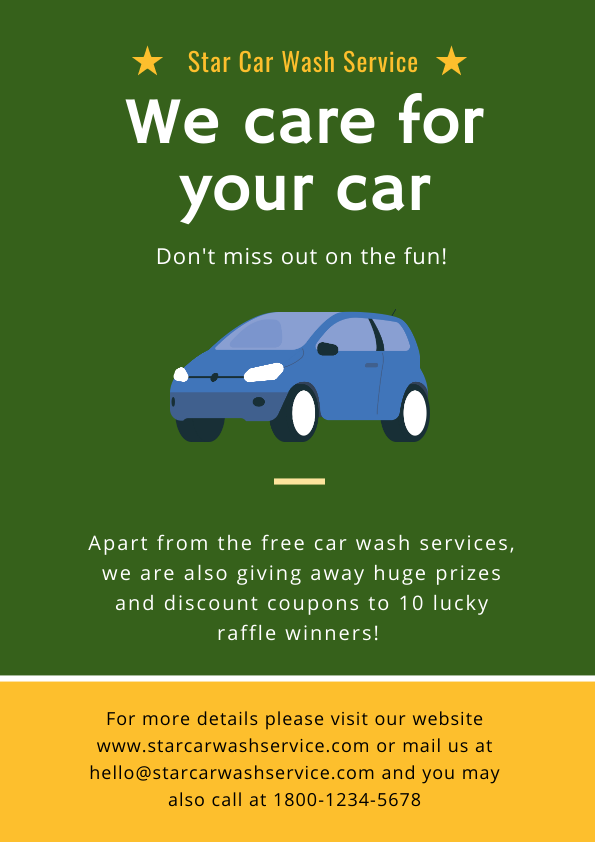 Background Color
Start off by changing the background color that corresponds to your branding color palette. If you are not working with any brand colors, you can think about the theme of your flyer design and choose colors accordingly. In this case, we will use Jet Black and Tart Orange as this color combination is used by many businesses to make a fiery design. It can immediately please the viewers' eye and reflects the purpose of the design.
Click on the template's background and then click on the small box that appears on the top of the template. From the left pane, you can choose the color you want for your flyer design.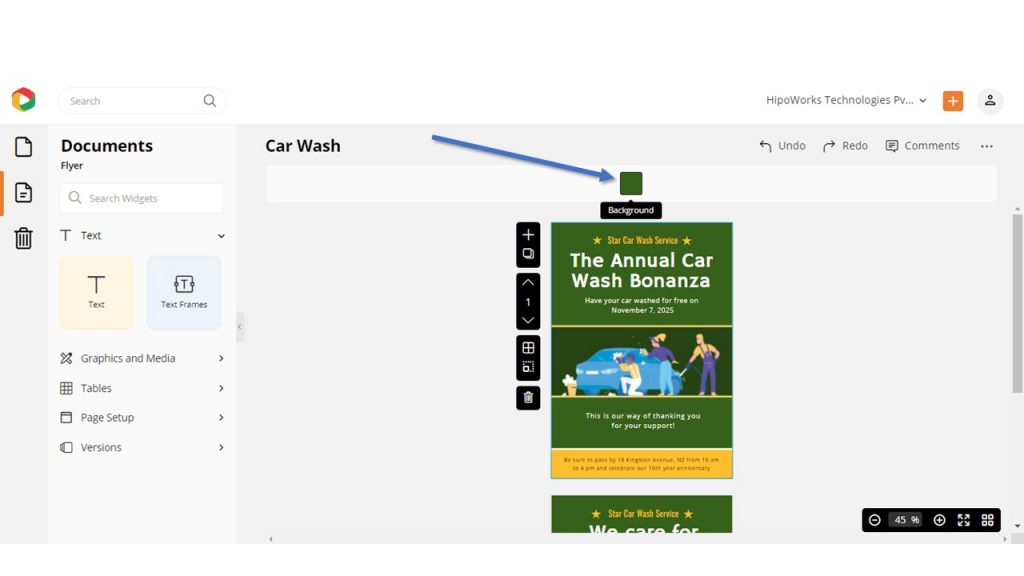 Additionally, DocHipo allows you to choose custom colors and input hex codes in the box to get the color you want for your design.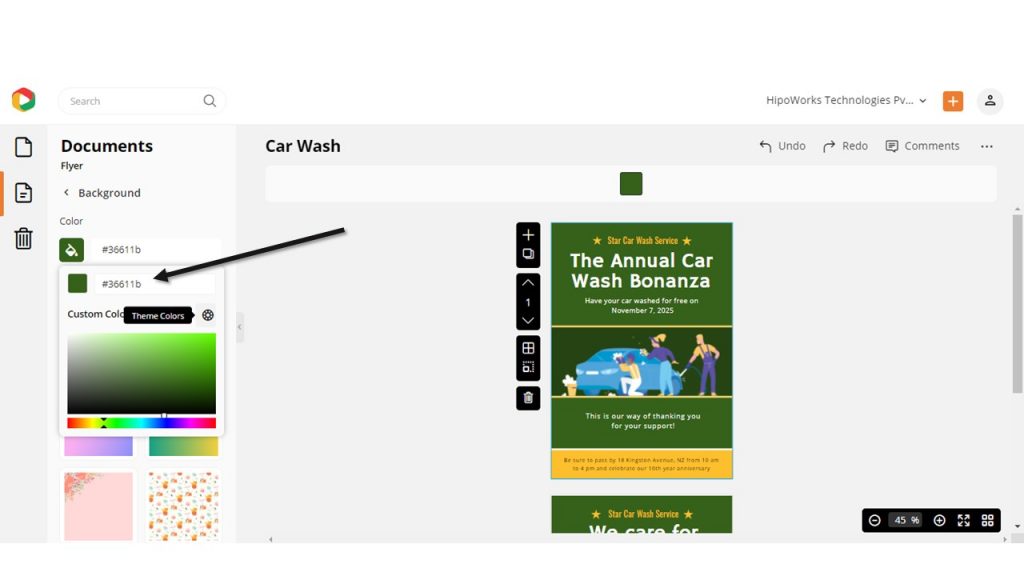 Still, if you are unable to find the right color combination for your design, click here to learn about it.
Text
Now, you can add or change the text by clicking on the text tool panel. In this case, we are going to change the text from "Annual Car Wash Bonanza" to "Clean and Quick Car Wash."
Furthermore, you can change the font size from the list as shown below. In this case, we will decrease the font size for "Clean and Quick" to 50 and increase it to 70 for "Car Wash."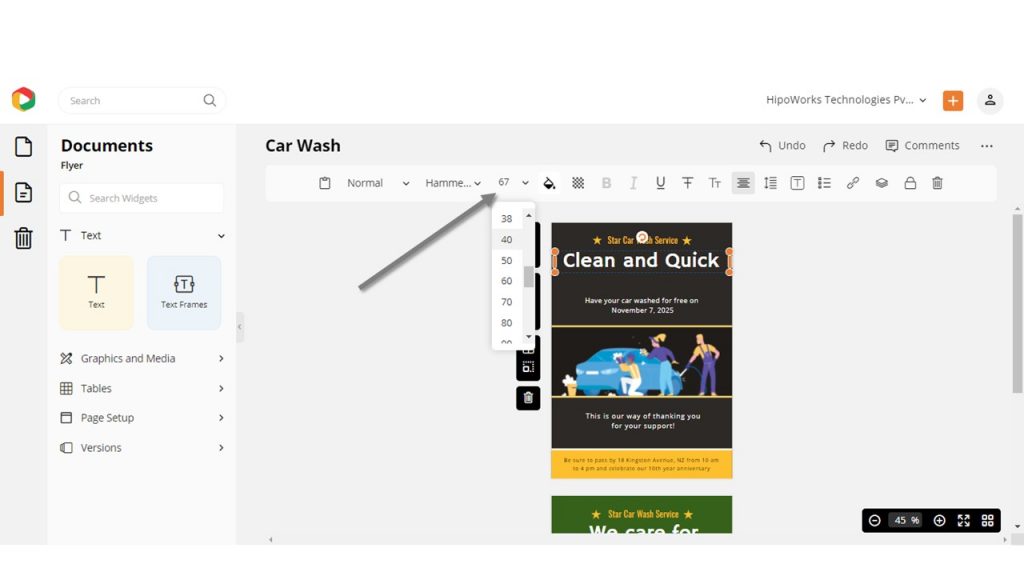 Change the color of your text easily using the color drop-down menu as shown below. As we have mentioned before, don't feel limited by the colors displayed in the edit panel. DocHipo always enables you to add your own colors by entering the HEX codes of the colors. Here we have broken down the text into two parts to change the color of the "Car Wash" to Tart Orange. Thus, highlighting the primary objective of the business.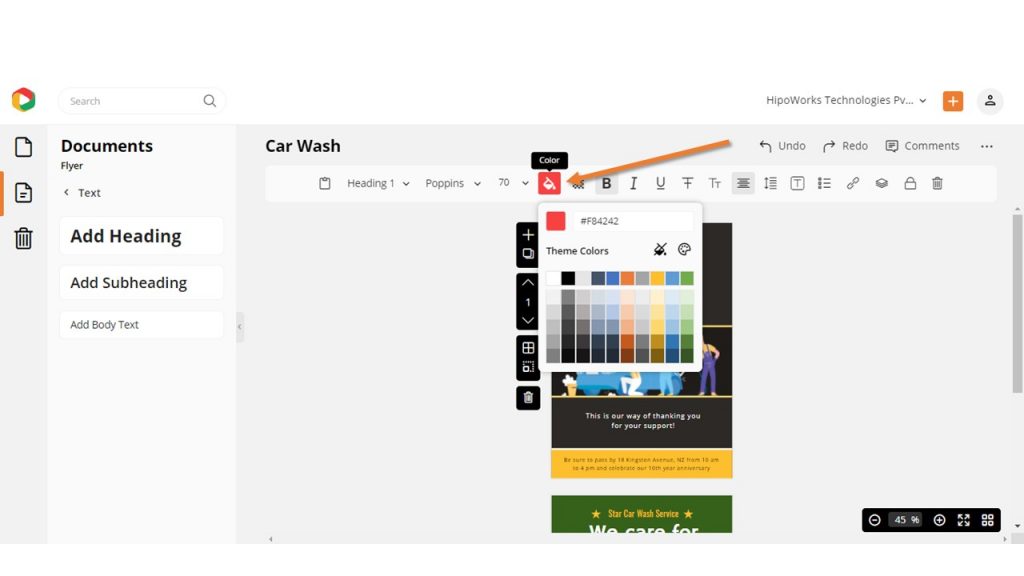 Additionally, you can change the font style from the list of fonts in the drop-down menu. Here, we are going to change the font style for "Car Wash" to Poppins.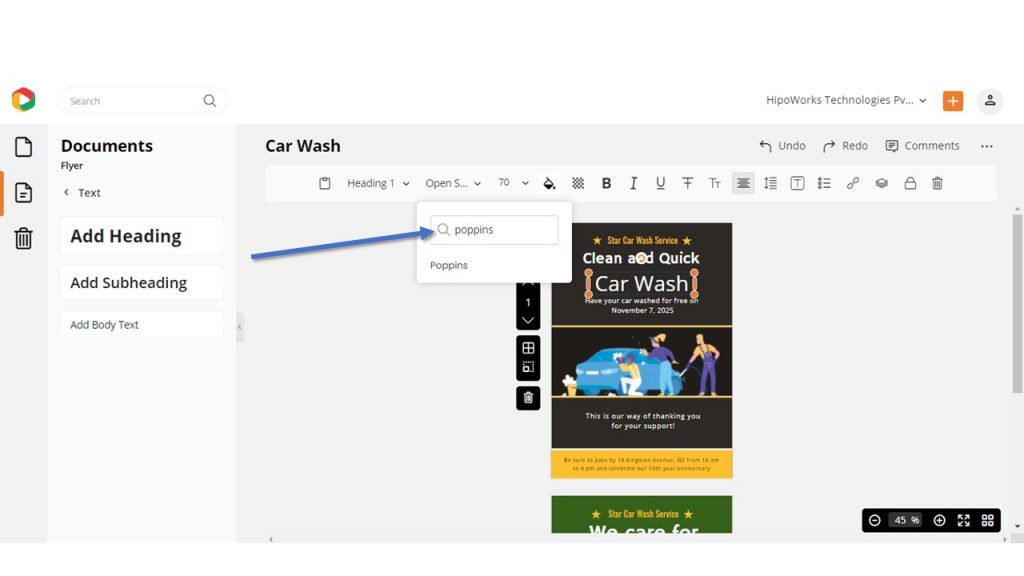 Consider watching this video to learn how to add, edit or delete texts in DocHipo.
Other Design Elements
You can also add some extra design elements such as Icons, Illustrations, Lines, and Shapes. Do this by browsing the shapes and icons library housed under the "Graphics" panel. Moreover, you can search for the design element you need. In this template, there are lines to divide the flyer into sections and to make the design more appealing. Keeping the color combination in mind, we have changed all the design elements to "Tart Orange."
To do the same, you need to click on the design element and change the colors through the color edit tool, as we have discussed before.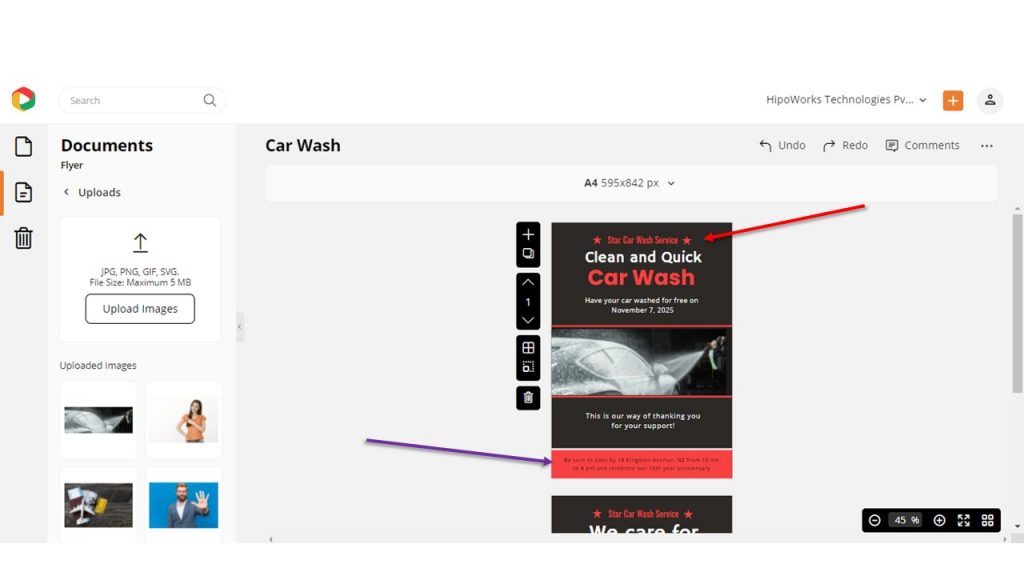 Images
Adding images of your products, services, or business functions in the flyer design is one of the best ways to make the design super engaging. You can also go for stock images from popular stock images website like Freepik, Pexels, Pixabay, and more. Click some pictures of your service or products and enhance them using the DocHipo Photo Editor. Upload them to DocHipo to add them to your flyer design.
Click on the "Pictures" button on the left panel under the Graphics and Media panel. Then upload your images and add them to your design, as shown below.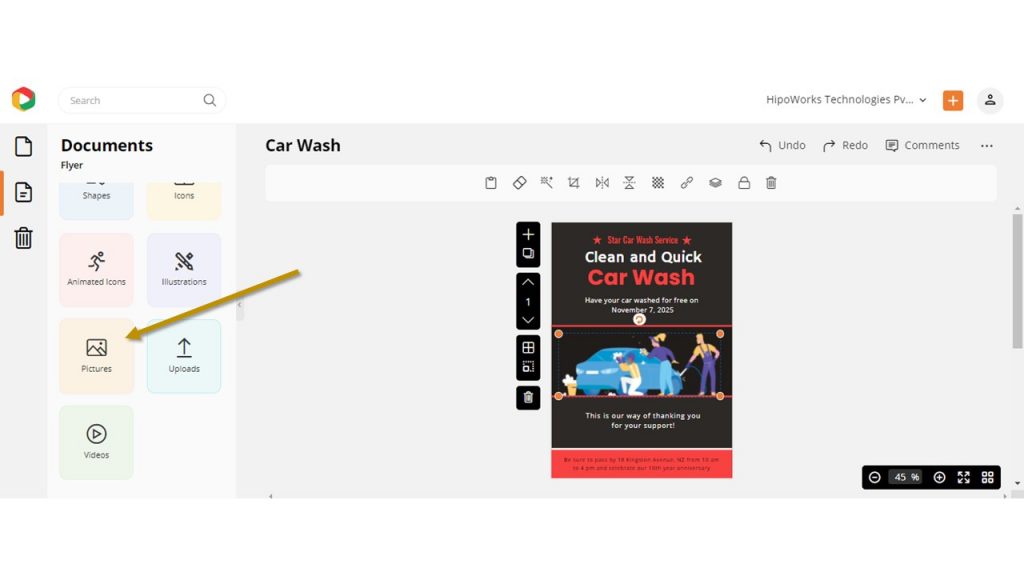 Click Here to learn more about using stock images in your design.
Final Design: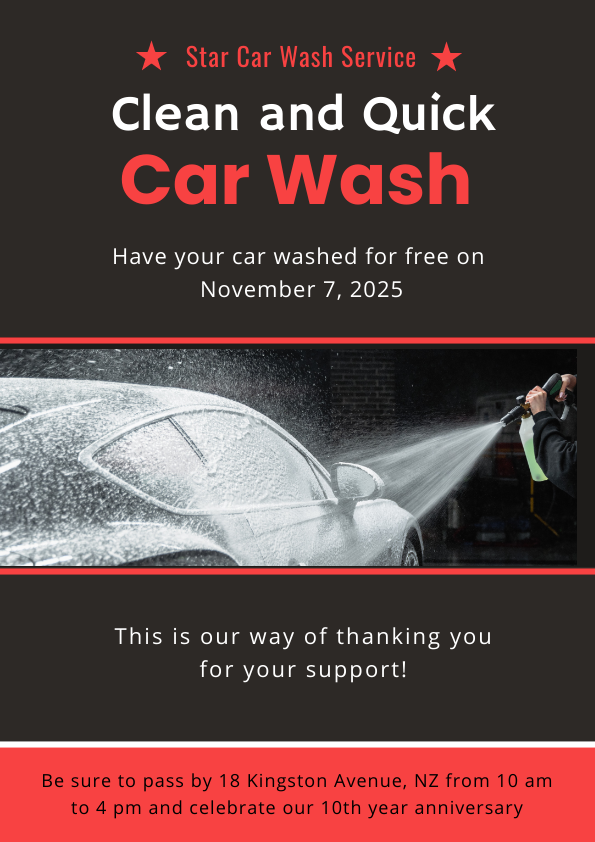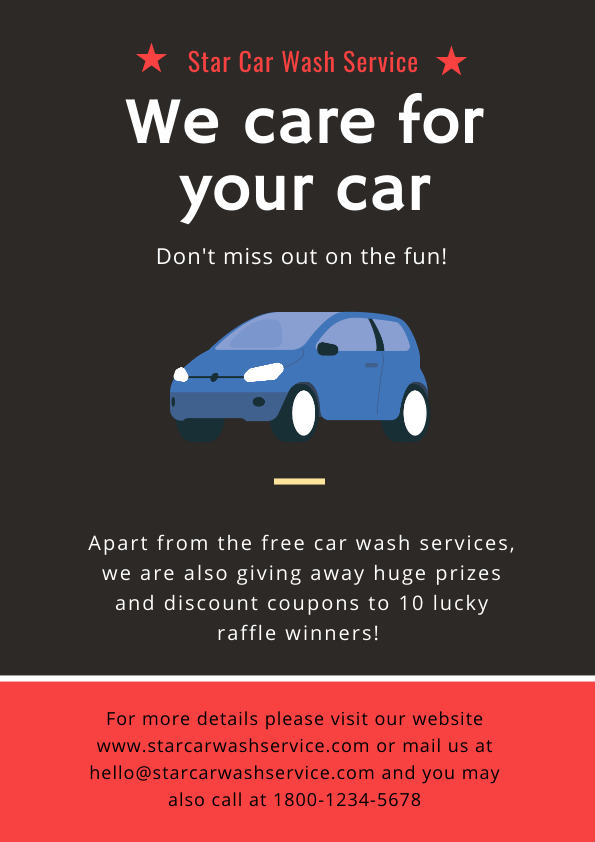 Step 4: Download The Flyer Design
Once you are satisfied with your design, you can download it by clicking on the three dots on the upper right corner of your screen. Click on the Download option from the drop-down menu.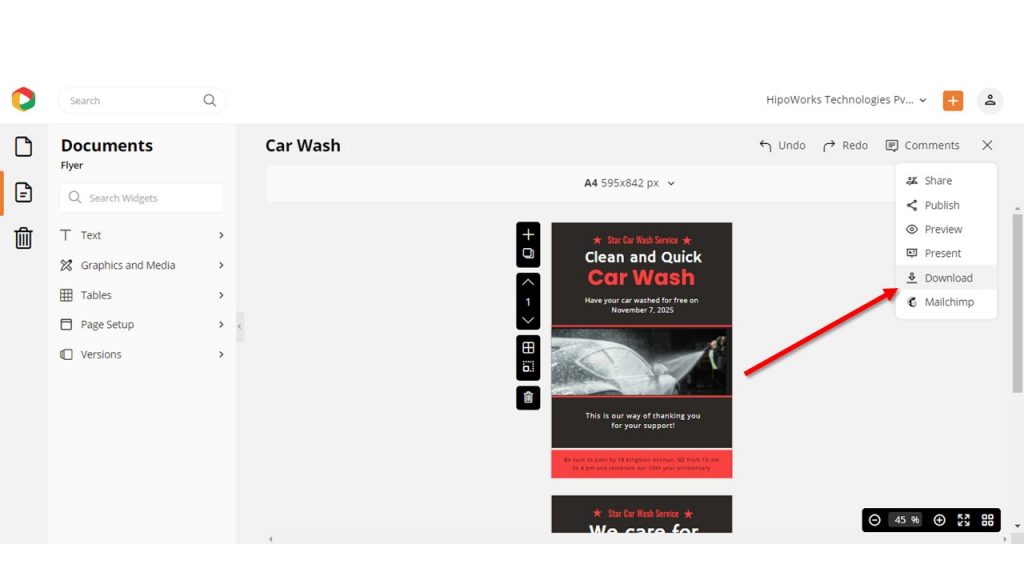 Hit the Download button, and your flyer design will automatically be downloaded to your computer.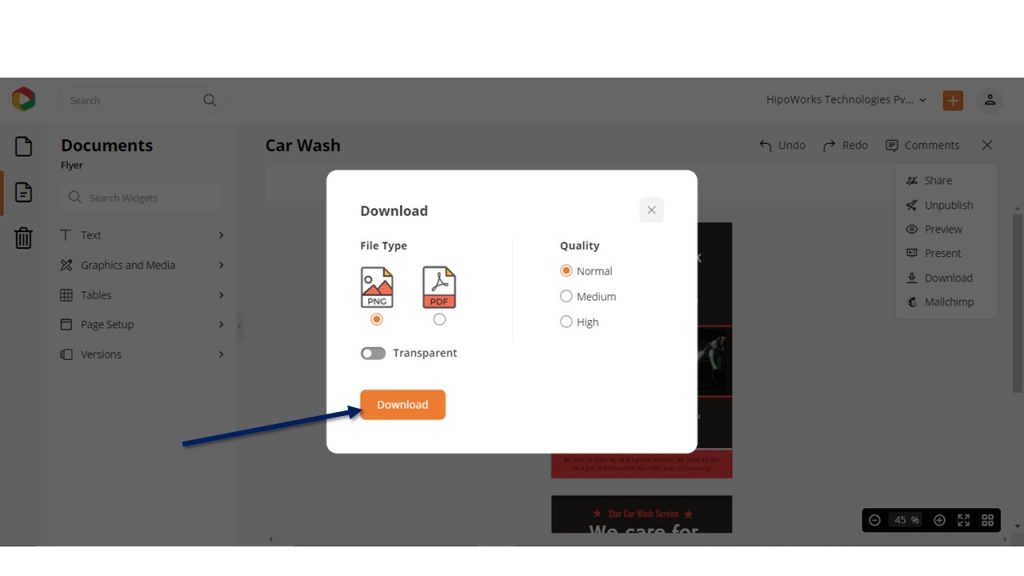 Further, you can publish your design on social media and websites from within the DocHipo application itself. Click on the Publish button from the drop-down menu.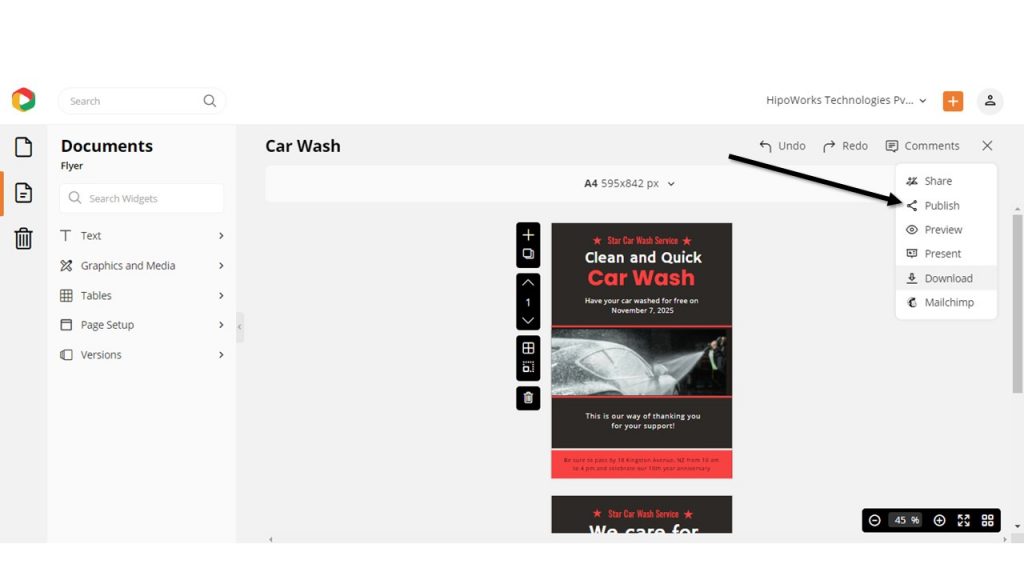 Select your preferred social media channel and log in to publish your design. Additionally, you can click "Embed" to generate a link and embed it to your website.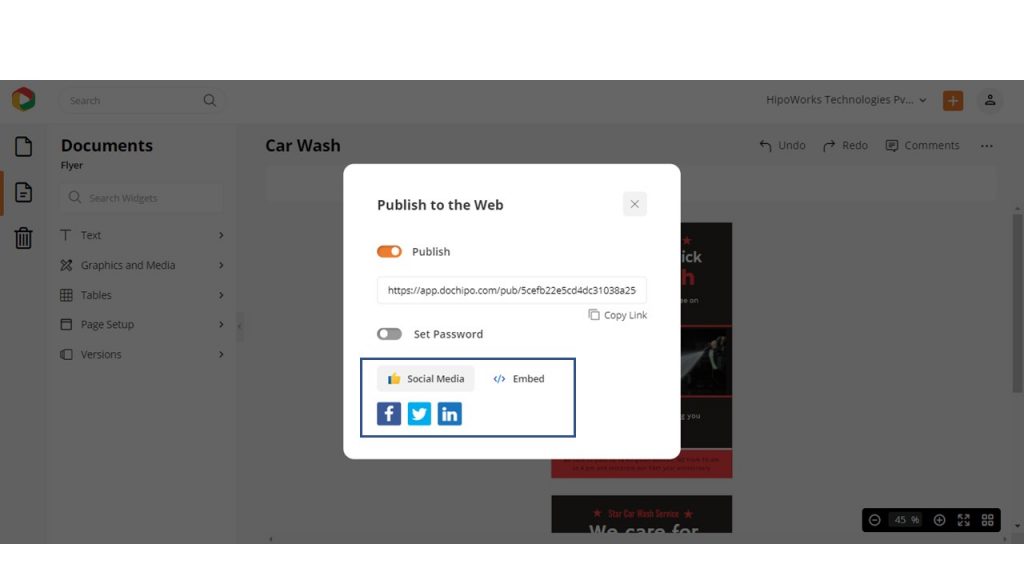 Final Thoughts…
So there you have it! You have successfully learned how to create flyer design in a few simple steps using DocHipo. The harmonious combination of striking design, clear messaging, and flawless finish make flyers an excellent marketing tool.
Keep all the flyer design tips in mind to ensure that your flyer design is impactful enough to attract the eyeballs of a large audience. Put yourself in the shoes of your audience, and you will be able to design flyers that are both memorable and practical.
Sign-up to DocHipo today and start exploring the magical world of DocHipo.