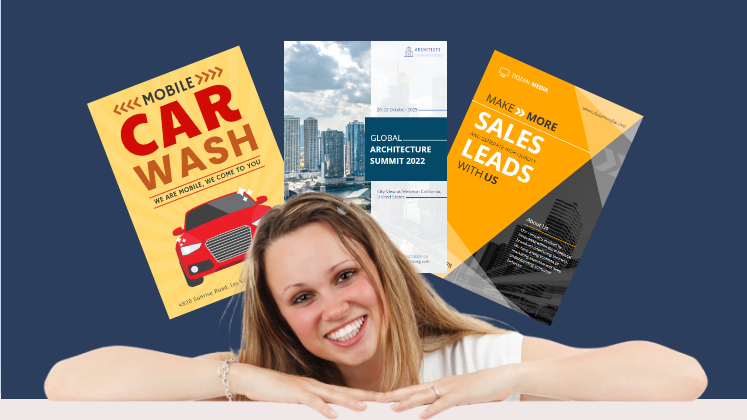 Enhance Your Branding Efforts through an Awesome Flyer Design

Oct 30, 2020
Should you invest your time and money into designing flyers for branding and marketing purposes? Does it still hold the same importance that it used to?
If you are asking these questions, then I don't blame you. Because with the increasing prominence of online marketing techniques, it is quite natural to skip out on the offline modes of marketing. Statistics suggest that 78% of marketers worldwide think that online marketing is more effective than offline marketing. On the other hand, 39% of marketers feel that marketing offline is more effective.
But, offline marketing never goes out of fashion, as people tend to retain traditional print ads better than digital ones.
When talking about Flyers, these are traditional offline-marketing materials that we often expect to get at strategic corners of the street. These printed materials come in different formats but usually follow a dimension that can easily fit into anyone's pocket. Their handy nature makes them extremely approachable, accepted by anyone who is passing by.
Not just for marketing, flyers can be highly impactful, even for branding. Hence you must make sure that the design is just perfect!
So, in this article, we will explore the important factors that your flyer design must inculcate to boost your brand and establish an identity. Also, we will see how DocHipo can help you to create a flyer that can enhance your branding efforts.
Flyer Design Best Practices
Branding and design walk hand-in-hand and keeps on embellishing each other. A good design has the potential to strike ideas within the viewers, which builds an overall perception. Hence any marketing visuals that are exposed to a wide number of audience automatically creates a brand identity. It is also the same with flyer design.
So, you have to design the flyers consciously to make sure that your targeted audience immediately synthesizes and responds to the message that you are intending to communicate.
So let's look at 4 crucial design factors that can make your flyer design stunning. To understand this better, let us refer to the flyer design of DocHipo's template.
1. Presenting the Message
Remember one thing – flyers typically aim at customers, who are not consciously looking for any product/services.
This means your flyer must first grab that casual gaze of the onlooker and convert them into a serious buyer.
So, to make sure that your potential customers instantly gauge your message, it must be visible, quick to read and understand, and also catchy.
Having a bold short catchy copy can straight away pull the viewer towards your flyer. This will make certain that the other texts are also read well and reviewed. Like company and product information.
This also results in the establishment of your identity as a brand, worthy to engage with. Because the tone that you use to craft your words adds to your brand persona.
In this flyer, you will notice that the information is not loaded, but gives out all the necessary details. Keep this in mind that with flyers, people usually want to have a quick overview. Hence it is the best practice to be brief yet informative: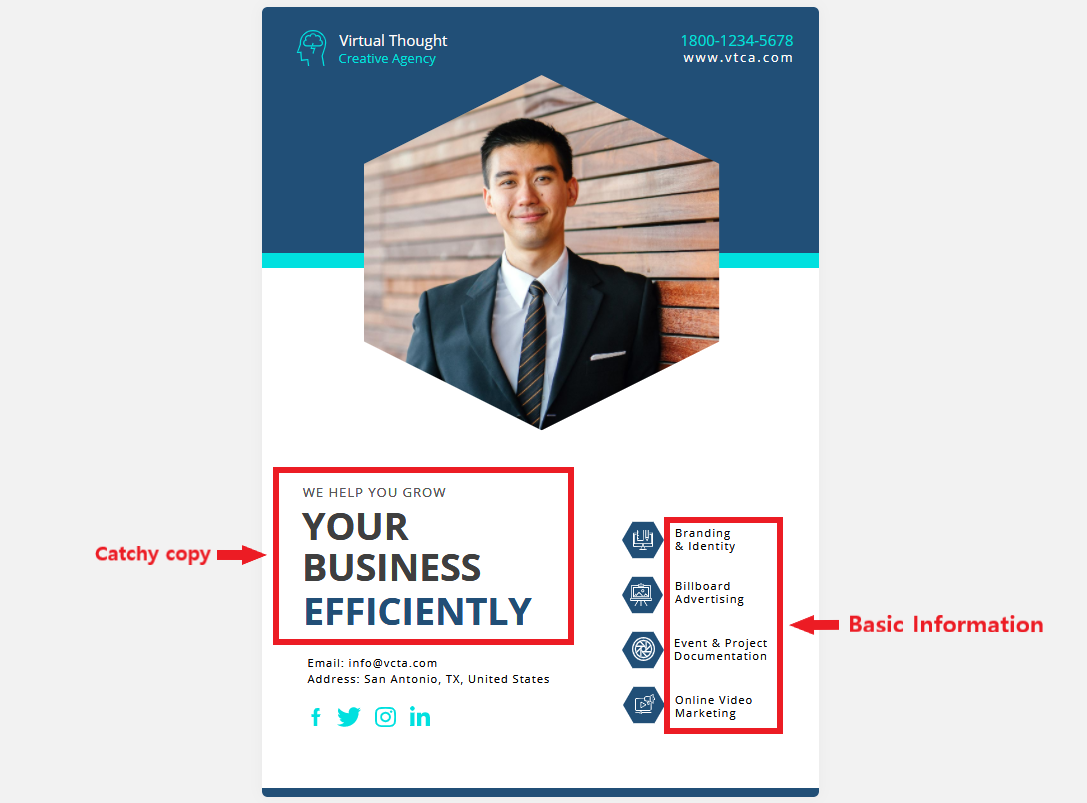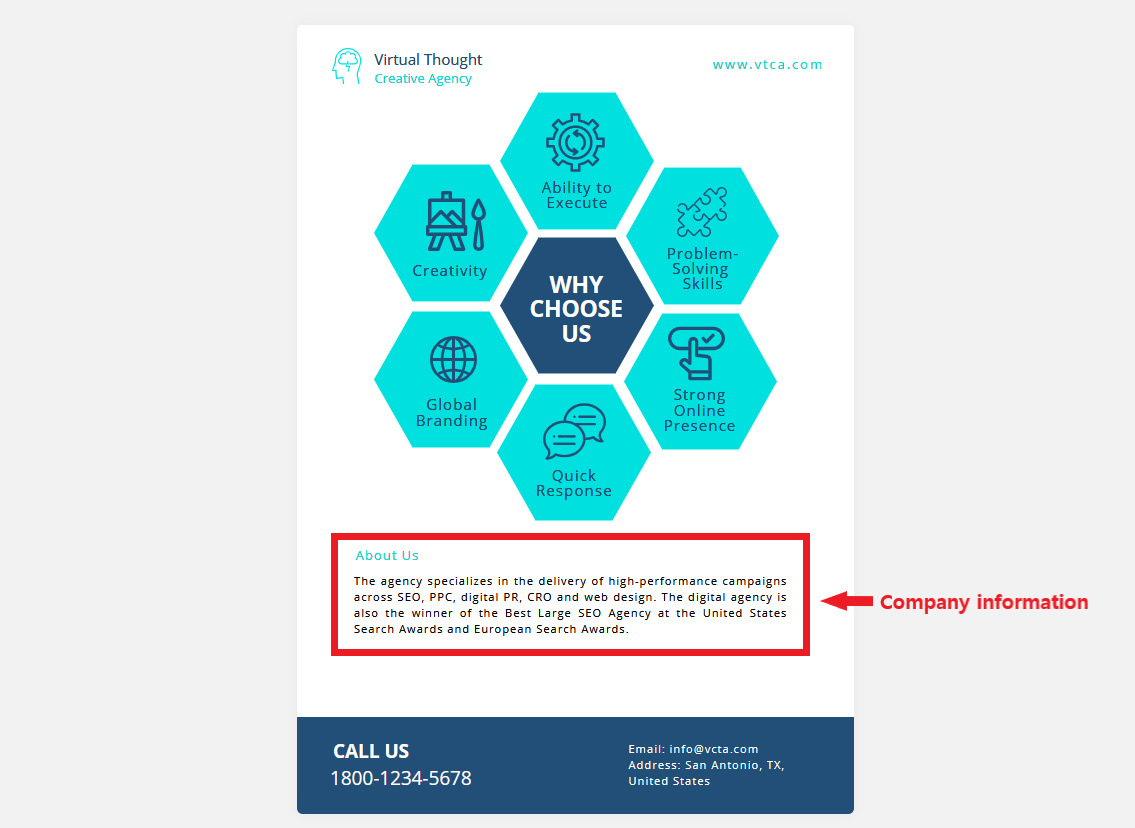 A brand persona is also determined by the way you present the message visually. Hence you have to use fonts that can be read from afar. The fonts should be clear as well. Fonts that are too intricate can look beautiful but might not give the best results in terms of readability.
The fonts that can make your message clearly visible should preferably be from Sans-serif typeface. The straight, linear feature of this typeface can make the message easy to understand and aesthetically pleasing.
The fonts that are used in this flyer are also based on the Sans-serif typeface. Hence you can see this message clearly.
2. Color-Combinations
Colors in your flyer design are the first thing that will turn the head towards your flyer.
Yes! Initially, it is not the message but the bright, attractive colors that first charms the eye and intrigues the viewer to gain more information. After all, without staring at your printed document your prospective customer will not try to inquire further.
Colors are a very critical factor in a flyer design, as it sets the tone and brings out distinct associations. Especially for branding, it play a very prominent role.
We all know that different colors tend to bring out different emotions and sensations within the mind. For this reason, it is deemed to be central when creating a brand.
So before deciding on the color of your flyer design, first try to understand what your brand colors are. It is a best practice to use colors on the flyer that are in-sync with your brand colors. This keeps on strengthening your brand identity.
Let me further elaborate on this through the color combinations present in this flyer design: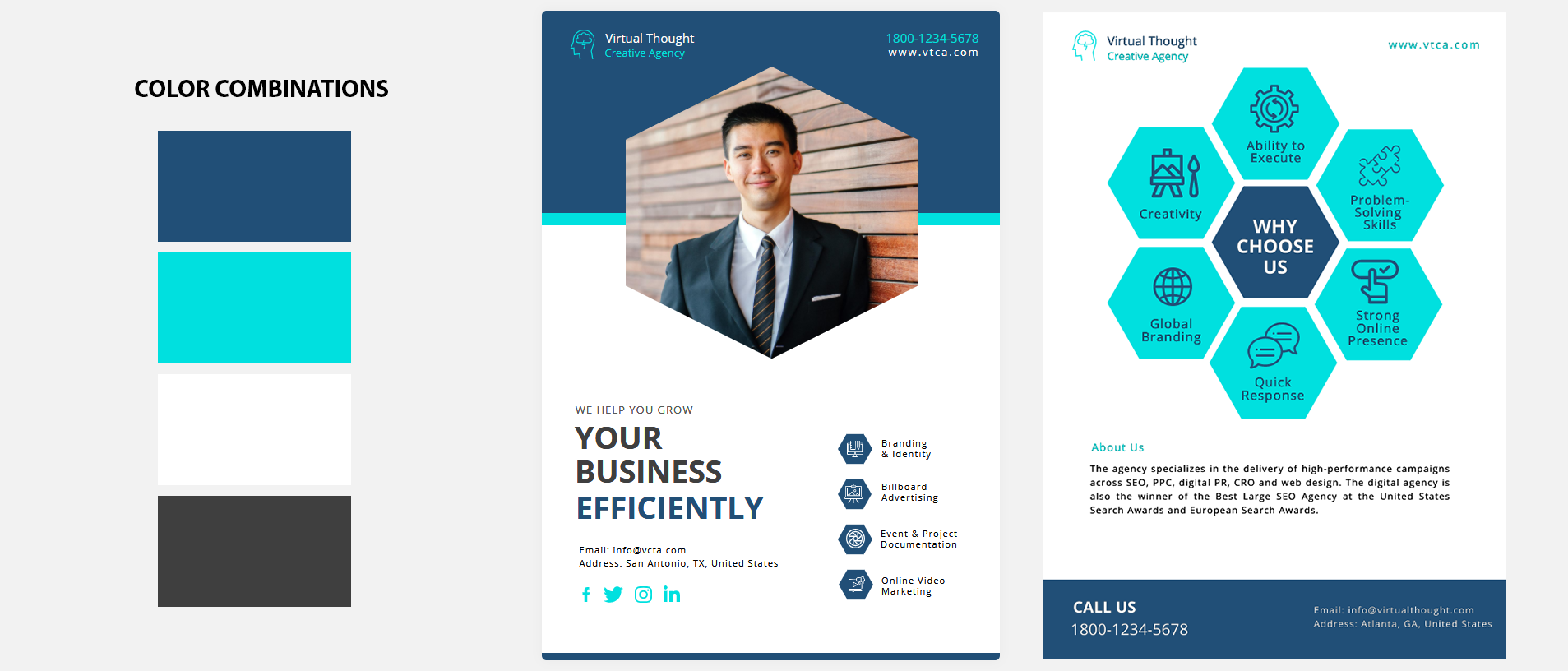 This flyer design has a combination of deep and light blues, along with white and black colors. By the very first look, you get an impression of professionalism. You instantly understand that this flyer design is dealing with corporate information.
Reaching this conclusion without reading the flyer talks a lot about how we perceive certain colors with certain institutions. The color blue seems quite acceptable with the overall message that this flyer design has to convey.
But, it does not mean that you cannot put other colors. It's just that we associate certain instant perceptions with the vibrancy of the color. Also, the font colors are well visible against the backgrounds, which enhances readability.
3. Images and Graphic Elements
Image enhances the flyer design aesthetically and also boosts the message. So, depending on the marketing message, you can either place pictures related to your services/products or pictures that highlight your company.
Check the image placed on this flyer: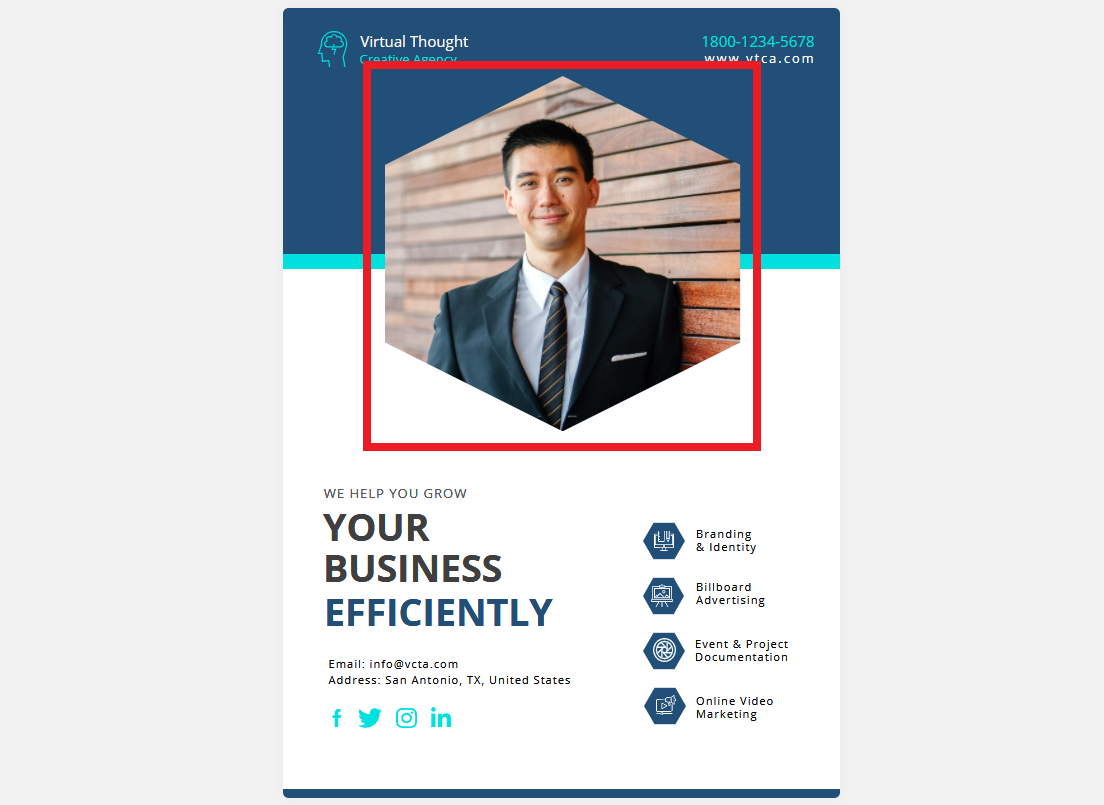 There is a picture of a man who is clad in formal attire and wears a pleasant smile. This picture highlights a vibe of professionalism and you know that it focuses on providing services.
Let's now look at the graphic elements which are added: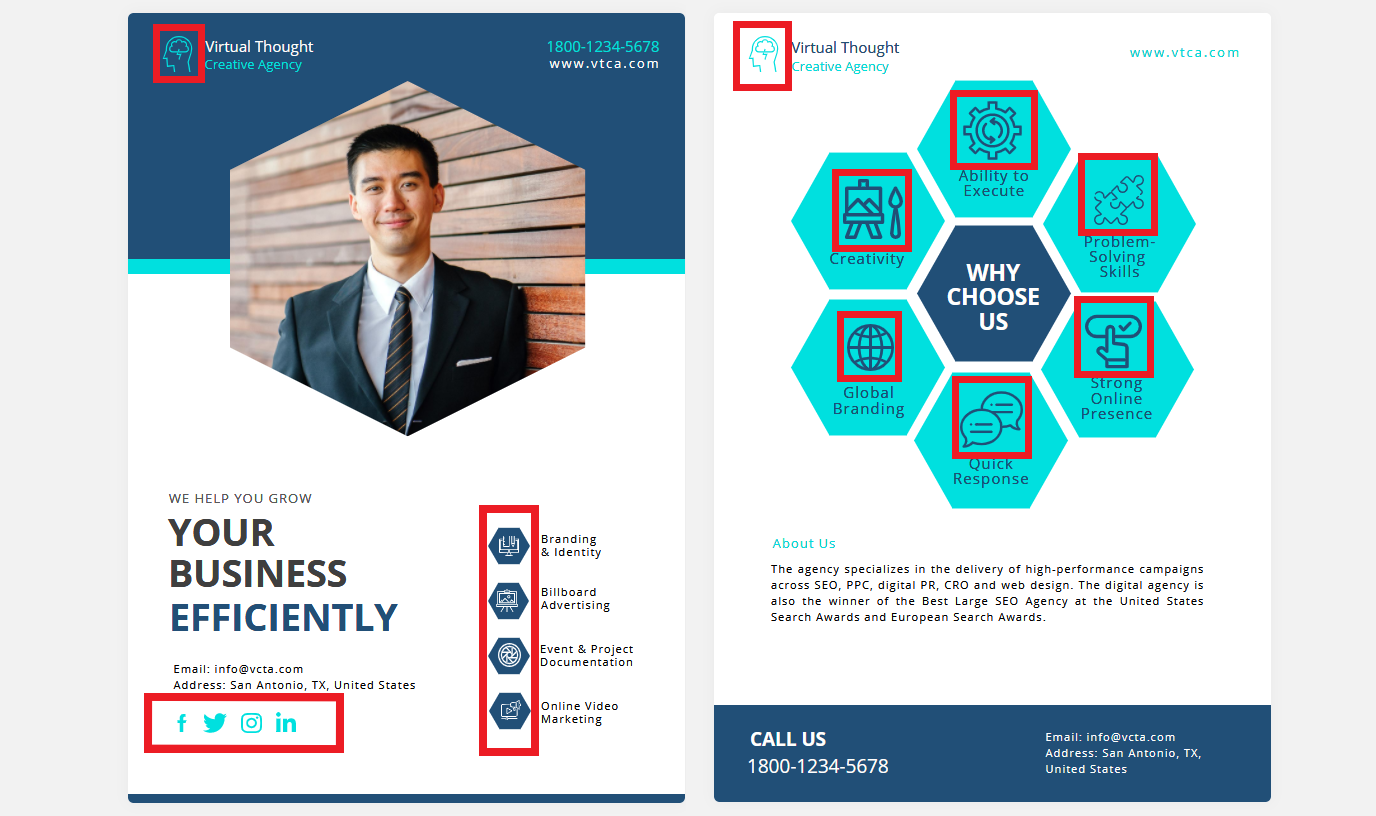 These visual elements augment the associated texts and information, making the flyer design appealing to look at.
You can put symbols or minimalistic graphic elements on the flyer design to make it look more engaging. They look simple and can be easily understood by anyone who is getting involved with the design.
4. Layout design
Now, once you know your marketing message, the font to use, the colors to apply, you are all set to decide the layout.
As the advertising principles point out, you have to first attract your prospects before engaging them further. So, have a fair knowledge of where to put the images, graphic elements, and texts.
Also, be very strategic in terms of placing the "call-to-action"'s. Overdoing this might make your flyer design too salesy.
Let's understand a bit more about layout design on flyers, by checking this flyer design: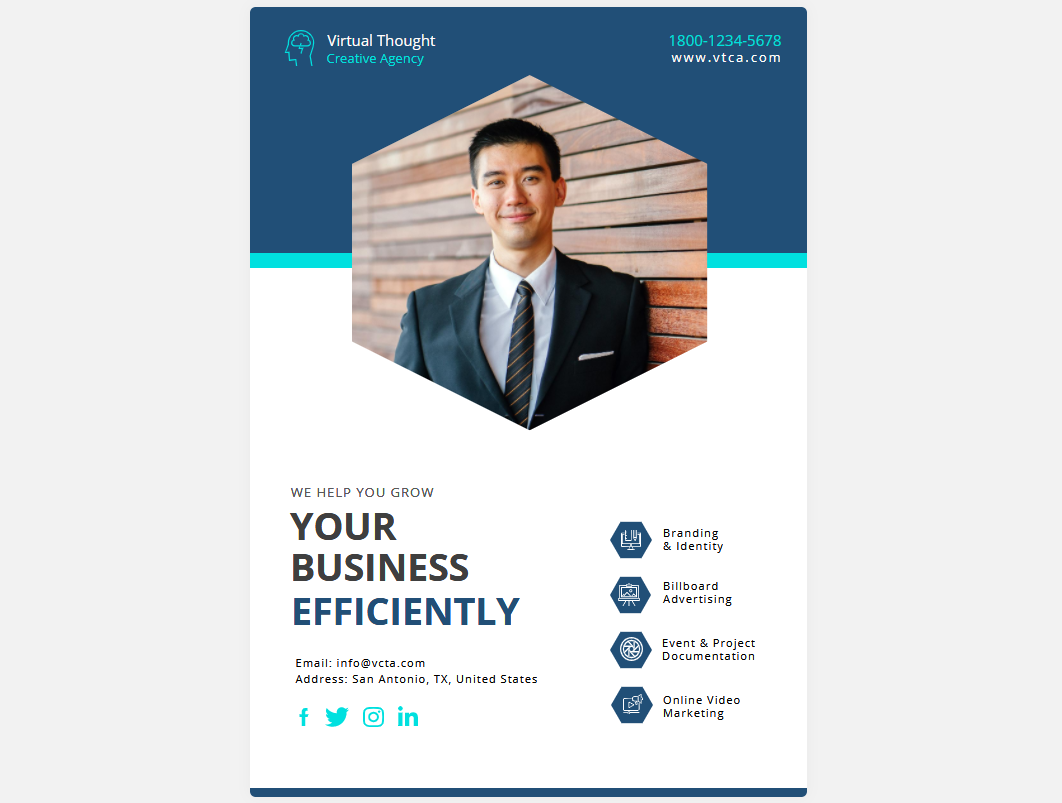 The picture is positioned at the center of the upper area of the document, against the white and deep blue background. This is a position that can instantly attract the gaze of the viewer, predominated by the picture itself.
Now, you are curious to know what this picture is all about, which directs you to the texts beneath that have a boldly written catchy copy, fueling your curiosity. This pulls you to pick the flyer and carefully start observing the information.
After reading the first page you realize that the flyer talks about an agency focusing on services that will help your business to grow.
You turn the page and try to have a thorough idea of what this agency has to offer.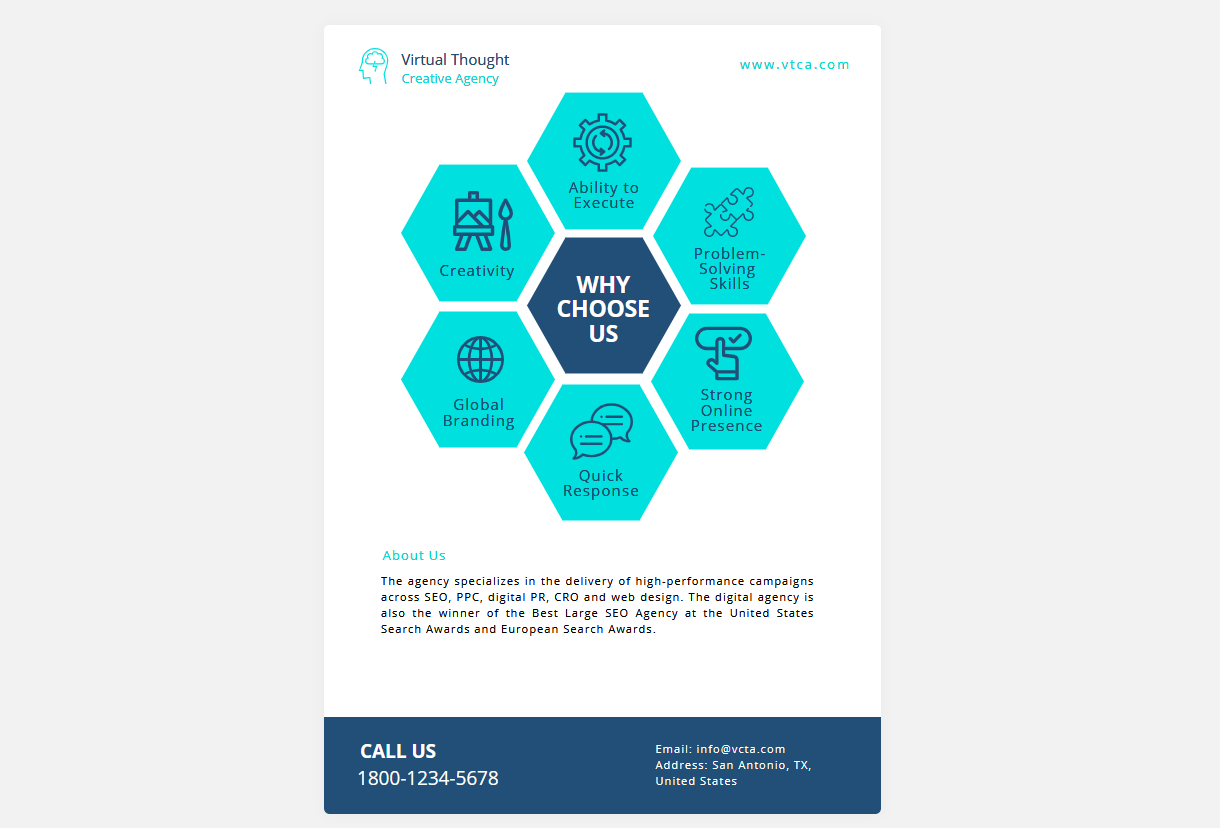 You can see all the services that are briefly presented before your eyes within a hexagon designed graphic. This pattern of showcasing all the information creatively retains your attention and quickly informs you about what this agency provides.
Finally, beneath the rings of hexagons, we can see the "About us", which gives more details about the company. Also, the "Call Now", which aims to propel the prospect with action is placed once, at the bottom.
Customize a Flyer for Your Brand in DocHipo
Flyer designs might look simple, but in reality, it comprises many factors behind its creation. Especially, it is a visual document that is handy and can be available to all, making it a critical branding document.
But, let's work smart rather than hard. What I mean is when you have a platform that offers you tons of amazing templates, then why spend your time strategizing.
You can simply create, customize, and download templates for all your visual marketing materials. This will save you some time and money.
At DocHipo you will get tons of mind-blowing templates for your flyer designs which you can customize and download.
Let me show you some templates:
If you wonder how you can customize these templates to meet your requirements, then stay with me as I walk you through the process.
Using DocHipo
Without Signing up you will not be able to gain access to the huge number of templates that DocHipo offers for almost all types of documents. So sign up Now.
The following step is super simple.
You will have to either type, "Flyer" on the search bar: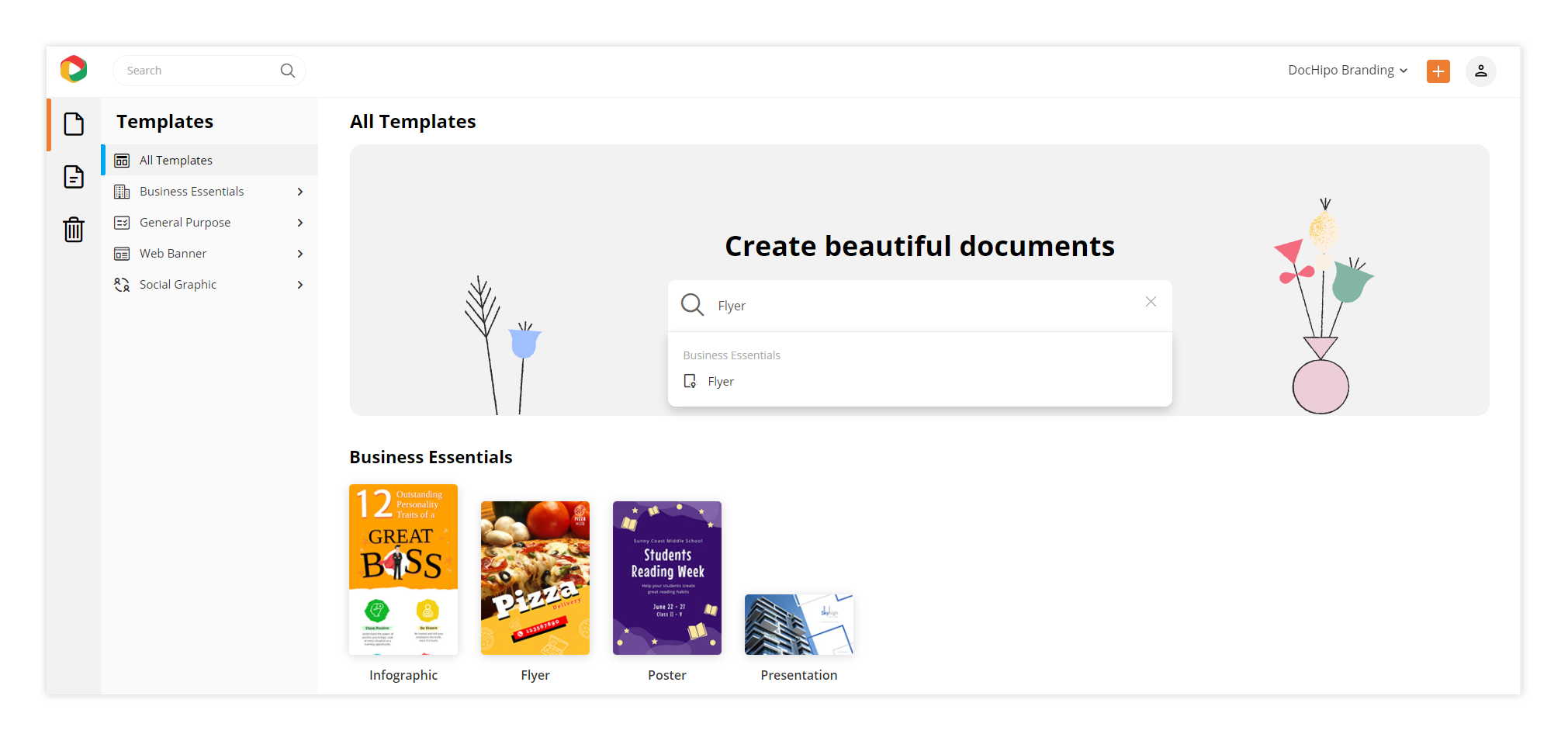 Or, you can click the widget, "Business Essentials" at the panel on your left. This option will enable you with a list of documents from where you have to choose the option, "Flyer".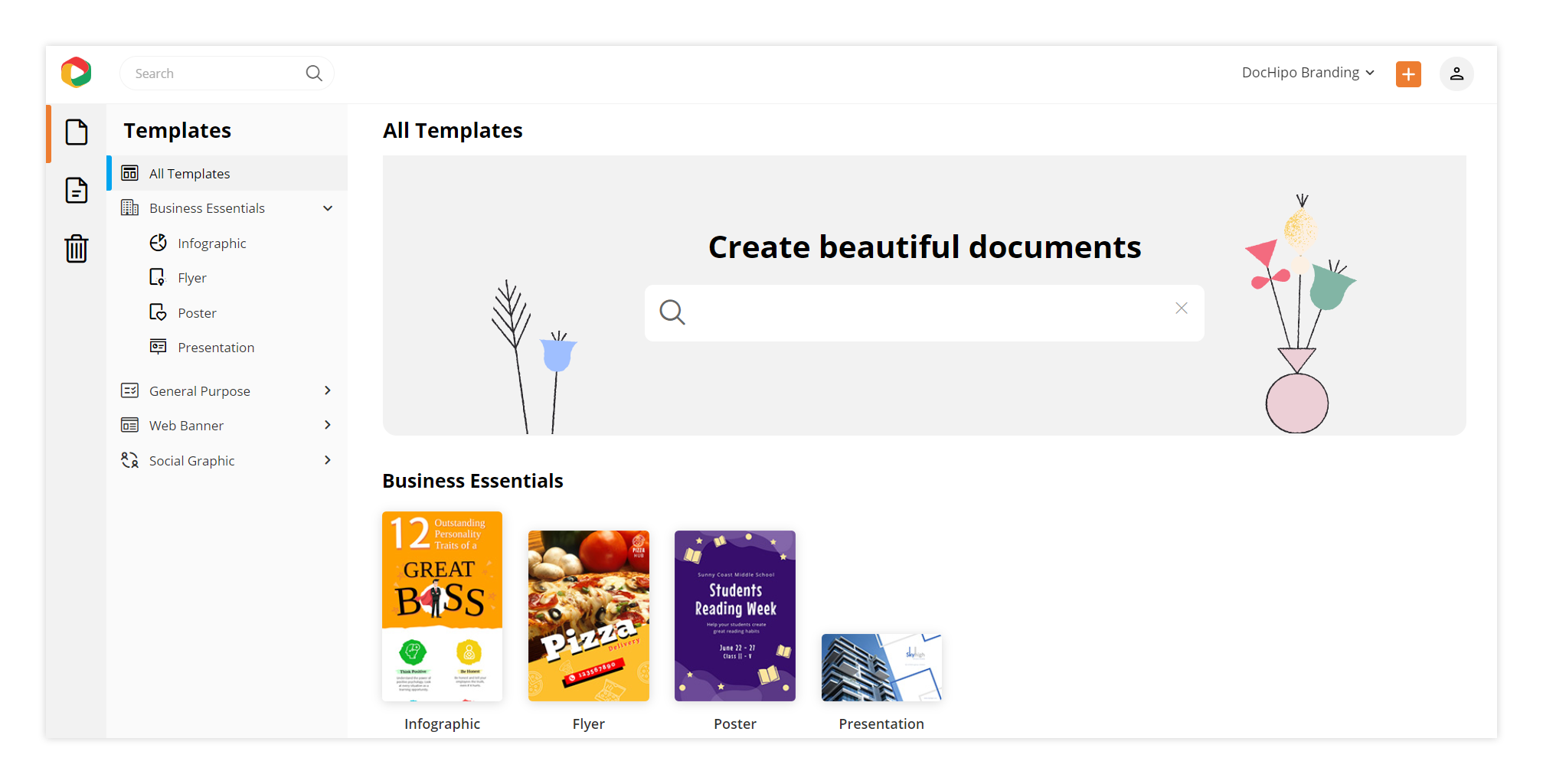 Once you click this option, you will be redirected to the page that will have tons of templates related to the flyer document.
From there, choose your favorite template that resonates with your marketing message: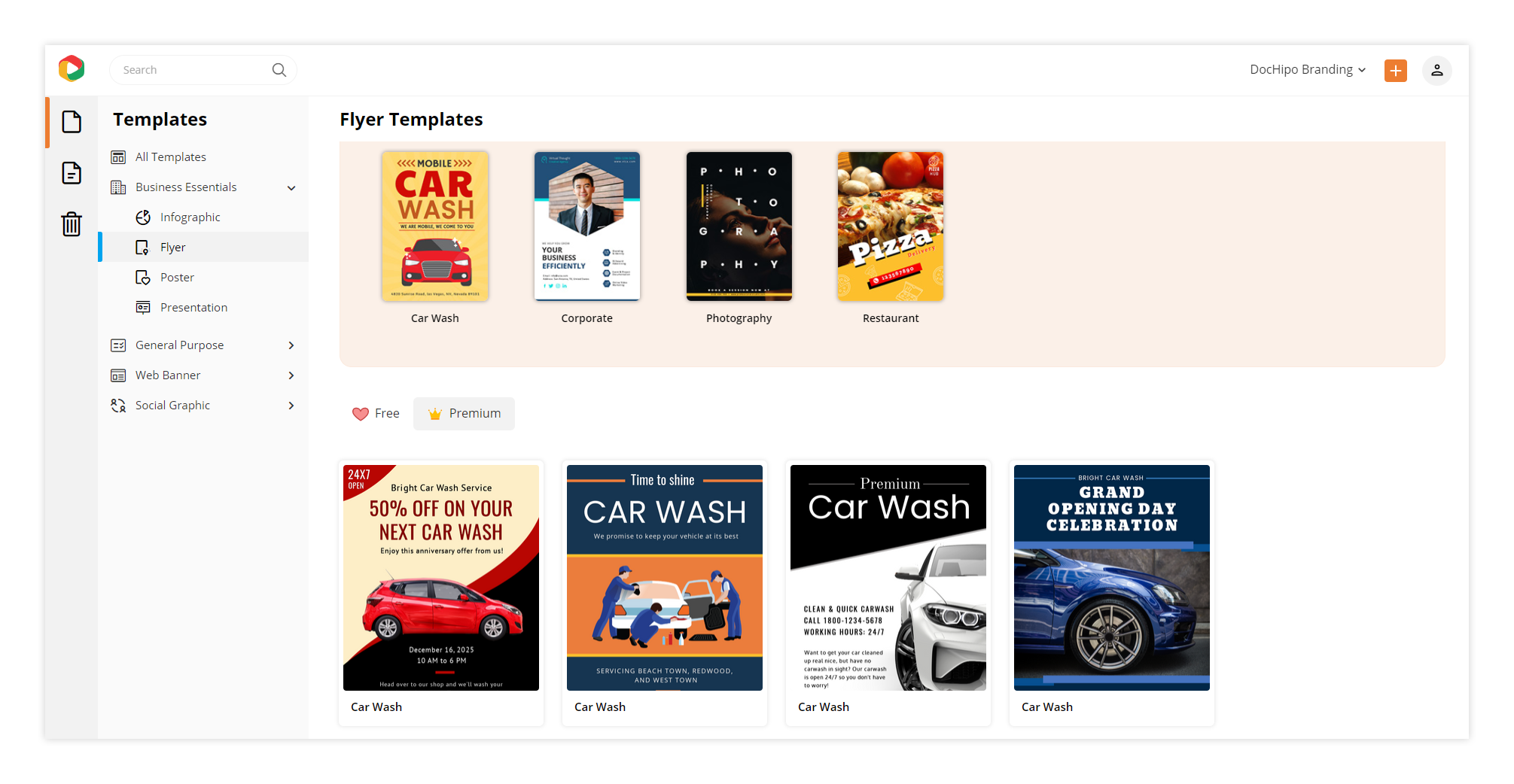 As you click the template of your choice, you will be redirected to the Document Information page. Here your name and other information will be auto-populated, which you can change. Then under the Description, you can detail out the purpose of this flyer design: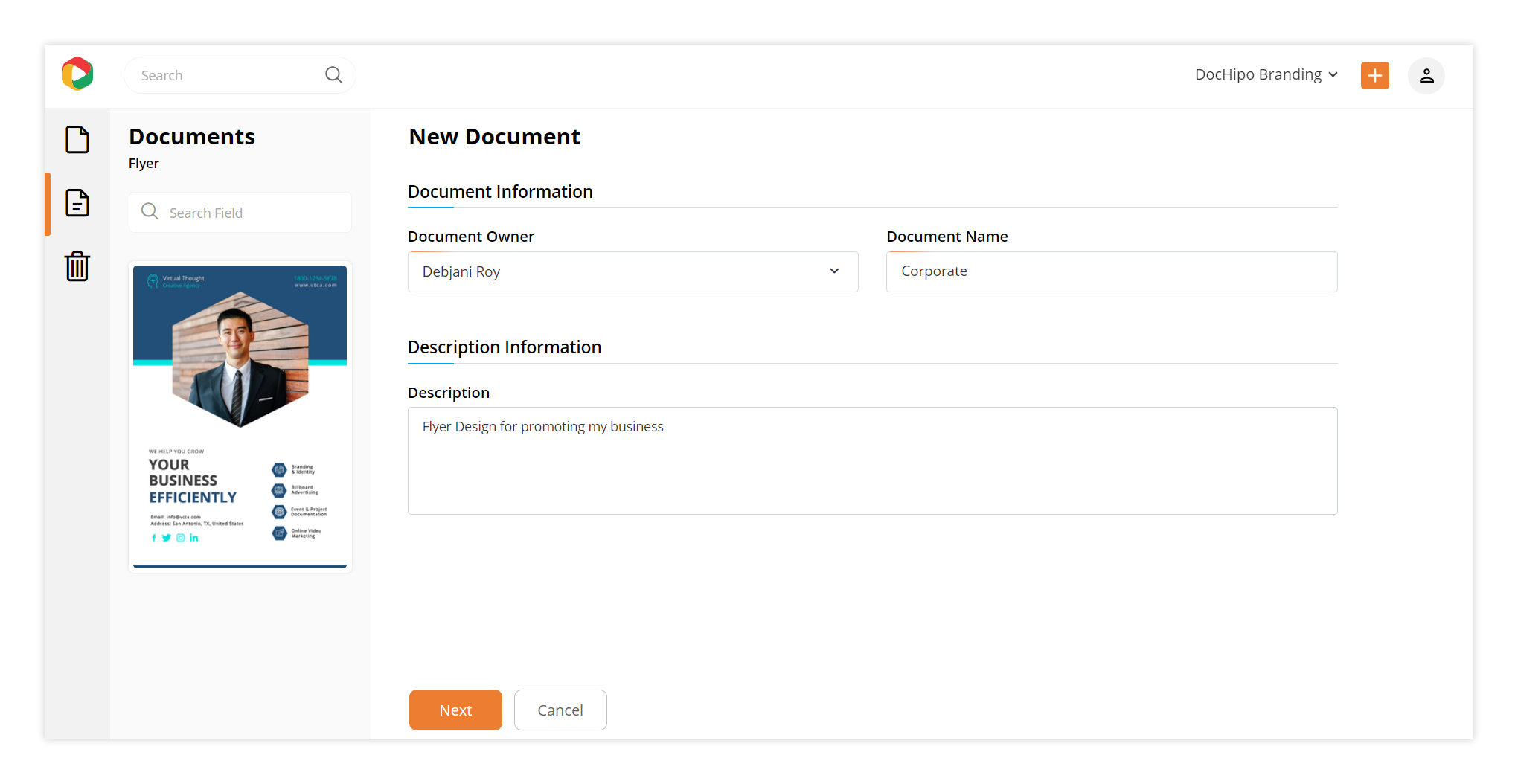 As you click "Next", you will get to see DocHipo's editor: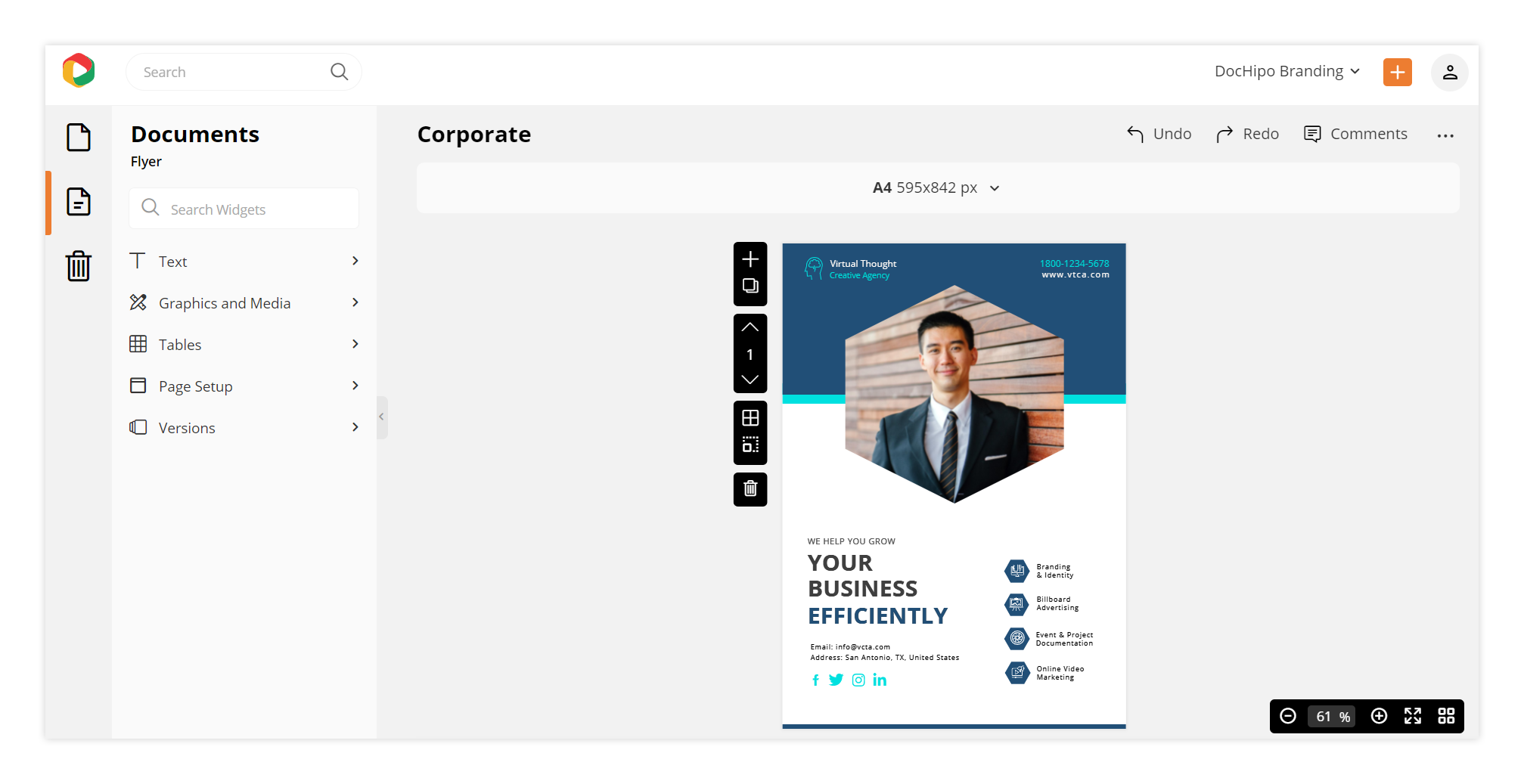 Now, you can start customizing the template and make it look exactly the way you want. As for me, I love this template the way it is.
Hence, I just changed the Email and Address in both the pages of the flyer design: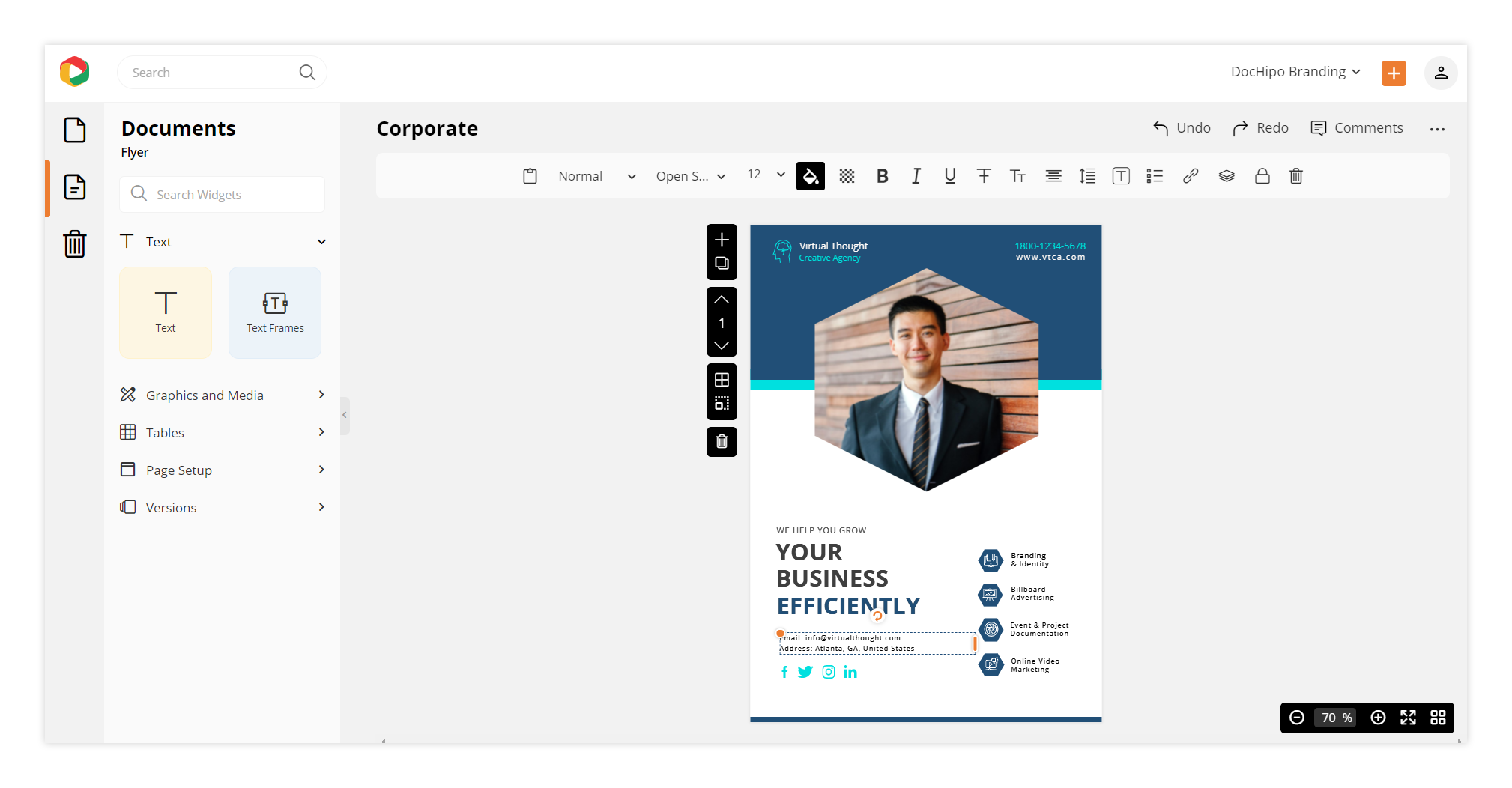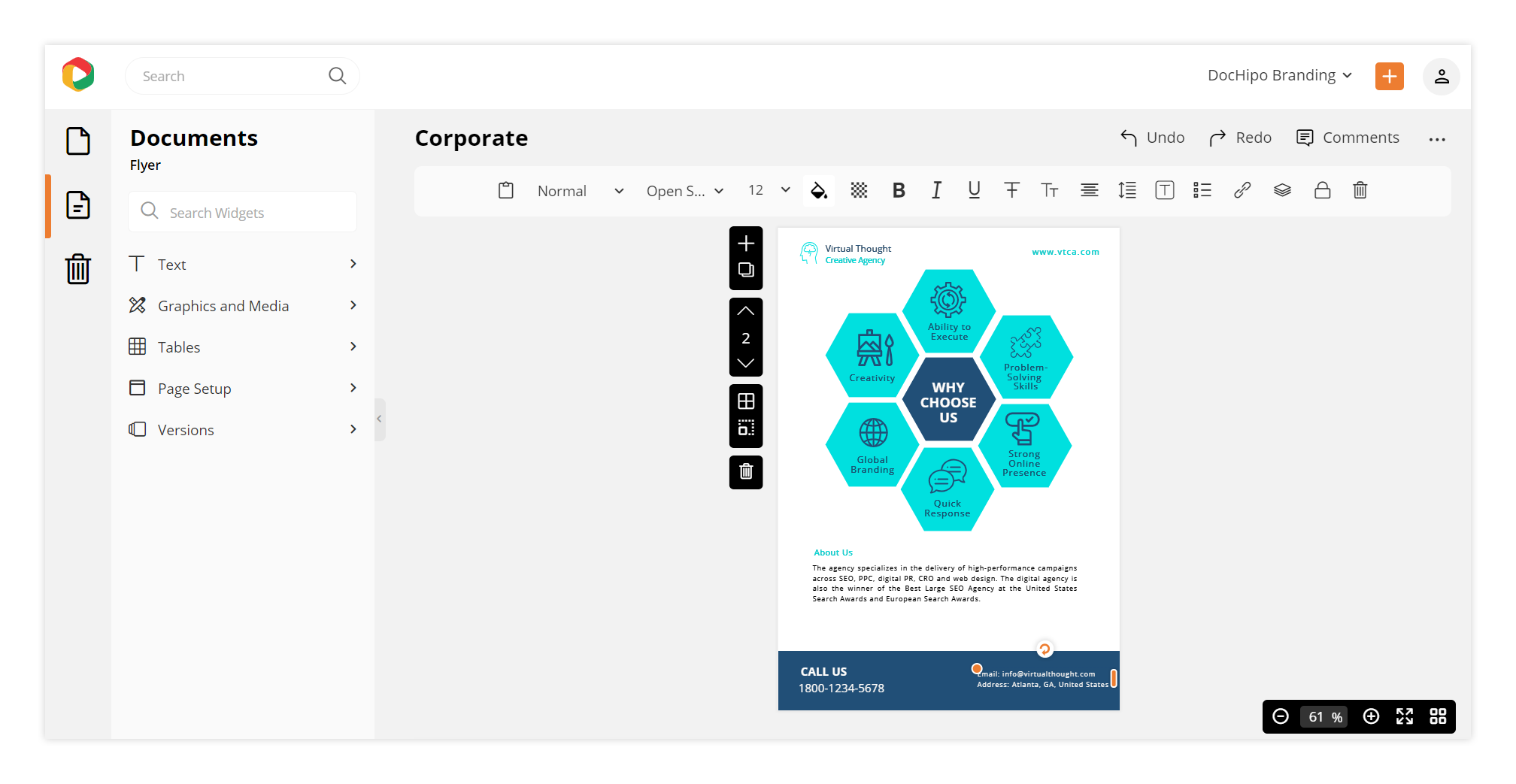 That's it!
Now I will download it by clicking the dotted option at the right-top-corner of the page.
Then as the "Download" box appeared, I have selected PNG as my file type and downloaded it in a High-Quality option: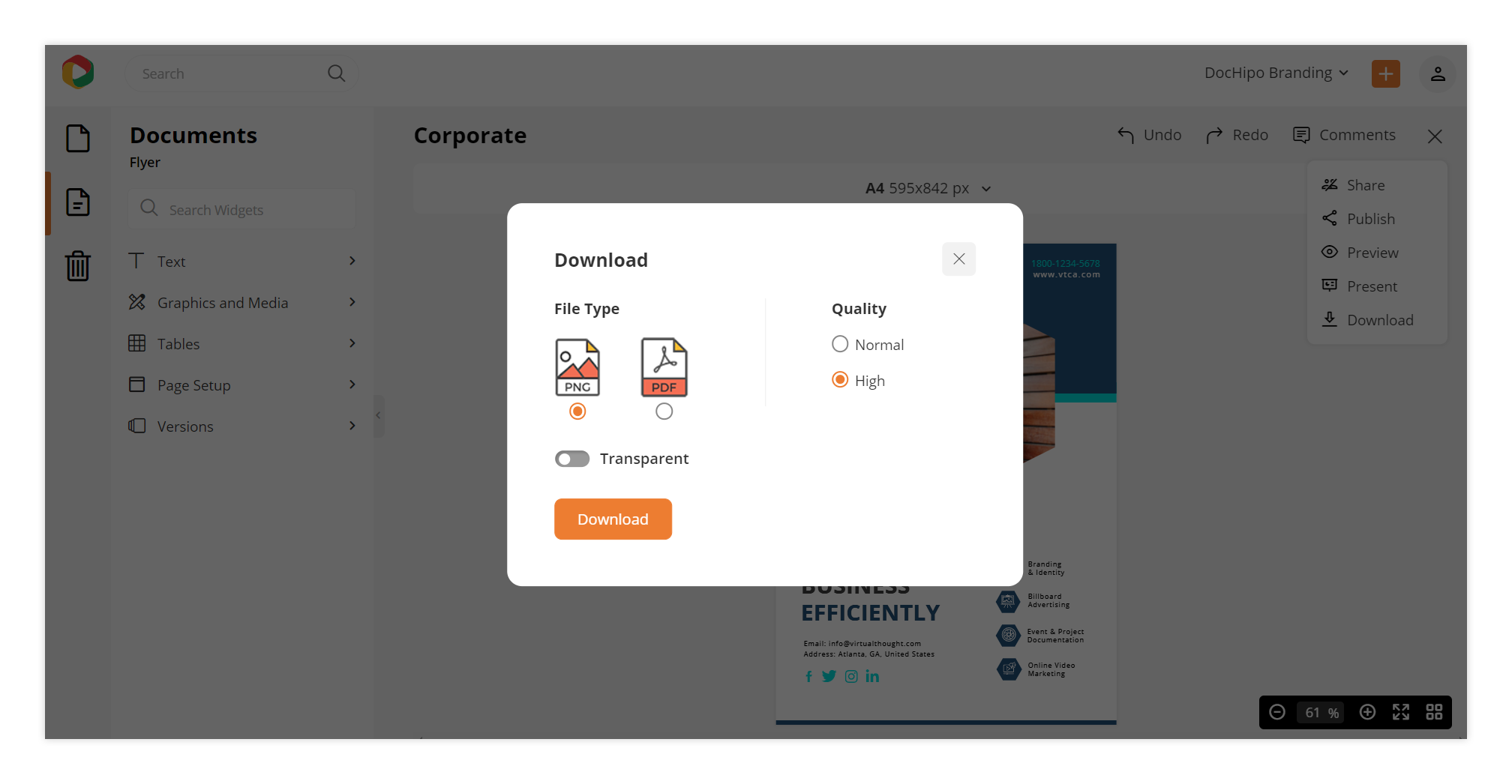 Yes, this entire process is very simple and should not take you more than 15 minutes. 
Conclusion
Although flyer designs are traditionally offline marketing documents, you can also use them on online platforms. 
After all, why would you restrict your branding and marketing efforts?
But whichever platform you choose to promote your business, it is crucial to be picky with the design of the flyer as these documents reflect your brand.
The mysterious effect is so quick and deep that you will never know when this form of marketing document has already laid the stage for the next big step required for branding.
As for designing this document, DocHipo is always ready to fulfill any of your design aspirations. You just need to sign up and start venturing out on this arena for mind-boggling templates that you can use to produce any business documents.