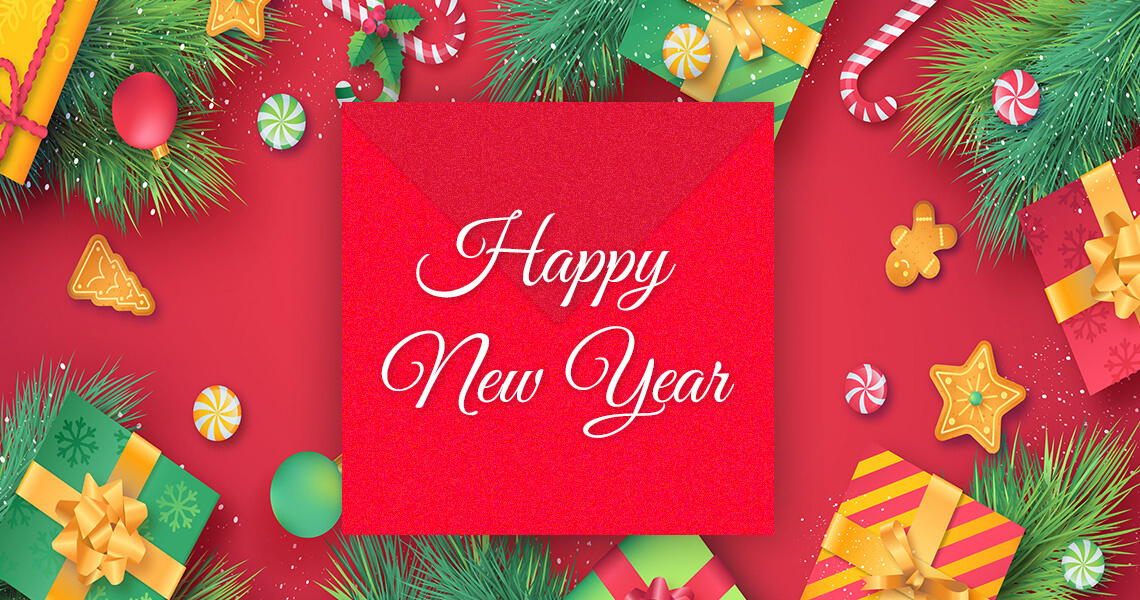 Tips to Create Stunning Posters with New Year Greetings

Last Updated May 13, 2023
It is the New Year time, a new beginning to your way of life. It is that time of the year, when you are happy, and you love to let people know that. So, how do you share your happiness, good wishes and an extra-large dose of positivity with your near and dear ones? With posters with new year greetings, of course!
Design your New Year posters/ graphics with beautiful messages, lively design elements, bright and attractive colours. It will reflect new hope that you want to have in the coming year. So, how do you plan to go about the work? Here're some ideas to help you out!

Send Out Your Love with Heartfelt New Year Greetings
As a child, you had drawn beautiful greetings cards for your friends and cousins, didn't you? I thoroughly enjoyed creating them. In fact, I always tried to choose illustrations, messages tailored to suit the age, taste and likings of the recipients.
Creating a new year greetings posters is not different! The fact is people receive messages/texts/emails all the time. On an average, Americans send roughly 26 billion text messages in a day. And they are just texts!
So, how do you make your messages unique and memorable? The key is personalization!
Here's an example. May be, you are designing a poster for Stella (my friend from Ireland). Then 'yellow' should dominate the background, as it is her favourite colour. Add illustrations of copious amount of confectioneries, (she has a sweet tooth). Top it with a dollop of love (one sweet message) and you are good to go. Now, this is how it may look like (see below). Incidentally, it is a DocHipo template. You can customise your own poster with this one.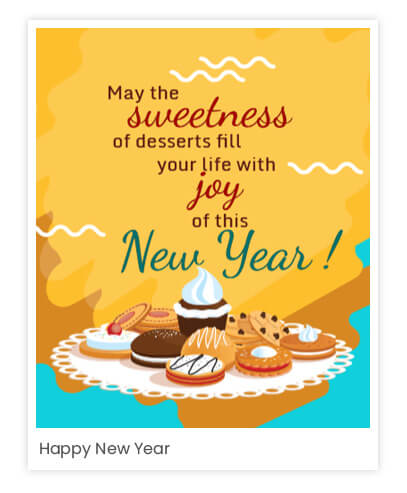 Begin the New Year with Some Motivation and Positivity
What comes in your mind while thinking of a fresh start? Motivation, inspiration to start things anew. With a hint of motivation, even the most daunting task looks simple.
That is why it is a great idea to send New Year greetings with motivational quotes. And the best thing is, you can never go wrong with these!
How to choose the right motivational quote? Again, personalization is the key!
You can try to know the interests, hobbies, favourite movies, any point of interest for selecting the best-suited motivational quote for your loved ones.
For example, if you are creating it for your friend, it can be a good idea to use a quote from his/her favourite author. Once the poster is ready, you can share it online or print it out!
Here's some example of cool DocHipo templates that you can use!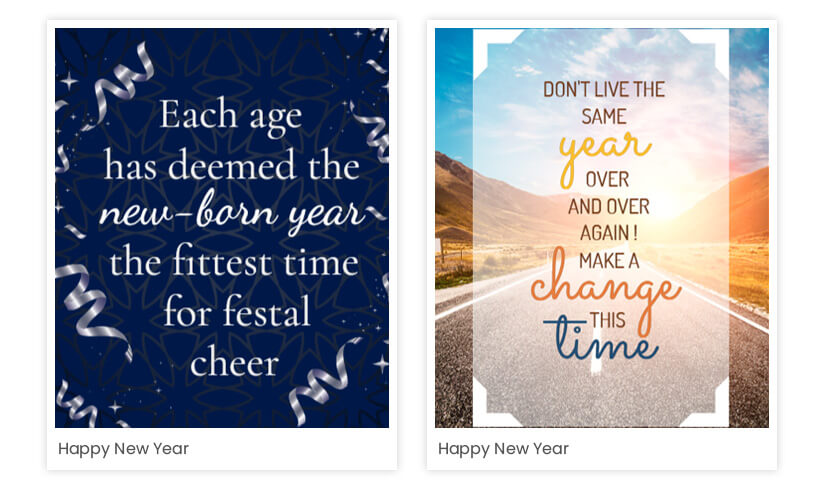 Offer Something Special to Your Customers, like New Year Greetings
Do you own a business? Are you offering anything special to your customers? If yes, marketing the offers is of utmost priority. And a vibrant poster with festive offers can be a potent tool!
So, how to make your posters more impactful? A poster to announce offers, discounts must look gorgeous and impress the onlooker immediately. Your offer should be the focal point and if possible, in large, bold fonts. Maximum visibility is important. Otherwise, how will you reach out to the largest group of customers? You need to spread the information to maximum people for higher sale. Otherwise, even the most tempting offers would fail to make the sale.
The best thing is you don't need to hire a designer to put together a stunning New Year Greetings poster anymore. Here are some DocHipo templates that you can use to market your New Year offers this year.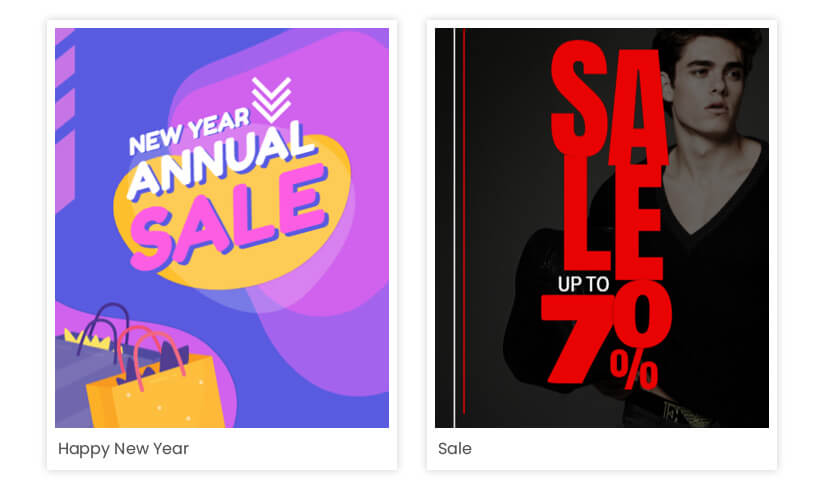 Hosting a New Year Event? Announce It with a Vibrant Poster
Posters to announce a New Year's Eve party or New Year Carnival deserves extra attention? It must reflect fun, frolic and spirit of the celebration. Mention the date and time of the event at a strategic location for better visibility. Your intended attendees must get hooked fast and swallow information immediately. Only then, you can expect a large guest list and maximum fun. See below to find an ideal poster for a New Year event.
We know how difficult life is for event managers. A friend of mine was organizing a New Year carnival for kindergarten kids. She was stressing out a lot over designing the right poster as she had to impress kids. I suggested her to use online templates from DocHipo to save time and effort. As a non-designer, you get proper posters ideas like a pro. See the second template below to know how good it looked. Like it?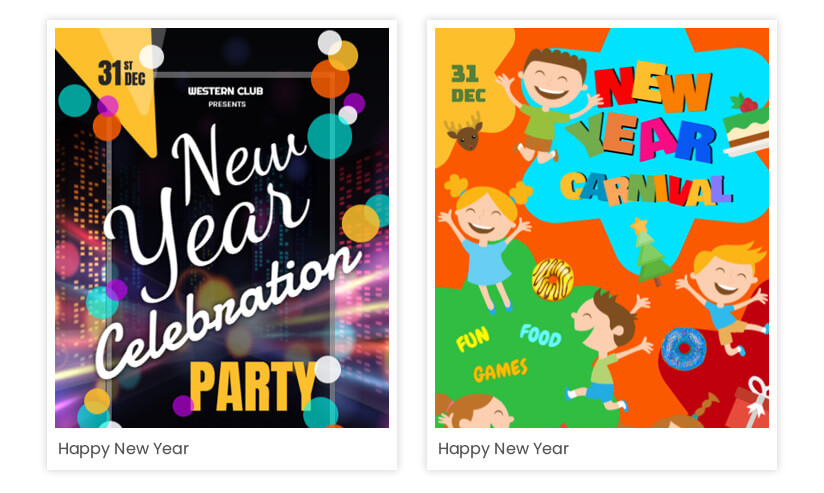 Keep Your New Year Greetings Simple
What is the purpose of a New Year wish? The idea is to make you optimistic about the time to come. Merely mentioning "2023" can throw a fistful of positive energy into your life. A New Year poster with a simple design does exactly the same. However, for such posters, typography holds the key. Choose the fonts carefully. Have a heart-to-heart connection with the recipient.
You can never ignore the timeless appeal of simple designs, can you? Then how can your friends do so? If you do not want to clutter your poster with too many graphics or messages, don't. It is absolutely fine to have a clean design for New Year posters. The minimalistic approach has its own fan base. Just work on the basics like background, color combination, texture, and, most importantly, typography. That's it.
Below are a couple of templates that are great for effortlessly creating posters.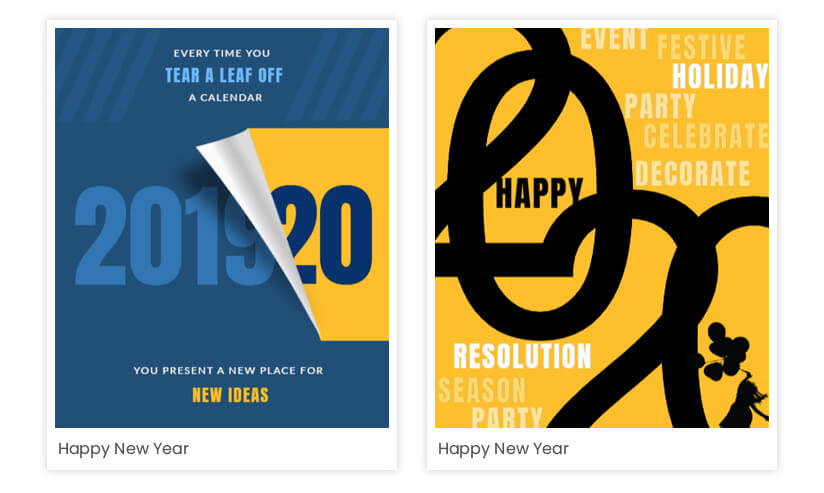 Lastly…
A year of many colors is fading out. A new one is making its way. You, I, we all have our potpourri of "good" and "not so good" memories from the past year. The forthcoming year holds possibilities. A New Year wish can do magic. It can turn "possibility" into "promise". It prepares you to embrace whatever the future holds. So, it should go on a poster designed with lots of love and care.
For other designing aspects, trust DocHipo templates. Your work will be smart, effortless, and time-saving. Sign up now to use templates for free. Start designing the posters today.
Sign-up for DocHipo today to enjoy all the advanced functions absolutely free!
Most importantly, Happy New Year…