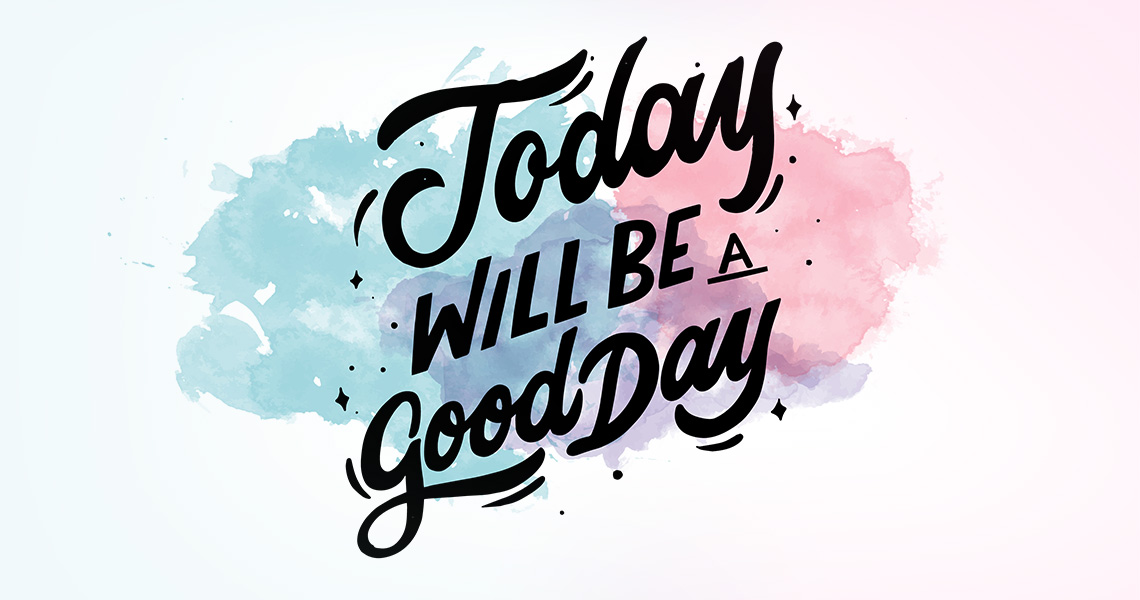 7 Motivational Quotes that Will Never Let You Feel Low Again

Published on Mar 25, 2020 | Updated on Oct 22, 2022
So, when do you think you need motivation?
For me, it is like the zeal to stand up on my feet after being knocked down to the floor. I need motivation to get up, to be strong and push myself even harder to resume without fumbling. Where do you look for your daily dose of motivation? I look into the DocHipo gallery. There is a stock of Motivational Instagram posts that helps me bounce back. I look at them, share them and breathe in some fresh air with a deep-rooted belief in my head. That is how I start my day.
Now, what is a reason for which I need so much motivation these days? We all know that the world is reeling under the months-long anxiety of the COVID-19 pandemic. People across the world are trying to stand strong against the Coronavirus and fight back. When there is no vaccine, medicine or therapy to fight this distress, only motivational quotes can help us our daily dose of distress.
Newsrooms are flooded with meters long newsreels with information about Corona and how to fight it. This fighting spirit can be enlivened by your daily dose of inspiration. Take a look at some beautiful motivational quotes that will not only make your day but pump up some oxygen in the lives of your friends as well.
We understand your anxiety to take the first step…motivational quotes can help you…
Are you afraid of mistakes? Do you feel shaky about taking the first step? Please don't buddy. It is a bad decision that lets you learn important life lessons, not good ones. So, never be afraid of taking the wrong steps. Just make the move and brave consequences. You are going to attain perfection through acid tests. There has to be some light at the end of the tunnel. Don't restrain yourself from moving ahead just for the fear of tripping.
Check out this template for an Instagram post to share with your friends.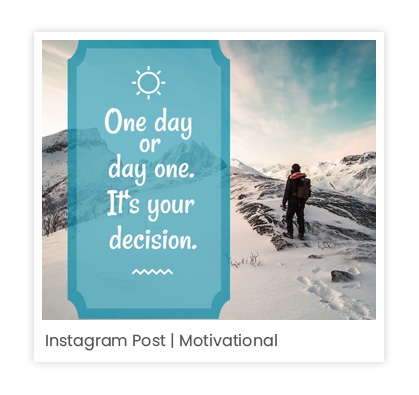 Your action speaks louder than you…
I have met thousands of people in my life who are too fond of beating their own drums. Trust me, nobody trusts your empty claims even when you keep shouting at the top of your voice. In fact, there is no pleasure bigger than the one that you attain after proving yourself. So, what next? People do not trust your ability. They do not believe that you can shoulder certain responsibilities. So what? Just go ahead and prove them wrong.
If you need a bold Instagram post for the same, DocHipo is on your side. Check out the template…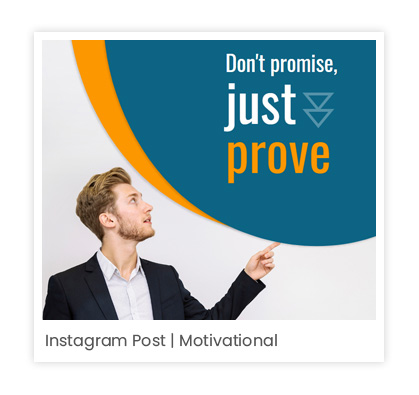 Motivation for Smart work or hard work? Choice is yours…
Getting busy…What is it exactly like?
You might be in front of your laptop the entire day. Your Wi-Fi might be on. That doesn't mean you are busy, right? People who work on computers get distracted after every 10.5 minutes (on average).
No dear, you are mistaken… I am not saying that reading a few tweets, sharing posts on Facebook, spending time on Instagram is actually killing your productive hours. I mean, you can still do more work by reducing work time. Confusing??? Setting it straight.
FOCUS is the word. Better concentration can reduce your work time. As a result, you work more within a shorter span of time. That is what we call, 'Making the most of your productive hours'. In short, Do effective work in less time.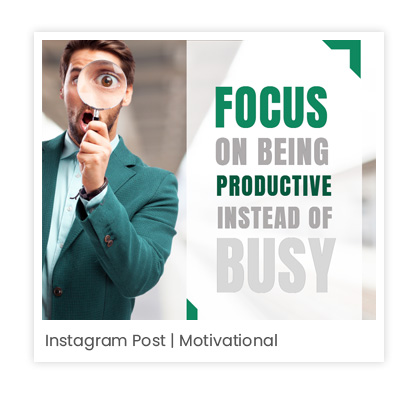 Push yourself harder, discover your strength through motivational quotes…
IMPOSSIBLE is a very silly word. Sometimes, it's an excuse. Sometimes, a hurdle. Your success is waiting right on the other side. So, cross it over and discover yourself in a new way. It is time to be strong. Ask yourself with utmost honesty, can you do it. Your inner strength will reply, "Yes, I can."
There are situations in which, you are put to test. Just make an extra bit of effort. There is no shame if you fail. But, there is no bigger satisfaction that you achieve through success. So, make that extra effort this time, unlock your potential. I am sure, you will win.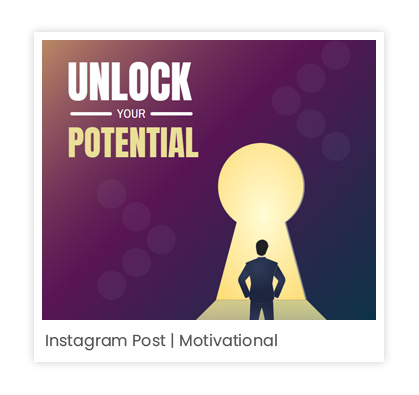 Motivational (Quotes) to have a life…
You do not always require inspiration to wade through troubled water. It can also be a bridge to sunnier parts of your life from a stormy one. Life is a battle you fight every day, every minute.
You sweat hard your entire youth. That your old age can be smooth-sailing and trouble-free. You should earn enough to relax during your old age. But, have you ever thought, what if there is no life left after toiling for a large chunk of it? When will you enjoy the fruit of your labour? So, it is better to strike a balance.
If there is enough fun in your work-life, you won't even require a break from it. You usually enjoy a vacation to set your over-worked soul free from daily troubles. Life can be a vacation too, provided you have enough fun packed in it.
Did you know that 82% travelers take a vacation to relax or reduce stress, while 81% crave to make memories? So, what is going to be your reason for travelling this time? Hmm, it can wait if you can reduce your work-related stress or make memories by sharing some fun moments with friends. Work hard, but make your life worth living for, too.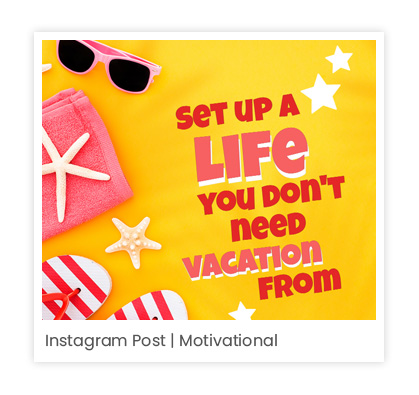 You rule your destiny with a dose of motivational quotes…
You probably have heard a million times that 'God helps them who help themselves'. Why wouldn't you help yourself? Self-help is the best route to success. In fact, it is you who can decide whether you can achieve everything that you want or not. Hard work definitely brings the sweetest fruits. So, just do your part and wait for the results you deserve.
Researchers say that only 8% people achieve their goals in life. What is there that makes the rest of 92% fall short of it? Fear; fear of failure. Now, you decide do you want to stay away from your dreams just in fear of losing out to the hurdles? Or, do you want to give it a shot, no matter what? The choice is yours. We share a template of motivational quote as an Instagram post to churn your dreams in your mind.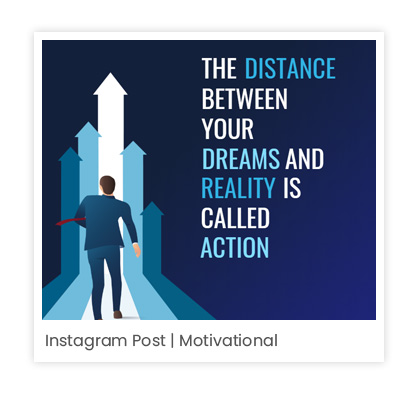 What's the plan? Motivation…
According to researches, entrepreneurs that take time out to make a plan with enough foresight have 152% higher chance of starting their own business. But what should be the ideal plan? Well, that might depend on the type of business you are planning to start. A good plan definitely helps you take a few steps forward towards success.
However, sometimes a poorly conceptualised plan can also work-out for you. Quality of work makes all the difference. Business success doesn't come easy. Even if you fail to have a profitable business plan in place, you can at least work hard to make the existing one successful. Take a look at the DocHipo template of an Instagram post on the same concept.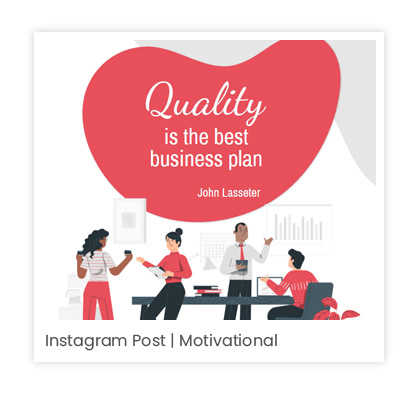 So, how was your day?
Good! Of course, it was. In fact, after reading all those beautiful motivational quotes you must be feeling like buoyed with confidence, right? If you are interested in more such templates, you have to wait for a while. They are coming soon on DocHipo. As of now, sign up to DocHipo and use your favourite template with inspiring quotes for Instagram posts.