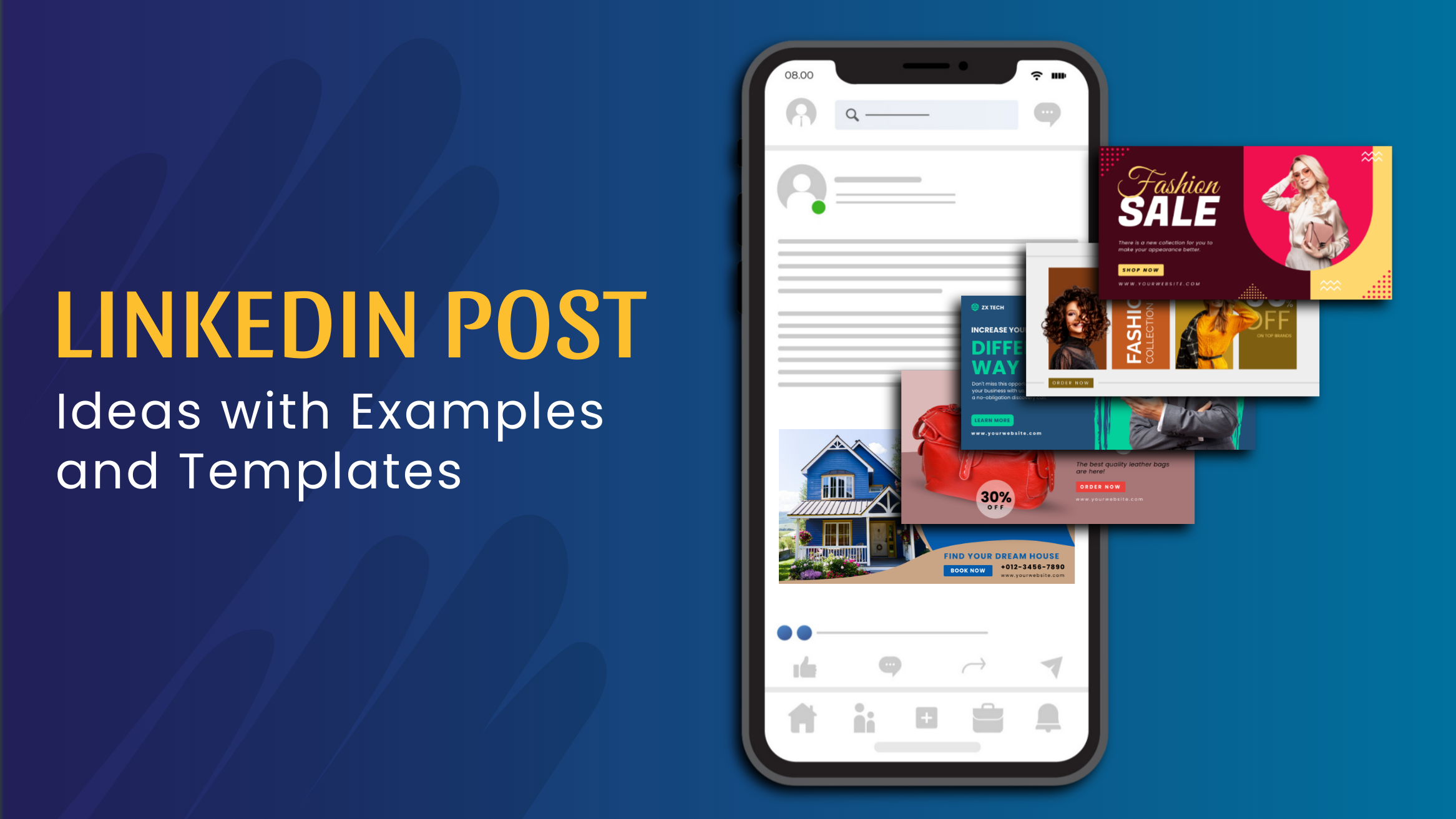 15 LinkedIn Post Ideas with Inspiring Examples and Templates
LinkedIn is the largest professional networking platform in the world. It has become a valuable professional tool to get in touch with professionals and businesses. Around 61 million companies are on LinkedIn, and 96% of B2B marketers use LinkedIn for organic marketing.
But with the ever-evolving landscape of social media, how can you maintain your feed with engaging LinkedIn post ideas? On top of that, imagine how much time and energy you invest before creating a post on LinkedIn. Don't worry; we are here to save you. Take inspiration from these LinkedIn post examples and get tips to boost engagement on LinkedIn.
Understand the Target Audience for Shaping Your LinkedIn Post Ideas
Before creating a LinkedIn post, ask a few questions to gain clarity.
What categories do you want to cover in your post?
Who will be the target audience engaging with your post?
How would you structure your LinkedIn posts?
LinkedIn has a variety of users coming from different sectors. So, you can represent yourself as a business, brand, professional, influencer, etc. Selecting a category will give you more clarity before creating your post.
You can engage communities, build relations, and provide insights and opportunities through LinkedIn posts. Your post intrigues your target audience only when you have something to offer. Put yourself in their shoes to decide the content of your post.
For LinkedIn posts, you provide written content along with the post. While writing, pick up a tone that can be either formal or informal. Try to hook your audience in the first go with text that sparks interest, and use a CTA (call-to-action) prompt by providing links, forms, or videos aligning with your goals.
What to Post on LinkedIn
LinkedIn gives you several formats apart from text-only posts. These can be photos, videos, events, and articles. That means you can always have variety on your page. Look at these LinkedIn post ideas.
Videos: Post short videos in series, case studies, or ads.
Photos: These posts can vary as a single image with a written text or carousel post if you want to show more.
Events: Hold live events and create a buzz by informing them beforehand.
Polls: Stir the pot with questions and let people answer with votes.
Articles: Inform about your industry or niche through engaging article posts.
Documents as PDFs: Share relevant PDFs to inform people.
Newsletters: Publish your original content, and once you have over 150 followers, you can use newsletters in your LinkedIn posts.
LinkedIn Post Ideas with Examples
Don't know where to start? Yes, thinking of a post out of the blue can be tricky. Keep scrolling to get post ideas for LinkedIn through a wide range of examples.
1. LinkedIn Posts with Hiring Opportunities
Inform about job opportunities at your company or business by mentioning all the relevant information about the vacant post. People always look for opportunities in their field.
Use this template to post job opportunities.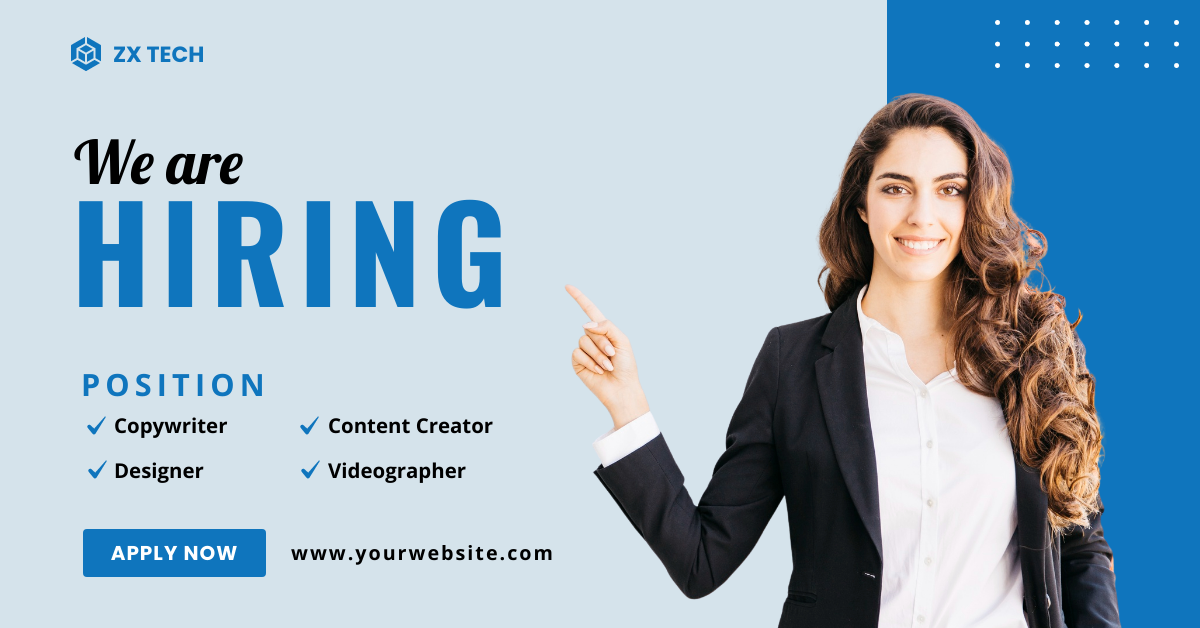 Get This Template and More
2. Share Valuable Tips and Advice through LinkedIn Posts
Try to provide valuable tips and growth hacks. If you know something helpful to people, share it through your LinkedIn post.
Use this template design to tell more through your LinkedIn post.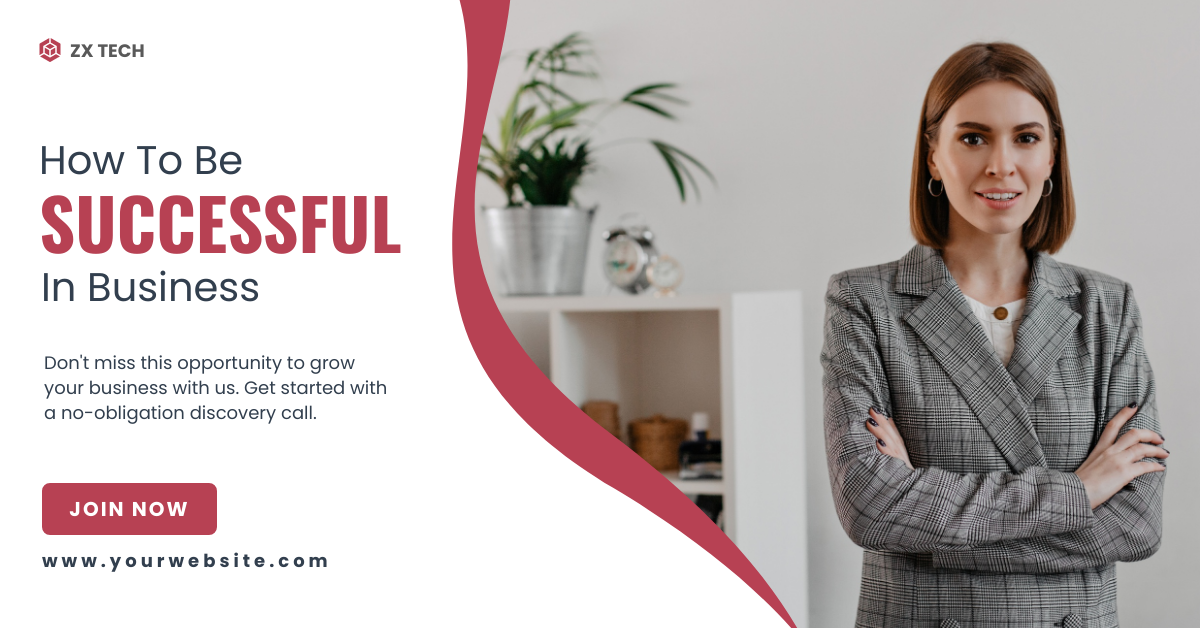 Get This Template and More
3. Bust Common Misconceptions and Myths In Your Niche
Talk about misconceptions and common myths in your niche industry. These posts gather more attention and response from users.
4. Share Your Industry News, Insights, and Trends
LinkedIn users love to gain insight into industry opportunities, news, insights, and trends. People will likely engage with your content if you provide something valuable through your posts.
Tell your audience more with infographic posts on LinkedIn.
Share your tips and opinions with this template.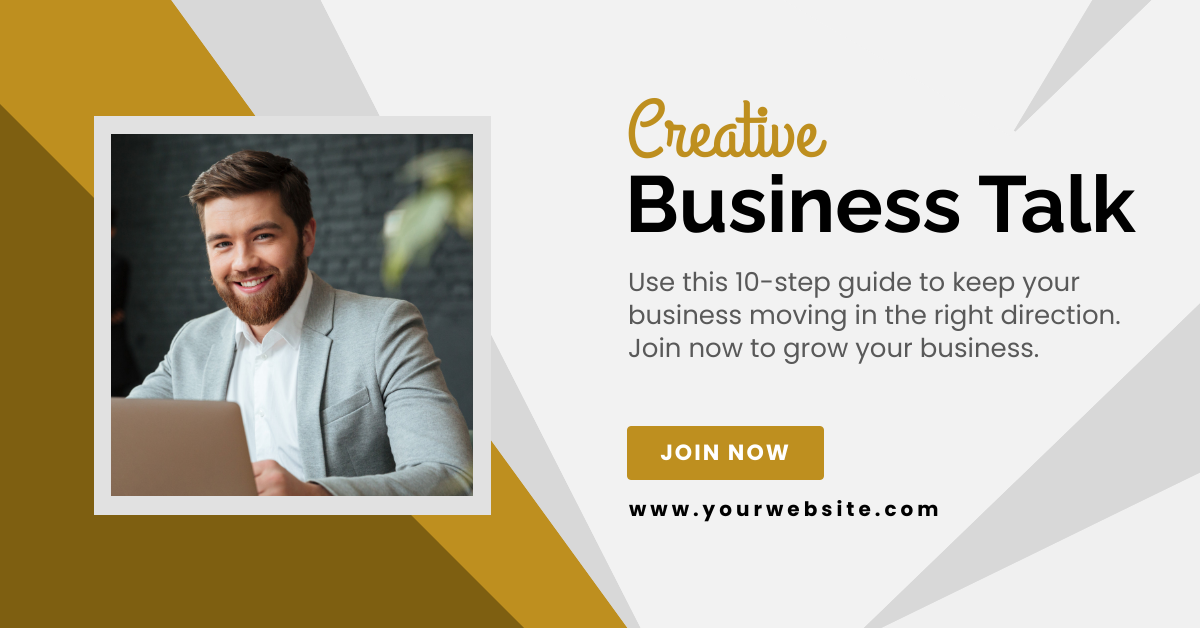 Get This Template and More
5. Interact with Thought-provoking Questions
Ask thought-provoking questions and post your take on specific issues. You can stir the pot with trending topics and encourage people to share their thoughts.
6. Engage through Polls and Surveys in LinkedIn Posts
Ask for opinions by putting questions in your post. You can ask anything related to your industry, trending topics, or something from everyday experience. Remember to keep the poll intriguing for maximum engagement.
7. Share Memes as LinkedIn Posts to Lighten the Mood
It's LinkedIn, but that doesn't mean you always have to keep it serious all the time. Post memes and let people laugh about it in the comments.
8. Motivate with Inspirational Posts on LinkedIn
People dig into LinkedIn to learn more about moving ahead in their professional lives. That's why sharing inspiring LinkedIn posts engages many users. Motivate your audience with quotes, stories, and case studies. Take a look at this simple yet powerful post.
9. Share Your Talent, Stories, and Experiences
LinkedIn is a great place to promote yourself. Don't shy away from showing off what you have got. Leverage your LinkedIn posts to do visual marketing. While you can brag all about your productivity, try to build a human connection with your posts.
10. Give Insight into Your Goals, Vision, and Ethics to Promote Brand
Share about the mission, vision, and beliefs of your brand. Tell your audience about your contribution to other industries.
Keep your audience informed about your brand or business. Use this template for this purpose.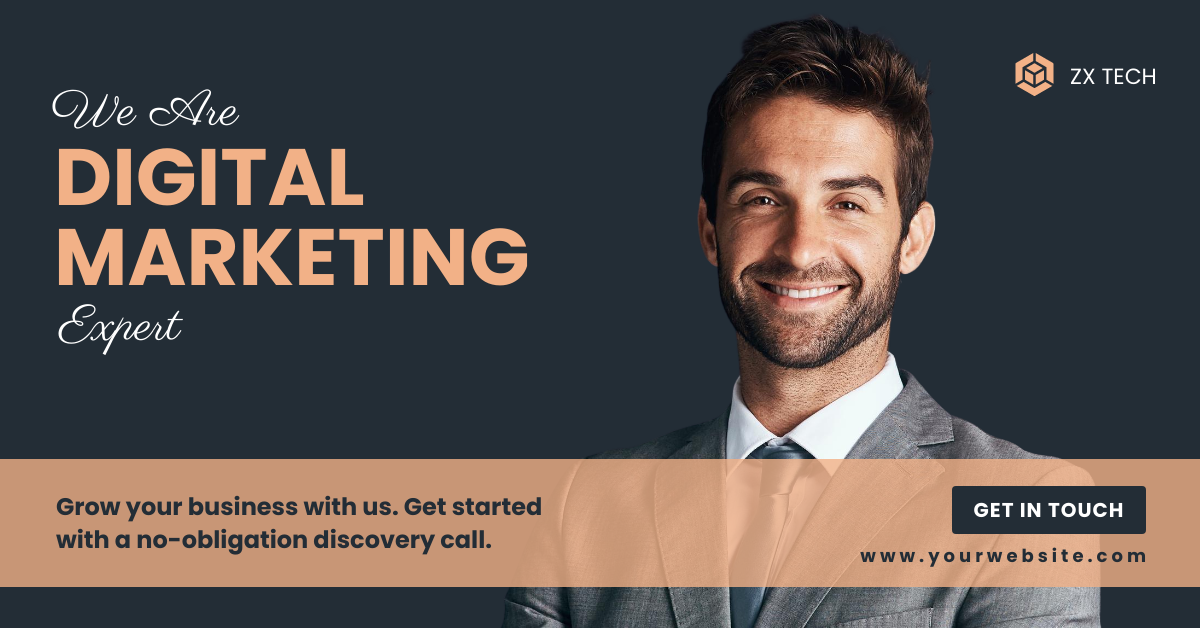 Get This Template and More
11. Promote Your Work Culture with Behind-the-Scenes LinkedIn Posts
Post behind-the-scenes where your audience can see how your organization works. Give a glimpse into your workforce, their lives, opinions, and contributions to promote your work culture.
12. Use LinkedIn Posts to Announce Collaborations and Partnerships
If it's your business or career, leverage LinkedIn to inform your audience. Give updates about important events and achievements with LinkedIn posts. Post about collaborations and partnerships with industry leaders, influencers, or other LinkedIn users.
13. Post About Your Professional Journey
Post about your career development, new job, celebration, or promotion to make a mark through LinkedIn posts.
14. Use User-generated Content and Testimonials as LinkedIn Posts
User-generated content, also known as UGC, is often used by brands to brag. UGCs help us to recognize the authenticity of a brand. They also act as testimonials to highlight any positive aspect of the brand. Use testimonials to earn the trust of the audience on LinkedIn.
Brag without actually doing it with this template.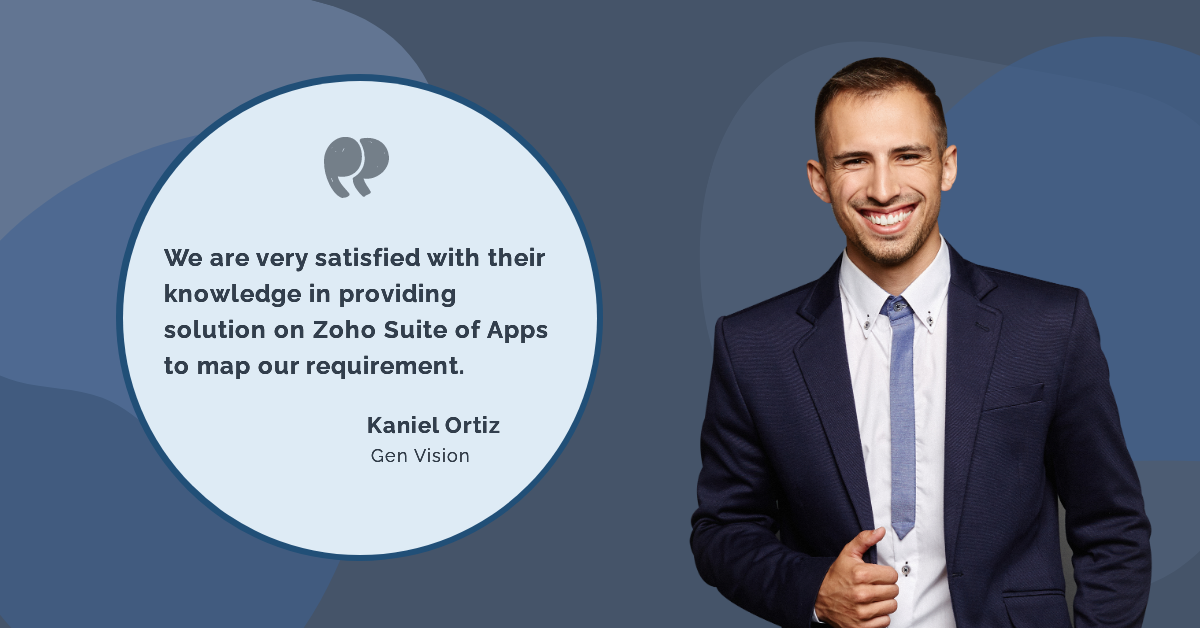 Get This Template and More
15. Host LinkedIn Live Sessions
With LinkedIn posts, you can categorize the post as an event and invite people to participate. You can conduct webinars, panels, interviews, or question-and-answer sessions with live sessions.
Host an event using the event LinkedIn post templates from DocHipo.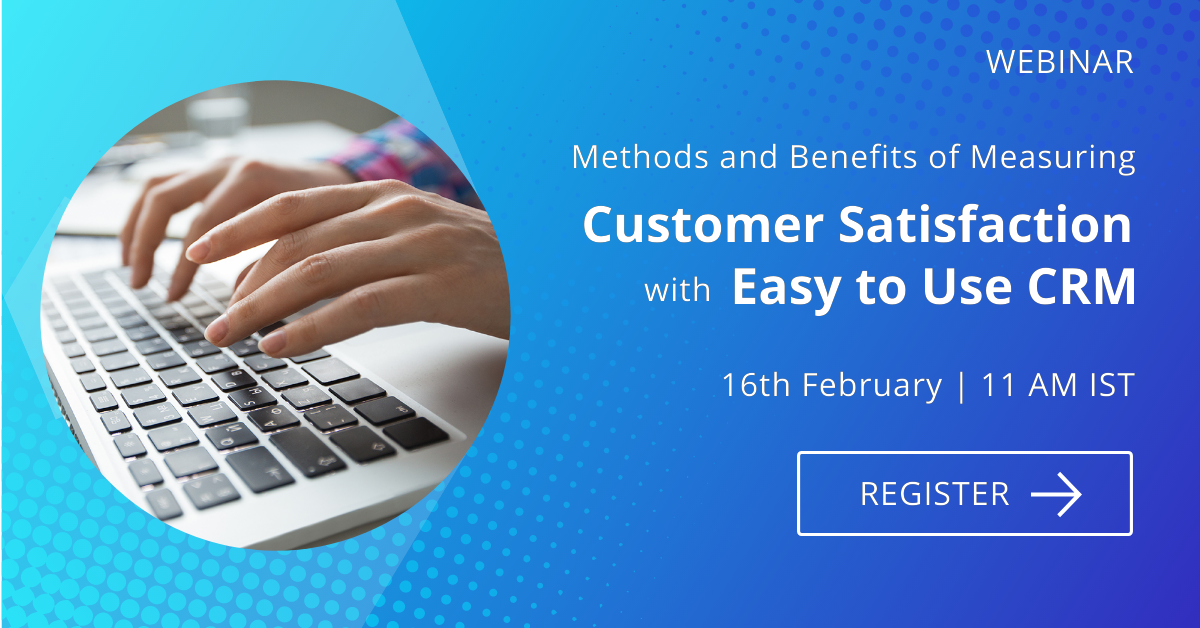 Get This Template and More
Get This Template and More
What is the Best Time to Post on LinkedIn
Now that's a tricky question. You have a well-curated LinkedIn post but don't know when to post. The best days to post on LinkedIn are Wednesday, Saturday, and Sunday, while the best time slots are between 12 to 3 p.m., 3 to 6 p.m., and 6 to 9 p.m. But that's not the complete story. Your audience may check their feeds during different hours. Significantly, when the entire professional atmosphere has changed with flexible working hours, LinkedIn users have their hours now.
A little bit of trial and error is required from your end. Share LinkedIn posts with different elements like headlines, copy, or images. Check the engagement for each post. Your audience will tell you their active hours and what they want to see. It all comes down to posting at the right time.
How to Make a LinkedIn Post
Still thinking about creating a LinkedIn post from scratch? Don't stress. Use ready-to-use free LinkedIn post templates from DocHipo and get ideas for LinkedIn posts. Sign up with DocHipo and get started with your LinkedIn post design with three simple steps.
Step 1: Choose Your Template
After signing up, you will land on the homepage of DocHipo. Search for LinkedIn posts in the search bar. You can also choose the 'Social Graphic' group and LinkedIn post as the document type.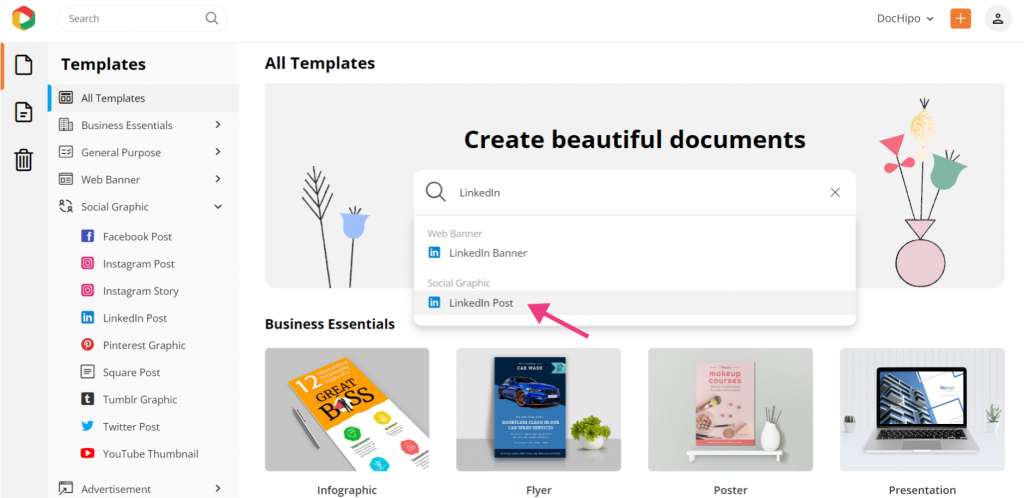 You will get multiple categories to choose from. Select a category as per your need.
Now, you can see several customizable templates on your screen. Choose a template to get started with editing.
Name the document and add a brief description. Select next to make the necessary changes in the template.
Step 2: Customize Your Template
Now, you can customize all the template widgets in the DocHipo editor.
Customize the Text
Select the text you want to customize and replace it with your message.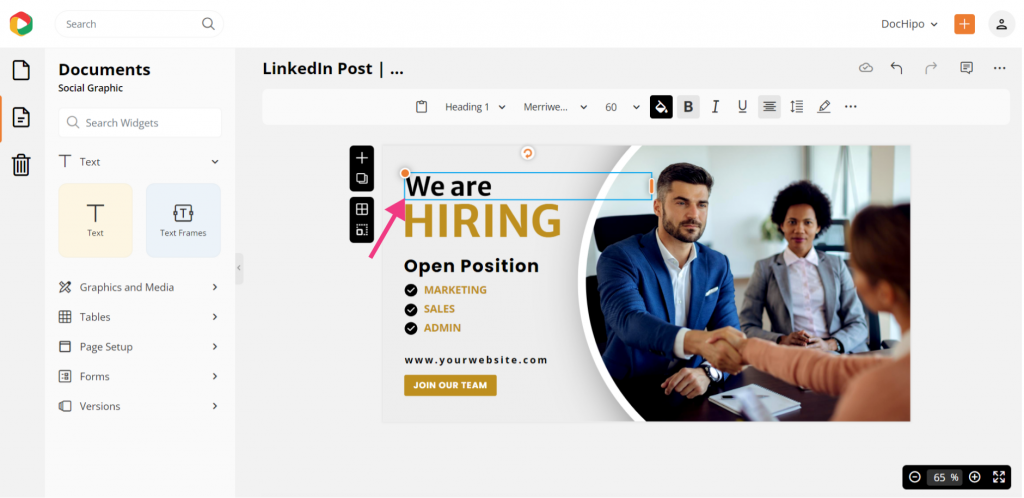 Discover more text customization options in DocHipo:
After replacing the text with yours, select the text to change the color.
You can change the text color with the help of the contextual editing bar at the top. Choose the color icon from the bar.
A color palette will open in front of you. Choose your color or select the eye dropper to pick a color from the template.
Try different color combinations and pick the color you want to complement the text color with the design.
Learn to use the eye dropper from this video tutorial:
Watch this video to experiment with more customization options.
Customize the Background
Choose the 'Graphics and Media' option from the menu on the left side of the Dochipo editor.
Select the Background widget from the customizing options.
You can change the color, gradient, or pattern of the background. Choose the color you want, and your design is ready.
Learn more about customizing your background in DocHipo with this tutorial.
Step 3: Download Your Design
When you are done with customization, click on the three dots in the upper right corner of the editor.
From the options available, select download.
Download your design as a PNG file type with 'normal' quality.
And your design is ready for use as a LinkedIn post.
Before customization
After customization
Explore more with The Ultimate Guide to Using the DocHipo Editor to Design Your Documents.
To Conclude
You have an abundance of LinkedIn post ideas at your disposal. Remember, your post engagement depends on the consistency and relevance of your post topic. Do some research about the LinkedIn posts in your niche and get started. Sign up with DocHipo to create posts with ready-to-use free LinkedIn post templates.