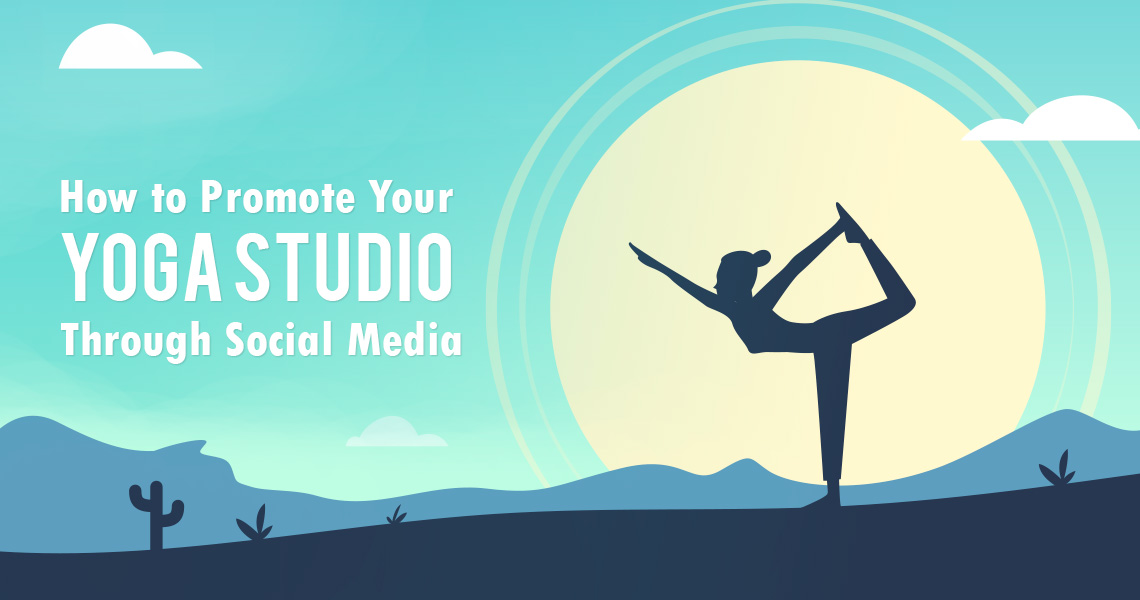 How to Promote Yoga Studio through Social Media

Published on Jun 18, 2020 | Updated on Oct 22, 2022
Yoga classes around the world have been gaining immense popularity, making this practice a global phenomenon. By 2025, the market size of the yoga studios is predicted to reach an amount of $215,811 million approximately. Moreover, the disruption of normalcy because of Covid19 is also pushing people to practice yoga during the pandemic. Hence, if you are planning to start your yoga studio, then now is the time to spread your knowledge.
In this article, I will talk about the best yoga studio marketing strategies that you can implement through social media. But, before diving in, let us first witness the journey of yoga and wellness in the world and its significance.
World International Yoga Day
The practice of yoga and meditation originated in the east, primarily in India. Although the source behind the practice is largely untraceable, it is mainly associated with Patanjali. The world first came in-terms with the practice of yoga and meditation through a young monk known as Swami Vivekananda. He traveled from India to the west to preach the philosophy of Vedanta.
In the year of 1893, at the Parliament of World's Religions, Chicago, Swami Vivekananda delivered his first speech on Hinduism. His enigmatic personality and his words rendered him with global recognition as a spiritual guru. It was then that the west came to know about Yoga and its spiritual significance. After him, many more yogis stepped in the west and revealed other yoga techniques, making this practice popular.
With the increase spread of the practice, worldwide, soon science tried to test its efficacy through experiments. It was then that science confirmed its impact on the body and mind, luring more people into this practice. Recognizing its health benefits, the United Nations declared the 21st of June to be dedicated to the practice of Yoga. Ever since 2014, the world celebrates International Yoga day. For this 21st of June , 2020, the theme is "Yoga for Health – Yoga at Home".
Marketing your Yoga Studio through Social Media
Anxiety and stress are two by-products of our current lifestyle that have become eternal factors of the mind. Hence people are and will continue to look for active solutions for a balanced mind. In the current time, the stress of social-distancing oneself and being restricted to one place has also been distressful! In such situations, yoga seems to be the ideal practice to indulge oneself. This increasing demand for nurturing our body and mind has brought about many yoga studios, along with fancy yoga techniques. Also, easy accessibility via different online platforms has made this practice a part of every culture. Hence, many yoga studios around the world have already created their space in the market.
So! In a market that has already captured a base, how can you empower your presence in this field?
Simple! A perfect marketing strategy can make that impact. To market your yoga studio some essential marketing strategies are necessary for you to execute. Here I will give you a proper structure to make your presence felt.

Understanding Your Client Base
As we know, the practice of yoga and meditation reaps immense health benefits, miraculously affecting the mind and the body. But, this is not the only reason for people to reside in this practice. Different people have different reasons; some seek spirituality, while others use it as a daily exercise routine. Hence it is necessary to question yourself: Which client base are you seeking?
Are your target-clients seeking for physical and mental fitness? Or, is it a bit above that and more about self-realization and spirituality?
In that case, you can either opt for one kind of client base or both. But, the approach needs to be entirely different. A non-believer might not want to practice in a studio that endorses a certain kind of philosophy. On the flip side, a believer will seek for a yoga class that is more in-tuned with philosophical notions. Hence a tough call to make, unless you have already decided to cater to a certain client base.
If you are looking for a bigger market, the best thing is to conduct your survey and research. Look through social media platforms to understand what people are seeking from this practice. Engage with people by either chatting with them or through surveys and questionnaires. Based on the results you can choose the tone for your yoga studio.
If you want to incorporate both the client bases, then make proper segmentation and tag the different yoga techniques. This will enable the clients to choose the type of program they are seeking. Let's not encroach upon their personal opinions!
Picking the Right Social Media Platform
Each Social media platform has a characteristics of its own.
Facebook is a more personal type of social platform where people mainly engage with other people with similar interests. Here users share their personal opinions, talk about their life, and post photographs with friends and families. This space is all about socializing and establishing friendships. In my opinion, Facebook can be useful to market your yoga classes, as yoga itself is a very personal practice. You can search for groups that are specifically interested in yoga lessons and start building your prominence there.
Quora is another interesting social media platform that we often overlook. Here people directly ask questions, allowing you to answer them with a nicely structured solution. In this platform, you are not only answering to a single person but to all those people who are typing the same question in the Google search box. As you provide a proper solution that is liked by other readers, your answer will pop-up at the top. You can also cheat! Tell your friends to "up-vote" your answer at Quora, after all, what are friends for!
Instagram is all about creating amazing visual posts. Hence here you can post about your yoga classes with nice pictures and visual designs. You can also add some motivational quotes along with the posts to inspire your clients and to grab their attention.
Twitter ignites discussions and conversations. For your yoga studio, you can post many concepts related to yoga and spark interesting debates. As more people start to participate under your comment box, then the more access you will gain with the domain.
It is recommended to start with two social media platforms at a time, if you are completely new to this.
Planning the Content
Here comes the creative part and probably the most exciting aspect of this entire process. There are tons of things to do if you want to create content and posts for social media. To make yourself believable and approachable you need to open up your business page and invite people to join in. Keep on posting amazing pictures and intriguing write-ups. But, please make sure that your posts are short and are quick to read. Conduct live sessions, online classes, and webinars. Before pursuing your clients into the paid sessions, try to win their trust with complimentary yoga tips for free. But if you are starting this business, then the first thing for you to do is to spread your influence. So, reserve your best yoga secrets and let out the basic yet unique yoga poses.
To seize your audience's gaze it is necessary for your post and other designs to look attractive yet inspiring. A motivating post will get many likes and will also be shared by the other viewers. Hence your customer has the greatest ability to become an excellent salesperson. So, whether you are sharing a post, or announcing an event, designs are extremely important!
Let me make this process easy for you! Signup to DocHipo. Here you will get ample templates from which you can choose and customize absolutely for free. Let me walk you through the entire process.
Creating Social Media Post with DocHipo
Let us make a simple yet compelling post to market your yoga classes online on this World International Yoga Day.
As we know that this year's theme for the event is, "Yoga for Health and Yoga at Home", we have to make sure that the post strikes the message of well-being.
So let's start…
After you have signed up to DocHipo, click the option of "Social Graphic" under the "DocHipo Templates". Here you will see many templates from which you can choose or create your design. I am planning to choose an existing template and change certain aspects of the design.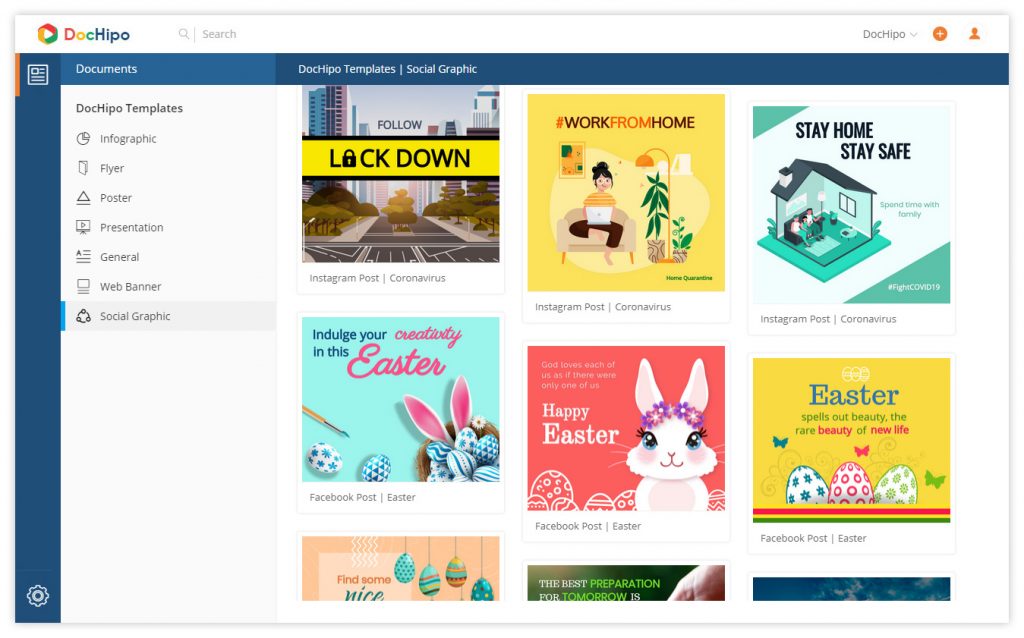 I have chosen this template: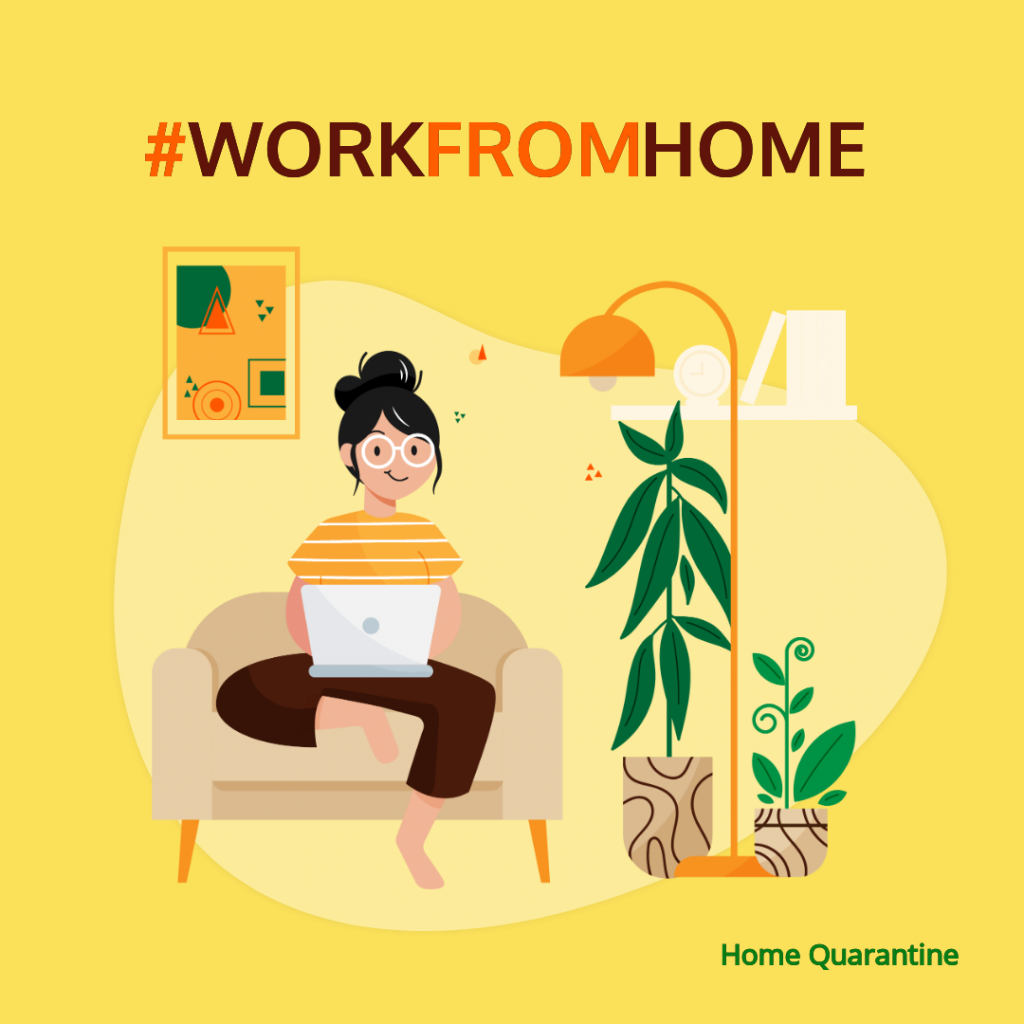 As you will click on this template you will be redirected to the document information page. On this page, the details will be auto-populated and you have the option to change it. I have changed the document name into "Instagram Post | Yoga" and wrote "International Yoga Day" in the description box. You can also type "Facebook Post" if you are intending to post this on Facebook.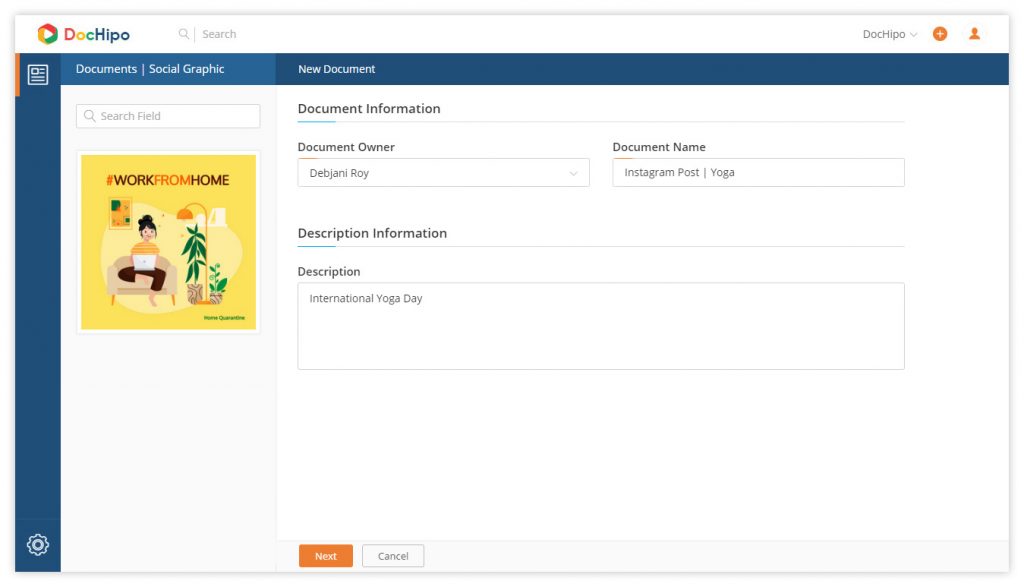 After you click the "Next" button, you will enter the workspace to start customizing as per your requirements. For this theme, I am planning to make certain changes to the post layout. First I will remove the character in the layout and delete the text underneath.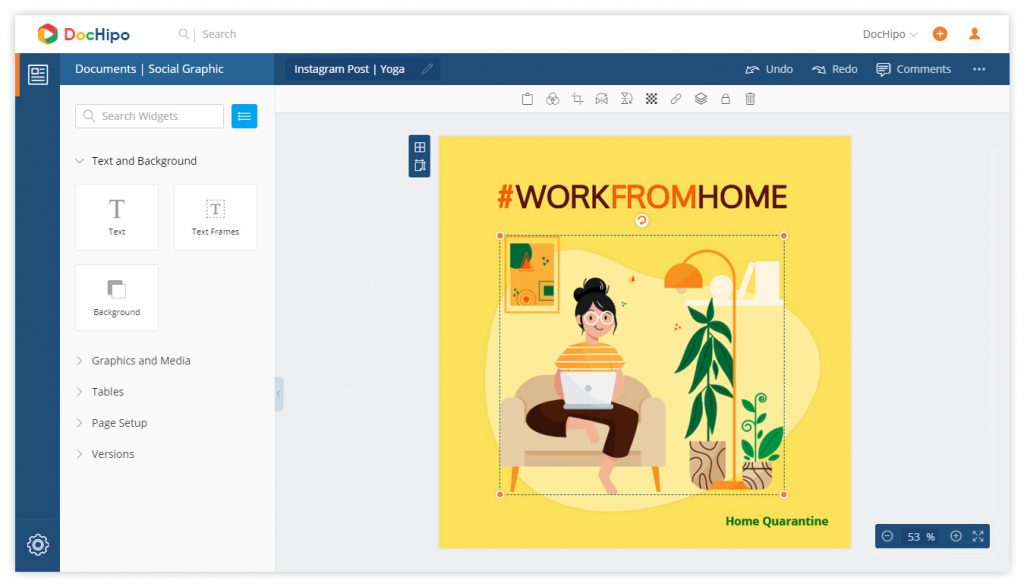 I have also changed the color of the background. There is a color symbol icon under the "Background" option, at the left-hand-side panel. Here you have the option to choose a particular color or customize it. I have customized the background color (code: #e8e7ee). After this, I have moved my text underneath the abstract shape.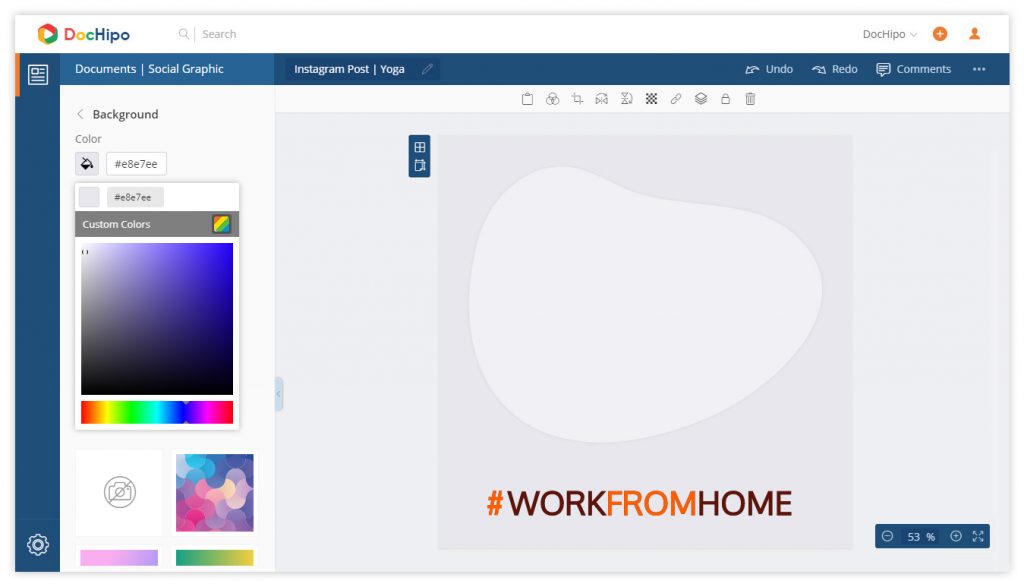 Now let's work on the texts. Since the theme is "Yoga for Health and Yoga at Home", I will incorporate this in the layout. So, I first copied the different elements of the font and pasted it, having two lines of the same text. To copy and paste you can select the clipboard icon at the top panel.
Then, reduced the font size and change it to "Righteous". I used two different font colors selectively on the text. I have changed the text to "#YOGAATHOME" and "#YOGAFORHEALTH". Finally, add another text at the bottom to inform the clients about the yoga classes to be held online. I have added the bottom-text stating, "21st June Live Sessions", which is of "Open Sans" font.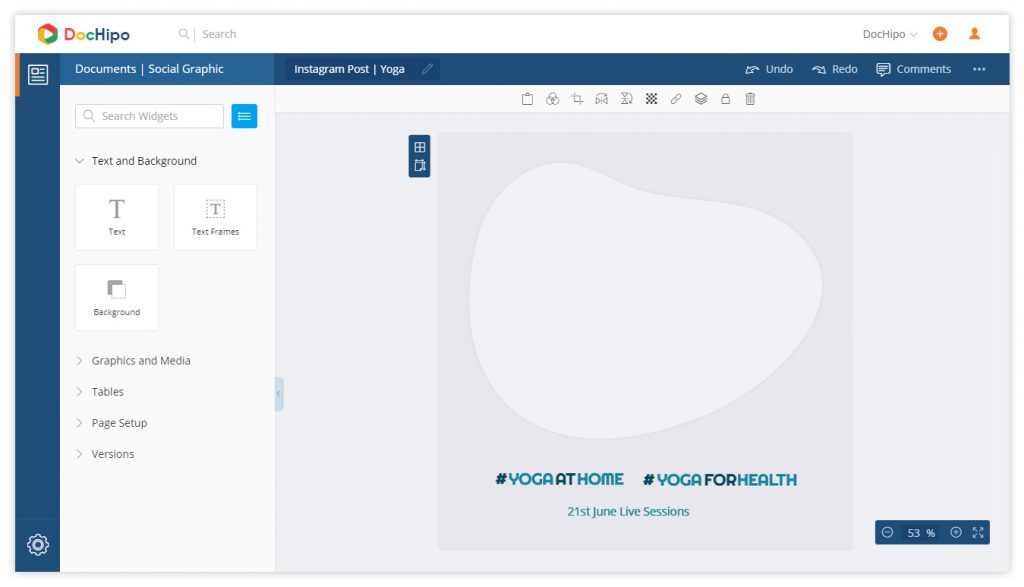 Now, in the left-hand-side panel, you will see the "Illustration" widget under "Graphics and Media". Here you will find different illustrated characters, covering many themes. You can choose your character based on your topic. I have selected this illustrated lady, who is in a meditative pose, for the theme celebrating Yoga.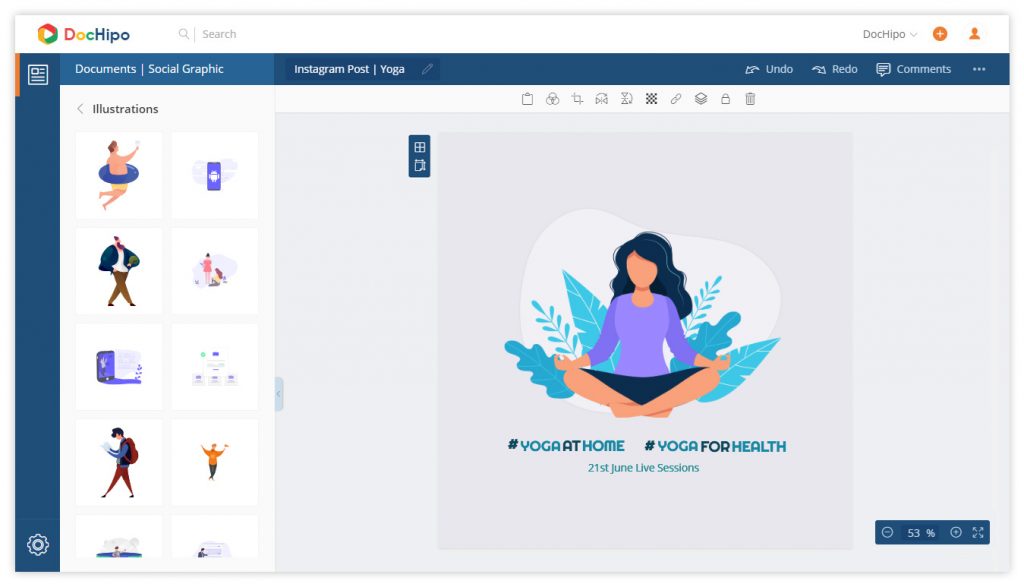 The next step is to download it! Select the dotted icon on the right corner of the top panel and select "Download". You will have the option to choose from two file formats when downloading. I have selected PNG format and high image quality.
As you click the "Download" button your design will get downloaded. You are now ready to unleash it in your social media pages.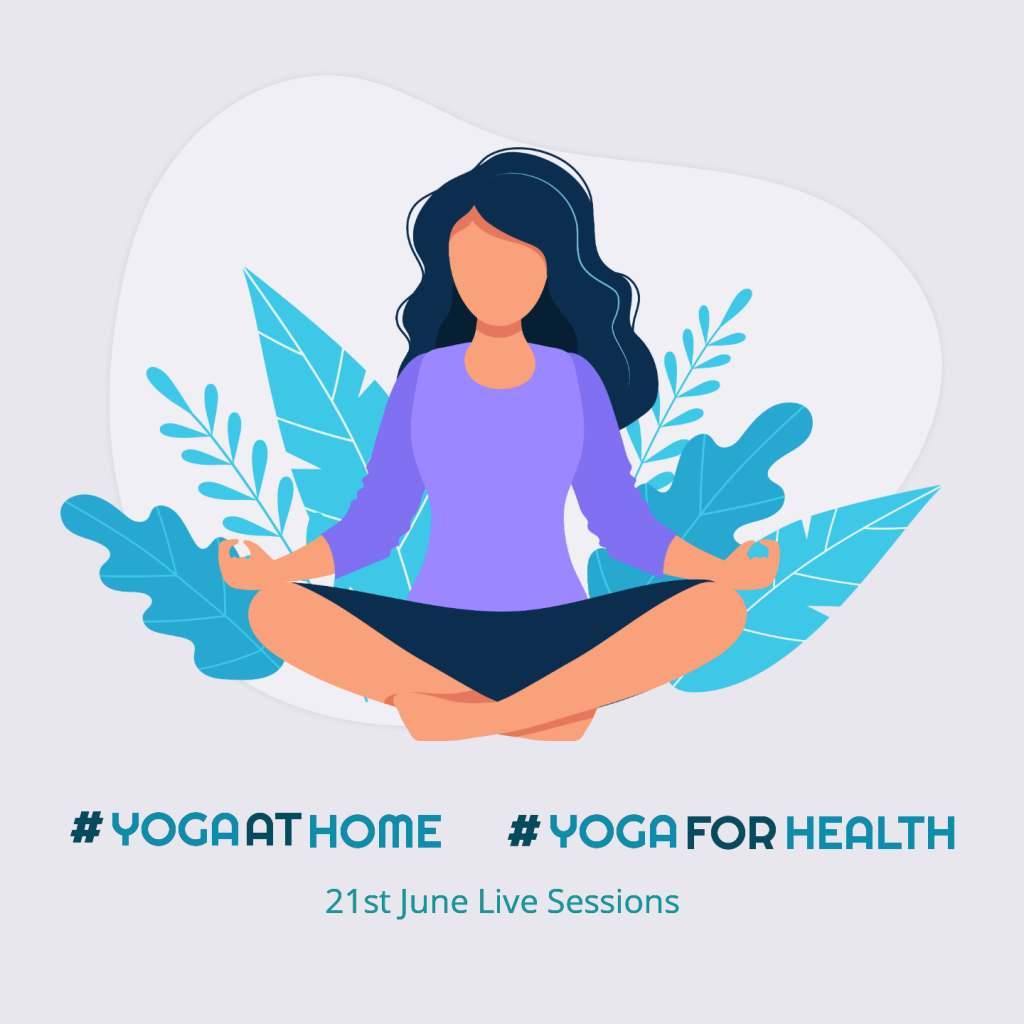 Similarly, you can make your social media posts and other design documents via DocHipo.
After you have completed designing your post, let's move to the next aspect of the marketing strategy.
Schedule Posting on Social Media
It is important to know when your target audience is checking their news feed on social media. Different platforms of social media have different user purposes. Hence the crowd hours are different for each of these platforms. Hubspot gives a detailed account of the best times to schedule your post for each of these social media platforms to get maximum results.
As per the estimations, for Facebook, the best time is 9 am to 4 pm for all kinds of viewers. For posting on Instagram, the approximate best time is 1 pm to 9 pm. Again, for Twitter, it is from 8 am to 6 pm.
Timings are important for your trade to be viewed by maximum people, but let's not forget that Time is Relative! To be honest, I visit all the social media platforms after 9 pm. So, the best thing is to make your little research on the ideal time to find your target audience.
After creating a proper social media marketing structure, it is necessary to analyze the overall effect of your strategy.
Conclusion
Creating a social media marketing strategy for your yoga studio or any other business requires dedication and hard work. But do not forget to work-smart as well! With DocHipo, you do not have to worry about creating unique and engaging designs. We have plenty of templates just for you.
So hurry up and log in to DocHipo!