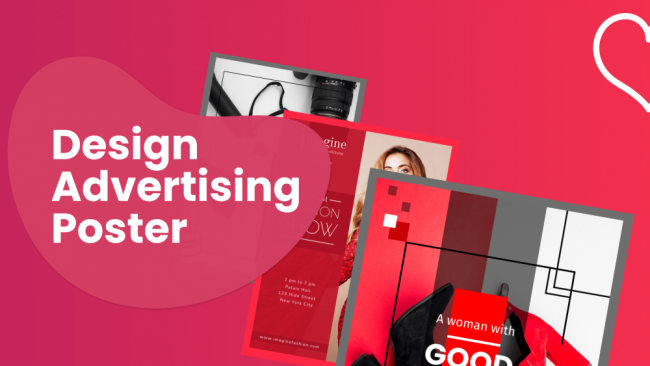 Advertising Poster Design: How to Make an Advertisement Poster

Last Updated Mar 16, 2023
Advertising poster design is still one of the most popular and effective marketing methods despite advertisements becoming high-tech in recent years. Whether opening a cafe, organizing a music festival for your university, promoting your beauty parlor, good posters always work best for your advertisement. Though advertising poster design requires professional designers, you can design a poster all on your own as well. You just need a tool like DocHipo.
With DocHipo's Free Online Poster Maker, you can design your poster within minutes. If you have decided to create a poster to advertise your product or service, you know that sometimes words are not enough. Striking visuals are required to drive a point home, pique curiosity, or add to the anticipation of an event. However, advertising poster design is an overwhelming task, especially when you come from a non-designer background.
Continue reading to learn how to design an advertisement poster easily using DocHipo.
Table of Contents
Advertising Poster Design Best Practices
Though there is no right way to make a poster, you can follow some poster design best practices.
Therefore, we decided to take it upon ourselves to write the best practices for advertising poster design. So, if you want to learn how to design an advertisement poster, you are in the right place. Follow the tips mentioned below:
Define The Goal of Your Poster
Do you want to inform someone about your newly launched products? Tell them about a music event in their area? Or just inform them about the upcoming sale at your store? Advertising poster design can include any of them. Defining the goal first will help you design the perfect poster.
For example, your goal is to let your friends know about an upcoming event in your university. This poster design will be completely different vis-a-vis if you had to design a poster for an upcoming conference.
Take a look at this advertisement poster: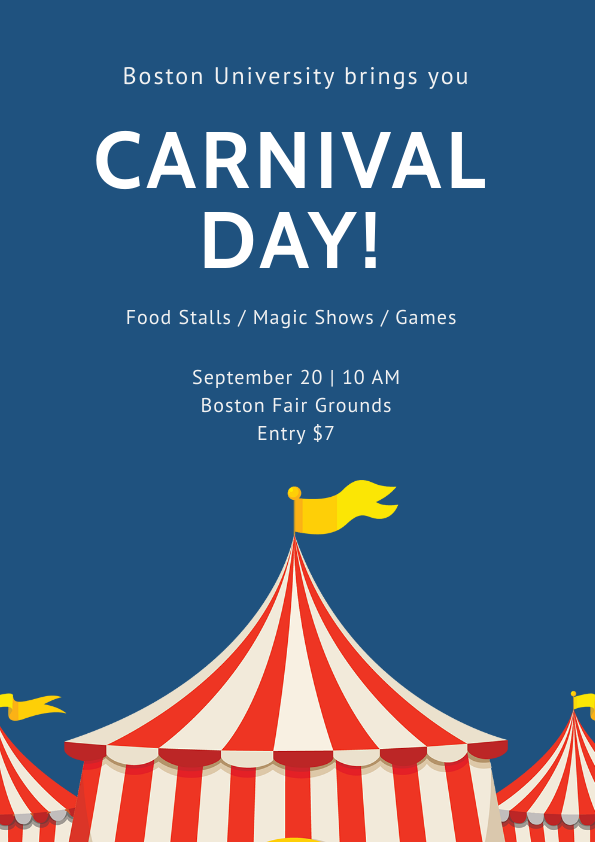 Get This Template and More
The USAFA Blue Background complements the CG Red and White to create a casual vibe. The purpose of designing the poster is to let the audience know about "Carnival Day." Hence, it is written in the most significant text and followed by some highlights of the event. Other information such as entry fee, date & time, and venue are written in the body text format.
Now, take a look at this poster: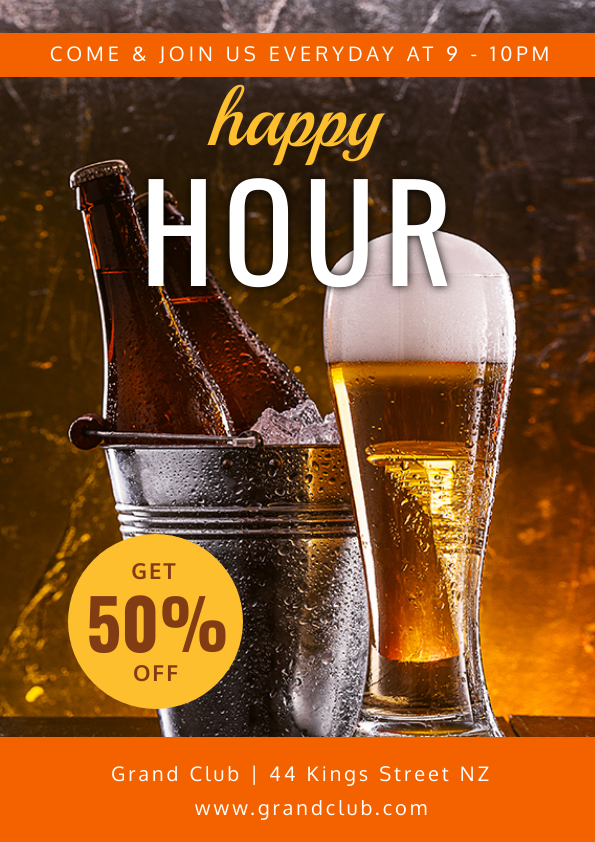 Get This Template and More
To advertise a restaurant or beverage shop, they have used a picture of some beverages they offer. The major highlight in this template is the 50% Off on their products. Also, they have mentioned the timings on the top part of the template for which their offer is valid. And then comes their address at the bottom.
So, define your goal first and plan your advertising poster design around it.
Consider the Target Audience
Perhaps you have the best advertisement poster design ideas. But at the end of the day, what's important is what your target audience wants. So, the next big thing that you should consider while designing your poster is the target audience.
Suppose you are advertising music classes to offer guitar lessons, like the below template: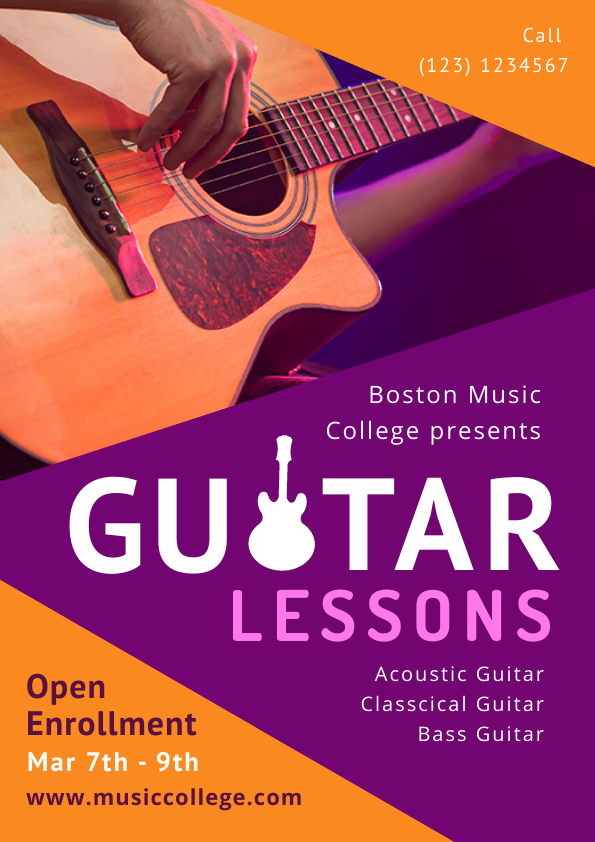 Get This Template and More
The color combination, fonts, layout, and overall design perfectly matches. Since most of their classes are Acoustic and Classical Guitar lessons, they decided to display an image with an acoustic guitar. Furthermore, the overall design provides a charm for pop music.
Compare the previous poster with the one below: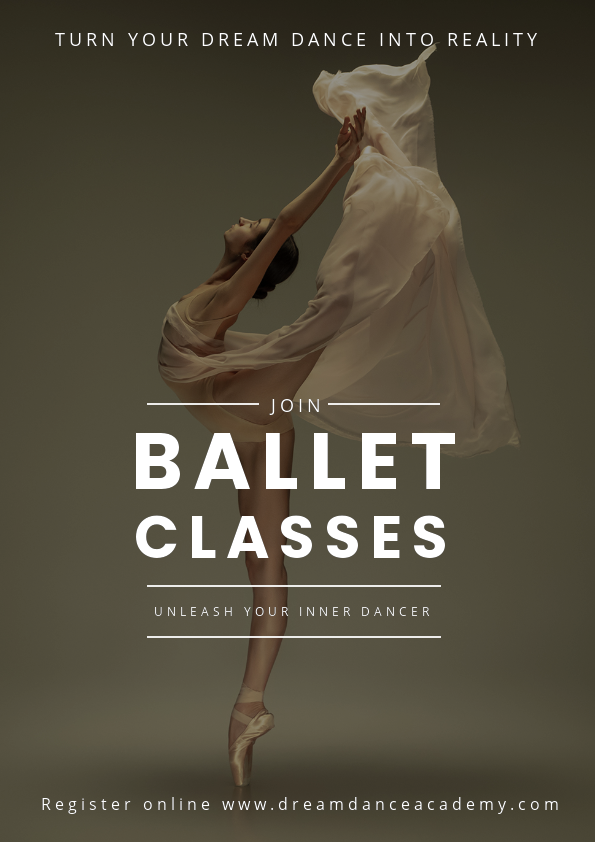 Get This Template and More
This poster will attract those looking for ballet classes using a perfect background image and minimalist design.
They are both advertising posters to promote different lessons, but the audience each poster is trying to reach is different. Hence, make sure that you know your target audience well before proceeding with the design process.
Choose a Relevant Color Palette
Color is one of the most vital elements in your advertisement poster design. Nothing other than can set the mood for your poster, grab the attention of your audience, and can even drive them to take action. Study shows that colors influence up to 90% of an initial impression and 84% people say color is the main reason they buy a product. So, there is no place for you to compromise on colors while designing the poster.
Using a brand color palette is a great way to choose colors, but you might also want to strategize your color choice. Use bright and bold shades of yellow and red to draw attention and energize your image. Shades of green, blue, and purple bring stability, professionalism, elegance, and calmness to your design. A great way to captivate sophistication is to combine white and black contrasts.
For example, if you want to create a fiery design and highlight the call-to-actions using colors, nothing can be better than different red, yellow, and orange shades, just like the template below.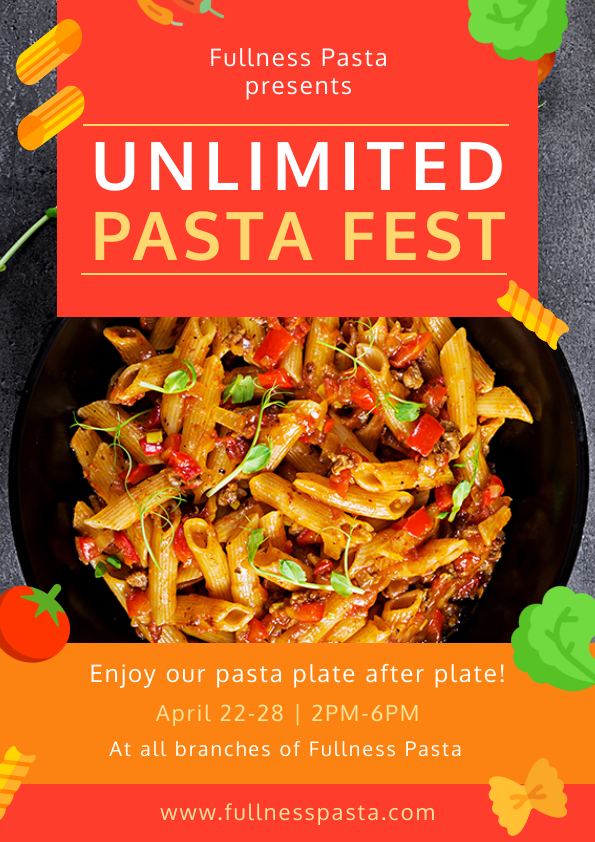 Get This Template and More
Since the intention of designing the poster was to display one of the best pasta dishes that the restaurant offers, they chose greens, oranges, yellows, and reds for all the other elements, even for the fonts.
However, if you are still struggling to choose a relevant color palette, read this article on the best color combinations and how to use them in your design using DocHipo.
Use Fonts Carefully
We have already discussed the importance of defining the goal first to get the best advertising poster design. But the purpose of designing the poster pretty much depends on the information you want to convey. Hence, you might want to give lots of thought to your typography as well.
Your font choice plays a vital role in your poster design. Simultaneously, it would be best to focus on how you layout the text to create a typography hierarchy to bring attention to your most important information.
Make sure all eyes are on the text that you want to show them. Choose bolder fonts for the headlines and make sure they are contextual. Don't use more than three fonts in a single advertising poster design.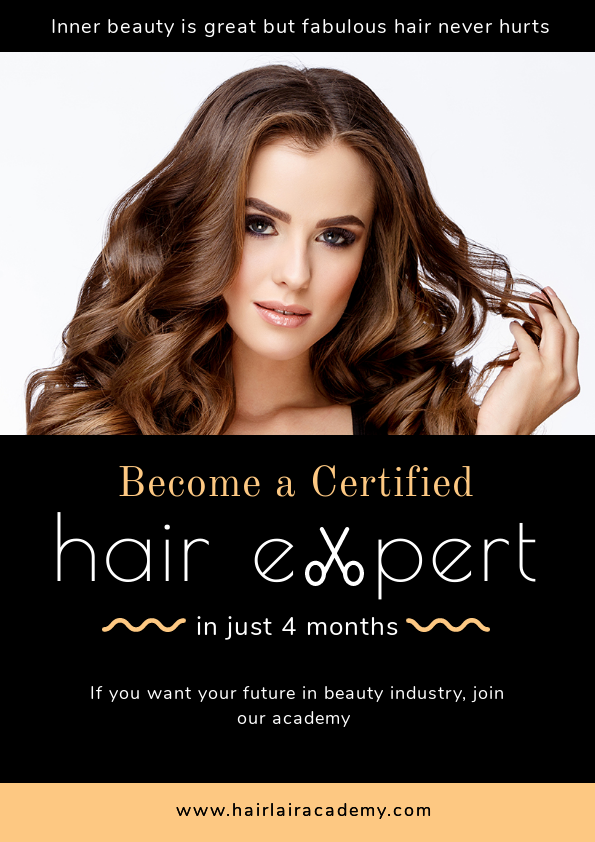 Get This Template and More
However, our suggestion for you is not to overthink the poster design while focusing on your strategy. Even if you use a single font, you can make the design aesthetically appealing by changing the fonts' color and size.
Incorporate High-Quality Images
When it comes to designing posters, relevant and high-quality images have been a staple for decades. Using the right photograph can surprisingly give your design a considerable boost in visual appeal. Statistics say that the human brain can process images 60,000x faster than text. Furthermore, a study by MIT shows that it takes only 13 milliseconds for the human brain to save a picture in the memory.
So, you must use high-quality and relevant photographs to hook your audience with the poster, and obviously, it will convince them to read the text in your poster. Use images that can facilitate a balance between your photo and text. Moreover, it's a great idea to use a picture with a focal point and then surround it with other design elements.
Get This Template and More
How to Design an Advertisement Poster Using DocHipo
Now, you have come to the design part where I will walk you through how to design an advertisement poster in DocHipo. But you need an account first. If you haven't signed up for DocHipo, do so by clicking here.
Step 1: Pick an Advertising Poster Design Template
Once you sign-up for DocHipo, you will land on the all templates page where we have well-segmented all our templates into different Document Types. Type Poster in the search box and click on results as shown below to find a suitable template.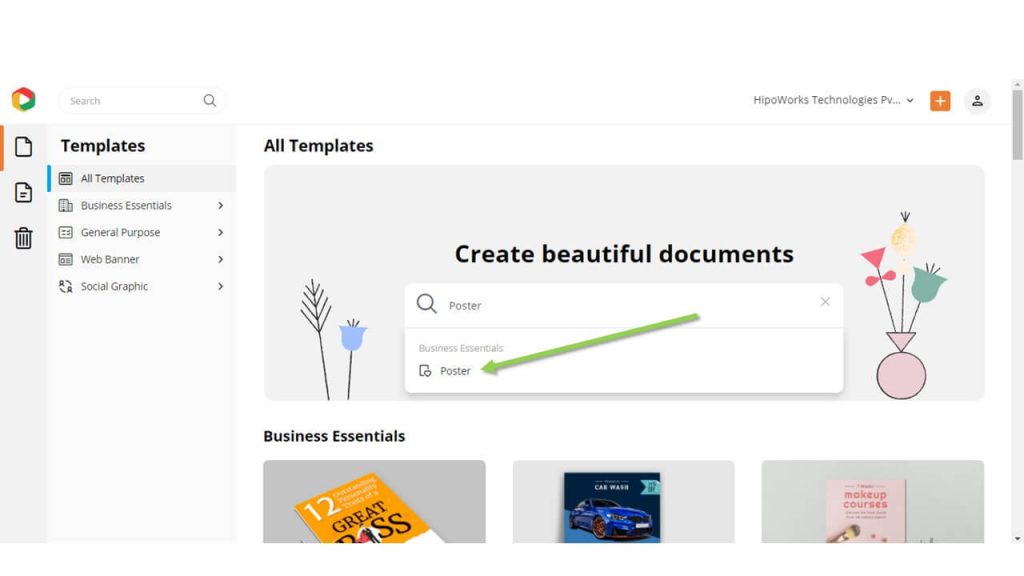 Now, choose Advertising among the poster template categories.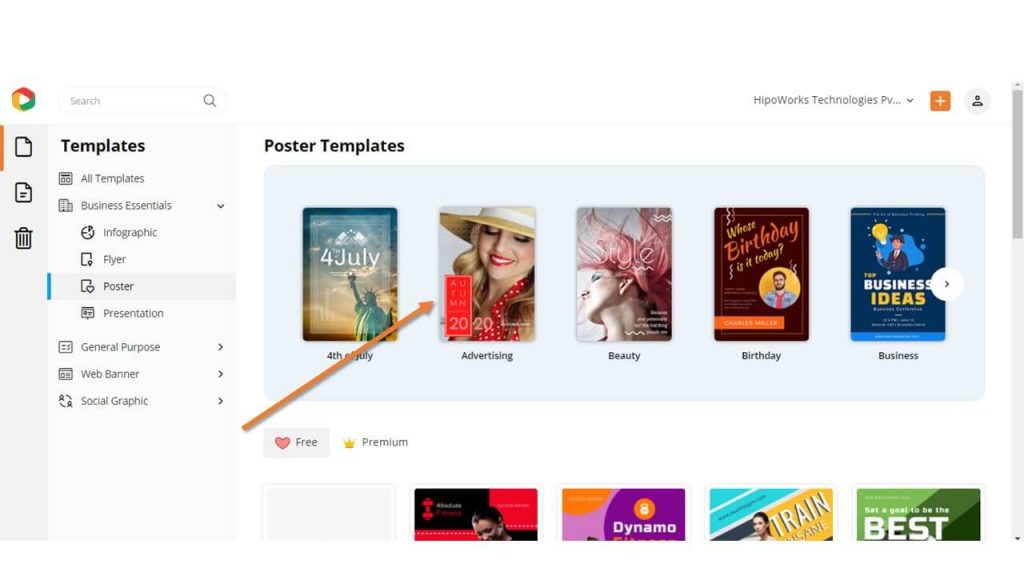 Hover over the template to either "Preview" or "Select" the template.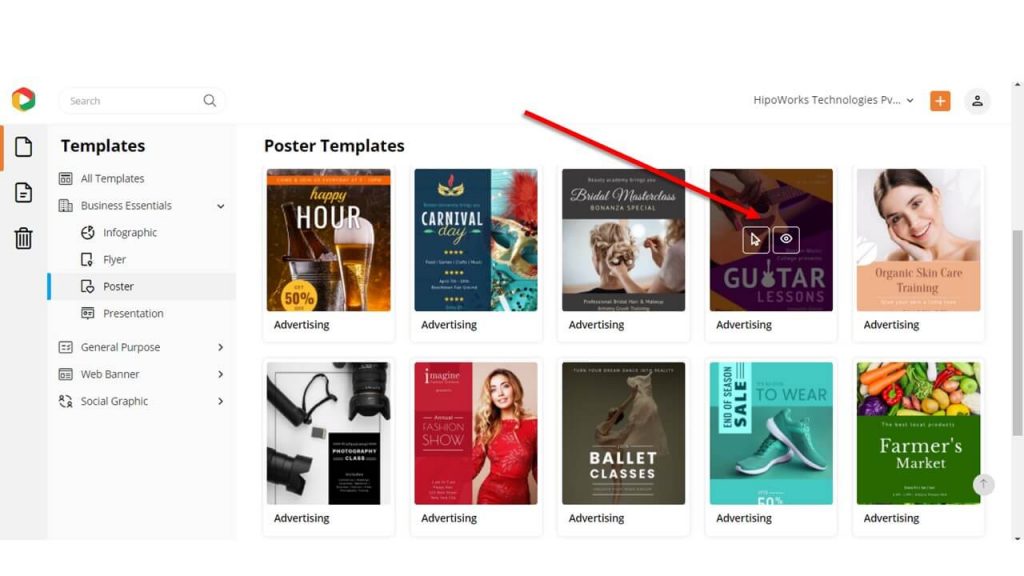 Once decided on a template, click "Select." Provide a name and a short description of the template so that you can find it later easily. Click "Next."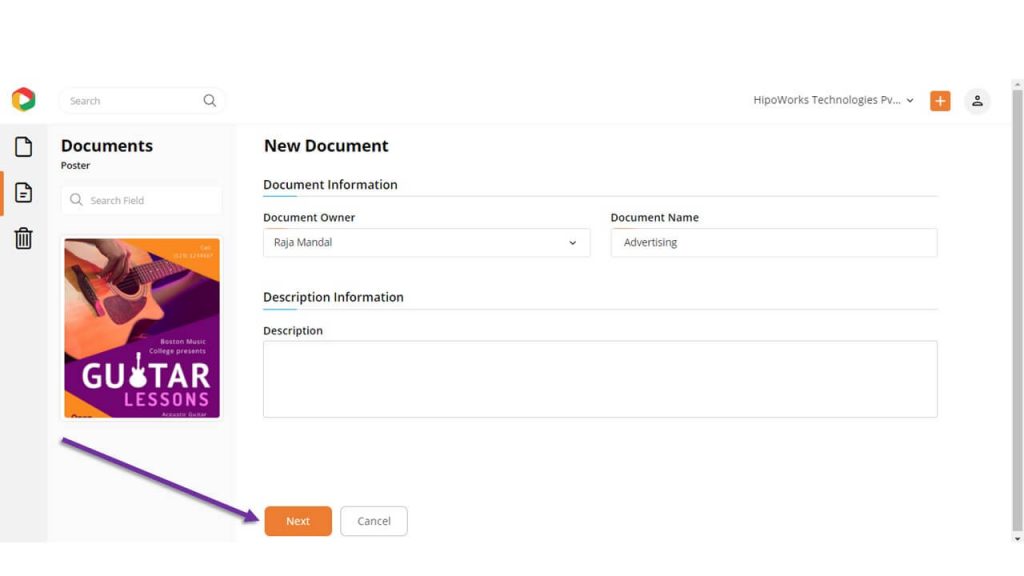 Step 2: Customize the Template
Customization is the part of your design where you add magic to your design using the DocHipo Editor. There are many ways you can customize an advertising poster template to make it your own. Add images, change backgrounds, edit the text, add new elements, and many others.
Set Background
Click the "Background" tab on the left sidebar under "Graphics and Media" and then customize the background for your design.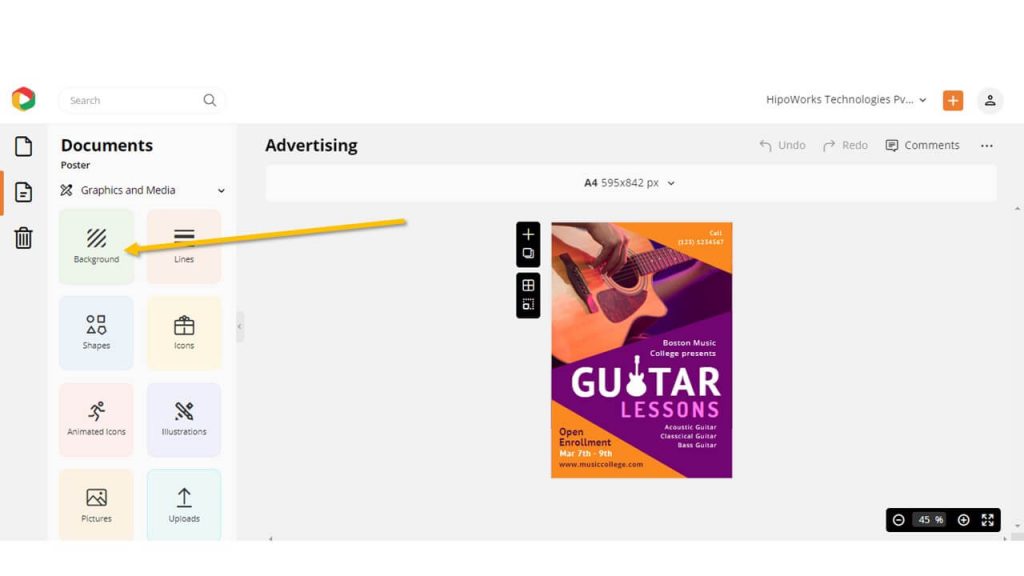 Choose a color from the color presets or pick a custom color using the color picker tool.
Watch the video below to learn more about the same.
Add Your Images
You can either choose from hundreds of images from DocHipo's stock image library or upload your own images.
Click the "Pictures" tab from the left sidebar to add relevant images to the template.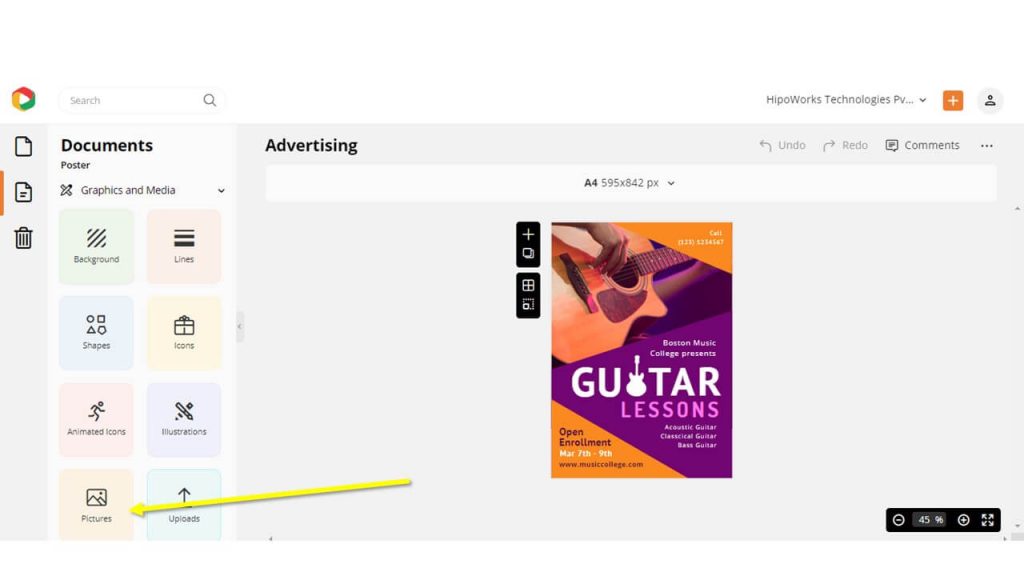 Or click on the "Uploads" tab and then click Upload Images to upload images from your computer.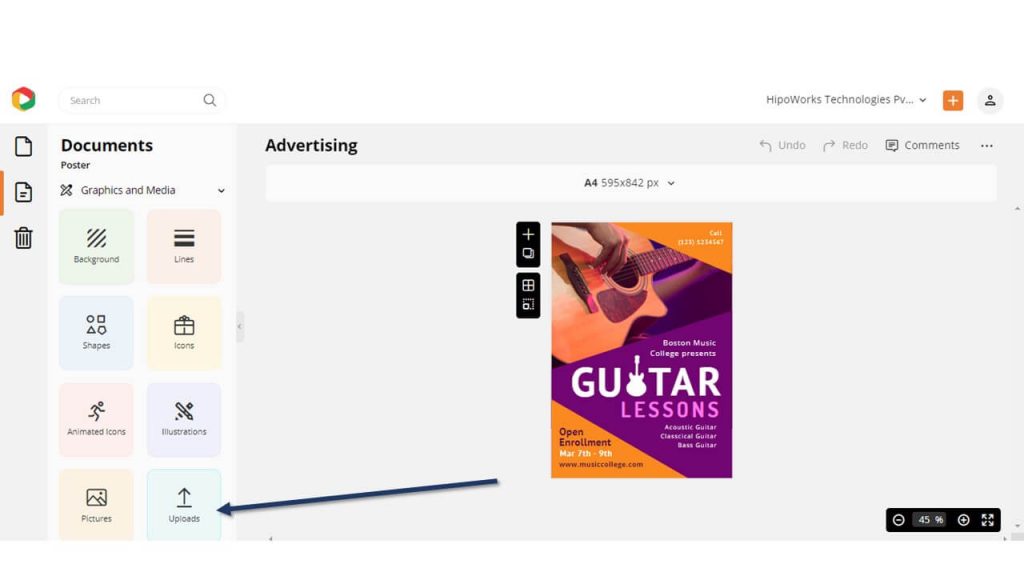 DocHipo's Drag & Drop editor will help you add images to the template easily. Now, you can move, resize, and rotate the image using the edit panel that appears on top.
Read more about How To Use Stock Images In Your Design.
Add, Edit, Or Delete Text
Click the "Text" tab on the left panel to add your text to your design.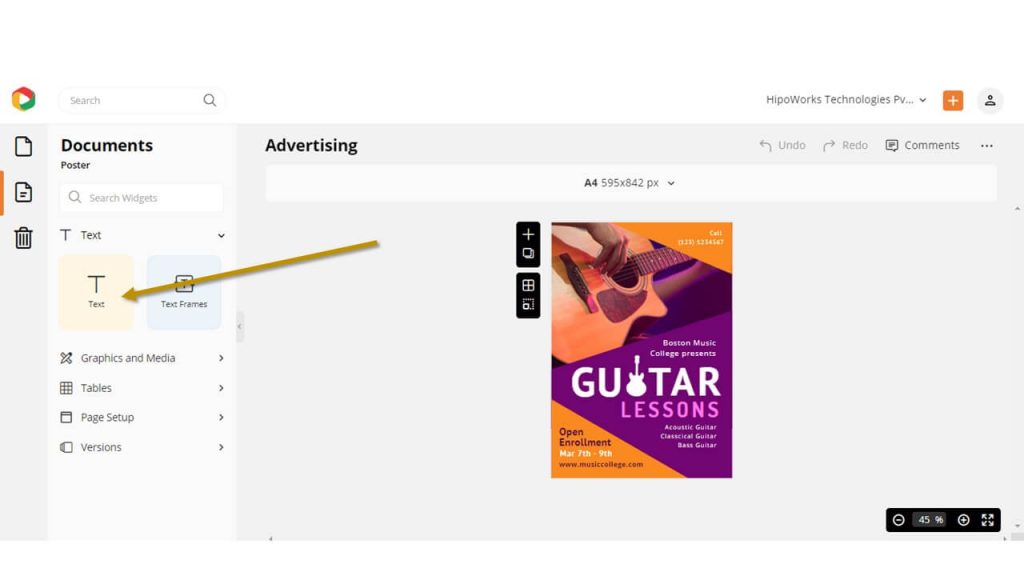 Double click the text that you want to edit on the template and input your own text.
Now, use the edit panel to customize the text by changing the font style, color, opacity, spacing, border, and many more.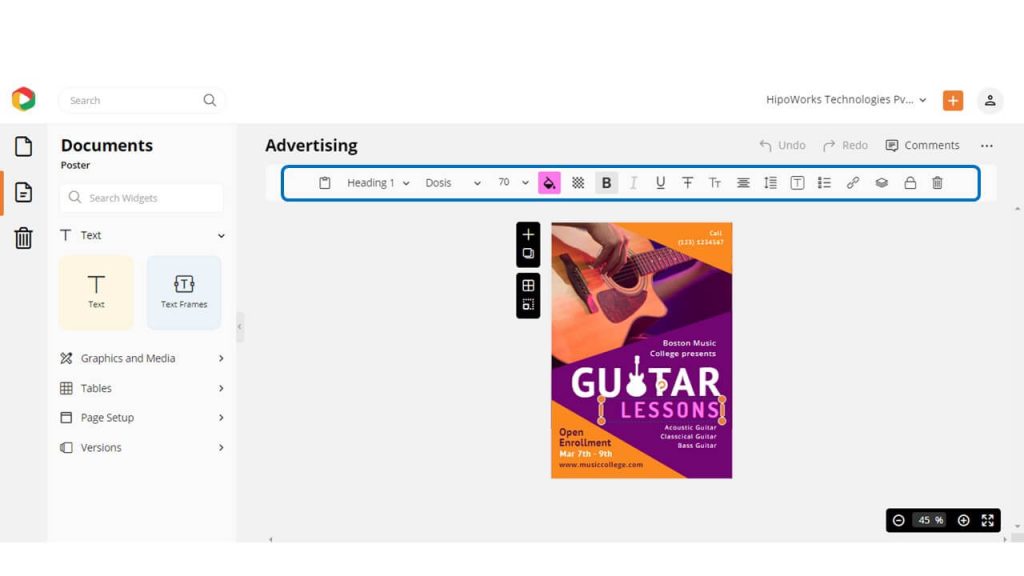 Here is a video on how to add, edit, or delete text in DocHipo.
Add and Customize Other Elements
To add other design elements like icons, illustrations, shapes, and lines, use the sidebar and choose the element you want.
Further, you can customize those elements by resizing, rotating, moving, changing the color, and many more. Selecting any element on the template you are editing will trigger the edit panel on top. It will let you perform all the actions mentioned above.
Before Customization: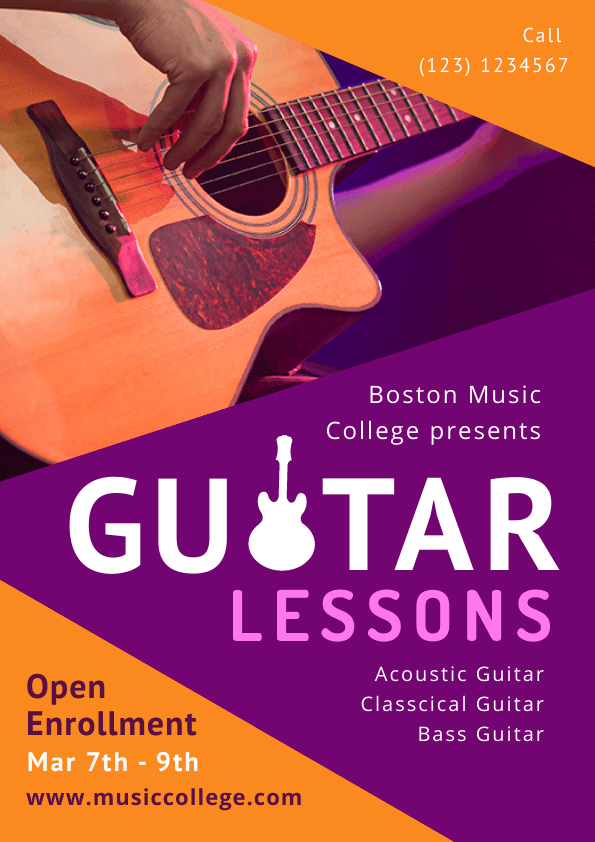 After Customization: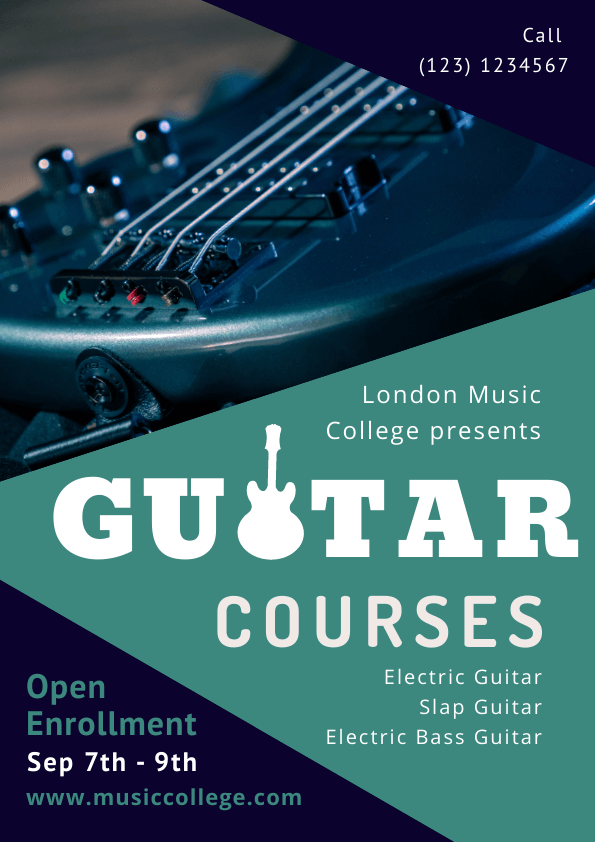 Step 3: Download Your Advertising Poster Design
Click on the three dots and select download from the drop-down menu to download your design.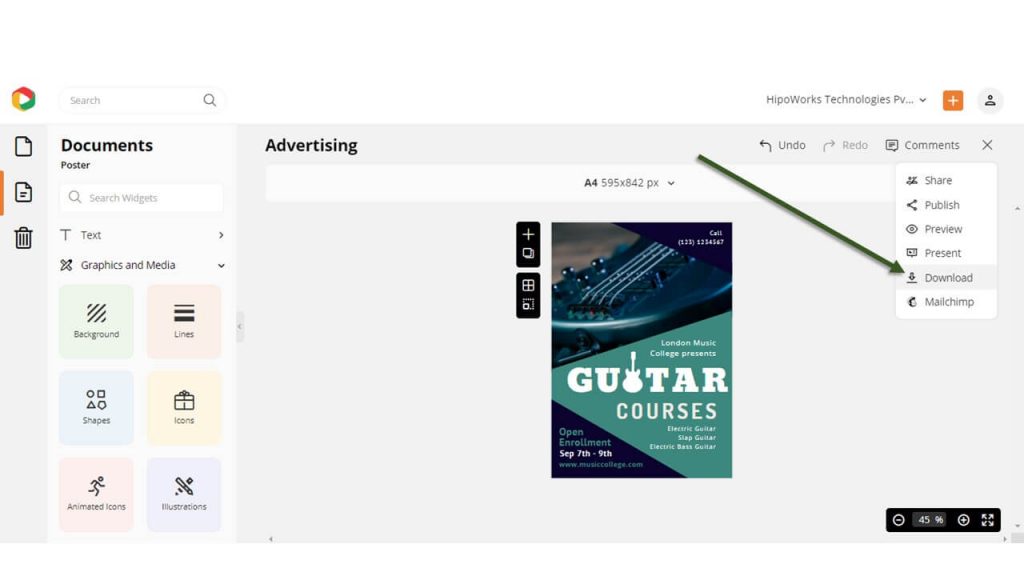 Choose your required file type and quality (for printable document types like posters, we recommend high-quality download) and hit the download button.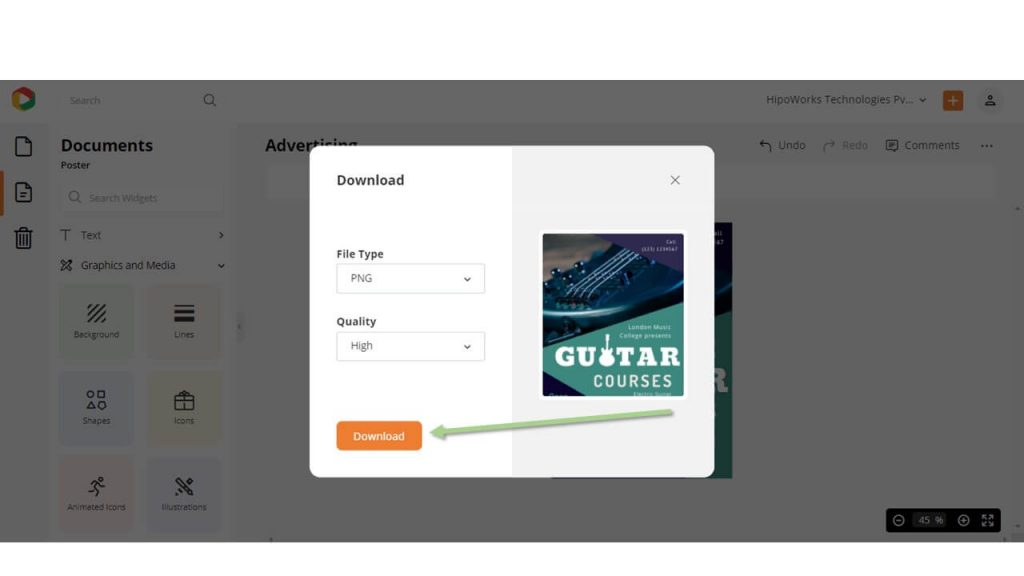 Additionally, you can consider watching the video to learn how to download a document in DocHipo.
Final Thoughts….
Hopefully, the article helped you learn how to design an advertisement poster in no time! Our best practices, how-to guide, awesome Design Widgets, and free advertising poster design templates should help you create beautiful posters. It's as easy or as complicated as you want to make it, but whether you just drop your own text into a template or give it a completely different overhaul, make sure that you have a sleek and professional design.
So, are you ready to draw a crowd for your next significant cause? All you have to do is sign-up to DocHipo, browse through the wide selection of poster templates, and start designing your own advertisement poster.
FAQ
What is advertisement poster?
An advertisement poster is one of the most common and effective marketing mediums. Through a compelling copy and a visually appealing design, advertisement posters grab and hold your viewers' attention. You can leverage these posters while advertising your newly opened restaurant, tuition center, music event, or any product or service you offer.
How do I make an advertisement poster?
You can make an advertisement poster with an online poster maker. First, choose one from eye-catching advertisement poster templates that align with your needs. Then, customize it with your message, high-quality images or graphics, and brand elements like logo, colors, fonts, etc.
Is poster a type of advertisement?
A poster is one of the various effective mediums for advertising. There are different types of posters, and advertisement poster is one of them.