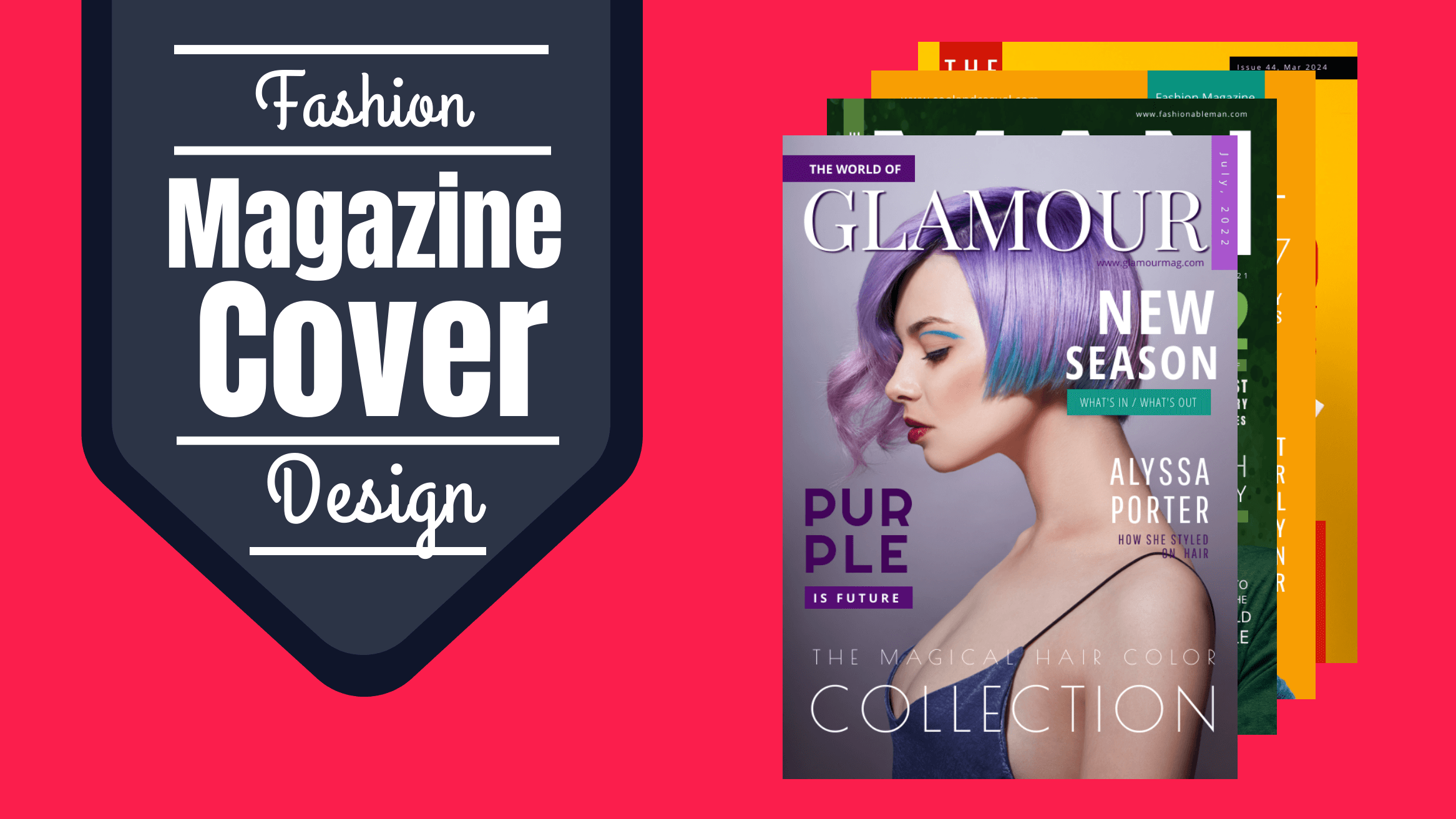 How to Design a Fashion Magazine Cover in 5 Minutes

Last Updated May 13, 2023
In this era of social media posts and digital media, magazines still significantly influence society. According to a recent study, there are over 30,000 magazine publishers worldwide and more than 230 million magazine readers in the U.S alone. Therefore, the magazine publishing business is still profitable, and fashion magazines remain at the top of the list. As a fashion magazine publisher, you already feature the latest fashion trends and news in your magazines to stay ahead of the competition. However, what will drive your audience to your magazines is the cover. Your fashion magazine cover design should be fascinating enough to catch the readers' eyeballs.
The magazine cover design plays a crucial role in helping buying decisions, and due to that, publishers take special care while designing the cover and make it on point – both digital and printable versions. However, designing a fashion magazine cover is difficult for non-designers and even for beginner graphic designers. Therefore, DocHipo comes with a Free Online Magazine Cover Maker tool.
Whether you want to design the cover for your masterpieces, fashion show, or for your fashion business, DocHipo has got everything to help you design striking magazine covers.
Read on to learn how to design a fashion magazine cover in minutes using DocHipo.
Table of Contents
Fashion Magazine Cover Design Ideas
You know the content inside the magazine well. So, you are the one who can design the cover in line with the content. Designers often avoid the fact that the cover decides for a reader whether to buy the specific publication. Therefore, to ensure the fashion magazine cover design is clean, sophisticated, and sellable, here are some of the fashion magazine cover design ideas for you.
Go through them carefully before jumping onto the design part.
Do Thorough Research
The very first thing you should do before you start designing the cover is to do thorough research. Look for inspiration from other magazines, make your own collection of magazines, and strategize how you want your fashion magazine cover to look. You will get an overall idea of the trends in cover design.
By doing this, your creative soul will get a massive boost which will help you find inspirations to start your own fashion magazine cover design. Here is one of the fashion magazine cover templates for you to get inspired.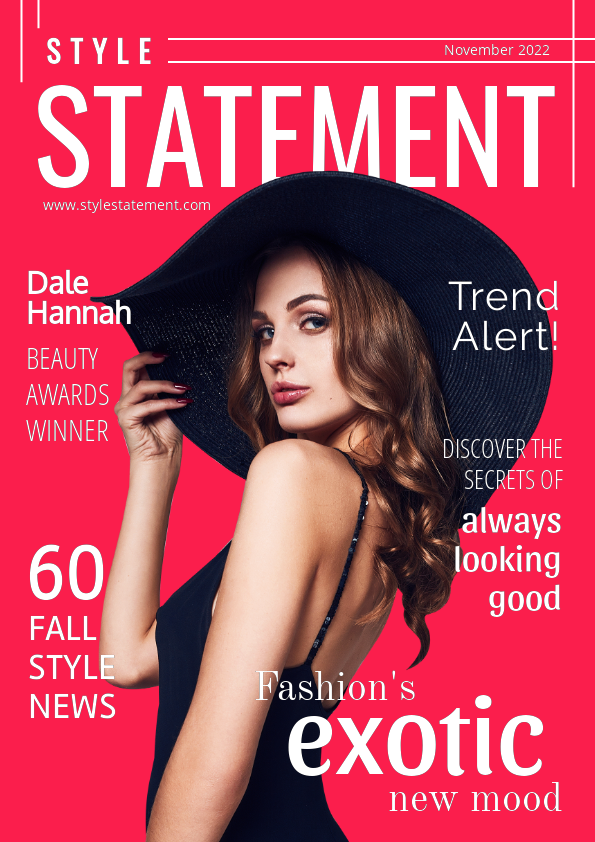 Get This Template and More
Keep Your Audience In Mind
While doing your research, you might also want to find your target audience and keep them in mind while designing the cover. But why is it so important to consider the target audience? Well, different people have different sets of interests, and they choose things based on that. Everyone in this world is not a fashion magazine lover. So, there is a specific audience that will get attracted to your magazines. Hence, you must identify them and keep them in mind while designing the fashion magazine cover.
The easiest and effective way to do that is by finding who will be reading your magazine and mapping the reader's persona. Make a note of all the critical characteristics in the person. For example, learn about the likes, dislikes, hobbies, and interests of the people that read fashion magazines. It will help you target your audience more efficiently.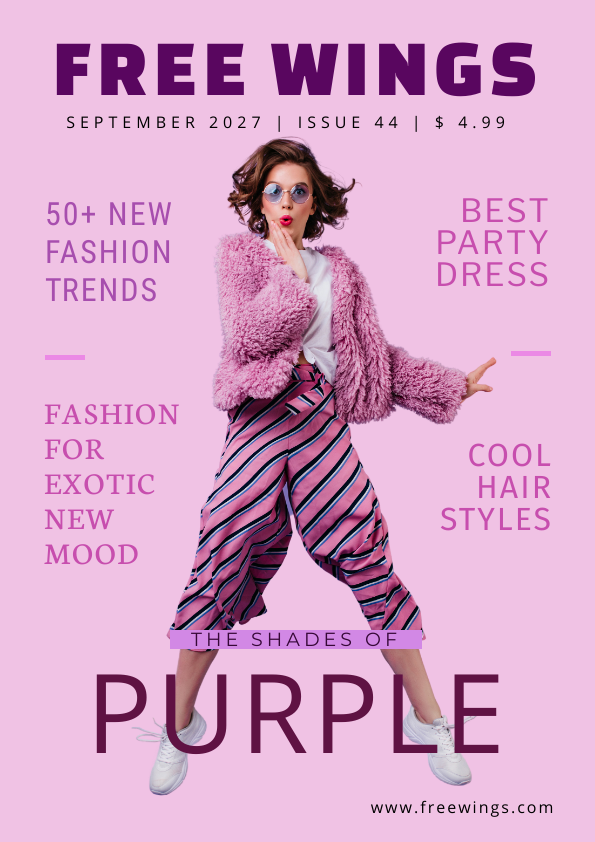 Get This Template and More
Be Careful With The Typography
Typography plays a significant role in your fashion magazine cover design. The cover will be a harmonious melange of text, color, background, image, and other elements. While researching for your magazine cover, you will find that almost every magazine cover is crowded with texts while maintaining the visual hierarchy. You will find the same while going through the fashion magazine cover templates in DocHipo.
But how you can do the same with your magazine cover? Firstly, choose two to three different but complementary fonts. Secondly, resize the fonts according to their text type. For example, your headlines should be the largest font size on the cover, then comes the sub-headings and the body text. Don't choose fonts that are difficult to read or not relevant to your content. All in all, create a Typography Hierarchy in your fashion magazine cover design.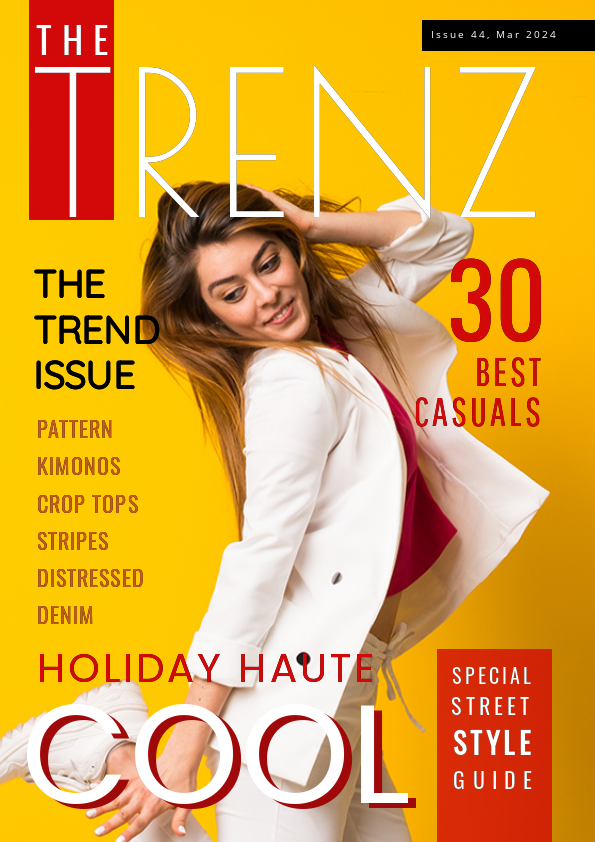 Get This Template and More
Read this article about using Different Typefaces to learn more about getting the typography right.
Always Choose High-Quality Photographs
Magazines are well known for their beautiful and high-quality photographs on the cover page. You might have already noticed that all the fashion magazine cover templates in DocHipo feature only high-quality images. A single image, if irrelevant and low-quality, can ruin your hours of hard work.
Therefore always choose high-quality photographs. For fashion magazine cover design, we will not recommend choosing stock photography. Click some photos on your own as appropriate. DocHipo will help you enhance them by adding filters, cropping, removing the background, and many more.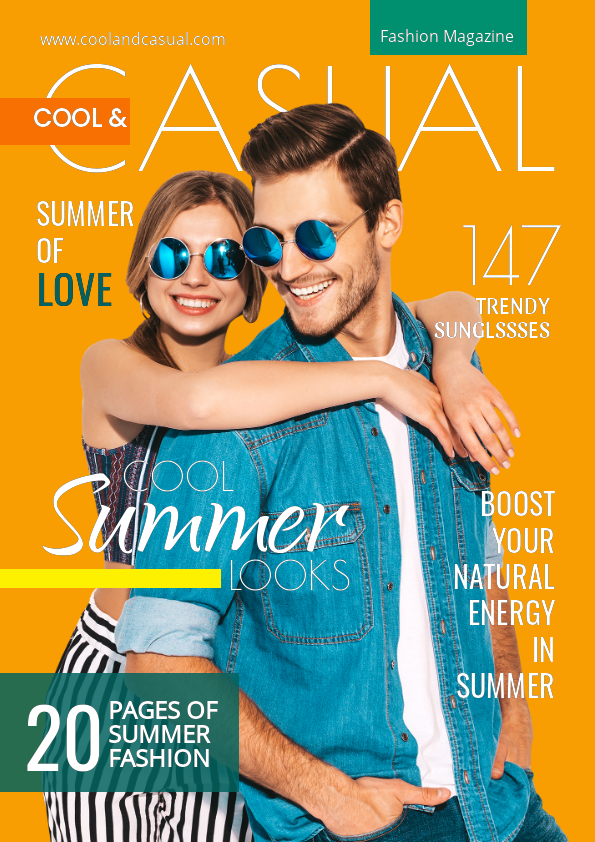 Get This Template and More
Choose Colors Wisely
Different colors play different roles in the world of design. They can also evoke different emotions. Therefore, you need to choose appropriate colors for your fashion magazine cover design. To do that, you need to understand what kind of colors go well with your industry. For example, colors appropriate for Kids Magazine Cover Design or Travel Magazine Cover Design may not be suitable for the Fashion Magazine Cover Design.
While choosing colors for your magazine cover, we would recommend you consider the colors on the focus image in your magazine to create harmony and contrast to make the overall design look unique and visually appealing. However, you can choose different complementary, analogous, and monochrome colors.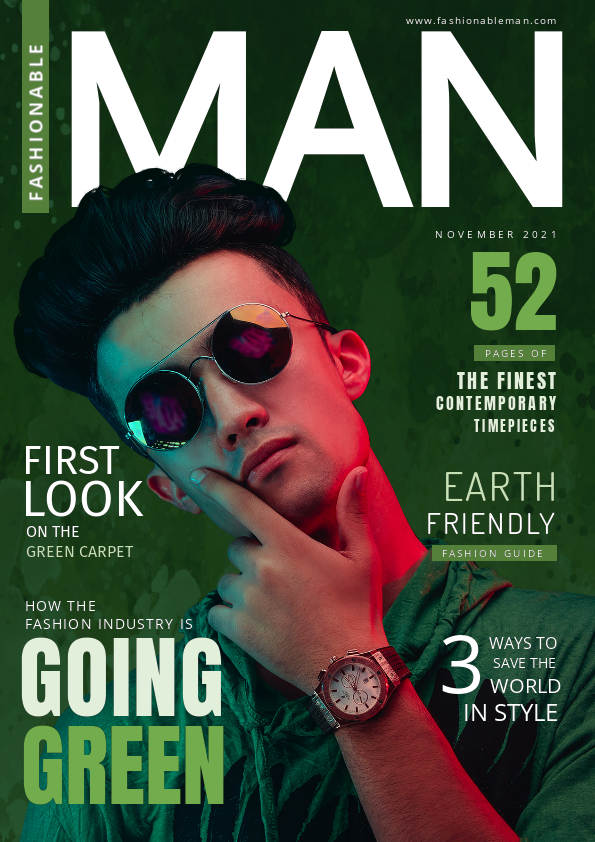 Get This Template and More
This article on the Best Color Combinations will help you out.
Incorporate Other Elements
To make the fashion magazine cover super stylish, you can incorporate some of the design elements like shapes, lines, icons, and more. You can add shapes to make the texts pop or focus on the text or graphic element you want. They also help you design the cover in a way so that the audience can differentiate between texts. By incorporating these elements, you can give your readers something unique to consider buying the magazine.
You can use these elements in the magazine as appropriate. However, keep in mind that you don't overdo it to avoid making it cluttered.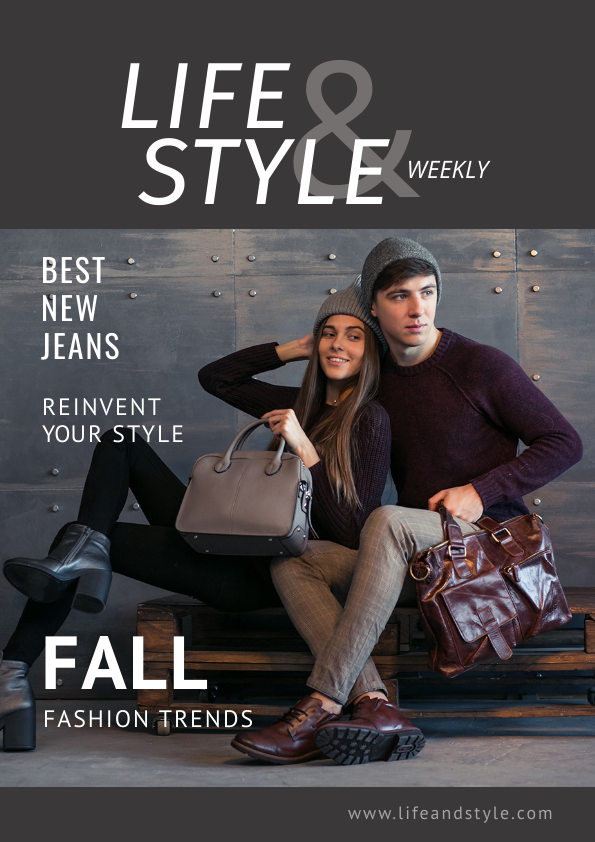 Get This Template and More
Additionally, look at the free magazine cover templates that DocHipo offers.
How To Design A Fashion Magazine Cover In Minutes Using DocHipo
DocHipo features a wide range of free fashion magazine cover templates and some awesome Design Widgets to help you create fabulous magazine covers.
Step 1: Pick A Fashion Magazine Cover Template
Choose from a wide variety of perfectly curated professional fashion magazine cover templates. Once you land inside the all templates page of DocHipo, type "Magazine" in the search bar and click on the result.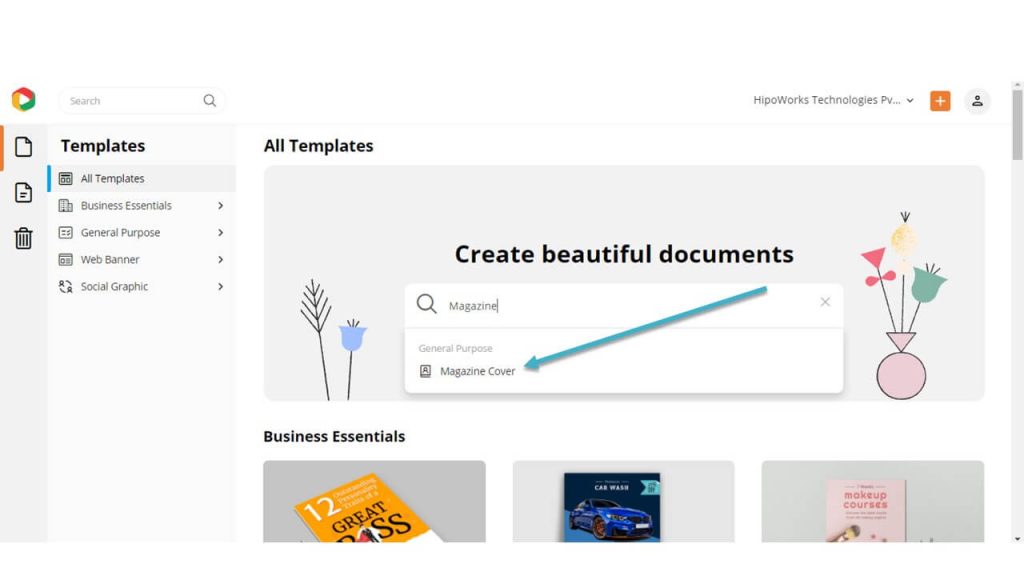 Filter the templates quickly by clicking on the "Fashion" template category.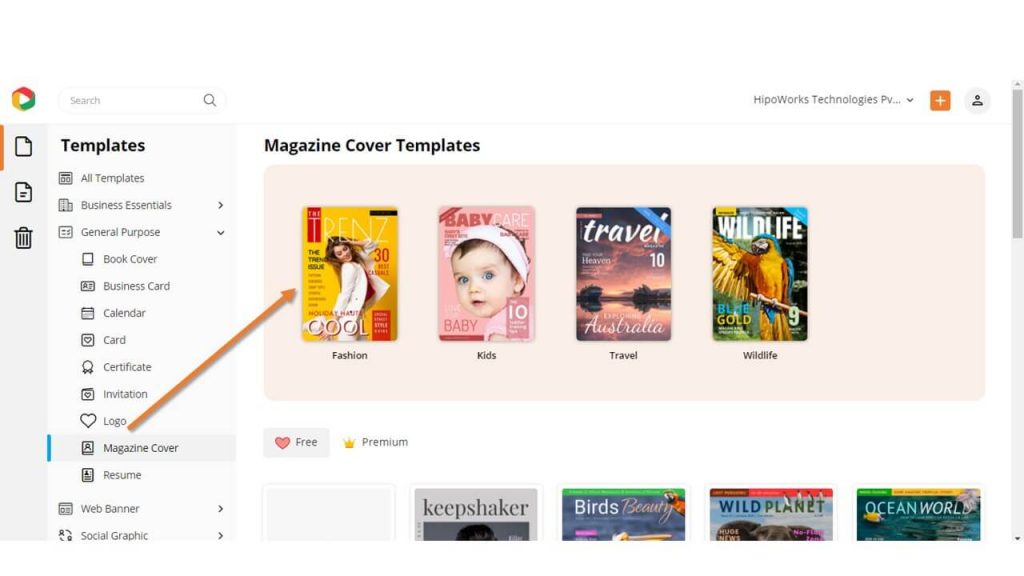 To see a template without editing it, hover over the template you like and click "Preview."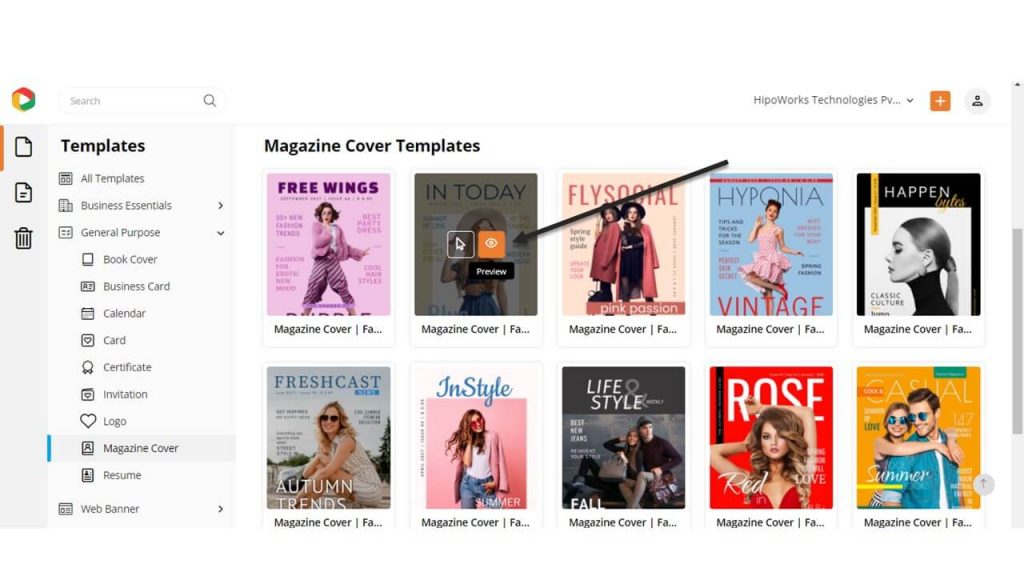 Alternatively, click "Select" if you want to start editing a template in the DocHipo Editor.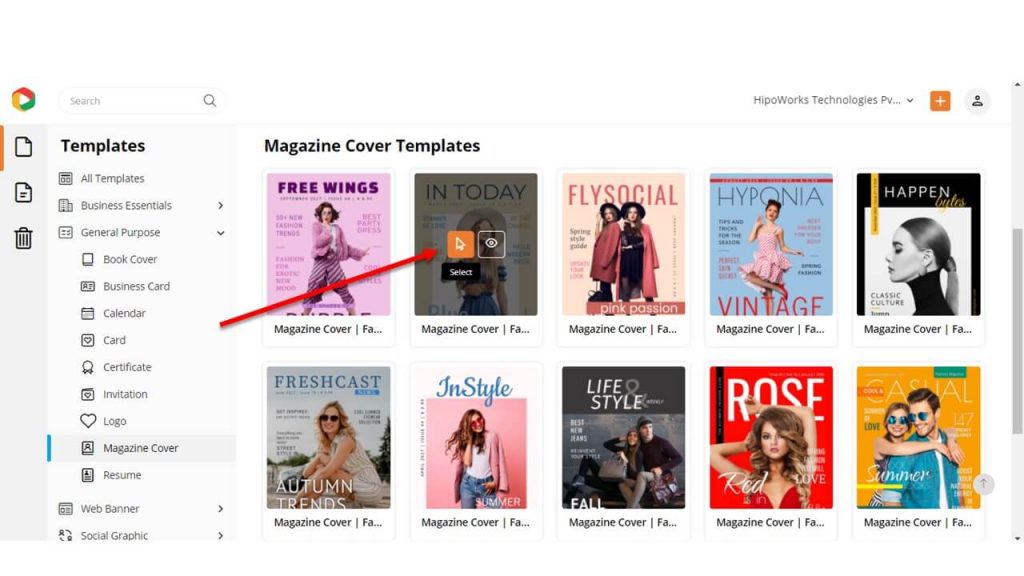 A page will appear before opening the editor, where you need to provide some basic details for the document. Your name will appear as the Document owner, and you need to give a name to the document so that you can find it in your files after downloading it. Once done, click "Next" to proceed further.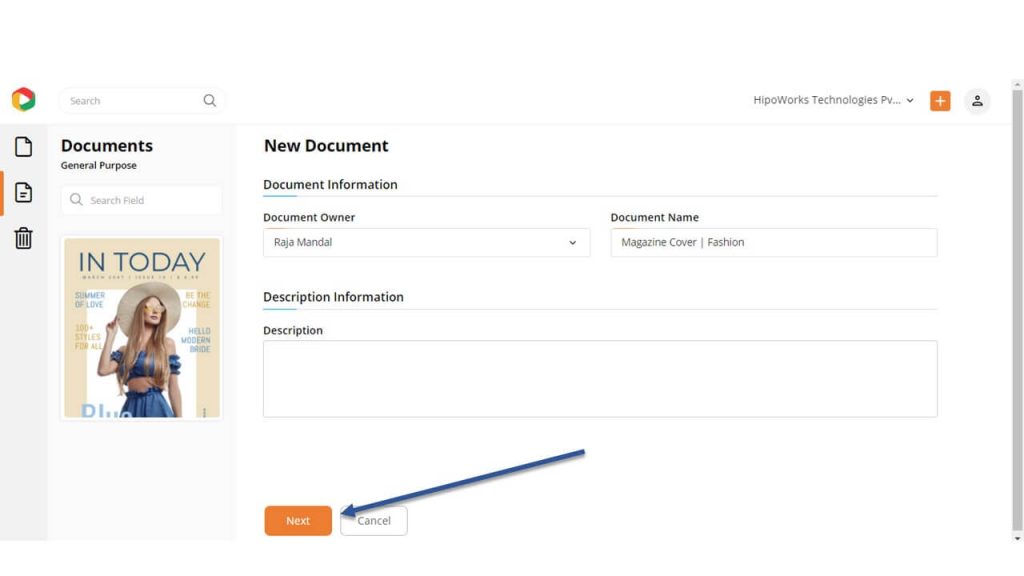 Step 2: Customize The Template
Customizing the template is a crucial step in the whole process. Target your audience with catchy headlines, color schemes, and images that will pique their interest. Here is how to do that.
Upload and Add Photos
Click the Uploads tab on the left sidebar and then click "Upload Images" to upload images from your system to DocHipo.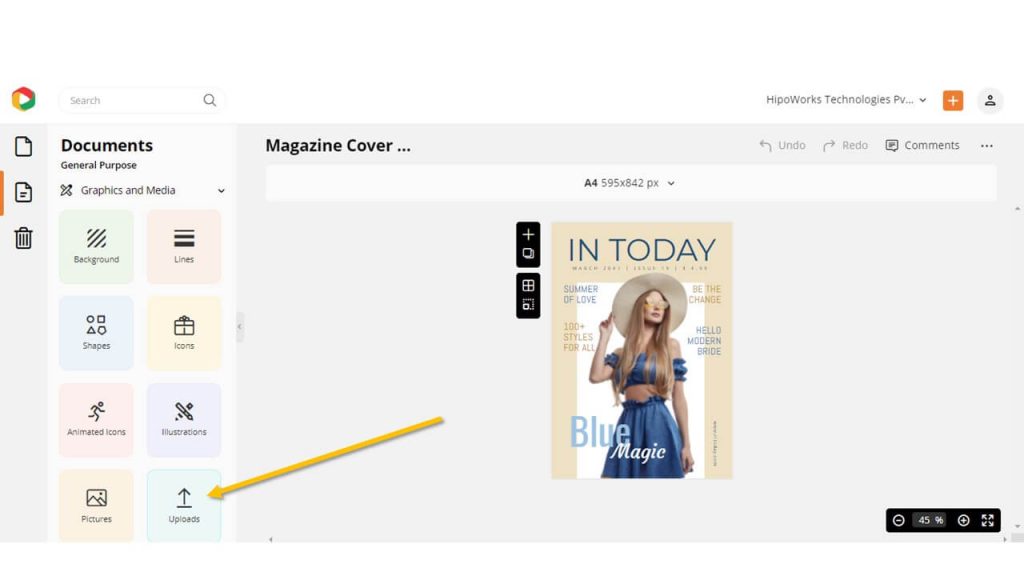 DocHipo's Drag & Drop editor will help you add the photo to your template easily. Click and hold the picture and leave it on the pre-existing image.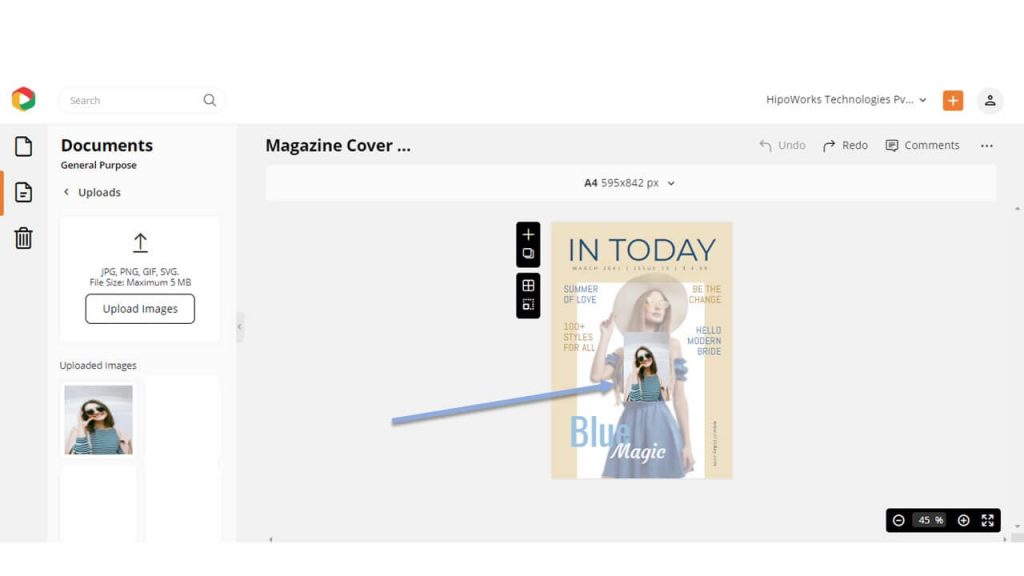 Use the Background Remover from the edit panel on top to remove the background from the image.
Here is a video on the same.
You can also crop, flip, use filters, change the opacity, and do many other customizations for your photos using the Photo Editor.
Here is a video on how to enhance your images using filters in DocHipo.
Add and Edit Text
Click the "Text" tab on the left sidebar to add text to your templates.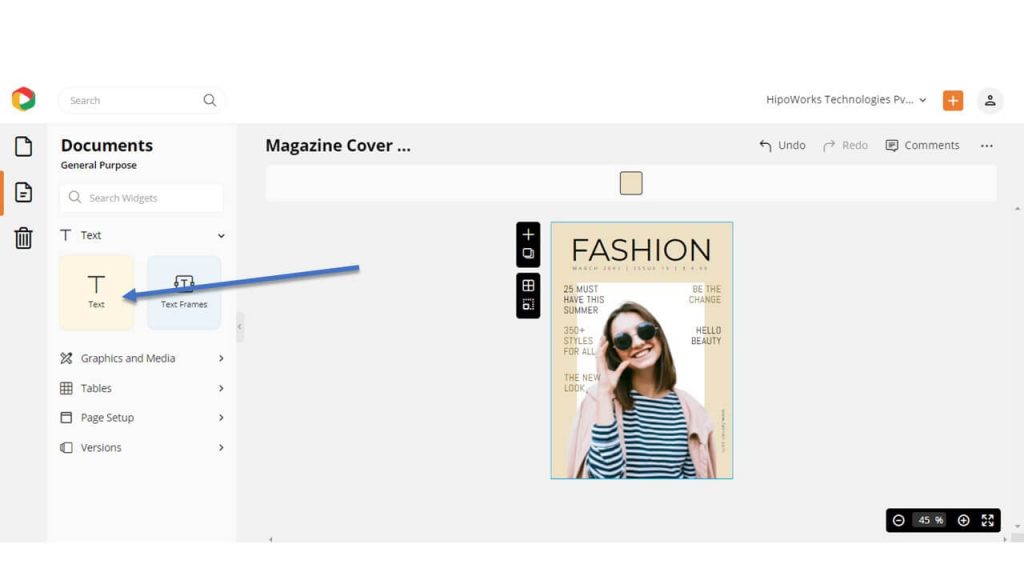 To edit the prewritten text in your template, double click on the text and type your own words.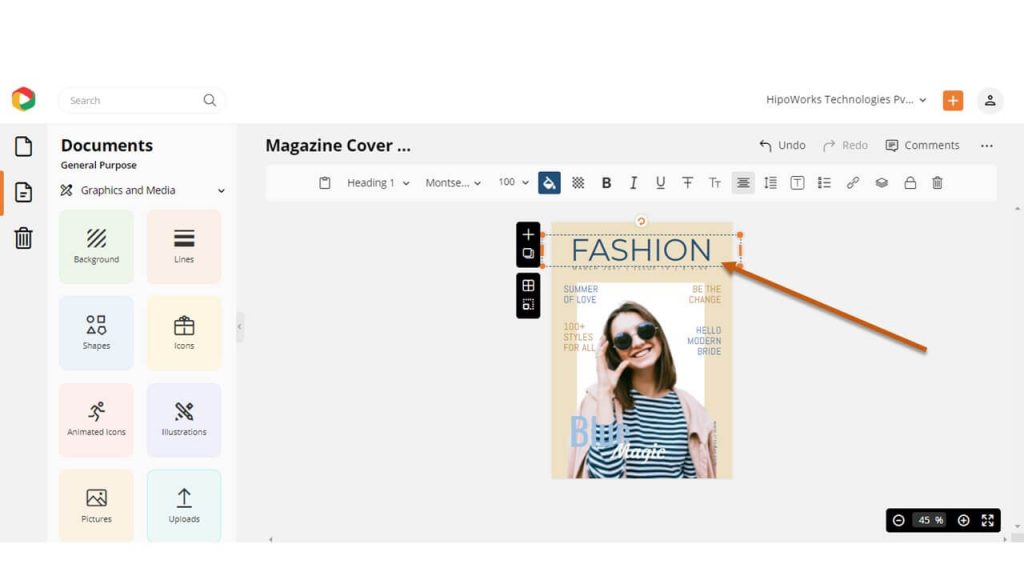 Clicking on any text element will generate the edit panel on top. Use it to change the font, size, color, opacity, alignment, spacing, and many more.
Here is how you can add, edit, or delete text in DocHipo.
Change The Background
Click "Background" from the left sidebar to change the background.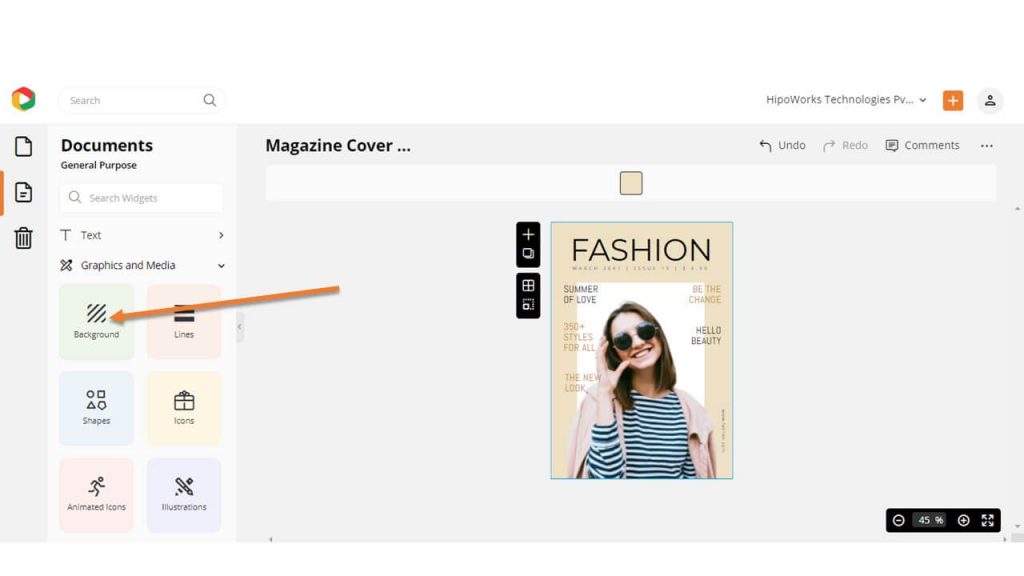 To change the background color, choose any from the color presets or select the one you want using the color picker tool.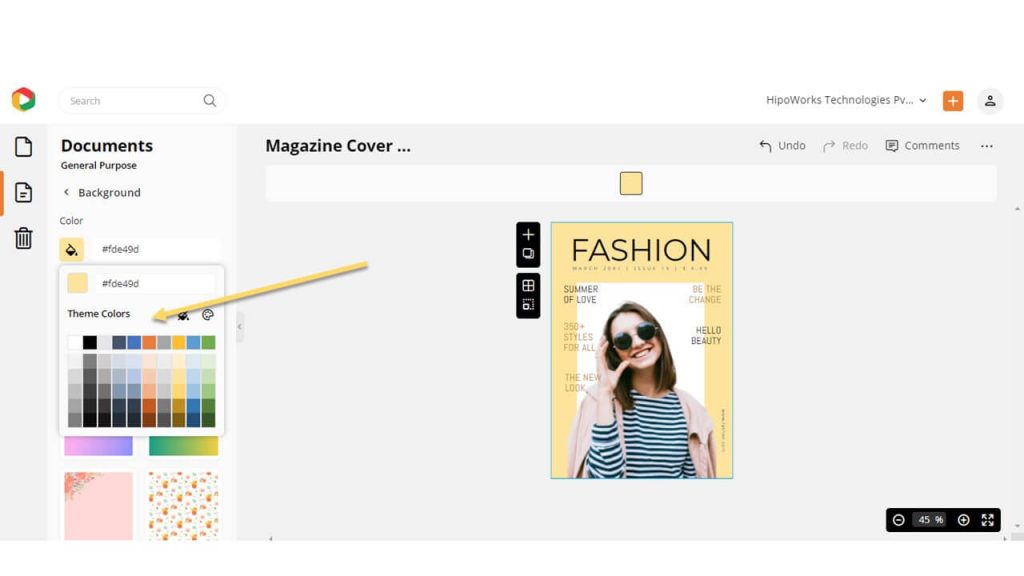 Here is how you can change the background in DocHipo.
Edit the template as much as you can until your magazine cover is in the right tone.
Before Customizing: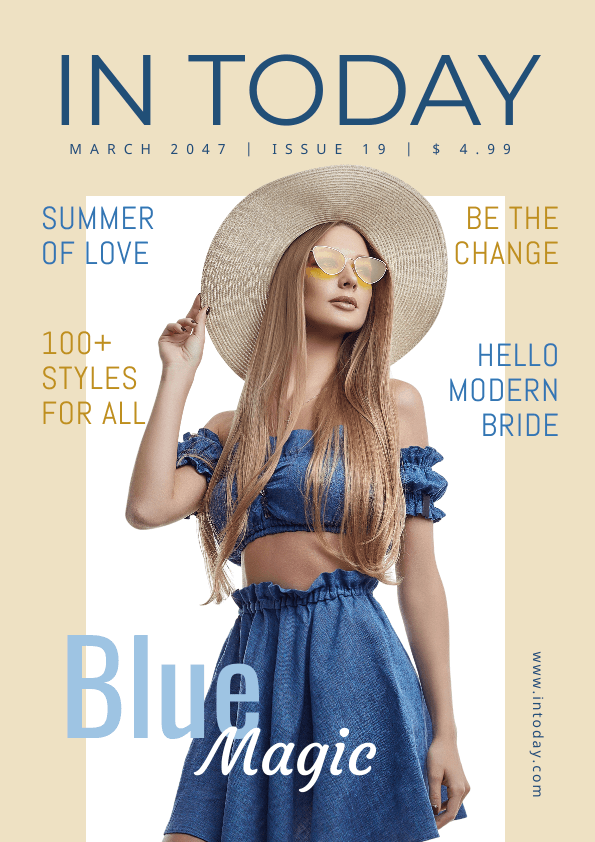 After Customizing: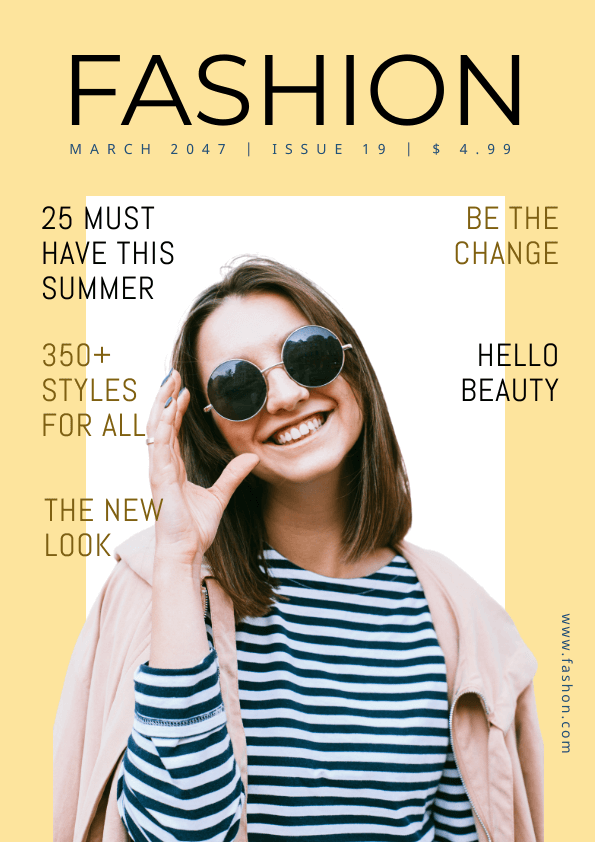 Step 3: Download The Fashion Magazine Cover
Click on the three dots on the upper right corner and choose "Download" from the drop-down menu to download your fashion magazine cover design.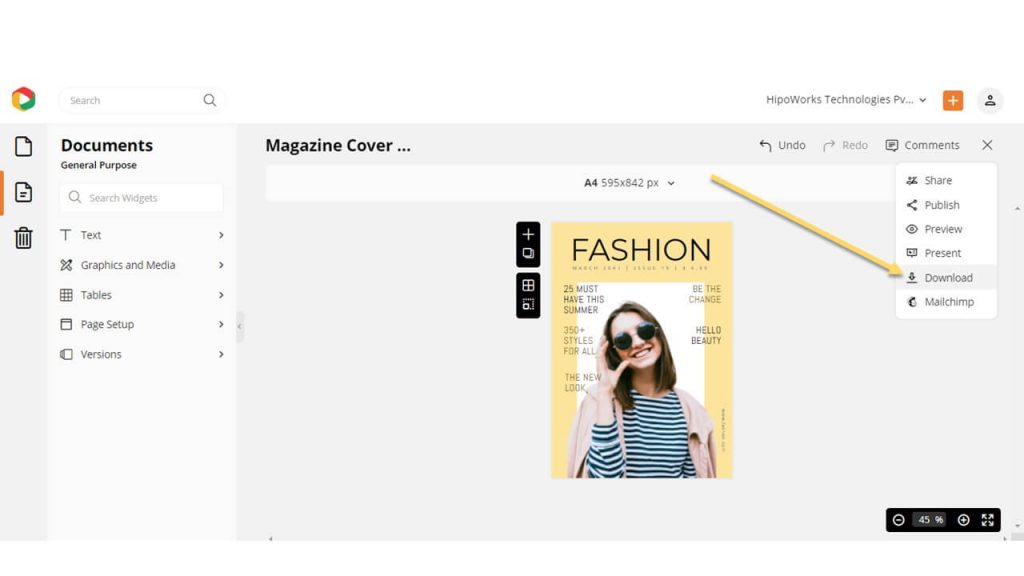 The design widget will appear where you need to choose your required file type and quality and click the download button. Your design will be downloaded to your computer automatically.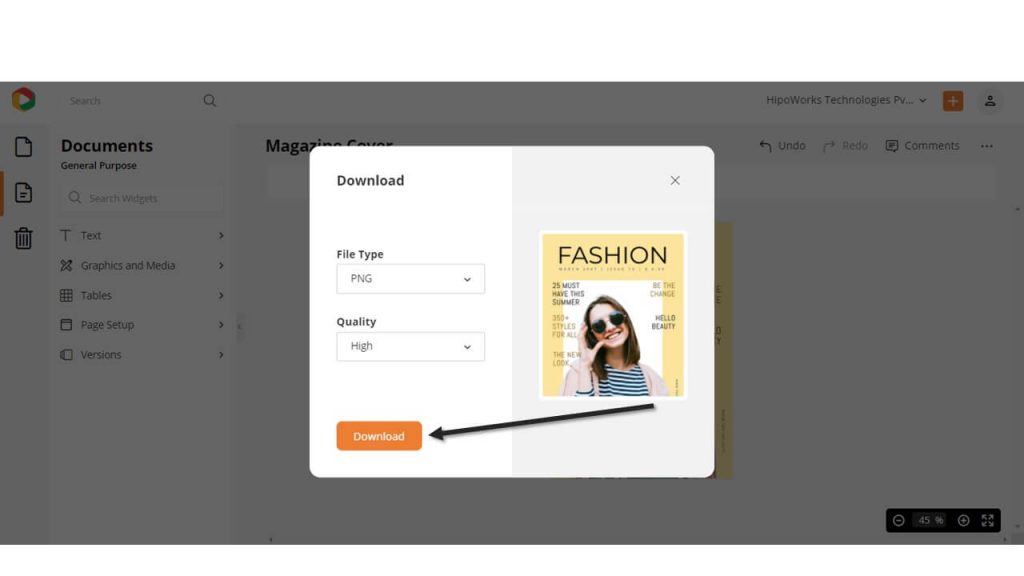 You can upgrade to DocHipo Pro to enjoy all the premium features. Watch the video below to see if you should upgrade?
Ultimately…
The design ideas and the tutorial should inspire you for fashion magazine cover design. From planning your cover design and picking the suitable template to choose the right color scheme and perfect fonts, everything needs to be in synergy along with the content inside. Magazine cover design might look straightforward to you at first. Still, as a non-designer, you will gradually understand, it is one of the most challenging things related to your magazine publication. With that being said, DocHipo helps you be creative and make the design work simple.
All you have to do is play around with the tools and features in DocHipo; after all, practice is what you need the most to design like a pro. So, sign-up to DocHipo and get the best fashion magazine cover design.
FAQ
How do you make a cover page for a fashion magazine?
You can leverage an online magazine cover maker to make a cover page for a fashion magazine. First, choose a suitable fashion magazine cover template that resonates with your theme and design style. Next, customize the masthead, issue and dateline, main image, lead article, supporting cover lines, price, official website, color scheme, background, etc., to make it your own.
What are the essential elements of a fashion magazine cover?
The essential elements of a fashion magazine cover are its masthead, issue and dateline, main image, lead article, supporting cover lines, and bar code.
What are some common mistakes to avoid when designing a fashion magazine cover?
Some common mistakes to avoid when designing a fashion magazine cover includes: Not designing the magazine cover for a specific target audience Using poor-quality pictures, Choosing inappropriate colors, Not following a visual hierarchy, Using fonts that don't go well with your overall design or using more than three fonts and Not leaving sufficient white space Inconsistent branding.